Breakfast Chimichangas with Avocado + Cotija Cheese.
And just like that it is over.

Bummer, right?!?
The good news is… I have Mexican for you. Yes.

Actually, my plan is Mexican all week.
Ah huh, a whole week of Mexican food. From now until New Years. It is going to be just grand.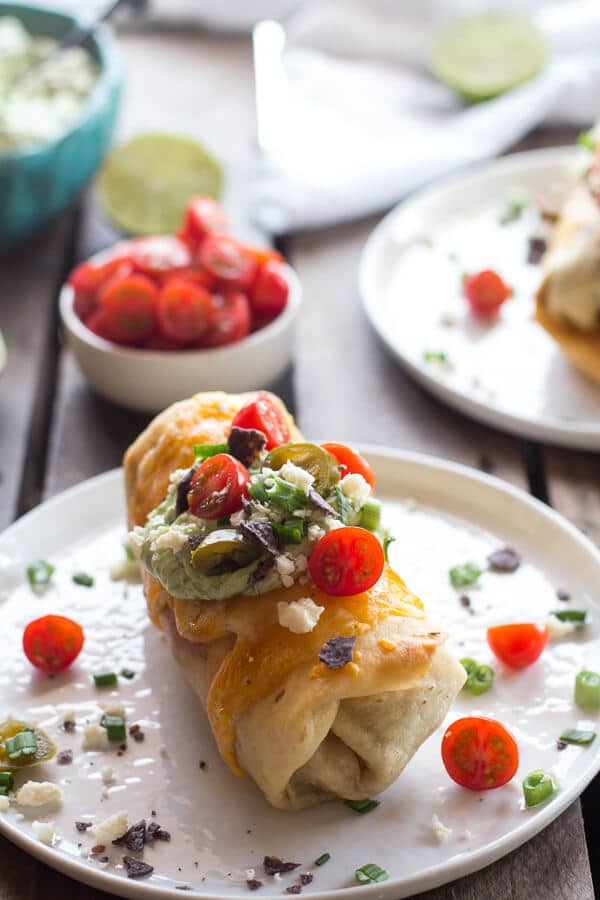 I figured since my family does Mexican every New Year's Eve I might as well do it up right this year. So we are going big time Mexican, and we are starting things off with breakfast Chimichangas.
All I have to say about them is that they were a hit. There is some chorizo and eggs, some cilantro, avocado crema and a hefty sprinkle of Cajita. My family – now fifteen strong – all loved them. Oh, and if you are wondering, I wrapped, fried and topped seventeen chimichangas. Surprisingly it wasn't all that hard, but I mean still, that is a lot of Chimichangas.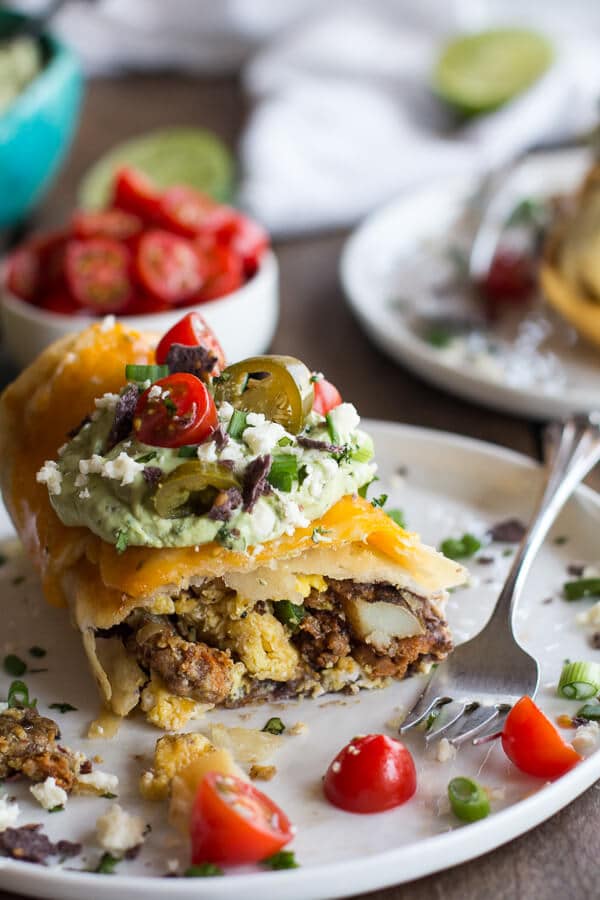 Ok, so I fried these, but to be honest, I am not actually sure it was worth it. I mean they were freaking awesome and perfectly crisp, but I think the oven is a good option too.
Definitely much easier and obviously healthier, but it is totally up to you. I included both ways in the recipe. I'm keeping things short and sweet this week. My cousins are only in town for a week or so and I am not sure when I will get to see everyone all together next.
Promise to share all the crazy Gerard Christmas photos + drama soon! Oh, and be on the look out for some photos of the barn soon too!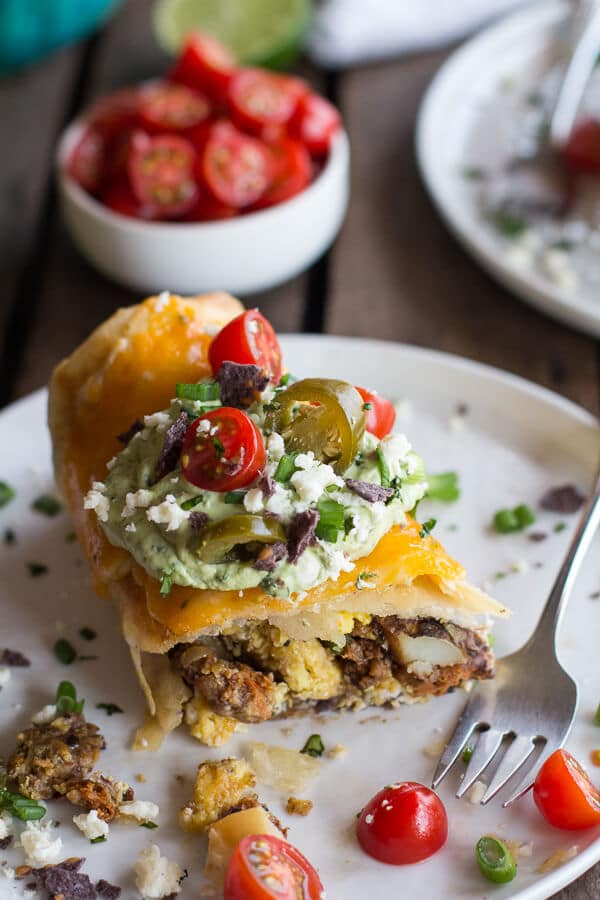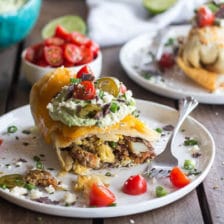 Nutritional information is only an estimate. The accuracy of the nutritional information for any recipe on this site is not guaranteed.
The Recipe
Breakfast Chimichangas with Avocado + Cajita Cheese.
By halfbakedharvest
Course: Breakfast, Main Course
Cuisine: American, Mexican
Keyword: avocado, chimichanga, cotja
Crispy, creamy Mexican goodness
Prep Time 40 minutes
Cook Time 20 minutes
Total Time 1 hour
Servings 8 Breakfast Chimichangas
Calories 610 kcal
Ingredients
1 tablespoon olive oil
1 sweet onion diced
2 cloves garlic minced or grated
pinch of salt and pepper
1 jalapeno seeded and diced
1 potato chopped
1 pound ground chorizo or chorizo with the casings removed
1 teaspoon cumin
1 teaspoon dried oregano
8 large eggs beaten
1/4 cup milk I use 2%
8 large flour tortillas
canola oil if you are frying the chimichangas
Cilantro Avocado Crema
1 cup cilantro chopped
2 large ripe avocdos
1 cup greek yogurt
1/2 lime juiced
salt and pepper taste
Toppings
1 cup sharp cheddar cheese shredde
1 cup pepper jack cheese shredded
1 pint grape tomatoes halved
1/2 cup cotija cheese crumbled
8-12 pickled jalapenos
Instructions
To make the beans. Mash the black beens until smooth, but still a little chunky. Stir in the chili, garlic powder, salt and pepper. Set aside.

To make the cilantro-avocado crema. In a blender or food processor, combine the cilantro, avocados, greek yogurt, lime juice and a pinch of salt + pepper. Blend until smooth. Set aside.

Heat a large skillet over medium heat, add 1 tablespoon olive oil. Throw in the onion and cook, stirring to coat. Cook until the onions are soft and fragrant. Add the garlic, diced jalapeños and diced potatoes. Cover and cook cook another 10 minutes. Add the chorizo, cumin and oregano. Cook, stirring until just beginning to brown, about 5 minutes. Scoop the chorizo out of the skillet with a slotted spoon and transfer to a plate. Wipe the skillet out with a paper towel.

Return the skillet to medium to medium-low heat and heat the remaining 1 tablespoon oil. Add the egg mixture and cook, stirring, about 3 minutes. Add the chorizo and cook, stirring about 2 to 4 minutes more depending on the desired firmness of the eggs.

To assemble. Warm the tortillas in a microwave for just a few seconds. Using a rubber spatula or the back of a spoon, spread a little of the beans towards the end of each tortilla. Add the chorizo + egg mixture directly over the beans. Fold the sides of the line of ingredients and roll up the tortilla (try and roll them tight). Using some kitchen twine (or I just used some christmas string lying around), tie the twine tightly around the burrito. Repeat with the remaining ingredients.

To fry the chimichangas. Preheat the oven to 450 degrees. Fill a large pot with an inch of oil and bring it to 350 degrees F. When the oil is hot, add 2 burritos at a time, seam-side down, adjusting the temperature to keep the oil at 350 degrees F. Cook until golden on the bottom, then roll and cook all sides, about 3 to 5 minutes total. Transfer to a paper towel-lined plate. Repeat with the remaining chimichangas.

Place the chimichangas on a baking sheet and cut off the twine. Top each one with equal amounts of cheddar and pepper jack. Cook until the cheese melts, about 2-5 minutes. Transfer each to a serving plate and top evenly with cilantro-avocado crema, tomatoes, pickled jalapeños and crumbled cotija cheese.

To bake the chimichangas. Preheat the oven to 450 degrees F. Put the chimichangas seam-side down on the baking sheet. Bake for 4-5 minutes until crisp. Remove from the oven and top each one with equal amounts to cheddar and pepper jack. Place back in the oven until the cheese melts, about 2-5 minutes. Transfer each to a serving plate and top evenly with cilantro-avocado crema, tomatoes, pickled jalapeños and crumbled cotija cheese.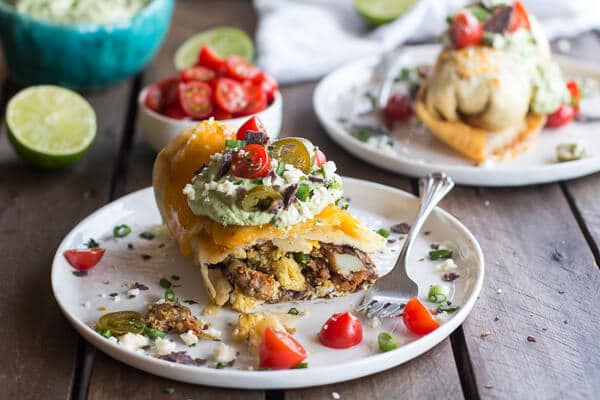 Hope everyone had a very Merry Christmas!