Blackened Salmon Burgers with Herbed Cream Cheese + VIDEO
{This post is sponsored by Kraft-Heinz. I've used their Philadelphia Cream Cheese to make these KILLER Blackened Salmon Burgers with Herbed Cream Cheese, you will LOVE them!}
You know those select few recipes you make time and time again?

Watch the How-To Video Here:
Blackened Salmon Burgers with Herbed Cream Cheese from Half Baked Harvest on Vimeo.
These burgers are going to become one of THOSE recipes. I'm talking week after week, month after month, you will continually find yourselves making these salmon burgers. To say that I am obsessed with them would be an understatement. I have made them twice in the last week alone, but as the weather continues to warm and the days continue to get longer, I can only see my obsession escalating.
Here's the deal, not only are these salmon burgers healthy and delicious, they're also incredibly easy to prepare. I'm talking fifteen minutes of prep time, then fire up the skillet, toss in the burgers, mix together some herbed whipped cream cheese and lastly, assemble everything on a toasted bagel…yup a bagel!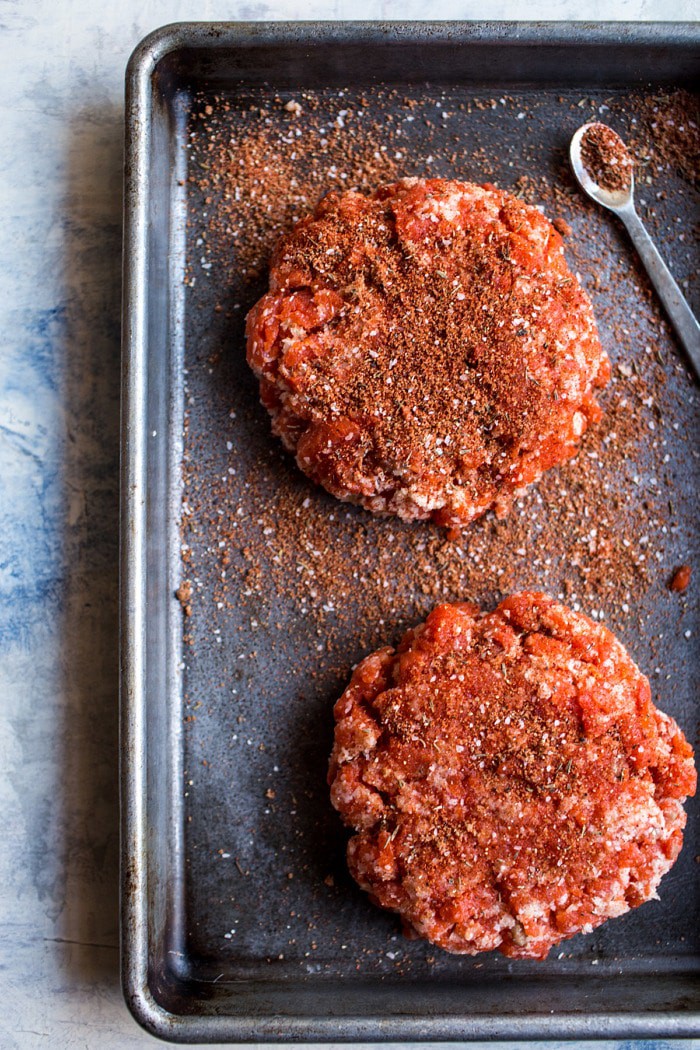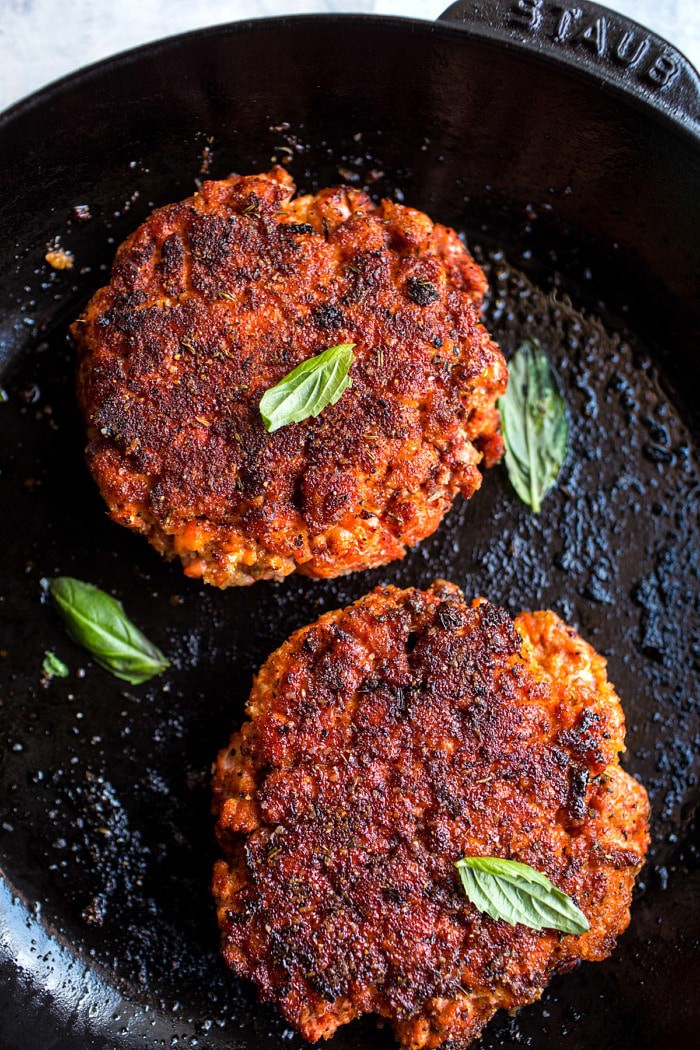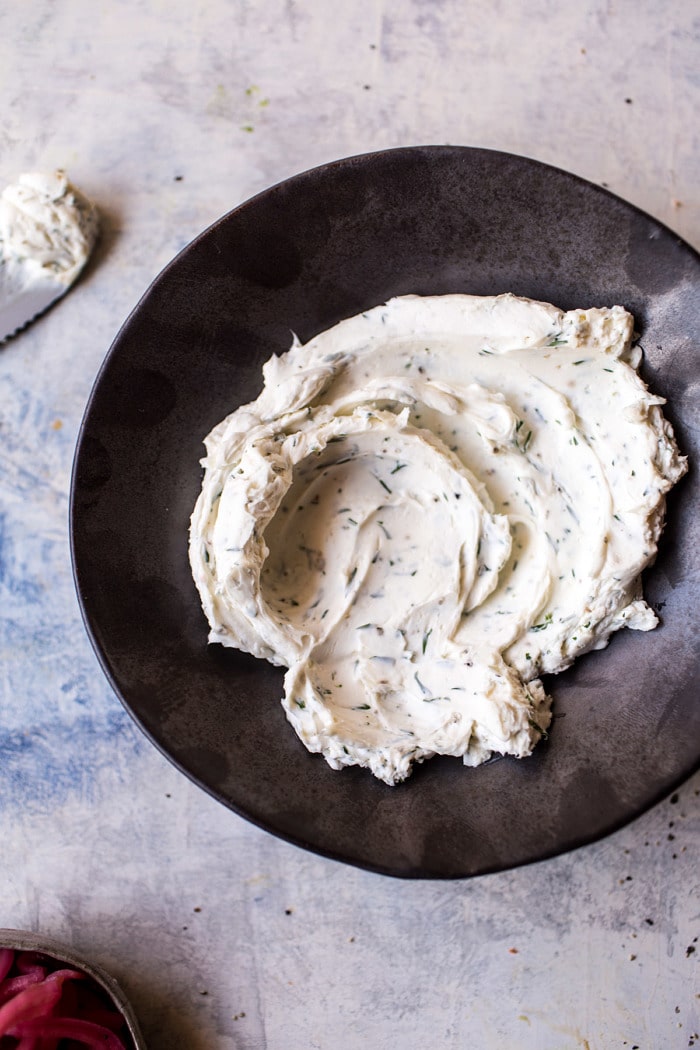 If you've never had the combo of salmon and cream cheese, let me just tell you that you are missing out. It's got to be one of my favorite ways to eat salmon. I've been making blackened fish tacos with cream cheese for years, way before I started the blog. Basically, I took the same combination of flavors I use in the tacos and turned them into one epic burger. I also got a little fancy and added some fresh herbs to my whipped cream cheese. And what to use to hold all of this deliciousness together? I decided that a bagel would be the perfect vessel. And yes, the bagel is a MUST. I used a poppy-seed bagel, but I think sesame seed would be equally delish.
Last up, let's talk about the toppings. I have a really hard time making fish or seafood and not putting it with something fruity and tropical, SO… I stuck to my instincts and added grilled pineapple, grilled jalapeños + sliced avocado (obviously) plus some fresh watercress.
Perfect fresh spring burger, right?!? So dinner? Tonight??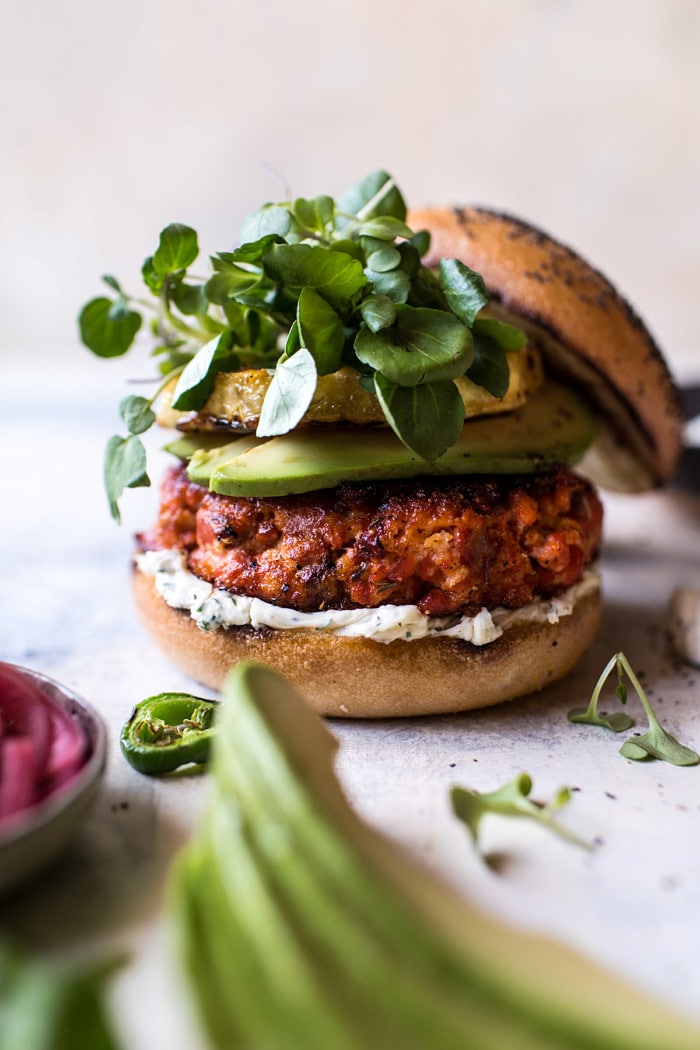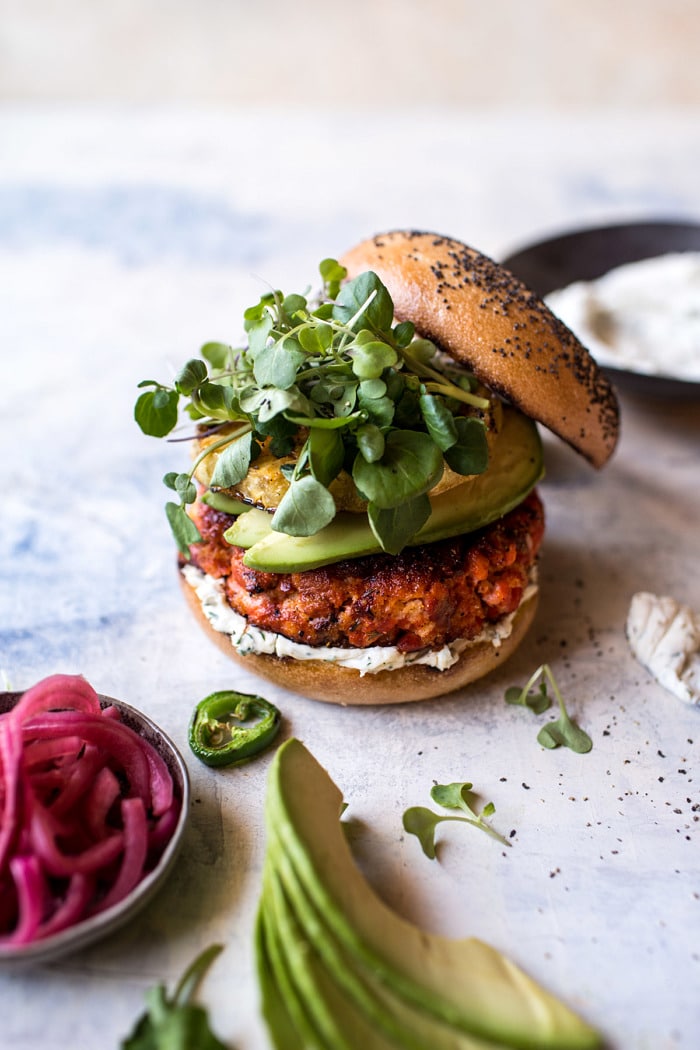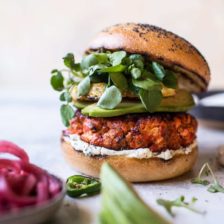 Nutritional information is only an estimate. The accuracy of the nutritional information for any recipe on this site is not guaranteed.
The Recipe
Blackened Salmon Burgers with Herbed Cream Cheese.
By halfbakedharvest
Course: Main Course
Cuisine: American
Keyword: blackened salmon, burger, cream cheese, fish, salmon
Here's the deal, not only are these salmon burgers healthy and delicious, they're also incredibly easy to prepare.
Prep Time 15 minutes
Cook Time 15 minutes
Total Time 30 minutes
Servings 4 Burgers
Calories 366 kcal
Ingredients
Blackened Salmon Burgers
1 pound wild caught salmon skin removed
1/3 cup Panko bread crumbs use gluten free bread crumbs if needed
2 tablespoons fresh grated Parmesan
1 tablespoon olive oil plus more for cooking
2 tablespoons dark brown sugar
1 tablespoon paprika
1/2 teaspoon cayenne more or less adjust to your taste
1/2 teaspoon garlic powder
1/2 teaspoon dried thyme
1/2 teaspoon salt + pepper
4 smaller bagels or brioche burger buns toasted
slices Sliced avocado grilled jalapenos + grilled pineapple , for topping (optional)
Microgreens watercress + pickled red onion, for topping (optional)
Herbed Cream Cheese
8 ounces cream cheese softened
1/4 cup fresh basil finely chopped
2 teablespoons fresh dill finely chopped
2 tablespoons fresh parsley finely chopped
salt + pepper to taste
Instructions
Add the salmon to the bowl of a food processor and pulse until it is finely chopped and similar in size to ground chicken. Alternately, you can chop the salmon very finely with a sharp knife.

Add the chopped salmon to a bowl with the Panko breadcrumbs, parmesan and olive oil. Mix with a spoon until just combined. Form into 4 equally sized burgers (or 2 large) burgers.

In a small bowl, combine the brown sugar, paprika, cayenne, garlic powder, dried thyme, salt and pepper. Sprinkle both sides of the burgers generously with the seasoning mix.

Heat a skillet over medium-high heat with a tablespoon of olive oil. Cook burgers on each side until golden, about 3-4 minutes per side. Be gentle when flipping the burgers, as they are delicate.

Spread the bottom half of your toasted buns with the herbed cream cheese (recipe below). Top each bun with a salmon burger and then add your desired toppings. I highly recommend a slice of grilled pineapple! Add the top half of your bun. EAT!
Herbed Cream Cheese
Add the cream cheese to a mixing bowl and whip with an electric mix until light and fluffy, about 1 minute. Stir in the basil, dill, parsley and a pinch of salt + pepper. This can be made a few days in advance and kept in the fridge. Bring to room temperature before serving.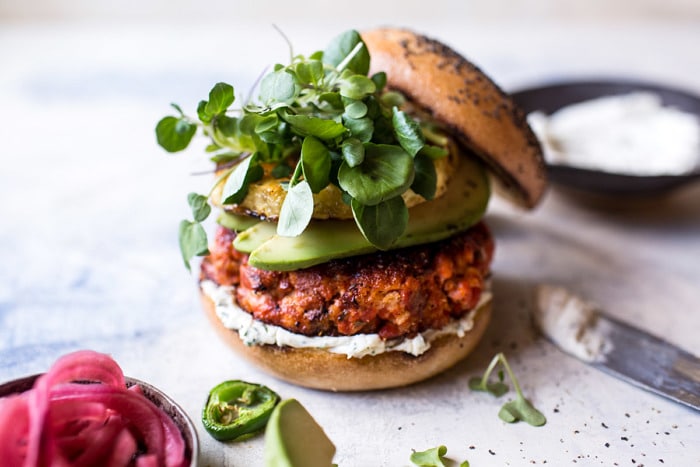 Awesome… let's do this! For the full recipe please head over to the Kraft Blog <— DO IT 🙂