Antipasto Tortellini Skewers with Lemon Basil Vinaigrette.
Embracing the springtime produce with these simple Antipasto Tortellini Skewers with Lemon Basil Vinaigrette. Fresh cheese tortellini and mozzarella, marinated in a quick lemon basil vinaigrette, then layered onto skewers with roasted peppers, olives, tomatoes, and assorted meats. Serve the skewers with toasted ciabatta bread on the side and additional vinaigrette. This is the simplest of appetizers, yet so amazingly GOOD. Great for upcoming Mother's Day and all the summer gatherings soon to follow.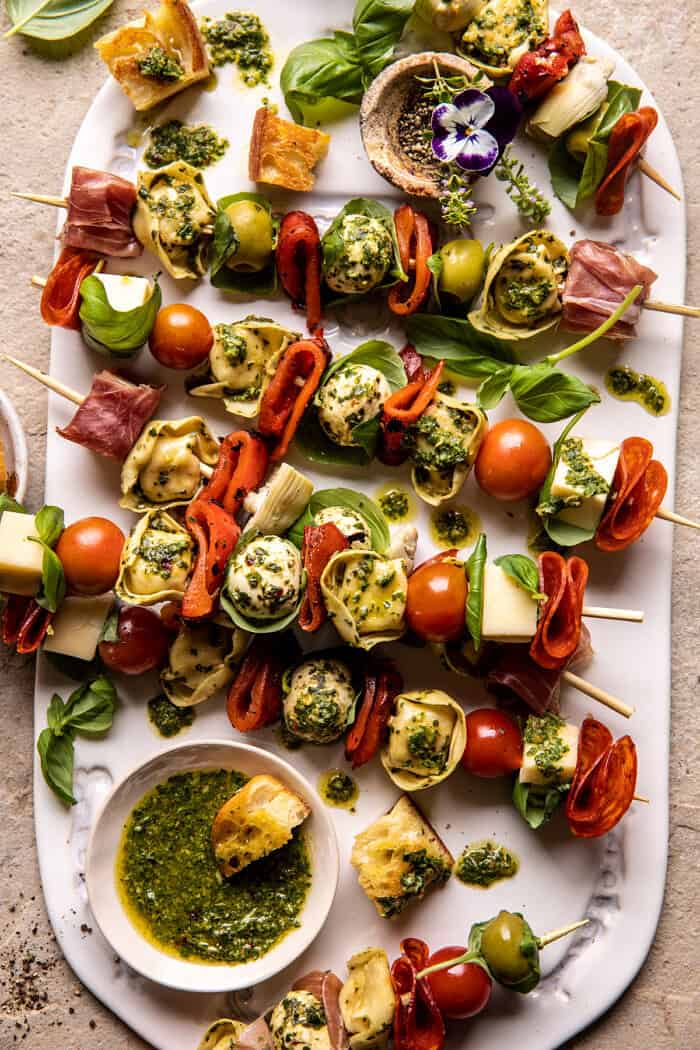 So excited to be starting the week off with this recipe, I told you guys it was coming!
With Mother's Day this Sunday, and Memorial Day just a couple of weeks away, I'm definitely in appetizer entertaining mode. Even more so now as the weather begins to warm. People are slowly venturing out and getting back to "normal life" with small get-togethers.
I've been planning these for a couple of weeks now. I saved them for this week in hopes that you guys would make them for Mother's Day. But I'm going to be honest, these are so fun and delicious that I'd even enjoy them for dinner. They're a nice change-up from the usual!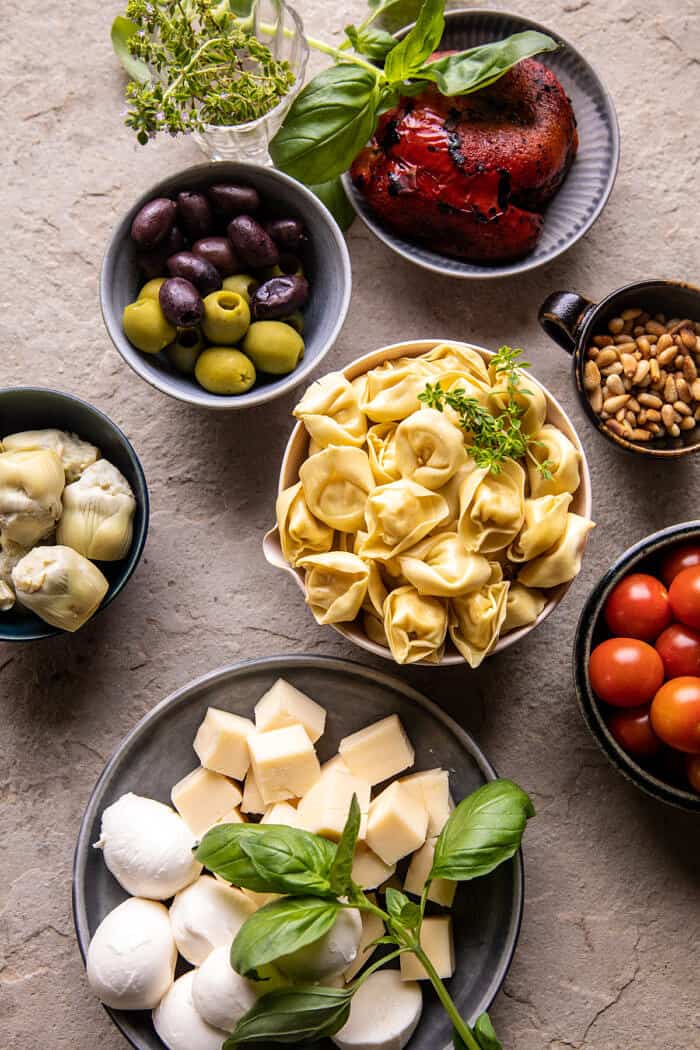 Here are the quick details
If you're new to antipasto, it's toasted bread cubes, olives, cherry tomatoes, artichokes, red peppers, prosciutto, fresh mozzarella, cubes of sharp provolone, and fresh basil. I added my favorite cheese tortellini, which I felt like fit perfectly! I recommend mixing and matching your skewers. A few with olives and a few without. Maybe some with tomatoes and then some with peppers. I just kind of played around with combos and had fun layering them up. Any way you layer them they will be delicious!
Since you know I love everything with a little drizzle, I made a lemon vinaigrette for serving along with the skewers. The pesto keeps the veggies and bread from drying out while adding some serious flavor.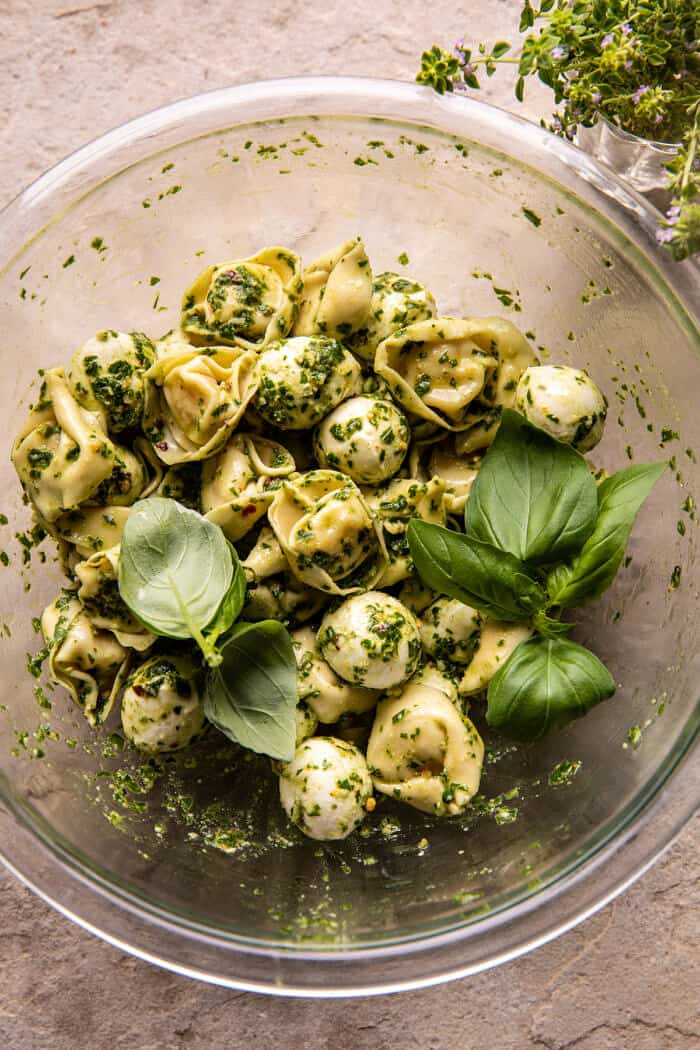 I love the idea of skewered appetizers. They're hand-held and easy for people to grab and go, but yet also personal bites with no sharing required! Perfect for outdoor entertaining.
What's even better about these skewers is that you can assemble them ahead of time, keep in them the fridge, and then simply pull them out before serving.
Just before serving, I like to drizzle a little of the vinaigrette over the skewers. Then I let them sit for a bit to marinate. I also serve up the toasted bread cubes on the side as a nice crunchy bite. They're something extra to dip into the vinaigrette – delicious!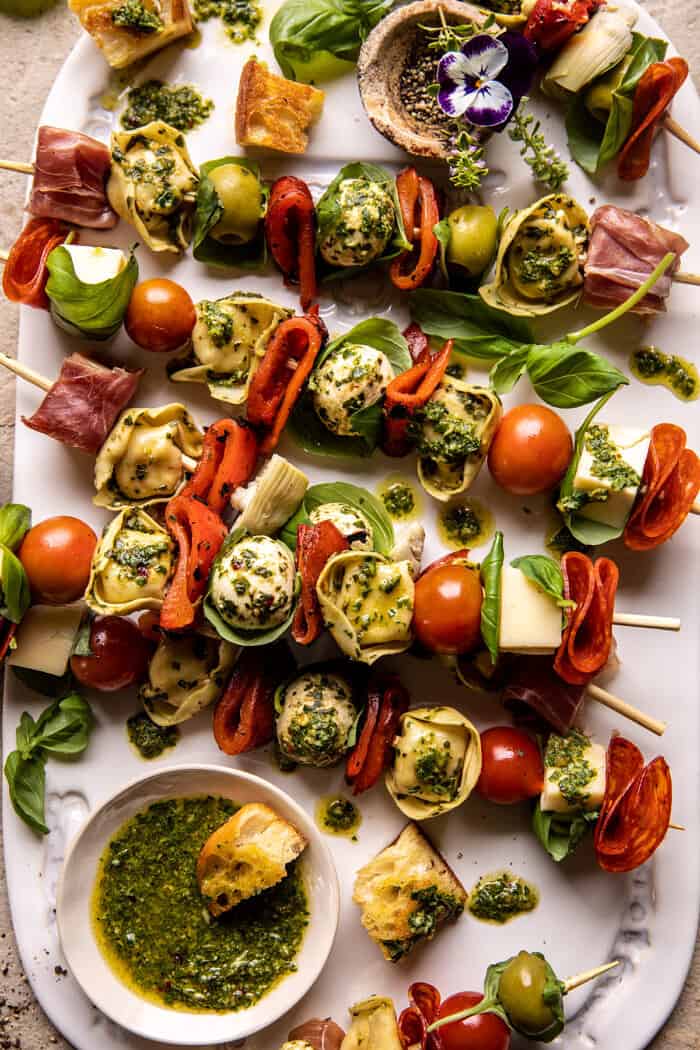 My final recommendation?
Try giving these a test run on Sunday for Mother's Day. My hope is that you end up loving them so much that you recreate them all summer long.
Clearly, I am very excited for those warm summer days ahead over here!
PS. It is snowing!

Looking for other antipasto recipes, try these:
Antipasto Pasta Salad with Herby Parmesan Vinaigrette
Greek Inspired Antipasto Platter
Antipasto Mozzarella Sandwich with Lemony Basil Pesto
Lastly, if you make this Antipasto Tortellini Skewers with Lemon Basil Vinaigrette be sure to leave a comment and/or give this recipe a rating! Above all, I love to hear from you guys and always do my best to respond to each and every comment. And of course, if you do make this recipe, don't forget to tag me on Instagram! Looking through the photos of recipes you all have made is my favorite!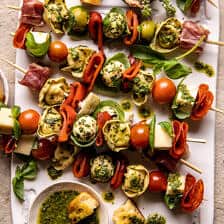 Nutritional information is only an estimate. The accuracy of the nutritional information for any recipe on this site is not guaranteed.
The Recipe
Antipasto Tortellini Skewers with Lemon Basil Vinaigrette
The simplest of appetizers, yet so amazingly GOOD. Perfect for Mother's Day and all of your summer gatherings!
Prep Time 20 minutes
Cook Time 10 minutes
Total Time 30 minutes
Servings 20 skewers
Calories 215 kcal
Ingredients
2 cups cubed ciabatta bread
2 tablespoons extra virgin olive oil
1 pound fresh cheese tortellini, cooked
1 cup mixed olives, pitted
1 cup cherry tomatoes
1 roasted red pepper, cut into bite-size pieces
6-8 ounces thinly sliced prosciutto and or salami
1 cup fresh mozzarella balls and or cubed provolone
1 cup fresh basil leaves
Instructions
1. Preheat the oven to 375° F. On a baking sheet, toss the bread with olive oil. Bake 8-10 minutes or until lightly toasted and golden. Season with salt.

2. Meanwhile, make the vinaigrette. Combine all ingredients in a blender or food processor. Season with salt and red pepper flakes.

3. In a bowl, toss the tortellini and cheese together with a few tablespoons of the vinaigrette.

4. To assemble, thread the tortellini, olives, tomatoes, artichokes, red peppers, prosciutto/salami, cheese, and basil onto skewers. You can mix and match your skewers or make them all the same. 

5. Arrange on a serving plate and serve drizzled with the vinaigrette and toasted bread.