30 Minute Healthy Kickin' Cajun Chicken and Rice + Video.
No salads today. Happy New Year! Make this 30 minute healthy kickin' cajun chicken and rice recipe tonight to celebrate!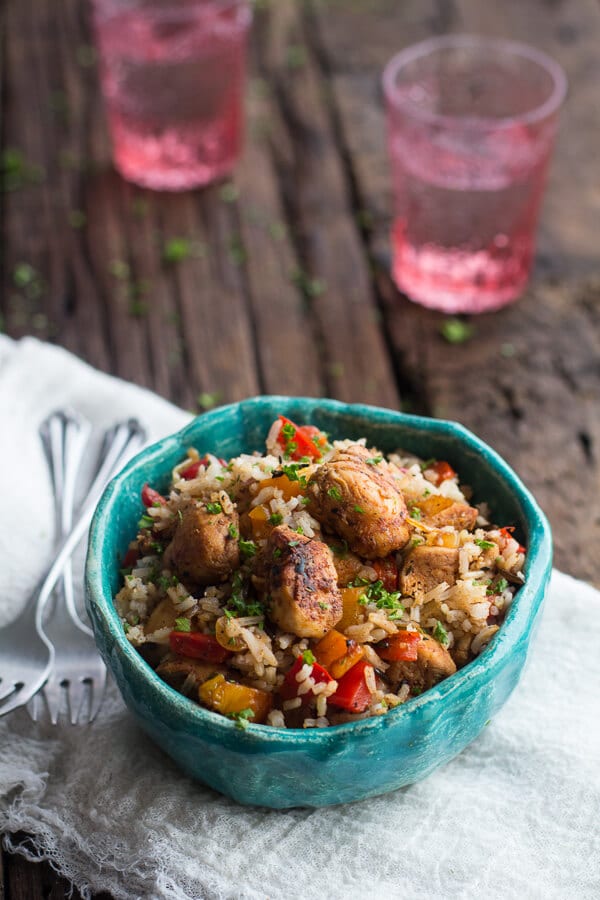 Not that I do not love salads, because I do! I have one coming your way, but just not today. I hope you do not mind, but I thought I would ease you guys into January with Gerard family healthy comfort food.
WATCH HOW-TO VIDEO HERE:

Chicken and rice. It is honestly more comforting to me than a lot of really cheesy, heavy dishes. It's just what I grew up on, so I think I can come up with probably like a million different ideas involving chicken and rice.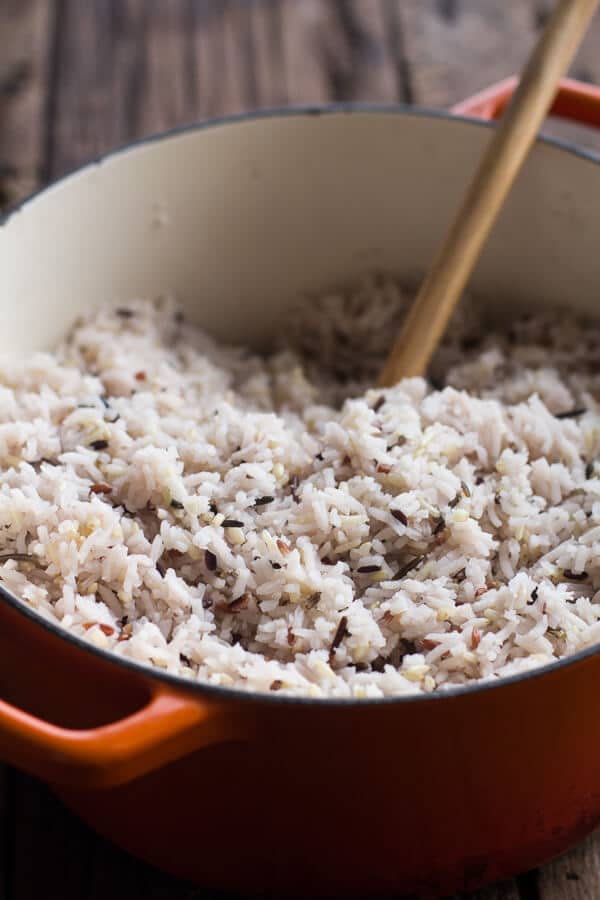 Anyway, I was this close (as I pinch my fingers together like you can actually see me or something) to posting a salad today, but then I stopped myself. I figured probably everyone and then some would be posting salads today. It is January second and everyone knows the diets start today.
Personally, I do not diet – exercise, moderation and healthy lifestyle changes are more my style. Therefore, my New Year's goal is simply to create a killer year of food for you guys. A year that includes one delicious recipe after the next. I hope that many will be healthy and delicious, and that others are super indulgent and over the top, because let's be honest, you know I love those. But mainly, I hope most will be colorful, homemade, simple and easy meals that you guys will all want to create. Meals that you will enjoy making and that will be even more enjoyable to eat.
I am not a New Year's resolution person at all, but I love setting goals and my number one goal this year – create amazing recipes!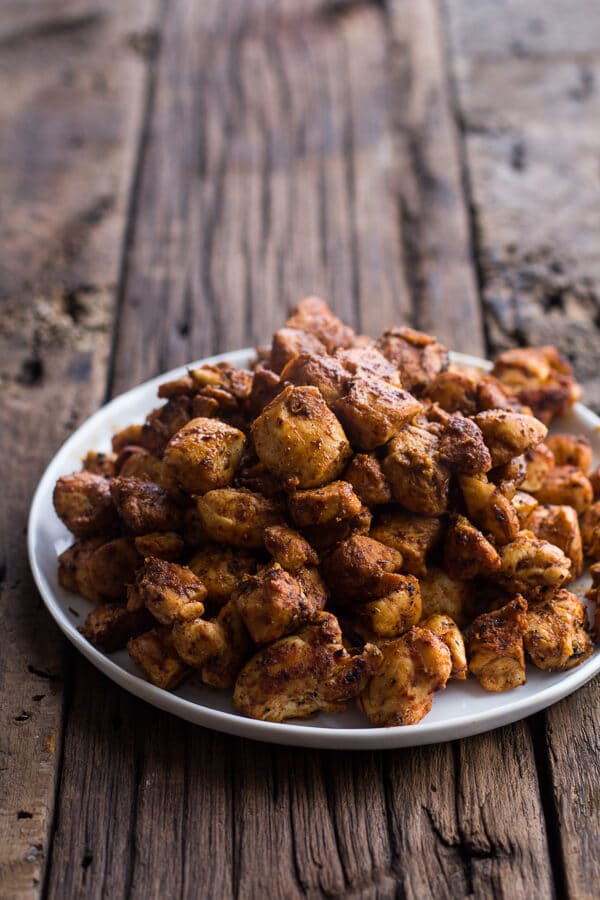 Number two goal?
Well, this one goes right along with number one. Create amazing recipes – with photos that do each recipe justice. Both goals are challenging in their own way, but I do seem to love to stress myself out. I guess it is just what I do.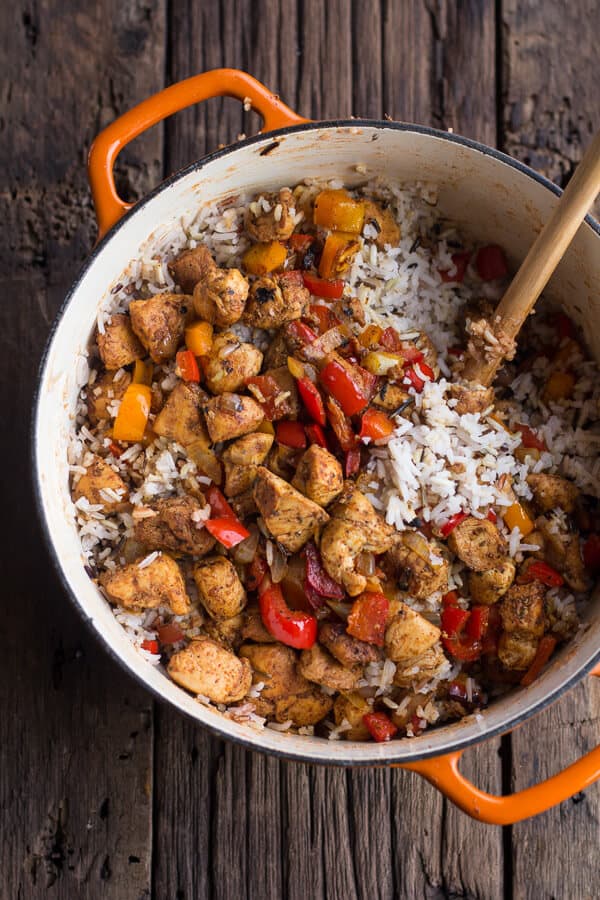 Since we are on the topic of recipes and goals, what are your goals for 2014. The one thing you hope to achieve, or at least improve on? Really, we always talk about me and my weird, totally untraditional family. So let's get to know each other a little, I would love to know a little more about you guys!
And I mean please tell me, what are some of your favorite foods, cooking methods and recipes? Anything you would like to see me cook in this new year?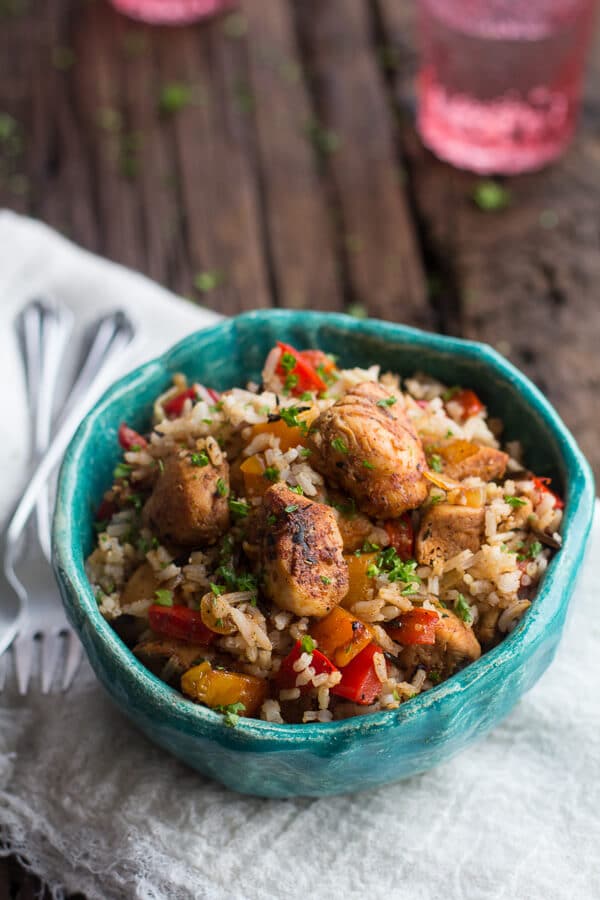 Well for now, we are talking chicken and rice.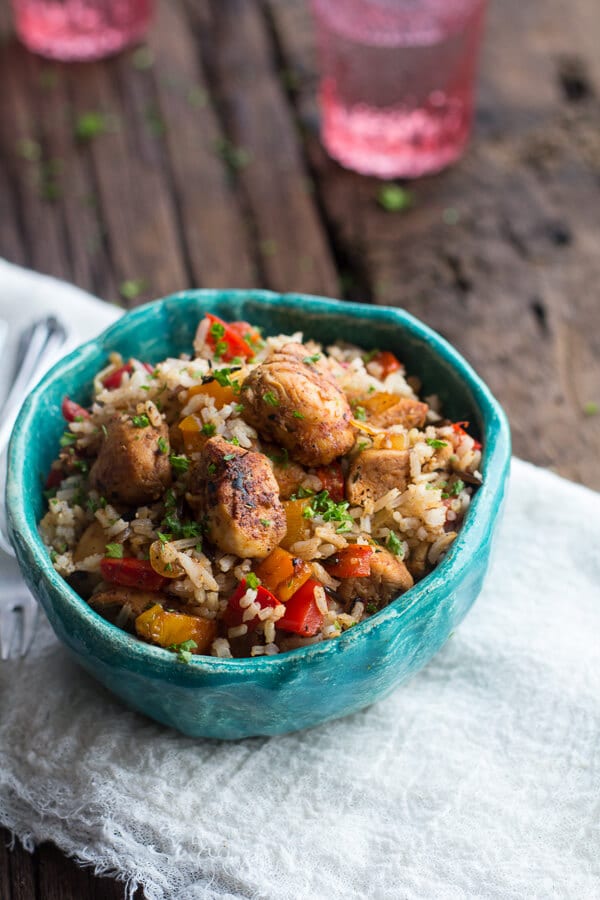 Don't go getting all bored on me yet, chicken and rice doesn't have to be boring. This chicken and rice is spiced up, stir fried, cajun chicken and veggies tossed together with a mix of basmati and wild rice.
If you are trying to go completely whole grain just use all wild rice, but my family has a serious soft spot for basmati. It is our favorite.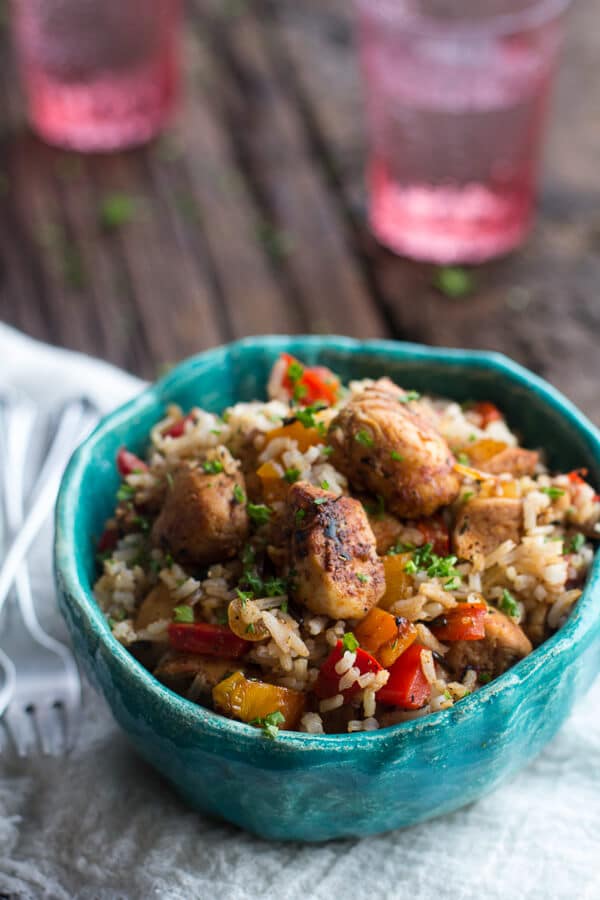 It is super simple and super quick, but I am coming to realize that not every meal needs to be complex and over the top. It is still a hard thing for me to grasp since I really love a variety of textures, colors and flavors, but like everyone always says, often simple is really all you need.
Especially when life is crazy busy and it is back to work and the real world after two weeks of pure holiday awesomeness.
Ugh. The real world? Yikes.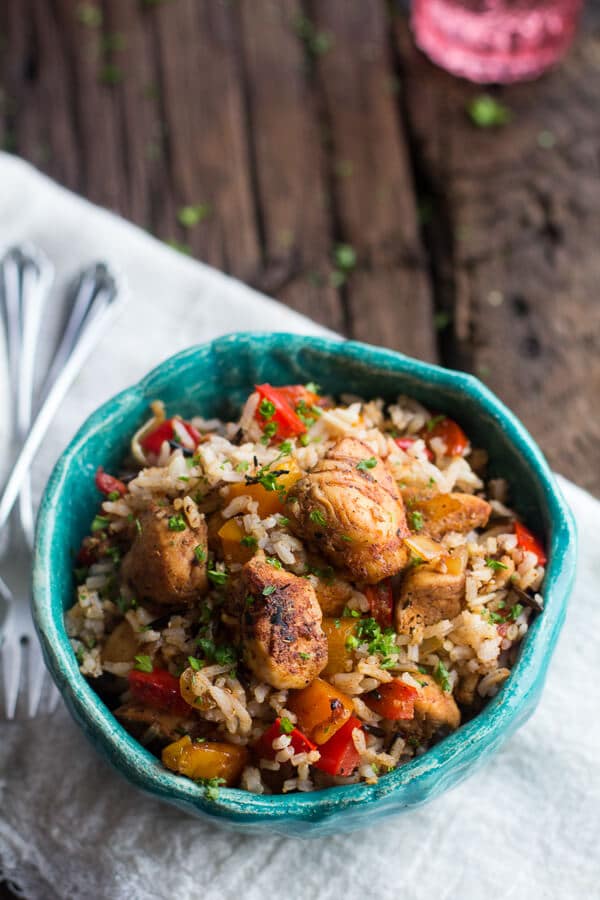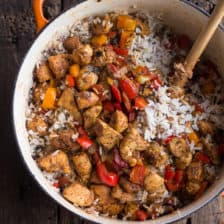 Nutritional information is only an estimate. The accuracy of the nutritional information for any recipe on this site is not guaranteed.
The Recipe
30 Minute Healthy Cajun Chicken and Rice.
By halfbakedharvest
Course: Main Course
Cuisine: American
Keyword: chicken and rice
This chicken and rice is spiced up, stir fried, cajun chicken and veggies tossed together with a mix of basmati and wild rice.
Prep Time 10 minutes
Cook Time 30 minutes
Total Time 40 minutes
Servings 6 servings
Calories 290 kcal
Ingredients
Rice
1/2 cup wild rice
3/4 cup basmati rice
2 1/2 cups water or low-sodium chicken broth
Cajun Chicken and Peppers
1 pound boneless skinless chicken breast cut into bite size pieces
2 tablespoons olive oil
1 tablespoon cajun seasoning
1 tablespoon creole seasoning
1/2 tablespoon brown sugar
1 teaspoon sweet paprika
1 teaspoon pepper
1/2 teaspoon cayenne
1/2 teaspoon dried thyme
2 tablespoons soy sauce
1 large red pepper chopped
1 large orange pepper chopped
1/2 a onion chopped
2 cloves garlic minced or grated
1 ounce can diced tomatoes 14
2 tablespoon fresh parsley chopped, plus more for garnish
Instructions
To start the rice. Add the water to a medium size soup pot. Bring to a low boil and then add the rice and a pinch of salt. Stir to combine and then place the lid on the pot and turn the heat down to the lowest setting possible. Allow the rice to cook ten minutes on low and then turn the heat off completely and let the rice sit on the stove, covered for another 20 minutes (don't take any peeks inside!). After 20 minutes remove the lid and fluff the rice with a fork. Note that rice can cook differently for everyone, this is just what works for me.

Meanwhile heat a large skillet on medium high heat and add 1 tablespoon olive oil. In a small bowl combine the cajun seasoning, creole seasoning, brown sugar, pepper, cayenne, sweet paprika and dried thyme.

Add the chicken and the spice mixture to the skillet and give it a good toss. Then spread the chicken in an even layer and allow it to cook, without stirring for 2-4 minutes. Then stir the chicken and add the soy sauce, continue cooking another 5 minutes or until the chicken is browned all over and cooked through. Remove the chicken from the skillet and set aside.

Add the remaining tablespoon of olive oil to the skillet. Add the red pepper, orange pepper, onion and garlic. Stir fry the veggies for about 5-10 minutes or until the onions are soft. Add the chicken back to the skillet and toss well. Now stir in the diced tomatoes and simmer until almost all the liquid has evaporated. Remove from the heat and add the chicken mixture to the rice. Toss well and serve! Garnish with chopped parsley if desired.
Recipe Notes
Feel fry to add some shrimp and or spicy andouille sausage!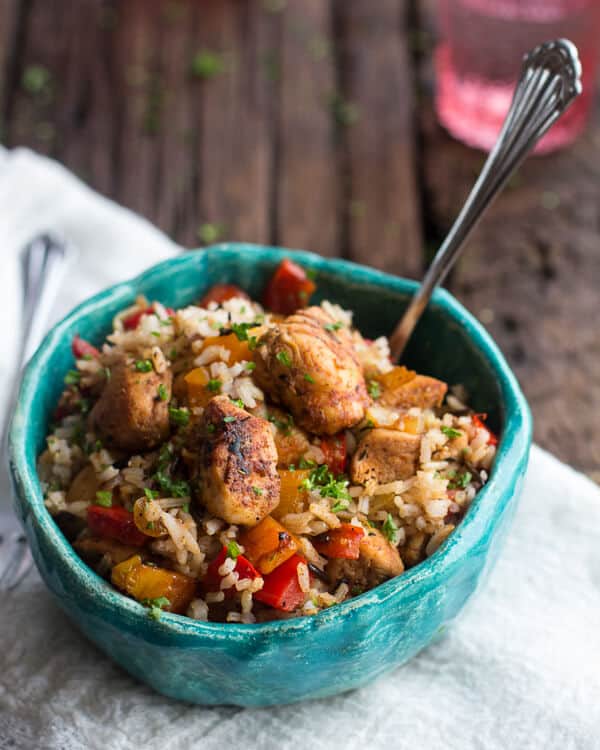 Let's just dive into these bowls before we start to think about that. K? Awesome.