Taleggio Ravioli with Garlicy Butter Kale and Mushroom Sauce + Toasted Pine Nuts.
You guys, I have such a good recipe for you today.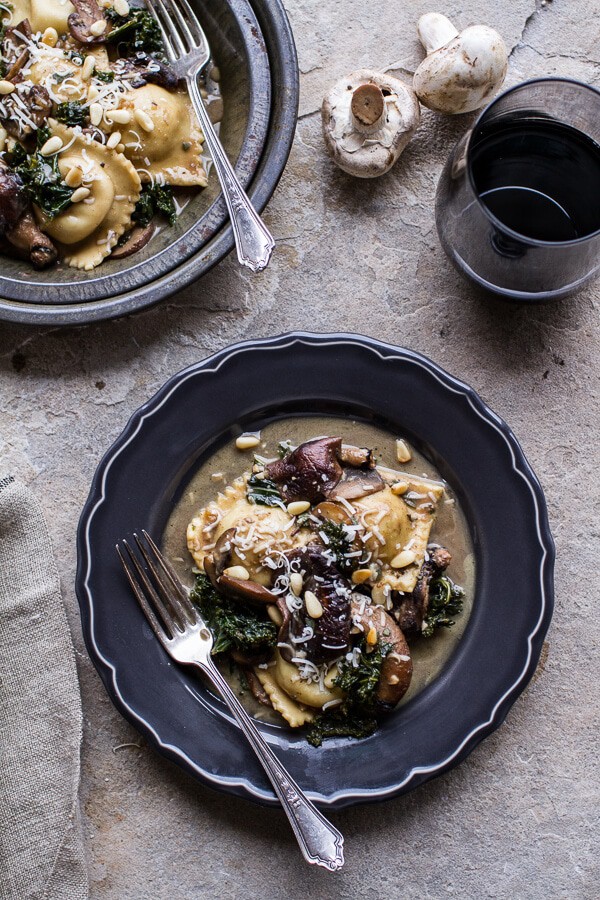 I am so excited about it. I know I said I was excited yesterday, but I am equally excited today. I am telling you, it's all the anticipation of the upcoming season.
Ok and well, all the mushrooms, and um, all the cheese… wrapped up in a delicious homemade pasta bundle. Oh yes, oh yes.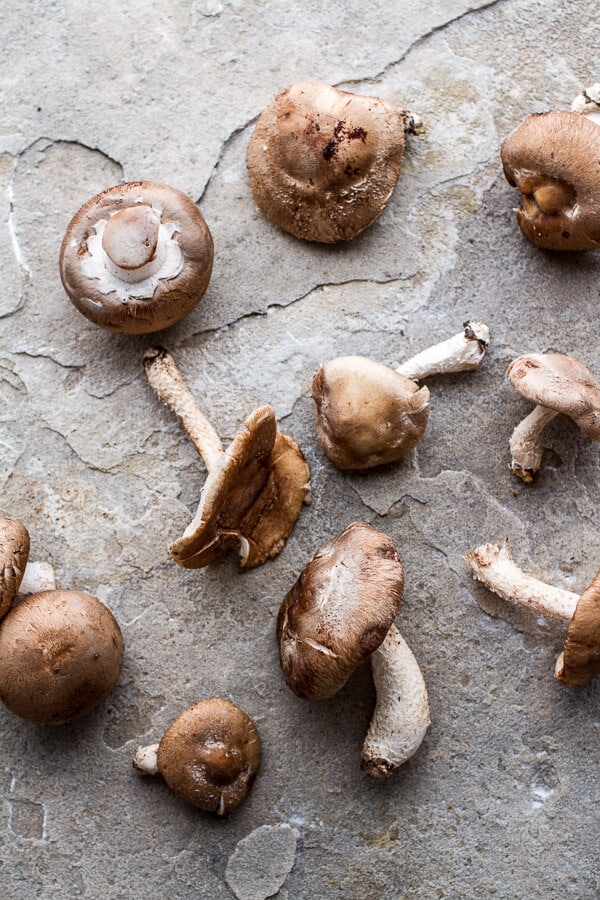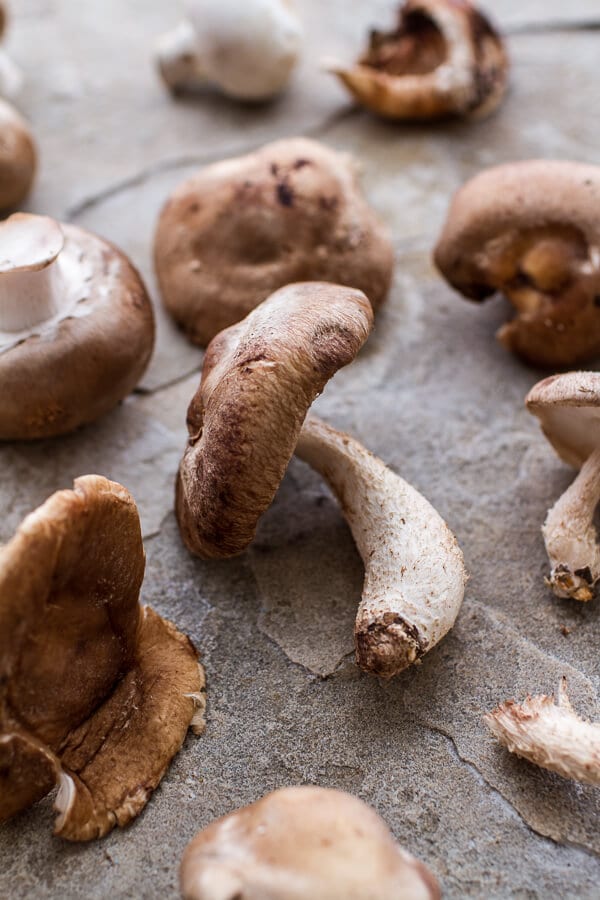 So you guys, lets talk about life a little. I am so excited about so many different things, but at the same time probably the most stressed I have ever been. There's a lot of stuff going on with the barn. Some good, a lot of drama (that is hopefully going to go away) and now mostly (and finally) work is getting done. It's a long story, but I will go into all the details sometime later on this month.
FYI, there may be lots of barn talk from now until Thanksgiving, when the barn will at long last, be all finished and pretty. So excited!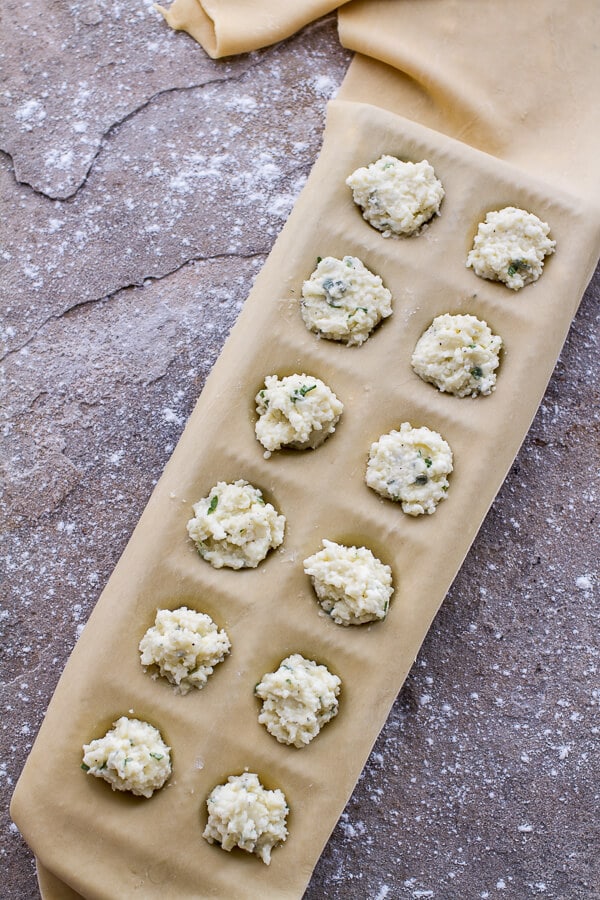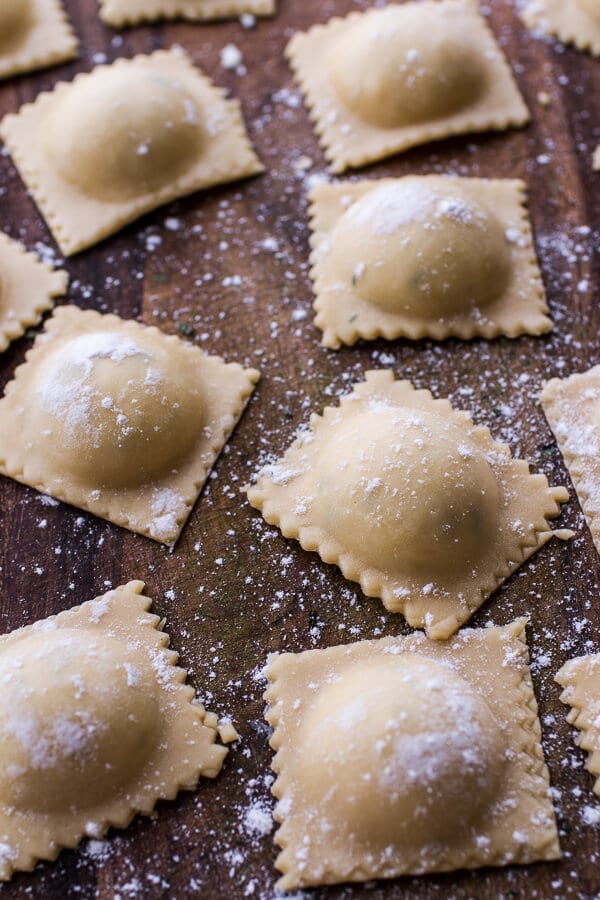 For now, let's focus in on some ravioli!! I love making homemade ravioli. Once you do it over and over, it gets so easy – like, I made this whole recipe in under an hour easy AND I didn't even make that big of a mess. I mean, there was for sure a mess, but nothing compared to my usual daily explosions.
This recipe kind of just happened. It was getting late on Monday and I had spent most of the morning meeting with our builders and talking barn stuff, so I was kind in hurry to just get some work stuff done. I really wasn't sure what I wanted to make, but I had all these mushrooms in the fridge that I had bought on whim. I really shouldn't buy stuff on a whim, but you know I just can't help it with the pretty produce, I love it so much. Anyway, I had mushrooms and I had also bought some taleggio for the first time and really wanted to use it. So from there the meal basically created itself.
I love when this happens. I always get the best dinners this way. Well, not always, but mostly.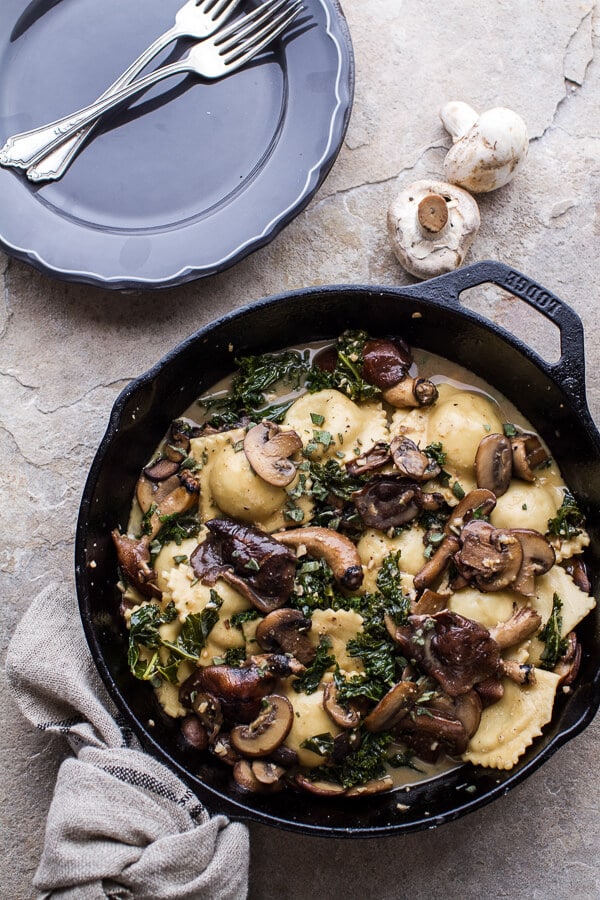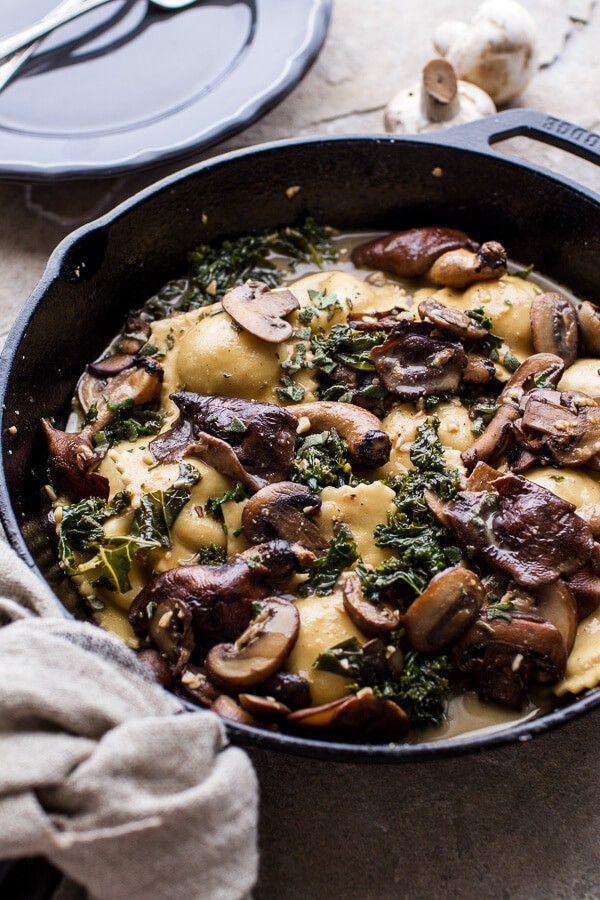 I know that ravioli can seem like a lot of work, and even be a tad intimidating, but you guys I promise, you can make this. I know you aren't wimps, and trust me, people will be impressed with this meal.
You do not need any special tools or special ingredients. Just flour and eggs. That's all it takes for pasta dough. You can even use wonton wrappers instead of pasta dough, but I think pasta dough is way better. And really, you have never had ravioli like homemade ravioli. It's better than any pre-made packaged stuff out there. Promise it is worth the extra effort.
Sometimes I double whatever ravioli recipe I am making and freeze half for a quick and easy meal. It's pretty effortless to do and does not take a whole lot of extra time, so I highly recommend it if you love ravioli. And come on, who doesn't love ravioli?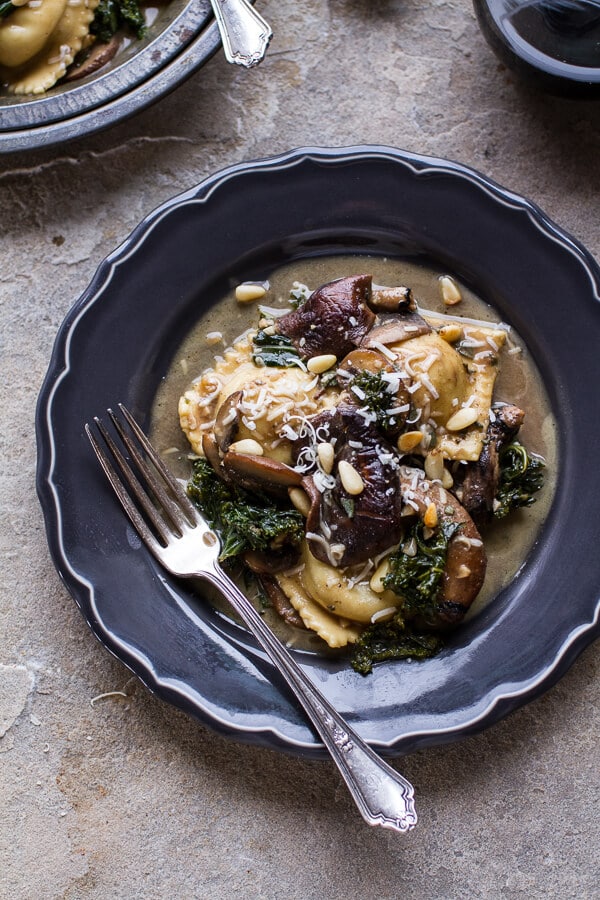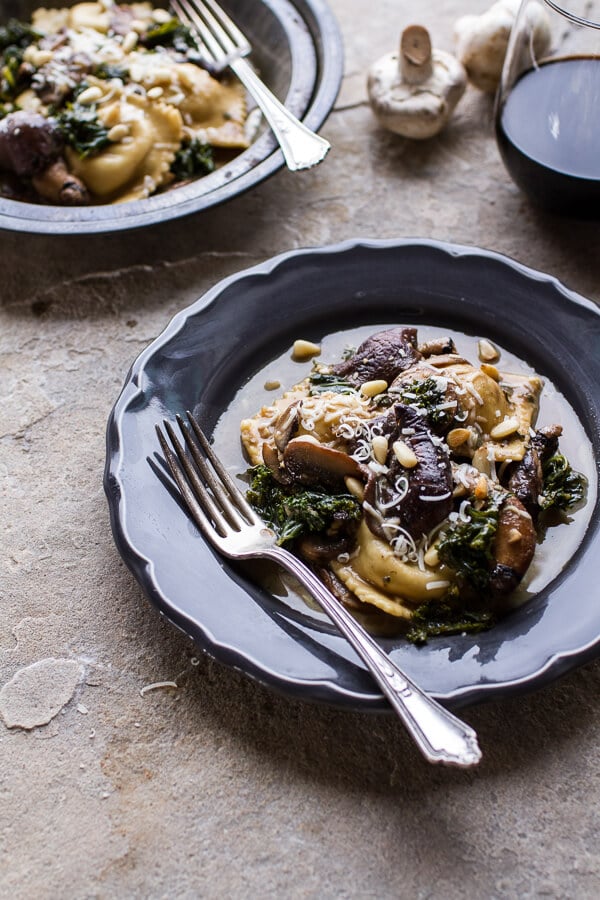 The sauce is simple, but has so much flavor. I have made it my goal this fall to really cook a ton of mushrooms. See, only my dad and I like mushrooms. This means I don't cook with them very often, but I have to change that because I think mushrooms are awesome. Especially when covered in caramelized garlic and butter. Oh my gosh, so flippin good you guys.
It's kind of the perfect classic combo of ravioli and mushrooms, just kicked up a notch.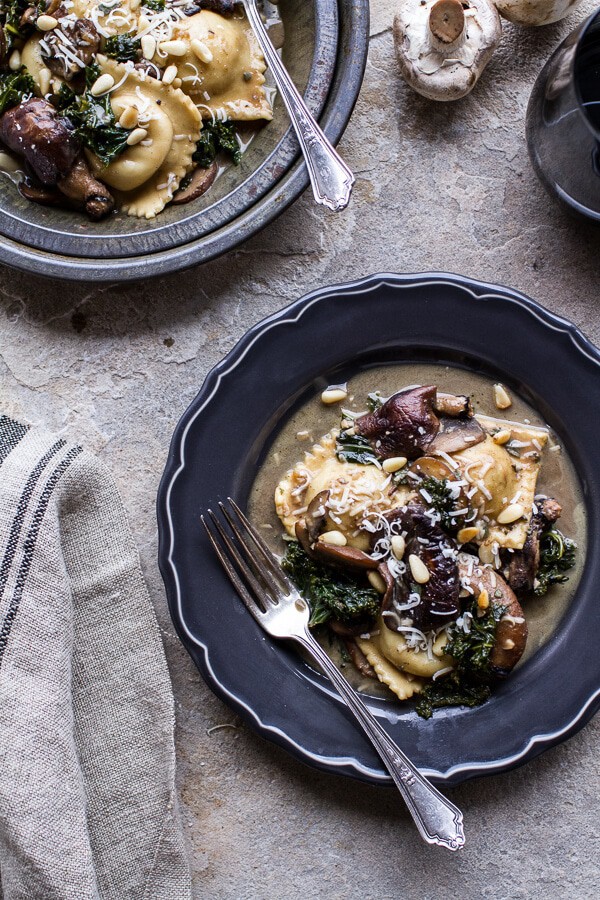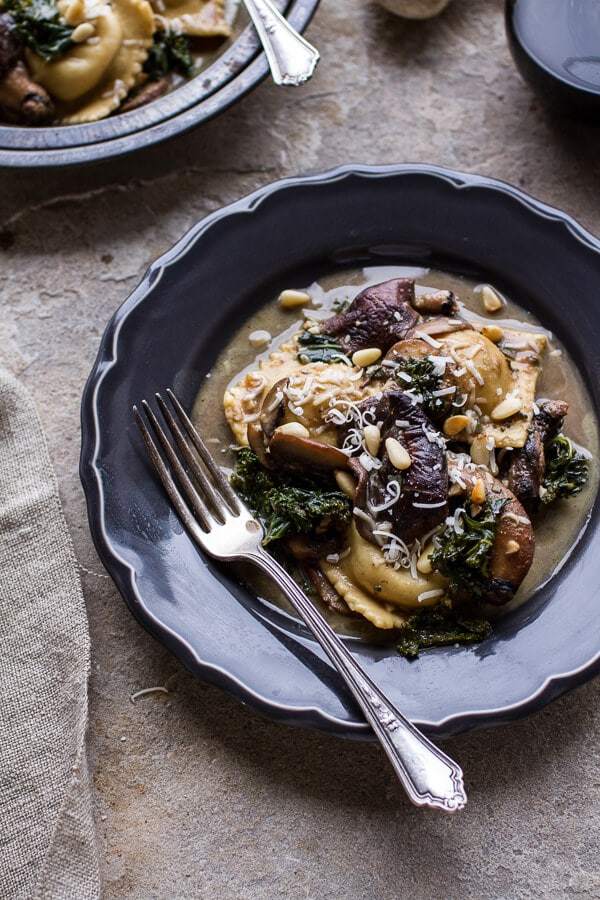 This was my first experience with taleggio cheese and WOW, it is so good. So much flavor and so bold. I love bold cheese. Oh, and just a reminder, the kale and all the mushrooms make this a totally balanced meal.
You are so welcome.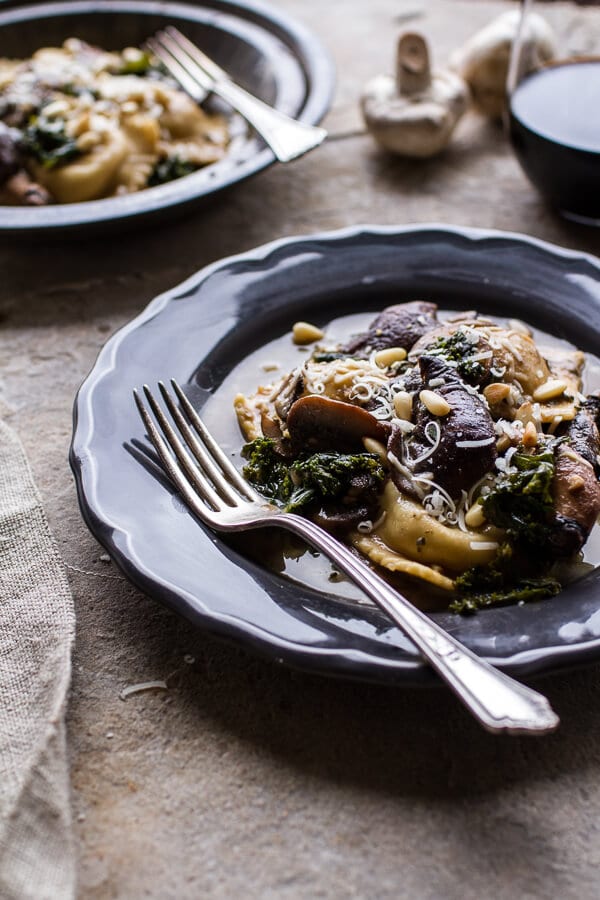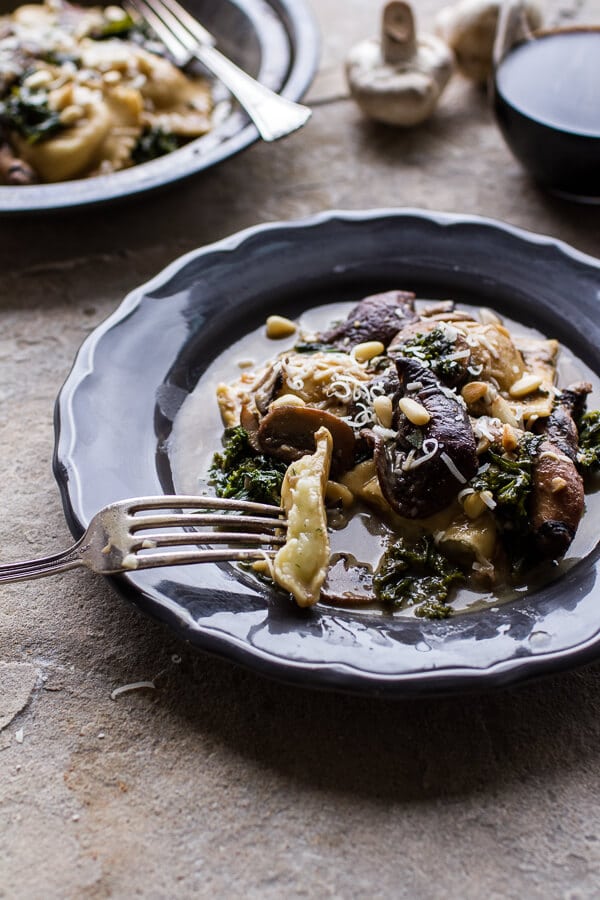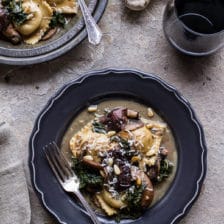 Nutritional information is only an estimate. The accuracy of the nutritional information for any recipe on this site is not guaranteed.
The Recipe
Taleggio Ravioli with Garlicy Butter Kale and Wild Mushroom Sauce + Toasted Pine Nuts.
By halfbakedharvest
Course: Main Course
Cuisine: Italian
Keyword: kale, mushroom, ravioli
Ok and well, all the mushrooms, and um, all the cheese... wrapped up in a delicious homemade pasta bundle. Oh yes, oh yes.

Prep Time 30 minutes
Cook Time 20 minutes
Total Time 50 minutes
Servings 6 Servings
Calories 590 kcal
Ingredients
Ravioli*
1 pound fresh pasta dough or 40 wonton wrappers
1 1/2 cups taleggio cheese cut into chunks, 10 ounces
1 1/2 cup mozzarella cheese shredded
1 egg
1/2 teaspoon pepper or more to your taste
1 tablespoons fresh sage chopped, plus more for serving
2 tablespoons fresh basil chopped
Sauce
2 tablespoons olive oil
4 tablespoons butter divided
4 cups mixed mushrooms I used cremini, shiitake and button
1 small bunch kale chopped
3 cloves garlic minced or grated
1/4 salt and pepper plus more to taste
1 1/2 cups chicken or veggie broth
1/3 cup red wine
1/3-1/2 cup freshly grated parmesan cheese plus more for serving
1/4 cup fresh basil chopped
2 tablespoons toasted pine nuts
Instructions
Ravioli
Prepare the pasta dough, cover and set aside.

Add the taleggio cheese, mozzarella cheese, egg and pepper to the bowl of a food processor, Blend until almost smooth, but still a little chunky. Stir in the sage and basil.

Roll your pasta dough into lasagna sheets. I like to roll my pasta to the 5th setting, but all pasta machines vary. Heavily flour your ravioli mold or counter. Seriously, do not be afraid of the flour. Flour is your friend and without it your ravioli will stick to the mold (or your counter)!

Lay one sheet of pasta on the mold, making sure the entire mold is covered. Now, if you have one, grab an egg and fit it into each well. This helps form a space for the filling to go. Remove the egg, now take a tablespoon of filling and place it into each well. Spritz the pasta sheet with a little water or use your fingers and dab some water along all of the ravioli edges. Lay the second sheet on top and run a rolling pin over to seal. Turn the mold over to release the ravioli. They will not be fully separated. Use a pizza cutter or sharp knife to cut them fully apart. Lay the ravioli on a parchment lined baking sheet and continue making ravioli until you've used all the cheese filling. Make sure to cover the ravioli with a damp towel as you work. For step-by-step process photos, see [this post | https://dev.halfbakedharvest.com/tortilla-chip-crusted-oven-fried-ravioli-spicy-fontina-queso-fundido/]. At this point you can freeze the ravioli for later if desired.
To make the Sauce + Finish the Recipe
Bring a large pot of salted water to a boil.

While the water comes to a boil, heat a large skillet over high heat, add the olive oil and 2 tablespoons butter. When the butter is melted, sprinkle in the mushrooms in a single layer. Don't stir them! Let them sizzle until they have caramelized on the bottom, about 2 minutes. When the bottoms are caramelized, toss them once and season with salt and pepper, to taste. Continue to cook without stirring for about 5 minutes. Add the chopped kale and 1 more tablespoon butter, cook until the kale is lightly wilted, about 2 minutes. Once the kale is wilted reduce the heat and add the garlic, cook for about 1 minute. Add the red wine and chicken broth, simmer until the sauce has reduce by about 1/4.

Meanwhile, boil the ravioli for about 3-4 minutes or until they float to the surface. Add the ravioli to the sauce along with the remaining tablespoon of butter and the parmesan cheese. Cook about 2-3 minutes or until everything is coated well in the sauce. Remove from the heat and stir in the sage + basil. Divide the ravioli among plates and garnish with toasted pine nuts and parmesan cheese. EAT!
Recipe Notes
*For step-by-step photos of the ravioli making process, see [this post | https://dev.halfbakedharvest.com/tortilla-chip-crusted-oven-fried-ravioli-spicy-fontina-queso-fundido/] **If you do not have a ravioli mold, just make free formed ravioli like shown [here | http://www.wikihow.com/Make-Ravioli] ***You you are using wonton wrappers, [here is a great step-by-step post | http://thepioneerwoman.com/cooking/2011/09/ravioli-three-ways/] on how to do it.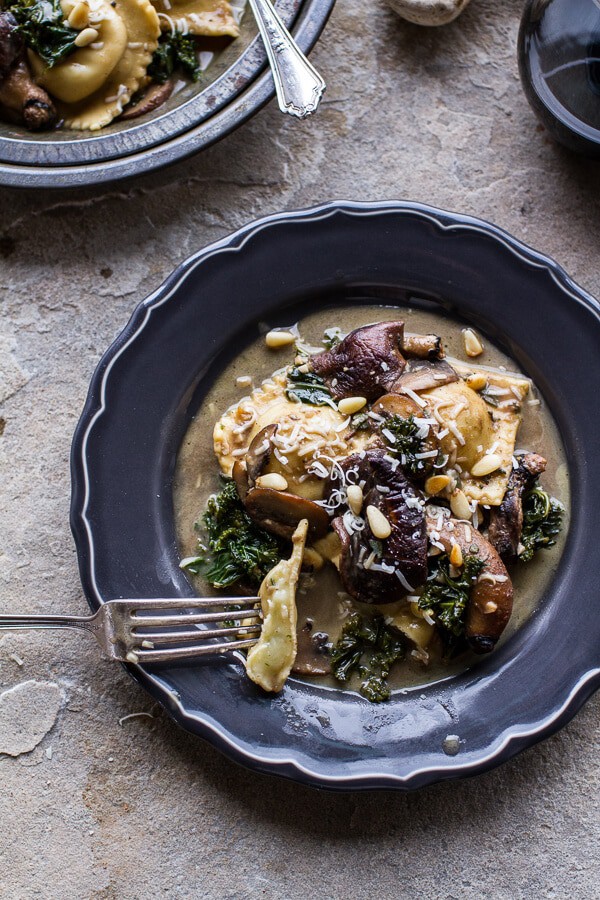 Ugh, that cheese – it just oozes out. Taleggio Ravioli, I cannot even handle all the deliciousness!