Sweet Honey Jalapeño Cheddar Cornbread Biscuits
Today we are talking Jalapeño's and Cornbread and Cheddar AND Honey.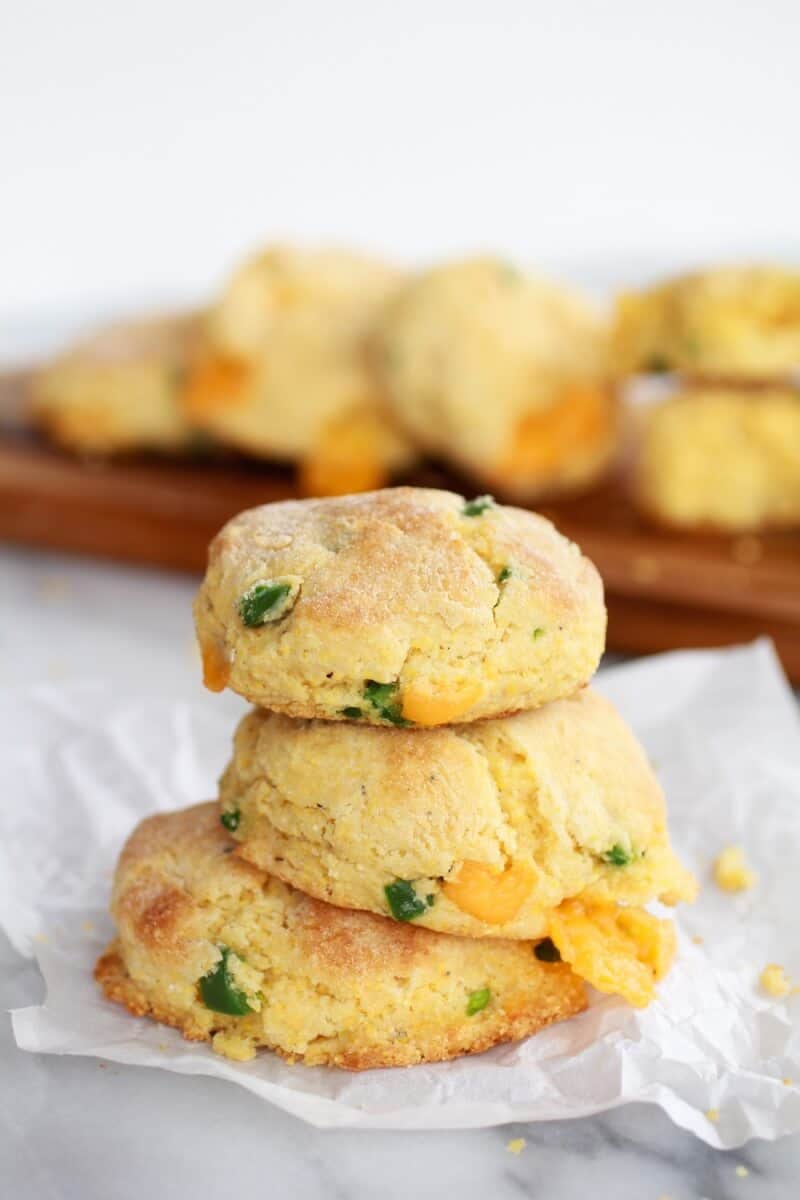 The first time I ever made cornbread I think I was eleven or twelve. We were having a family party, I think for the 4th of July. My parents always had family parties. Out house in Rocky River on the West side of Cleveland, OH was on the lake and it was a fairly big house. This meant all the family parties were held at out house. Mother's Day, Father's day, Thanksgiving, Christmas, Birthdays, 4th of July. Ok, you get the point…..
We had a lot of parties when I was growing up.
Those parties were a TON of work for my parents. I mean I am not just talking a small family gathering. No our family is HUGE. Think drinks, appetizers, dinner and dessert for anywhere from thirty-five to fifty people. There are 26 Amsdell's (soon to be 28), 24 Gerard's and with our very close friends the Mooney's, a handful more.
Yeah, is was a lot, and the parties were often.

Anyway, weird eleven year old me liked to help out on occasion.
I have no idea how I came across a clipping of these Jalapeño Cornbread muffins from the Plain Dealer, but I did and I really wanted to make them.
So I did.
Eleven-year old me had never made cornbread and had definitely never seen a Jalapeño pepper before.

So here's what I remember about that day.
My dad had said something about being careful with the Jalapeño peppers and I remember saying "Dad, they're peppers. I will be fine." And I was. I made my muffins and all was good. That is until my skin and eyes started burning. Like burning so bad.
Ah yeah. I think I touched EVERY part of my body with those fiery fingers.  It was awful and I swear it seemed like it lasted hours maybe even a day! I had never felt anything like it and I swore I would never go near one of those green things again.
Really, I said that. I was seriously, seriously, viciously afraid of jalapeño peppers.

I also remember everyone loved the muffins. Really loved them. I mean we had not one left over, which was rare. We normally had leftovers of everything. Everyone just kept saying how good they were and that they wanted the recipe.
You guys, I don't even think I ate one.
This bums me out cause I have no idea where that recipe is. I probably threw it out in fear of the the devil jalapeño pepper.The devil that today I absolutely adore.
Yup, I adore these dark green hot peppers. Especially with cheddar cheese.

Not sure when I got over my fear, but I am sure glad I did.
And you know you what?? Touching the seeds does not even bother me anymore. Don't get me wrong I am very carefully when dealing with those seeds, but I never seem to feel any real sting anymore.
Obviously this is just awesome.
Because you all know I like to use a whole lot of Jalapeño peppers.

These are a cross between a sweet honey cornbread muffin and a buttery biscuit with a kick, and they are awesome.
The buttery flavor and flakiness of a biscuit combined with the sweetness of a honey cornbread muffin all mixed together with a kick from the jalapeño and then a big ol' bite of sharp cheddar cheese!! Ah huh, it's good. Plus they take just twenty-five minutes! Oh and it is also perfect for you Memorial BBQ that you will hopefully being having in just over a week. Or maybe even that BBQ your having today!!
Whoa, that's crazy. Memorial day is in a week!
Which reminds me, I need to warn you. I have some doozies coming at you this week. Prepare yourselves for some healthy, some fruity, a whole lot of grilling and some yummy chocolate and ice cream!
These are just the killer start!


Nutritional information is only an estimate. The accuracy of the nutritional information for any recipe on this site is not guaranteed.
The Recipe
Sweet Honey Jalapeño Cheddar Cornbread Biscuits
By halfbakedharvest
Course: Side Dish, Snack
Cuisine: American
Keyword: biscuit, cheddar, jalepeno
The buttery flavor and flakiness of a biscuit combined with the sweetness of a honey cornbread muffin all mixed together with a kick from the jalapeño and then a big ol' bite of sharp cheddar cheese!! Ah huh, it's good.
Prep Time 5 minutes
Cook Time 15 minutes
Total Time 20 minutes
Servings 15 Servings
Calories 127 kcal
Ingredients
1 1/2 cups all-purpose flour
1 1/2 cups cornmeal
5 teaspoons baking powder
1/2 teaspoon baking soda
1/2 teaspoon salt
1/2 teaspoon pepper
1 1/2 sticks cold unsalted butter cut into small cubes
1 egg lightly beaten
3/4 cup buttermilk
1/4 cup honey
3/4 cup sharp cheddar cheese cubed
2 in jalapeños deseeded (I left some of my seeds ) and diced (if your jalapeños are small use 3)
Instructions
Preheat oven to 425 degrees F.

In a large bowl, combine flour, cornmeal, baking powder, baking soda, salt and pepper. Whisk until combined. Using a fork, pastry blender or your hands, add butter pieces to the flour and mix until coarse little crumbles remain. Whisk together the buttermilk, egg and and honey and pour into the flour. Stir with a spoon until just combined, not overmixing. Use your hands if needed to bring the dough together. Fold in the cheddar cheese and jalapenos.

Use a 1/4 cup measure to drop batter onto a nonstick baking sheet, or press dough on a sheet of parchment paper or cutting board, then using a biscuit cutter to shape the dough into rounds. Brush with buttermilk.

Bake for 10-15 minutes, or until biscuits are golden brown.

For real!