Strawberry Margarita Cream Filled Donuts
It's Margarita time……… again!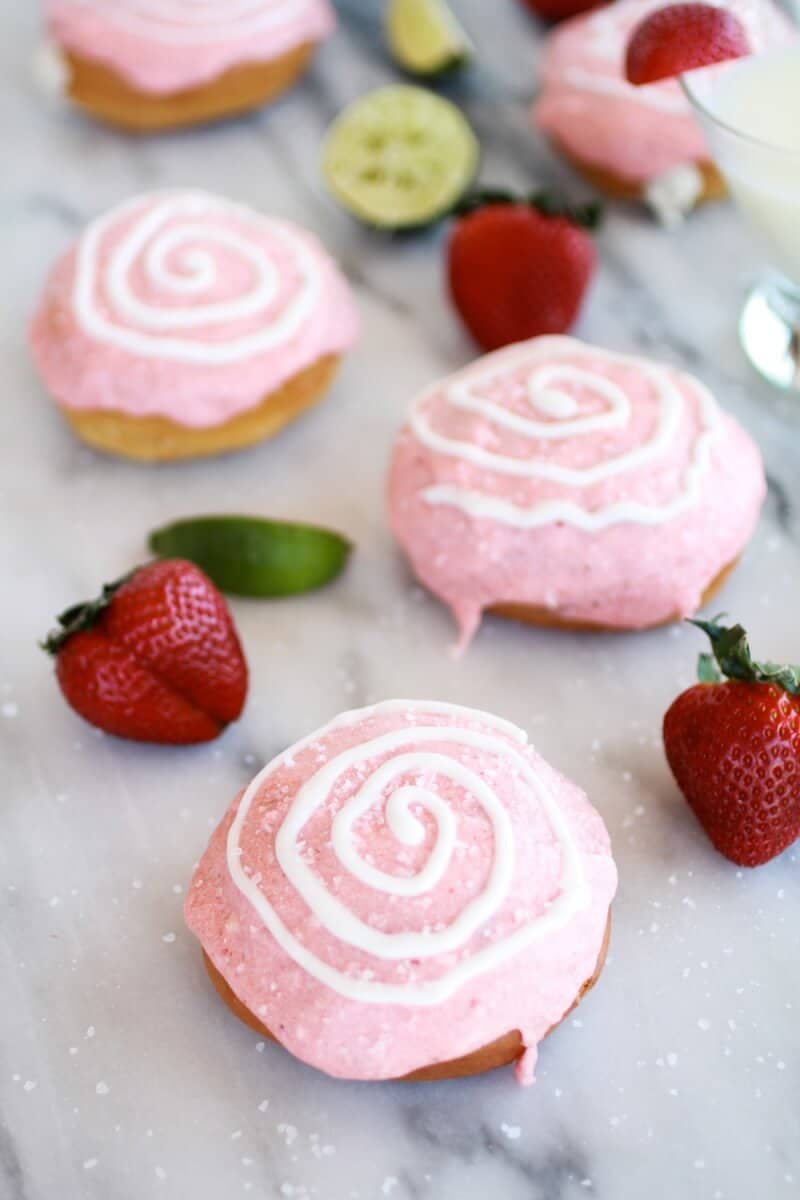 Don't you remember? I told you Monday that I had margarita plans for you guys today.
Like I said, I went a little Margarita crazy. I couldn't help myself.
I bought a whole stink'n bottle of Tequila and for the price of what I paid you better believe I was going to put it to good use. Seriously, who knew liquor was so much money. Obviously, NOT me.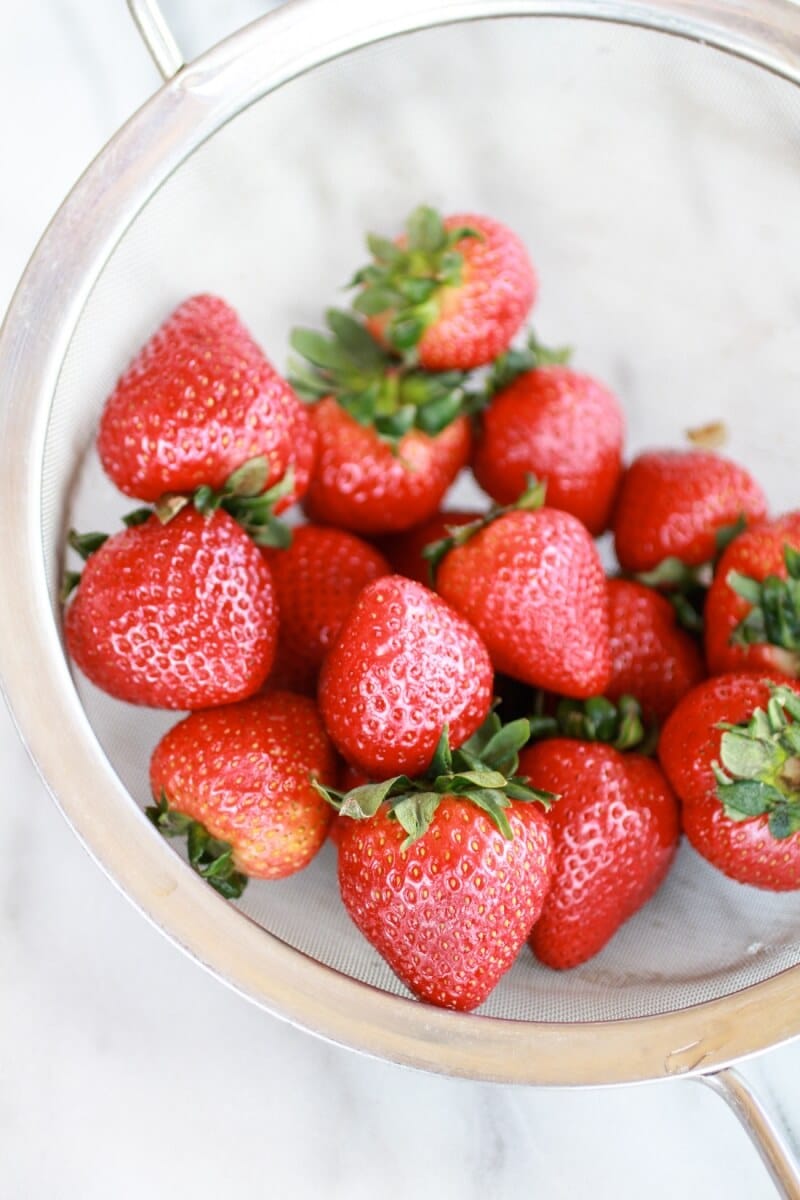 Anyway, I have had a whole lot fun testing out these fun margarita recipes. Actually, I should say my mom and I have. The day I made these my mom walked in the door from hiking and I literally shoved one doughnut in her mouth, asked her what she thought and then proceeded to stuff another in her mouth, asking, "which one was better".
Mind you she still had on her boots, all of her snowy hiking clothes and had barely stepped two feet inside the house.
Pretty sure she did not mind being greeted with strawberry margarita doughnuts though (especially since she proceeded to have 2 more after lunch).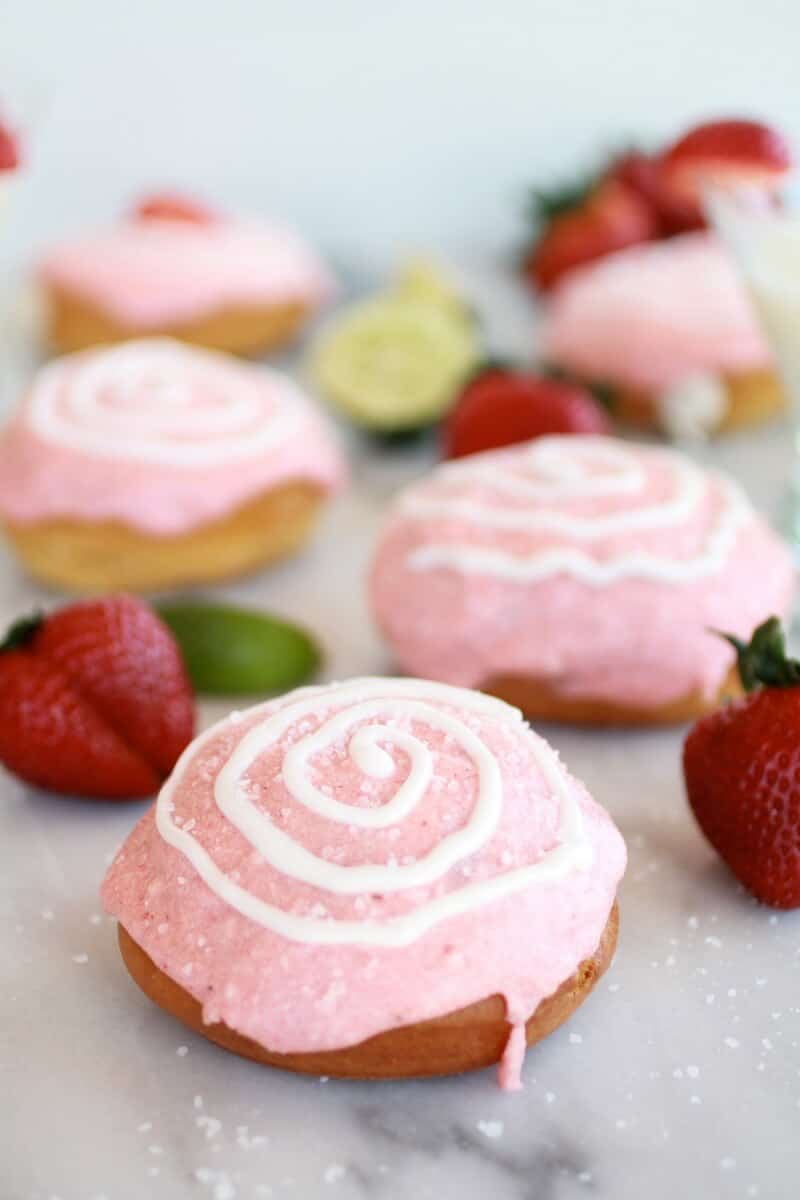 The two of use stood by the front door, going back and forth between the two salted pink doughnuts I held in either hand trying to decide which frosting we liked better.
I think we stood there for five minutes taking multiple bites from each doughnut. Liking the frosting of one, taking a full bite out of the other to get the "full effect". The bottom line is we knew upon the first bite which frosting we liked best, but continued to stand by the front door eating bite after bite until both doughnuts we gone.
Finally once our fingers were licked clean, and not a crumb was in sight (really I am not sure even a dog could have found one) we declared what we knew all along, the second doughnut's frosting was better.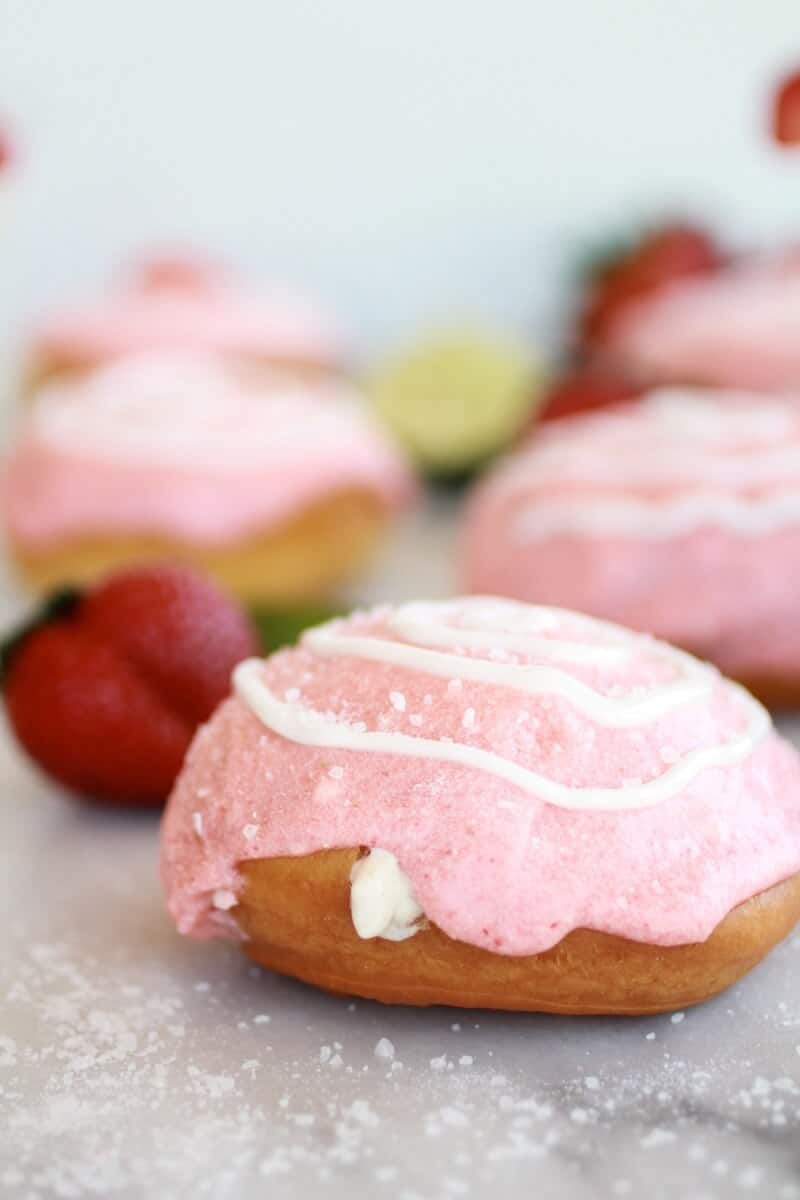 Now that I am siting here writing this I am beginning to think that this is not a normal occurrence in people lives.
Please tell me you guys greet people at the door with doughnuts, that you then proceed to feed them before they even take off their snowy shoes (oh that's right, you probably don't have a foot of fresh snow on the ground anymore)? Oh and those said doughnuts, they're full of tequila, and it was only 11:00am.
Ah say what? You don't? Oh….. well I think maybe, maybe you should.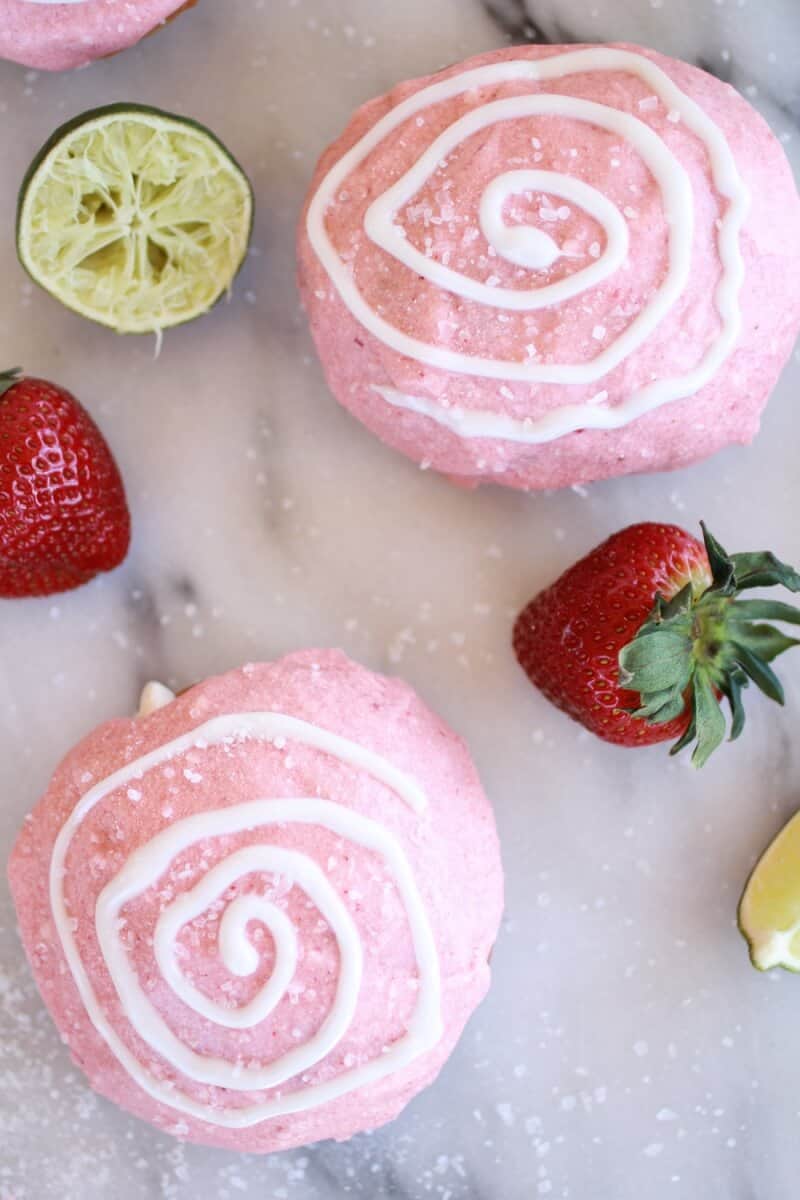 Seriously, can we talk about how cute these are! I mean for one they are the perfect shade of pink (oh and trust me, Asher loved this) and two, with that salt on top they seriously make you think of a strawberry margarita.
Honestly, don't they just make you think of a hot summer day?
Geez! I can not get over how cute they are, well, at least I think they're cute!

Alright I do have to say that these are a little high maintenance, but again look at them, they're pink and sparkly. Oh and they are filled with the most delicious strawberry margarita pastry cream!!
Even my chocolate loving mom agreed that this doughnut is a special one.
The best part is the strawberry margarita pastry cream. It is so silky and smooth, it's almost like a sweet strawberry ice cream. Then come the buttery strawberry margarita frosting and the lime glaze swirled on top. Put it all together and it makes for one seriously killer strawberry margarita doughnut. It is perfect for Cinco De Mayo, but would also be great for Mother's Day or any spring/summer day!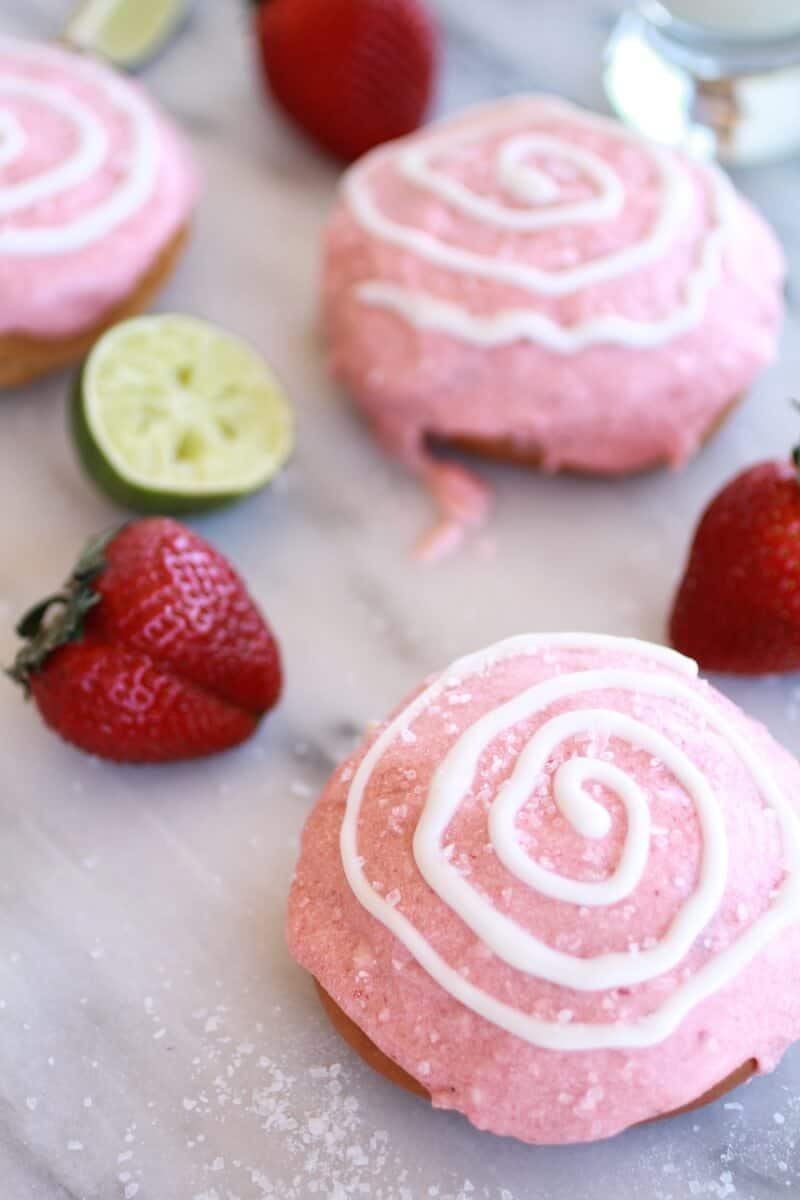 I really can not describe how awesome these are.
It is like a strawberry margarita, but BETTER! And yes, there is a whole lot of tequila in this thing (but it can be left out for the kiddos or anyone else who prefers no alcohol)!!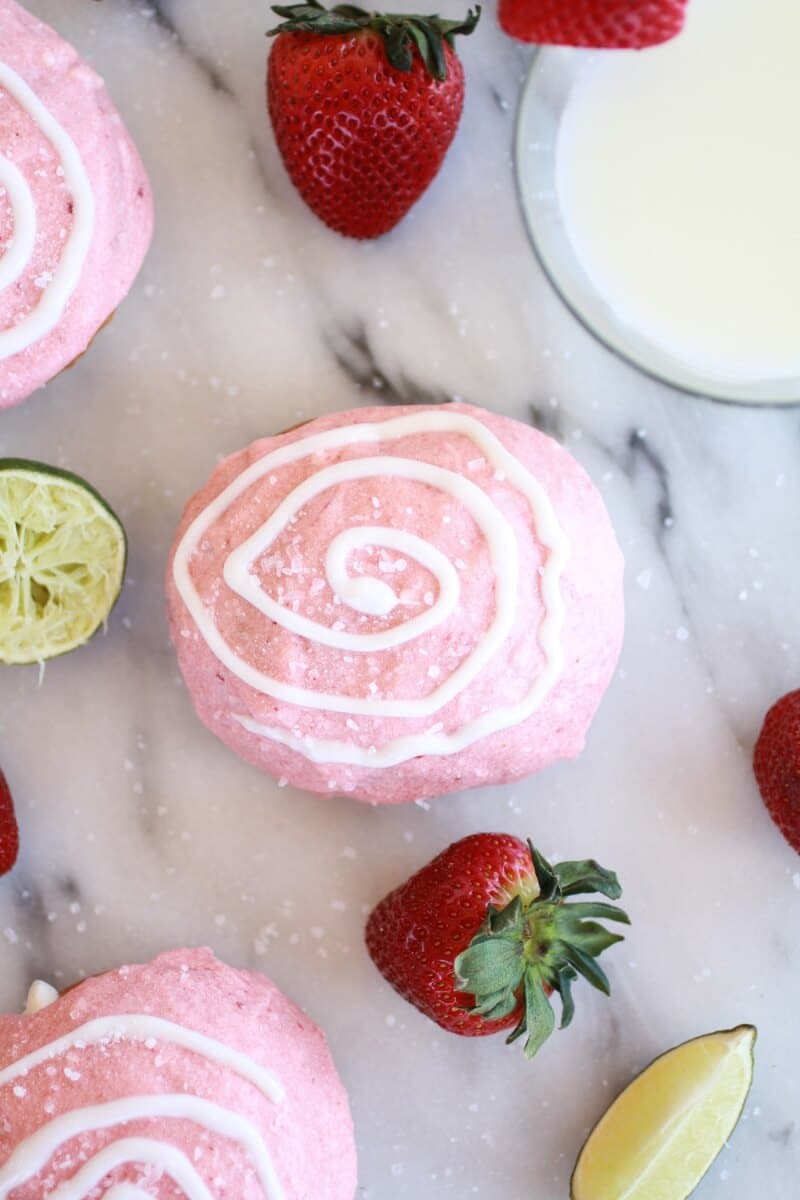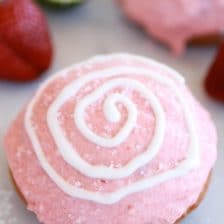 Nutritional information is only an estimate. The accuracy of the nutritional information for any recipe on this site is not guaranteed.
The Recipe
Strawberry Margarita Cream Filled Donuts
By halfbakedharvest
Course: Dessert, Snack
Cuisine: American
Keyword: doughnut, strawberry
The best part is the strawberry margarita pastry cream. It is so silky and smooth, it's almost like a sweet strawberry ice cream. Then come the buttery strawberry margarita frosting and the lime glaze swirled on top. Put it all together and it makes for one seriously killer strawberry margarita doughnut.
Prep Time 20 minutes
Cook Time 5 minutes
Total Time 8 hours 25 minutes
Servings 18 Doughnuts
Calories 406 kcal
Ingredients
1 1/8 cups milk warm
1/4 cup sugar
2 1/4 teaspoons instant or active dry yeast one package
2 whole large eggs beaten
1 1/4 stick unsalted butter melted
4 cups all-purpose flour
1/4 teaspoon salt
Strawberry Margarita Pastry Cream
Strawberry Margarita Frosting
1 cup stick butter softened, 1/2
4 strawberries
1 tablespoon strawberry fruit spread or jam
1-2 tablespoons milk
1-2 tablespoons tequila
1 teaspoon vanilla extract
1/2 lime juiced
2 1/2 cups powdered sugar
Lime Glaze
1 cup powdered suger
1 lime juiced
1 tablespoon tequila optional
salt for sprinkling
Instructions
In the bowl of your electric mixer (with the dough hook attached) add the sugar to milk, stir to dissolve and add the yeast. Stir gently, then let sit for 10 minutes. Melt the butter in separate bowl, add the beaten eggs to the melted butter, stirring constantly to make sure the butter is not too hot for the eggs. Add the egg/butter mixture to the yeast mixture. With the mixer on medium-low speed, allow the dough hook to stir this mixture for a couple of minutes, making sure it's thoroughly combined. With the mixer still going, add the salt and flour in 1/2 cup increments until all the flour is gone. Stop the mixer, scrape the bowl, then turn the mixer on the same speed for five minutes. After five minutes, stop the mixer and scrape the bottom of the bowl. Transfer the dough to a lightly oiled bowl and toss the dough to coat, then cover the bowl with plastic wrap and place straight in the fridge. Refrigerate dough for at least 8 hours, or overnight.

While the dough is refrigerating, make the pastry cream (it needs 4 hours to chill). In a small bowl, stir together flour, sugar and salt. In a large bowl, whisk together egg yolks. Slowly add the flour mixture to the eggs, whisking until smooth and pasty. Heat a saucepan over medium heat and add milk, allowing it to heat until bubbles form around the edges, but not boil. Remove the milk and slowly add it to the egg/flour mixture, whisking constantly until combined. Once smooth and mixed, add the entire mixture back to the saucepan, heating over medium heat and stirring constantly. Cook until it thickens and comes to a boil, about 2-3 minutes. Immediately remove from heat and strain through a fine mesh sieve, then whisk in the vanilla, lime juice, tequila and strawberry jam. Place in a bowl and cover with plastic wrap, pressing it until it touches the surface of the cream. Chill for at least 4 hours.

Remove bowl from fridge and turn out dough onto a lightly floured surface. Roll out to 1/4 to 1/3-inch thickness. Using a 3-inch cutter, cut as many rounds as you can, then roll out remaining dough and cut as much as you can. Place the doughnuts on a floured baking sheet. Cover with large towel and place in a warm place in your kitchen. Allow doughnuts to rise for one hour (mine were good to go after 50 minutes). Doughuts should be puffy and airy.

While the doughnuts rise make the strawberry margarita frosting. Slice strawberries and puree with the strawberry jam, milk, tequila, vanilla and lime juice. In a medium bowl, using an electric hand mixer, beat the butter until light and smooth. Beat in 2 1/2 cups powdered sugar. Add the strawberry mixture and beat until smooth. Add more milk (or tequila) if a thinner frosting is desired. To make the lime glaze combine the powdered sugar, lime juice and tequila in a small bowl. Whisk to combine. The glaze will be thick, if it seems runny add some more powdered sugar. If it is just too thick to stir add some milk. Place the glaze in a sandwich size ziplock bag and snip the corner of the bag.

Heat a few inches of oil over medium-high heat in a large saucepan. Once the oil reaches 350 degrees F, add the doughnuts 2-3 at a time and fry until golden brown, about 2-3 minutes per side. Make sure you are using a thermometer and do not allow your oil to get too hot! The doughnuts need about 4-5 full minutes in the oil so the insides cook, and if it's too hot the dough will burn (trust me, I have burned my fair share of doughnuts). After frying, transfer each doughnut to a paper towel to let the excess oil drain.

While the doughnuts cool, beat the cold heavy cream in your electric stand mixer or with a handheld mixer until stiff peaks form. Fold in the strawberry margarita pastry cream. Take your time gently folding the the pastry cream, making sure there are no white streaks left. Using a pastry bag or ziplock bag, poke a hole inside the side of the doughnut and fill it with a bit of the pastry cream.

Dip the doughnuts in the strawberry frosting of frost with a butter knife or spoon. Using the the lime glaze make a swirl on top of the strawberry margarita frosting. Sprinkle the whole doughnut with salt. If desired top with a sliced strawberry.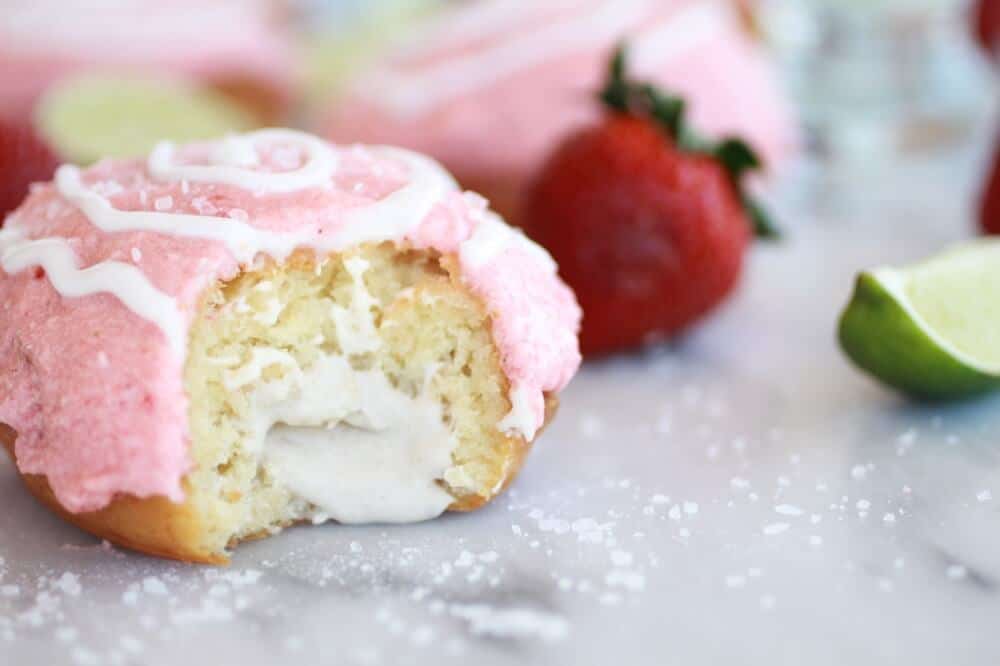 It's Friday, Cinco De Mayo is Sunday and it is most definitely 5 o'clock somewhere. That means it is so time for a strawberry margarita doughnut!