Spicy Pesto and Cheese Stuffed Zucchini Involtini.
This Spicy Pesto and Cheese Stuffed Zucchini Involtini is best for nights when you're craving Italian, but you're also wanting to keep things healthy..ish and summery. Summer zucchini is sliced into ribbons and rolled up with a basil pesto and ricotta cheese mixture. Then baked in a spicy, herby, tomato sauce that's creamy and so delicious! This is a great way to use summer produce. It's also easy enough to serve any night of the week…or for your next Saturday night dinner party.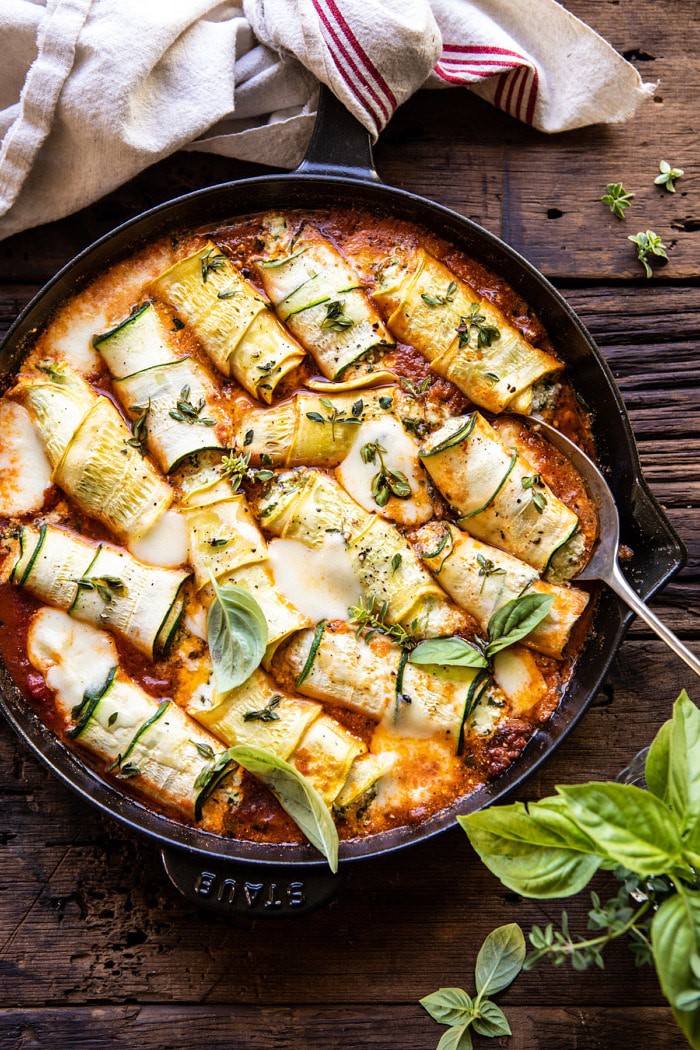 I've always enjoyed zucchini, but I know it can also get a bit boring at times too. Especially during these August days when you have so much on hand. Sometimes you just can't eat any more raw zucchini salads or zucchini off the grill. I get it, it can get old. But the fun thing about zucchini is that you can really do so much with it. You just have to get a little creative.
Enter this zucchini Involtini. It's basically cheesy zucchini baked in tomato sauce, and it is DELICIOUS. I've decided the easiest way to take zucchini from boring to insanely good is to just add cheese and pesto. Probably the case with most vegetables, right? Cheese especially can be a game-changer.
Anyway, the real inspiration for this recipe starts with the mass amounts of basil I have in the garden (greenhouse). The herb garden is inspiring a lot of recipes this month (like tomorrow's recipe). It's overflowing with fresh herbs, tomatoes, and peppers. I'm loving having all of my favorite herbs at my fingertips. I just have to use them up. It's actually kind of nice having SO many herbs. It really forces me to test out new ways to use them and put my "thinking cap" on.
Kind of fun!

Traditionally, Involtini is an Italian dish made using sliced and grilled eggplant. I'm not the biggest fan of eggplant, so I've always steered clear of making Involtini. I was brainstorming recipes when I thought about swapping the eggplant with zucchini.
Done and done.
I got to work testing out this recipe. I knew after the very first round of testing that this was going to be a recipe worth sharing.
This zucchini Involtini is SO GOOD.


Here are the details.
This recipe requires a little prep work, but it's all easy and pretty fun too.
First, make the tomato sauce. I kept this very simple, using canned tomatoes, fresh oregano, and thyme. I did add a special ingredient, spicy Italian chicken sausage.
Of course, if you're vegetarian or just going for a meatless Monday theme, you can easily omit the sausage from the sauce. I'd recommend adding some fresh garlic and a touch more crushed red pepper flakes. This will keep the sauce flavorful and on the spicy side.
With or without the sausage it's going to be great, so do what works for you!

While the sauce is simmering away, get to work on the zucchini.
Start out by slicing the zucchini into thin ribbons. I find this easiest to do with a mandoline, but you can use a knife as well. You'll want to lay the zucchini flat, sprinkle it with salt, and let it sit a few minutes. Doing this will draw out any excess water and make the zucchini ribbons pliable for rolling.
Then just mix fresh ricotta cheese with some fontina and basil pesto. Add the cheese to the zucchini, tuck, and roll! It looks all fancy, but it's actually the easiest to do.
At this point, place the zucchini rolls into the tomato sauce, top with mozzarella, and bake until the cheese is melted and the sauce all bubbly…

Your kitchen will smell incredible…like an Italian grandma's kitchen, so perfect.
If I could best describe this dish, it's kind of like stuffed pasta shells, but minus the pasta. Maybe not the best description, but trust me, this zucchini is truly mouth-watering.
You guys know me, I'm usually all about the pasta. But this cheesy zucchini is surprisingly filling and layered with great flavor and texture! This is a new summer dinner favorite for sure. But then you really can't go wrong with zucchini filled with cheese and pesto in a flavorful tomato sauce. It's perfection.
If you have fresh zucchini, this is what you should be making…well, either this or my chocolate chunk zucchini bread. Actually, you should just make both. Hey, it's August, zucchini every day, all day!

If you make this Spicy Pesto and Cheese Stuffed Zucchini Involtini be sure to leave a comment and/or give this recipe a rating! Above all, I love to hear from you guys and always do my best to respond to each and every comment. And of course, if you do make this recipe, don't forget to tag me on Instagram! Looking through the photos of recipes you all have made is my favorite!
Watch The How To Video:

Nutritional information is only an estimate. The accuracy of the nutritional information for any recipe on this site is not guaranteed.
The Recipe
Spicy Pesto and Cheese Stuffed Zucchini Involtini
Summer zucchini sliced into ribbons and rolled up with a basil pesto and ricotta cheese mixture. Then baked in a spicy, herby tomato sauce that's creamy and so delicious!
Prep Time 30 minutes
Cook Time 30 minutes
Total Time 1 hour
Servings 6
Ingredients
2 tablespoons extra virgin olive oil
1/2 pound ground spicy Italian chicken sausage
1 red bell pepper, chopped
1 can (14 ounce) crushed San Marzano tomatoes (or 2 cups tomato sauce)
1 tablespoon chopped fresh oregano (or 2 teaspoons dried)
1 tablespoon fresh thyme leaves (or 2 teaspoons dried)
1 pinch crushed red pepper flakes
2 large zucchini or yellow summer squash
1 1/2 cups whole milk ricotta cheese
1 cup shredded fontina cheese
4 ounces mozzarella, torn
fresh basil, for serving
Instructions
1. Preheat the oven to 425 degrees F. Lightly grease a 9x13 inch baking dish or dish of similar size.

2. Heat the olive oil in a large pot over high heat. When the oil shimmers, add the chicken sausage and brown all over, about 5 to 8 minutes. Reduce the heat to low, add the bell pepper, tomatoes, oregano, thyme, crushed red pepper flakes, and a pinch each of salt and pepper. Simmer for 10 minutes or until the sauce thickens slightly. Taste and adjust seasonings as needed.

3. Meanwhile, using a mandolin or vegetable peeler, peel the zucchini into 1/4 inch wide strips and lay them flat on a paper towel lined counter. You should have around 30 strips. Sprinkle the zucchini with salt. 

4. In a medium bowl, combine the ricotta, fontina, and 1/2 cup pesto. 

5. To assemble, spoon 3/4 of the tomato sauce into the bottom of the prepared baking dish. Grab 2 zucchini ribbons and lay them side by side lengthwise. Spoon about 1 tablespoon of filling onto the center of the zucchini. Roll into a coil and place each seam-side down in the dish as you go. Repeat with remaining zucchini. Spoon the remaining tomato sauce over top of the zucchini and then drizzle the remaining 1/4 cup pesto evenly over everything. Add the mozzarella.

6. Transfer the baking dish to the oven and bake 15-20 minutes or until the cheese has melted and is lightly browned on top. Cool 5 minutes before serving. Serve with fresh basil and thyme. Enjoy!
Recipe Notes
Vegetarian Option: If you'd like to make this vegetarian, no problem, just omit the chicken sausage and use a little more crushed red pepper flakes for heat, if you'd like.
To Make Ahead: Do everything up until the final baking. Cool, and store in the fridge for up to 12 hours. Bake as directed. If there is any excess water on the surface of the sauce, drain this off or blot with a paper towel before baking.