Flaky Southern Butter Biscuits with Strawberry Bourbon Jam
The very best Flaky Southern Butter Biscuits with Strawberry Bourbon Jam. Because we're all in need of a soft, and oh so flaky, buttery biscuit. These biscuits are extra special, made with salted butter and buttermilk, then layered with cream cheese. Beyond delicious. Bonus? They're super easy to make! Eat them warm, right out of the oven, with a smear of salted honey butter and extra jammy, strawberry bourbon jam…the perfect biscuit!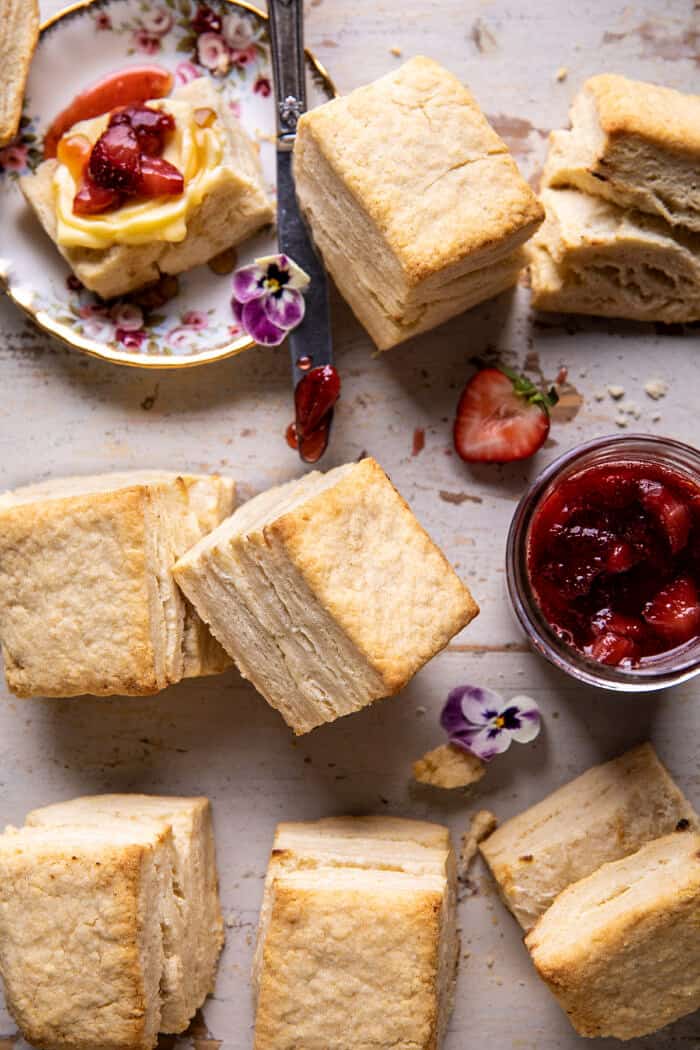 Switching up the average Tuesday with these biscuits! They are so good. It seems every spring I am reminded of biscuits. Last year I created a spicy, savory biscuit, but this year I really wanted something a bit more classic. Something that could be served morning or night and in a sweet or savory way.
Enter these oh-so-flakey biscuits. They're pretty close to perfect, and while the jam is totally optional, it really does "seal the deal. Yes, they're that GOOD.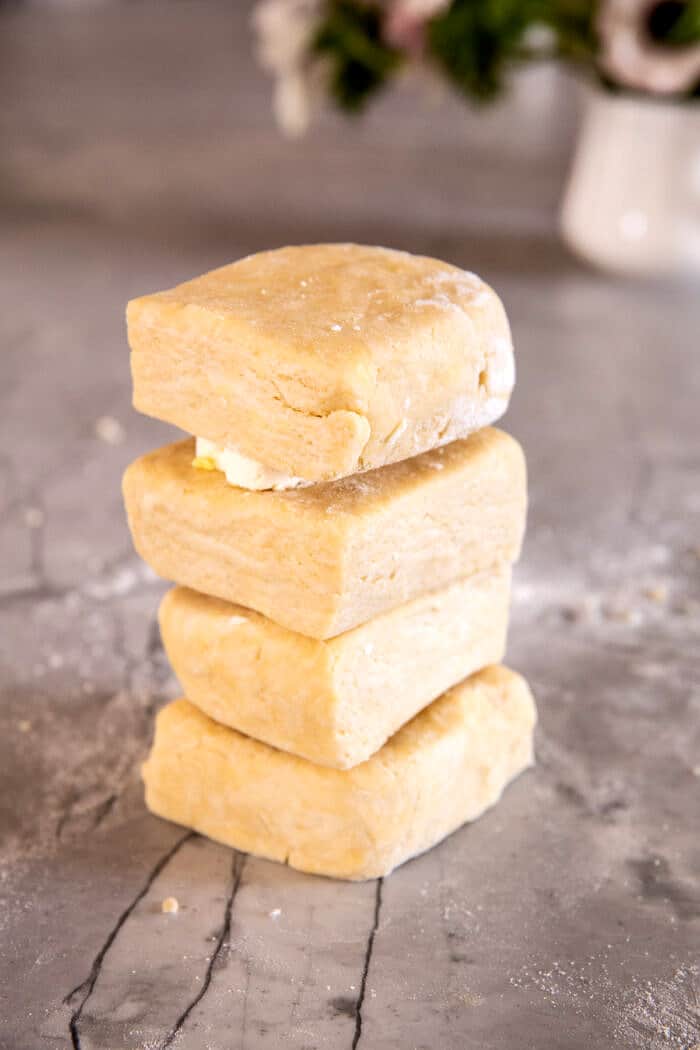 Why are these biscuits so special?
Well, for a couple of reasons.
One, the addition of salted butter. Yes, this is the obvious reason, but if you've yet to bake with salted butter, I'm here to encourage you. Something about the tiny addition of extra salt is just delicious and creates baked goods that are just a touch more special.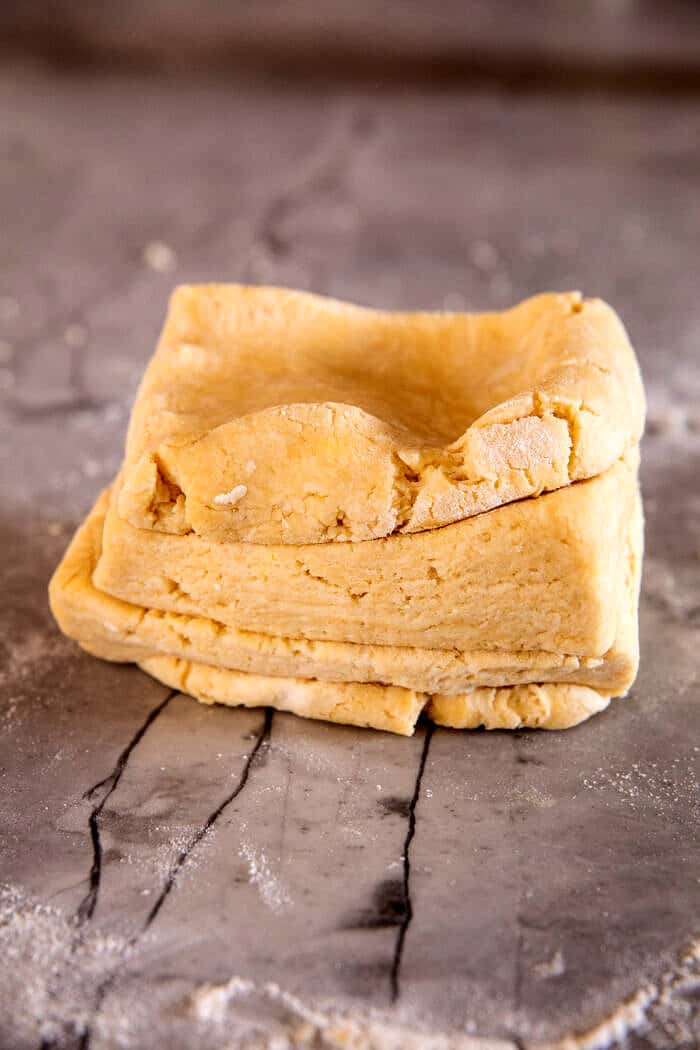 Reason two, stacking the biscuits, one on top of another, to physically create layers. It's a game-changer and creates the perfect flaky, buttery biscuit. I tried to capture as many process photos as I could, to give you all visuals, but it's easier than you'd think. Essentially you're just cutting the biscuits, stacking them, and then rolling them out a second time. It's kind of a simpler version of laminating the biscuit dough (the process of folding butter into dough several times to create very thin layers – butter then dough, butter then dough).
And then, lastly, cream cheese in-between the layers. Yes. Cream cheese in-between the layers of buttery biscuit dough. The cream cheese adds a really nice "cream" flavor with every bite. Which I particularly love. You don't know it's there, but it creates an even richer, flakier biscuit.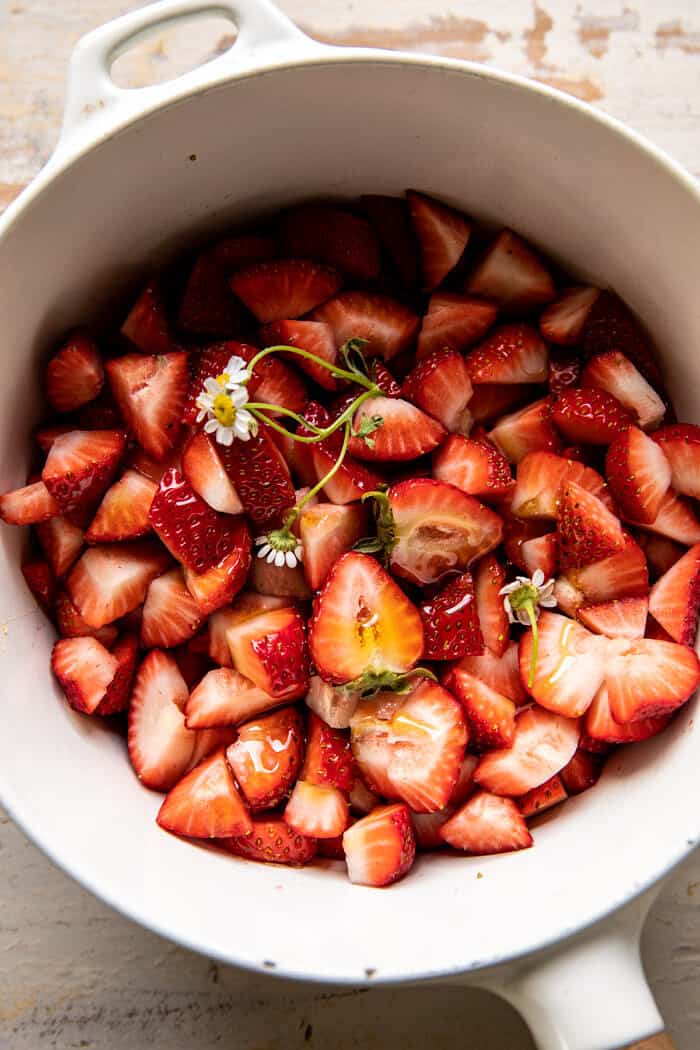 Here are the steps
Mix the dry ingredients, then add in the butter until it's in a small pea-size. Once you've added in the butter, roll the dough out.
Now this is key, cut the dough in four and stack the four pieces of dough one on top of the other. Then smooth the stacks down together to create even more layers. I know it's an extra step, but I promise you it's worth it.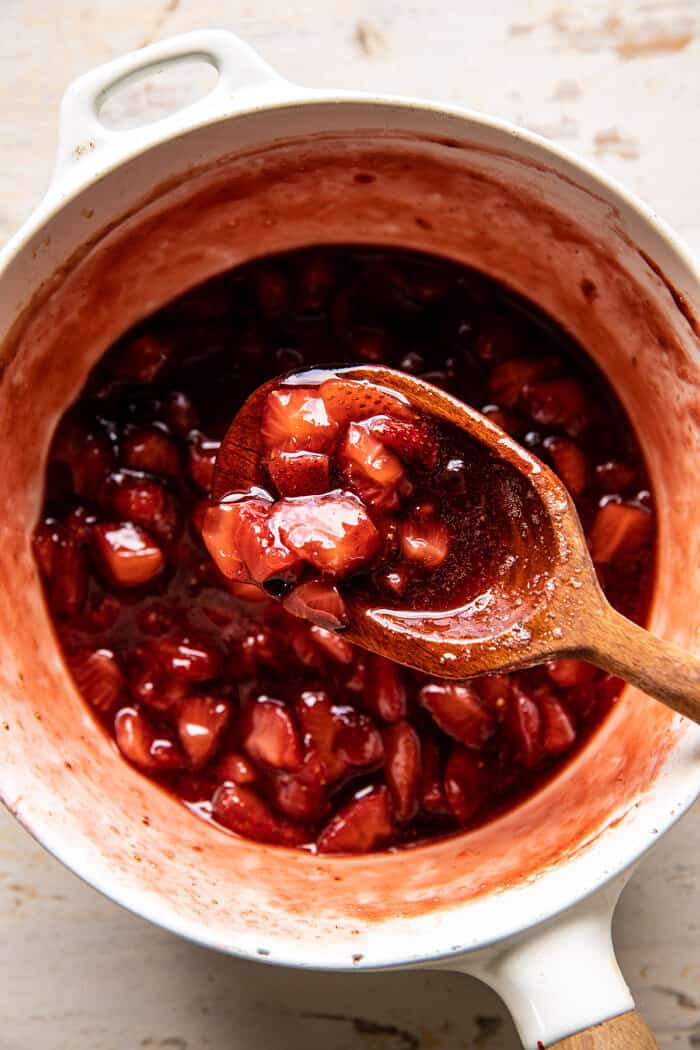 Now freeze the biscuits for a few minutes before they go into the oven. This helps to re-chill the butter and in turn gives your biscuits added flakiness. Just before baking, brush the tops with butter to keep the biscuits from drying out while baking.
Now bake.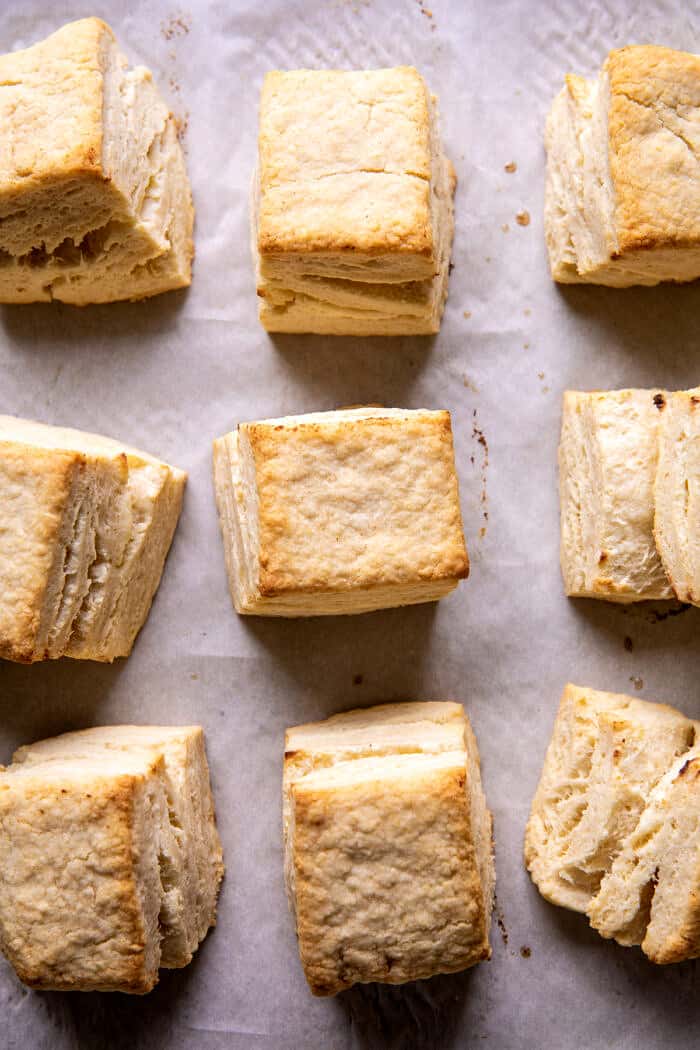 While they bake, make the strawberry jam!
I'd say this is optional, but really, it completes your biscuit experience. You just have to smear this all over your warm biscuit with butter underneath. It's the most indulgent addition, and it's absolutely what your biscuits need.
You can never have too much butter on a biscuit and the jam just sweetens the deal.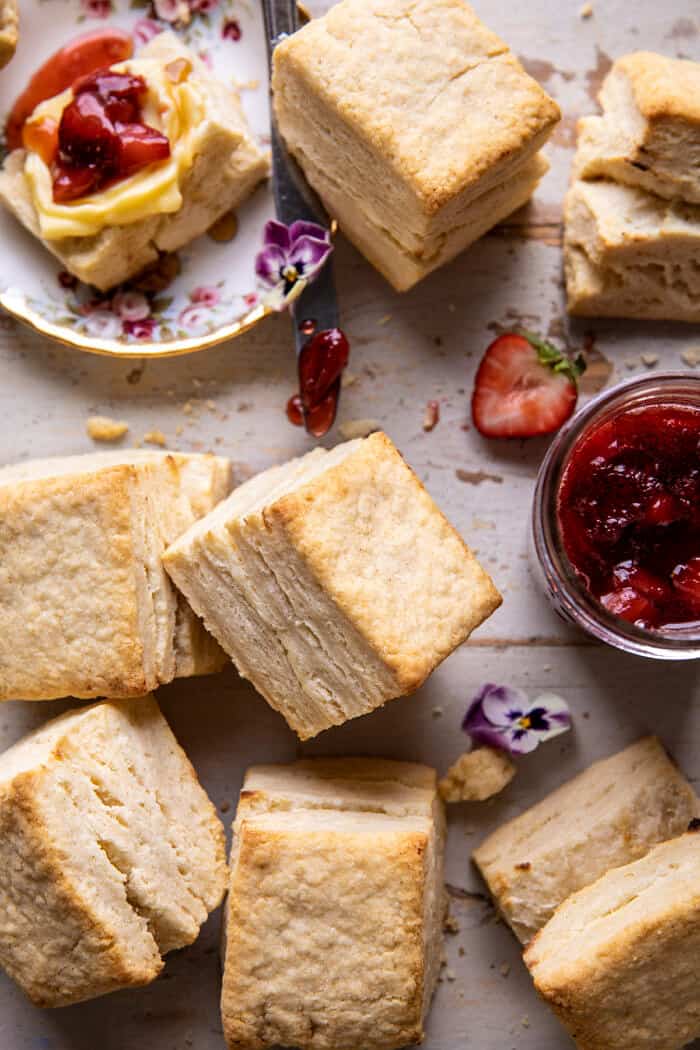 And with that, let's all agree to put biscuits on the menu for tonight. These make for a great breakfast, afternoon snack, or side to dinner (minus the berries). You can't go wrong. The perfect biscuit for all the upcoming spring and summer days ahead!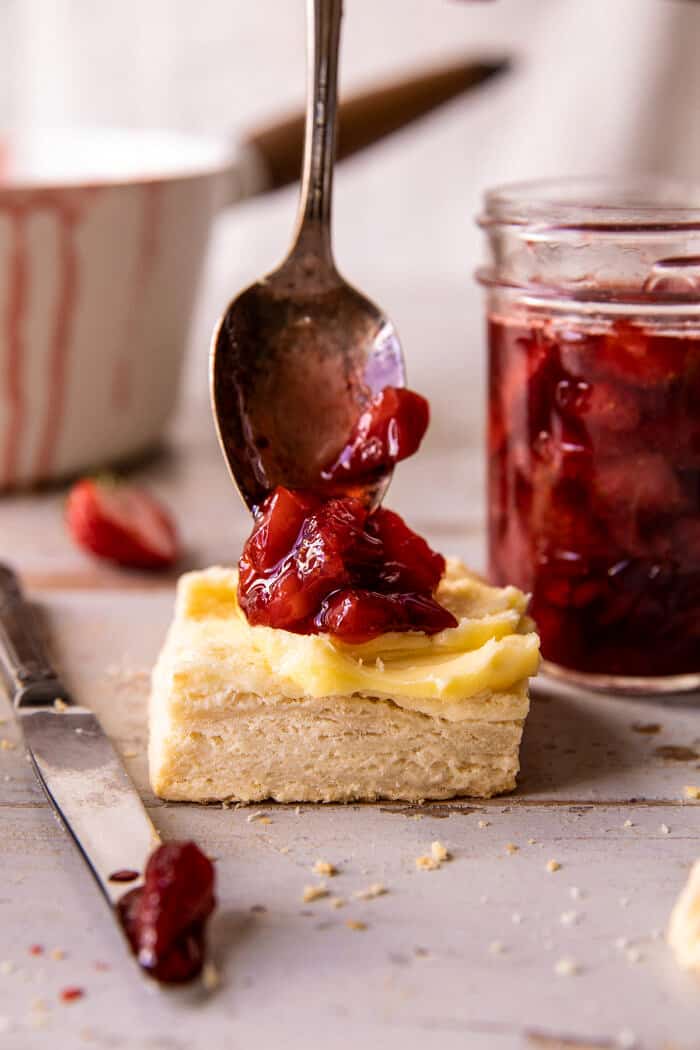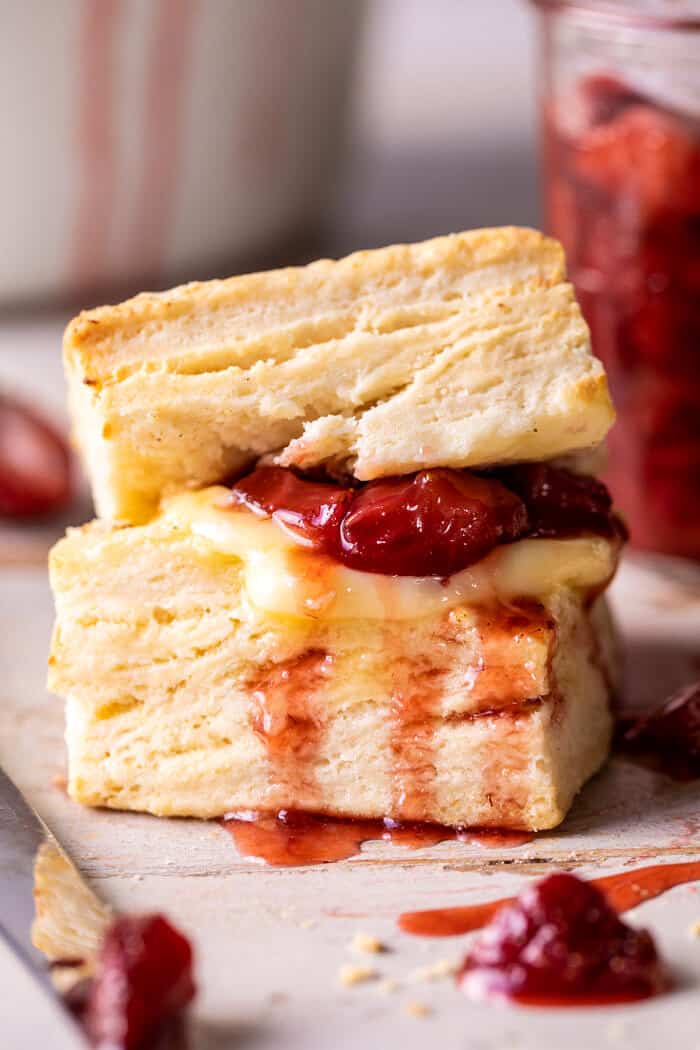 Looking for other bread recipes? Here are some of my favorites:
Salted Rosemary Popovers with Honey Butter
Easy Chocolate Cinnamon Crunch Knots
Lastly, if you make these Flaky Southern Butter Biscuits with Strawberry Bourbon Jam, be sure to leave a comment and/or give this recipe a rating! Above all, I love to hear from you guys and always do my best to respond to each and every comment. And of course, if you do make this recipe, don't forget to tag me on Instagram! Looking through the photos of recipes you all have made is my favorite!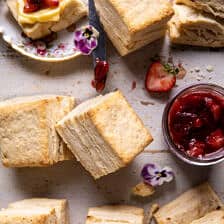 Nutritional information is only an estimate. The accuracy of the nutritional information for any recipe on this site is not guaranteed.
The Recipe
Flaky Southern Butter Biscuits with Strawberry Bourbon Jam
Because we're all in need of an easy, softy, and oh so flaky, buttery biscuit!
Prep Time 20 minutes
Cook Time 25 minutes
Total Time 45 minutes
Servings 12 biscuits
Calories 211 kcal
Ingredients
3 1/2 cups all-purpose flour
2 1/2 teaspoons baking powder
1/4 teaspoon kosher salt
2 sticks (16 tablespoons) cold salted butter, cubed, plus melted butter, for brushing
1 cup cold buttermilk
2 ounces cold cream cheese, sliced into 3 slices (optional)
Instructions
1. Preheat the oven to 400° F.

2. In a food processor, combine the flour, baking powder, salt, and butter. Pulse until the mix clumps together to form larger pea-size balls. Drizzle in the buttermilk until the dough is "shaggy" looking. The dough will be a little dry.

3. Turn the dough out onto a clean surface and pat into a 1-inch thick square. Cut the dough into 4 pieces. Add 1 slice of cream cheese to 3 of the squares, gently pressing to flatten. Stack the cream cheese topped pieces on top of each other. Add the final piece (with no cream cheese) on top of the stack (see above photos). Press down to flatten. Dust the surface with flour and roll the dough into a 1 inch thick rectangle. Cut into 12 biscuits. Transfer to a parchment-lined baking sheet and freeze 10-15 minutes, to chill.

4. Remove the biscuits from the freezer and brush with melted butter. Transfer to the oven and bake for 20-25 minutes, until golden on top.

5. Meanwhile, make the jam. Add the strawberries, honey, and lemon juice to a medium size pot over high heat. Bring to a boil, to cook for 5-8 minutes or until the jam has reduced and thickened by 1/3. Stir in the jam and bourbon, cook 1-2 minutes, remove from the heat.

6. Serve the biscuits warm with butter and jam. I like sea salt on top too!
Recipe Notes
Buttermilk Substitute: while using buttermilk is best, you can also just use milk or heavy cream. 
To make Homemade Buttermilk: Combine 1 scant cup of milk and 1 tablespoon of either lemon juice or vinegar. Let the mix sit 5 to 10 minutes until slightly thickened and small curdled bits start to form. Use as directed above.