Simple Summer Tomato Pesto + Grilled Corn Gnocchi.
Can we make this a weekly dinner??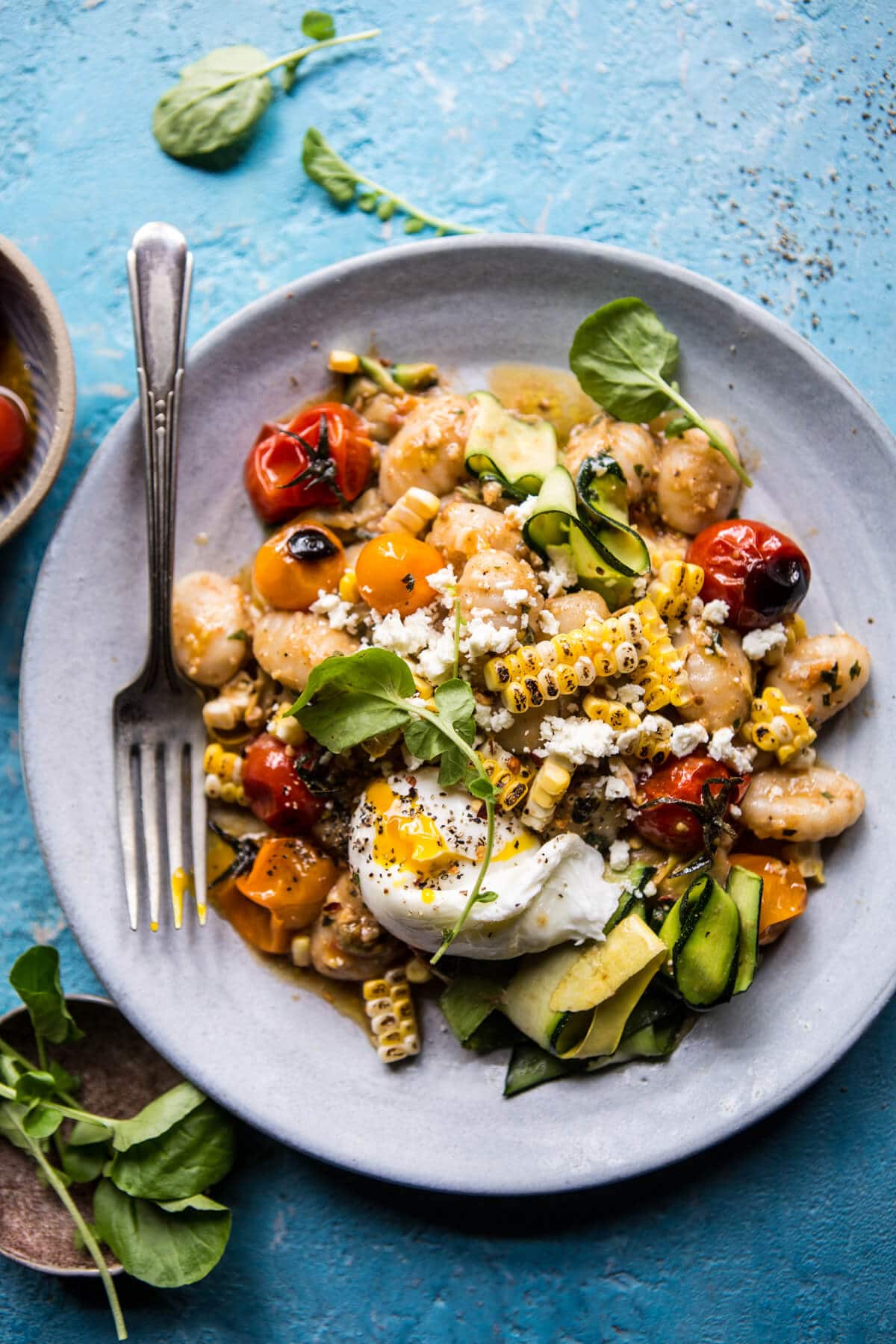 Because it has all the things I LOVE.
Hello to carbs, cheese, summer vegetables and maybe most importantly, the poached egg. Yes, yes, YES. Poached eggs for the win cause that's how I like to do Wednesday.
For real though, doesn't this Simple Summer Tomato Pesto + Grilled Corn Gnocchi (whew!) look like a plate from heaven?? I'm currently in go, go, GO mode right now, as I'm working on a few behind the scenes projects (being semi-documented on snapchat!), not to mention that whole cookbook situation. It's kind of busy over here, and I love it, but it has left me craving all the things I am most obsessed with. Basically, I want nothing to do with anything that's even close to sub-par, and everything to do with rewarding myself with all my favorites. Carbs in the form of toast, pasta and gnocchi, cheese and veggies of all kinds, followed up with all my beloved summer fruits.
Oh right, and eggs. All the eggs please too!


So here's the thing, I have this weird relationship with gnocchi. I go through phases of loving it, and then all the sudden I forget all about it for months on end. It's such a bummer because gnocchi is a great, fast and easy meal that isn't really pasta, but can kind of be eaten like one… which I love!
I was cleaning out my pantry the other day because I have some upcoming photo shoots here at the barn (I need to organize SO bad). I came across a box of my favorite DeLallo potato gnocchi. I literally thought, "wow, that sounds so good". For about a milla second I wasn't sure just how I wanted to prepare it, but then I glazed over my shoulder and saw the bucket of cherry tomatoes and my question was answered.
A simple summer tomato pesto and grilled corn gnocchi. I mean, could it really get any better? Currently, I'm thinking NOPE.

And then, I did what I guess I do best these days, and I procrastinated…majorly. Instead of cleaning or checking off one of the millions of tasks on my days "to-do" list, I decided it was a good idea to make gnocchi. I did the same thing yesterday, but with pizza and burrata. You now know my favored way to procrastinate and deal with stress. Can't say it's all bad.
So I roasted some tomatoes, made a pesto like sauce out of them, grilled some corn, made some cute zucchini ribbons and tossed it all together. I decided the gnocchi needed cheese, so I added a whole bunch of feta. Then I looked at it some more, and yup… I added the poached egg.

YUM.
Procrastination = meal PERFECTION.
So, who's ready to kick Wednesday in the butt?? Cool, me too!


Nutritional information is only an estimate. The accuracy of the nutritional information for any recipe on this site is not guaranteed.
The Recipe
Summer Tomato Pesto + Grilled Corn Gnocchi.
By halfbakedharvest
Course: Main Course
Cuisine: American, Italian
Keyword: corn, gnocchi, pesto, tomato pesto
For real though, doesn't this Simple Summer Tomato Pesto + Grilled Corn Gnocchi (whew!) look like a plate from heaven??
Prep Time 20 minutes
Cook Time 20 minutes
Total Time 40 minutes
Servings 3 Servings
Calories 647 kcal
Ingredients
2 pints cherry tomatoes
1/3 cup + 2 tablespoons olive oil divided
kosher salt + pepper
2 cloves garlic finely chopped or grated
2/3 cup toasted walnuts
1 teaspoon lemon zest
1/2 teaspoon crushed red pepper flakes
1/2 cup grated parmesan
16 ounces potato gnocchi I like to use DeLallo Brand
1 zucchini or yellow summer squash peeled into ribbons
2 ears grilled corn kernels removed from the cob
1 cup fresh basil roughly torn
6 ounces feta cheese crumbled
2-3 poached eggs
Instructions
Preheat the oven to 400 degrees F.

Add the cherry tomatoes, 2 tablespoons olive oil, the garlic and a generous sprinkle of salt and pepper to a baking dish. Toss well, making sure the tomatoes are coated in olive oil. Roast for 10-15 minutes or until the tomatoes collapse. Remove, and allow the tomatoes to cool slightly.

Add half of the tomatoes (reserving the remaining tomatoes for tossing with the gnocchi) and both cloves of garlic to a food processor along with the remaining 1/3 cup olive oil and the toasted walnuts. Pulse until mostly smooth. Add the lemon zest, crushed red pepper and parmesan, pulse to combine. Taste and add more salt if needed.

Bring a large pot of salted water to a boil. Boil the gnocchi according to package directions. Before you drain the gnocchi scoop out about 1/2 cup pasta water, drain the gnocchi well, and then add it back to the hot pot. To the gnocchi, add the zucchini and give it a good toss. Next add about half of the tomato pesto and toss, adding more pesto if desired (you may not use all of the pesto). Stir in the reserved roasted tomatoes, grilled corn and basil. If needed, thin the gnocchi sauce with the reserved pasta water.

Divide the hot gnocchi among plates and top with feta cheese and a poached egg. Sprinkle the egg with salt + pepper. EAT!

PS. I like to break the egg and then toss it with the gnocchi, it creates a carbonara like gnocchi!

As long as the day ends with summertime gnocchi. Obviously.