Rum and Cranberry Pancakes with Butter Rum Syrup.
All Sundays call for pancakes…with rum…right? Rum and Cranberry Pancakes to be exact.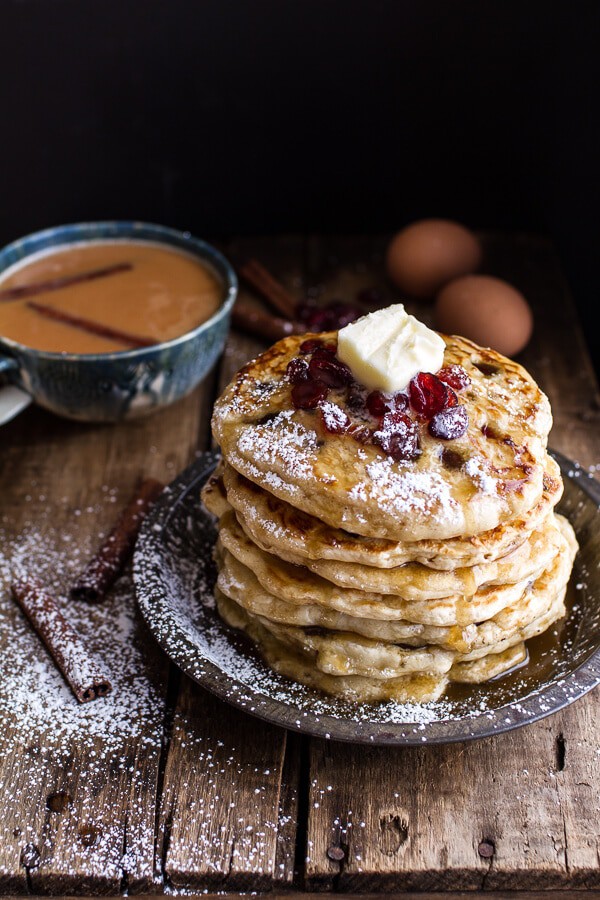 Well my Sundays surely do.
I feel like these pancakes are so fitting with the holidays that are quickly approaching and all. I mean, Thanksgiving breakfast (and Christmas too, hello, those cranberries are so dang festive!)? Heck yes. Plus, you totally need a little booze first thing on Thanksgiving (or maybe even the day after Thanksgiving too). It will help to put some of those slightly bizarre relatives in a little better light. And if you are cooking Thanksgiving dinner, maybe double the amount of rum in that butter sauce…everyone needs a little extra kick at extended family gatherings.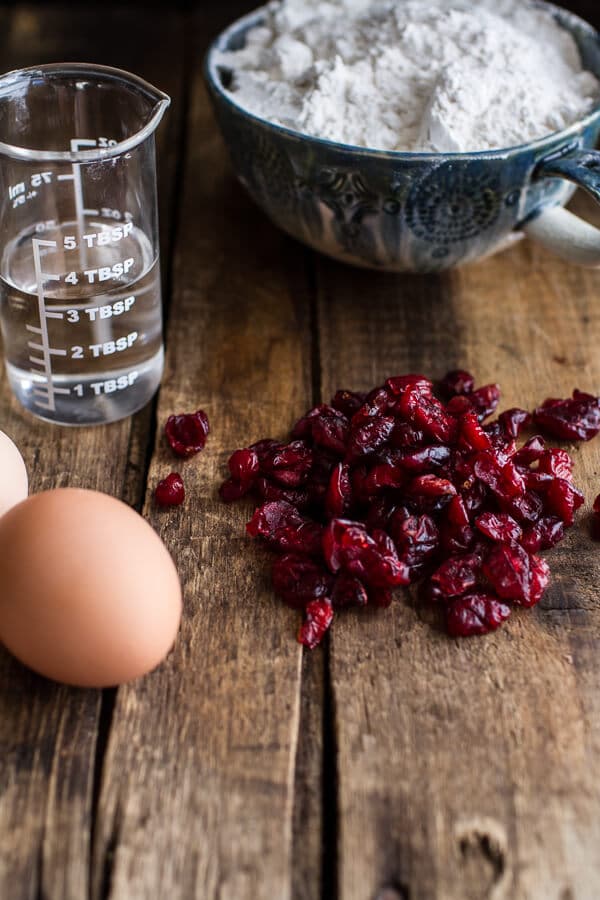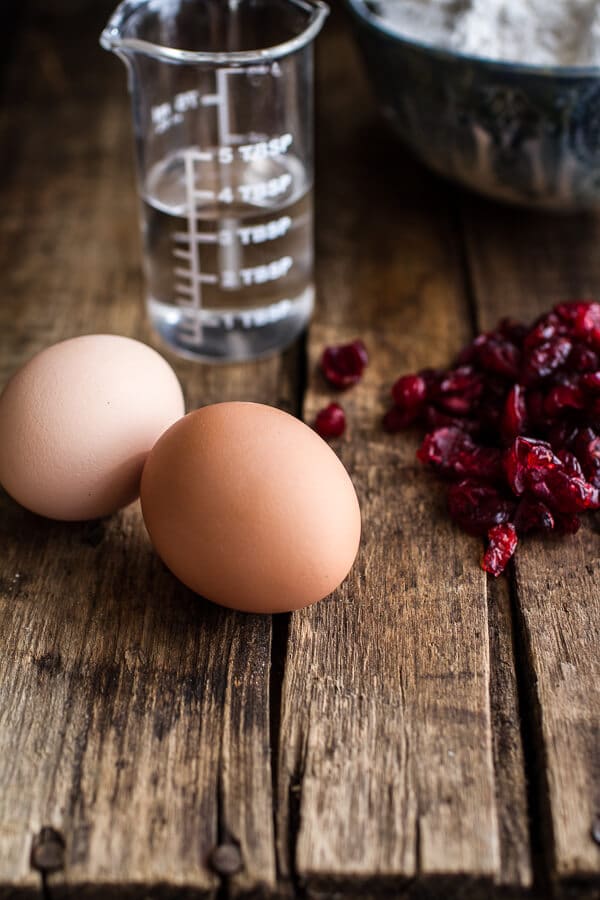 Soo, I am pretty excited about today's post. One reason is obvious – these pancakes, I mean look at them. Two, is the fact that I get to talk about one of the coolest, nicest bloggers, Sneh Roy. She's the creative mind behind Cook Republic, and she just came out with her first cookbook, Tasty Express, which is where this pancake recipe came from. THREE is that I am bringing on the holiday cheer today, and giving away a copy of Tasty Express! Which is kind of perfect because the recipes are so tasty (duh) and they are all pretty quick too, which makes them perfect for this busy time of year. SCORE!
If you guys are not familiar with Sneh and her blog Cook Republic, you should head over there now and check her stuff out. Both her recipes and photography are just beautiful and she is someone who inspires me daily. Plus, I think it's pretty cool that she's a Sydney girl. Someday I will make it out her way. What a beautiful place to live.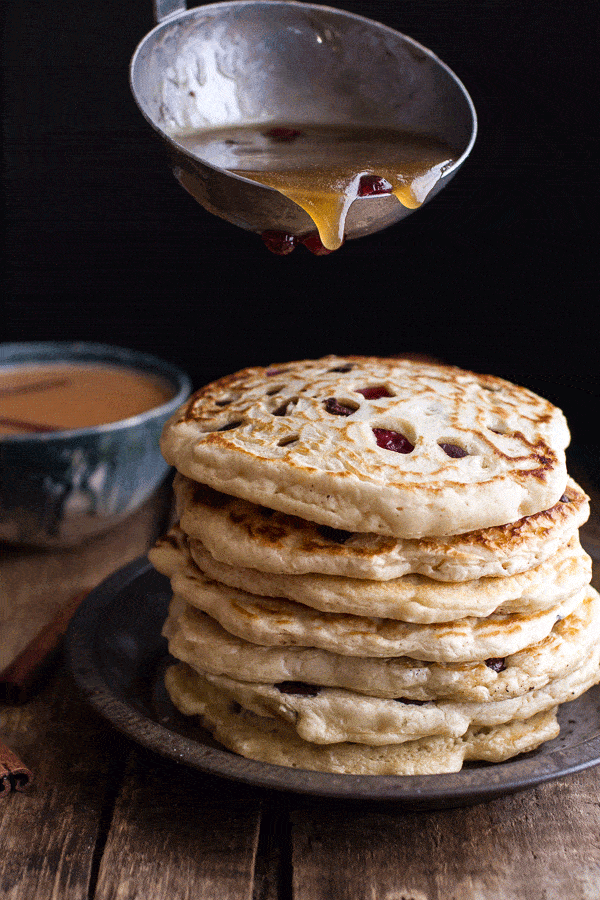 The day Sneh's book, Tasty Express arrived at my door, I was in the middle of shooting this Moroccan Butternut Squash Soup. It was piping hot, and to be honest, I was so annoyed that I had to go and answer the door for the UPS guy. Normally our UPS guy never knocks at the door, but he had another package that I needed to sign for with him as well. Anyway, when I realized what was in the Amazon box, I had to open it right away and at least peek at the book. I told myself it would only take a sec. Yeah right. I sat on the bench by the door for close to twenty minutes flipping through every page and loving the next page after the next page more and more. It's one of those books you cannot put down because not only do the recipes sound delicious, they look stinkin' awesome too.
So yeah, by the time I got back to the soup it was cold, cold, cold (I sound like Eloise, Eloise, Eloise) and I had to put it back on the stove so I could get my steamy shot, but the twenty minutes of flipping through the book was worth it. I'd do it all over again.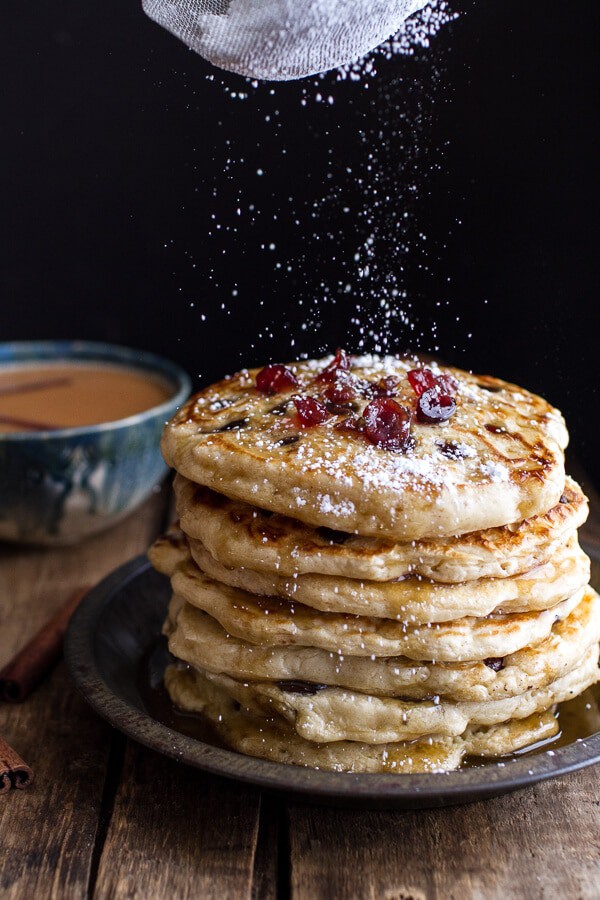 When it came down to picking a recipe to show you guys, I literally could not decide because I wanted to make them all. It was so bad, that I called on my mom to make the decision for me. For her, the decision was easy. Pancakes. Without a doubt pancakes. Pancakes all the way.
She knew if I made pancakes they'd be her lunch. Which I have to say, I kind of loved too. Making pancakes for lunch sort of used to be my thing when I first started cooking. I was in high school, but I had a weird schedule since I was also taking college classes at the same time. This meant I was home for lunch and this meant chocolate chip banana pancakes on almost all snowy days. It was my favorite and not because I loved them, but more because I loved seeing the smile on my mom's face when I surprised her with them. Ok, and I loved them too.
It was the best and when I made these on Friday, I got that same feeling again. It's honestly the reason I cook. To make the people around me happy. And let me just say, these pancakes are way better than what I used to make. That rum butter sauce you guys – THE BEST!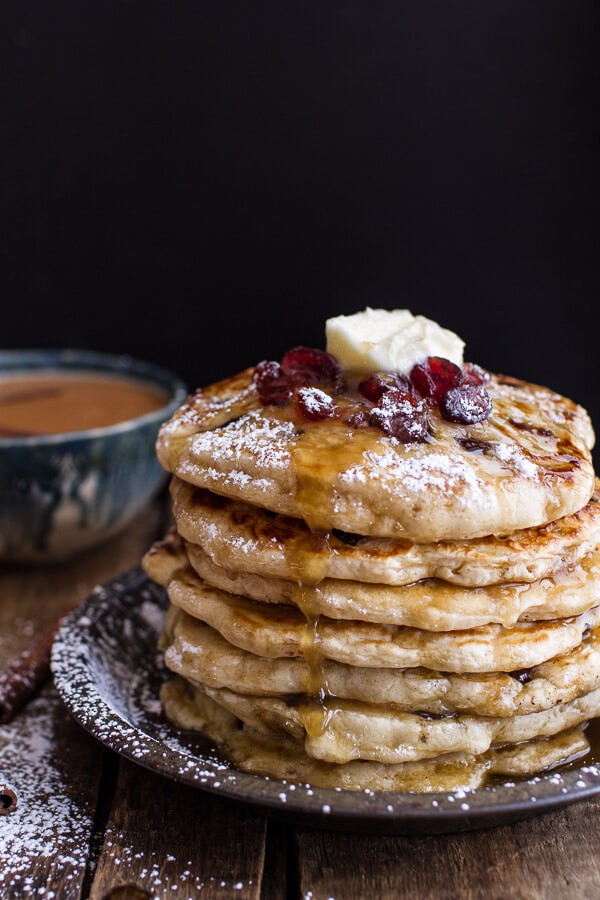 Sneh's original recipe is actually Rum Raisin Pancakes, but one, I didn't have any raisins and two, cranberries are in season and I am slightly obsessed with them right now. Plus, I thought they would give the pancakes a fun festive twist for the holidays, so I threw in a tiny pinch of cinnamon too. Honestly though, Sneh's recipe is perfect as is. We loved, like – loved, these pancakes. It's all about that rum butter sauce. That sauce you guys – the cranberries get all plump and the butter rum flavor is perfection. She could not have nailed it better!
And the actual pancakes? They are crazy simple, just one bowl, mix everything, let the batter sit for fifteen minutes and then cook. They are super moist and fluffy. Perfect for soaking up that rum butter sauce. I loved the cranberries studded through each fluffy cake and um I maybe also sprinkled in a few chocolate chips for old-time sake. I couldn't help it, and I knew Sneh would totally approve.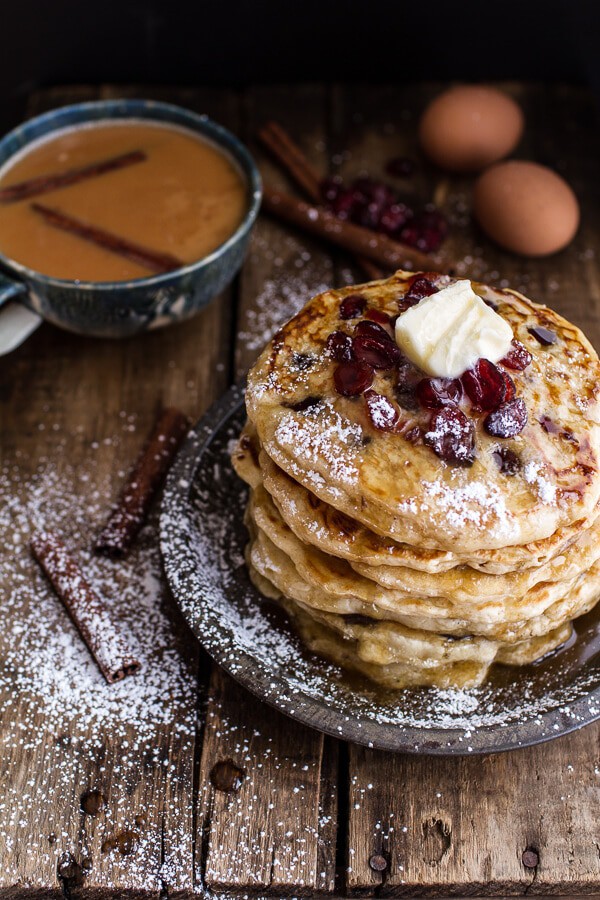 So let's talk about this giveaway! Sneh kindly sent me a book to send to one of you guys (if I have cookies on hand those may or may not be included as well!), and it's kind of like an early to start to the Christmas gift giving. And it's a good thing the gifts are coming early, because I have a feeling this book will be your savior during the next forty-five days. There is a reason the book is called Tasty Express after all.
All you have to do is leave a comment telling me your very favorite thing about Thanksgiving. Your favorite food, your favorite way to spend the holidays, your favorite traditions – basically anything that you love about Thanksgiving, I want to hear it. And yes, I do actually read every comment so leave a good one! The giveaway will close one week from today.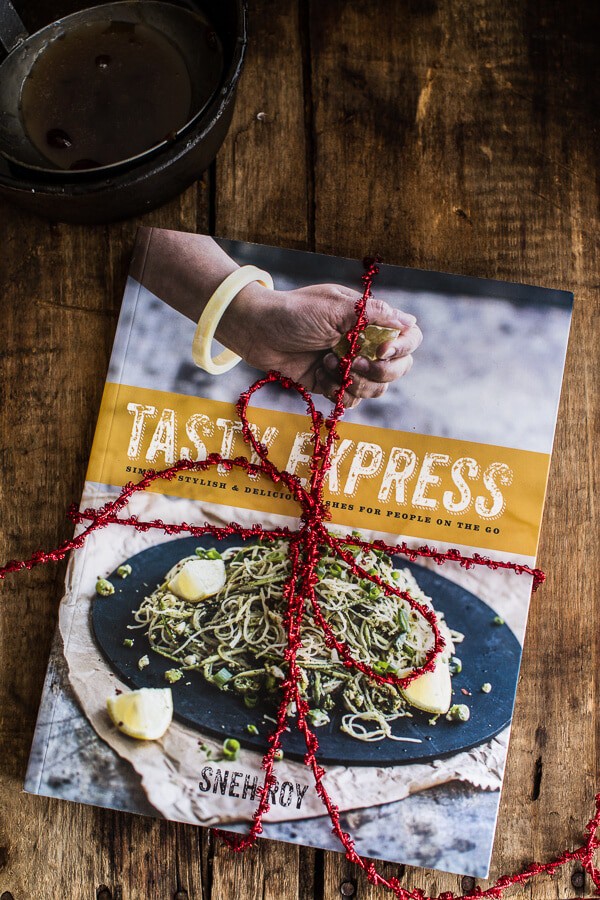 Ok, and now, we NEED to eat that stack of rum and cranberry pancakes. It's almost too pretty with all the rum butter sauce, but then not really, dig in.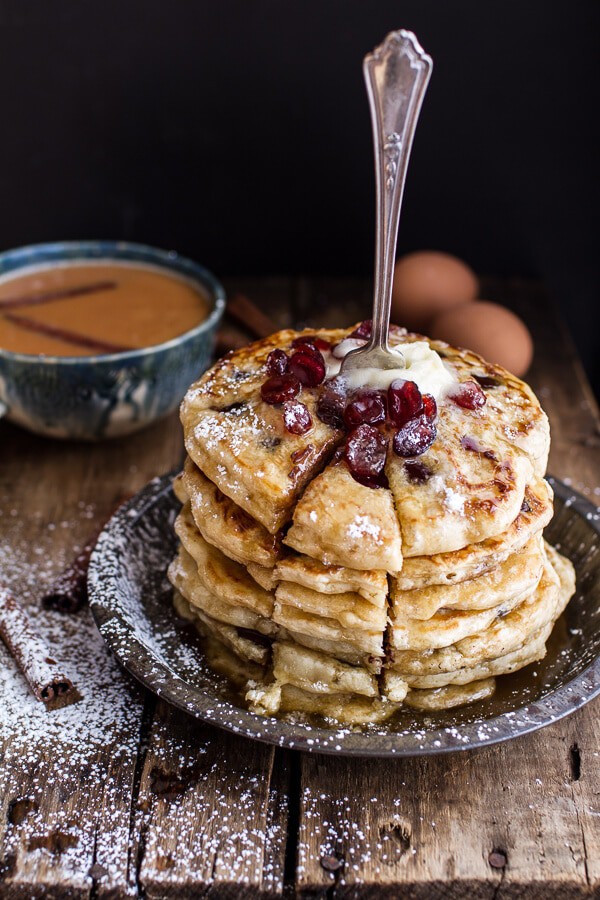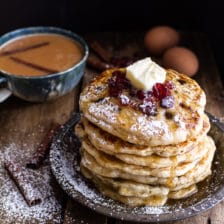 Nutritional information is only an estimate. The accuracy of the nutritional information for any recipe on this site is not guaranteed.
The Recipe
Rum and Cranberry Pancakes with Butter Rum Syrup.
By halfbakedharvest
Course: Breakfast, Dessert
Cuisine: American
Keyword: cranberry, pancakes, rum
All Sundays call for pancakes...with rum...right? Rum and Cranberry Pancakes to be exact.

Prep Time 5 minutes
Cook Time 10 minutes
Total Time 30 minutes
Servings 12 Pancakes
Calories 212 kcal
Ingredients
2 cup self-rising flour
2 eggs
2 tablespoons caster sugar* super fine
1 1/2 cups milk
1/2 cup dried cranberries or raisins Sneh's recipe calls for raisins
1 tablespoon rum I used a coconut rum
1 teaspoon vanilla extract
1/2 teaspoon cinnamon
1 cup chocolate chips optional
pinch fo salt
1 tablespoon olive oil
Rum Butter Sauce
4 tablespoons salted butter
1 tablespoon run I used coconut rum
2 tablespoon dried cranberries or raisins Sneh's recipe calls for raisins
1/3 cup pure maple syrup
Instructions
To make the pancakes, combine all the ingredients in a large bowl, and whisk with a wire whisk until smooth. Set aside to rest for 15 minutes.

To make the rum butter sauce, combine all the ingredients in a small sauce heavy-bottomed saucepan on low heat. Simmer until the butter has melted and the cranberries (or raisins) are plump. Remove from the heat and leave in the pan to keep warm.

Heat a skillet on medium heat. Pour 1/2-1/3 cup pancake batter on the center of the hot pan and gently spread the batter for form a circle. If desired, sprinkle in a few chocolate chips (do it!). Cook until bubbles appear on the surface. Using a spatula, gently flip the pancake over and cook the other side for a minute, or until golden. Repeat with the remaining batter.

Serve pancakes drizzled with the rum butter sauce. Sprinkle with powdered sugar if desired.
Recipe Notes
*I accidentally forgot to add the caster sugar and the pancakes were still delicious without it. *Recipe is adapted with permission from [Tasty Express | http://www.amazon.com/Tasty-Express-Simple-Stylish-Delicious/dp/0857983520/ref=sr_1_1?s=books&ie=UTF8&qid=1415410732&sr=1-1&keywords=tasty+express] by Sneh Roy.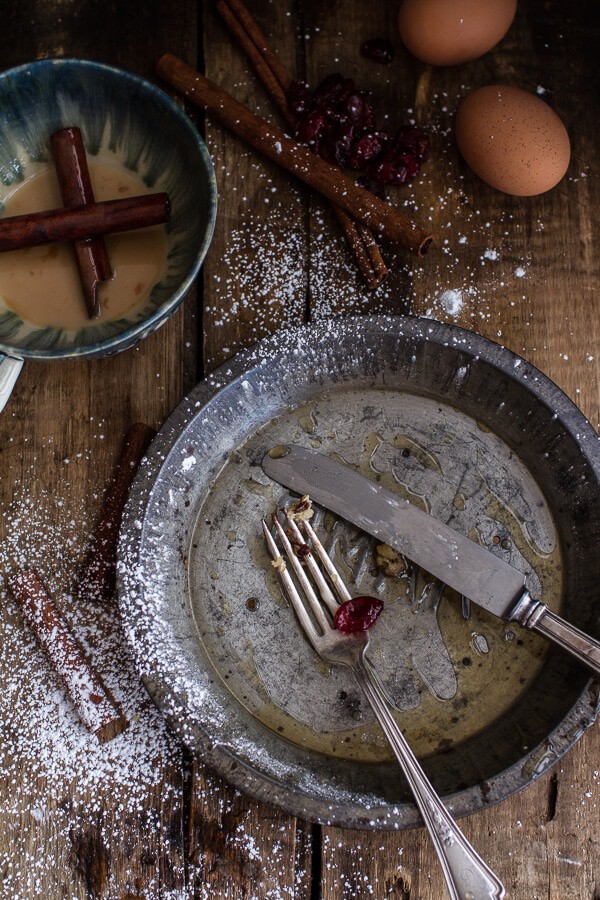 We obviously licked out plates clean.