Roasted Red Pepper Meze Platter.
Starting the week off with the ultimate appetizer…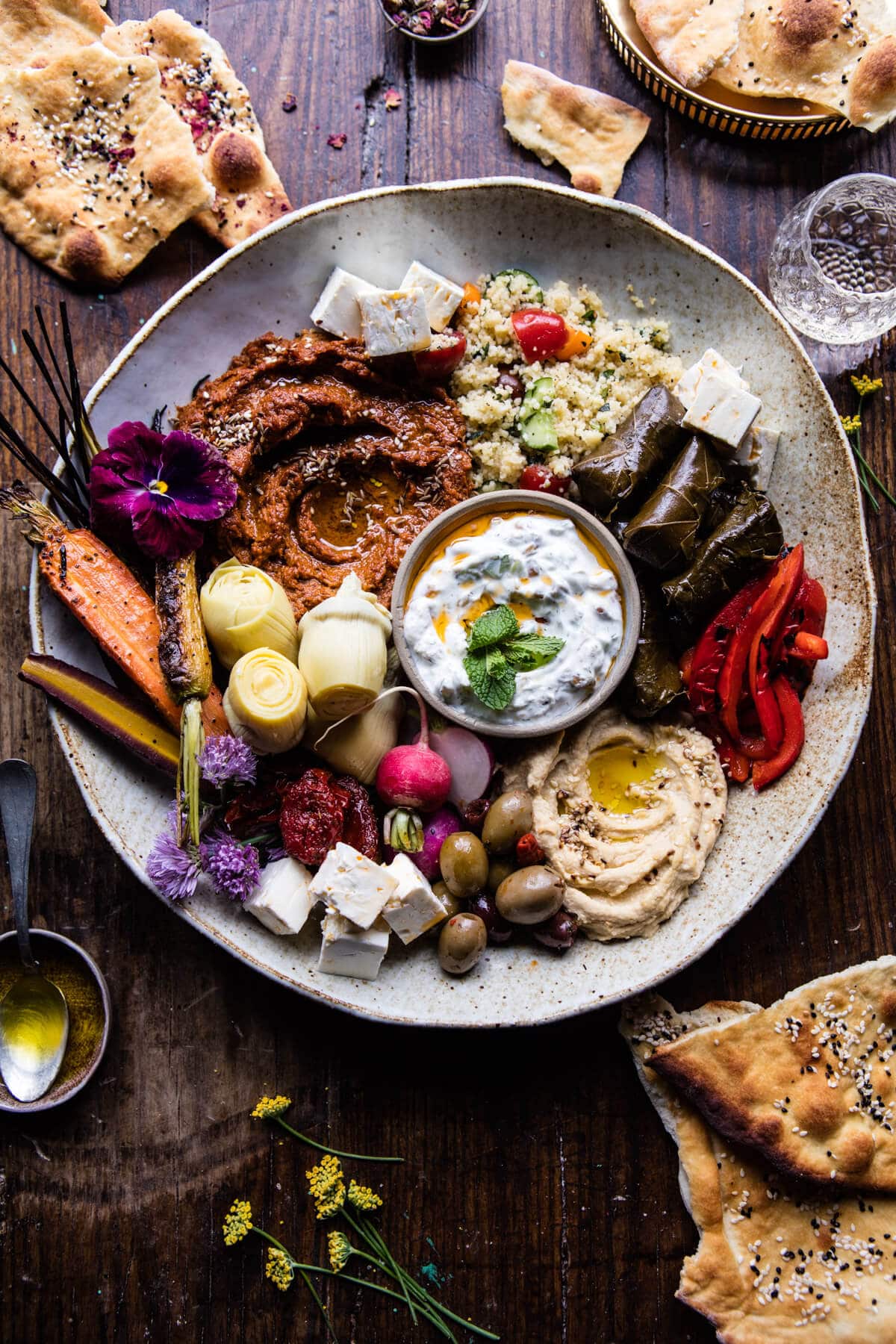 You guys, ahh, I've been waiting to share this recipe with you for SO long. You all know Lyndsie, right? My brother's crazy and super adventurous girlfriend. The one whose goal in life is to travel everywhere, see everything, and eat everyplace she can along the way. The girl is a free spirit at heart and she knows good food (her recipe for whole roasted broccoli is coming soon)! I while back I was chatting with Lyndsie about appetizers. She was telling me all about one of her favorites, a Meze Platter full of middle eastern spreads…veggies, stuffed grape leaves, and of course tzatziki. The thing is, I'd basically already created a similar platter for the Half Baked Harvest Cookbook (without even realizing it). But then, due to one too many recipes and not enough pages, the recipe recently had to be cut. While I was sad to have to remove it from the book, I was kind of excited to get to share it here on the blog. For some reason, to me this spread just screams spring/summer entertaining…Easter, Mother's Day, Memorial Day, Father's Day…yep, this platter would be perfect. Thinking about it realistically, there really isn't a time this platter wouldn't be great.
So I adjusted a few items and well, here is my version of a Meze Platter, complete with sun-dried tomato muhammara (a roasted red pepper and walnut spread), hummus, tzatziki, tabbouleh (couscous salad), feta cheese, stuffed grape leaves, lots of veggies, naan, and roasted carrots.
I know, I know, it's a lot, but it's just the BEST combo of foods, and feels very Easter…ish to me.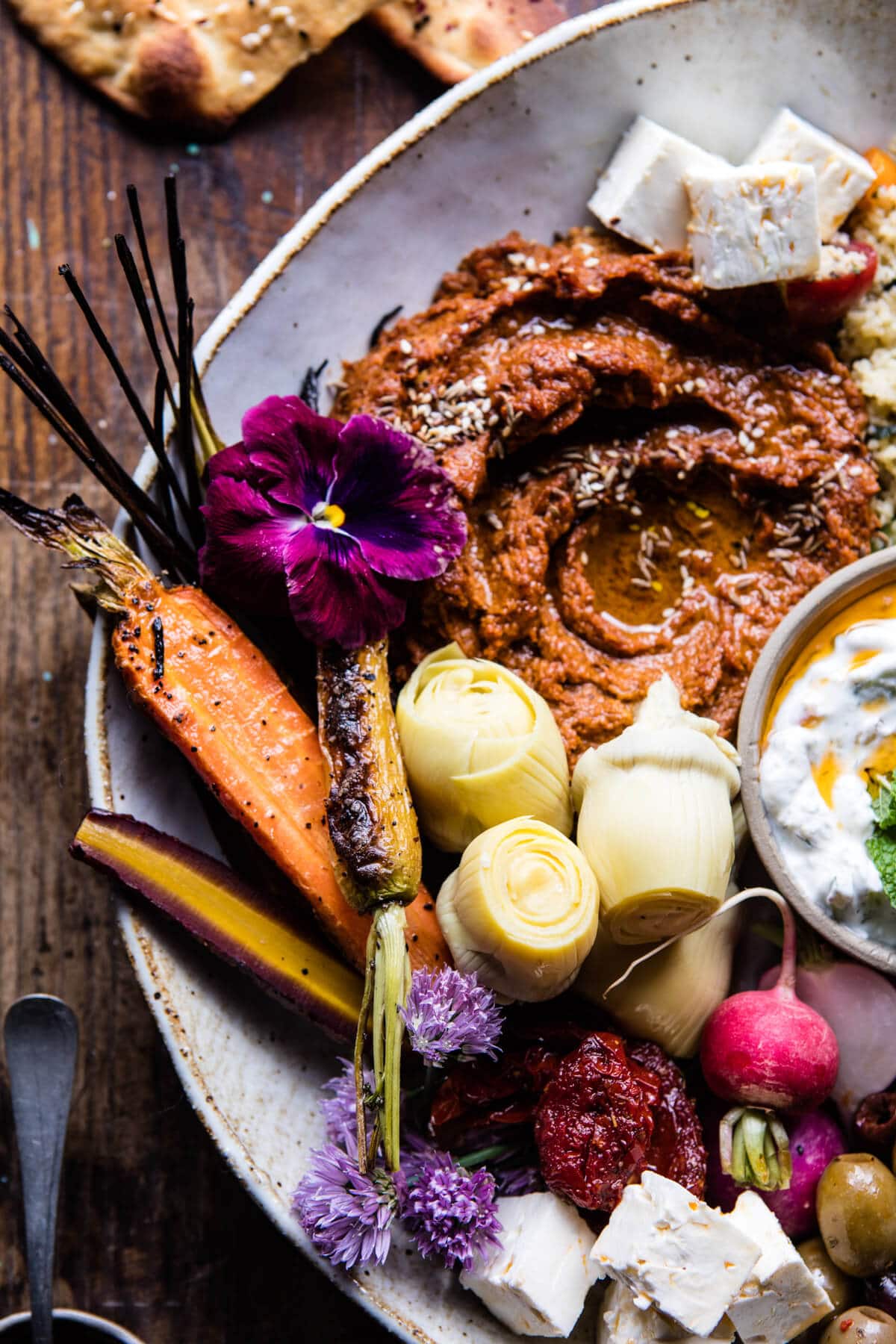 OKok, let's run through everything here. This spread all started with muhammara, which is a red pepper and walnut spread. People make it a lot of different ways, but I like to include sun-dried tomatoes for a little touch of sweet tomato flavor. I don't think muhammara is traditional to include on a Meze Platter, but the bright red color just inspired me. I love a good pop of color on an appetizer platter, you know? While the muhammara is a killer recipe on its own, the rest of the platter is full of equally delicious things as well…
…start with the muhammara.
…add some hummus, I use my favorite homemade recipe, but store-bought is good too!
…then some tzatziki which I always make at home because it's just so easy. I know you can buy it at the store, but really all you need is greek yogurt, lemon, cucumber, and dill and you're good to go! I love stirring in some toasted pine nuts to mine as well.
…next up, a little tabbouleh, aka bulgur salad. In place of the bulgur, I like to use couscous, which is very traditional on a Meze Platter. I make my tabbouleh pretty basic, using just couscous, cucumber, cherry tomatoes, fresh basil, dill, olive oil, lemon juice, salt and pepper. Simple, simple, but really good. PS. I made this cauliflower tabbouleh for Shape Magazine if you are looking for a grain free option!
…and roasted carrots. Oh I LOVE roasted carrots, and while these are not traditionally included on a Meze Platter, I think they make an awesome addition. I also think roasted or grilled asparagus would be awesome too.
…now, the filler inners, AKA sun-dried tomato marinated feta, olives, stuffed grape leaves, artichokes, and radishes. I wanted to include more spring veggies, but well, my grocery options are semi lame and they only had radishes. Where are all the spring peas at?!
…and lastly, something to dip!! Meaning fresh naan, pita, or pita chips. I actually used my homemade naan recipe, but instead of making naan, I stretched the dough really thin, brushed it with olive oil, sprinkled it with seeds (sesame and cumin), and then baked it in batches on the bottom of a 500 degree oven for five or so minutes until it is crisp and puffy, SO GOOD!
And then – DONE.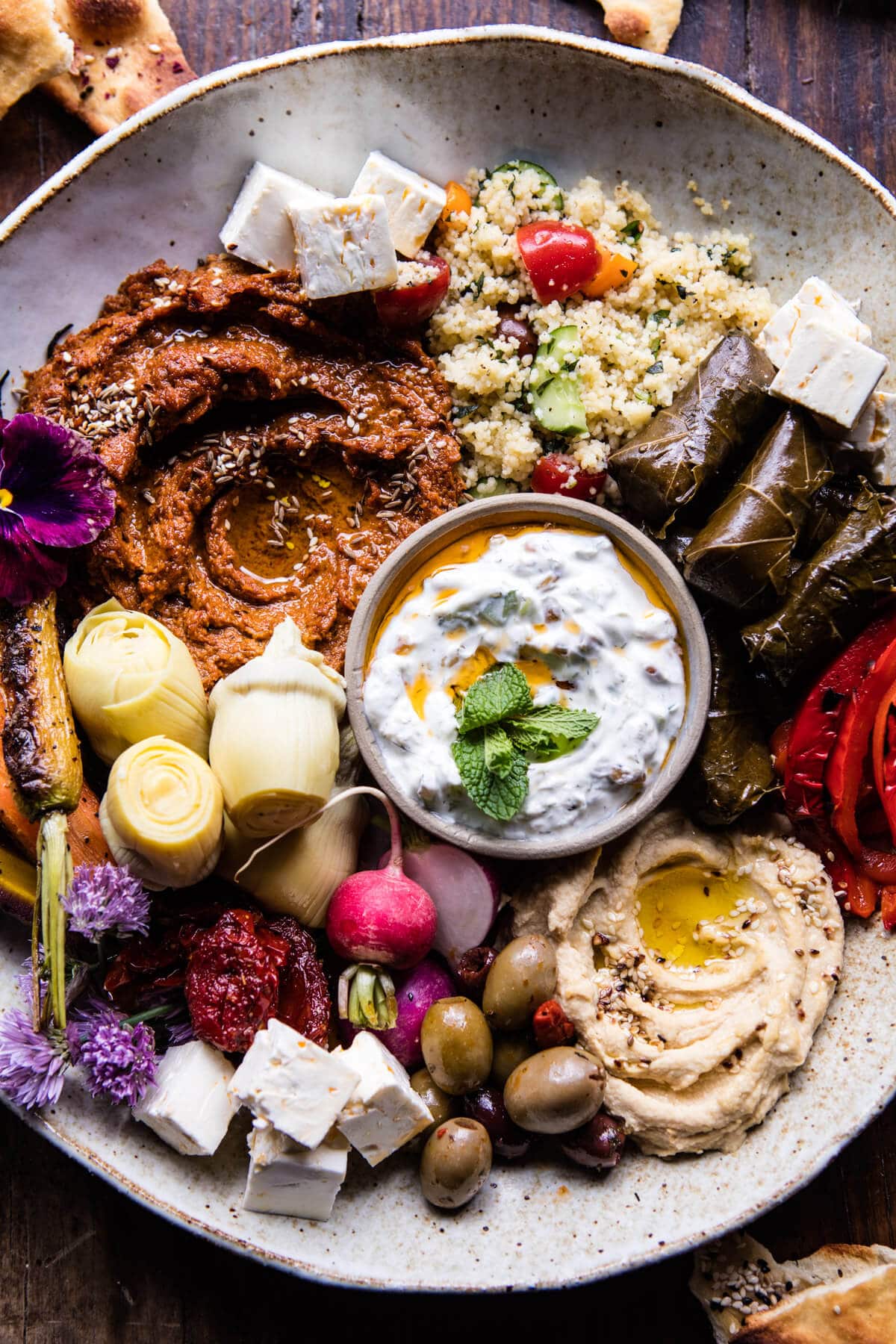 It seems like a lot, but everything actually comes together really easily, and what I love most is that you can make all the spreads in advance, keep them in the fridge and then just put everything together the day of your party. Again, meaning this platter is perfect for Easter and upcoming Mother's Day!
Also, since I know life is crazy, store-bought options will work great too! I love Trader Joe's hummus and tzatziki, and I believe Whole Foods sells tabbouleh in the prepared foods section. The one thing I do recommend making is the muhammara. It's what makes this Meze Platter stand out from all the others…plus it's seriously addicting.
Oh, and the roasted carrots, you have to do those. They are a game changer if you ask me, but then roasted carrots might be my favorite veggie…oh who am I kidding, I could never pick a favorite veggie!
Okok, and I am DONE now, no more rambles…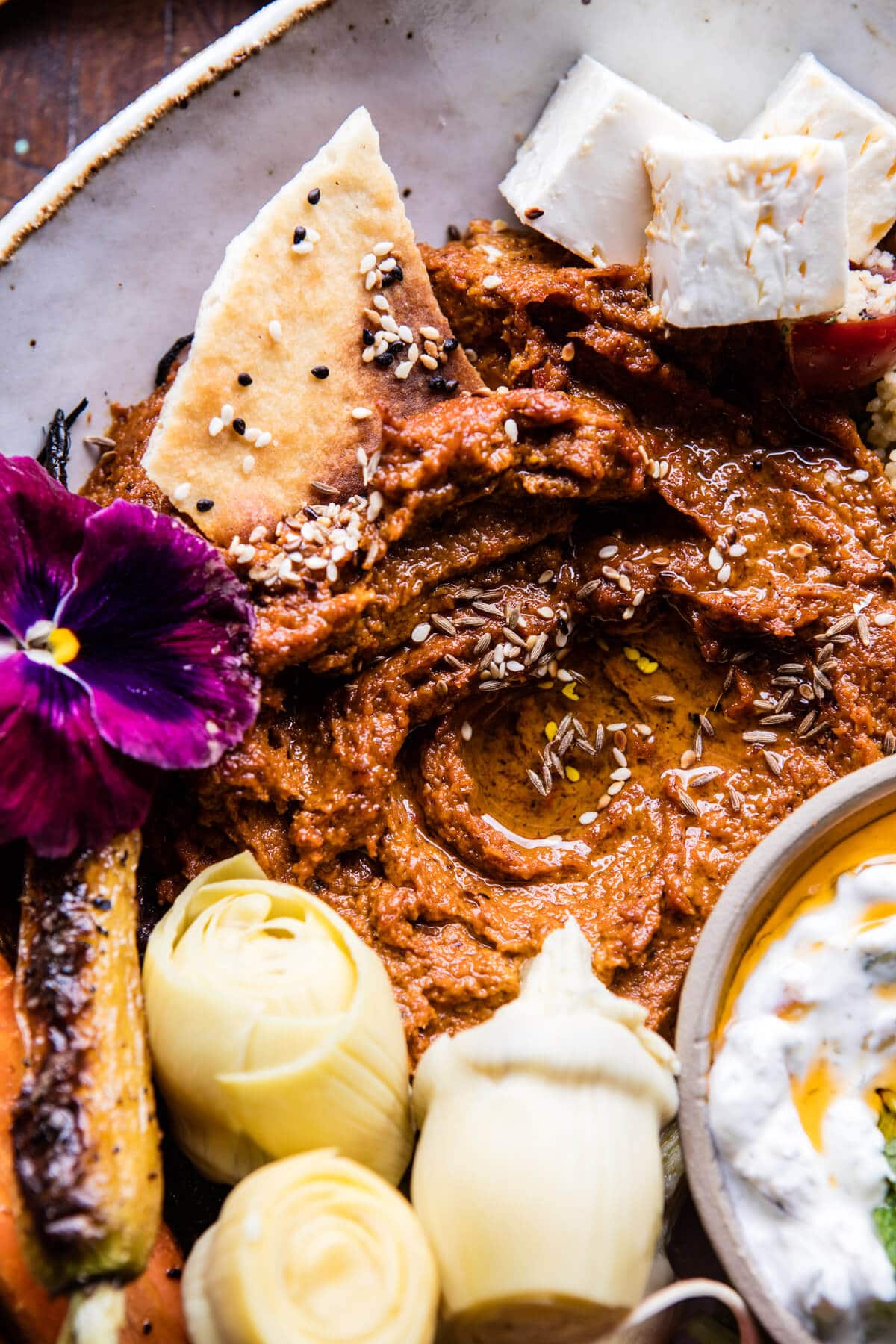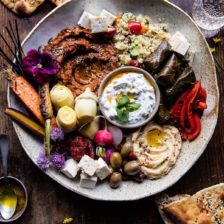 Nutritional information is only an estimate. The accuracy of the nutritional information for any recipe on this site is not guaranteed.
The Recipe
Roasted Red Pepper Meze Platter
Course: Appetizer
Cuisine: American, Middle Eastern
Keyword: sharing appetizer, sharing platter, vegetable sharing platter
A beautiful platter that's made for sharing
Prep Time 20 minutes
Cook Time 20 minutes
Total Time 40 minutes
Servings 10 servings
Calories 316 kcal
Ingredients
1 cup tzatziki
1 cup tabbouleh, homemade or store-bought, recipe follows
8 ounces feta cheese, cubed
1 (6 ounce) jar oil packed sun-dried tomatoes
2 roasted red peppers sliced
1 cup green or kalamata olives
8-10 stuffed grape leaves
fresh radishes, halved
fresh pita, naan or pita chips
Instructions
1. On a large platter, spread the muhammara and hummus in a circle. Add the tzatziki to a small bowl and place on the platter. Add the tabbouleh. In a small bowl, toss together the feta cubes, sun-dried tomatoes and their oil. Arrange the roasted carrots (recipe below), roasted red peppers, olives, grape leaves, radishes, and artichokes around the dips. Scatter the feta and tomatoes around the platter. Drizzle the muhammara and hummus with olive oil and sprinkle with toasted seeds. Serve with pita or naan.
Roasted Carrots
1. Pre-heat the oven to 400 degrees F.

2. On a baking sheet, toss together the carrots, olive oil, and a pinch each of salt and pepper. Transfer to the oven and roast for 20 minutes or until lightly charred and tender. Remove and toss with chopped dill. Serve warm or at room temperature.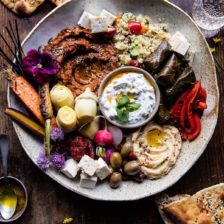 Nutritional information is only an estimate. The accuracy of the nutritional information for any recipe on this site is not guaranteed.
The Recipe
Couscous Tabbouleh Salad
By halfbakedharvest
Course: Salad
Cuisine: Middle Eastern
Keyword: middle eastern salad, vegan meal
A beautiful salad with classic Middle Eastern flavors
Prep Time 10 minutes
Cook Time 10 minutes
Total Time 20 minutes
Servings 4 servings
Calories 350 kcal
Ingredients
1 cup dry couscous, regular or pearl
1 1/2 cups cherry tomatoes halved
1 cup fresh parsley, chopped
1/2 cup fresh cilantro, chopped
1/4 cup fresh basil, chopped
2 Persian cucumber, sliced
1/3 cup roasted almonds, roughly chopped
1/3 cup fresh lemon juice
3 tablespoons olive oil
1 garlic clove, minced or grated
kosher salt and pepper
Instructions
1. Cook the couscous according to package directions. Let cool.

2. Add the cooked couscous, tomatoes, parsley, cilantro, basil, cucumbers, and almonds to a large bowl. Add the lemon juice, olive oil, and garlic. Season lightly with salt and pepper. Toss well. Season to taste with more salt and pepper as needed.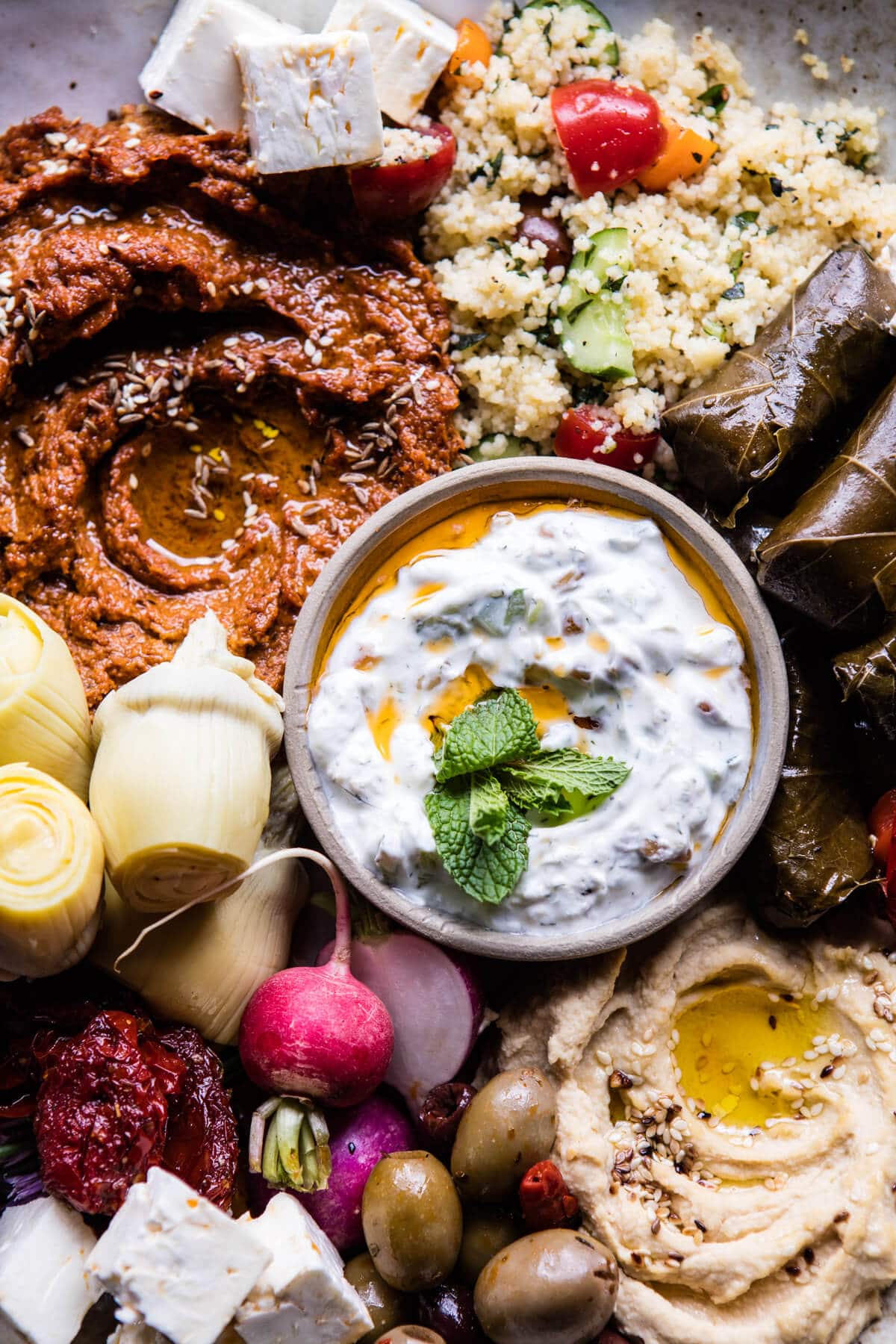 Enjoy this one guys, it's one of my favorites!