Raspberry Ginger Stone Fruit Galette.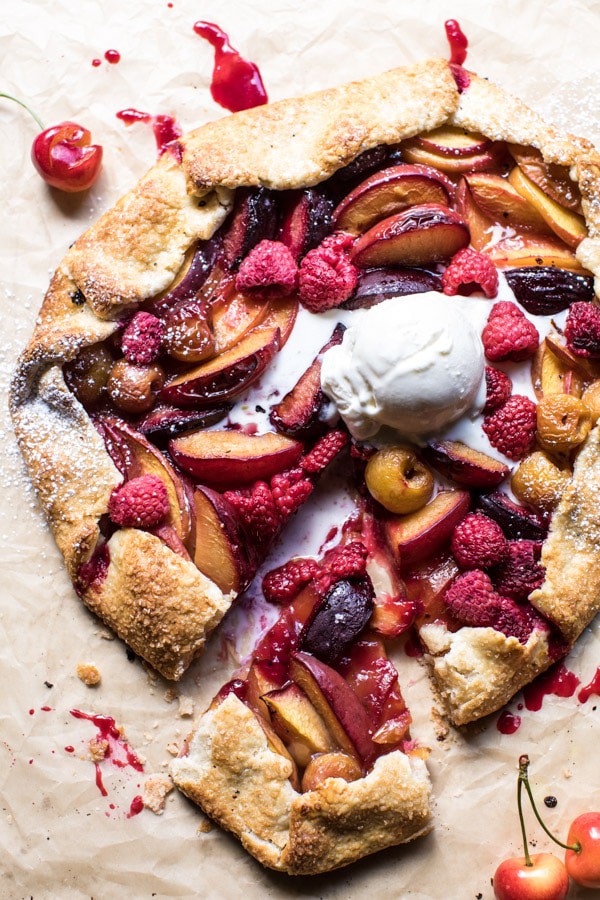 Nothing really says mid summer like a good fruit galette, and this raspberry ginger stone fruit galette is the best.
It's no secret that I'm living up the summer produce to the best of my abilities. Say hello to this summer bowl, this zucchini bake, and these peach shortcakes. I have so many fresh ideas for summer produce coming up this August, and I can't wait to share them!
Speaking of which, how is it already the last week of July?! I am both very sad and very excited…and also very anxious…all at the same time. I'm sad the summer is moving so quickly, but excited that fall, and more importantly the release of the Half Baked Harvest Cookbook, are right around the corner. But of course, this also means I am crazy anxious at the same time. I mean, what if it doesn't sell? What if it sells, but you guys hate it. All of these things run through my head when I think about the book's release. I'm trying to shove all negativity out of my brain though, and only think positively, it's easier said than done.
Instead I'm putting all my focus into work, which means creating yummy summer recipes for you guys!
Recipes like this galette, that I LOVE.



Galettes are the picture perfect summer dessert, all you really need is pie dough, fresh fruit, and a little sugar.
I'm throwing you guys a little curve ball and pairing my summer stone fruits and raspberries with a touch of fresh ginger. I'm not sure if that sounds weird to you or not, but to me it sounds delicious, and trust me, it is.

A little background story. My family has been on a huge ginger kick this last month. My older brother, Brendan has a serious thing for ginger, and since he just came in town for ACL surgery last week, he's been here recuperating with my parents. To help him on his road to recovery I've been making a ton of recipes loaded with ginger, but especially fruit smoothies. Not only has the family been on a ginger kick, but they're also loving the smoothies right now. Their favorite? Fruity smoothies with a hit of ginger, they are surprisingly refreshing.
Because of Brendan's surgery he is currently on a ton of serious medication. Serious meds means one thing, constipation. Sorry, that was rather blunt, but there's really no other way to say it. Ginger is proven to really help "move things out". Therefore, Brendan's been wobbling his way down to my house (because we are neighbors, and yes, he is well skilled on crutches…this is definitely not his first surgery) to request a smoothie with triple the ginger. It's a serious amount of ginger, but the kid's on a mission.
Anyway, that's the kind of story I'm not sure where to end, other than the fact that my family's smoothie and ginger obsession inspired the ginger inside this galette.

So, moving right along…
I kept the dough recipe extremely simple since there's so much flavor happening in the the filling.
I used a combo of peaches, nectarines, plums, and cherries for the filling. I loved the combo, but if you wanted to go with just one or two stone fruits, I would use peaches and cherries, or nectarines and cherries. I tossed this mix of fruits with a little brown sugar, ginger, and a splash of bourbon (for good measure of course) and then placed the mix inside my pie crust and topped it with fresh raspberries.
Bake it up and DONE.
So fast, so easy, and so deliciously good.
What's great about fruit galettes is that you can really use any fruit you have on hand. If you don't have raspberries, but do have blackberries, go for it! Just use the same measurements and all will be good.
Serve this warm with a giant scoop of vanilla ice cream and you'll have the most perfect Tuesday night treat…because it's summer, and all summer nights need a good summer treat. <–truth.



Nutritional information is only an estimate. The accuracy of the nutritional information for any recipe on this site is not guaranteed.
The Recipe
Raspberry Ginger Stone Fruit Galette
By halfbakedharvest
Course: Dessert
Cuisine: American
Keyword: fruit dessert, fruit galette, ginger dessert
A beautiful fruit filled galette that is made for sharing
Prep Time 20 minutes
Cook Time 40 minutes
Total Time 1 hour
Servings 8 servings
Calories 272 kcal
Ingredients
Crust
1 1/2 cups flour
1/2 teaspoon kosher salt
8 tablespoons unsalted butter, cold + cut into 1/2 inch cubes
3-6 tablespoons cold buttermilk or water
Filling
3 cups sliced stone fruit
1/4 cup brown sugar
1 inch fresh knob fresh ginger, grated
1 tablespoon bourbon (optional)
1 tablespoon cornstarch
juice from 1/2 a lemon
1 1/2 cups fresh raspberries
1 egg
Instructions
1. Place the all-purpose flour, and salt in a large bowl. Add the butter and then use your fingers to break the butter into the flour until the mixture is the size of small peas. Add 3 tablespoons buttermilk and mix with a wooden spoon, drizzling in more as needed (no more than 1 tablespoon at a time), until dough just comes together (a few dry spots are ok). Gently knead dough on a lightly floured surface until no dry spots remain, about 1 minute. At this point you can cover the dough and place it in the fridge while you prepare the filling, or for up to one week.

2. In a bowl, toss together the stone fruit, brown sugar, ginger, bourbon (if using), cornstarch and lemon juice.

3. Now grab your dough from the fridge. Flour your work surface again and roll the dough to about 1/8-inch thick. Transfer to a baking sheet lined with parchment paper. Arrange the fruit over the dough in an even layer, leaving a 1 inch border around the dough. Pour any remaining juices left in the bowl over the fruit. Sprinkle the raspberries over top. Fold the edges of the dough over the filling. Brush the crust with the beaten egg and sprinkle the coarse sugar over the dough.

4. Place the galette in the fridge for 15 minutes or until ready to bake.

5. Preheat the oven to 400 degrees F. Bake the galette for 45-50 minutes or until the crust is golden and the fruit is soft and caramelized. Allow to cool slightly. Serve warm or at room temperature with a large scoop of ice cream.

A slice of fruity, gingery, summer goodness.