Pepper and Cherry Tomato White Pizza.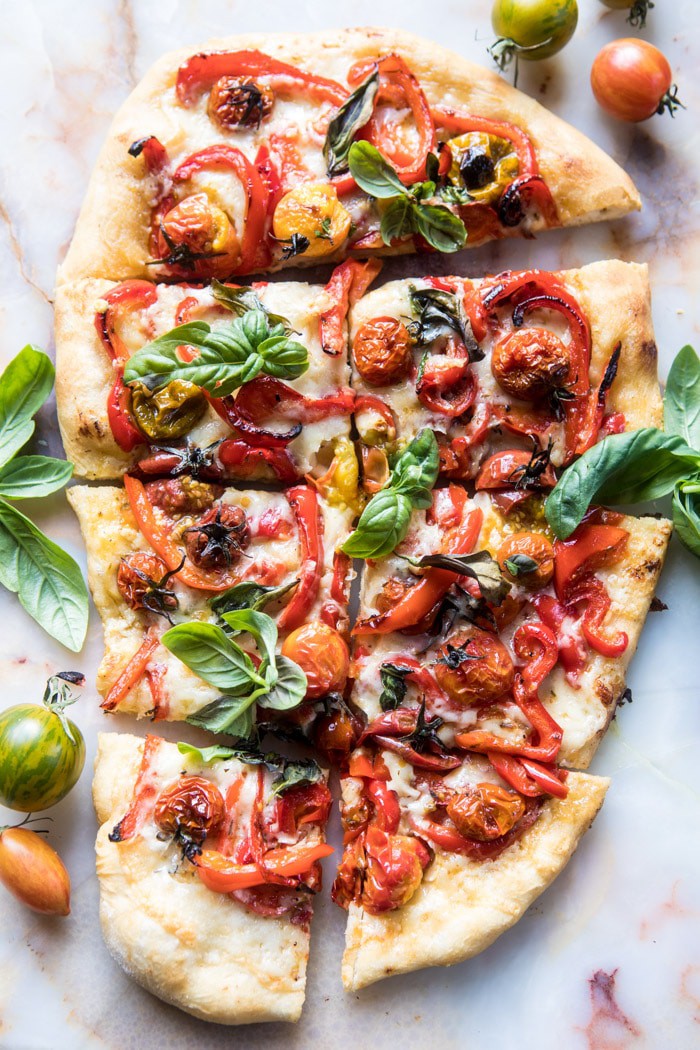 Celebrating the very last Monday of August, 2017 with this pepper and cherry tomato pizza.
Can you guys believe August is nearly over and Labor Day is exactly one week from today? I am in complete shock. Also, I have zero Labor Day plans…typical. I think I need to plan to plan something fun. What are you guys doing?
This coming fall is going to be pretty busy around here and I am both nervous and excited. September marks the release of my very first cookbook, the Half Baked Harvest Cookbook, so I will of course be making my way around to promote the cookbook. We will also be debuting a brand new HBH site redesign (coming very soon!), along with continuing to work on the new studio barn (yay!). And of course I will still be continuing to post, both here and on Instagram, daily. It's going to be a lot, but I am so excited!
I'm currently working to get organized, and a bit ahead, in preparation for upcoming events and travel. If anyone has tips on staying organized…and energized…please let me know, I certainly need them!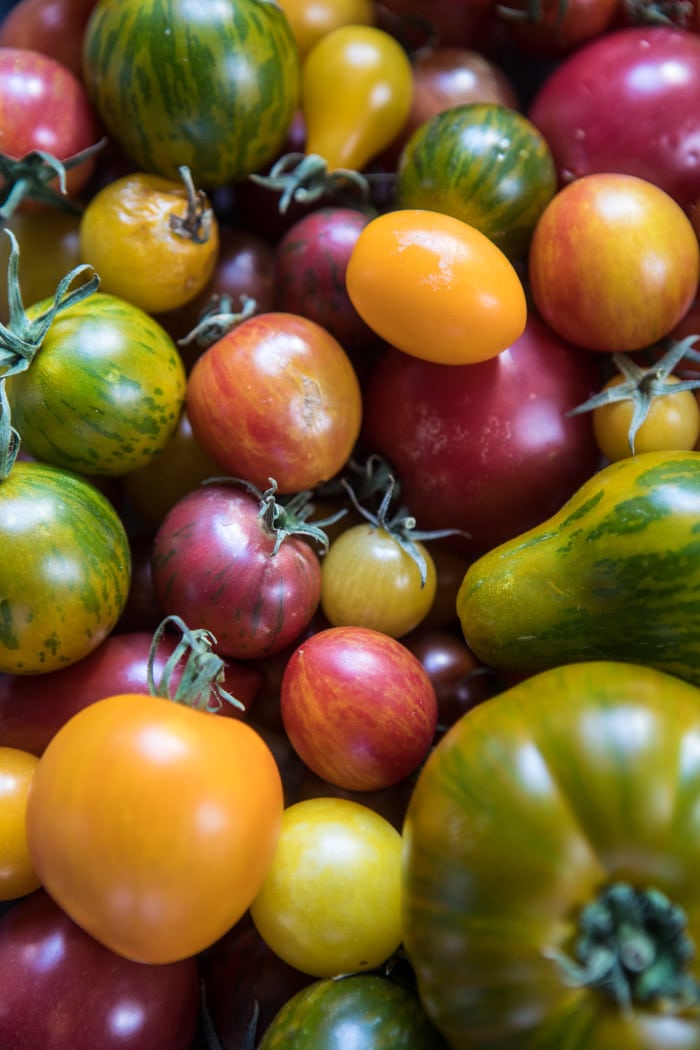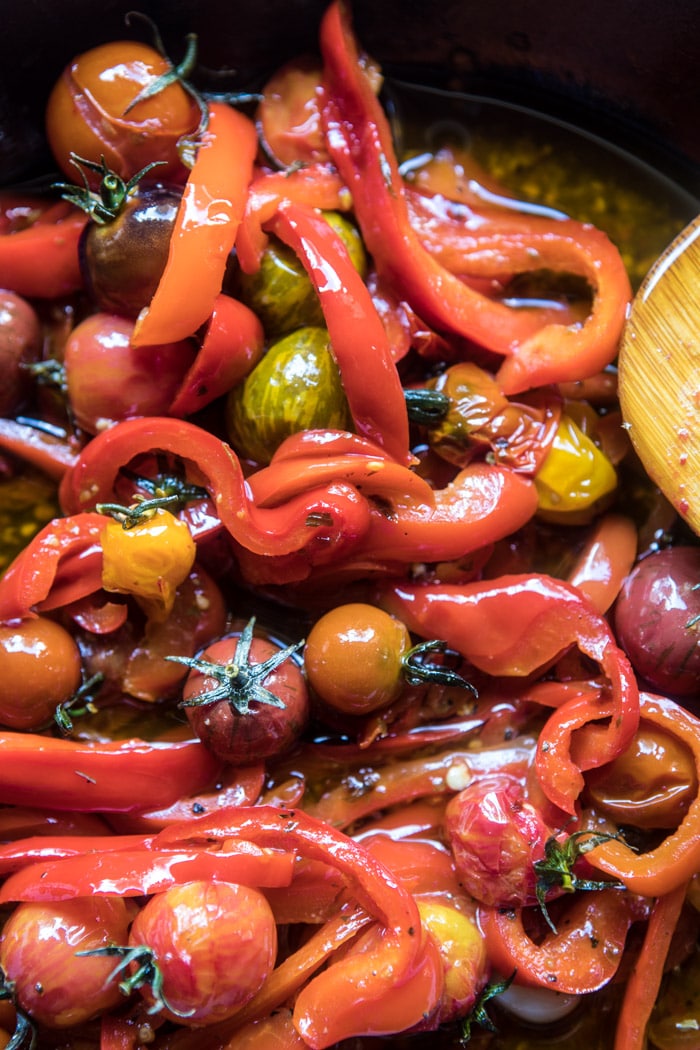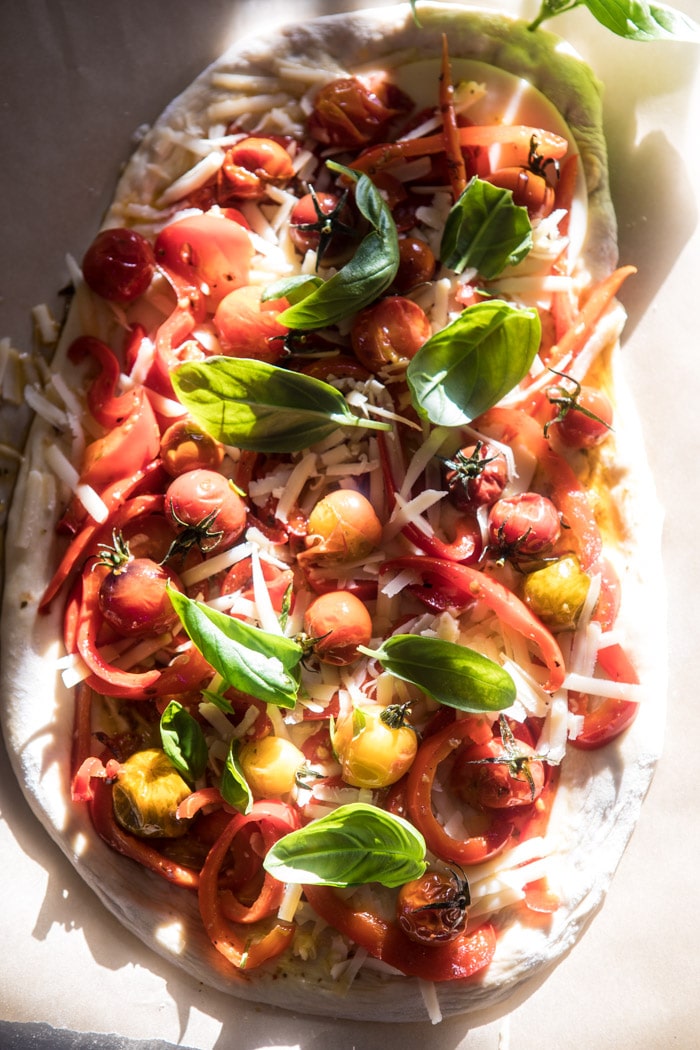 For now though, let's talk pizza, because one, pizza makes me happy, and two, pizza is DELICIOUS.
Especially this veggie loaded white pizza.
I know it's Monday, and Monday is supposed to be about healthy eating and all, but let's be real. This pizza has bell peppers, tomatoes, and plenty of green herbs (I mean, do you see all that basil –> totally counts as "greens"). Meaning this is a veggies galore pizza, meaning it's practically a salad with bread and cheese.
Health food people, health food.
Okay, fine…probably not everyone would consider this health food, but who cares. It is a semi balanced meal that's pretty dang yummy. I personally think it's what all Mondays need to make them fun and happy.
Don't they say pizza cures all? No…they don't? Ahh, well I think pizza cures all, even the Monday blues.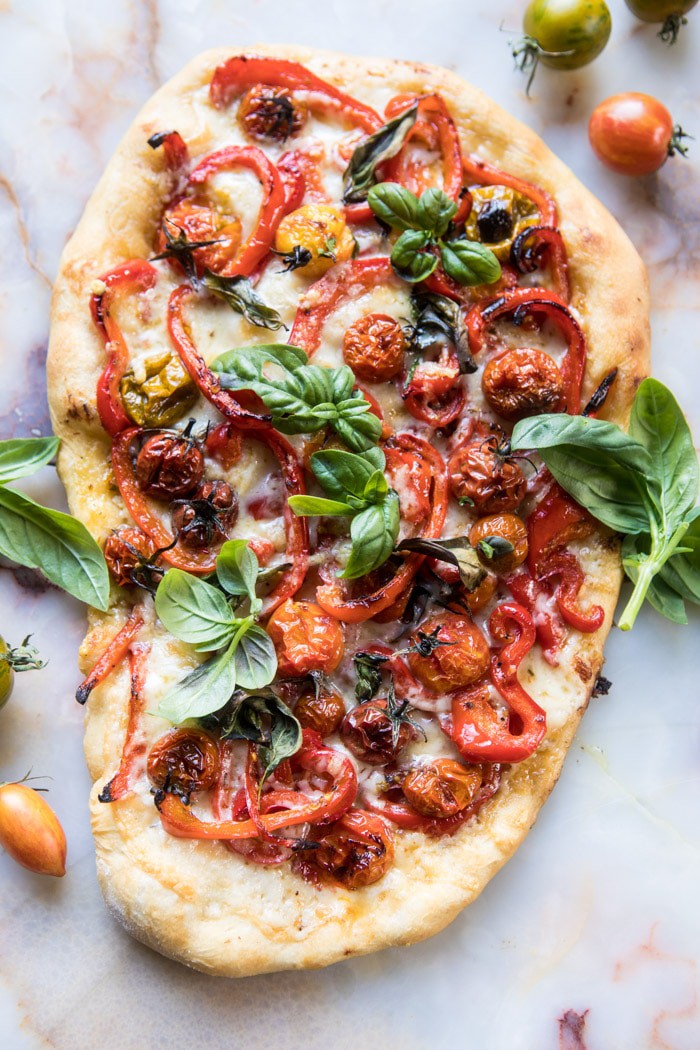 This pizza was inspired by peperonata, which is an Italian bell pepper and herb sauté. It's basically just bell peppers, tomatoes, garlic, and herbs, simmered in extra virgin olive oil until the peppers are soft and the garlic fragrant. Some recipes call for a longer cooking time to really allow the flavors to mend, but for this pizza we're just doing a quick ten minute or so simmer.
I've seen peperonata recipes all over the place, but for some reason I had never thought to put the mix atop a pizza. That was until I had an abundance of bell peppers sitting in my fridge before my family and I left for Cleveland. I knew I needed to use them up before we left, so I decided on a pizza topped with peperonata.
You wouldn't think simmering the peppers in olive oil, garlic, and herbs would make a huge difference, but trust me it does. Pizza cooks up pretty quickly and I've always found that any time I add raw veggies onto pizza dough and bake, the veggies never cook properly due to the quick cooking time of the pizza.
Cooking the peppers and tomatoes first on the stove-top not only allows them to soak up the flavors of the garlic and herbs, but also pre-cooks them. By the time the finished pizza comes out of the oven, the veggies are cooked just right.
It seems all peperonata recipes are made a little differently, so here's what I did…
Heat a little olive oil in a skillet with three bell peppers (I used two red and one orange), a couple handfuls of cherry tomatoes, garlic, fresh oregano, balsamic vinegar, a pinch of pepper flakes, and a pinch of salt. Simmer everything until your kitchen smells like an Italian grandmothers (seriously, it smells SO good). Then layer it all on some pizza dough with fresh basil, provolone and Gruyère cheese.
Bake. Top with more basil. Smell the goodness. Slice and EAT.
NOW you want pizza, right?!


In all honestly, I really cannot begin to explain how good this pizza is. It's super simple and not loaded with three too many toppings, which I've definitely been guilty of doing before.
I always say, pizza is better when it focuses on two to three toppings and that is what this pizza does. Sweet bell peppers, heirloom cherry tomatoes, and plenty of really good cheese.
Like I said, it's what every Monday needs. And the best part? While this pizza is great for these late summer days, it can easily carry over into fall, when the farmers market and gardens are bursting at the seams with the last of their produce.
Perfect.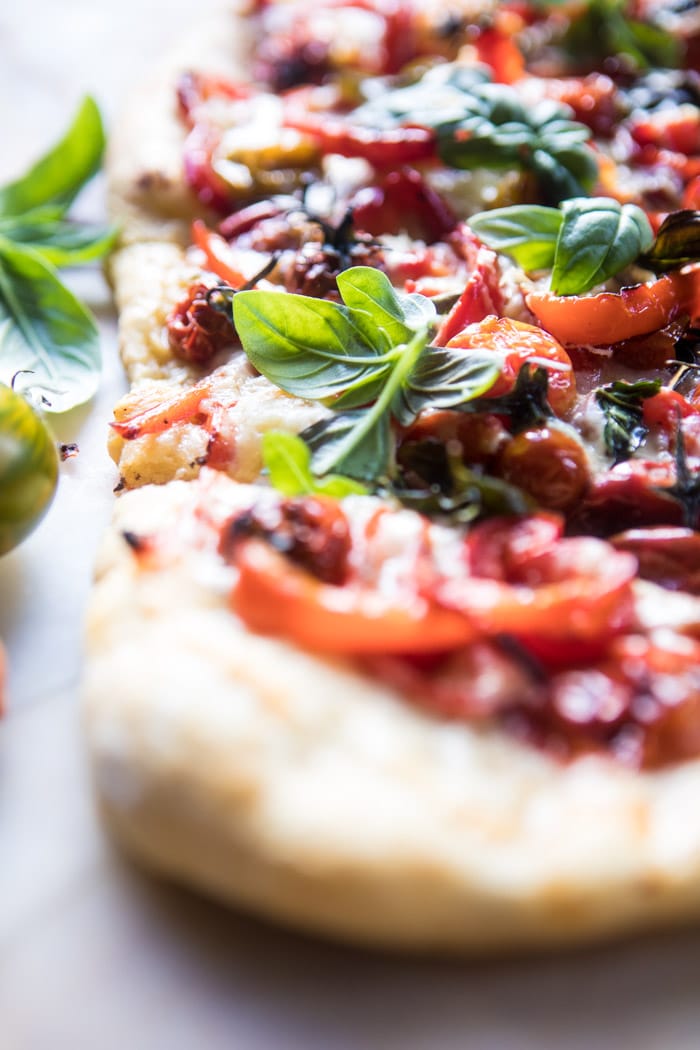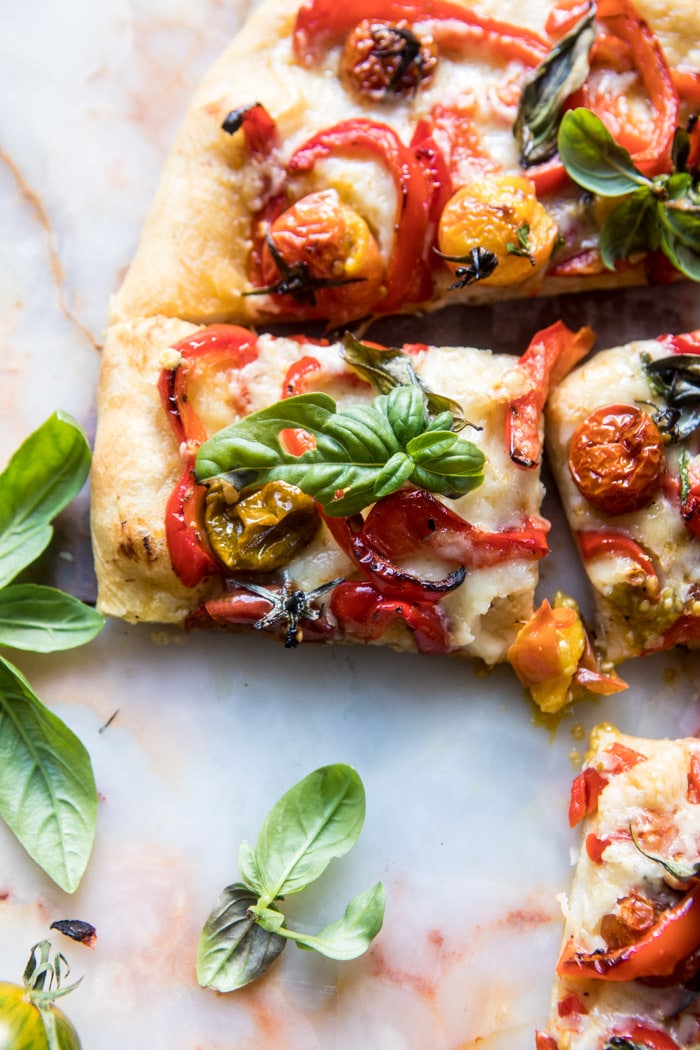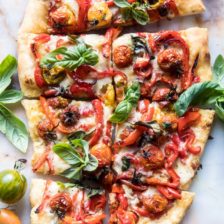 Nutritional information is only an estimate. The accuracy of the nutritional information for any recipe on this site is not guaranteed.
The Recipe
Pepper and Cherry Tomato White Pizza.
By halfbakedharvest
Course: Main Course
Cuisine: American, Italian
Keyword: quick pizza, tomato and pepper, white pizza
This white pizza is quick to make and the flavor is to die for!
Prep Time 15 minutes
Cook Time 15 minutes
Total Time 30 minutes
Servings 4 servings
Calories 519 kcal
Instructions
1. Preheat the oven to 450 degrees F. Grease a large baking sheet with olive oil.

2. Heat a medium skillet over medium heat. Add the olive oil, bell peppers, tomatoes, garlic, oregano, balsamic vinegar, and a pinch of both crushed red pepper and salt. Cook until the peppers just begin to soften and the garlic is fragrant, about 10-15 minutes. Remove from the heat.

3. On a lightly floured surface, push/roll the dough out until it is pretty thin (about a 10-12 inch circle). Transfer the dough baking sheet. Drain the olive oil left over from the peppers and spread it over the dough. Add the provolone and then arrange the peppers and tomatoes over top. Sprinkle on the gruyere and fresh basil.


4. Transfer to the oven and bake for 10-15 minutes or until the crust is golden and the cheese has melted. Top with fresh basil. EAT!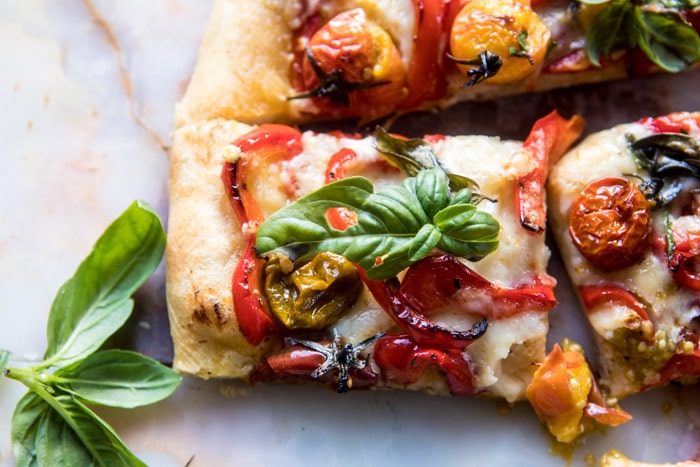 Pizza so good…it's gone the second after the last shot is taken.