Triple Layer Peanut Butter Crunch Brownies.
Triple Layer Peanut Butter Crunch Brownies. Three layers of sweet chocolate deliciousness. One fudgey brownie layer, one creamy peanut butter layer, and one crunchy chocolate layer. These brownies are over the top indulgent…the ideal end of the week treat to sink your teeth into!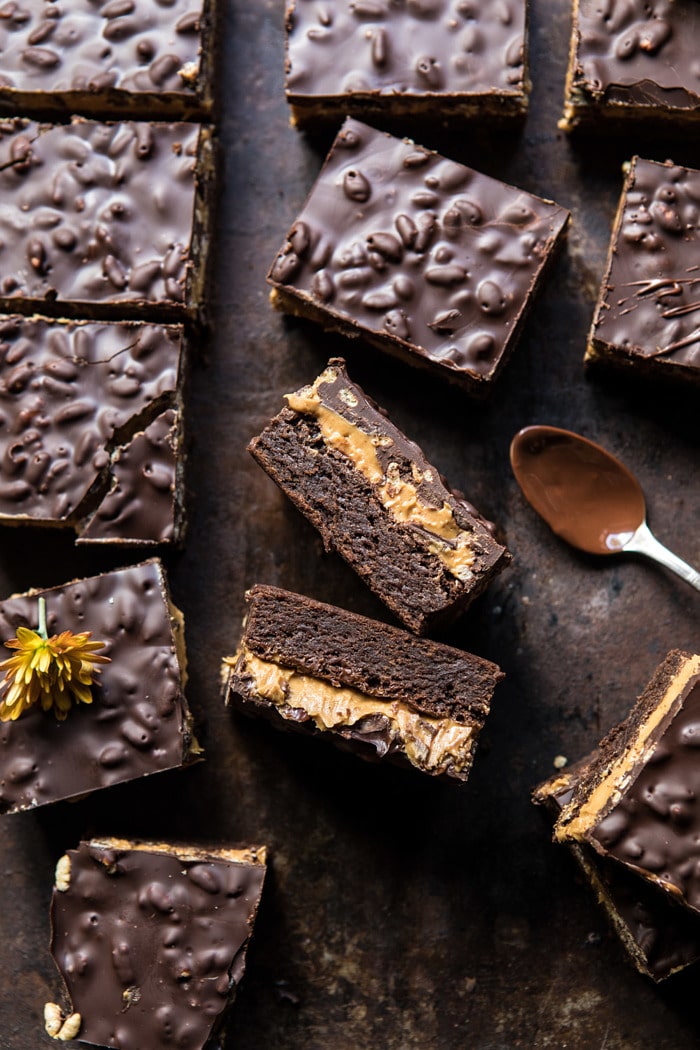 Serious question for you guys, do you watch football, or do you participate in fantasy football? As you might guess, I don't partake in either, BUT all of the men in my life do. Sure, I kind of enjoy having Sunday night football on in the background, as it reminds of being a kid and Sunday nights spent with my family. But if I'm being honest, I really don't care much to actually watch the game.
Anyone with me? I feel like I'm not alone on this.
All that said, I love the idea of football. When football season starts back up that means fall is here, and of course that has me excited. I also love making a good game day recipe. In the past I've made a lot of pull apart bread, buffalo chicken, chili, and soft pretzels, but today I'm going the sweeter route and taking inspiration from a classic Ohio dessert, buckeyes (also known as chocolate peanut butter balls, also knows as addicitingly good).
Most of you know that I'm originally from Ohio, so I grew up eating Buckeyes every fall throughout football season, and to this day they are probably one of my favorite desserts. What's not to love about peanut butter balls covered in chocolate?
They're a classic and they're the best.

With my oldest  brother Creighton in town this weekend, and Sunday night football premiering on Sunday, I knew I had to create something good for game day. Creighton loves anything with chocolate and peanut butter, so I did some brainstorming and somehow landed on these very over the top, but extremely delicious, triple layer brownies.
They are definitely not diet food, but life is all about balance. And hey, it's basically fall, which means it's baking season…and I'm ready to embrace it.
Plus, it's Friday and I think we could all use a nice treat at the end of an oddly long 4 day week. Yes, chocolate is just very much needed.

Here are the delicious details.
Layer one is all about that extra fudgey, extra chocolatey brownie. I make my brownies with a mix of cocoa powder and melted milk chocolate, so they're rich, incredibly fudgey, and melt in you mouth good. Just what every brownie should be.
The brownie layer is actually pretty simple, made in just one bowl and baked in under thirty minutes. Nothing too fancy, just all things good.
While the brownies bake, make the peanut butter layer. It's just a simple mix of peanut butter and butter. Originally I was going to make the same filling that a buckeye is made of, which is peanut butter, powdered sugar, and butter, but I felt the powdered sugar made the brownies entirely too sweet, so I ditched the sugar.
The peanut butter is dolloped over the brownies and covered with brown rice krispies and topped with another layer of chocolate.
So unbelievably GOOD.

This brownie is a chocolate lovers dream, the dough is soft and gooey, the peanut butter creamy, and the chocolate covered rice krispie layer adds a nice chocolatey crunch. Hands down, these are the best thing you can bake up this weekend.
It's a little early for apples, and I'm personally a little "peached" out, so it's chocolate and peanut butter overload for me this weekend.
My plans for Saturday? Cleaning and preparing the studio for a big shoot this week (we finally got our CO!), writing my Sunday Favorites post, ravioli making, brownie eating…and if I'm lucky, a little Netflix time too. That would be so ideal.
Truly cannot wait.

If you make these triple layer peanut butter crunch brownies, please be sure to leave a comment and/or give this recipe a rating! I love hearing from you guys and always do my best to respond to each and every one of you. And of course, if you do make this recipe, don't forget to also tag me on Instagram so I can see! Looking through the photos of recipes you all have made is my favorite!

Nutritional information is only an estimate. The accuracy of the nutritional information for any recipe on this site is not guaranteed.
The Recipe
Triple Layer Peanut Butter Crunch Brownies
Three layers of sweet, chocolate deliciousness. One fudgey brownie layer, one creamy peanut butter layer, and one crunchy chocolate layer. Deliciously over the top indulgent!
Prep Time 20 minutes
Cook Time 30 minutes
Total Time 50 minutes
Servings 18 brownies
Calories 366 kcal
Instructions
1. Preheat the oven to 350 degrees F. Line a 9x13 inch baking dish with parchment paper.

2. Add the butter and chocolate to a medium microwave safe mixing bowl. Microwave on 30 second intervals, stirring after each interval, until melted and smooth. To the melted chocolate whisk in the sugar, vanilla, and eggs until smooth. Stir in the cocoa powder, flour, and salt until just combined. Try not to over mix the batter, it will be thick.

3. Pour the batter into the prepared pan, spreading it in an even layer. Transfer to the oven and bake for 25-30 minutes, until the brownies are set on top. Remove from the oven and allow to cool.

4. In a small bowl, beat together the peanut butter and 2 tablespoons softened butter until smooth and creamy. Dollop tablespoon size spoonfuls of the peanut butter over the brownies, lightly spreading the peanut butter into an even layer. Transfer to the freezer and freeze 10 minutes.

5. Melt the chocolate chips in the microwave or over a double broiler. Sprinkle the Rice Krispies over the peanut butter and then pour the melted chocolate over top. Place the brownies in the fridge to set, about 20 minutes. Cut the brownies into squares. Store in the fridge or in a cool, dark spot in your kitchen.