Peach Brie Pastry Tarts with Peppered Rosemary Honey.
These summery Peach Brie Pastry Tarts with Peppered Rosemary Honey are my favorite last-minute appetizer, afternoon snack, or even light dinner. They're quick, easy, and most importantly, everyone loves them! Puff pastry, caramelized jammy shallots, creamy brie, and fresh summer peaches, all baked together to create the perfect cheese-filled mini-tarts. Finish each tart off with a peppery rosemary honey for the perfect Brie tart that's a delicious mix of sweet and savory.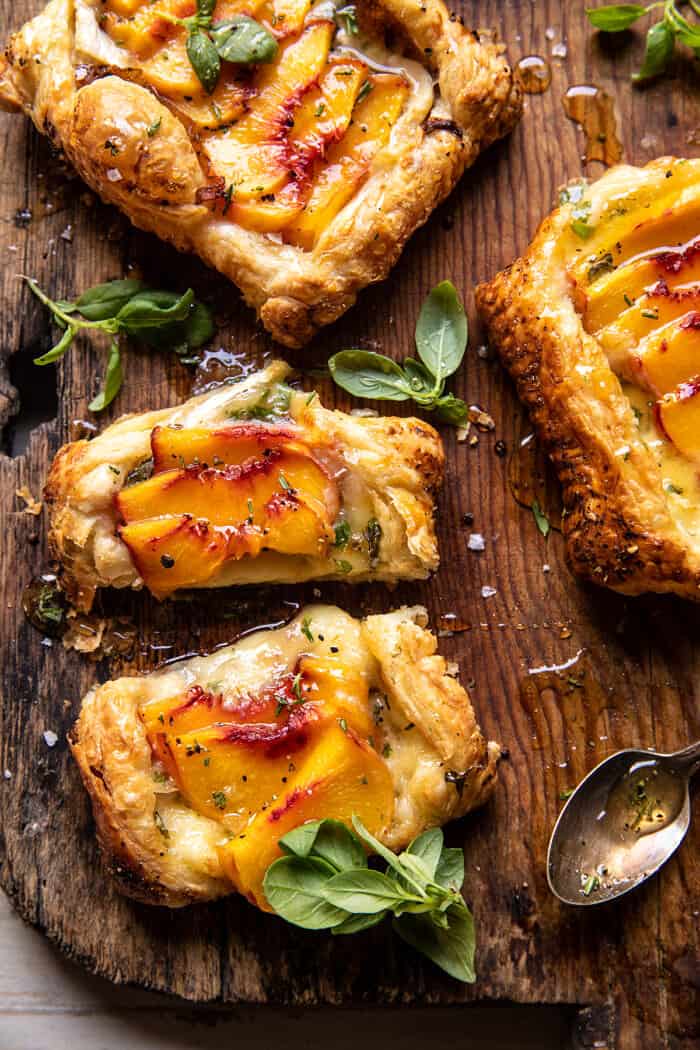 So I guess I'm all about the appetizers this week! Summer days mean simple cooking and I'm loving these quick recipes with all the best in-season produce. And let's be real, who doesn't love a peach Brie tart? It's just a wonderful combination.
So here's the deal, it's no secret that I love Brie. I've made cranberry brie tarts, cranberry brie pull-apart bread, pan fried brie, and even an artichoke and broccoli pesto brie panini. Ahh yeah, it's safe to say I really love Brie. But something I haven't done a lot of is Brie in the summertime. Enter these super, simple, easy tarts that are roll your eyes back delicious.
Think melty brie, sweet peaches, and peppery honey infused with garden-fresh rosemary. Oh and "jammy" caramelized shallots. YUMMM.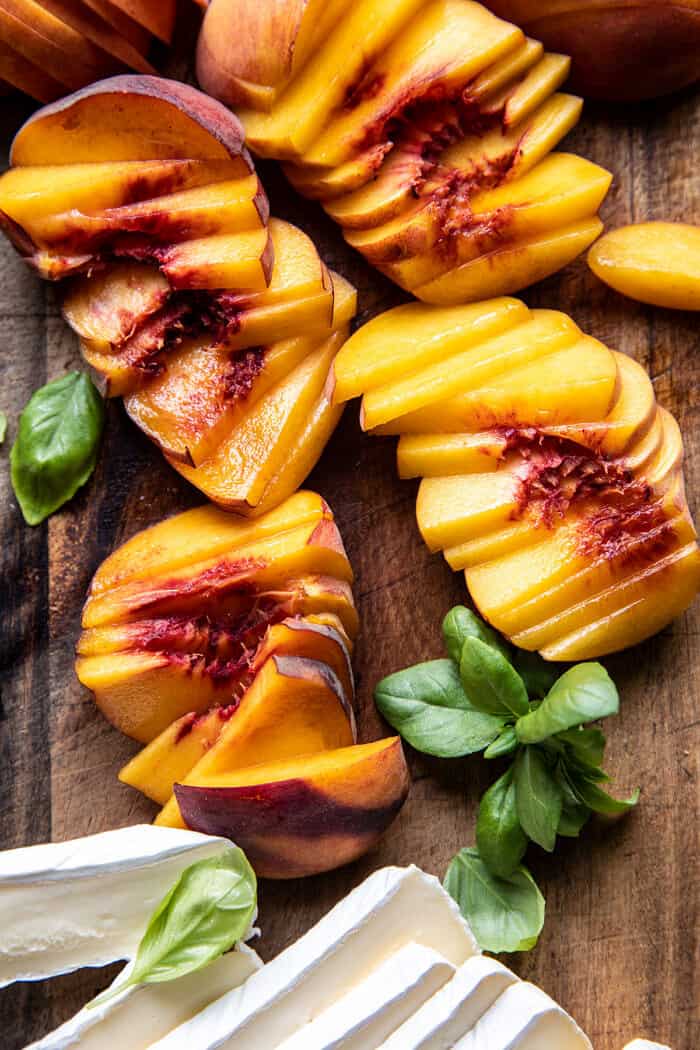 Here's how to make these summery peach Brie pastry tarts.
Like so many of my summer recipes right now, these tarts are quick, easy, and use plenty of summer produce. Now add in Brie and some store-bought puff pastry…for simplicity…and you'll have delicious tarts in no time!
Start with those jammy caramelized shallots. First, these shallots are SO GOOD. They add a lot of flavor to these tarts, so don't skip them. If you love a caramelized onion, you'll love caramelized shallots even more. They're tangier, sweeter, and pair perfectly with the creamy Brie and sweet peaches.
Cook the shallots down in a bit of olive oil, then add the apple cider vinegar. The vinegar helps to caramelize the shallots while also adding a bit of a tang.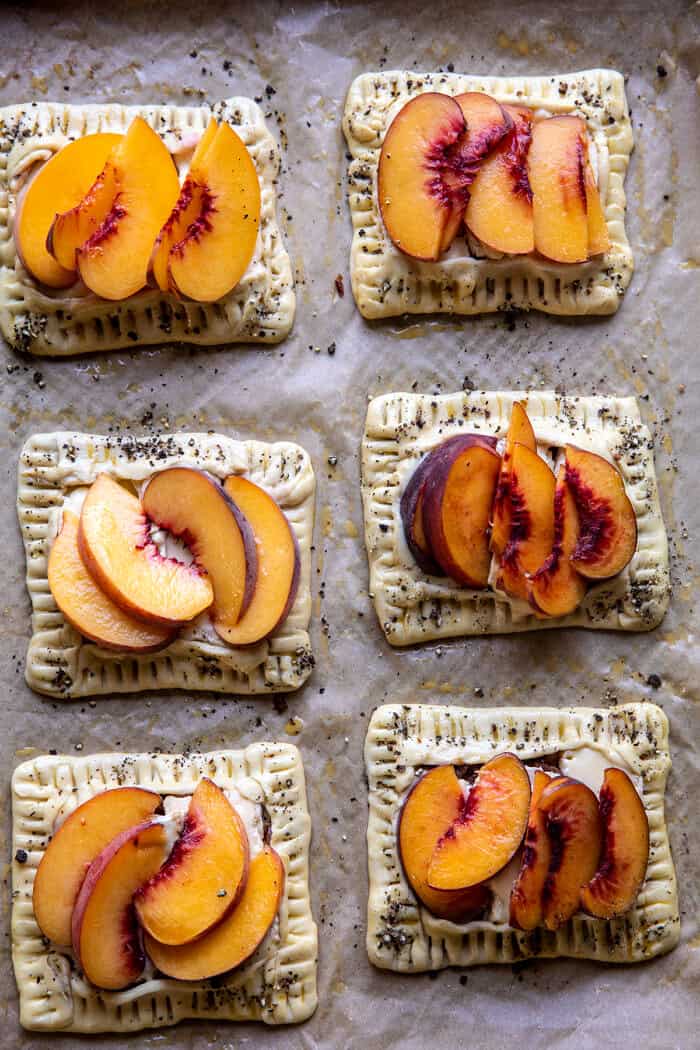 Once your shallots have caramelized, it's time to assemble. First, I like to cut my puff pastry into rectangles. Then spread on those shallots, add the brie, add a handful of fresh basil, and layer on the peaches.
Just like with Monday's prosciutto peach chicken, I used the peaches I received from Frog Hollow Farms. They are the sweetest peaches and so pretty. Do you see all the color they have? To be honest, it was their box of peaches that really inspired this recipe. I just wanted to use them in every way I could. Sweet cake on Friday, savory chicken on Monday. And today…it's these cheesy tarts…a mix of both sweet, savory, and touch peppery.
Favorite combination.
So layer on those peaches, then bake.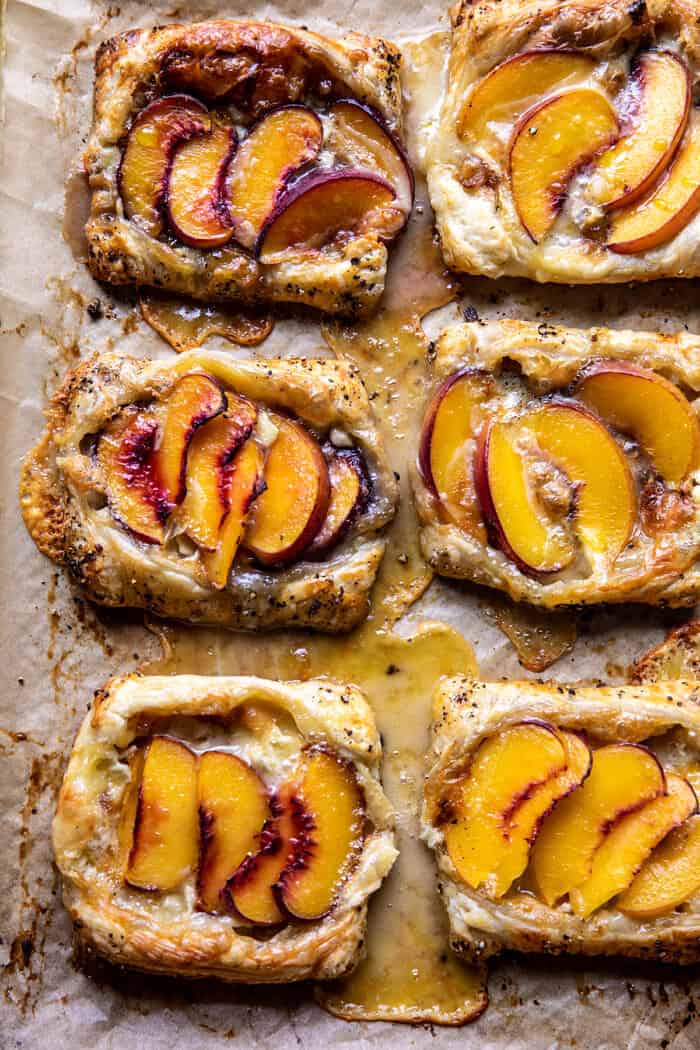 Onto that peppered rosemary honey.
While the tarts are baking, make the honey. It's very simple…honey, rosemary, and freshly cracked black pepper. Simple, but truly so delicious. I love the fragrant rosemary with the sweet honey. It's the perfect balance.
As soon as those pretty tarts come out of the oven, drizzle over the honey, top with a few basil leaves.
Then enjoy them while they're warm and melty. Absolutely nothing not to love…just so delicious!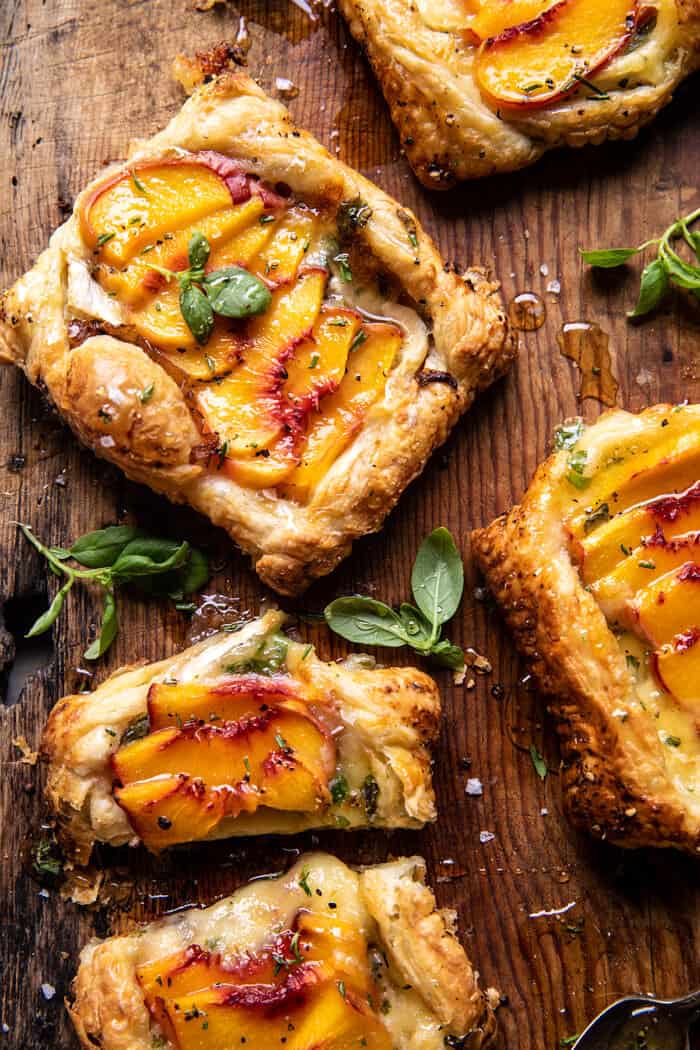 I love turning these tarts into a light summer dinner with a big green salad (I leave out the sweet potatoes in the summertime).
Best way to end a low key summery evening.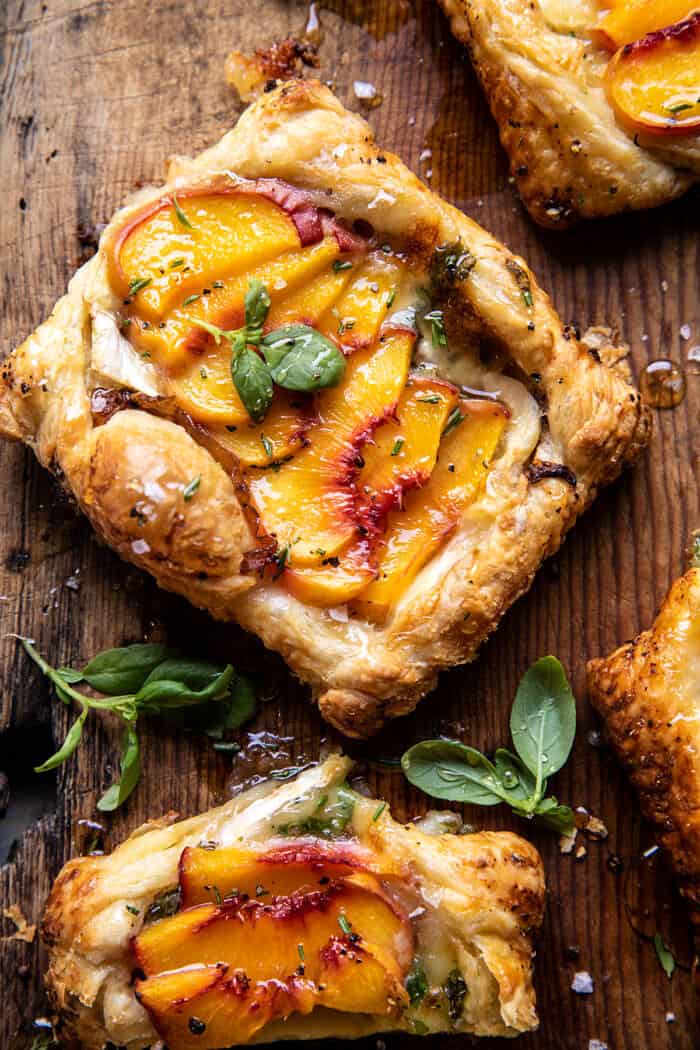 Looking for other summer peach recipes? Try these:
Prosciutto Balsamic Peach Chicken with Burrata and Basil
Skillet Balsamic Peach Pork Chops with Feta and Basil
Lastly, if you make these peach Brie pastry tarts with peppered rosemary honey., be sure to leave a comment and/or give this recipe a rating! Above all, I love to hear from you guys and always do my best to respond to each and every comment. And of course, if you do make this recipe, don't forget to tag me on Instagram! Looking through the photos of recipes you all have made is my favorite!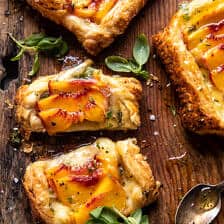 Nutritional information is only an estimate. The accuracy of the nutritional information for any recipe on this site is not guaranteed.
The Recipe
Peach Brie Pastry Tarts with Peppered Rosemary Honey
A mix of sweet and savory...super, simple, easy tarts that are garden fresh and so delicious!
Prep Time 15 minutes
Cook Time 15 minutes
Total Time 30 minutes
Servings 12
Calories 304 kcal
Ingredients
2 tablespoons extra virgin olive oil
2-3 medium shallots, thinly sliced
2 tablespoons apple cider vinegar
2 sheets frozen puff pastry, thawed
1 (8 ounce) wheel Brie each, cut into 8-10 slices (leave the rind on)
1/4 cup fresh basil, chopped
3 peaches, sliced
1 egg, beaten
1/3 cup honey
2 tablespoons fresh chopped rosemary
Instructions
1. Preheat the oven to 425 degrees F. Line a baking sheet with parchment paper.

2. Heat the olive oil in a skillet over medium heat. When the oil shimmers, add the shallots, cook until fragrant, 2-3 minutes. Stir in the apple cider vinegar, cook another 1-2 minutes until the shallots are caramelized. Season with salt and pepper.

3. Cut each sheet of puff pastry into 4 squares. Spread each squares with a small spoonful of shallots, leaving a 1/4 inch border. Top with brie and sprinkle with basil. Arrange the peach slices over the cheese and basil, pressing them into the cheese to adhere slightly (see above photo). Drizzle with oil and season with salt and pepper.

4. Fold the edges of the pastry inward to enclose. Brush the edges of the pastry with beaten egg and sprinkle with black pepper.

4. Transfer to the oven and bake 15-20 minutes, until the pastry is golden and the cheese melted. Mix the honey, rosemary, and a large pinch of pepper together. Serve the tarts drizzled with this peppered rosemary honey. Enjoy!