One-Pot Greek Oregano Chicken and Orzo with Tomatoes in Garlic Oil + VIDEO
Can you say winner, winner chicken dinner???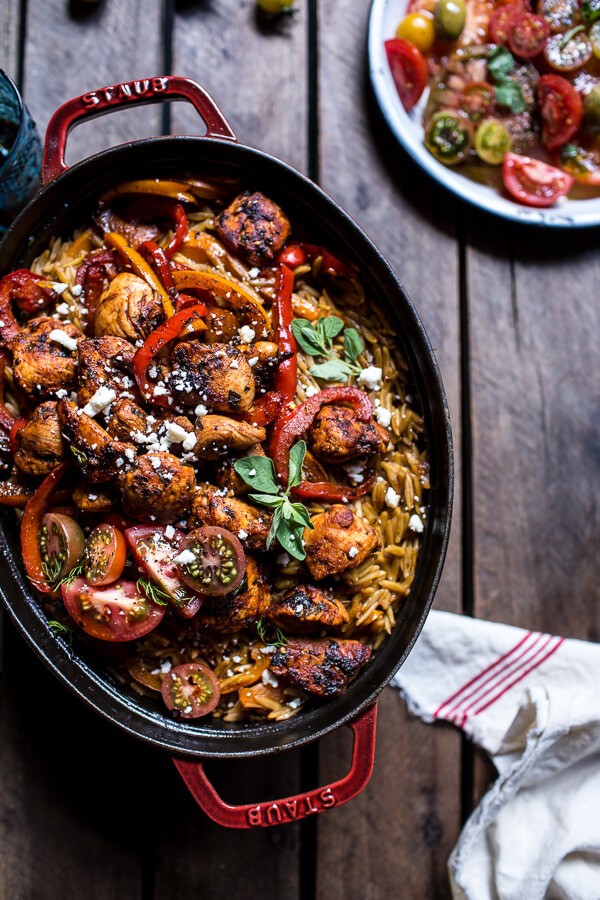 I mean, I know that is so cliché (and cheesy!!), but it's true. This one pot chicken dinner is everything.
And it's a 30-minute, no fuss, kind of chicken dinner. SCORE.
WATCH THE HOW-TO VIDEO HERE:

I am totally on an simple summertime suppers kick (wow, what has gotten in to me!). Don't worry, I've made sure that all those good summertime flavors are still maintained, but I'm keeping the steps to a minimum. Oh, and using a boat load of summer produce too, cause you know that's my favorite thing to do this time of year. I must tell you though, I tried to spiralize carrots today and well, I failed miserably. Pretty sure thin carrots just do not work for spiralizing into noodles…I was kind of sad 🙁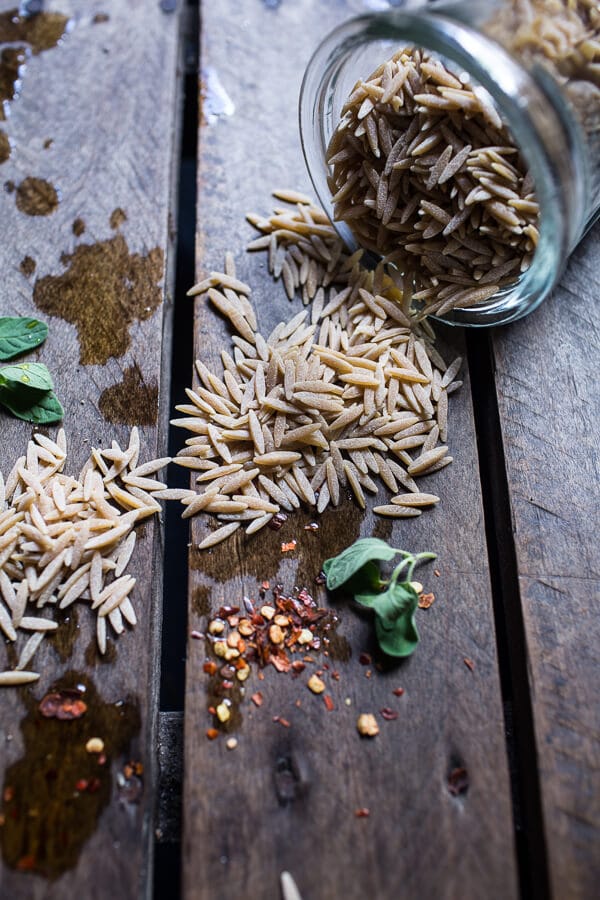 So even though all the colors of this dish look like Christmas, it's really all about everything summer. I mean you can definitely make this come December, BUT you surely will not be getting those gorgeous heirloom tomatoes, which I clearly cannot get enough of. Got to eat them while they are here, ya know??
Also, is it crazy that I still have recipes ideas for tomatoes?? I have already made so many tomato recipes, but yet my August recipe list is packed to the brim with tomatoes, corn and zucchini recipes, all of which I am kind of excited about.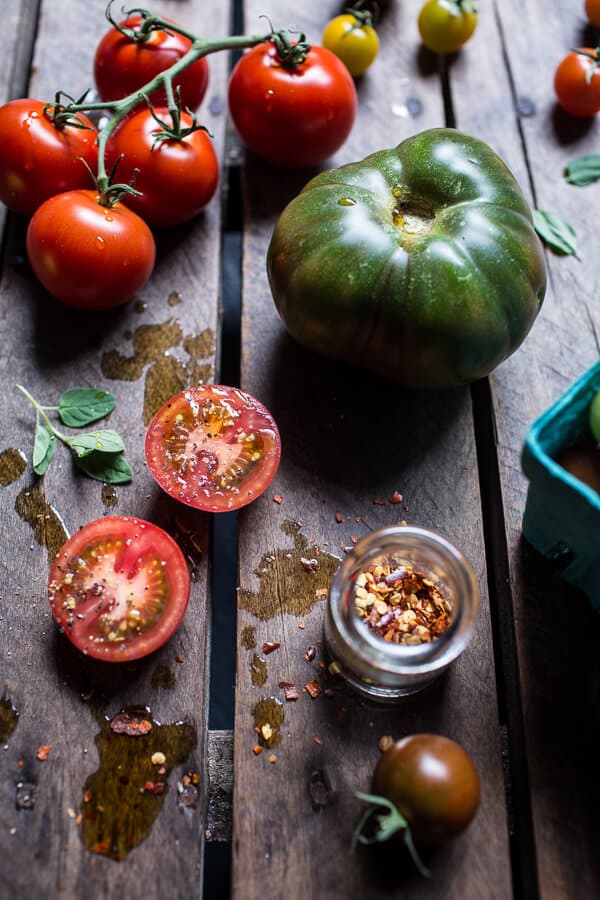 So this one-pot Greek oregano chicken and orzo is so perfect for a quick summer dinner. Everything gets cooked in the same pot (clearly I am partial to all my Staub pots) and the flavors are spot on. Plus, the feta pretty much seals the deal, don't you think?
Life with feta = happiness.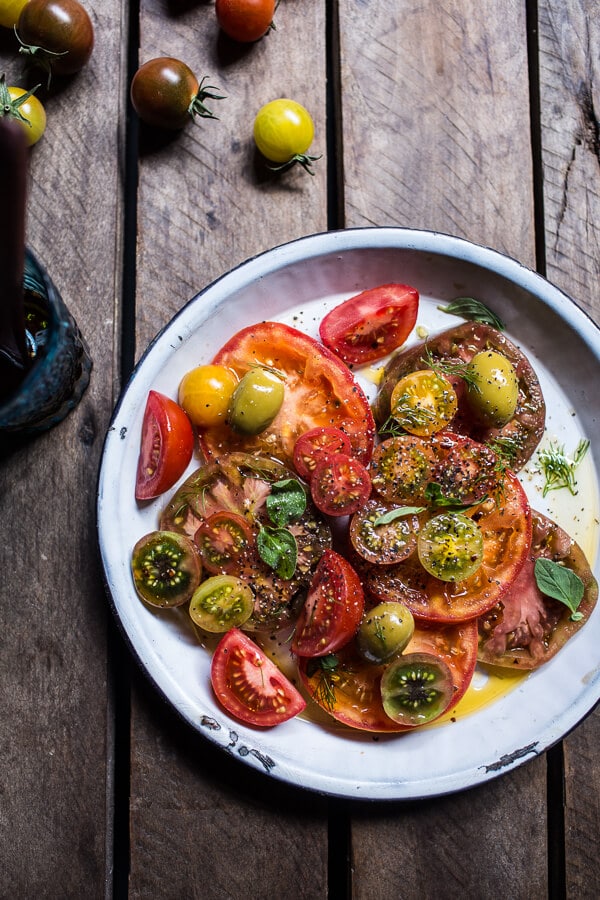 I am not really sure how people feel about oregano, but I am loving it this summer. Normally I am ALL about basil. I love, love basil, it's probably one of my favorite herbs, but lately I have been feeling the need to branch out a little and experiment with different herbs. I'm sure you all are no stranger to oregano, but personally, I have not used it as a main flavor component in my recipes.
Today I'm changing all that and really letting the oregano shine. I didn't use an ounce of basil AND surprisingly, I didn't even miss it. Do not get me wrong, I am sure a hand full of fresh basil in this would be amazing, but the fresh oregano really does an awesome job on its own of adding just the right amount of great Greek inspired flavor. Sometimes oregano can be overpowering, but when paired with this chicken, some balsamic vinegar and smoked paprika, it was perfect.
And umm, those bell peppers are also pretty delicious. I love sautéed and/or roasted bell peppers. My dad puts them on top of his pasta dishes and I swear I could just eat the peppers. They are my favorite part!!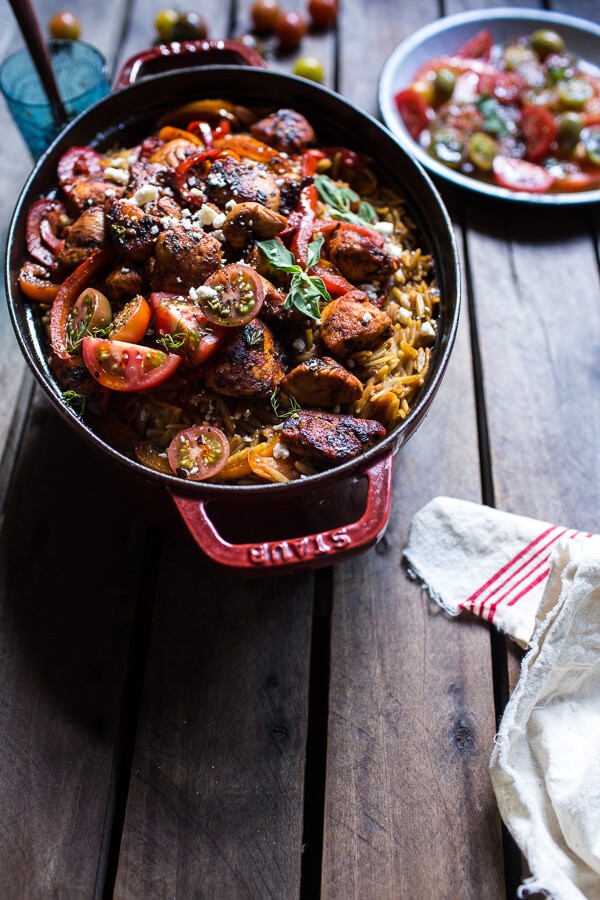 Oh and that orzo? Originally, I was inspired by Bon Appetit to make an Oregano Grilled Chicken dish, but I just keep thinking to myself "where are the carbs? This recipes feel boring without carbs". Yup, that is totally how my brain works. Some people might be like, just add lettuce and call it day… but me – I add carbs!
I like to think I am a pretty smart cookie for thinking this way.
Plus, the orzo takes on a risotto-like texture since it gets cooked in with the chicken and peppers. I promise, it is some of the best orzo you will eat. No really.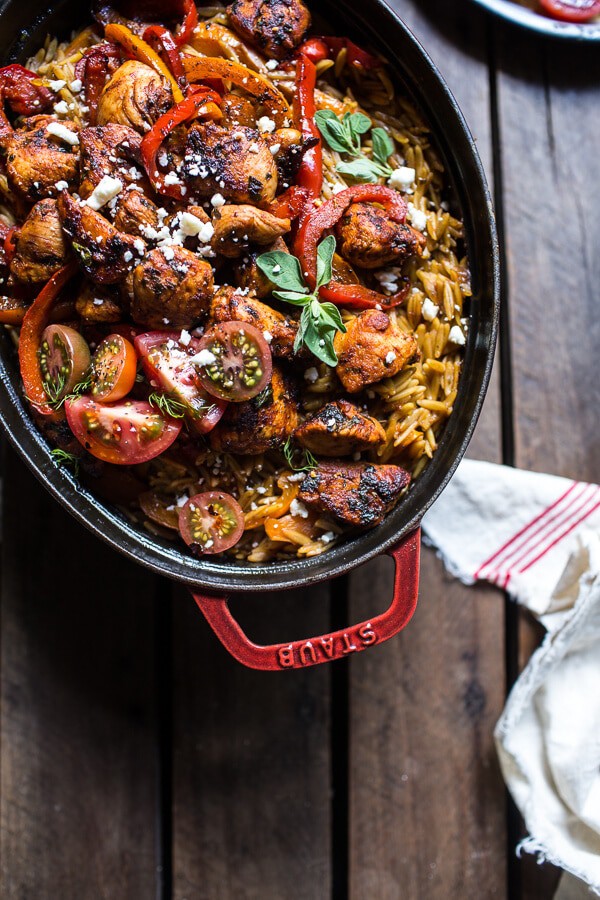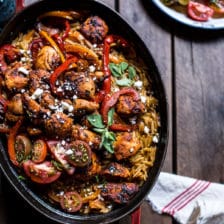 Nutritional information is only an estimate. The accuracy of the nutritional information for any recipe on this site is not guaranteed.
The Recipe
One-Pot Greek Oregano Chicken and Orzo with Tomatoes in Garlic Oil.
By halfbakedharvest
Course: Main Course
Cuisine: American, Italian
Keyword: one pot, one pot chicken, orzo, tomatoes
It's a 30-minute, no fuss, kind of chicken dinner. SCORE.
Prep Time 5 minutes
Cook Time 25 minutes
Total Time 30 minutes
Servings 4 Servings
Calories 781 kcal
Ingredients
Tomatoes
1/2 cup olive oil
4 cloves garlic crushed
2 tablespoons crushed red pepper flakes
2 heirloom tomatoes sliced
2 cups heirloom cherry tomatoes halved
salt and pepper to taste
Chicken + Orzo
1/4 cup olive oil
1 pound boneless skinless chicken, cut into bit size pieces
2-3 cloves garlic minced or grated
2 tablespoon balsamic vinegar
1 tablespoon smoked paprika
1/2 teaspoon salt + pepper
1/2 cup fresh oregano chopped
2 bell peppers sliced
1 cup mixed kalamata or green olives
16 ounces orzo pasta use gluten free if needed
4-6 ounces feta cheese crumbled
Instructions
Tomatoes
Add the olive oil, garlic and chili pepper flakes to a small sauce pan. Bring the oil to a low boil and then quickly reduce the heat to low. Simmer for 20-30 minutes and then remove from the heat. Allow to cool and then store in a glass jar for up to a month in the fridge.

Add the tomatoes to a bowl or plate and drizzle with the chili oil mix. Sprinkle with salt + pepper. Serve alongside the chicken.
Chicken
Heat 2 tablespoons olive oil in a medium size dutch oven or large skillet set on medium-high heat.

Once hot, add the chicken, garlic, balsamic vinegar, smoked paprika, salt and pepper. Toss the chicken to coat and then cook until the chicken is browned all over and cooked through, about 5 minutes. Stir in the oregano and cook another minute. Remove the chicken from the pan and to a plate.

To the same pan, add another tablespoon of olive oil, the bell peppers and a pinch of salt + pepper. Sear the peppers until just beginning to caramelize on the edges, about 3-4 minutes. Add the orzo and another tablespoon of olive oil. Stir the pasta with the peppers on then pour in 2 1/2 cups water. Cook until almost all the water is absorbed and the orzo is creamy. Taste the orzo to make sure it is soft in the middle, if needed, add another 1/2 cup of water and continue cooking the orzo until soft. It is important to stir the orzo often, as it wants to stick to the bottom of the pan.

Once the orzo is cooked, slide the chicken and olives into the orzo and remove from the heat. Allow the chicken to warm through, about 3 minutes.

Serve the dish topped with crumbled feta cheese and a side of tomatoes in chili oil.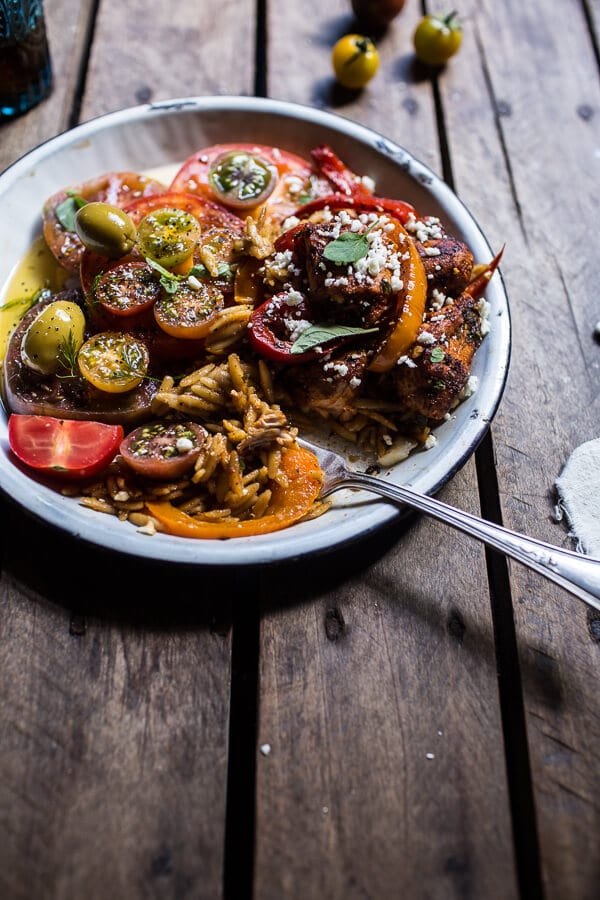 Just don't skimp on the feta, like I said, it seals the deal!