One Pot Creamy French Onion Pasta Bake.
This One Pot Creamy French Onion Pasta Bake is the ultimate cold weather comfort food. Think French onion soup, with the addition of pasta, a creamy sauce, and melty Gruyere cheese. The secret to this one-pot pasta is a little bit of wine, to keep those classic French onion soup flavors we love so much. This pasta dish is great any night of the week but is also perfect for your next dinner party. Every last bite is delicious…everyone LOVES a GOOD cheesy baked pasta…especially when caramelized onions are involved. This dish will be your new go-to when serving family and friends over the holidays…and other times throughout the year too.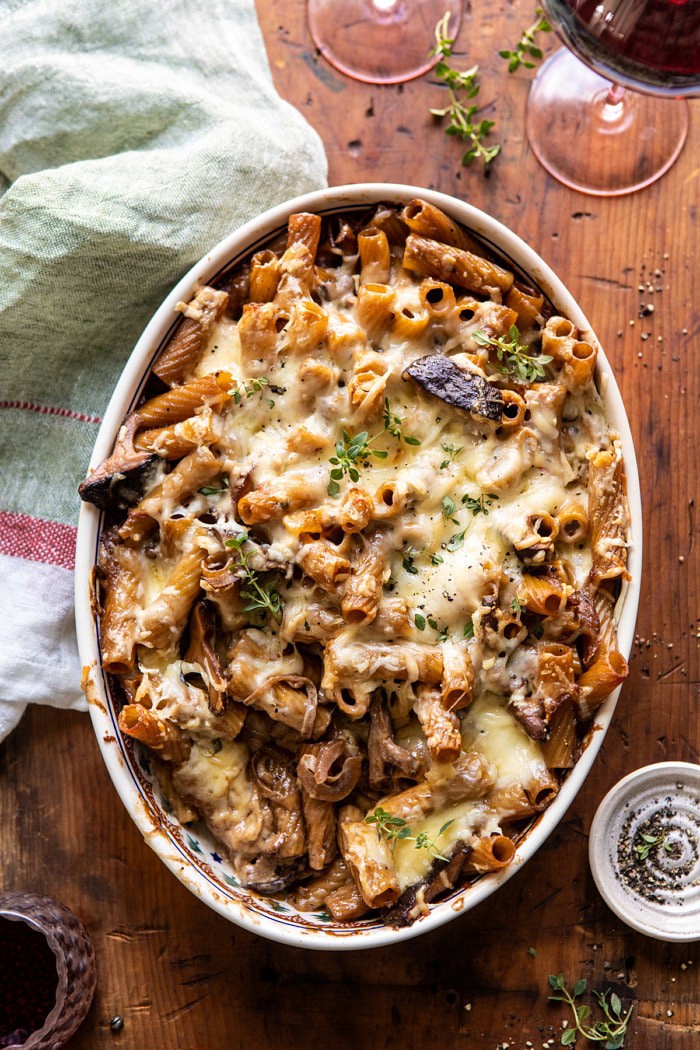 It's that time of year when all I want to be cooking, eating, and sharing with you is comfort food recipes. As I type this, I'm looking out my NYC window to freezing cold rain. The question I keep asking myself is, when will the rain turn to snow? I'm channeling my mom and little sister (snow dance please!) and putting out the positive thoughts for snow. Because what's more magical than a snowy NYC in December? It's going to happen. I will document it for you all.
Regardless of rain or snow, December days call for only the best comfort foods and easy dishes that we can feed our friends and family. When I return home from New York, I'll only have a week or so until the bulk of my family members start arriving for the Christmas holiday. With that in mind, I've been working to come up with some creative recipes to feed everyone this year. If there's one thing I've learned over my many years of serving large groups, it's that pasta dishes are key.
Most everyone enjoys pasta and what I love about a baked pasta is that I can prepare everything in advance if need be. This pasta is extra special though…if you love French onion soup, you will absolutely love this pasta bake. It has all the rich flavors you get in a bowl of steaming French onion soup. But made better with the addition of pasta and a touch more cheese. You simply cannot go wrong.

Here are the details.
Start with the onions. They need to be deeply caramelized, just as you do when making French onion soup. My secret to the best caramelized onions? Butter, a touch of honey, and in today's case…dry red wine.
The butter is used for obvious reasons…fat, flavor, and deliciousness. The honey helps to cook and caramelize the onions faster. I always find these ingredients to be key when trying to achieve the perfect caramelized onions.
Now, the wine. Use a dry red wine. Cabernet Sauvignon is pretty traditional in most French onion soups, so I wanted to carry those flavors over into this pasta. You'll cook about half of the wine into the onions. This not only helps the onions to caramelize quickly and evenly, it also infuses the onions with incredibly rich flavor.
If you prefer not to cook with wine, I recommend using about half a cup of pomegranate or cranberry juice when caramelizing the onions. For the remaining amount of wine called for (another half cup), use chicken or vegetable broth.
Once the onions have deeply caramelized, add mushrooms, garlic, and fresh thyme. Cook all together until the mushrooms have caramelized. Add the broth and dry pasta right into the pot. I know it may seem odd, but trust me, it works. Just bring the mix to a boil and cook until the pasta is al dente. Cooking the pasta together with the sauce only takes a few minutes and saves you from having to break out another pot. It's my secret to keeping pasta recipes simple and easy.
When the pasta has cooked, add the cream and a little cheese. Transfer everything to the oven and bake until the cheese on top is melty and golden and everything looks and smells delicious.

The best thing about one pot recipes?
Everything starts in one pot, and ENDS in the very same pot. YES. Dishes be gone!! Granted, I tend to transfer my dishes to a baking dish for a prettier look, but if using an oven safe pot, you can bake this right in the very same pot you started with.
One and done and so easy. It's just what's needed this time of year, easy dinners that are incredibly delicious.

Serve this with…
Since this is such a hearty pasta, I love serving this with a bright salad. This pretty salad is always my favorite (I leave the chickpeas off when serving this as a side salad).
Of course, you can also add some bread, which is never a bad idea in our house.
With that, you'll have a complete dinner that will be great any night of the week. My recommendation? Serve this up on the next super cold night when you're craving a steaming bowl of soup…but also a plate of mac and cheese. This pasta is soup and mac and cheese in one. It's creamy, cheesy, and swirled with caramelized onions. So…it's insanely GOOD!

If you make this One Pot Creamy French Onion Pasta Bake, be sure to leave a comment and/or give this recipe a rating! Above all, I love to hear from you guys and always do my best to respond to each and every comment. And of course, if you do make this recipe, don't forget to tag me on Instagram! Looking through the photos of recipes you all have made is my favorite!
watch the how to video:

Nutritional information is only an estimate. The accuracy of the nutritional information for any recipe on this site is not guaranteed.
The Recipe
One Pot Creamy French Onion Pasta Bake.
By halfbakedharvest
The ultimate cold weather comfort food. Think French onion soup, with the addition of pasta, a creamy sauce, and melty Gruyere cheese...so delish!
Prep Time 15 minutes
Cook Time 30 minutes
Total Time 45 minutes
Servings 8
Calories 431 kcal
Ingredients
4 tablespoons butter
2-3 medium yellow onions, thinly sliced
2 teaspoons honey
1 cup dry red wine, such as Cabernet Sauvignon
2 cloves garlic, minced or grated
2 cups cremini or wild mushrooms, sliced
2 tablespoons fresh thyme leaves (or 2 teaspoons dried thyme)
3 cups low sodium chicken broth (use vegetable broth, if vegetarian)
1 tablespoon Worcestershire sauce (use soy sauce, if vegetarian)
2 leaves bay leaves
1 pound of your favorite short cut pasta
1/4 teaspoon cayenne pepper using more or less to your taste
1 1/4 cups heavy cream, whole milk, or canned coconut milk
1/3 cup crumbled gorgonzola cheese (optional)
2 cups shredded gruyere cheese
Instructions
1. Preheat the oven to 400 degrees F.

2. Melt the butter, onions, and honey together in a large pot over medium-high heat. Cook, stirring occasionally until softened, about 5 minutes. At this point, you want to slowly add 1/2 cup of the wine, 1/4 cup at a time, until the wine cooks into the onions. Continue to cook another 8-10 minutes until you've used the 1/2 cup of wine and the onions are deeply caramelized.

2. Add the garlic, mushrooms, thyme, and season with salt and pepper, cook another 3-4 minutes. Add the remaining 1/2 cup wine, the broth, Worcestershire sauce, bay leaves, and the pasta. Bring the mixture to a boil. Stir frequently until the pasta is al dente and the broth has been absorbed, about 8-10 minutes. Stir in the cayenne, cream, gorgonzola, if using, and 1/2 cup gruyere cheese. Remove from the heat.

3. If needed, transfer the pasta to a baking dish. Top with the remaining gruyere cheese.

4. Transfer the baking dish to the oven and bake 20 minutes or until the cheese has melted and is lightly browned on top. Cool 5 minutes before serving. Serve with fresh thyme. Enjoy!