Jalapeño Cheddar Guacamole Turkey Burgers with Crispy Onions.
Every summer needs a new burger and this is that burger.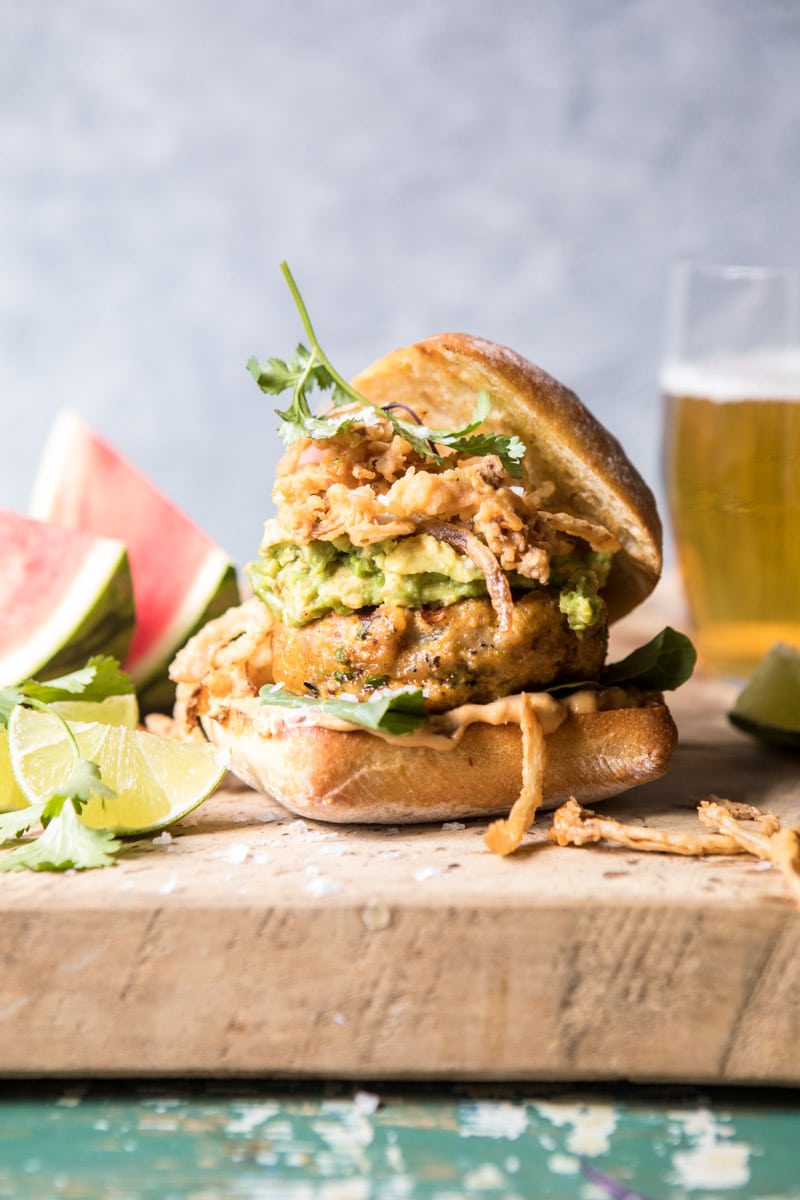 You guys, say hello to the jalapeño cheddar guacamole turkey burger…with crispy onions. It's spicy, cheesy, loaded with avocado, and topped with crispy fried onions. I mean, can you say, so much to love?
I came up with the idea for these burgers the other day while hiking and as soon as the thought crossed my mind, I knew I had to come home and make them right away. That's just what I did…and here they are!
I think I've mentioned this before, but I hate, hate, hate, photographing burgers of any kind. Therefore, any burger recipes even slightly less than incredible will not make the cut.
These turkey burgers more than made the cut, they were just too good to pass up…
As you can tell, I'm pretty excited about them. I had all my test tasters (aka most of my family, who are all in town in preparation for our Mexico trip), try them out last night. The verdict was unanimous, everyone loved them!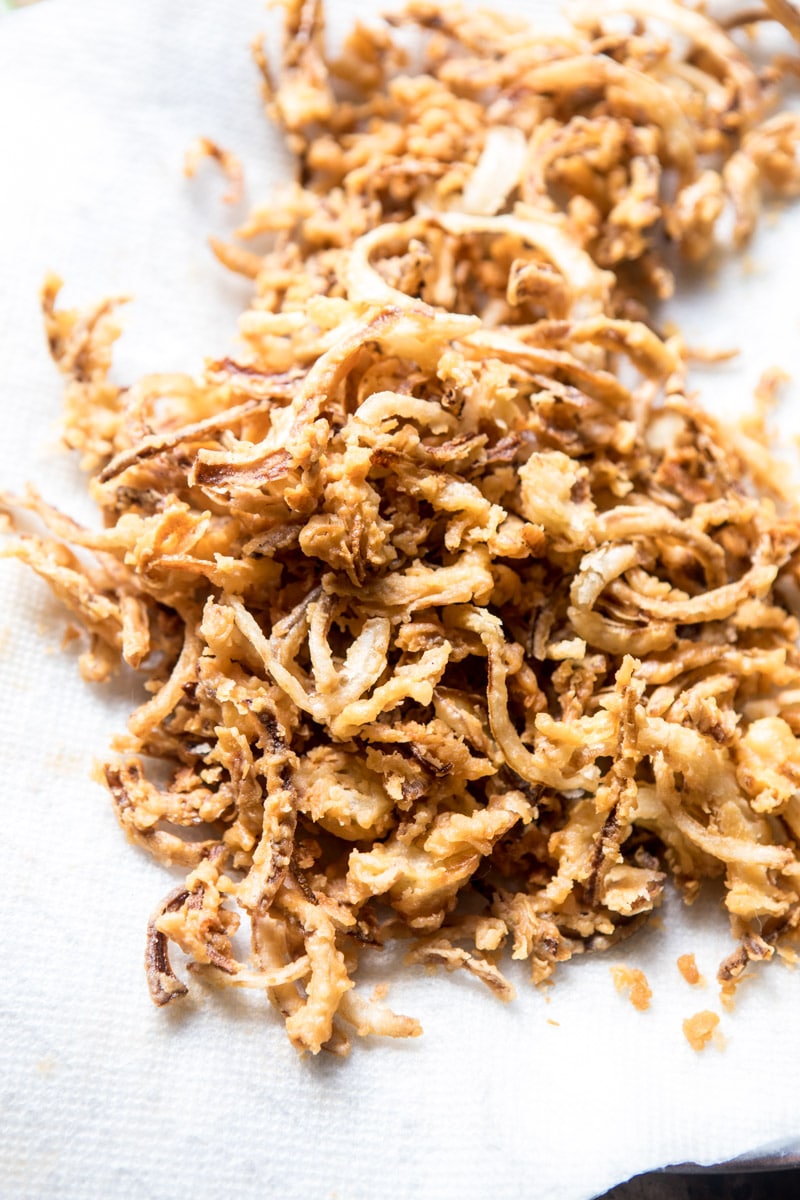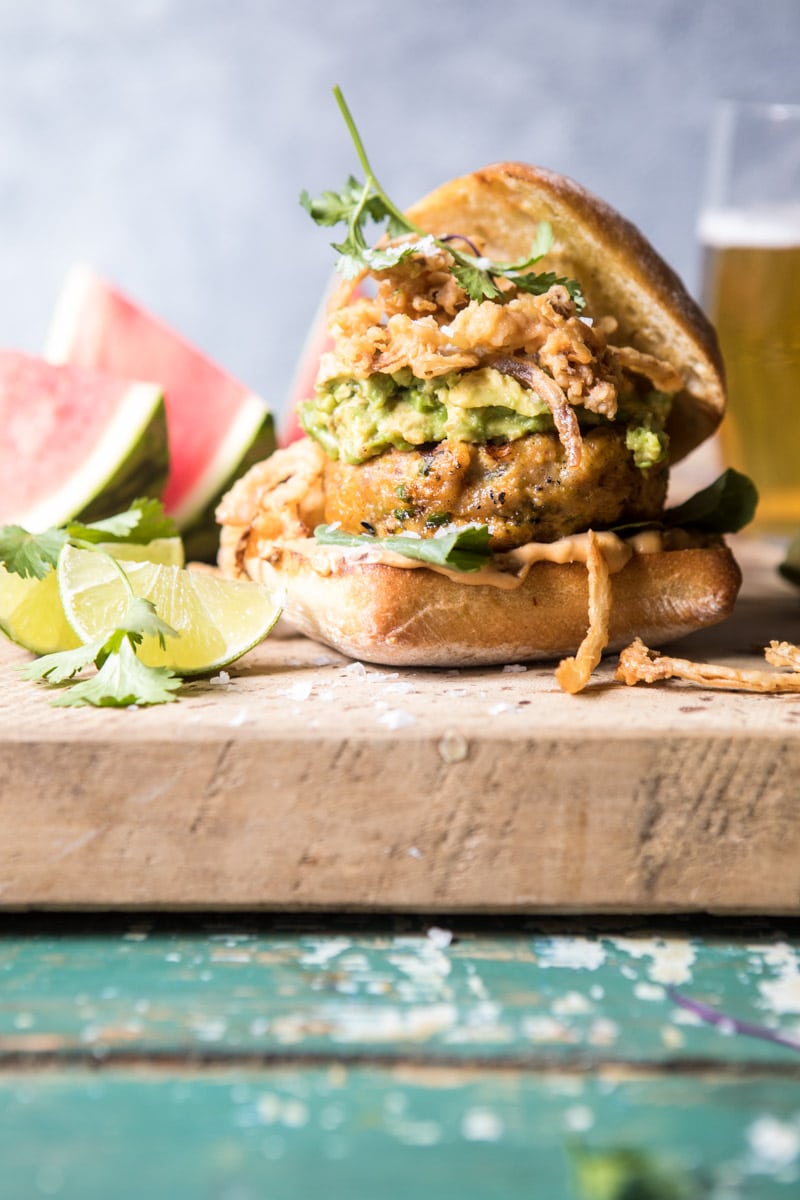 As I expected, I love the burger, but not so much the photos. Typical of me, but I'm just going to get over it because the most important thing here is that the recipe is solid and beyond good, and trust me it is.
The burger patties themselves are worthy of their own recipe. They are moist, full of flavor and every bite is delicious. To give the burgers a smoky feel, I roasted the jalapeños before adding them to the turkey mix. It's a simple step that adds so much flavor and also helps to tame the heat of the burger. I then added some sharp cheddar cheese, and a pinch of smoked paprika for flavor.
So freaking good. I really can't describe just how good these are, but as soon as you place a burger on the grill and begin to smell it's amazing aroma you'll begin to realize just how good these burgers are. And then, if you're into it, you can add a slice of smoky gouda and melt it over top each burger.
You don't have to add the extra cheese, but I highly recommend it.
Obviously.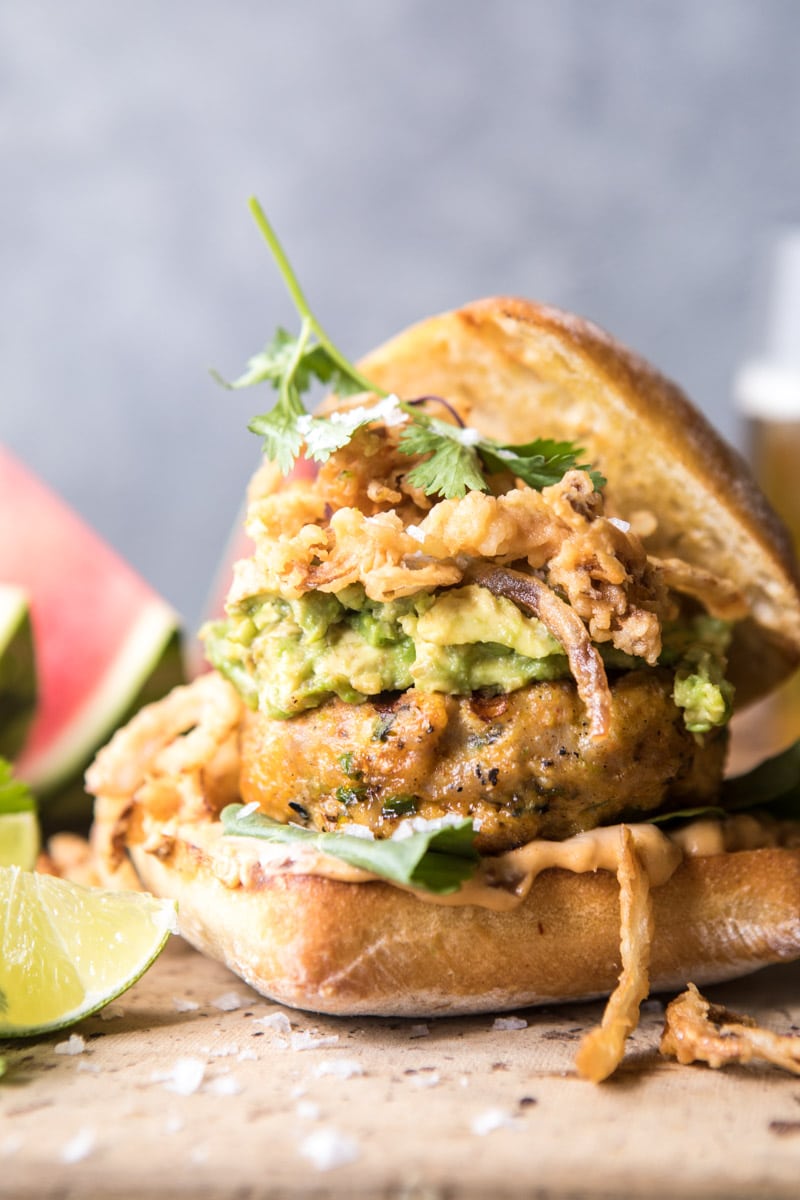 To take things a step further, I finished each burger with plenty of smashed avocado and crispy fried onions.
Avocado + crispy onions…on a jalapeño cheddar burger?
All I have to say, is YUMMM.
One, this is the perfect dinner for a Wednesday night (because it's been quite a week and a fun burger sounds like just what we all need). Two, after you make these once, you'll realize that these burgers would be perfect for the 4th of July! How fun would these be served up for you Fourth festivities? You can make the onions and patties in advance so that all you have to do is grill the burgers and warm the onions, then just serve um up. <– I am so down with that!
Also, watermelon on the side?
That is a MUST.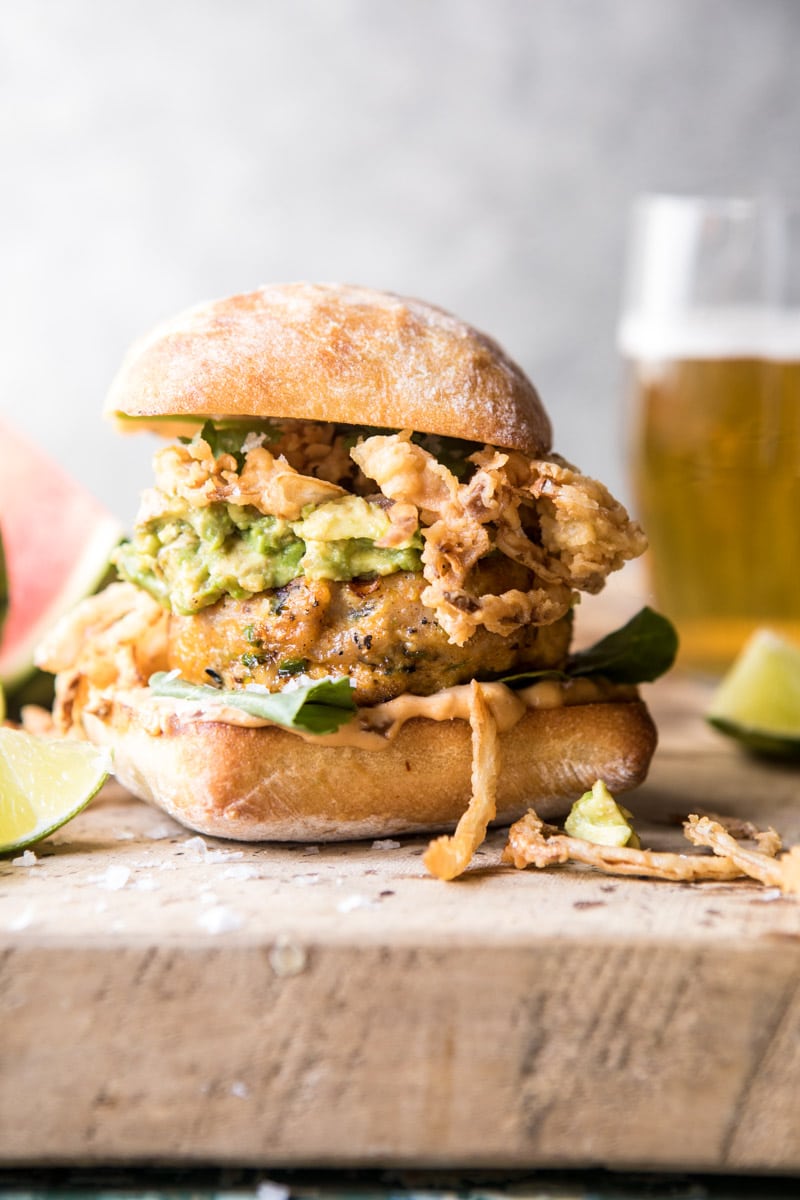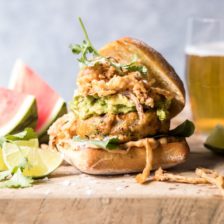 Nutritional information is only an estimate. The accuracy of the nutritional information for any recipe on this site is not guaranteed.
The Recipe
Jalapeño Cheddar Guacamole Turkey Burgers with Crispy Onions
By halfbakedharvest
Course: Main Course
Cuisine: American
Keyword: hand held food, spicy burger, turkey burger
Delicious turkey burgers with added spice
Prep Time 25 minutes
Cook Time 25 minutes
Total Time 50 minutes
Servings 4 servings
Calories 991 kcal
Ingredients
2 jalapeños
1 pound ground turkey or chicken
1/2 cup grated cheddar cheese
1/3 cup panko bread crumbs
1 egg
1 teaspoon smoked paprika
kosher salt and pepper
4 slices smoked gouda or cheddar
4 burger buns, toasted
2 avocados lightly mashed
juice from 1 lime
chipotle mayo and fresh cilantro, for serving
Crispy Onions
2 large white onions, halved and then sliced very thin
2 cups buttermilk
2 cups flour
Kosher salt and pepper
Instructions
1. Preheat the broiler to high. Place the jalapeños on a baking sheet and place under the broiler. Broil until charred all over, about 5 minutes. Remove and let cool and then seed and chop the jalapeños.

2. In a medium bowl, combine the jalapeños, turkey, cheddar, panko, egg, paprika, salt, and pepper. Mix until just combined and then shape the mix into 4 even size burger patties.

3. Preheat the outdoor grill or grill pan to high. Grill the burger for 5 minute per side or until cooked through. During the last minute of cooking add the cheese slices.

4. To assemble, spread the chipotle mayo on the bottom of each bun. Top with a burger, avocado, lime juice and a pinch of salt. Add the crispy onions (recipe follows) and cilantro. EAT
Crispy Onions
1. Heat a large pot of oil until it reaches 375 degrees F. or until a pinch of flour sizzles when sprinkled over the pot.

2. Add the sliced onions to a large bowl and pour the buttermilk over top. Use your hand to submerge the onions in the buttermilk.

3. To a shallow bowl, add the flour and a pinch of salt. Remove a handful of onions from the buttermilk and place them into the flour mixture. Coat the onions in the flour mixture, and then tap them on the inside of the bowl to shake off the excess. Carefully drop the onions into the hot oil. With a spoon, fiddle with them a bit just to break them up. Watch the onions closely as they cook quick! After about 1 or 2 minutes, they should be golden brown, remove from the oil and place on a paper towel-lined plate.

4. Repeat with the remaining onion slices. Onions are best served right away, but can be reheated in a 300 degree oven for 5 minutes. *Watch closely, making sure they do not burn.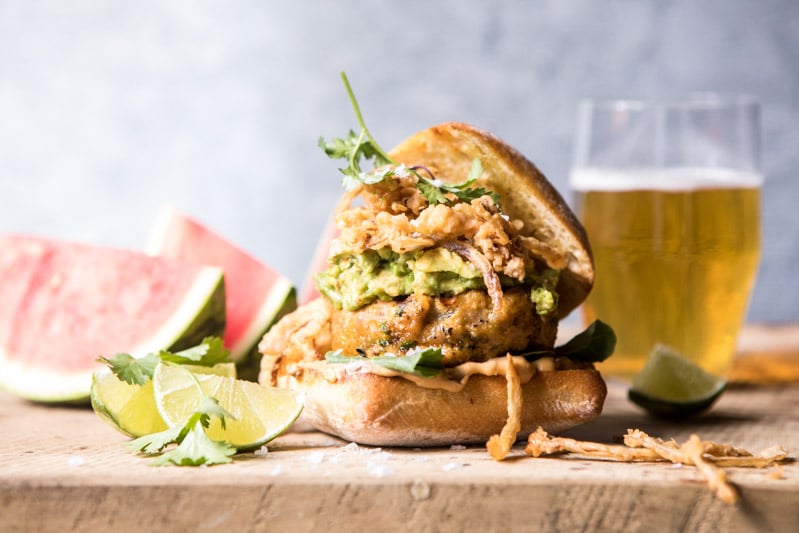 For real, these burgers are the best. Just sayin'.