Jack-O-Lantern Spinach Stuffed Pastries.
Happy Thursday! Hope you guys are getting excited for the weekend, any fun Halloween parties? Just a little note for any of you out there who may have tried to hit my "subscribe" button and received an error message, sorry still working out the kinks, it does now works!!
Looking for a really cute dish to serve at a Halloween party? Or maybe you need something impressive to BRING to a party?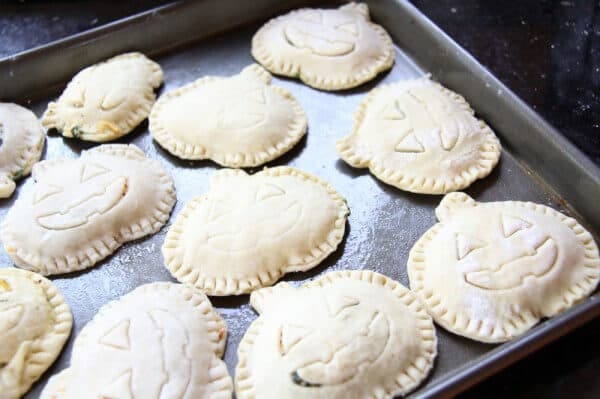 These are the cutest little pastries and serve as a great appetizer for any party!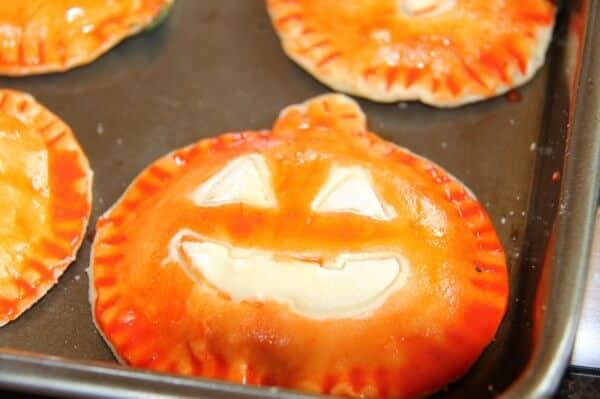 Not headed to any Halloween parties this year? Don't worry, these could even be a great addition to your Thanksgiving menu as well. I promise they will look so cute and festive! Not to mention everyone will love them!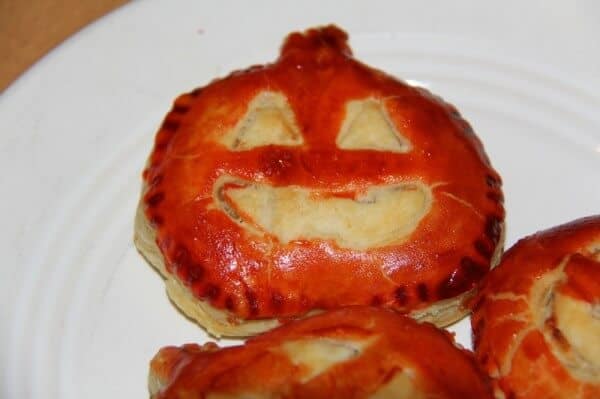 Filled with a creamy spinach and sharp cheddar cheese filling, I mean what is not to love? Oh and did I mention they a super easy to make and can even be frozen ahead of time! Win! Win!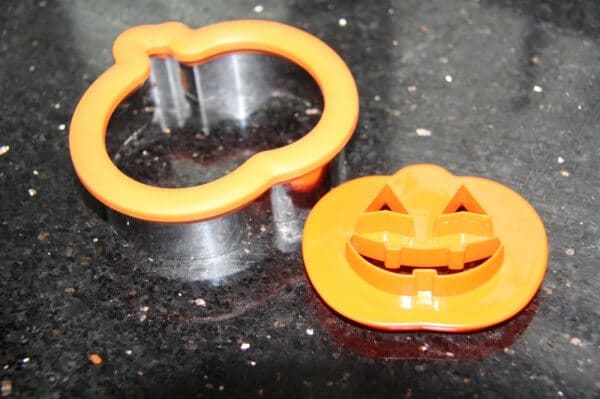 I used two sets of pumpkin cookie cutters to make that cute Jack-O-Lantern face! I purchased both at target last year. If you can not find the pumpkin press, don't worry you can just skip their indented faces and paint on a face with the egg wash! You will still have cute little jack-o-lanterns!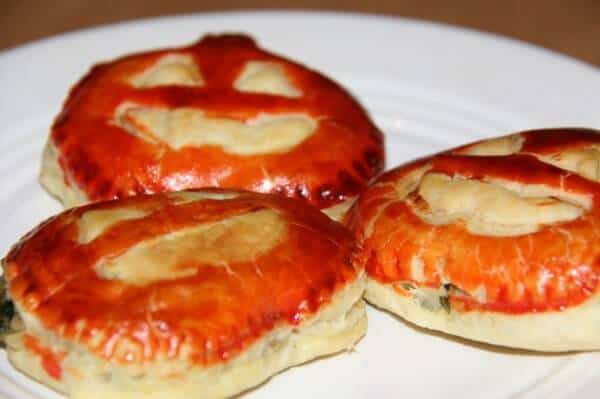 If you do not have pumpkin cookies cutters another fun idea might be to make footballs for the big game or leaves for Thanksgiving or maybe even Christmas trees come December (sorry I can not help myself, already thinking about Christmas!)! What ever shape you decide just make sure you make these. The filling is to die for and well who can resist a good savory pastry?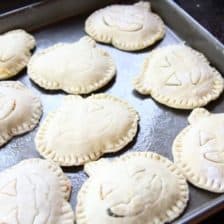 Nutritional information is only an estimate. The accuracy of the nutritional information for any recipe on this site is not guaranteed.
The Recipe
Jack-O-Lantern Spinach Stuffed Pastries
By halfbakedharvest
Course: Snack
Cuisine: American
Keyword: Halloween
Looking for a really cute dish to serve at a Halloween party? Or maybe you need something impressive to BRING to a fall party? Try these pastries!

Prep Time 1 hour 10 minutes
Cook Time 25 minutes
Total Time 1 hour 35 minutes
Servings 14 servings
Calories 481 kcal
Ingredients
4 tablespoons unsalted butter
1 small onion diced
1 teaspoon Crushed Red pepper
1/2 teaspoon dried Thyme
1 clove garlic chopped
1 pound frozen chopped Spinach thawed
1/3 cup canned Pumpkin
Pinch of freshly grated nutmeg
4 tablespoons breadcrumbs preferably panko
1 cup shredded sharp cheddar cheese plus more for sprinkling
2 tablespoons grated parmesan cheese
4 sheets Puff Pastry thawed, 2 boxes
1 egg beaten
Red and Yellow food coloring
Instructions
Preheat the oven to 375 degrees F.

Melt 2 tablespoons butter in a large skillet over medium heat. Add the onion, crushed red pepper, thyme and garlic and cook, stirring, until the onion is slightly tender, about 5 minutes. Stir in the spinach, add salt, pepper and the nutmeg and cook, stirring, until the greens are slightly tender, about 5 minutes. Transfer to a medium size mixing bowl.

Mix in the pumpkin, 2 tablespoons breadcrumbs, the cheddar cheese, and parmesan cheese.

Working with one sheet of puff pastry at a time, cut out your pumpkins using your cookie cutter. Cover the cut pumpkins with a towel or plastic wrap until ready to use. Once you have cut all four sheets roll out your leftover pastry dough and try and get as many pumpkins out of the dough as possible.

To make their faces take the stamp pumpkin cookie cuter and gently press down on half the pumpkin cut pastries, making and indent in the dough.

Take 1 - 2 tablespoons of your spinach filling and place in the center of a non indented pumpkin. Brush the outer edges with egg wash and place the pumpkins face on top. Using a for make indents all around the pumpkin to seal the pastries.

Repeat with remaining filling until all the pastries have been used.

Mix 3 drop of Red and 2 drops of yellow food coloring into your egg. Paint you pumpkins with orange egg was, being careful not to paint the eyes and mouth of your pumpkins.

Bake at 375 degrees for 15-20 minutes or until puffed up and golden.

Serve immediately.
Recipe Notes
*I bought both of my cookie cutters from target, but both can also be found on Amazon as well. *If you do not have a stamp jack-o-lantern cookie cutter you can either skip the face or using a small paint brush paint a face on with the egg wash. *I was able to get 14 pumpkins out of the pastry dough. You may be able to get more or less depending on the size of your cookie cutter. *Of course cutting the pastries into pumpkins is completely optional. You can simply cut squares, circles, or triangles. *To Make Ahead: Prepare the pastries through step 7. Cover the prepared pastries and place in the fridge until ready to bake. Remove from the fridge well the oven is preheating. Once the oven is preheated bake as directed. *To Freeze: Cover a pan with wax paper. Prepare the pastries through step 7. Cover the pan well with plastic wrap and place in freezer. If you have room you can either leave the pastries as their baking sheet or once frozen you can place them in a freezer bag. When ready to use remove from the freezer and allow to defrost for and hour or two. Preheat oven and bake as directed.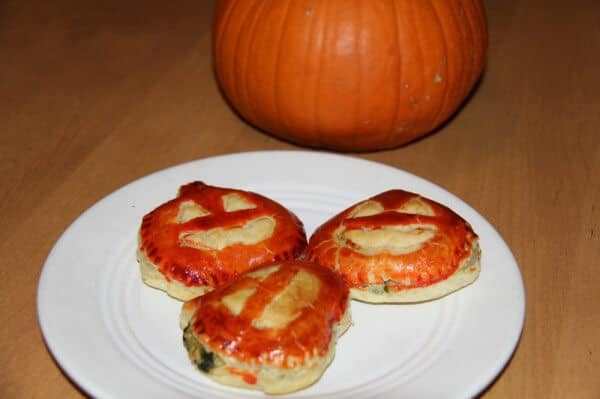 Enjoy!
P.S. I may not be too early in thinking about Christmas……. This is what I woke up to on Saturday and this morning!