Hawaiian Ahi Tuna Poke Bowl (VIDEO).
(Video is at the end before the recipe!)
Yeah!! We makin' poookkkkeeee bowls today!!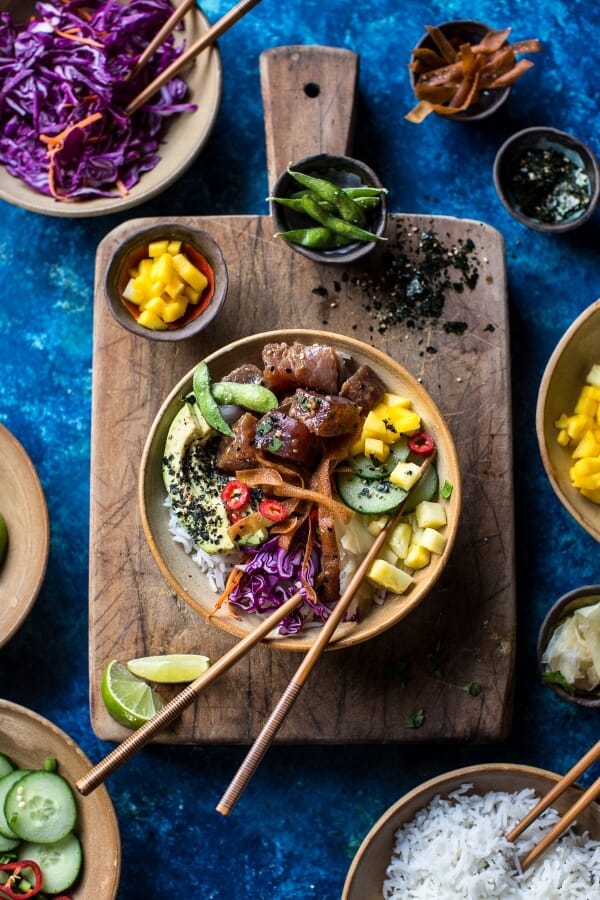 I have been so excited about this post for way too long now, finally I get to share these colorful bowls with you! Fist pump, smile on my face! 🙂
But first, let me tell you about something fun. I mean, yes, these poke bowls are fun, but I'm talking VEGAS fun! Yup, yup! You remember how on Monday I told you it was my mom's birthday? And how it was not just any birthday, but her 50th birthday? Yeah, well here's the thing, mom's birthday and Christmas are just so close, plus my parent's anniversary is Jan. 4th! Most years we end up doing something REALLY small for her b-day. Some years just a simple dinner and cake…we even go lite on the gifts. I know, I know. So lame.
This year, and at the last minute…of course, dad and I decided that we would not let this birthday go unnoticed. So I suggested that dad take mom on a vacation. And not a family vacation full of drunken fools and little kids, but like a vacation for just the two of them. A little weekend getaway. The moment the words left my mouth I knew that was what I was going to do, but I just didn't know where to. I knew it had to be driving distance and somewhere not crazy expensive. I looked at all the obvious places in Colorado and then somehow both dad and I landed on Vegas. At first I didn't think either of them would want to go to Vegas, but the more the idea of Vegas sunk in, the more I liked it.
Also, Vegas is cheap, cheap yet still super nice. All the pools, the entertainment, and all the sunshine! Yup, SOLD.
Vegas baby!
So I spent all of Sunday night planning out their little getaway. It's going to be so much fun. Concerts, a fancy hotel, hot tubs, good eats, CHILL time and sunshine! I have to say, I'm kind of jealous. As I was booking the hotel I thought to myself "man, this looks so nice, I wanna stay here".  The only kind of bummer thing is that apparently it's not really that warm in Vegas this time of year. Highs in the 50's, but with the sun I'm sure it will feel warmer. No matter what, it will be awesome I'm sure.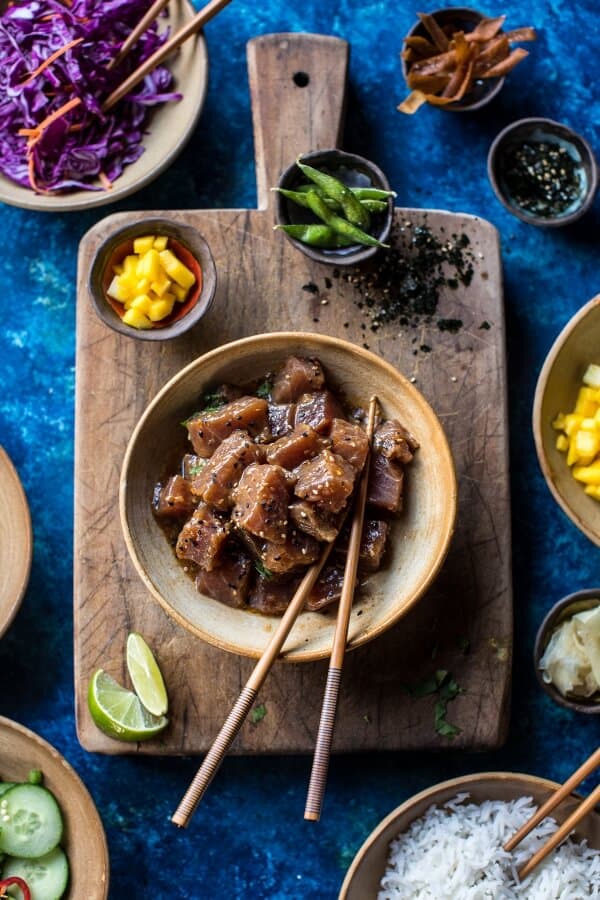 The best part about this whole Vegas gift thing was the look on my mom's face. She was SHOCKED. I mean, for one she would have never have guessed Vegas, and two, we really don't do stuff like this… ever. Stuff like plan surprise vacations I mean.
So yeah, she was, and is really excited! Which makes me really excited. All and all there is a lot of excitement happening around these parts today!! Hello Poke! Hello Video! Hello Vegas!
OH, and since the rents are headed out-of-town, that means it's sister time for Tieghan and Asher, which means one thing, Harry Potter weekend, grapefruit body scrubs, lavender face masks and cookie dough.
YESSS!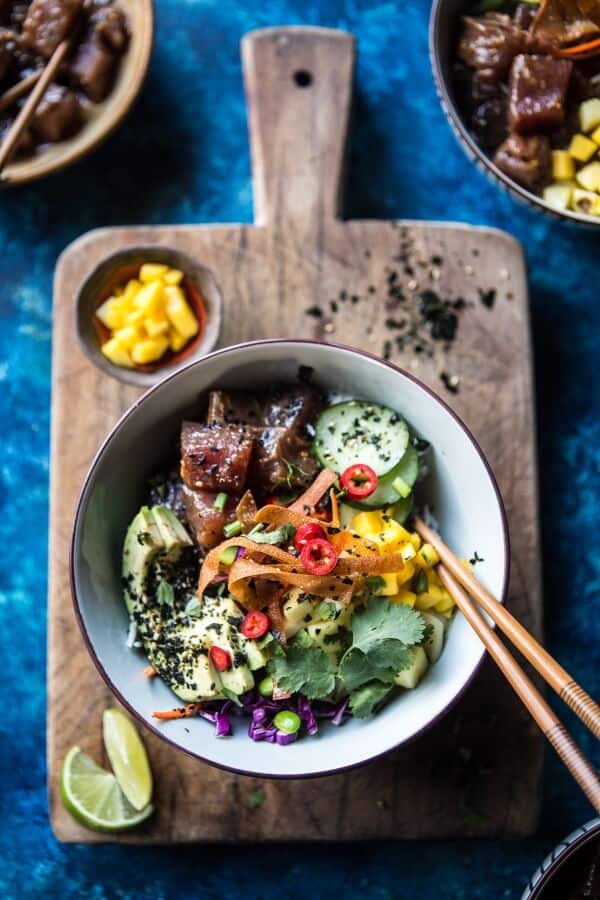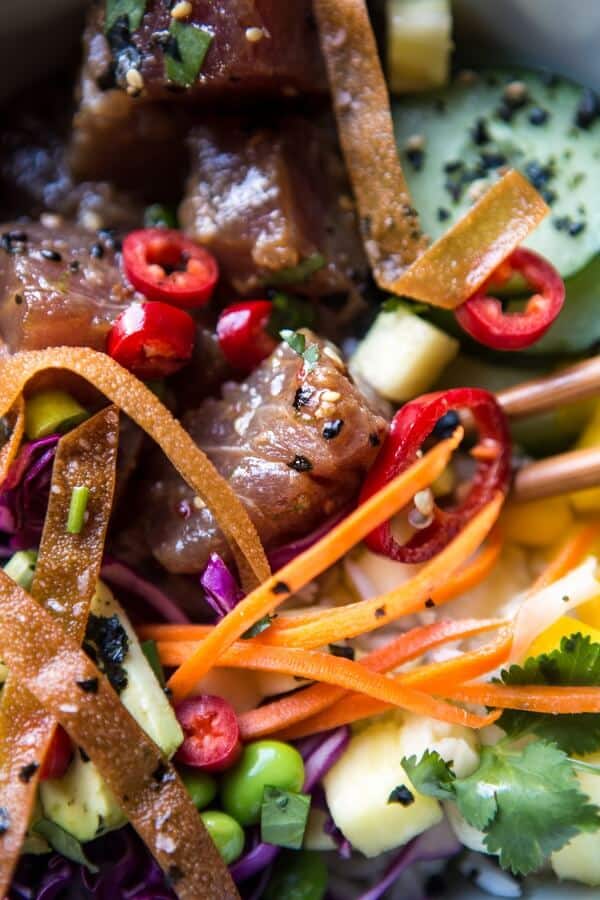 OKAY that was excitement number one of the day, let's talk about excitement number two.
Poke Bowls!! Hehe. I love the word poke. I say it like poookkkkkeeee bowls. Yes, I am really four years old.
Anyway, poke bowls are the best. At first I was nervous about the whole RAW fish thing, but I got over that and fell in love. Lyndsie, my brother's girlfriend helped me a little with this recipe. She is a poke expert and I have to say, we killed it with this surprisingly EASY recipe.
It's also fresh, fast, HEALTHY and so flippin good. The tuna gets tossed in one of my all time favorite Hawaiian dressings, then you just add all the possible toppings in world. Ok, well not all the toppings in the world, but all the toppings you love. Which for me means, pineapple, mango, purple cabbage, pickled ginger (new favorite food), avocado, cucumber, carrot, edamame, green onions and fresno chiles. I maybe like A LOT of toppings, but you can easily just make this solely with tuna + rice. Or get creative and add YOUR favorite toppings, there are oh so many possibilities!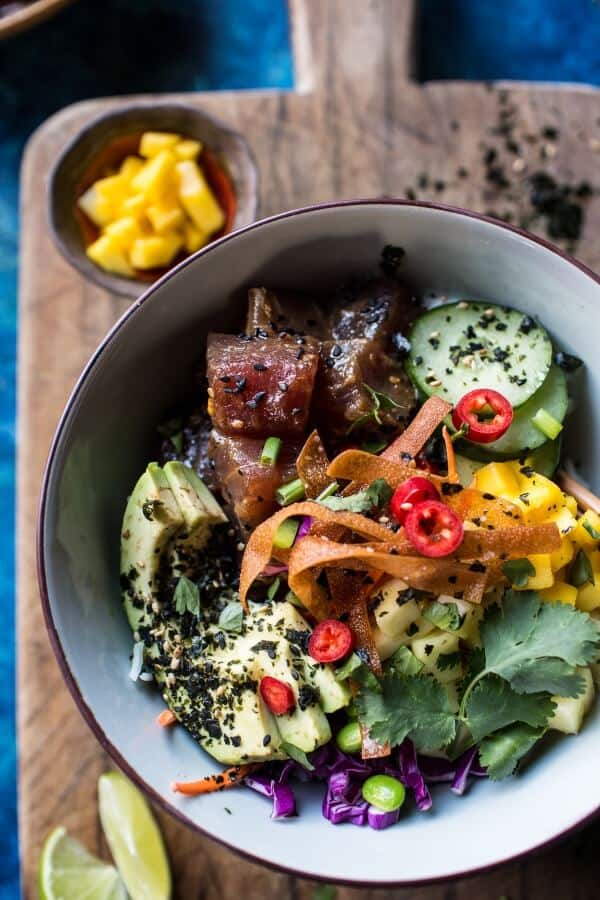 Oh and of course I also had to make wanton crisps, because I mean, why not. A little bit of fried deliciousness will totally NOT kill our New Year's diets. I swear, I swear. <–make the wonton crisps…they are everything.
And with that I am done. My grandma is here, recipes need to be made, photos need to be shot and I kind of need a shower. Whoop, whoop, life! When's my Vegas vacation!?!? Actually I'll take Hawaii… I wish, I wish.
WATCH THE VIDEO!! Please! 🙂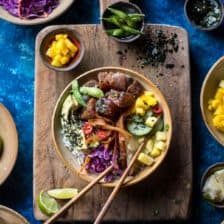 Nutritional information is only an estimate. The accuracy of the nutritional information for any recipe on this site is not guaranteed.
The Recipe
Hawaiian Ahi Tuna Poke Bowl.
By halfbakedharvest
Course: Main Course
Cuisine: Asian, Hawaiian, Japanese
Keyword: ahi tuna, poke bowl
t's also fresh, fast, HEALTHY and so flippin good.

Prep Time 30 minutes
Cook Time 5 minutes
Total Time 35 minutes
Servings 4 Servings
Calories 701 kcal
Ingredients
Dressing + Tuna
1/2 cup hot chili sesame oil or toasted sesame oil*
1/4 cup low-sodium soy sauce
2 tablespoons pineapple juice
2 tablespoons rice vinegar
1-2 teaspoons [chili garlic sauce | http://www.amazon.com/Huy-Fong-Vietnamese-Chili-Garlic/dp/B0006SKCVI] I use 2
2 teaspoons fresh ginger grated
juice + zest of 1 lime
1 tablespoon black or white sesame seeds lightly toasted
2 pounds sashimi grade ahi tuna cubed into 3/4 inch pieces
For the Poke Bowls
3 cups steamed white jasmine rice you can use brown rice or quinoa too!
1 cup fresh pineapple cut into chunks
1 cup fresh mango cut into chunks
1 cup shredded purple cabbage
1 cup sliced cucumber
1/2 cup shredded carrot
1/2 cup steamed edamame
4 green onions chopped
1-2 avocados sliced
1-2 red fresno chiles sliced
[Furikake | http://www.amazon.com/gp/product/B0006G5KEY?keywords=Furikake&qid=1452370826&ref_=sr_1_1&sr=8-1] pickled ginger + fresh cilantro, for serving
Wonton Crisps
20-40 wonton wrappers
canola or vegetable oil for frying
salt + lime zest for sprinkling
Instructions
Dressing + Tuna
In a large bowl, combine all the ingredients except the tuna. Whisk the dressing well to combine and then add the tuna and toss well. The tuna can sit in the dressing for a half a day or so, but if you leave it any longer the acid in the citrus will begin to slowly cook the fish. Keep the fish cold at all times.
To make the Bowls!!
Add rice to each bowl and top each bowl with desired toppings. Finish with a sprinkle of Furikake, fresh cilantro, wonton crisps (recipe below) and a squeeze of lime juice. If desired drizzle the bowls with any remaining dressing. EAT, EAT AND EAT!
Wonton Crisps
Heat the oil in a skillet about an inch up the skillet. Once hot, add the wonton wrappers a handful at a time. Fry until golden, about 1 minute. Remove with a slotted spoon and drain onto paper towels. Sprinkle with salt + lime zest.
Recipe Notes
*I really love using HOT chili sesame oil for this, but it's hard to find in the grocery store. You can buy it here on [Amazon | http://www.amazon.com/gp/product/B00KY3OFCW/ref=as_li_qf_sp_asin_il_tl?ie=UTF8&camp=1789&creative=9325&creativeASIN=B00KY3OFCW&linkCode=as2&tag=halbakhar-20&linkId=C3BXDZKKX2T66JT3] (I just bought more!) OR you can also add a dash of sriracha or crushed red chili pepper flakes to spice this up! **I you prefer cooked/sear tuna: To sear the tuna, toss it with half of the dressing, save the remaining dressing for serving. Heat a large skillet over medium high heat. sear the tuna on both sides for 1 minutes. Remove from the skillet. Serve as directed above.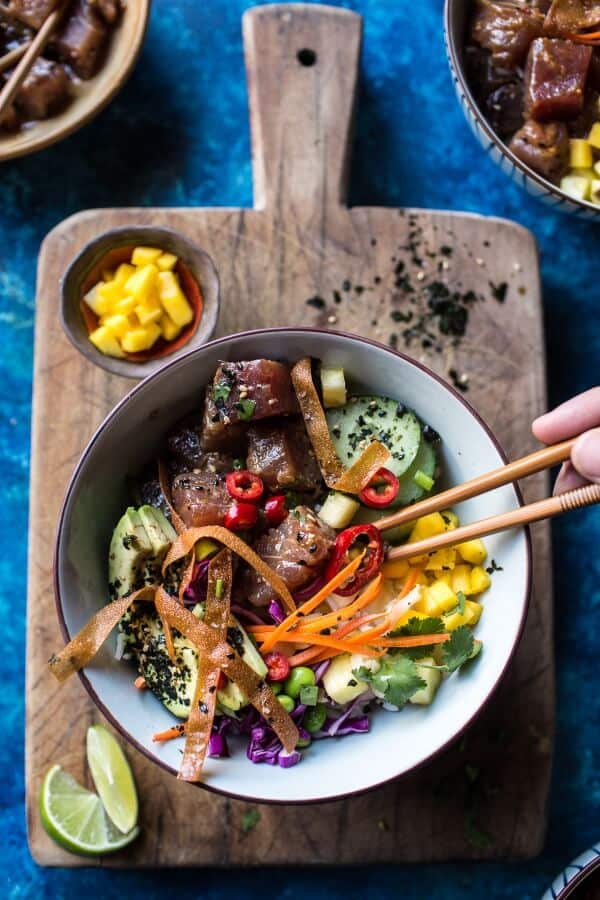 In reality, I'll be home, thank goodness for these POKE bowls. 🙂