Grilled Street Corn Salad with Avocado "Mayo".
The most awesome Grilled Street Corn Salad with Avocado "Mayo" that doubles as an appetizer too. Sweet summertime corn, tossed together with spicy jalapeños, smoky paprika, plenty of fresh chives, basil, cilantro, and some feta cheese too. This corn salad is served over whipped avocado "mayo" for a healthier, but still DELICIOUS take on the classic Mexican street corn salad. It's the perfect quick fix salad that's almost no cook and comes together in minutes. And yes, it's best served up with a side of salty tortilla chips for scooping.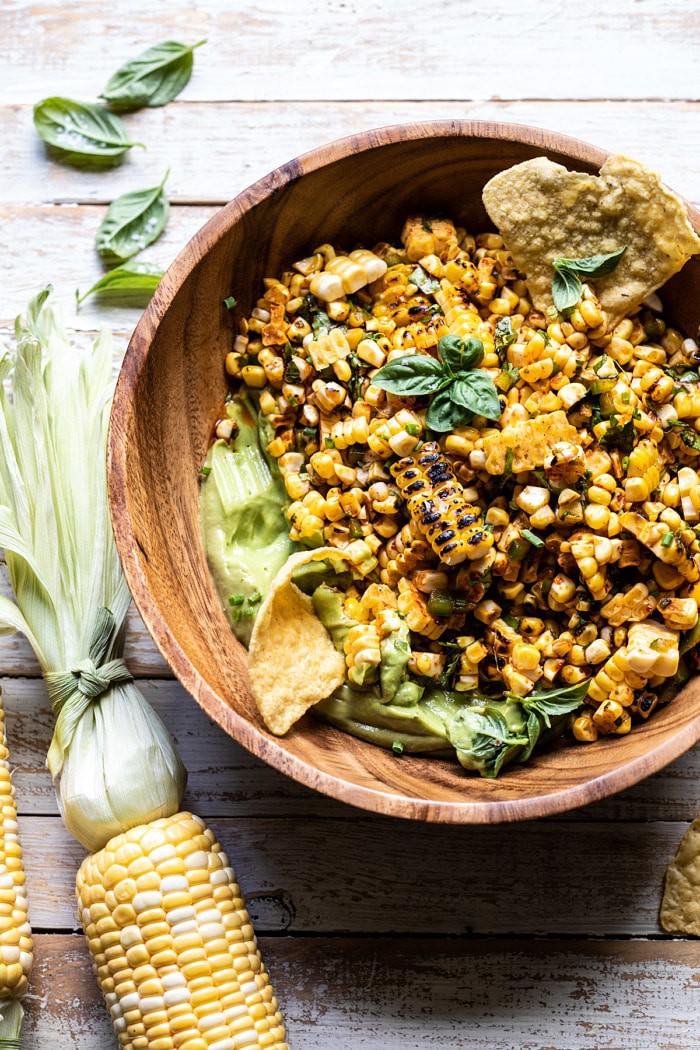 There are a few things I am very much all about right now. Peaches, corn, burrata cheese, tomatoes, basil (all herbs in general actually), more peaches, more corn, more burrata. I think you get the idea, summer produce (along with cheese and carbs) are very much my jam right now. And I am embracing it the best way I know how. That means fun salads (more to come soon!), lots of pizza, pasta, and of course berry and peach filled desserts.
This salad? It's basically what summer is all about. It's light and fresh, so delicious, filled with corn, fresh herbs, and is the easiest to throw together.
Perfect for the 4th, but perfect for any other summer day as well.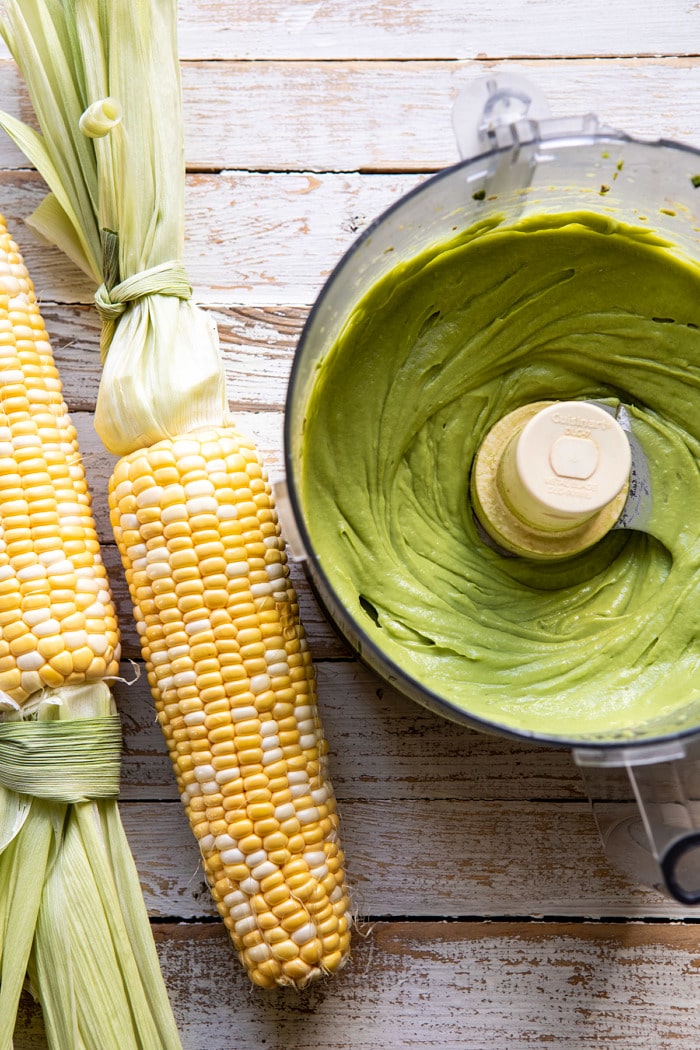 This salad is a recipe I created with a couple of guests in mind, as it's part of our "HBH in the Kitchen" series. Some of you are probably familiar with The Little Market, as I often talk about their products here on HBH. The Little Market is a nonprofit founded by Hannah Skvarla and Lauren Conrad to empower women. Their handcrafted products are some of my favorites to use in the kitchen and throughout my home.
I'm one of the Little Markets biggest fans and feel fortunate to be able to call Hannah and Lauren friends. Together we created two brand new recipes. Today I am sharing this corn salad, with the video following in a couple of weeks.
I knew right away that this Mexican inspired salad would be the perfect recipe to make with Hannah and Lauren. Both of them have spent time in Mexico sourcing products and meeting the women who hand make each product (like my favorite hand-blown glasses). It's a light summery salad that's naturally gluten-free, and even vegan if you omit the feta cheese…which I always leave in. Of course.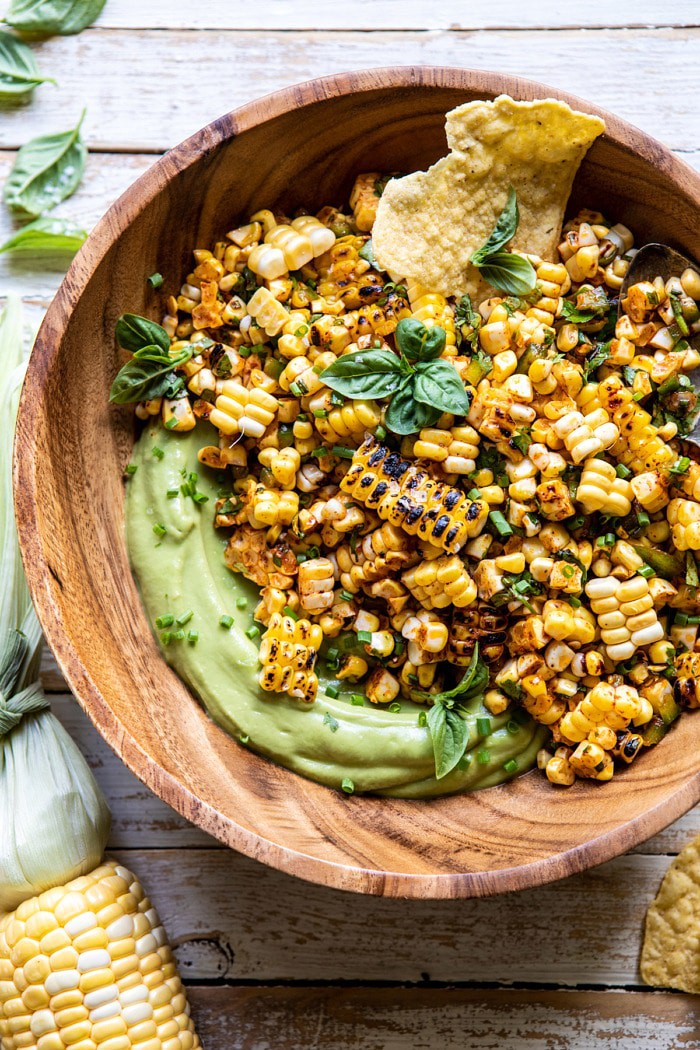 Here is how I make this salad – SO GOOD.
First, I like to use a mix of grilled and raw corn. The grilled corn adds a sweetness and a nice "grilled" flavor. While the raw corn literally bursts in your mouth with sweet corn flavor. It's my all-time favorite way to enjoy corn because you get the best of both worlds.
Second, the avocado "mayo". Also known as whipped avocado with a good amount of lime juice and flaky sea salt. In my opinion, it's just as creamy, so much tastier, and way better than mayo. Bonus…it's healthy and vegan too.
Toss the corn with a trio of fresh herbs – chives, basil, and cilantro, a mix of spices, jalapeños, and a touch of honey to balance the heat. Stir a little of the avocado mayo into the corn salad to make it just a bit creamy throughout.
Then spoon the remaining "mayo" into a bowl and serve the corn salad over top. It's kind of like avocado dip with corn salad on top.
And it's kind of delicious…and best enjoyed with salty tortilla chips.
Personally, I love serving this as soon as the corn comes off the grill so it's a little warm, but it's also delicious chilled. The best part? You can make the corn salad a day or two ahead of time. And because of all the lime juice in the "mayo", the avocado will stay fresh for a day.
This is the perfect appetizer or side salad to serve at all your summer parties and dinners. But as awesome as it is for entertaining, it's equally great as an afternoon snack. Maybe even add a strawberry Paloma for sipping (virgin version coming soon)? Yes, do that for sure and serve it up in my favorite glasses.
Lastly, you can find the pretty wooden salad bowls I've used here, as well as my go-to salad spoons, pitcher, and glasses, all via The Little Market.
And keep an eye out for the IGTV video featuring this salad + a cocktail in a couple of weeks. And if you missed the first episode of the "HBH in the Kitchen", you can watch the Strawberry Shortcake video with Candace Nelson here.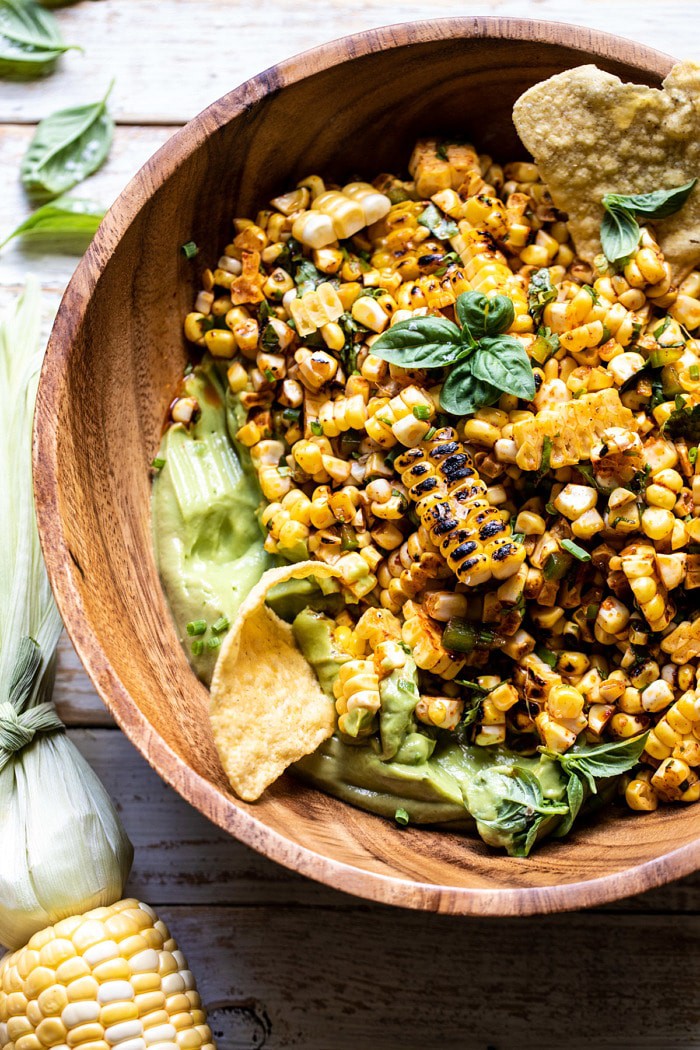 If you make this grilled street corn salad with avocado "mayo", be sure to leave a comment and/or give this recipe a rating! Above all, I love to hear from you guys and always do my best to respond to each and every comment. And of course, if you do make this recipe, don't forget to tag me on Instagram! Looking through the photos of recipes you all have made is my favorite!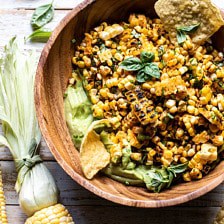 Nutritional information is only an estimate. The accuracy of the nutritional information for any recipe on this site is not guaranteed.
The Recipe
Grilled Street Corn Salad with Avocado "Mayo"
The perfect quick fix salad that's almost no cook and comes together in minutes...best served with a side of salty tortilla chips! 
Prep Time 15 minutes
Cook Time 10 minutes
Total Time 25 minutes
Servings 64 as an appetizer, as a side
Calories 278 kcal
Instructions
1. Heat a grill or broiler to high.

2. Slice the kernels from 3 ears of the corn off and add to a large bowl. Grill or broil the remaining 3 ears corn until lightly charred all over, then remove and let cool just enough to handle. Slice the cooked corn kernels off the cob and add to the bowl with the raw corn.

3. Add the avocado, 1 tablespoon of the olive oil, half the lime juice, and a pinch of salt to a food processor or high-speed blender. Puree until completely smooth. Add 2 tablespoons of the avocado puree to the bowl with the corn. Set the remainder aside.

4. To the bowl with the corn, add the remaining 3 tablespoons olive oil, the remaining lime juice, honey, chili powder, paprika, jalapeño, and chives. Season with salt and pepper and toss to combine. Stir in the chives, basil, cilantro, and feta, if using.

5. Spoon the remaining avocado puree into the bottom of a serving bowl and top with the corn salad. Serve the salad as a side or as an app with chips for scooping.