Grilled Chili Honey Lime Chicken and Sweet Potatoes with Avocado Salsa.
This grilled honey chicken and sweet potatoes is a mix of sweet and spicy. It's super quick, easy, and SO DELICIOUS. The perfect recipe for warm days when turning on the oven is just not something you want to do.

I hope everyone had a beautiful Mother's Day weekend! Mine was great. I spent some much needed time with mom looking back at old photos from when I was a kid. If you follow along on Instagram or read my favorites post, you saw all of those fun photos.
My brothers and I all got together and gave my mom (and dad and Asher) plane tickets out to San Diego for Memorial Day weekend. A few of my brothers are living out there, as well as two of my cousins. Everyone else is flying in for the weekend, so all 17 of us will be together again. Mom is definitely excited to have the gang all together!
It was the perfect gift because my mom is not huge on material things. She'd much prefer to spend time with her family, than be gifted a fancy new necklace (or something along those lines). And of course, I also showered her with flowers and my favorite candles, because you know I cannot resist flowers. AND I finally found peonies, so I was very excited about that.
Probably way more excited than my mom…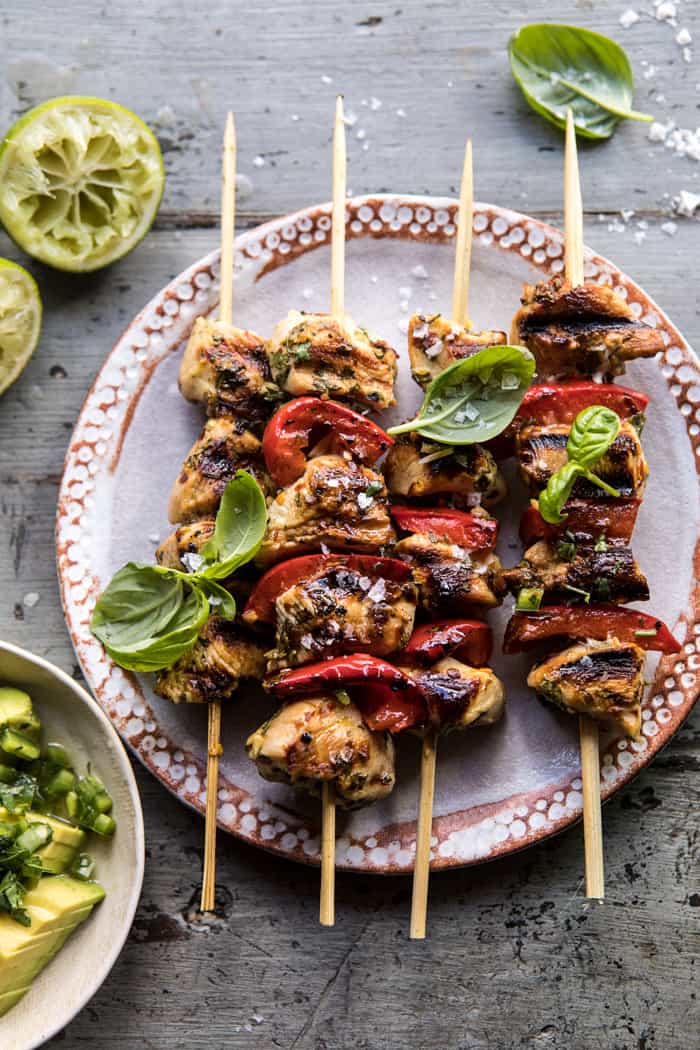 Speaking of Memorial Day, it's hard for me to believe that it's just two weeks away. To me, Memorial Day marks the start of grilling season and all things summer. I feel like a lot of you may think along those same lines? Either way, the warm weather and long days are slowly creeping their way back into our lives, and as you can guess, I am very excited about it.
One of the requests I've been receiving a lot lately is for dinners made entirely on the grill. Some of you have stressed that you live in very warm places (I am jealous, heat and humidity are my kind of thing) where turning on the oven throughout these warmer months is a big fat NO.
Well, I am listening, and today's chicken (and sweet potato) recipe is made entirely on the grill.
OK well, not the rice, but I mean, you don't have to make rice. Although I highly recommend it. I myself can't do grilled chicken without a side of rice, it's just my kind of comfort food.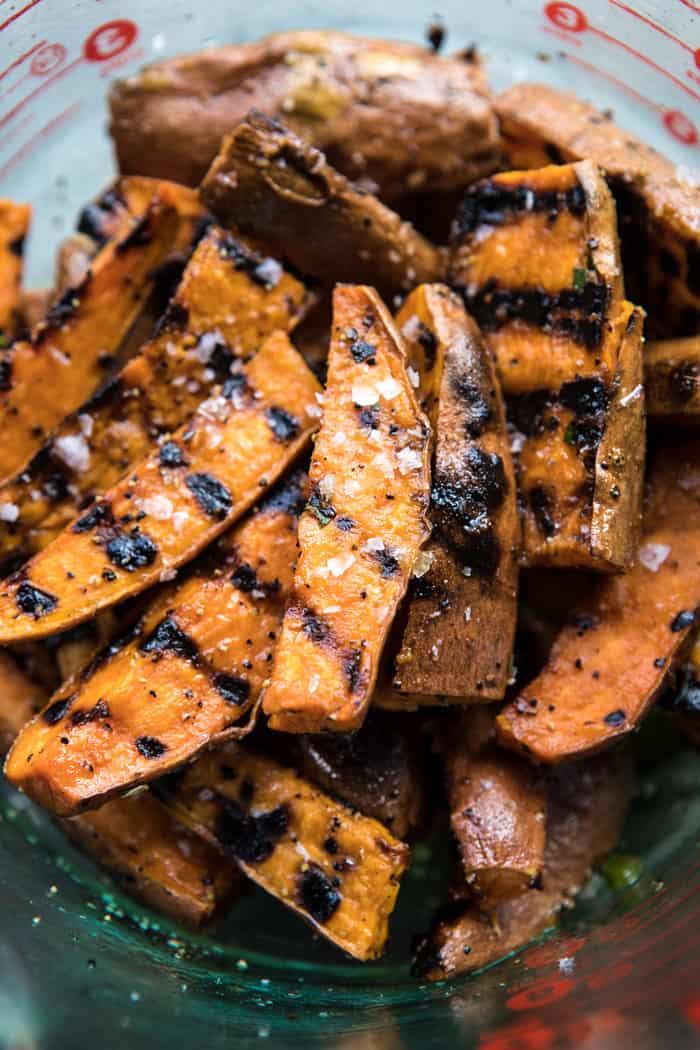 Anyway, this chicken is nothing short of awesome. It's really easy to throw together, and so flavorful too. The marinade is a simple mix of lime, honey, chili flakes, herbs, and a good amount of garlic. You only need to marinate the chicken for fifteen minutes or so before grilling, and while that's happening you can be prepping the rest of the recipe.
I decided to skewer the chicken with bell peppers for an extra boost of veggies. Once grilled the chicken is tender, caramelized, citrusy, a little sweet and a little spicy. It is so good.
Since you guys know me, you know I love my color, and my veggies. So I grilled up some sweet potatoes alongside the chicken. If you've never grilled sweet potatoes before prepare to be amazed. The amount of flavor the grill adds to the potatoes is so good. I personally love the pieces that get a little too charred.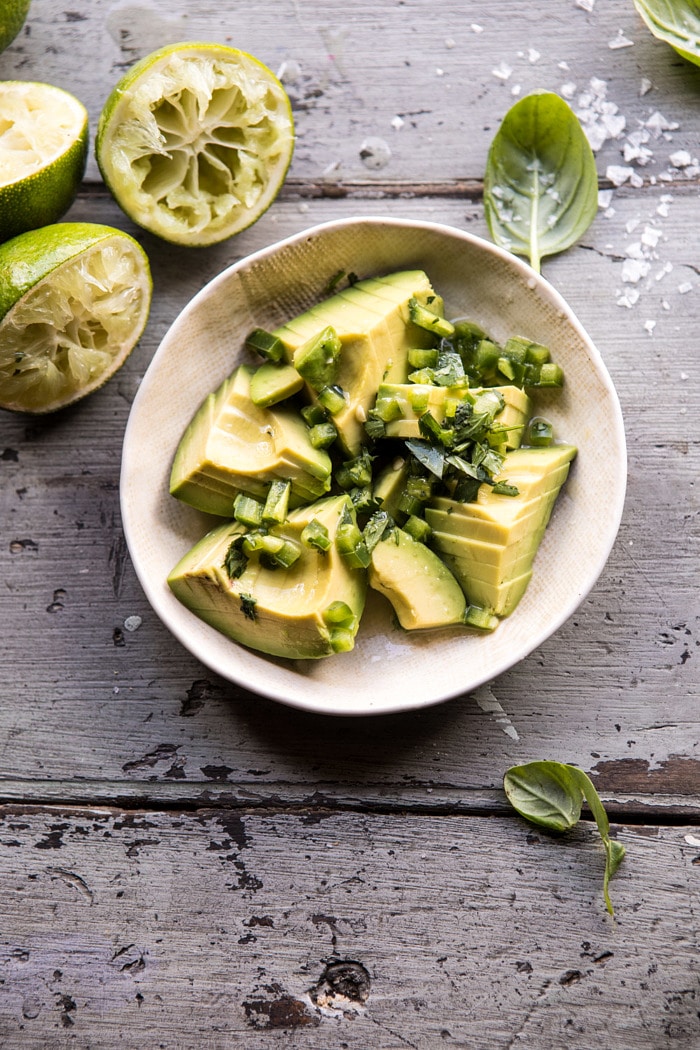 And yes, I know sweet potatoes are a carb, but I also had to add rice, because again, I rarely do grilled chicken without a side of rice. It's just a thing I have to do. Where there is chicken, there will also be rice. Always.
Lastly, the salsa. It's not your traditional salsa, but it pairs perfectly with this sweet, spicy, and savory recipe. Plus, I just love avocado too much, so I add it to as many recipes as I can. Not sorry about it.
All in all, I couldn't love this recipe more. I know it's kind of simple…ish, but it's also great in so many ways. Nothing too complicated, but yet still flavorful and fun.
And of course, it's perfect for all the warm days ahead.
OH, and it's pretty healthy too. So yeah, I'd say it's a good dinner for a Monday night.
Who's in?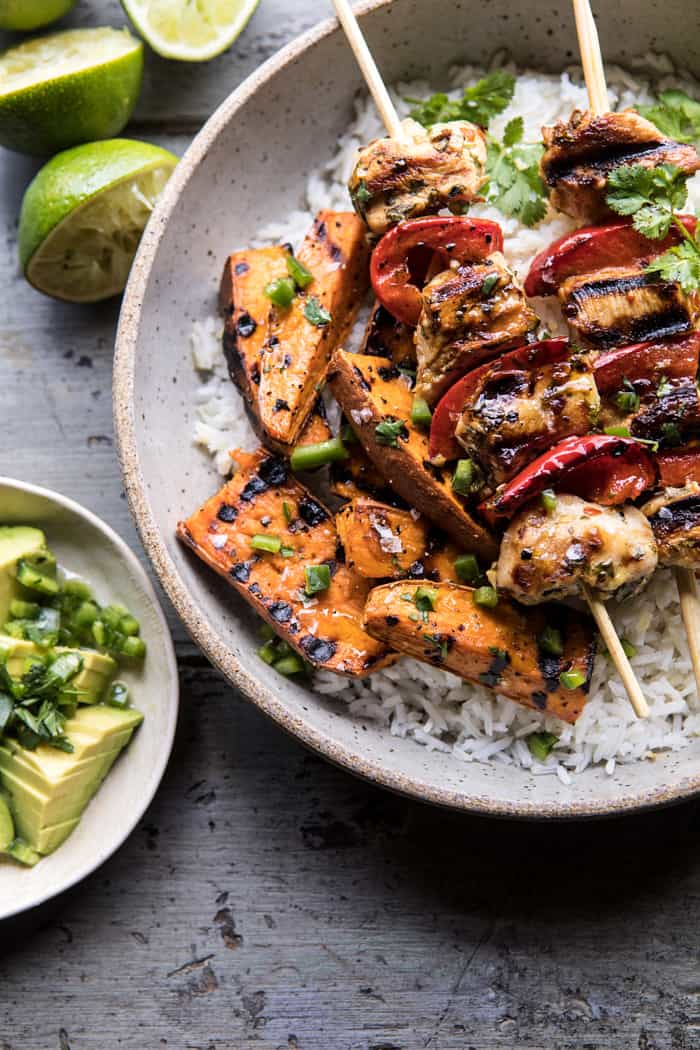 If you make this Grilled Honey Chicken and love it, please be sure to leave a comment and/or give this recipe a rating! I love hearing from you guys and always do my best to respond to each and every one of you. Oh, and of course, if you do make grilled chicken, don't forget to also tag me on Instagram so I can see! Looking through the photos of recipes you all have made is my favorite!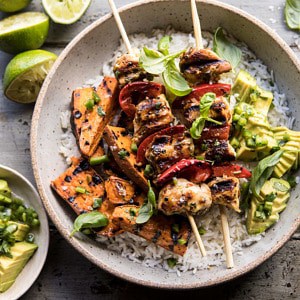 Nutritional information is only an estimate. The accuracy of the nutritional information for any recipe on this site is not guaranteed.
The Recipe
Grilled Chili Lime Honey Chicken and Sweet Potatoes with Avocado Salsa
By halfbakedharvest
Course: Salad
Cuisine: American
Keyword: grilled chicken, summer meal, sweet and spicy
This grilled honey chicken and sweet potatoes is a mix of sweet and spicy. It's super quick, easy, and SO DELICIOUS. The perfect recipe for warm days, when turning on the oven is just not something you want to do.
Prep Time 15 minutes
Cook Time 15 minutes
Total Time 30 minutes
Servings 4 servings
Calories 382 kcal
Ingredients
1 pound boneless skinless chicken breasts, cut into bite size chunks
2 tablespoons extra virgin olive oil
1/4 cup fresh lime juice
2 cloves garlic, minced or grated
1 tablespoon honey
1 teaspoon crushed red pepper flakes
1/4 cup fresh cilantro, chopped
2 tablespoons fresh chopped oregano
2 sweet potatoes, cut into wedges
2 red bell peppers, chopped into bite sized chunks
steamed white or brown rice, for serving
Avocado Salsa
1 avocado, diced
1 jalapeño, seeded and chopped
juice from 1 lime
1/4 cup fresh cilantro and or basil, chopped
Instructions
1. In a gallon size zip top bag, combine the chicken, 2 tablespoons olive oil, lime juice, garlic, honey, red pepper flakes, cilantro, oregano, and a large pinch of salt. Marinate for 15 minutes or up to overnight in the fridge.

2. In bowl, toss the sweet potatoes with the remaining 2 tablespoons olive oil, and a pinch each of salt and pepper.

3. Set your grill, grill pan or skillet to medium-high heat. Take your skewers and thread chicken pieces and bell peppers together, alternating one after another.

4. Brush the peppers and chicken on the skewers lightly with olive oil. Grill the skewers until lightly charred and cooked through, turning them occasionally throughout cooking, about 10 to 12 minutes total. At the same time, grill the sweet potatoes on tin foil on the grill, turning them halfway through cooking, until tender and lightly charred on each side, about 10-12 minutes.


5. To make the salsa, combine the avocado, jalapeño, lime juice, cilantro, and a pinch of salt in a bowl.

6. Serve the skewers and sweet potatoes over rice, and top with avocado salsa and fresh herbs.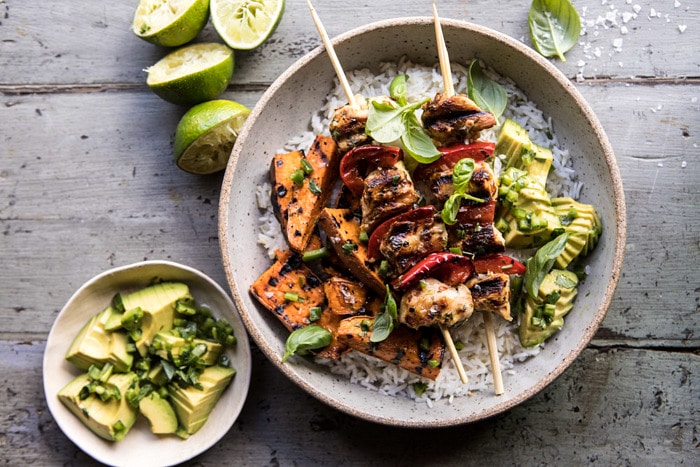 Cool. Cool. Happy grilling!