Greek Lamb Meatballs with Avocado Goddess Sauce.
Greek Lamb Meatballs with Avocado Goddess Sauce.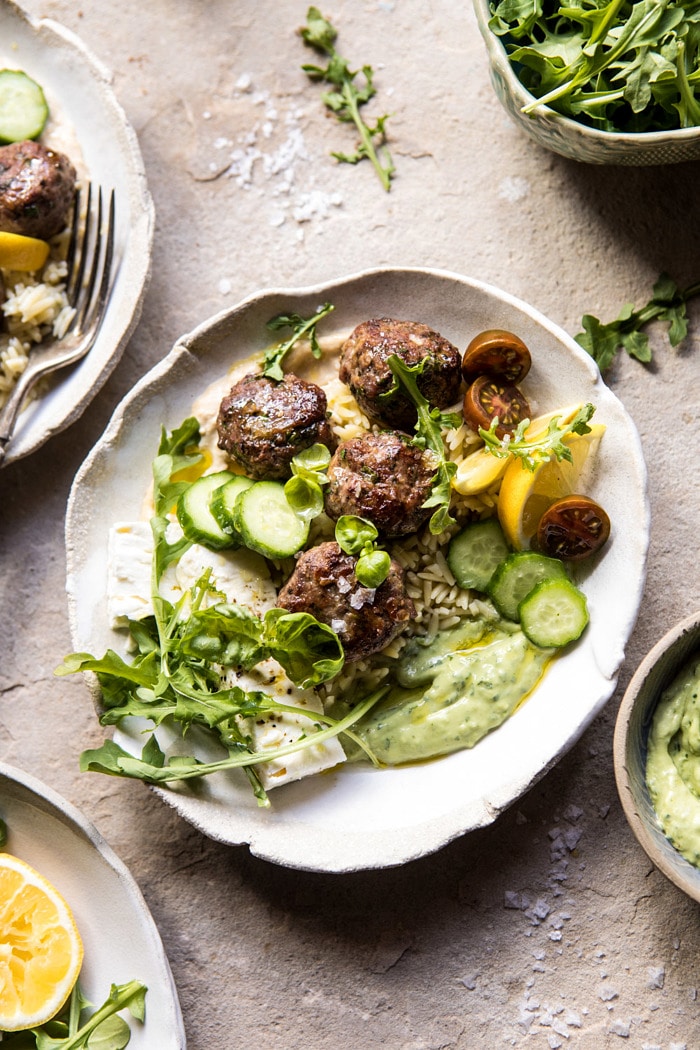 I'm just going to go out and say it, you guys, I hate the word meatball. It's just not very cute, you know? Like MEATBALL?! Hmm, it's so odd to me and just well, so unattractive, but I guess that's what you call a ball of meat. Makes sense, I get it, but still, it's just not my favorite word, especially when there are 171,476 in the English language, I mean that's the best we could come up with?
Anyone else with me on this one?
For the longest time I really steered clear of meatballs. They never excited me and I didn't grow up eating them, so they just weren't something I thought I needed to make. However, in an effort to keep things fresh and new here on HBH, I try to branch out of my comfort zone and try new to me foods. Over the years I've slowly grown to like (some) meatballs. I've now made a few versions (see here, here, and also in my cookbook), but these Greek inspired lamb meatballs are so different and so delicious. Hands down these are my favorite meatball I've made.
These are a game changer.
PS. how many times to you think I say meatball throughout this post? YIKES.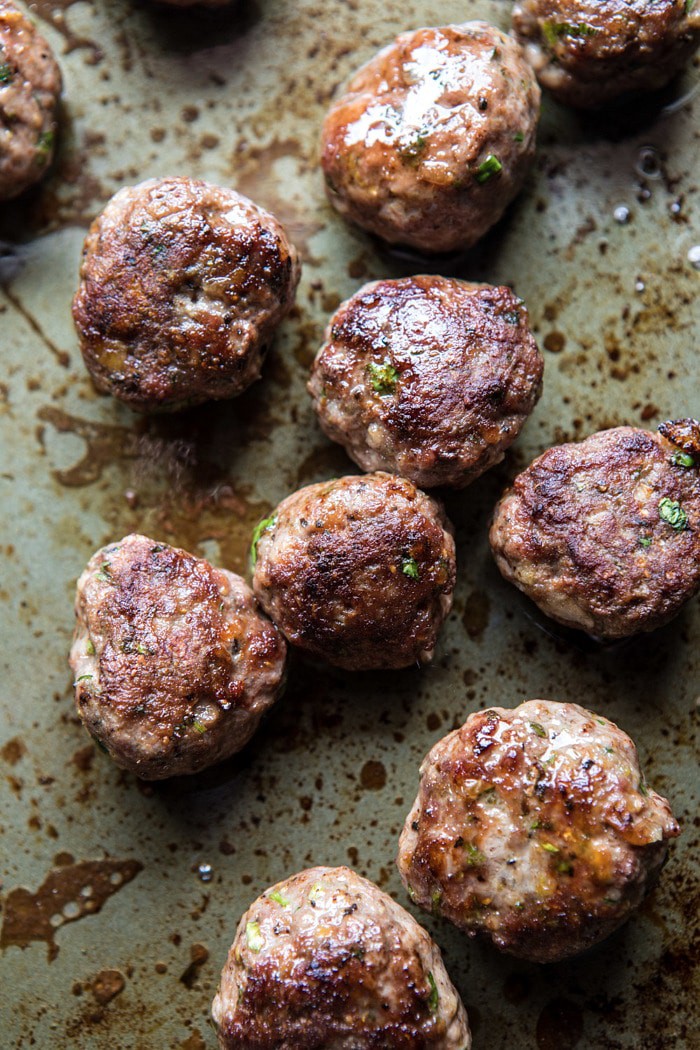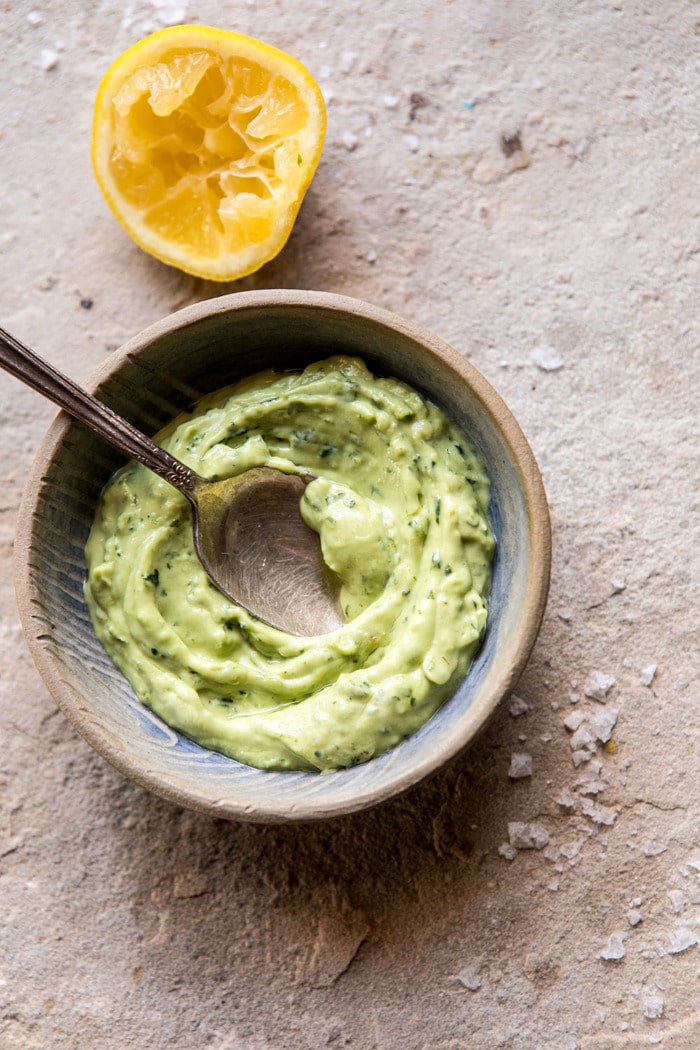 Unlike an Italian meatball, this Greek version is made a little simpler, and a littler healthier. I use plenty of fresh herbs, lean ground lamb, and lots of lemon (because apparently I am lemon obsessed). These are quick and easy to throw together and if you're turned off by the idea of using lamb, you really shouldn't be! It's a great alternative to beef and in my opinion, has so much more flavor. That said, any ground meat can be used in place of the lamb, but I recommend meat that has a little fat on it.
I paired my Greek meatballs with some orzo, goddess sauce, and plenty of feta cheese. Oh, and greens too, of course.
A few notes.
Whenever I make meatballs, I always, always roast them in the oven as opposed to pan frying them. I'm pretty sure none of us wants to stand at the stove and tend to meatballs for thirty minutes. No, that is just not fun. I've also found that roasted meatballs just taste better. They hold their shape and never turn out dry.
Traditionally, Greek meatballs are served in or on a pita, but I was really feeling like this was a bowl kind of meal, so I decided to spread my goddess sauce (and some hummus too) inside a low bowl and pile it high with orzo, feta cheese, and plenty of greens.
Speaking of that goddess sauce. Oh my gosh. It. Is. Good. Think spoon worthy good. In fact, I sent this dish over to my parent's house for them to try. My mom text me, asking if the green sauce was bad for her because she was literally eating the entire batch out of the bowl…all by herself. This coming from my mom means something is really, really good. She's very much a pasta and butter kind of girl, so that fact that she loved this really says something.
Oh, and my answer to my mom's question? No the goddess sauce is not bad for you, it's actually great for you! I packed my goddess sauce full of avocado, yogurt, herbs, and spices. So basically it's a super food and you should really have it on hand all times. It's great for making salads, grain bowls, tacos, and everything in between, that much more delicious.
Just a suggestion…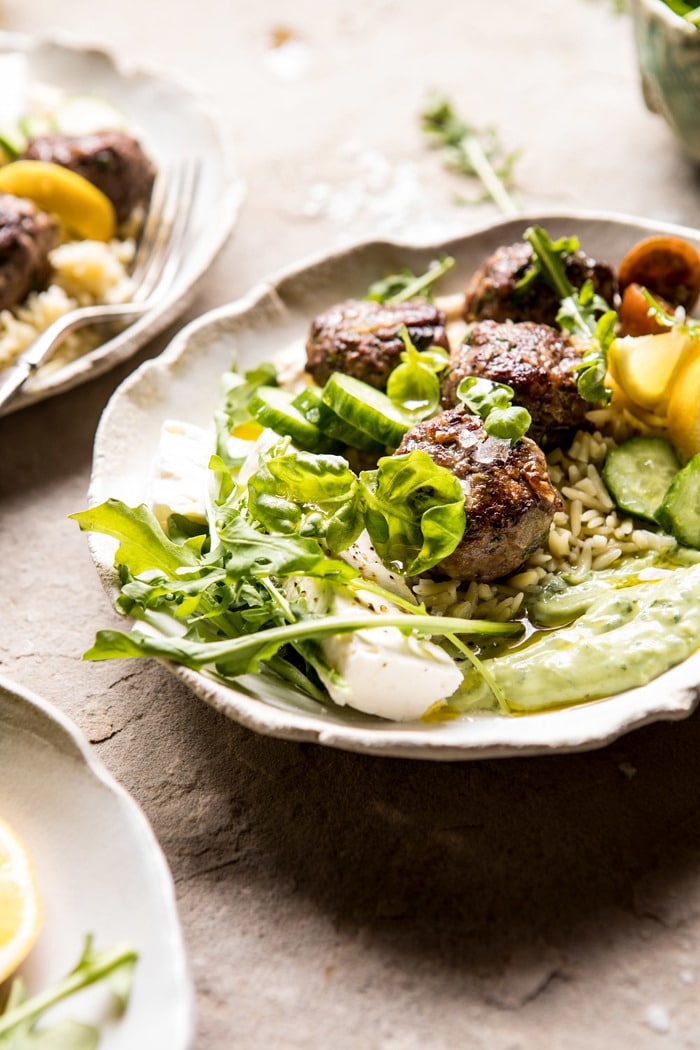 What's amazing about this recipe is that even though it's loaded with flavor and texture, it's actually very simple and easy to make. As mentioned, the meatballs are roasted on a baking sheet, while that's happening you should be preparing your orzo (quinoa and couscous work great too!) and making your goddess sauce. By the time the meatballs are done cooking, everything else should be ready and all you need to do is assemble.
Simple, quick, light, healthy, delicious, and pretty much the most perfect weeknight dinner.
For real though.
Whooaaaa.
I feel like I just wrote through this post at a million miles a minute. Currently I am in GO mode, which I love, and which is the perfect way to start a Monday. I'm still on a major high from the weekend. I did an Instagram live and made my Earl Grey Blueberry Muffins from the cookbook. It was SO much fun and I Ioved getting to interact with you all, answers questions, and bake together. Best way to spend my Saturday! Excited to do more live cooking with you guys, so leave your requests in the comments, or email me!
Feeling motivated and energized for the week! OK. OKAY. And very excited to remake this recipe again tonight for dinner because I truly cannot get enough.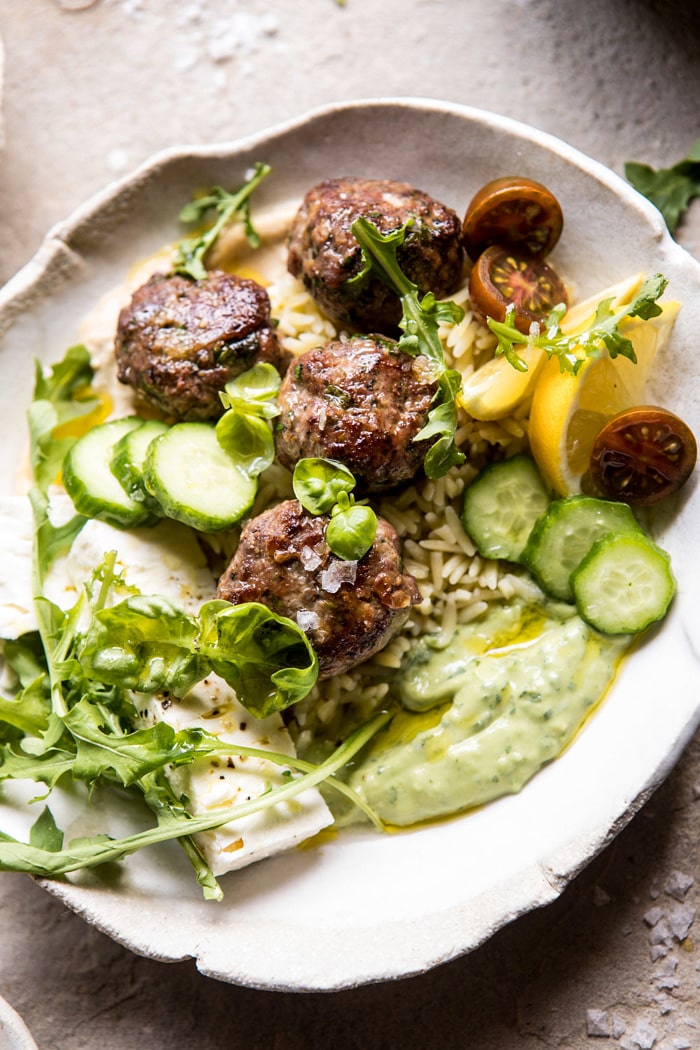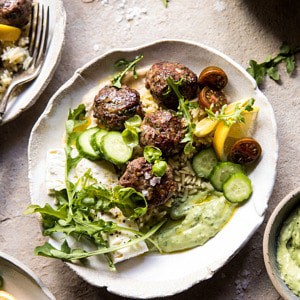 Nutritional information is only an estimate. The accuracy of the nutritional information for any recipe on this site is not guaranteed.
The Recipe
Greek Lamb Meatballs with Avocado Goddess Sauce
By halfbakedharvest
Course: Main Course
Cuisine: American, Greek
Keyword: lamb course, meatball recipe
What's amazing about this recipe is that even though it's loaded with flavor and texture, it's actually very simple and easy to make. Simple, quick, light, healthy, delicious, and pretty much the most perfect weeknight dinner.
Prep Time 20 minutes
Cook Time 20 minutes
Total Time 40 minutes
Servings 4 servings
Calories 696 kcal
Ingredients
1 pound ground lamb, ground beef, or chicken
1 yellow onion, grated
2 cloves garlic, minced or grated
zest of 1 lemon
1/2 cup fresh parsley, chopped
2 teaspoons cumin
1 teaspoon dried oregano
1/4 teaspoon cayenne pepper
1 cup plain hummus
cooked orzo or couscous, for serving
8 ounces feta cheese, cubed or crumbled
Persian cucumbers, arugula, tomatoes, and basil, for serving
Avocado Goddess Sauce
1 avocado, halved
1/4 cup plain greek yogurt
1 cup fresh cilantro
1/2 cup fresh basil
1 jalapeño, halved and seeded
juice from 1 lemon, plus more for serving
1 teaspoon cumin
Instructions
1. Preheat the oven to 425 degrees F. Line a baking sheet with parchment.

2. Add the lamb, onion, garlic, lemon zest, parsley, cumin, oregano, cayenne, and a pinch each of salt and pepper to a bowl. Coat your hands with a bit of olive oil, and roll the meat into 2 tablespoon size balls (will make 10-12 meatballs), placing them on the prepared baking sheet. Transfer to the oven and bake for 15-20 minutes or until the meatballs are crisp or cooked through on the inside.

3. Meanwhile, make the goddess sauce. Combine all ingredients in a blender and blend until smooth and creamy, adding water, 1 tablespoon at a time as needed, to thin the sauce.

4. To serve, spread the hummus and goddess sauce on plates. Add the orzo, meatballs, feta, cucumber, tomatoes, and greens. Drizzle olive oil and lemon juice lightly over top of everything. Enjoy!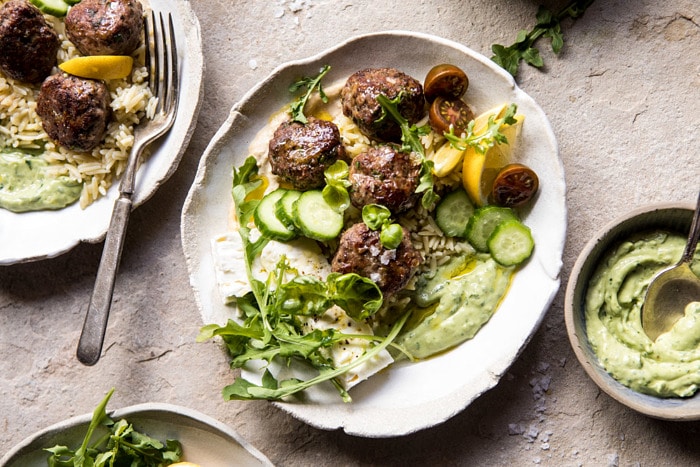 SO GOOD.