Gingery Steak and Brie Sliders with Balsamic Cranberry Sauce.
I did something kind of awesome.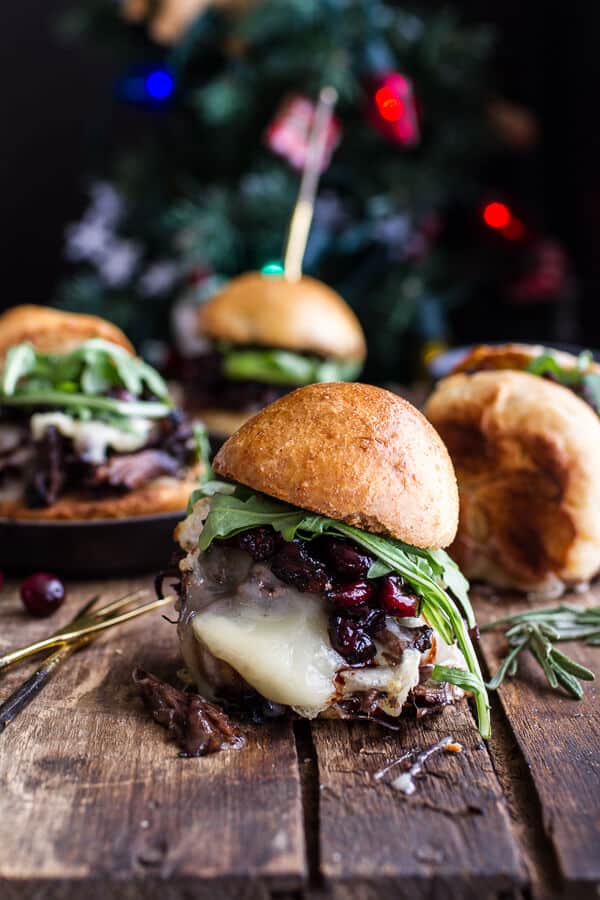 I made us all the best Christmas appetizer/snack/mini meal (or whatever you want to serve it as) ever! They're pretty festive. And yes, the festive colors were intentional.
I think I may have issues with loving Christmas too much.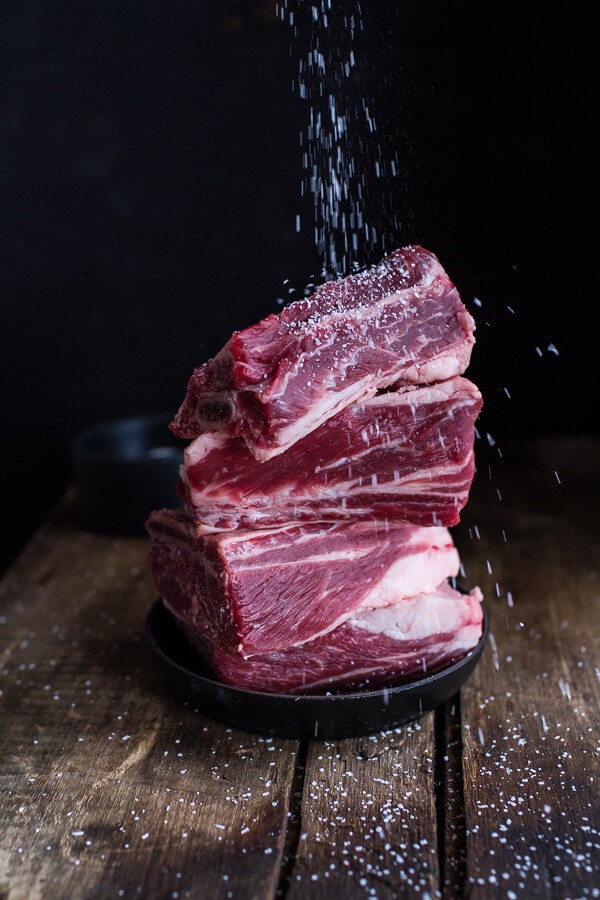 Oh, but you guys, this week is kind of a big week. So much is getting installed down at the barn this week, it's so exciting and nerve-wracking at the same time. I mean, what if I hate everything I chose? UGH. The anticipation.
I actually do not think I will dislike anything. My cabinets are being installed on Tuesday and I am so excited to see them, they are so me. And you guys I have already seen my sink and I am in love with the size. I like the color too, but I wished I would have chosen a slightly different pantina than the one I went with. Still love it though and I cannot wait to show you guys. Appliance come Thursday and counter will be in next week! I need to figure out how to take photos of things other than food though. All of my behind the scenes/in the making barn shoots are semi horrible, which is yet another reason I have not shared many photos.
Promise, you will see them eventually though. Not sure when the post will come since the barn will not be fully finished until mid to late January, so just hang tight….although I may have to at least show you guys the kitchen as soon as possible, because that will be complete and I am crazy excited about it. Ahh, but that's probably obvious.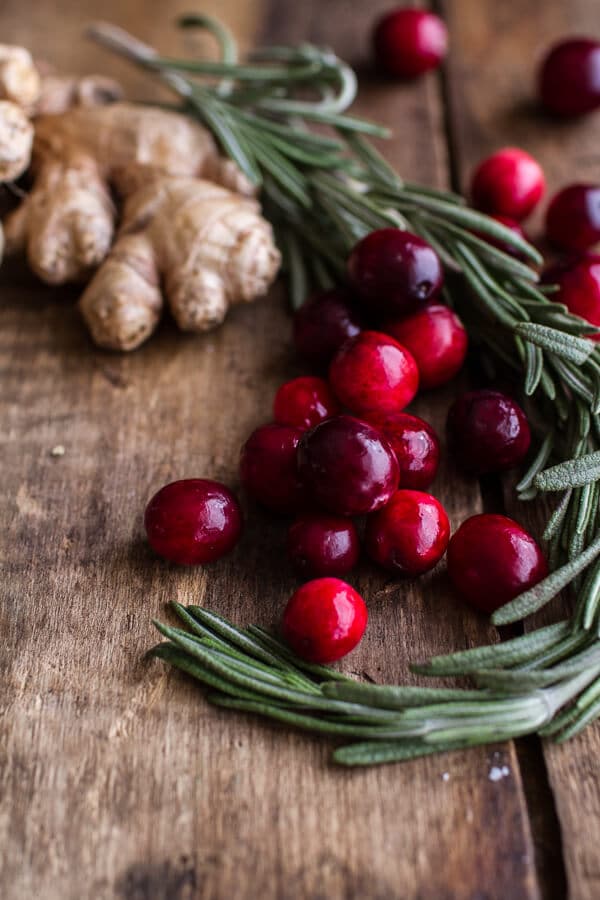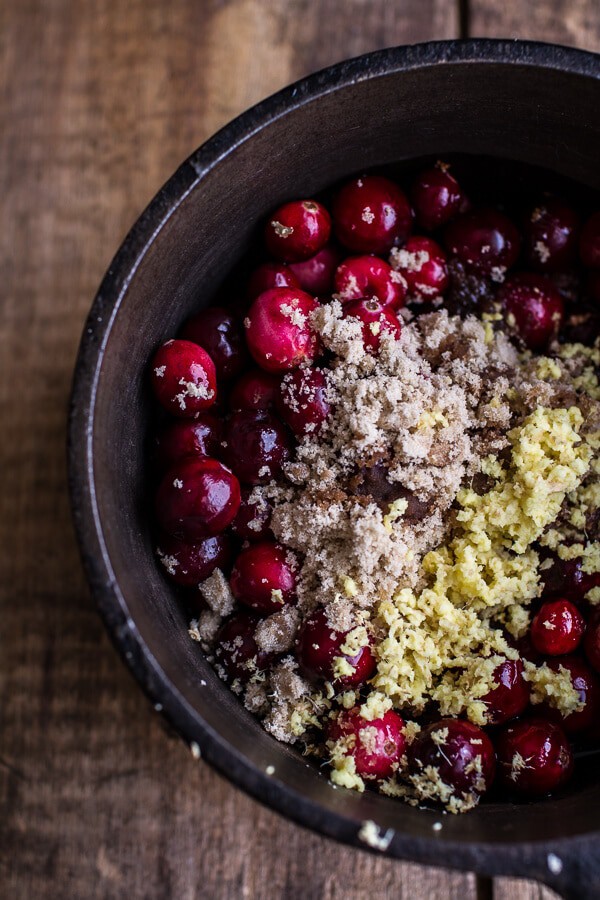 Also, I think my mom will be so excited to get me out of here.
Pretty sure I am driving here insane.
One, she cannot wait to be done doing her general contractor duties. She HATES the job, but I gotta say, she kills it. Reason two? I think we are ready to kill each other. Well not really, but with all the busyness and two women (and two that are very different) trying to work in one house (actually one office) that is constantly filled with rowdy boys? Yeah well, it's just a little crazy. I think we could all use some space and time to just like, breath. Space further than arms distance.
Let's just say that the barn project, that was supposed to be fun, was, I will not lie, well – difficult! We will all be ecstatic when it's done. The whole thing has dragged on for way too long. Excited to finally see the light at the end of the tunnel. I should be moving in at the end of next week!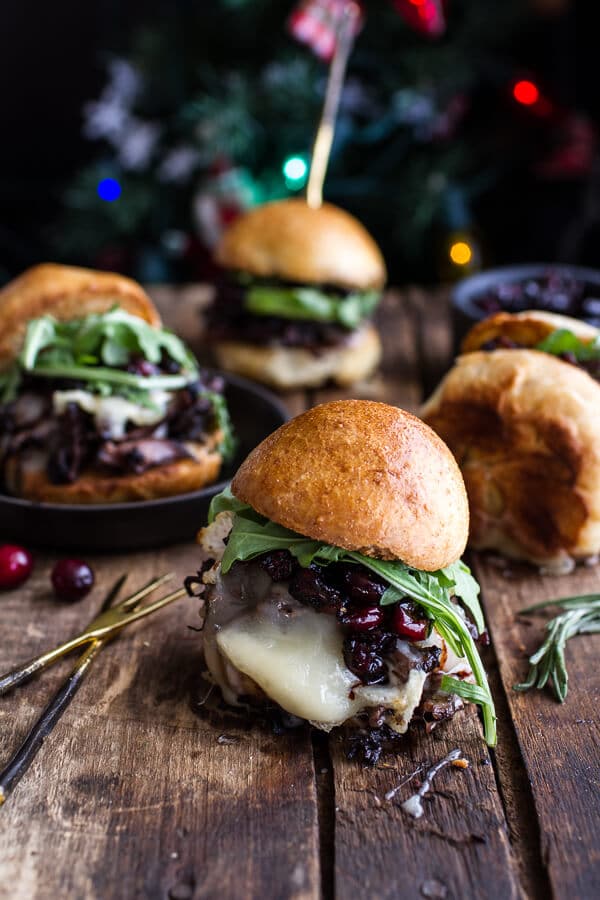 But let's get back to the steak and brie sliders. I honestly don't make sliders all that much, but when I do I always think they are so cute. It's something about their small size and the fact that you can actually go back for seconds and thirds and have it be acceptable. Also, they're finger foods, and finger foods are so fun.
These sliders are extra special though. They are a Christmas Eve party must if you ask me. I am pretty sure everyone at my house on Christmas Eve would be extra excited about them. I mean, right? Cousins, brothers, uncles, randoms? You guys will be more than up for these won't you?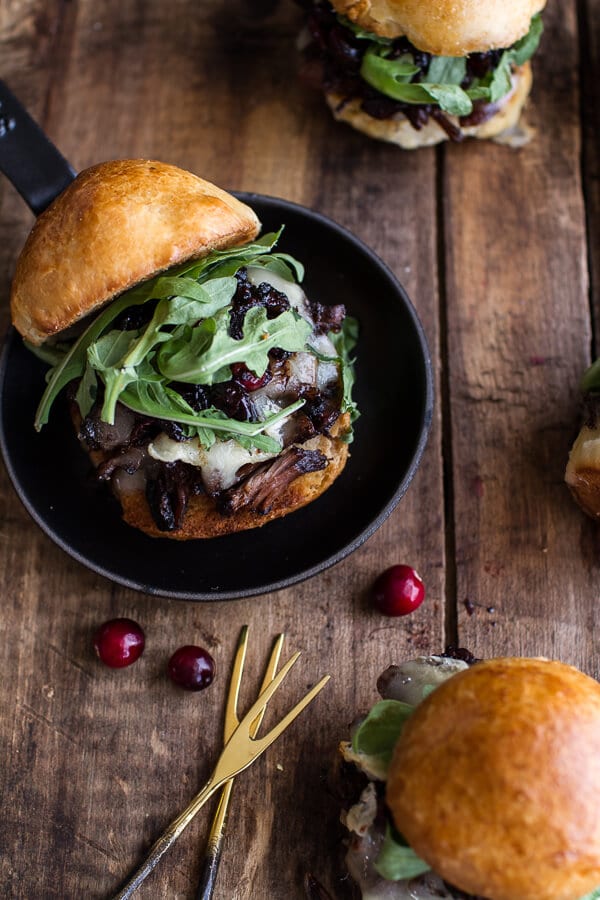 For the meat, I didn't actually use steak, I used short ribs because they seemed like the easier cut of meat to serve at a party. You just cook them all day and then keep them warm in the crockpot or oven until serving time. That way you can either assemble the sliders warm just before serving or make it super easy and have guests assemble the sliders themselves.
Once you add the brie to the hot meat, it literally just melts over the meat. Amazing.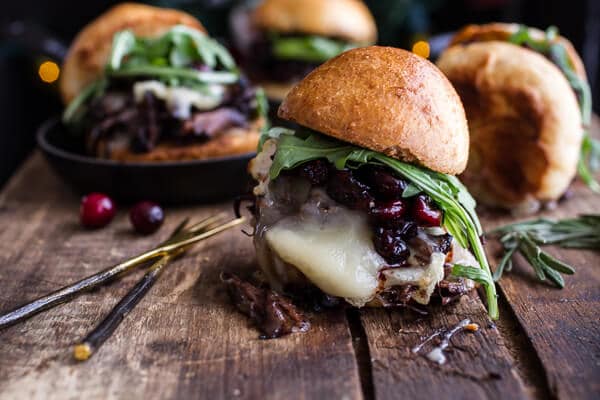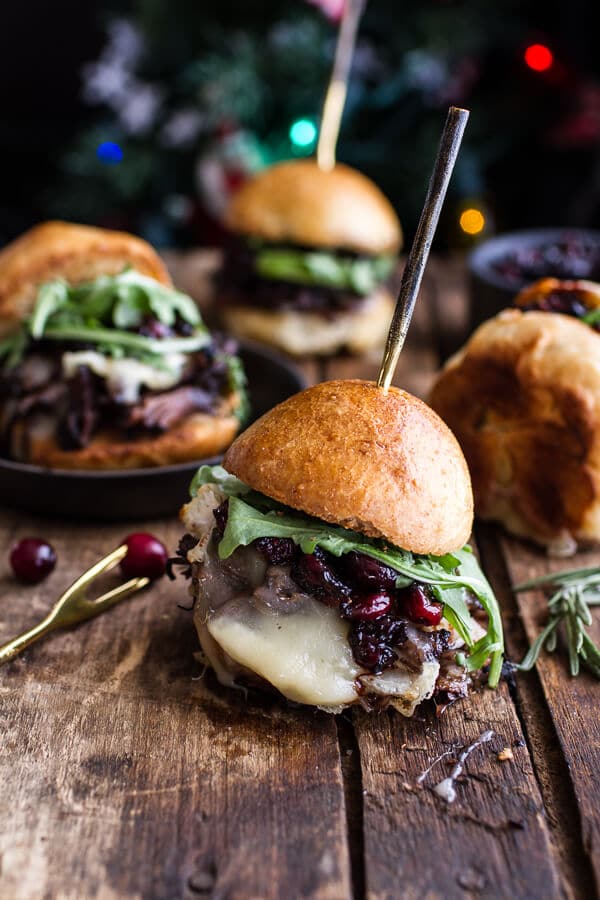 And don't get freaked out about the cranberries. I promise they are so stickin' delicious when paired with the gingery short ribs and melty brie. It's the bestest combo. No really, it is.
AND guys, if I still have not sold you, just look at that brie. It's melted all over the steak. For meat-eaters, this is your dream combo. For vegetarians, try this recipe, but swap the short ribs for mushrooms. Oh that would be awesome!!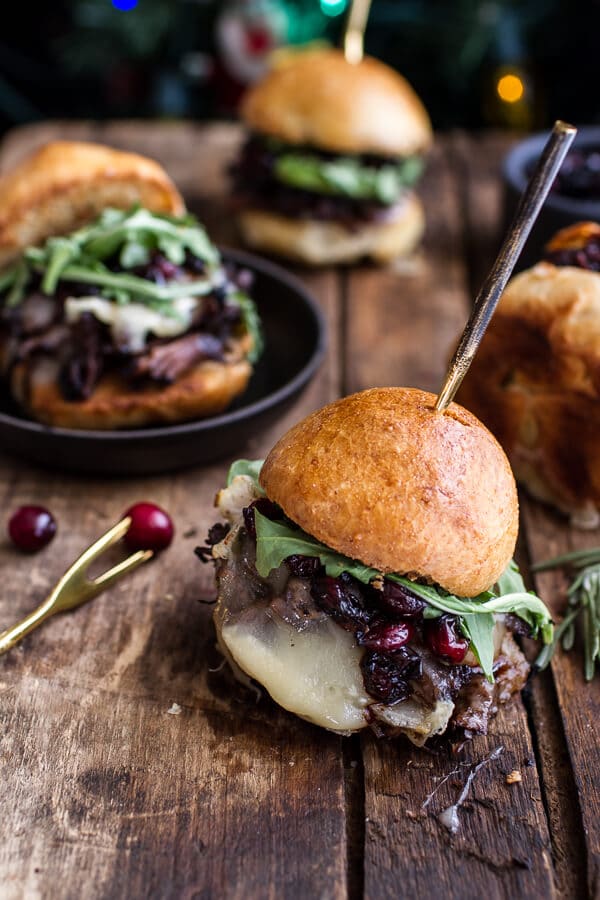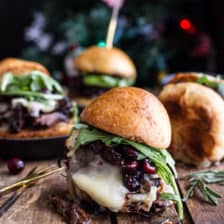 Nutritional information is only an estimate. The accuracy of the nutritional information for any recipe on this site is not guaranteed.
The Recipe
Gingery Steak and Brie Sliders with Balsamic Cranberry Sauce.
By halfbakedharvest
Course: Appetizer, Main Course, Snack
Cuisine: American
Keyword: burger, christmas, cranberry, sliders, steak
A festive twist on classic sliders, delicious!
Prep Time 20 minutes
Cook Time 4 hours
Total Time 4 hours 20 minutes
Servings 20 Sliders
Calories 315 kcal
Ingredients
Short ribs (vegetarians try using mushrooms)
5 pounds bone in short ribs may use another cut of meat if desired
2 tablespoons olive oil
salt and pepper
1/4 cup soy sauce
1/4 cup Worcestershire sauce
1/2 cup balsamic vinegar
1/2 cup red wine or chicken broth
4 cloves garlic minced or grated
1 tablespoon fresh ginger grated
8 ounces brie sliced
arugula for topping
20-30 sliders buns toasted
Balsamic Cranberry Sauce
1 1/2 cup fresh cranberries
1/3 cup balsamic vinegar
1/3 cup water
1/4 cup brown sugar
1 teaspoon fresh rosemary chopped
2 teaspoons fresh ginger grated
Instructions
Short Ribs
The night before or the morning of, heat a large heavy bottom skillet over medium high-heat and add the olive oil. Add the ribs to the skillet and sprinkle with salt + pepper. Sear the ribs on all sides for about 1 minute per side. Remove the ribs and place them in the bowl of a crockpot or a dutch oven.
To make these in the Crockpot
Add the ribs, soy sauce, Worcestershire sauce, balsamic vinegar, red wine, garlic and ginger to the bowl of a crockpot. Add water until the ribs are at least half way submerged, there should be around 1-2 cups. Cover and cook on low for 6-8 hours or on high for 4-6 hours or until the meat shreds easily. Shred the meat and keep on the warm setting until serving time.
To make these in the Oven
Add the ribs, soy sauce, Worcestershire sauce, balsamic vinegar, red wine, garlic and ginger to a cast iron dutch oven or oven safe pot with a tight fighting lid. Add water until the ribs are at least half way submerged, there should be about 1-2 cups. Cover and cook in a preheated the oven to 325 degrees F. for 2 1/2 to 3 hours or until the meat shreds easily. Shred the meat and keep covered on low heat (about 200-250 degrees F) until serving time.
Balsamic Cranberry Sauce
Add the cranberries, balsamic vinegar, water, brown sugar, rosemary and ginger to medium size pot and place over medium-high heat. Bring to a boil and then reduce the heat to a simmer. Simmer for 5-10 minutes or until the sauce has thickened. Season with salt and pepper.
To Serve
Add the shredded warm meat to the bottom of a slider bun. Top with sliced brie. The brie should melt over the warm meat, but if not, place under the broiler for 30 seconds. Top with cranberry sauce and arugula. Sandwich with the top bun.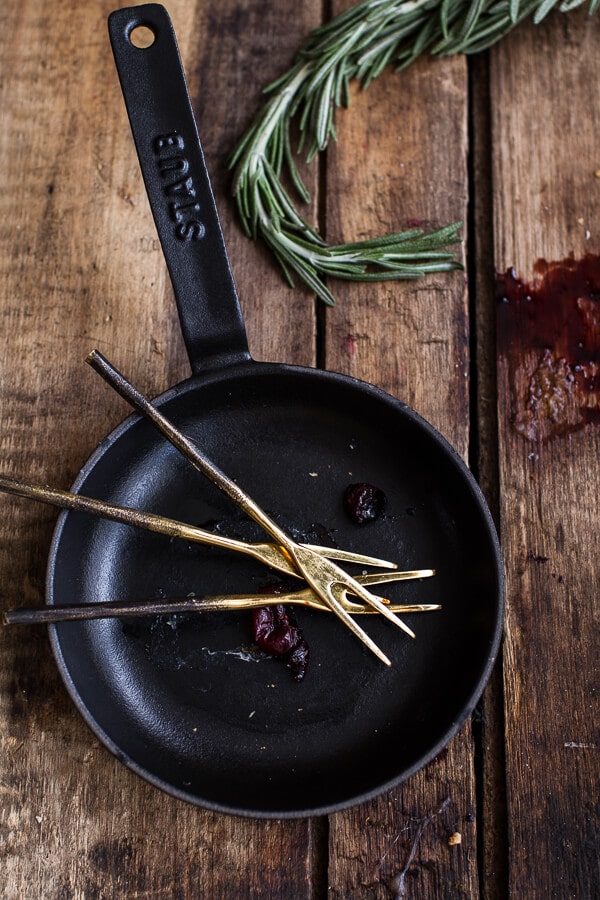 Gone in sixty seconds. Literally.