French Onion Potato Soup.
Welcoming in the week before Christmas with this French Onion Potato Soup.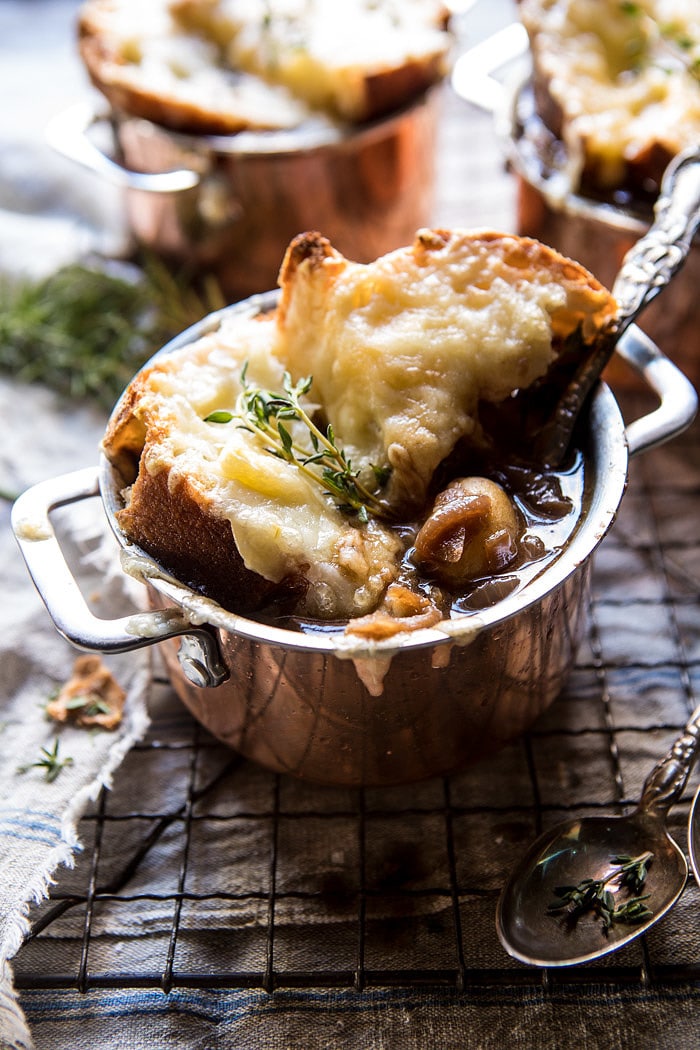 I know I'm repeating myself here, but man, can you believe Christmas is just one week away? Personally, I'm praying for this next week to go very, very slowly so that there's time to do all the fun holiday things I would still like to do.
Thankfully, I did finally get to take part in some fun Christmas activities this past weekend. I baked up a storm with Asher yesterday, and I even spent Saturday morning watching my younger brother, Red compete in the 2017 Dew Tour. I know most of you do not follow snowboarding so I won't go into too much detail, but I am beyond words excited for this kid. He did great on Saturday with a 4th place finish, and on Sunday he won the jib section for Burton in the Dew Tour Team Challenge.
Let's just say that the 2018 Winter Olympic's are looking bright for him. So freaking proud.
On another note, watching your younger brother (and his friends…whom I have known for years, fed often, and often act as additional brothers) literally fly through the air is possibly the most nerve racking thing ever. Feeling extra thankful today that all are safe, sound, healthy, and happy.
And that right there pretty much sums up my weekend. A mix of snowboard watching, cookie making, and Christmas shopping. All and all, I would say it was pretty great weekend.
What did you guys do?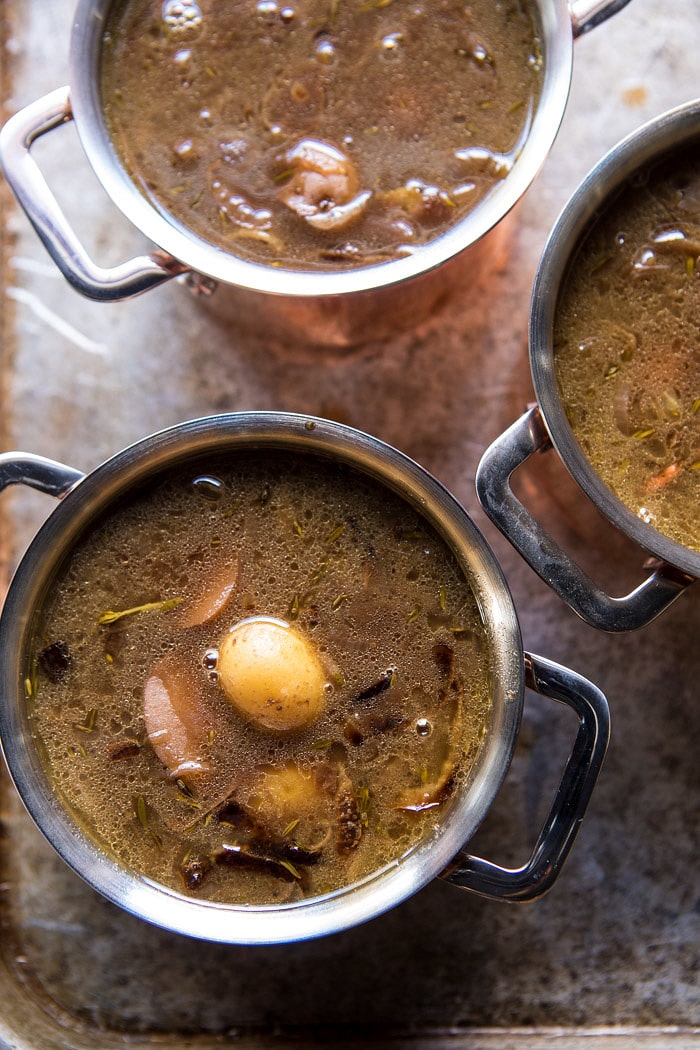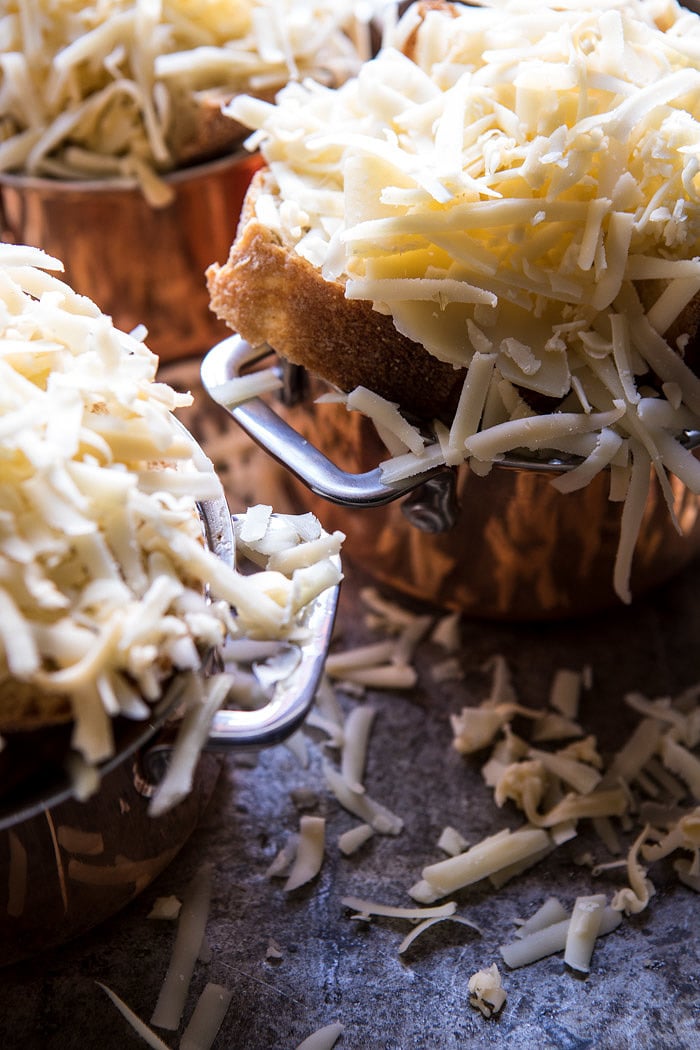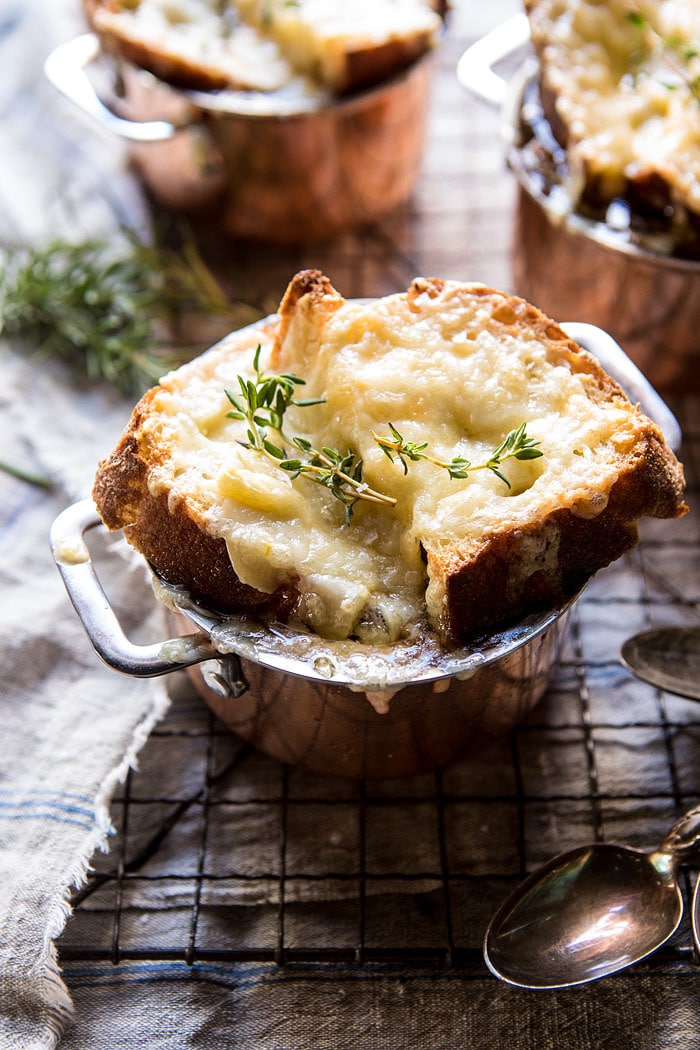 Alrighty, moving right along here, let's chat soup.
As mentioned in Friday's post, the rest of my family comes into town this week and once they arrive, the craziness will begin (I think there will be twenty plus people for Christmas this year…yes, my mom really loves a packed house). In prep for everyone getting here, I'm planning recipes like this cozy soup that's great to serve after everyone comes in from the cold.
A while back I asked the family what type of eats they would like to see served up this Christmas and the one thing that was universally requested was soup. I do think that most of them probably meant a beef chili, but I went with something a little more carb filled and cheesy.
Because you know, I'm a creature of habit, love my carbs, and apparently am really having a moment with all things caramelized onion (see this beef tenderloin).
Plus, I know my cousins love anything involving onions too, so I figured this would make everyone excited.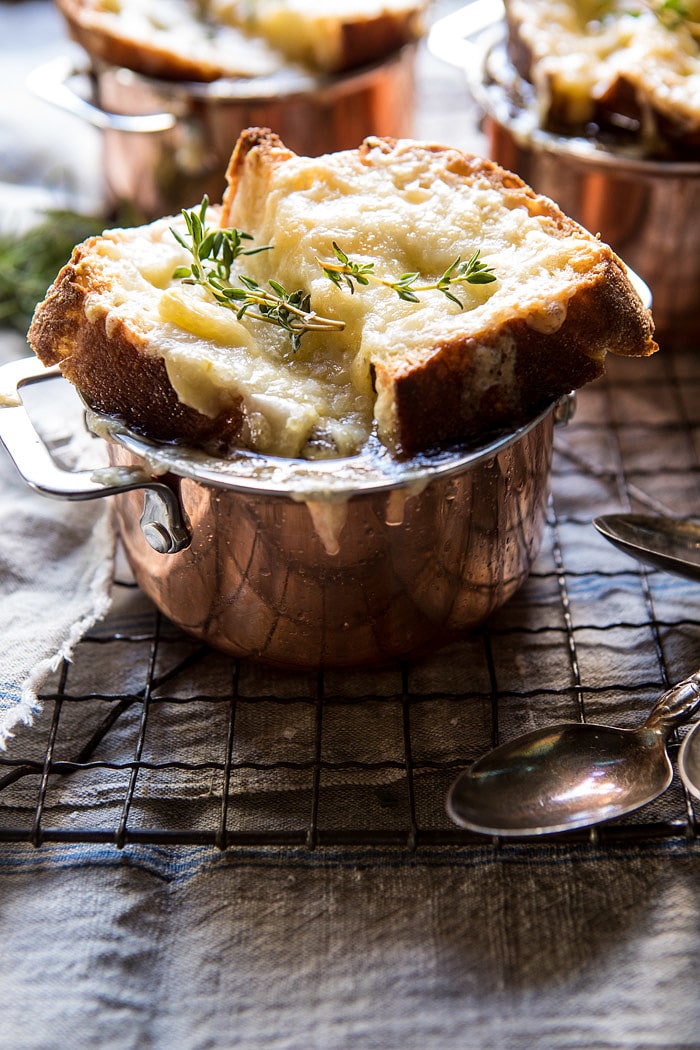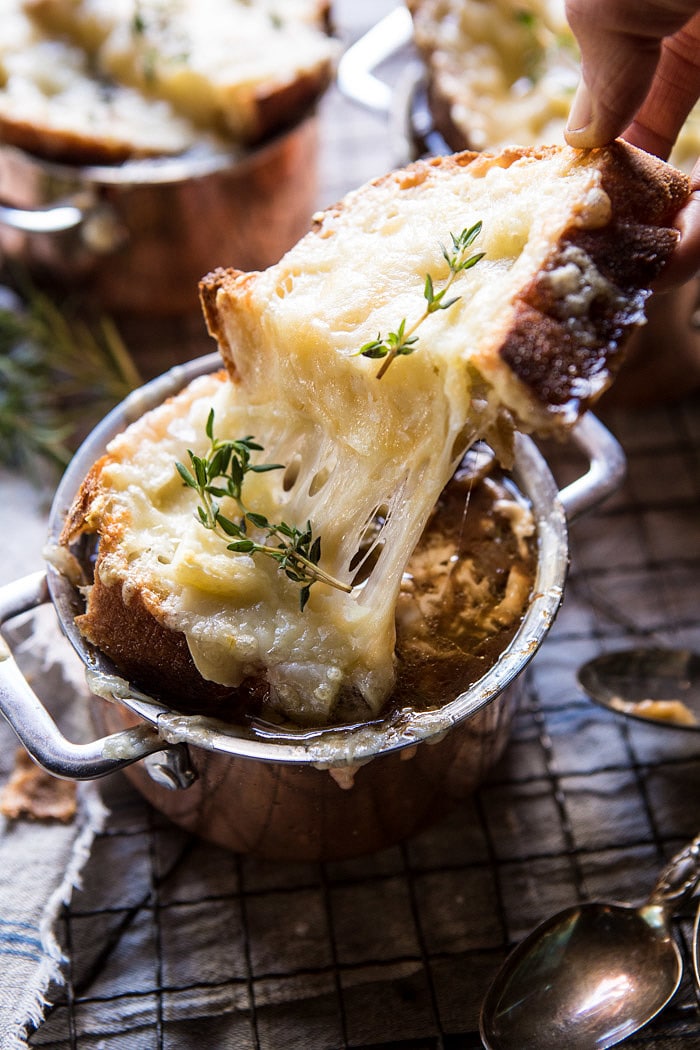 The idea for this soup came about pretty simply. My dad found some really, really, really tiny baby potatoes and picked up a bunch of them for me because he thought I would like them. He does this often when he see unusual foods. Sometimes it works out…sometimes I end up giving the food to the goats (it's always produce).
In the case of the tiny baby potatoes, it worked out. At first, I had no idea what to do with them, but then as I was making the Irish French Onion soup out of the Half Baked Harvest Cookbook, it occurred to me that potatoes in french onion soup would probably be pretty delicious.
So I stirred some in and as you can imagine…they were pretty delicious.
Buttery broth + potatoes + caramelized onions + cheesy bread. YESS.
This soup is warm, cozy, a little buttery, carby, oniony, cheesy, and really just all things delicious. The perfect soup for this week before Christmas when you want to be cozied up on the couch watching holiday movies…
That's my plans, for real, or well, you know after I finish up all of the end of year work. So that's my plan for Saturday…almost there!!

In all seriousness though, I truly love this soup so much. I have always found french onion soup to need something a little more hearty. Adding potatoes makes it heartier and worthy of a yummy lunch or dinner. This soup would also make for a great holiday side to just about any dinner. You can make it in advance and have it simmering away on the stove.
Bonus…your house will smell incredible as this cooks away.
One important thing? Don't skip out on the cheesy bread topping…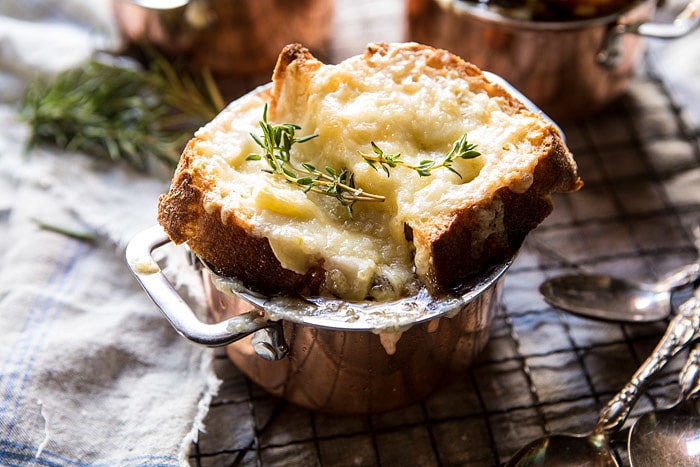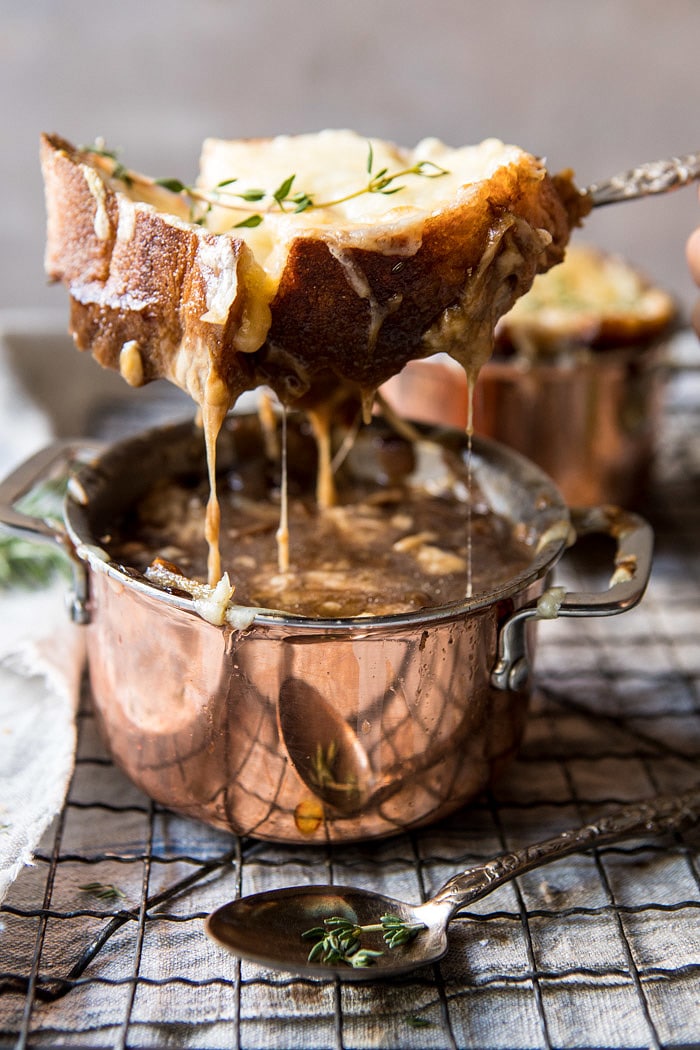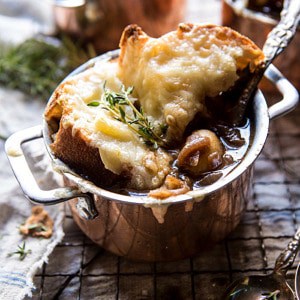 Nutritional information is only an estimate. The accuracy of the nutritional information for any recipe on this site is not guaranteed.
The Recipe
French Onion Potato Soup
By halfbakedharvest
Course: Soup
Cuisine: American, French
Keyword: cheesy, easy recipe, onion soup
This soup is warm, cozy, a little buttery, carby, oniony, cheesy, and really just all things delicious!
Prep Time 15 minutes
Cook Time 45 minutes
Total Time 1 hour
Servings 6 servings
Calories 605 kcal
Ingredients
6 tablespoons butter
4 sweet onions, thinly sliced
2 cloves garlic, minced or grated
1 tablespoon brown sugar
3 tablespoons all-purpose flour
1 1/2 cups red wine
2 quarts low sodium beef broth
1 tablespoon Worcestershire sauce
3-4 fresh thyme sprigs, plus more for serving
pinch of black pepper
1 pound mini baby potatoes, halved if large
6 slices french bread
1 1/2 cups shredded Gruyere cheese
Instructions
1. Melt the butter in a large soup pot over medium-high heat. Add the onions, garlic and brown sugar and cook about 10 minutes, stirring frequently, until softened. Continue cooking, stirring often, until the onions are deep golden in color and caramelized, 15 minutes. During the last 5 minutes of cooking, stir in the potatoes.

2. Reduce the heat to low and sprinkle the flour over the onions and potatoes, stirring for 3-5 minutes, until the raw flour taste is eliminated. Add the wine, beef broth, Worcestershire sauce, bay leaves, and thyme. Increase the heat to medium-high and return the soup to a simmer, simmer for 20 minutes or until the potatoes are fork tender. Remove the thyme sprigs and bay leaves from the soup. Season, to taste with salt and pepper.

4. Preheat the broiler to high.

5. Ladle the soup into oven safe bowls. Add a slice of bread to each and top evenly with cheese. Place each soup bowl on a baking sheet and transfer to the oven, broil until bubbly and golden brown, 3 to 5 minutes. Eat!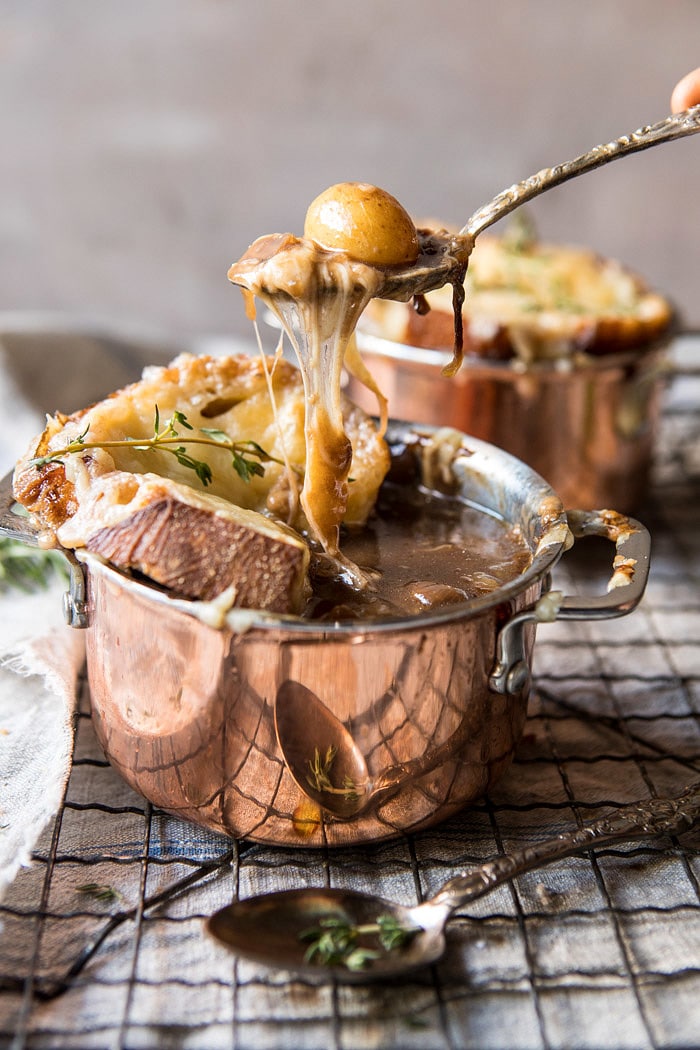 My favorite part of french onion soup!