Eggs in Purgatory with Chile Butter and Feta.
Turkish inspired Eggs in Purgatory with Chile Butter and Feta. Perfectly soft-cooked eggs simmered in a simple, slightly spicy, tomato sauce with garlic, herbs, and lemon. Top this one-skillet recipe with fresh herbs, plenty of feta cheese, and serve with olive oil toasted bread for dipping. It's the simplest recipe that doubles as both a mouth-watering breakfast and a quick and easy dinner. Bonus? This takes no more than thirty minutes to prepare, is healthy, and delicious.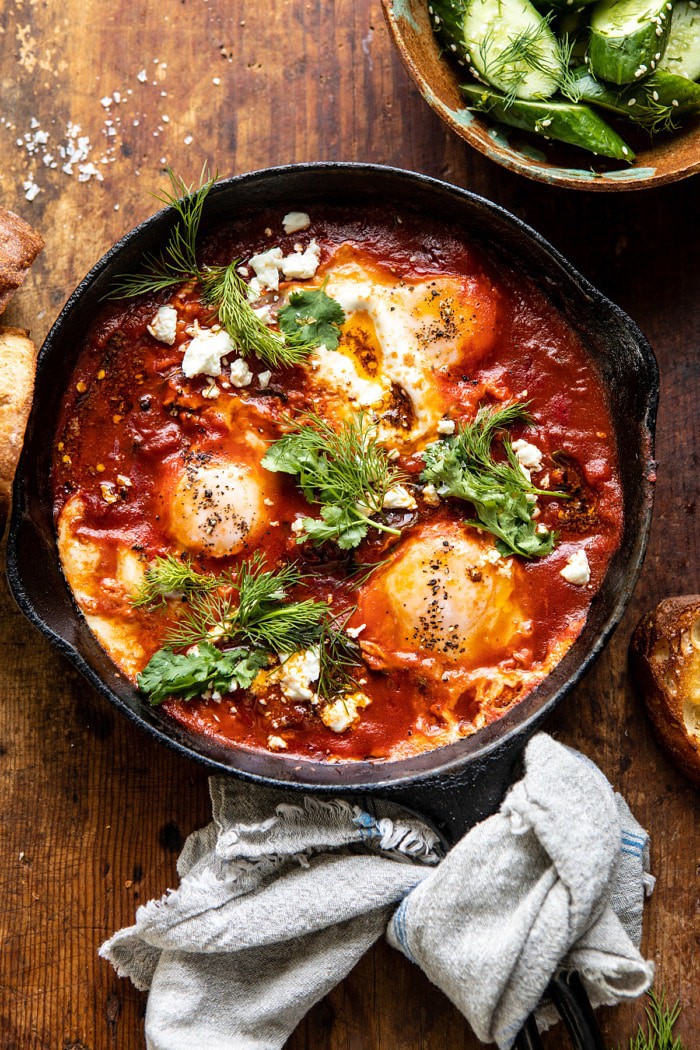 Breaking away from the usual Friday dessert and instead sharing a savory breakfast (or breakfast for dinner) recipe. Not going to lie, it feels weird to not share something sweet today, but with a new year comes transitions. One of my "goals" for the year is to share more savory breakfast/brunch recipes with you all. It's true that I love a sweet breakfast, but I also love a savory egg dish. And since many of you have been asking for more savory breakfast recipes, I'm making an effort to share them this year!
So, today we have eggs. Which I figured would be perfect for your weekend brunching, or maybe even a late-night Friday dinner (my preference actually). Either way, we have a very delicious and easy recipe here, and I'm very excited to share it.
If you're looking for a dessert, please check out Tuesday's homemade Twix bars post. You will LOVE them and they'll be fun to make over the weekend to satisfy your chocolate fix. If you love a good brunch dish…or just love eggs…let's talk about these Turkish inspired Eggs in Purgatory. Because even though these eggs are definitely not a chocolatey dessert, they're still insanely GOOD.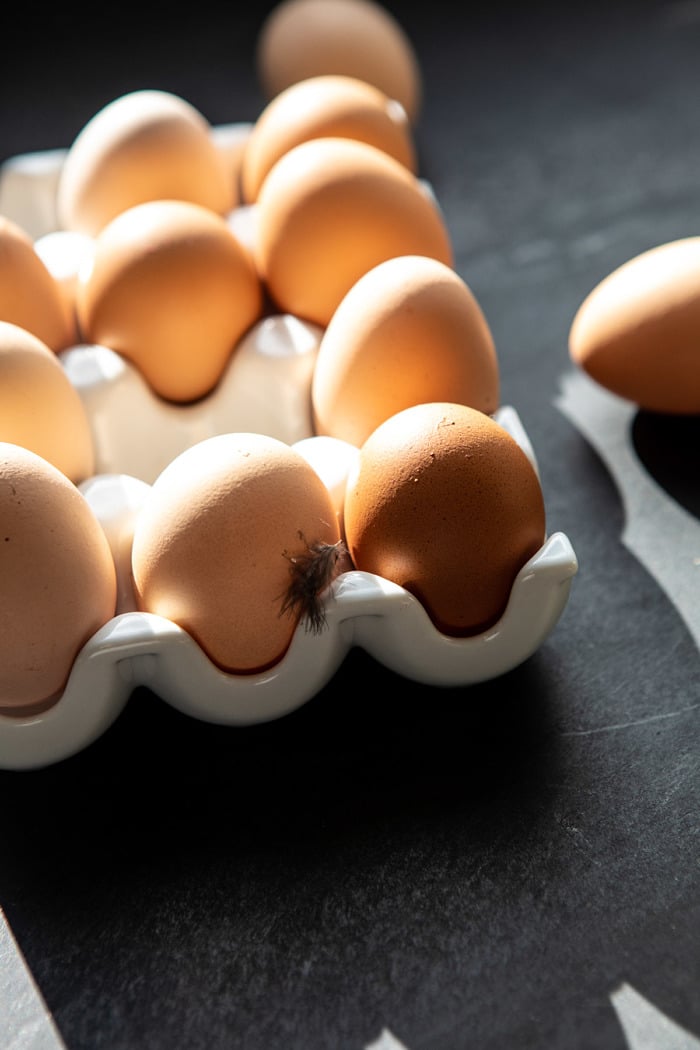 First, exactly what are Eggs in Purgatory?
The dish comes from southern Italy and is simply eggs simmered in a spicy tomato sauce. Recipes vary slightly, but most use olive oil, red pepper flakes, parmesan cheese, and eggs. It's so SIMPLE, but when served with crusty bread, so delicious.
So what does the "purgatory" part refer to? According to the New York Times, it's unclear whether purgatory refers to the bubbling red tomato sauce the eggs are poached in, or the fiery red pepper flakes that the sauce is hinted with. Either way, the dish is really just eggs in tomato sauce all simmered together in one skillet. However, my version is slightly different, as it's made with a fresh Turkish twist.
PS. If anyone knows the full story, please…do tell!

Here is how to make Eggs in Purgatory.
I like to add a touch more flavor to my eggs, so start by making the chile butter…inspired by Turkish style eggs. The key to Turkish eggs is the butter that's spooned over them. Mine is a mix of salted butter, olive oil, chili flakes, sweet paprika, and sesame seeds. Pretty simple, but it really packs in the flavor. It might just be one of the best sauces you can spoon over eggs.
Once the butter is made, use that same skillet to cook the eggs. Simply cook some garlic in olive oil, add red peppers flakes, and then crushed fire-roasted tomatoes. Then crack the eggs right into the sauce and simmer until the eggs are perfectly cooked to your liking. For me that means a runny yolk.
While the eggs are cooking, toast up a few slices of really good crusty bread. I used the no-knead bread recipe from the Half Baked Harvest Super Simple cookbook, but any crusty bread will do. I like to toast the bread in a skillet, then drizzle with olive oil, and sprinkle with flaky seas salt. SO. GOOD.
Toss together a couple handfuls of your favorite tender herbs. I love using fresh cilantro and dill, but parsley and basil would also be great.
As soon as the eggs are ready, immediately top them with crumbled feta, herbs, and that chile butter. Then serve with bread…nothing not to love.

Soo, with that, do we all know what we're making this weekend? Usually it's french toast or a Dutch baby over here, but since we're in the middle of Healthy January, this is a much more vegetable-focused brunch! No complaints.
It's surely not traditional Eggs in Purgatory, but it may just be better…at least I think so. It's all about the toppings, the butter, the feta, the herbs…game-changers.
If you don't love spicy food, that's totally fine. Just reduce or even omit the red pepper flakes used throughout the recipe. You will lose a bit of flavor, but the feta cheese and fresh herbs will make up for it just fine.
Lastly? This makes for the most perfect one am meal or hangover breakfast. So easy, but so good. Just don't skip the crusty olive oil toasted bread. And bonus points to any of you who also sprinkle that bread with flaky sea salt…it's the best!

If you make these Eggs in Purgatory, be sure to leave a comment and/or give this recipe a rating! Above all, I love to hear from you guys and always do my best to respond to each and every comment. And of course, if you do make this recipe, don't forget to tag me on Instagram! Looking through the photos of recipes you all have made is my favorite!

Nutritional information is only an estimate. The accuracy of the nutritional information for any recipe on this site is not guaranteed.
The Recipe
Eggs in Purgatory with Chile Butter and Feta
Turkish inspired perfectly soft-cooked eggs in a simple, slightly spicy, tomato sauce...one skillet, 30 mins, healthy, and delicious!
Prep Time 10 minutes
Cook Time 20 minutes
Total Time 30 minutes
Servings 6
Calories 259 kcal
Instructions
1. To make the butter. In a large skillet melt together the butter, red pepper flakes, paprika, and sesame seeds. Cook until the butter is browning, 3-5 minutes. Remove from the heat and pour the butter into a bowl.

2. To make the eggs. Return the skillet to the stove. Heat the olive oil over medium heat. Add the garlic and cook 3-5 minutes, until the garlic is fragrant and turning golden brown. Stir in the red pepper flakes and lemon zest, cook another minute. Pour in the tomatoes and season with salt. Stir in the spinach. Turn the heat to medium-low. Simmer, uncovered until the tomatoes thicken into a sauce, 10-12 minutes.

3. Using the back of a spoon, make 4-6 divots into the sauce, then crack an egg into each divot. Cover and cook until the eggs are set to your liking, 2 to 3 minutes for runnier yolks.

4. To serve, crumble the feta over the eggs. Top with mixed herbs, lemon juice, and spoon over the chile butter. Serve with plenty of toasted bread.