Easy Creamy Buffalo Chicken Quinoa Bake
And it's buffalo time.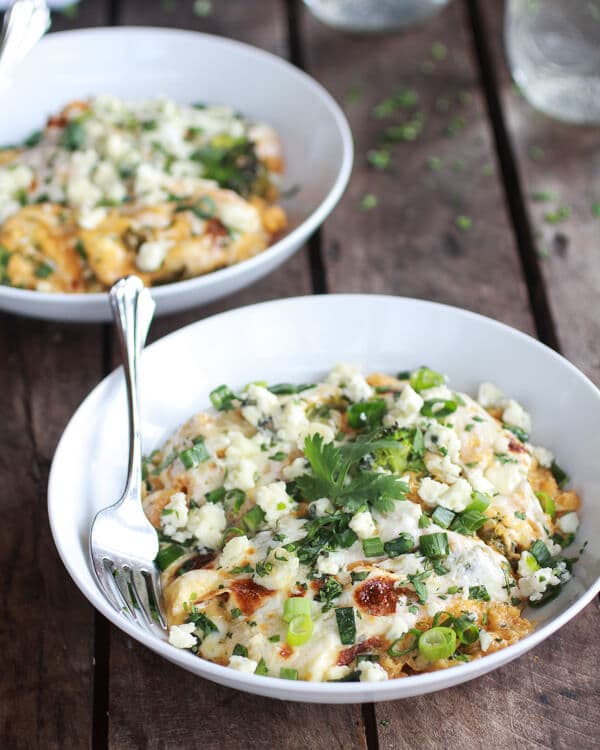 Again.
What's new?
Well, it's quinoa AND it's buffalo. Actually, it's Tieghan being so predictable.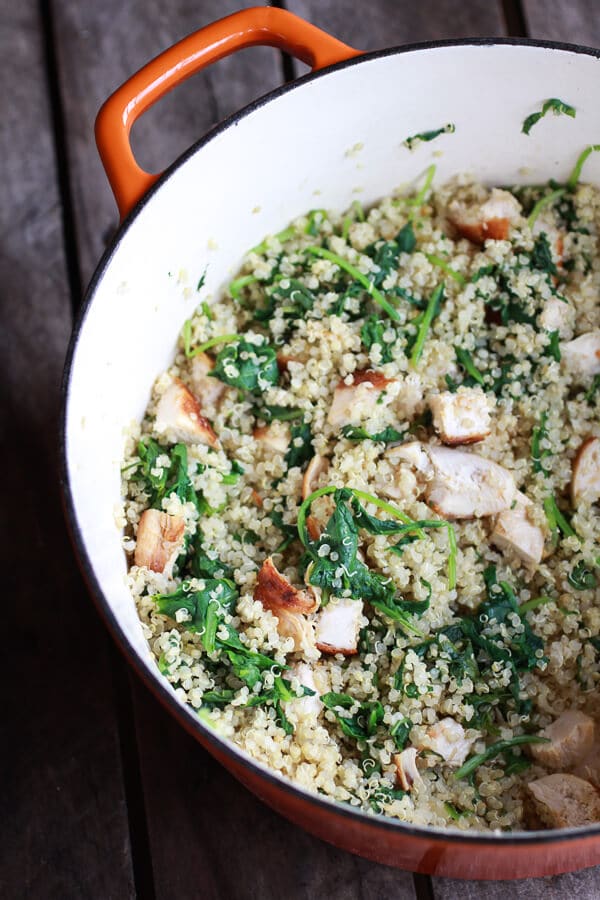 But whatever, I just don't care anymore. It's football season, the weather's turning colder and I honestly could not go on one more day without sharing this one with you guys.
It's been burning up space on my computer for way too many weeks.
Ah wait, let's talk about my computer here for just one second.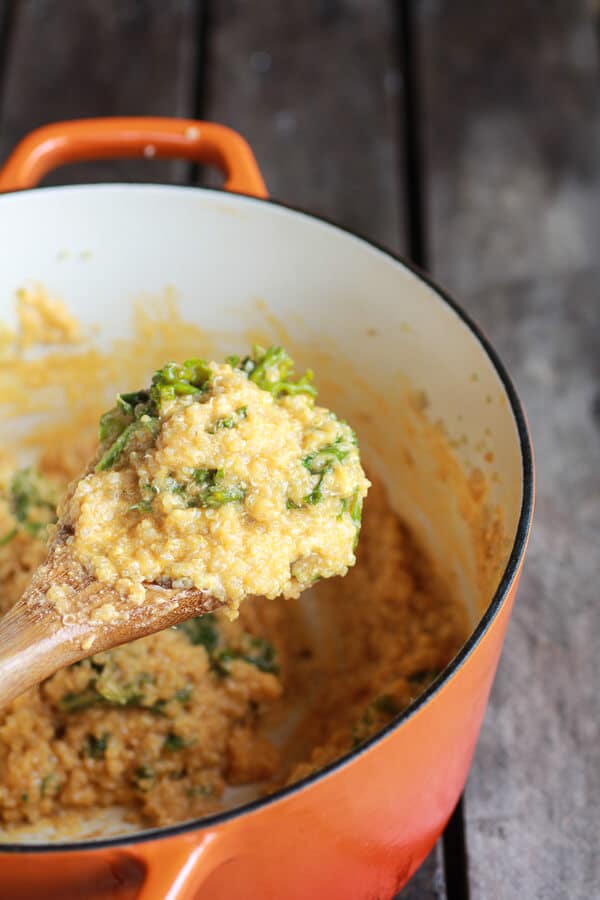 See, I take a lot of photos. I mean A LOT. Like way more than you guys will ever see. Sometimes, no pretty much all the time, over two-hundred photos per recipe. Yeah, two-hundred.
Trust me, I have tried to take less photos and for me it just does not work. I end up with photos that are just ok, but I always wish I would have taken more. Like with these photos. I didn't take enough, hated them all and regretted taking less than usual. Lesson learned.
Anyway, my computer?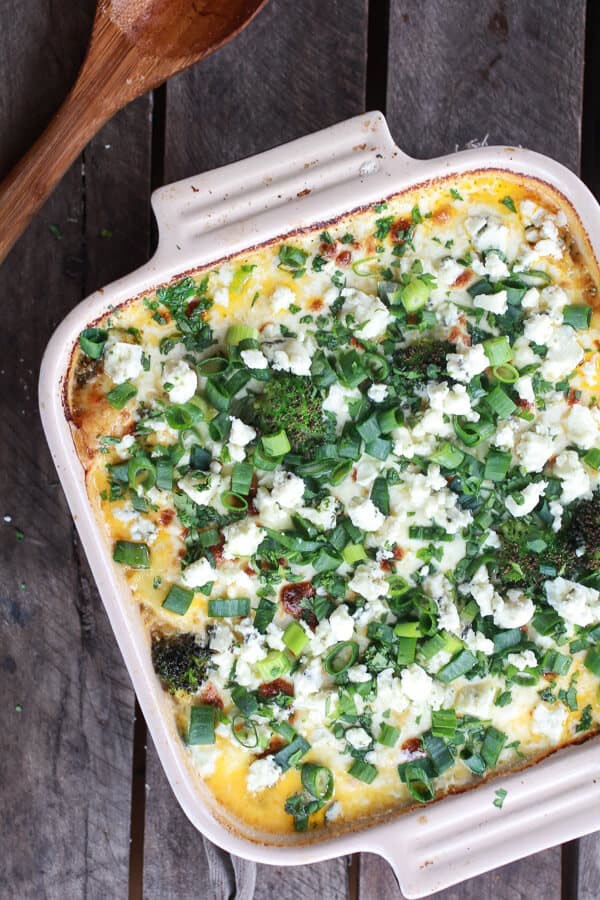 Oh my gosh, it is so FULL.
I have zero space and my computer is running like molasses. No wait, it is more like molasses when the bottle is basically empty and you are trying to get the very last half teaspoon out.
Oh what? No else does that?
Come one. Didn't your mothers ever teach you to use every last drop? Well, mine did and it will for every be ingrained into my brain.
So yeah, I wait the ten minutes for the very last drop. Sometimes it is torture.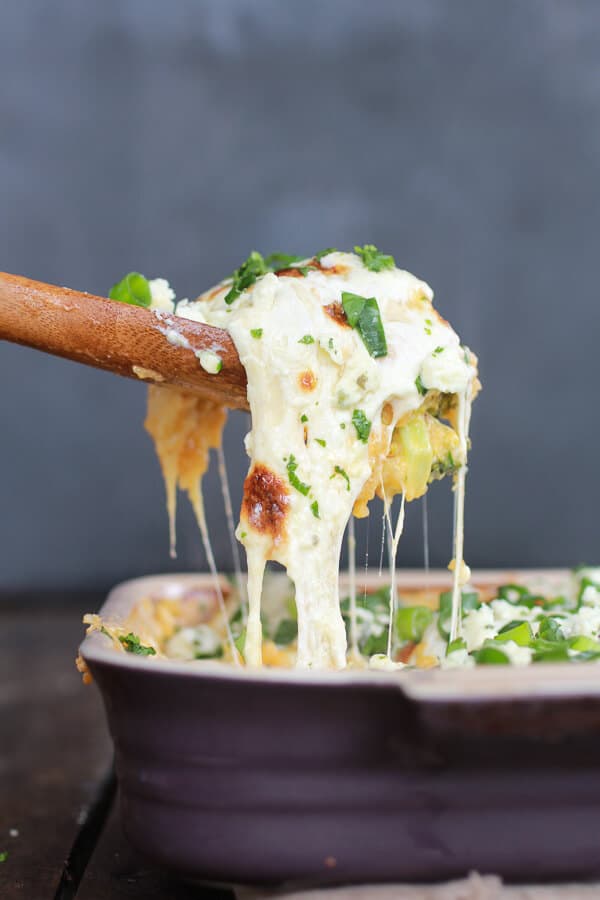 The point is, I need to start getting rid of photos or just learn how to organize them better. Oh and be a smarter person and use a hard drive. Yeah, that is probably what I should do.
Enough about my computer issues, back to the food.
The creamy, cheesy, buffalo chicken quinoa.
Basically, it is like a healthier version of buffalo chicken mac and cheese. I think it is safe to call it a healthy meal. I mean, there is quinoa, baby kale (completely your choice) and broccoli (again, your choice). It's kind of the perfect meal for everyone, even vegetarians. Just leave the chicken out and you are good to go (promise it is still going to be just as awesome minus the chicken).
Oh and it's kind of crazy easy. Cook the quinoa, make the sauce, put um together and throw it in the oven to get all nice and bubbly. Oh it's so good.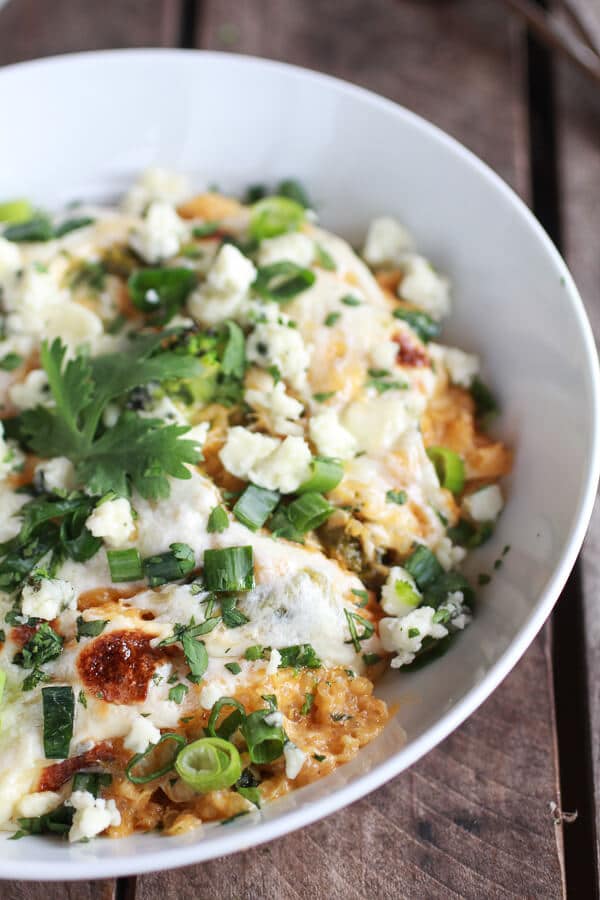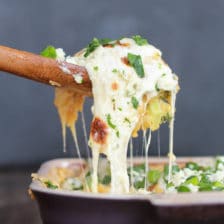 Nutritional information is only an estimate. The accuracy of the nutritional information for any recipe on this site is not guaranteed.
The Recipe
Easy Creamy Buffalo Chicken Quinoa Bake
By halfbakedharvest
Course: Main Course
Cuisine: American
Keyword: buffalo, chicken, Quinoa Bake
Basically, it is like a healthier version of buffalo chicken mac and cheese.
Prep Time 15 minutes
Cook Time 30 minutes
Total Time 45 minutes
Servings 6 Servings
Calories 485 kcal
Ingredients
2 cups water
1 cup uncooked quinoa
1 1/2 cups baby kale
1 small head broccoli chopped
2 small cooked chicken breast chopped or shredded (the chicken can be left out for a vegetarian version)
1 tablespoon flour may use whole wheat
1 tablespoon butter
1 cup milk I used 2%
1/2 cup shredded gouda cheese
3/4 cup shredded cheddar cheese divided in half (slices work too)
1/4 cup butter melted
1/2 cup hot sauce I used Franks
1/2 teaspoon seasoned salt
1/4 teaspoon pepper
1/4 cup crumbled blue cheese
fresh cilantro chopped, for garnish
green onions chopped, for garnish
Instructions
Place quinoa in a fine-mesh strainer and rinse thoroughly under running water.

Transfer quinoa to a medium saucepan. Add water or broth, and bring to a boil. Reduce heat to medium-low and add the chopped kale and broccoli right on top of the water, do not stir. Cover and simmer for 15-20 minutes or until water is absorbed. Remove from heat and let sit, covered, for 5 minutes. Fluff quinoa with a fork and stir the veggies into the quinoa. Add the chicken, toss and set aside.

Preheat oven to 350 degrees F.

Heat a medium saucepan over medium heat. Add the 1 tablespoon of butter, once it's melted and bubbly add the flour. Whisk together to create a roux and cook for 1-2 minutes until mixture gets a bit golden in color. Add milk, stir and turn down heat to low. Continue stirring until milk thickens. Add in gouda and half of the cheddar cheese and continue to stir until mixture is smooth. Remove from the heat and stir in the 1/4 melted butter, hot sauce, seasoned salt and pepper.

Pour the sauce over the quinoa mixture and mix well to combine. Once combined, spray an 8x8 or 9x9 baking dish with non-stick spray and pour the entire quinoa mixture into the dish. Top with remaining fresh cheddar cheese, sliced (for an extra gooey top) or shredded.

Bake for 10 to 15 minutes and then turn the broiler on and broil for 1 to 2 minutes or until cheese is golden and bubbly.

Remove from the oven and top with blue cheese, fresh cilantro and green onions. Allow to sit five minutes and then serve.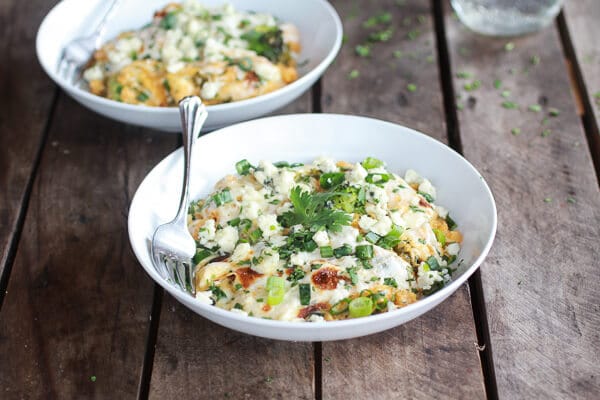 Um, I think you need this tonight. Yeah, you do!