Crockpot Sunday Sauce.
You guys, I promise I am well aware it is Monday, but hopefully this crockpot Sunday sauce helps you get through it….

I mean, I wish it was still Sunday and all, but yeah it's Monday.
So why Crockpot Sunday Sauce on a Monday? Hello, because I am giving you six whole days to run to the store, buy whatever you may not have and put this on the books for this Sunday. There is even a good possibility you already have everything on hand to make this right now. It's all about staple ingredients today.


Since we are on the topic of Sunday, let's first talk about my Sunday. I drank my very first cup of coffee, and not coffee with sugar and cream, nope, straight black coffee.
And you guys, eew.
It was disgusting. Literally so gross. It got better as I kept drinking it, but still. Well actually, I drank a half cup before my hike and that half cup was horrible. I drank the other half cup after my hike and that half wasn't as bad. Still wasn't good, but I will have to try again soon because I am at the point in my adult life (yikes) where I need something in the morning to help me well, um not fall asleep at my desk. Plus, lately I am having a really hard time focusing. It's actually horrible. I can't seem to just focus in on one task before I move to another – without finishing the previous task. I don't know what the deal is, but it's just getting worse, so coffee seemed like a good idea. Although, I really didn't feel any different after my one very strong cup of black coffee.
Is coffee even supposed to help you focus? You know what I really wish it could do? I really wish it was some magical drink that could help me make decisions because my indecisiveness is just getting ridiculous. RIDICULOUS.


Anyway, in happy, good news. Things with the barn are going well. I now have heated floors thanks to the very awesome (and super nice) plumber, Richard. YEAH! I am totally going to be needing those right away…without them I'd freeze for sure. If you didn't know, it's kind of cold where I live. My hike yesterday was a total white out, like icicles framing my face from my hair. Hard to believe right now, but it's supposed to be nice all week, so we're hoping to get the concrete poured by the end of the week!
Also, my appliances are scheduled to be here the week before Thanksgiving. Ahh!! That is so exciting. I mean, I'll have my own appliances! It's one of the perks of actually moving out on your own (ok fine, down the road a little ways) and being an adult. Or trying to be an adult anyway. Not gonna lie, I still feel like a kid, but hey, that's good right? And like any cook, or person who loves to cook, or person who cooks for a living, I spent way too much money on my appliances. So yeah, now the budget is a little tight, but I honestly would not have it any other way. I love my appliances. I promise some photos + a real update post soon, which will have a lot more details. I just have to actually get my butt down to the barn with my camera in hand to take some more photos. Plus, I am kind of waiting for things to shape up a little more. Right now it's looking more like the barn will be done in a year… but, but, but I promise it's gonna be done in December. Hopefully early December rather than later… fingers crossed.


So this Sunday sauce, let's talk about it.
It's obviously a sauce that is perfect for Sunday, but really it's good any day of the week. It's a meaty red sauce that I can pretty much guarantee your whole family will enjoy. Mine did and there is nine of us, so I think the odds are in your favor.
It's really so simple. Just some short ribs cooking all day long in my favorite homemade tomato sauce. I chose short ribs because they are quickly becoming my favorite meat to cook. They turn out perfect every time and they are so low maintenance. All you have to do is make sure you cook them at a low temp for a long time. Simple.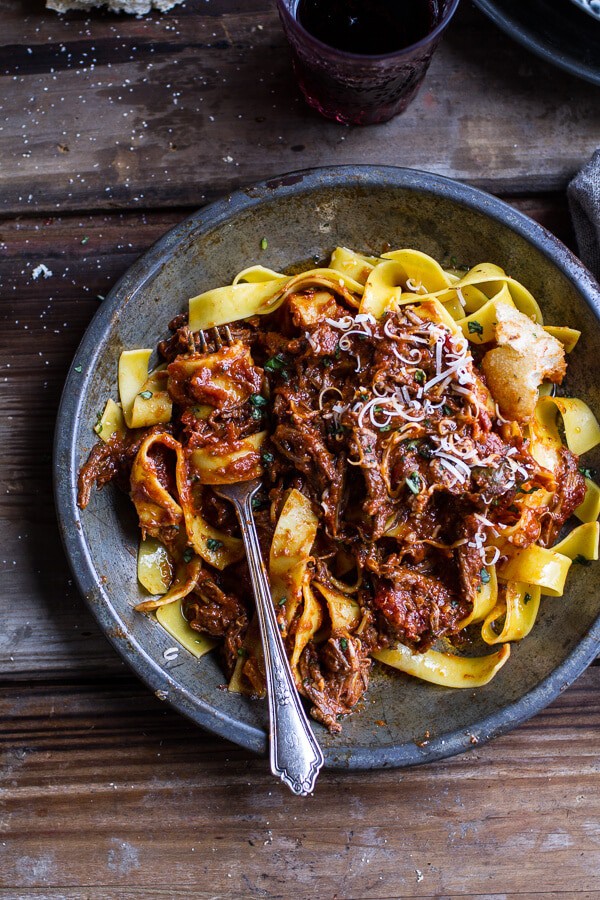 The sauce is made in the crockpot, BUT I do like to sear my short ribs before adding them to the crockpot. I know, such a pain, but I really think that it's worth it when it comes to short ribs. You don't have to sear them if you are short on time, but if you can, do it. Then just slowly cook them in the tomato sauce all day long. It really couldn't be easier.
This sauce is exactly what you are looking for. It's hearty, but still healthy and wholesome. My favorite way to serve this sauce is over a bed of DeLallo Pasta. Their whole wheats are awesome, but on a Sunday I like to go for the big + eggy pappardelle pasta. It's always a crowd pleaser.
Then just add some parmesan cheese for topping, plus crusty bread for serving. See, the perfect Sunday dinner.


Nutritional information is only an estimate. The accuracy of the nutritional information for any recipe on this site is not guaranteed.
The Recipe
Crockpot Sunday Sauce.
By halfbakedharvest
Course: Side Dish
Cuisine: American
Keyword: sauce
It's a delicious meaty red sauce that I can pretty much guarantee your whole family will enjoy.

Prep Time 20 minutes
Cook Time 8 hours
Total Time 8 hours 20 minutes
Servings 6
Calories 504 kcal
Ingredients
2 tablespoons olive oil
3-4 pounds bone in short ribs*
salt + pepper
6 tablespoon butter*
1/2 cup red wine
2 (28 ounce) cans whole peeled, san marzano tomatoes, crushed with your hands
3/4 cup oil packed sun-dried tomatoes drained of the oil
1 (6 ounce) can tomato paste
1 sweet onion finely chopped
4 cloves garlic skin removed and crushed
1 pieces carrot cut into large
6-8 pickled jalapeños (optional but it gives it just a a little kick)
2 teaspoons dried basil
2 teaspoons dried parsley
1 teaspoon oregano
1/2 teaspoon dried thyme
1/2 teaspoon crushed red pepper more or less to you taste
1/2 teaspoon pepper + salt
2-4 tablespoon fresh parmesan cheese + the parmesan rind optional
fresh basil sliced, for serving
fresh hot past for serving
Instructions
The night before or the morning of, heat a large heavy bottom skillet over medium high-heat and add the olive oil. Add the ribs to the skillet and sprinkle with salt + pepper. Sear the ribs on all sides for about 1 minute per side. Remove the ribs and place them in the crockpot bowl.

In a heavy-bottomed sauce pan, preferably lighter in color (to better observe the color of the butter so it doesn't burn) add the butter, melt butter over medium heat until just browned. Butter will melt, foam, and froth, then begin to brown along the bottom. Whisk browned bits off of the bottom of the pan and pour all the butter over the ribs.

To the crockpot, add the red wine, tomatoes, onions, garlic, carrot, jalapeños (if using), basil, parsley, oregano, thyme, crushed red pepper, salt and pepper. If you have a parmesan rind on hand, toss that in the crockpot as well. Cover the crockpot and cook on low for 7 to 8 hours (or 4-6 hours on high) stirring once or twice if possible. After 8 hours remove the short ribs, carrot and parmesan rind from the sauce, discard the carrot + rind and try to get all the short rib pieces out of the crockpot.

Shred the short ribs with your hands or two forks.

If you like a smooth sauce use an immersion blender to puree the sauce or transfer to a blender or food processor and then return the sauce to the crockpot. Stir the shredded short ribs, parmesan cheese and 2 tablespoons fresh basil. Taste and season with salt and pepper to your liking. If the sauce seems too thin allow it to cook with the lid off while you boil your pasta, if the sauce seems just right, keep it covered.

Bring a large pot of salted water to a boil. Boil the pasta until al dente. Drain the pasta well.

Serve the warm sauce over a hot a bed of pasta, on a sandwich or use in lasagnas, pasta dishes, or as a pizza topper
Recipe Notes
*If you do not have time, you can skip browning the short ribs and just add the ribs right to the crockpot completely raw, but I find it is best to sear the ribs first for the most flavor. **If you do not want to brown the butter on the stove, just add it directly to the crockpot

So Sunday dinner?? Please, please, please, say YES!