Crispy Rice Bowl with Browned Butter Sweet Potatoes and Herby Green Tahini.
Keeping things healthy and delicious with this Crispy Rice Bowl with Browned Butter Sweet Potatoes and Herby Green Tahini. A quickly cooked crispy rice served up bowl style with sweet and spicy caramelized honey roasted sweet potatoes, fried eggs, and herby green tahini sauce. This simple vegetarian dinner is easy to put together and full of pantry staples. It's colorful, healthy, and beyond good. Also great for prepping ahead of time and enjoying for lunch throughout the week.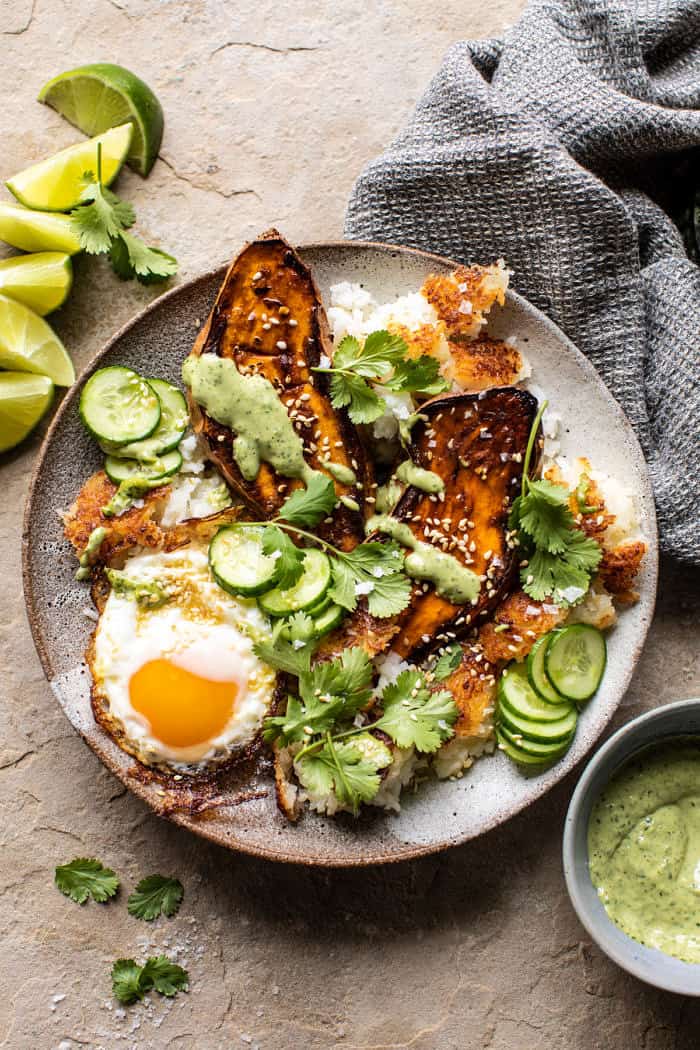 Starting the week off with a big bowl of color and comfort. I know the weeks and days are blending together after all this time at home. But carrying on with business as usual is kind of therapeutic for me. Mondays are often reserved for some of my healthier recipes. Therefore, continuing on with a healthier dinner idea just felt fitting.
Throughout this time, I'm trying to treat my days as normal as possible. Weekdays are for work, and the weekends, while still working days for me, are a little more relaxed. Are any of you trying to do the same? I know so many of you have been in the kitchen cooking and baking day in and out. This is so exciting for me and I love seeing and hearing about all the recipes you are recreating. It's amazing! The one request I continue to get each day? More pantry staple recipes. I hear your guys. We've limited our grocery runs to no more than once a week, so I too have been relying on my pantry staples. Which is kind of how this recipe came to be.
It's composed of simple ingredients I always keep on hand, either in my pantry or in my fridge. Rice, sweet potatoes, tahini, eggs, and a mix of fresh or dried herbs. This a simple vegetarian dinner, but it has so much flavor and is one of my favorites to throw together. In fact, I made this bowl again last night for Sunday night dinner and now have leftovers for easy lunches!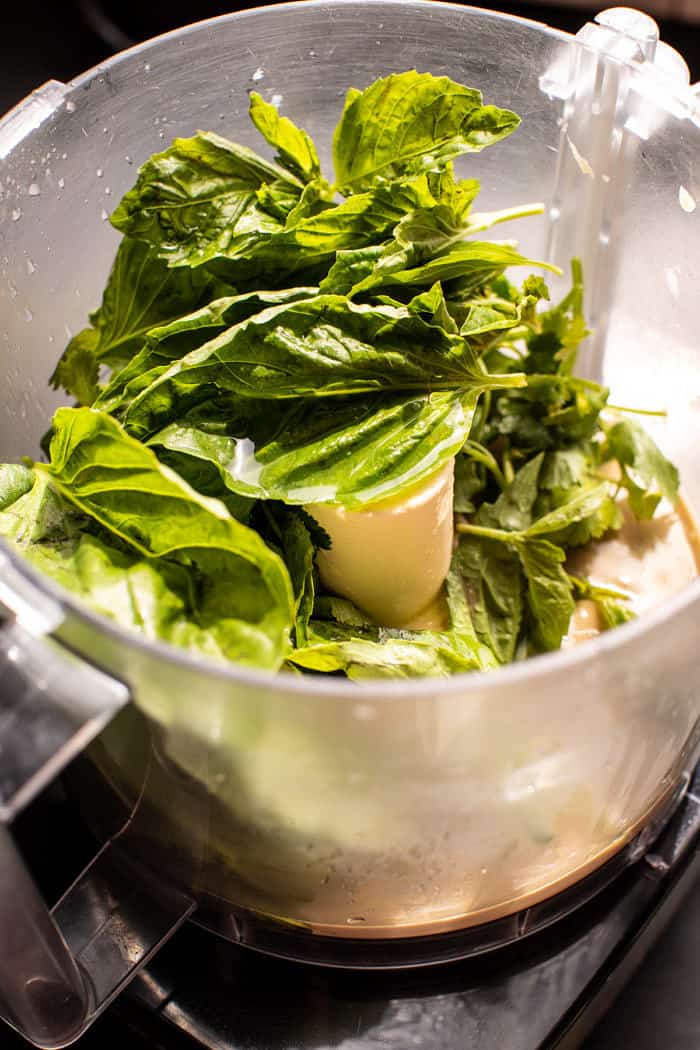 The inspiration.
The main source of inspiration for this bowl was, of course, my pantry and the ingredients I currently had on hand. I had some dying herbs in the fridge, so I knew I wanted to make a creamy herby sauce that would brighten this bowl up and add all the flavor.
I also had plenty of sweet potatoes, rice, and fresh chicken eggs, so I took those ingredients and put them together.
As I was working this idea out in my idea, I thought back to the crispy Persian style rice I recently shared. The minute I was reminded about that rice, I knew I was making a crispy rice bowl…because honestly, nothing is better than crispy rice. It's a game-changer.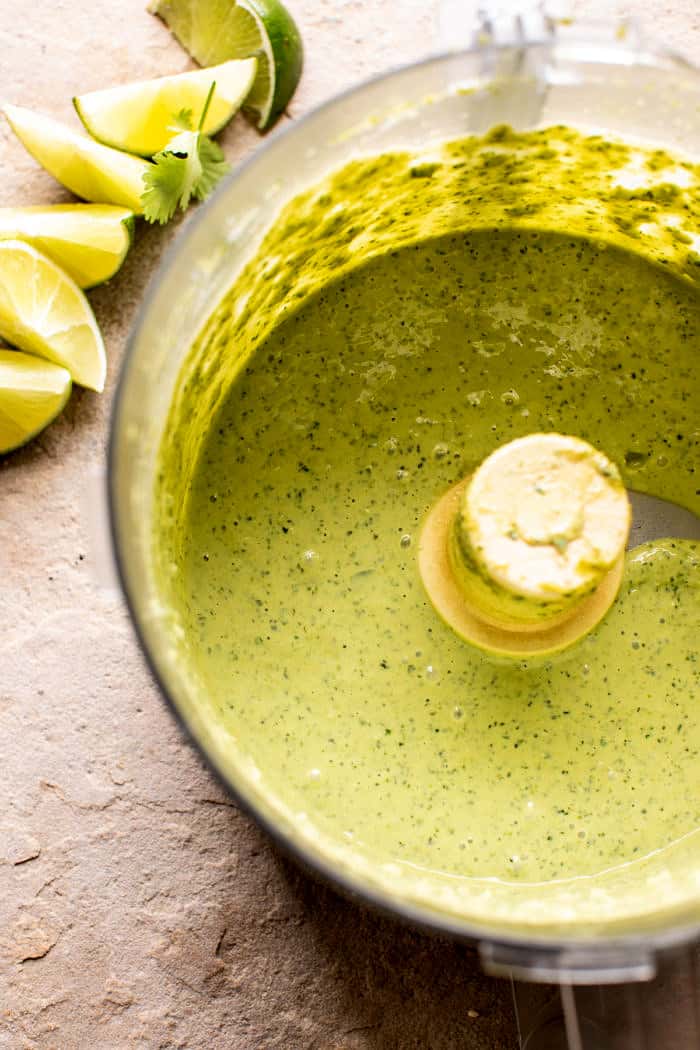 This rice bowl starts with the sweet potatoes…
You'll want to start with the sweet potatoes, as they take the longest time to cook.
These sweet potatoes are extra special. I didn't just roast them with salt and pepper. Instead, I decided to roast them with the addition of sweet honey and spicy chili flakes…and a little butter to add a layer of richness.
As the sweet potatoes roast, the honey caramelizes on the edges creating the perfect crispy on the outside, but soft (almost buttery) inside. As soon as the potatoes come out of the oven "baste" them with the butter that's melted onto the pan. Then zest a little lime over each potato. It may sound odd, but trust me on this, the bright citrus paired with that toasty butter is too good.
These sweet potatoes alone are reason enough to make this rice bowl.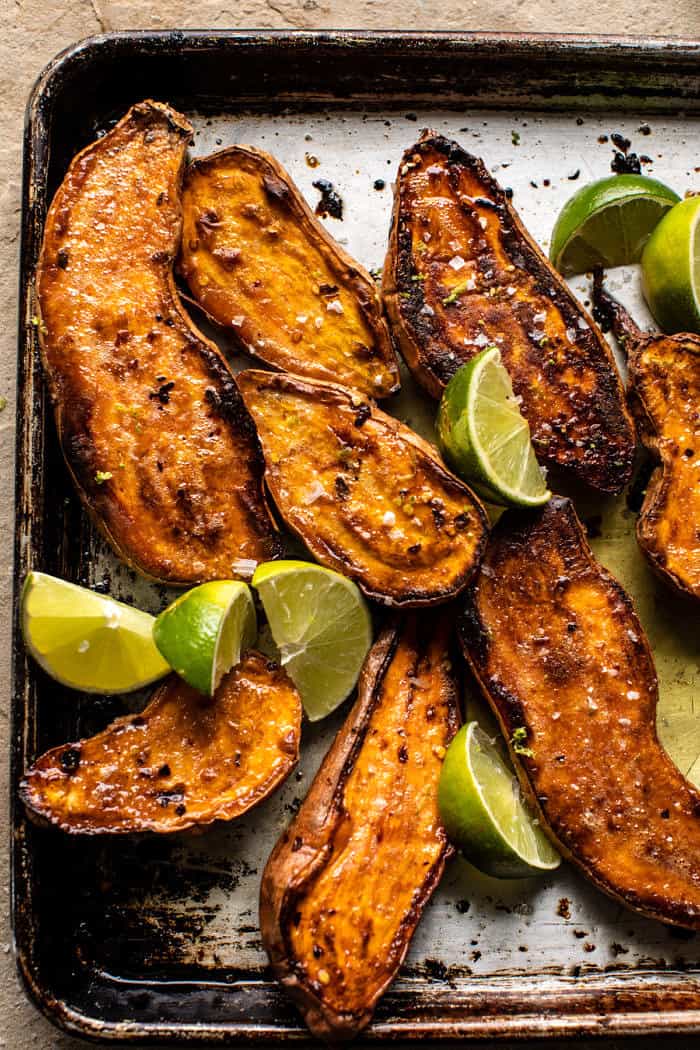 Let's talk about the "short cut" crispy rice.
Next, the rice. As mentioned, I was inspired by the Persian rice I recently shared with you guys. It's extra crispy on the outside, but very soft and fluffy underneath that layer of rice.
With this bowl, I knew I wanted to take a short cut and use the already cooked rice I had in the fridge. The key to this rice is to remove a portion of the cooked rice and mix it with a bit of plain yogurt. Doing this helps to ensure that you get a crispy top layer of rice. If you're vegan, you can use an equal amount of coconut cream or coconut yogurt.
Take the yogurt coated rice and spread it in an even layer in a hot skillet, then pile on the remaining rice. Cook fifteen minutes, or until the edges of the rice turn golden. And that's all you need to do. Quick-cooking, "short cut" style crispy rice.
Flip the rice out and done. Don't stress if the rice breaks into pieces, it's all going into a bowl anyway.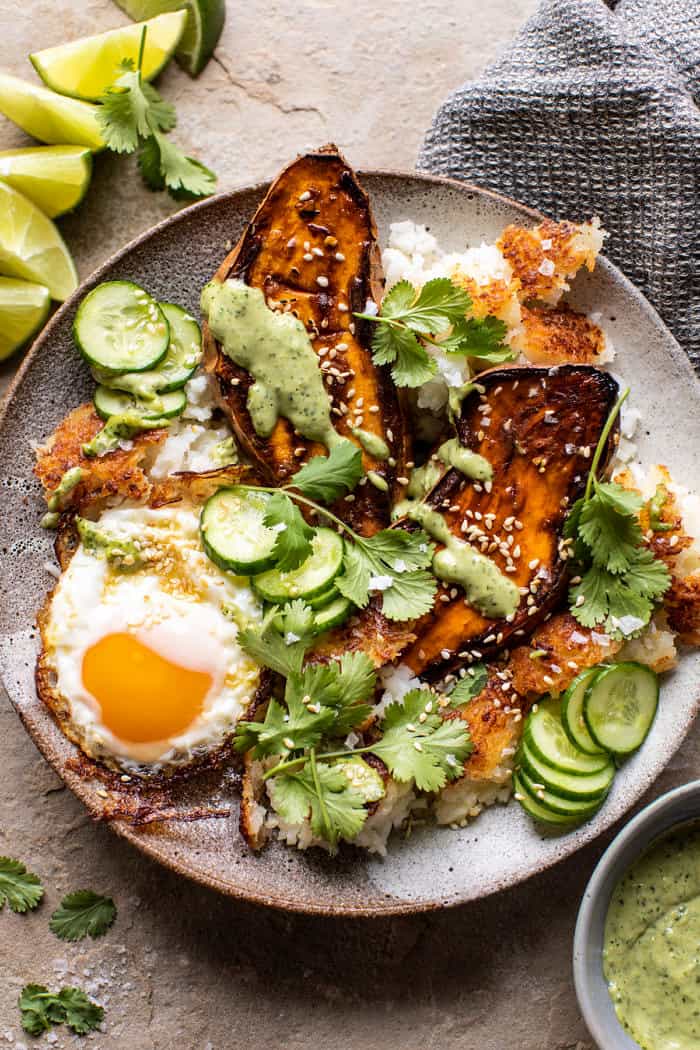 Finish up with a bright herby tahini.
With wilty cilantro in my fridge and a pantry full of tahini, I made one of my go-to sauces. All you need to do is toss everything into a blender and blend until smooth. It's a mix of nutty creamy tahini, fresh cilantro, spicy jalapeño, and lemon juice. Next, add in some honey for a subtle sweetness, and then a pinch of salt to tie it all together. Simple, fresh and so good.
If you don't have cilantro, use another herb like basil or parsley.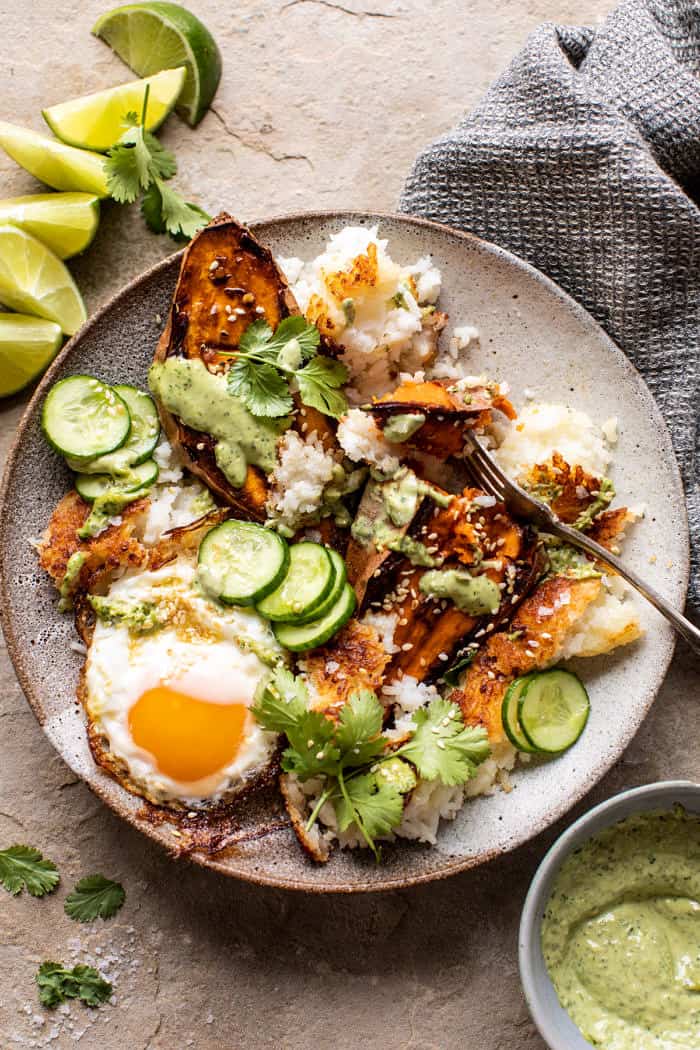 Finally, put it all together.
Add the crispy rice to a bowl along with the roasted sweet potatoes, a fried or soft boiled egg, and then drizzle over the tahini sauce. I always add whatever fresh produce I have, sliced cucumbers are a go-to for me, but carrots would be delicious too!
And that's it. Simple, but so much flavor, and pretty too!
If you wanted to switch things up, you could swap out the egg for roasted chickpeas or pan-fried Halloumi cheese. Either would be soo good. Personally? I'm all about the fried egg with the runny yolk and an extra pinch of flaky sea salt.
Also, if you don't have sweet potatoes, I think using regular potatoes would be fine as well.
The added bonus here? The leftovers make for a perfect lunch throughout the week. Yes please!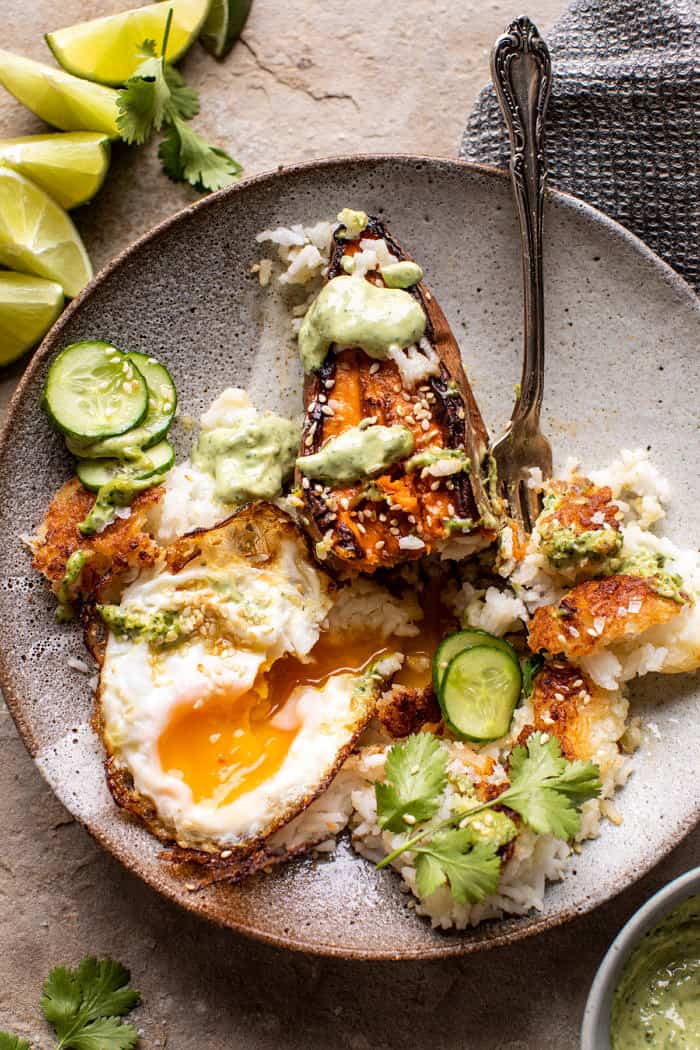 Looking for other "bowl style" recipes? These are my springtime favorites:
Sheet Pan Cuban Chicken and Black Bean Rice Bowl
Sheet Pan Korean Chicken Bowl with Sweet Potatoes and Yum Yum Sauce
California Chicken, Veggie, Avocado and Rice Bowls
Lastly, if you make this crispy rice bowl with browned butter sweet potatoes and herby green tahini, be sure to leave a comment and/or give this recipe a rating! Above all, I love to hear from you guys and always do my best to respond to each and every comment. And of course, if you do make this recipe, don't forget to tag me on Instagram! Looking through the photos of recipes you all have made is my favorite!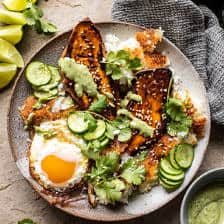 Nutritional information is only an estimate. The accuracy of the nutritional information for any recipe on this site is not guaranteed.
The Recipe
Crispy Rice Bowl with Browned Butter Sweet Potatoes and Herby Green Tahini
Keeping things colorful, healthy, and delicious...and made easy using pantry staples!
Prep Time 15 minutes
Cook Time 45 minutes
Total Time 1 hour
Servings 4
Calories 253 kcal
Instructions
1. Preheat the oven to 425 degrees F. On a rimmed baking sheet, combine the sweet potatoes, 2 tablespoons olive oil, and a pinch of salt. Arrange the potatoes cut side down. Transfer to the oven and roast for 25 minutes, until for tender. Flip the potatoes over, drizzle on the honey and 2 tablespoons melted butter. Season with red pepper flakes. Return to the oven and roast until the potatoes are caramelized, about 10-15 additional minutes. Spoon the butter over the potatoes and zest the lime over each potato.

2. Meanwhile, make the rice. Combine 1 cup of the rice with the yogurt.

3. Melt together the remaining 2 tablespoons butter and 2 tablespoons oil in a 10-inch skillet set over medium heat. When the butter melts, add the yogurt coated rice and level it out with the back of your spoon. Pile the remaining rice into the pan. Cook the rice over medium heat, until you start to see a golden crust begin to form at the sides of the pan, about 15 minutes. Run a spatula along the edges of the pan to release the rice. Carefully flip the rice onto a plate.

4. To make the sauce. Combine all ingredients and 1/4 cup water in a blender and blend until completely smooth. If needed, add water to thin the sauce to a drizzling consistency.

5. To serve, divide the rice between bowls. Add the sweet potatoes, eggs, cucumbers, and additional herbs, if desired. Drizzle each bowl with herby green sauce and sprinkle with sesame seeds. Enjoy!