Corn, Tomato, and Avocado Pasta Salad.
Corn, Tomato, and Avocado Pasta Salad. If you're going to eat a salad today, it should probably be this salad. It's the perfect quick fix salad that's almost no cook and comes together in minutes. Grab your favorite pasta, fresh cherry tomatoes, sweet corn, basil, cheddar cheese, and an avocado…toss it all together, and done. It's summery, healthy, and so good!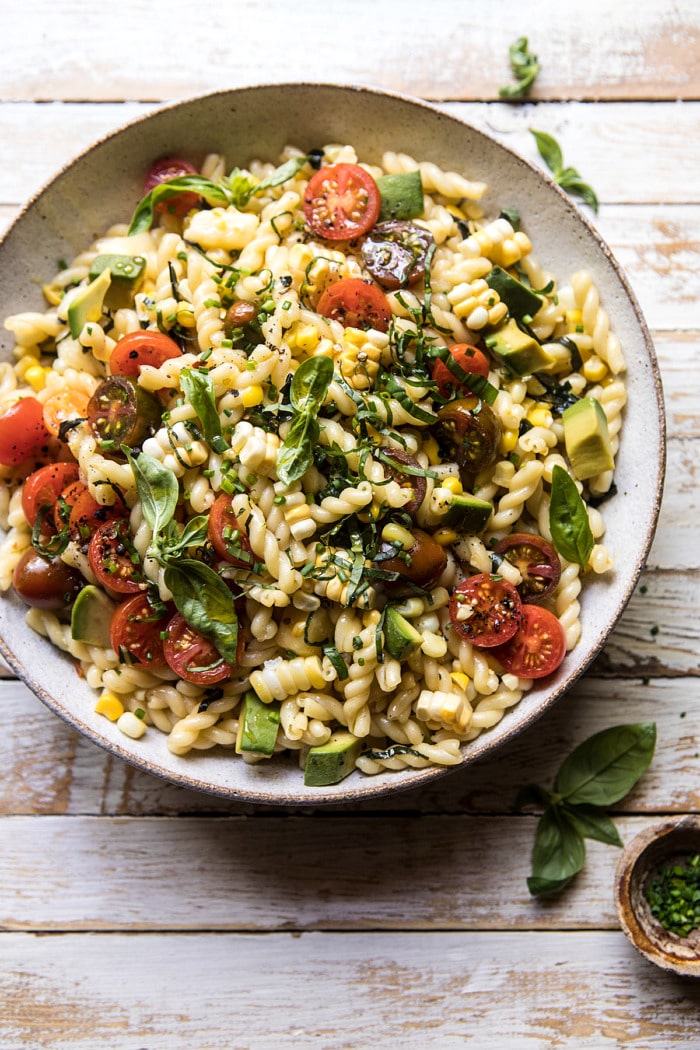 The saying around the Gerard household is that simple is the best, and the more recipes I create, the more I really realize this. Sure, I also love a recipe that takes more time to make, and you know I love spending time baking up my favorite layer cakes, but when it comes to everyday cooking, I'm all about simple.
I spent some time talking to my aunt and uncle this past weekend and they were telling me how they love good food…but simple food. High quality ingredients that just taste really good. As I was talking to them something kind of clicked in my head and it made me realize that as long as you have really good ingredients, you can make a simple, delicious recipe. A recipe doesn't have to have a whole bunch of ingredients or be hard to make. It just needs fresh quality ingredients.
That's kind of this salad. It's probably one of the simpler recipes I have on HBH, and quite honestly, I should probably be saving it for Super Simple Thursday, but this pasta salad just felt like a fun way to kick the week off. Like I said above, if you're going to eat salad today, why not make it of the pasta filled kind, you know?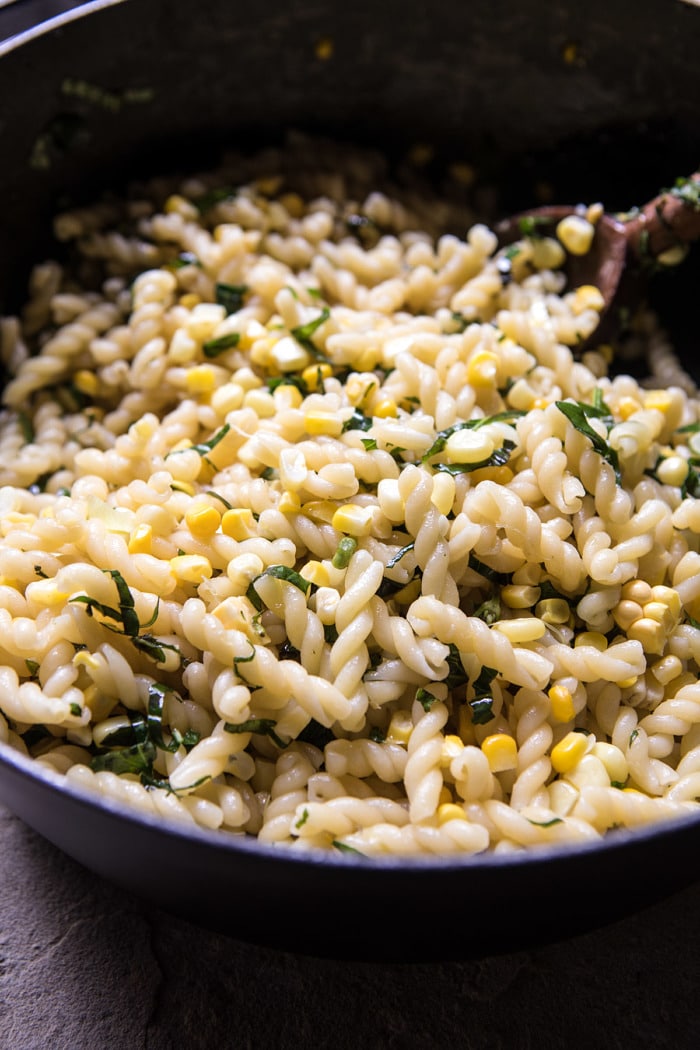 With August here, the summer produce is at its peak. This makes cooking with fresh ingredients easier than any other time of year.
Enter in this fresh corn, tomato, and avocado salad. It's summer in a bowl. It's also so delicious, pretty healthy (try using brown rice or lentil pasta to make it even healthier), and highlights all of summer's best in season produce.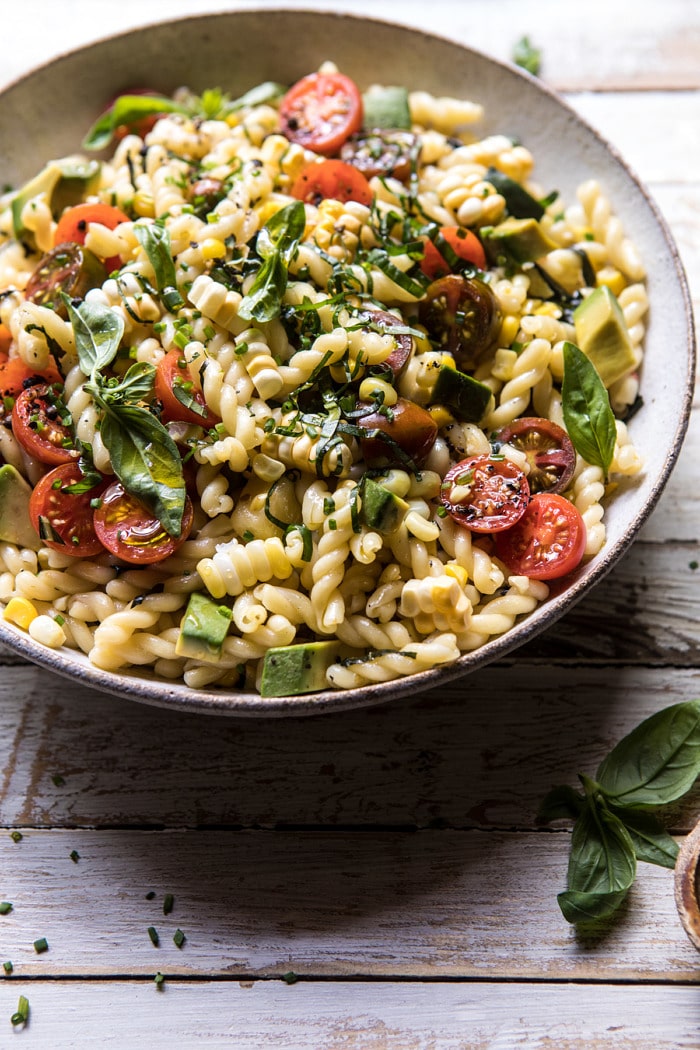 OK. Details. Details.
To start, find your favorite short cut pasta. I used an organic variety from Costco that I love using for pasta salads, but use your personal favorite. To give this salad even more of a health boost, use brown rice pasta, whole grain, or even a lentil pasta. All would be really great in this salad!
As mentioned, this is a QUICK and almost no cook recipe. While the pasta is boiling (the only cooking you will do), prep all the remaining ingredients. For the fresh corn, you have a few options. I personally like to leave the corn raw and toss it up with the hot pasta. The heat from the pasta will warm the corn, but still leaves it with a nice bite, which I love. If you're not a fan of raw corn, you can used grilled corn or toss the corn in with the boiling pasta water for a few minutes until it is cooked.
The rest of the salad is a mix of cherry tomatoes, herbs, avocado, and cheddar cheese. Good summer flavors.
Here's the key to this pasta. As soon as you drain the pasta, toss it with the herbs and cheddar cheese while the pasta is still steaming. Hot pasta equals melty cheese, which equals extra delicious pasta. Trust me on this. I know this may not be the usual way to make a pasta salad, but guys, it's good!
Once you've tossed the pasta, add the remaining ingredients and serve. You can eat this warm or at room temperature, but me being the hot food lover that I am, I like this best while it is still a little warm.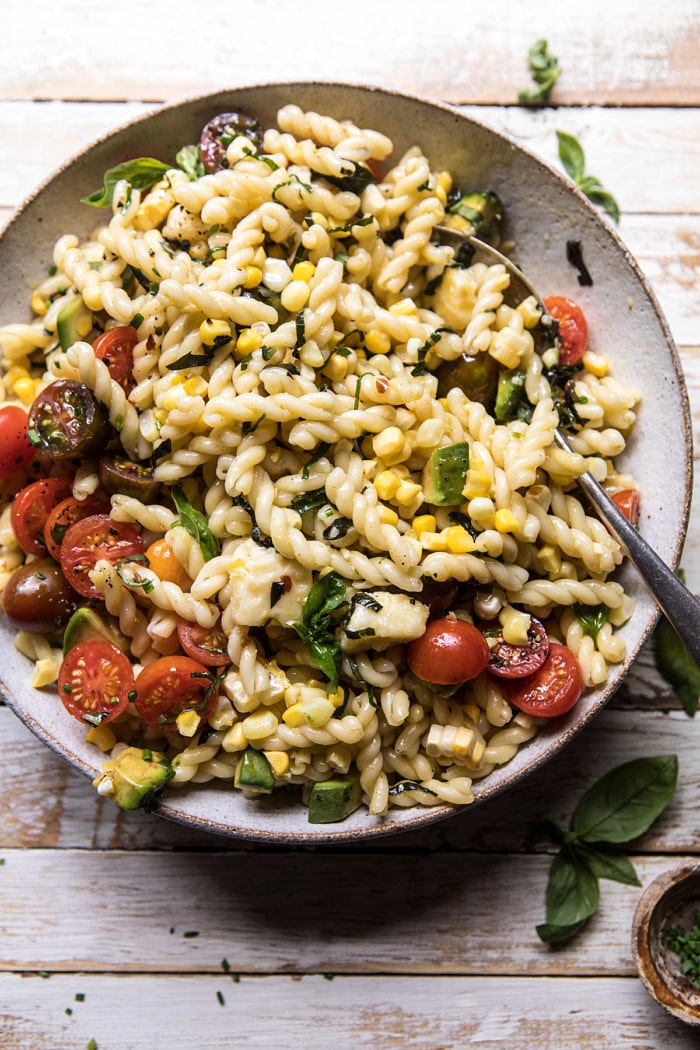 Also, this is great recipe for back to school lunches or bring to work lunches. The pasta holds up really well in the fridge and would be great to make on a Sunday for the week ahead. Just add the avocado the day of, so that it doesn't get brown.
It's kind of as quick and easy as that. What I love most about this pasta recipe is that it really does use some of summer's best ingredients. So if you have a surplus of fresh corn, cherry tomatoes, and basil lying around, this is the recipe to make.
OH, and I have to mention, if you have any other herbs on hand besides the basil, say thyme and or oregano, throw them in too, they would be awesome in this. Use what you have or what you love! It's always important to adapt recipes to your taste!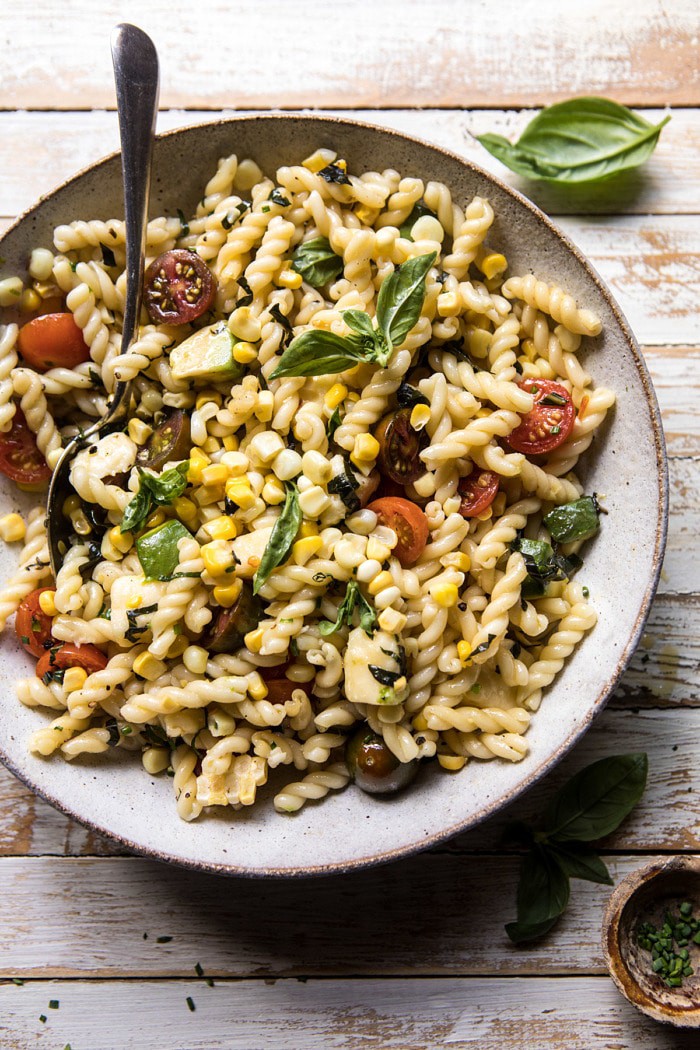 If you make this corn, tomato, and avocado pasta salad, please be sure to leave a comment and/or give this recipe a rating! I love hearing from you guys and always do my best to respond to each and every one of you. Oh, and of course, if you do make this pasta, don't forget to also tag me on Instagram so I can see! Looking through the photos of recipes you all have made is my favorite!
Watch the How To Video: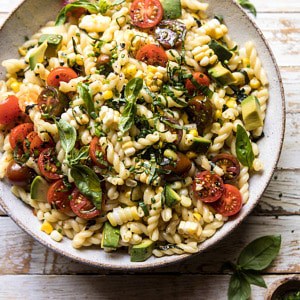 Nutritional information is only an estimate. The accuracy of the nutritional information for any recipe on this site is not guaranteed.
The Recipe
Corn, Tomato, and Avocado Pasta Salad
The perfect quick fix salad that's almost no cook and comes together in minutes. Grab your favorite pasta, fresh cherry tomatoes, sweet corn, basil, cheddar cheese, and an avocado...toss it all together, and done...summery, healthy, and so good!

Prep Time 15 minutes
Cook Time 10 minutes
Total Time 25 minutes
Servings 6
Ingredients
1 pound short cut pasta
1 cup fresh basil, roughly chopped
1 cup cubed sharp cheddar cheese
1/3 cup extra virgin olive oil
1/4 cup grated parmesan, manchego, or pecorino cheese
2 tablespoons fresh lemon juice
1 tablespoon fresh chopped chives
1 pinch crushed red peppers flakes
1 pinch (each) kosher salt and pepper
4 ears grilled or steamed corn, kernels removed from the cobb
2 cups cherry tomatoes, halved
1 avocado, diced
Instructions
1. Bring a large pot of salted water to a boil. Boil the pasta to al dente, according to package directions. Drain.

2. Meanwhile, add the basil, olive oil, cheddar, parmesan, lemon juice, chives, and a pinch each of crushed red pepper flakes, salt, and pepper to a large serving bowl. Add the hot pasta and toss vigorously to combine.

3. Add the corn, and tomatoes, tossing to combine. Top the pasta with avocado. Season with freshly cracked pepper and salt.