Chocolate Chip Banana Bread French Toast Muffins with Cinnamon Streusel.
You know how there are times when Friday just needs a cookie?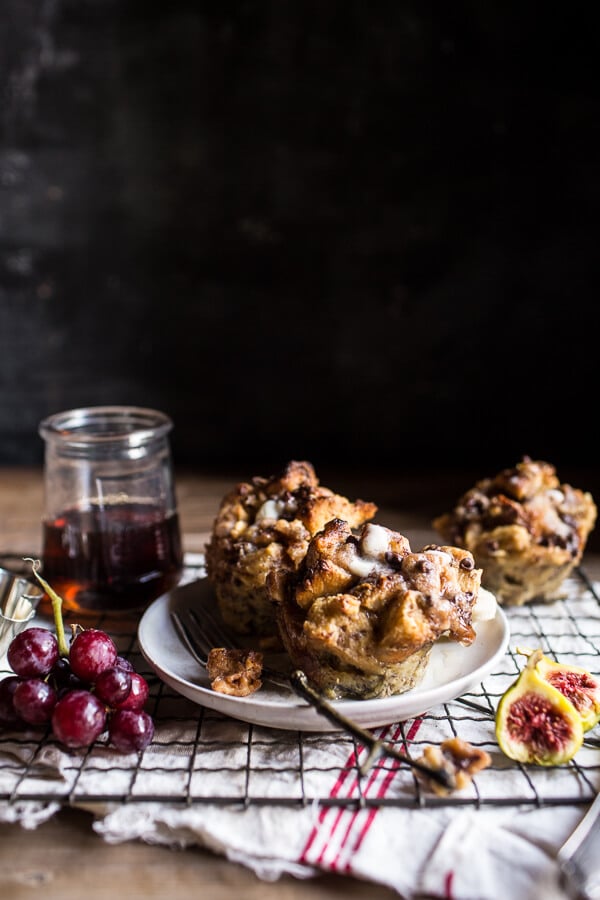 Yeah, well sometimes Tuesday just needs a little cinnamon and chocolate breakfast action. Cause there are days where coffee just isn't enough, and you need a little boost from the really good things in life.
AKA chocolate and cinnamon.
But let's be real, the honest reason for the french toast muffins?? A really stinkin good reason to get outta bed. Yes, <–Truth.
Sometimes… ok, all the time, it's kind of hard to get myself outta bed. Come on, you know you are right there with me. I have like five gazillion alarms set to go off, and well…I hear NONE of them! It's quite an amazing thing actually. But french toast waiting in the fridge to be baked?!?!?
YESS. That gets me right out of bed. <–No exaggeration.
Also, has anyone noticed that as the mornings get cooler and cooler, and we move closer to fall, that it's especially hard to move from the under the covers (which umm, I have three of… yeah, three heavy DOWN blankets that I huddle under at all times…it's the best)? Cause my 30 degree mornings are brutal. Like I really just want to hide under the covers till it hits at least 40, and then drink a steaming cup of coffee because well… I drink coffee now… and it's everything.
Double also, am I making you totally want to crawl back into bed? SORRY. Clearly that's what I want to do at this moment because all my muffins are gone. 🙁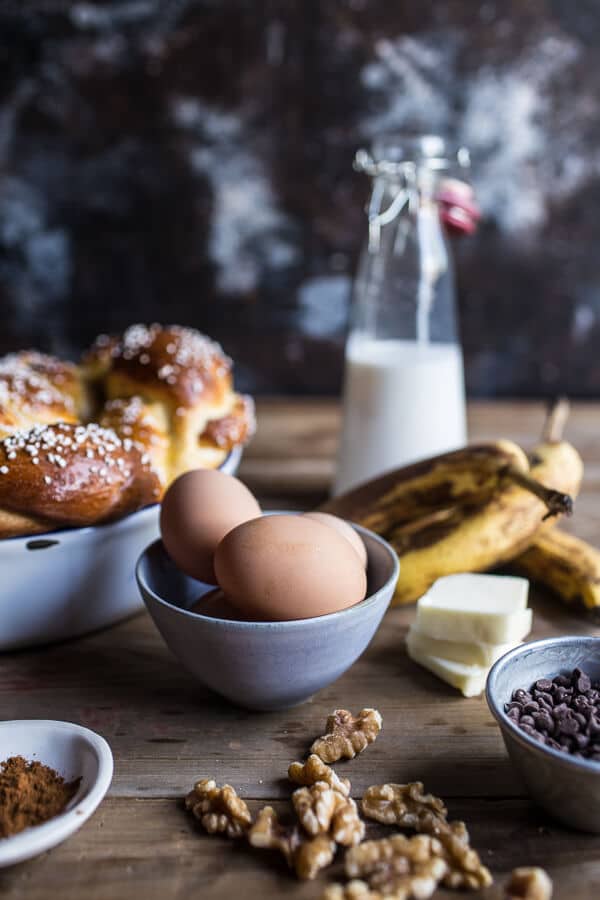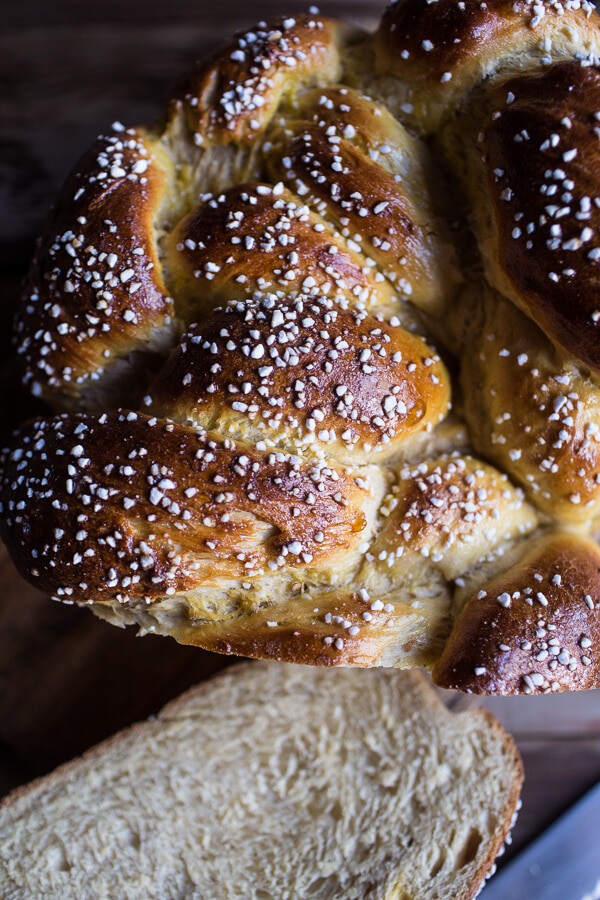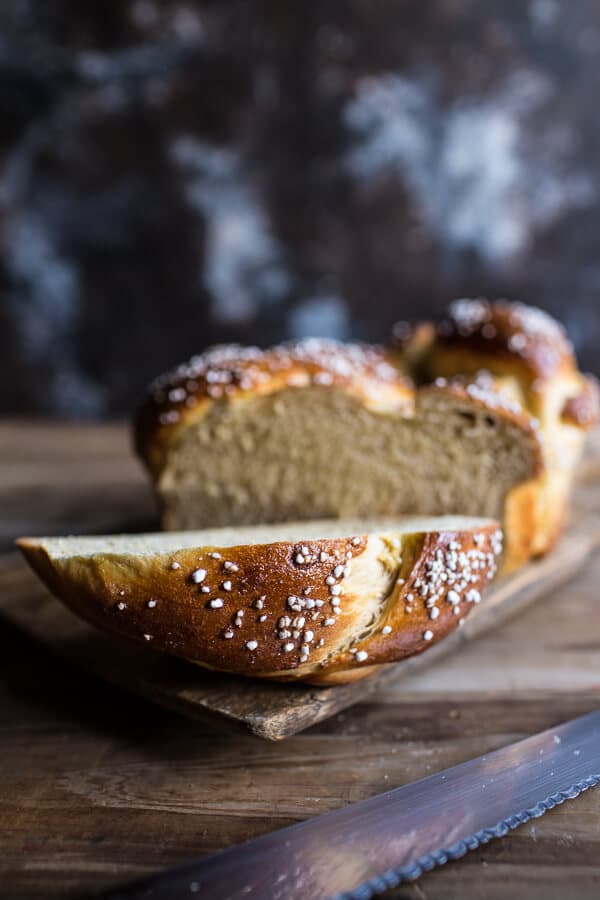 But the chocolate chip banana bread french toast muffins!! They'll get me out of bed, and with a BIG smile! 🙂
Hello, there is challah bread, chocolate and cinnamon streusel involved, how could that not make a person happy to be up?!? AND, they are french toast muffins, which is just beyond cute, which makes them ten times better! Cute food is the best! And, and, and…you can make these the night before so that literally all you have to do in the morning is bake them. If you live alone, I highly recommend doing this on Sunday morning. Then you have THE BEST breakfast for the entire week….or maybe the best midnight snack, for when the cravings hit? I mean, hey, if you live alone embrace it right?!?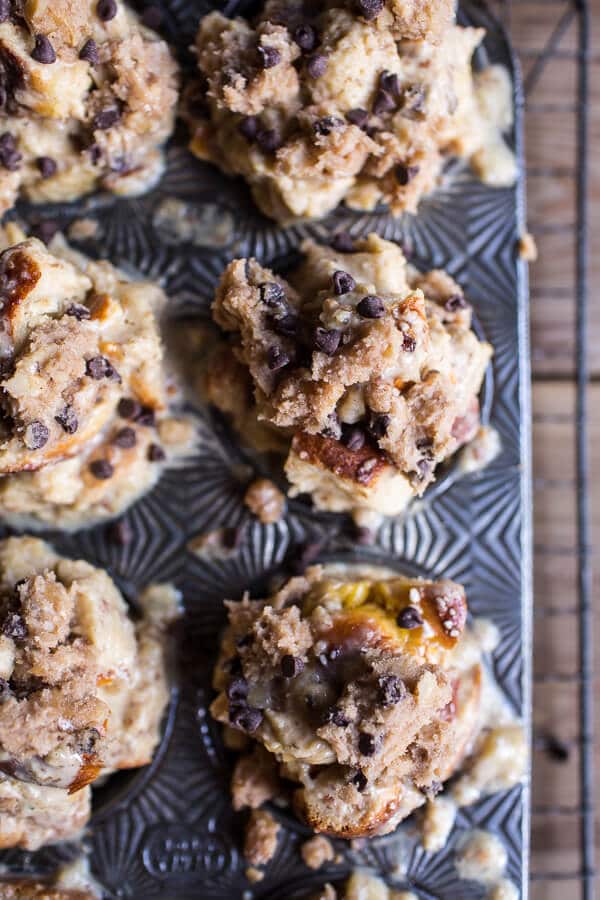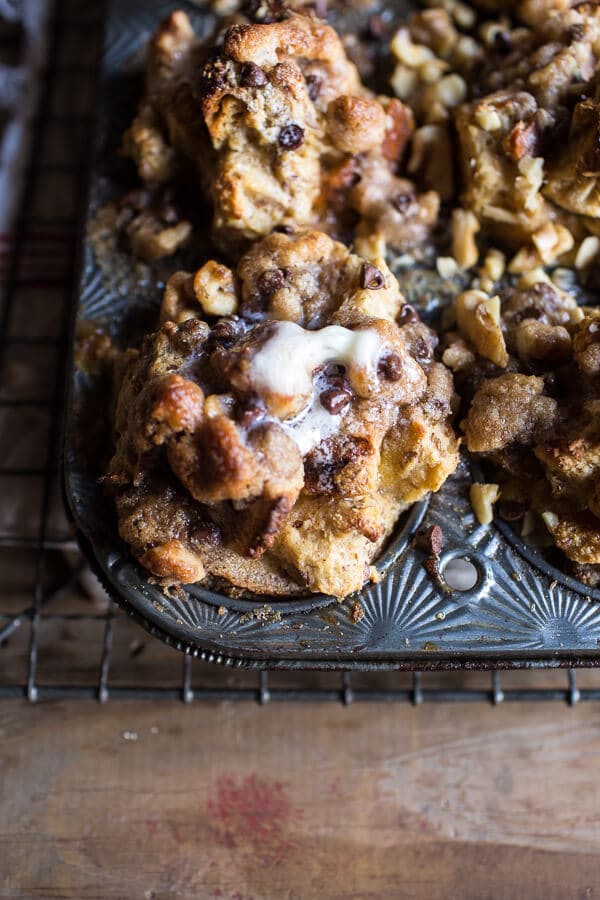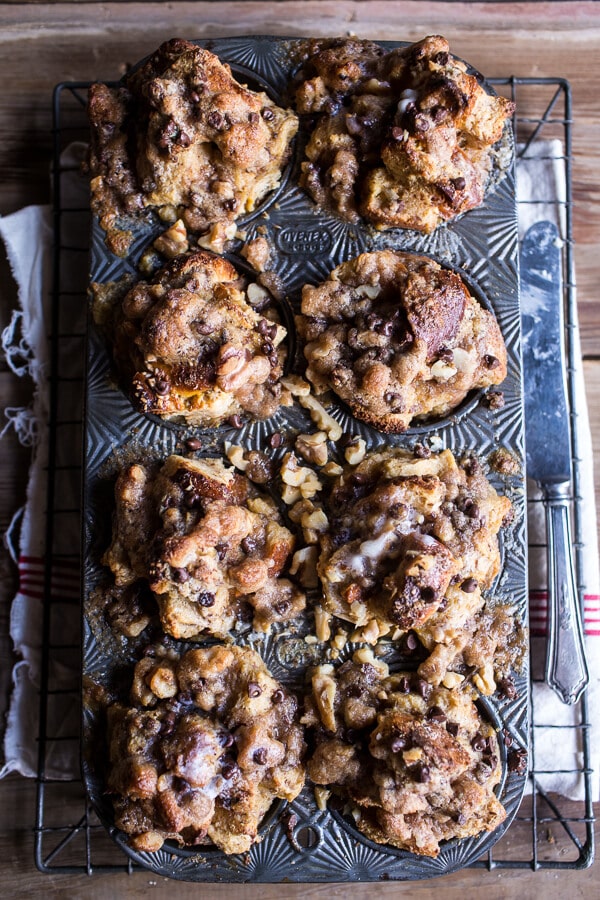 Here's the deal, seeing as these cute little muffins are meant to be breakfast and not dessert, I tried my best to make them as healthy as possible….shh, don't tell anyone about the streusel though, cause well, that NEEDED a little butter and a little sugar. BUT, there is walnuts in the streusel, so that kind of balances things out, don't cha think??
The muffins themselves are full of all good things, whole wheat challah bread, bananas, eggs, honey and even some flax. So you see, health food! Plus, anything with banana bread means kind of healthy, right? At least that's the way my mind sees it, so go lets with it. Remember it's Tuesday, you need the extra deliciousness to get you through the rest of the week.
Trust me, you do.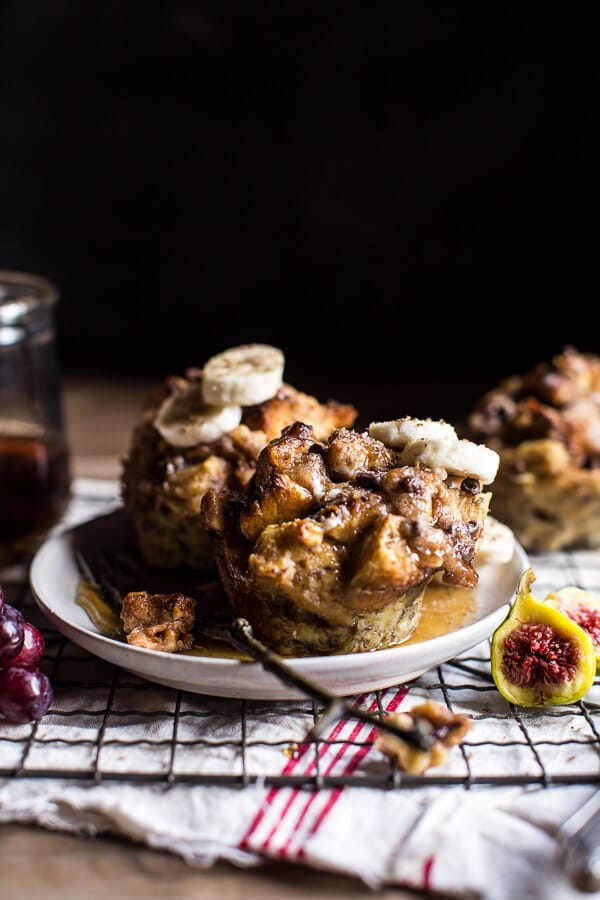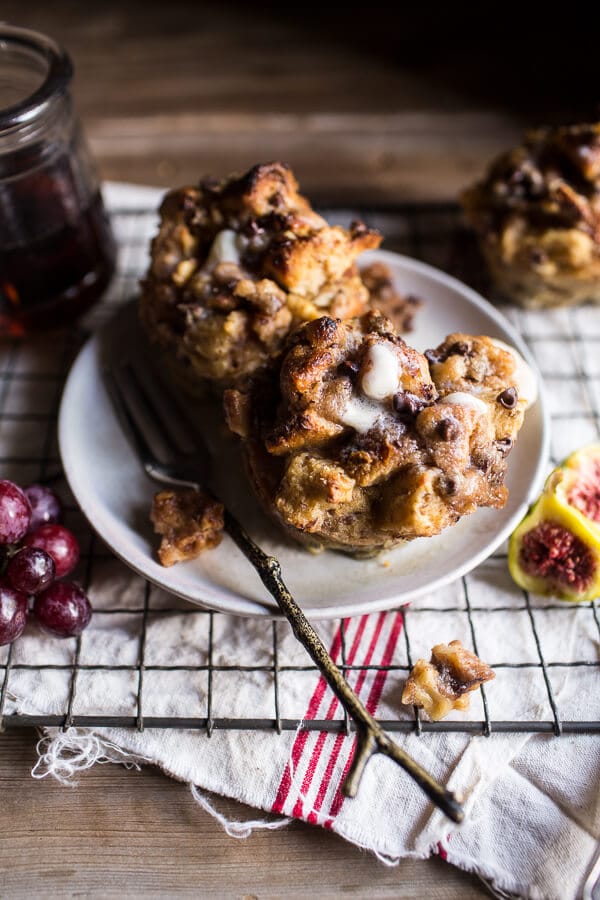 OK, and lets talk about the whole banana bread thing. I didn't use actual banana bread because I really wanted these french toast muffins to be light, not dense. So instead I used my whole wheat challah bread and a banana "batter" (so mashed bananas mixed with eggs, milk, vanilla and cinnamon!). Honestly, these little muffins could not have turned out better.
All they need is a little drizzle of maple and a pat of butter and then…YUM.
And maybe some extra banana slices too. I kind of love bananas though AND they are pretty much the only fruit I like to pair with chocolate.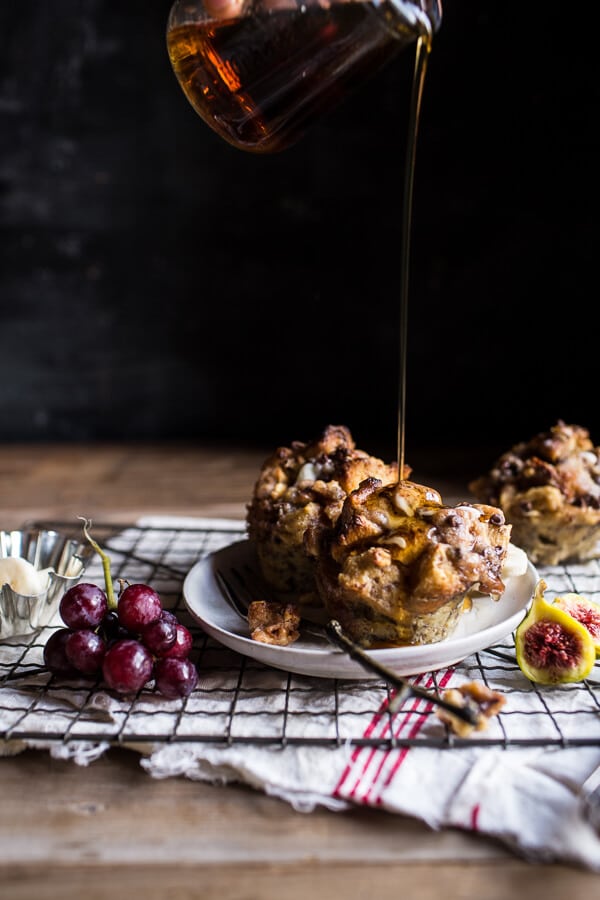 Did I even mention the chocolate?? I know, I know. The best french toast muffins! YUMMERS!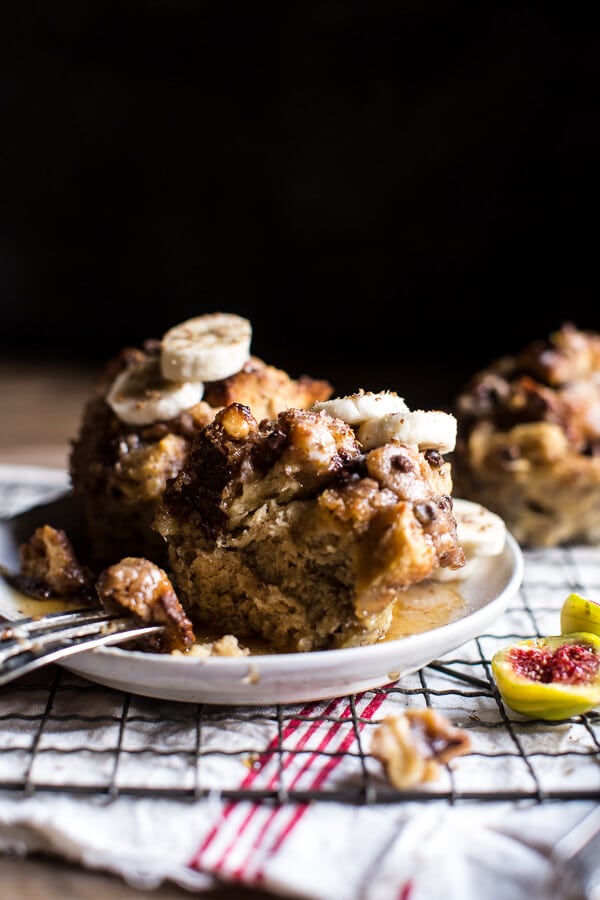 Nutritional information is only an estimate. The accuracy of the nutritional information for any recipe on this site is not guaranteed.
The Recipe
Chocolate Chip Banana Bread French Toast Muffins with Cinnamon Streusel.
By halfbakedharvest
Course: Breakfast, Dessert, Snack
Cuisine: American
Keyword: banana bread, chocolate, cinnamon, french toast, muffins
The honest reason for the french toast muffins?? A really stinkin good reason to get outta bed.

Prep Time 15 minutes
Cook Time 30 minutes
Total Time 45 minutes
Servings 12 MUFFINS
Calories 266 kcal
Ingredients
1 1/2 cups milk
4 large eggs
3 very ripe bananas mashed
2 tablespoons honey
1 tablespoons vanilla
2 tablespoons ground flax seed meal optional
1 teaspoon cinnamon
8-10 cups cubed [Challah Bread | https://dev.halfbakedharvest.com/simple-whole-wheat-challah-bread/]
1 cup semi-sweet or dark chocolate chips optional
pure maple syrup butter + bananas, for serving
Instructions
Grease a 12 cup muffin tin with cooking spray, butter or canola oil.

In a medium bowl, whisk together the milk, eggs, mashed bananas (I just mash mine with a fork in the bowl) honey, vanilla, ground flax and cinnamon.

To the milk/egg mixture, add the cubed challah bread and the chocolate chips. Gently toss to coat, being careful to not break up the bread cubes too much. Divide the bread among the muffin cups, pouring any remaining milk/egg mixture left in the bowl over the muffins.

Cover the muffins with plastic wrap and refrigerate for 30 minutes or up to overnight.

When ready to bake, preheat the oven to 350 degrees F. and remove the muffins from the fridge. Let sit at room temp.

While the oven preheats make the streusel, in a small bowl, combine butter, brown sugar, flour, cinnamon, and walnuts. Mix together with your hands, until you have a crumbly mixture. Remove the muffins from the refrigerator and sprinkle the muffins evenly with the streusel topping.

Bake for 25-35 minutes or until tops are golden brown. Let the muffins cool for 5 minutes. Use a butter knife to loosen the edges and then pop them out. Serve with maple syrup, butter and bananas if desired.
Recipe Notes
*For a no fuss version, bake the french toast in a 9x13 inch pan. Add the bread cubes and chocolate chips to a 9x13 inch pyrex pan and pour the egg mixture over the bread. Use you hands to toss the bread with the egg, Cover the dish with plastic wrap and refrigerate for 1 hour or up to overnight. Add the streusel and bake as directed.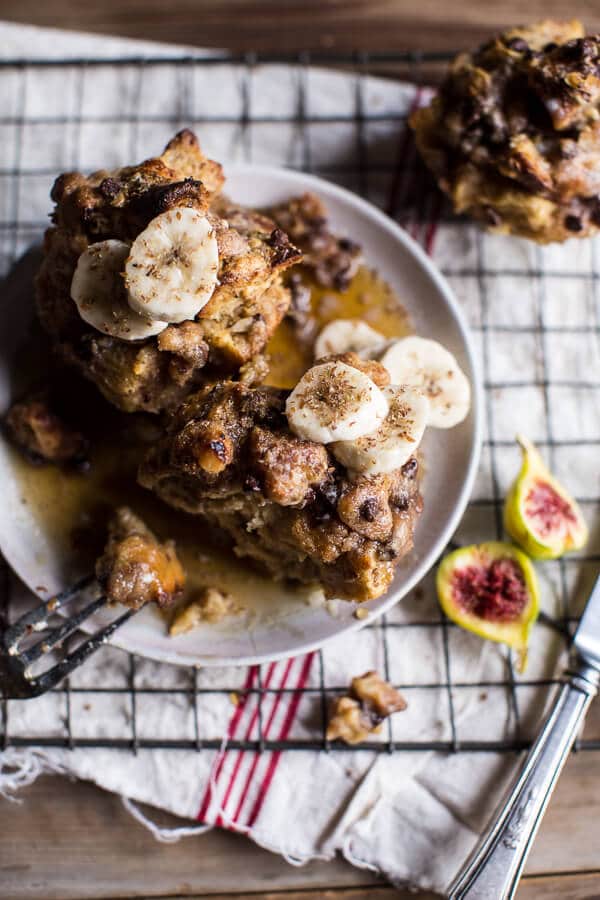 Tuesday brunch date?? <–DO IT.