Caramelized Onion and Balsamic Tomato Tarts.
Caramelized Onion and Balsamic Tomato Tarts…with everything bagel spice and plenty of fresh thyme. These fun tarts are the perfect summertime appetizer or light dinner. Flaky puff pastry dough topped with caramelized onions, two kinds of cheese, fresh thyme, basil, and balsamic cherry tomatoes. Once baked, the pastry dough turns golden brown and the tomatoes burst, turning sweet and delicious. You just can't beat these easy tarts!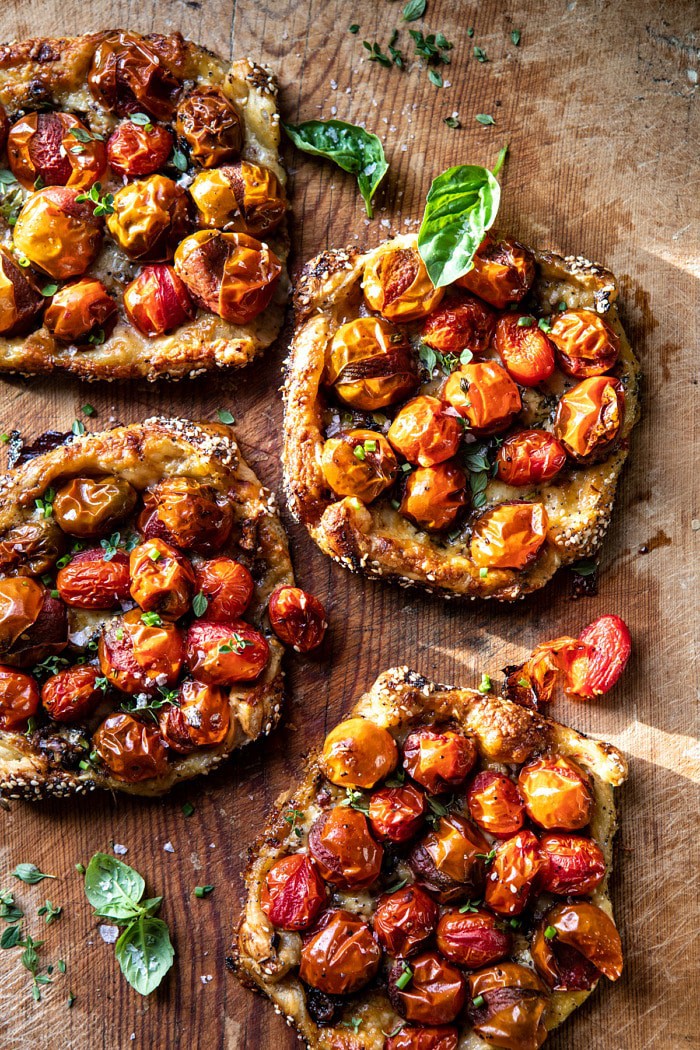 I know it's Thursday and all, but my gosh I wish it was Friday. Normally the days of the week really do not matter to me at all. In general, I pretty much enjoy every day of the week. Because (for the most part), I truly love what I do. I love creating new recipes, I love styling food, and I love photographing each recipe for you all to see. And of course, my favorite part is interacting with you all through comments, emails, and Instagram. It's the greatest job, and even just writing these sentences out has me feeling so much better. Sometimes you just have to remember the good, so you can push all the negative out. Easier said than done.
If you didn't already guess, Tuesday was a stressful day. But today I am thankful that I have this incredibly delicious, and oh easy recipe to share. It's a good one that I have been dying to share for weeks now.
Typically, I get ideas for new seasonal recipes weeks and weeks before the season actually starts. So by the time I'm ready to share the recipe with you all, I'm usually overly excited. I mean, I've been keeping the recipe all to myself, I'm dying to share it!
The good news is that summer is so close. Which means tomatoes have started to arrive. Which means it's tomato tart season!
YESS!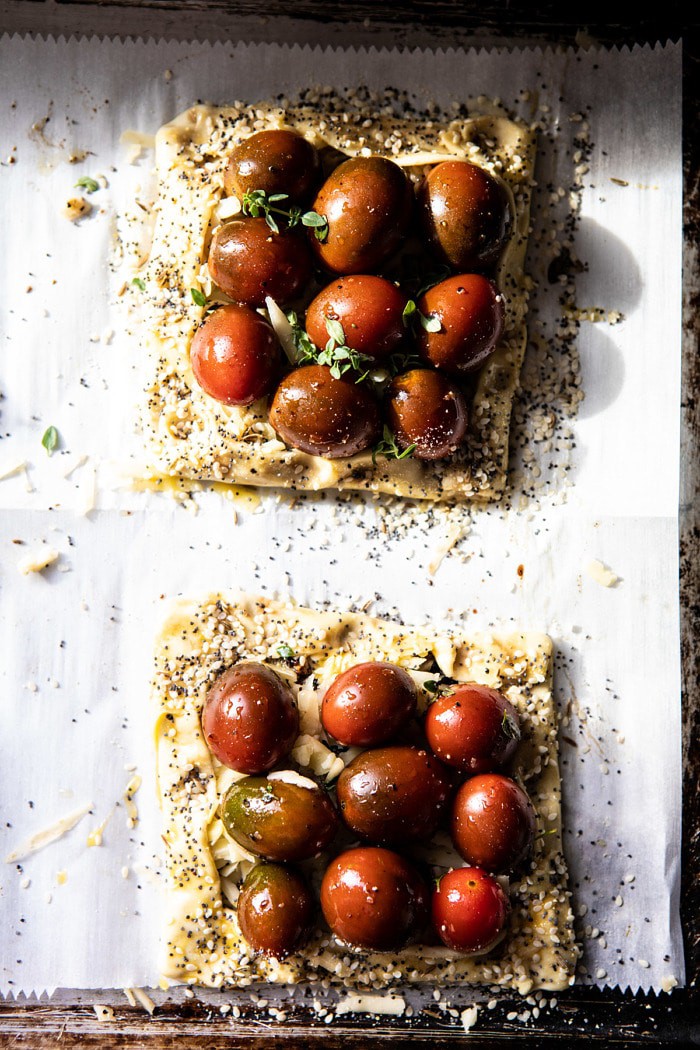 What I love about tart recipes is that they are truly the easiest. I usually use my favorite store-bought puff pastry and then just layer on my toppings. Puff pastry is one of those store-bought items that I find so much easier to just pick up at the store versus making it at home. I know some might argue this, but I live by store-bought puff pastry. It's one of my favorite ingredients to use to whip up quick and delicious recipes.
Bottom line here? Keep your freezer stocked with puff pastry. OK? Great. Moving on.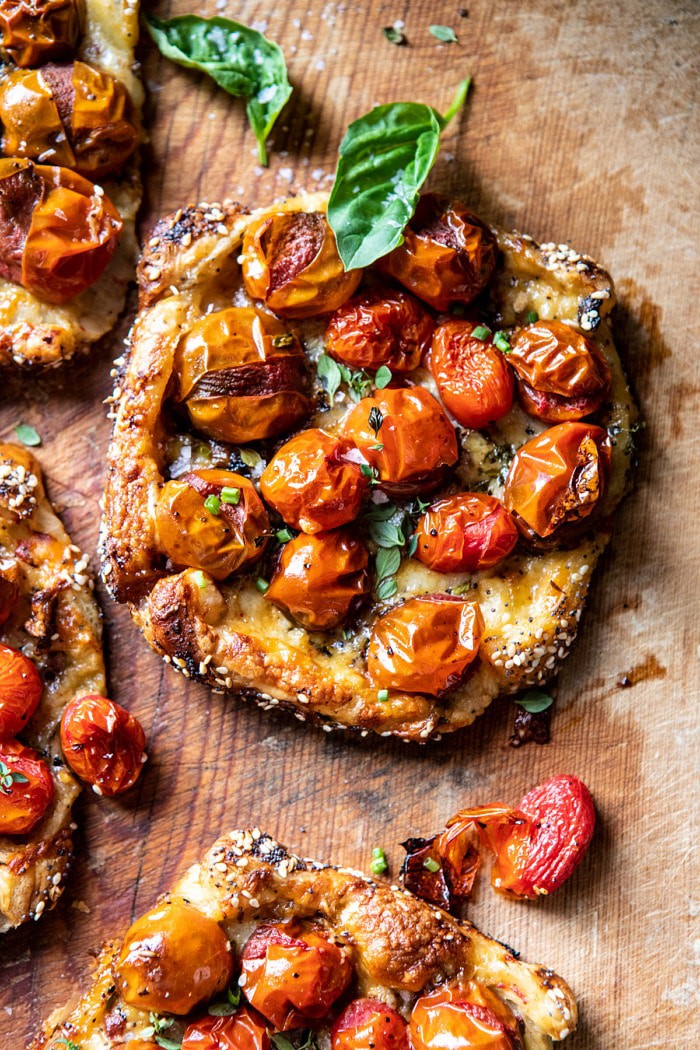 To start, you'll need to caramelize some onions, which is really simple. Just cook up some onions along with the tiniest amount of honey until the onions turn deep golden in color. The honey helps to caramelize the onion faster, giving them a rich color and flavor. While caramelizing the onions is an additional step, it's so worth it. The caramelized onions make this tart.
While the onions are cooking away, start preparing the pastry. All you need to do is roll the pastry out and cut it into 4 squares. Very easy.
Now, toss those sweet and juicy cherry tomatoes with some balsamic vinegar, and fresh basil.
Layer the onions over the pastry squares, add a mix of cheddar and Havarti cheese, and then pile on the tomatoes. You may worry that there are too many tomatoes for the amount of dough, but don't stress. The tomatoes burst and break down in the oven. They are so delicious!
Finish each pastry square off with a sprinkle of everything bagel spice. My favorite seasoning blend to mix with summer tomatoes. And then bake!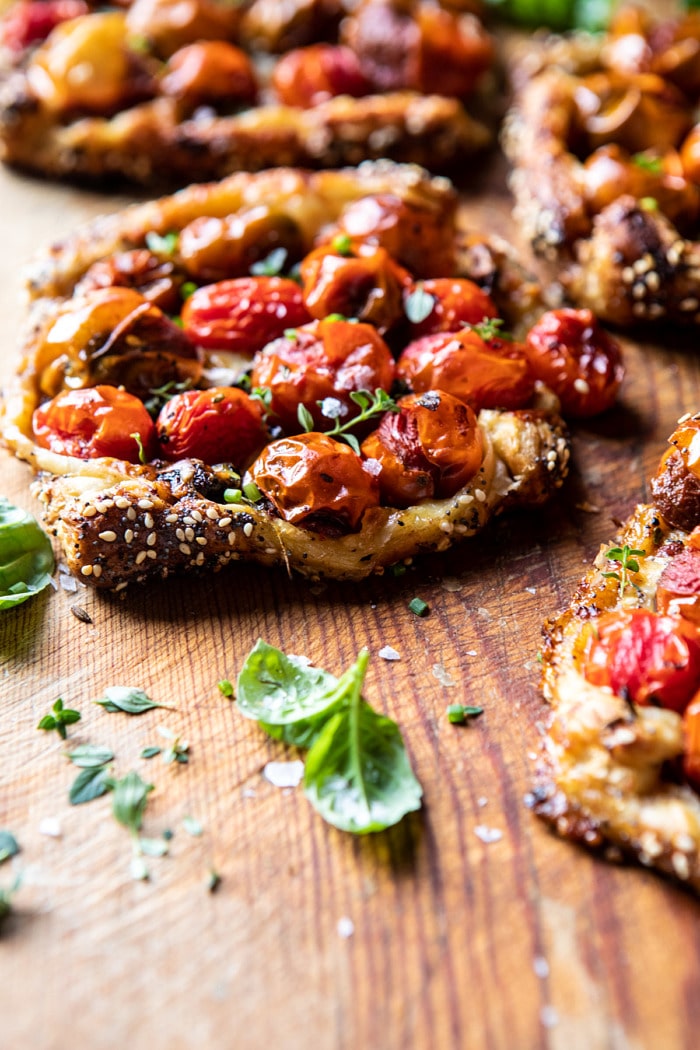 As this bakes, the tomatoes slowly roast, the cheese melts, and the pastries become flaky. SO GOOD.
And…your kitchen will indeed smell amazing! Like the flavors of summer…again, just SO GOOD.
Make these tarts as an easy dinner to pair with a simple side salad, or serve them up as an appetizer for your next gathering. Either way, these are going to be loved by all. My hope is that they'll become a staple in your kitchen for the next few months.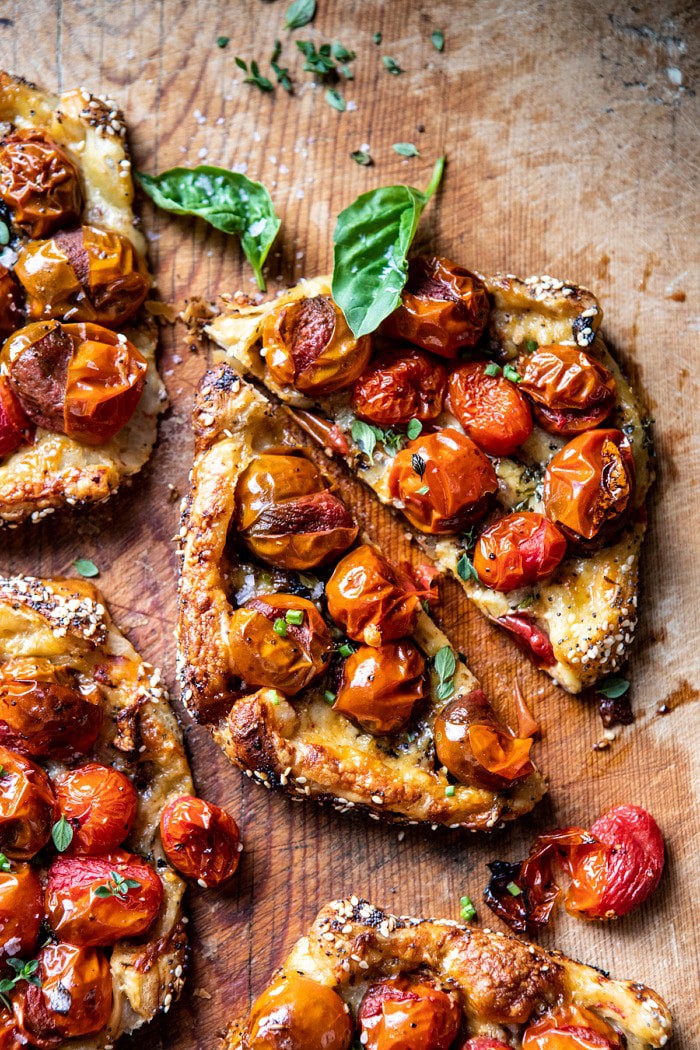 If you make these Caramelized Onion and Balsamic Tomato Tarts, be sure to leave a comment and/or give this recipe a rating! Above all, I love to hear from you guys and always do my best to respond to each and every comment. And of course, if you do make this recipe, don't forget to tag me on Instagram! Looking through the photos of recipes you all have made is my favorite!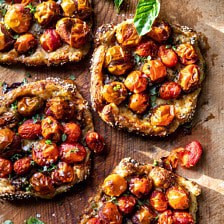 Nutritional information is only an estimate. The accuracy of the nutritional information for any recipe on this site is not guaranteed.
The Recipe
Caramelized Onion and Balsamic Tomato Tarts
Flaky puff pastry dough topped with caramelized onions, 2 kinds of cheese, thyme, basil, and balsamic cherry tomatoes. Once baked, the dough turns golden brown and the tomatoes burst, turning sweet & delicious!
Prep Time 15 minutes
Cook Time 30 minutes
Total Time 45 minutes
Servings 4 8 as an appetizer
Calories 582 kcal
Ingredients
2 tablespoons extra virgin olive oil
1 yellow onion, thinly sliced
1 teaspoon honey
1 garlic clove, minced or grated
2 tablespoon fresh thyme leaves, plus more for serving
1 cup shredded sharp cheddar cheese
1/2 cup shredded Havarti cheese
1 sheet frozen puff pastry, thawed
2 cups cherry tomatoes
2 tablespoons balsamic vinegar
1/4 cup fresh basil, chopped
1 pinch crushed red pepper flakes
1 egg, beaten
everything bagel spice, for sprinkling
fresh chopped chives
Instructions
1. Preheat the oven to 425 degrees F. Line a baking sheet with parchment paper.

2. Heat 1 tablespoon olive oil in a large skillet over medium-high heat. When the oil shimmers, add the onions and honey and cook 5 minutes, stirring occasionally until softened. Season with salt and pepper and continue cooking another 5-10 minutes or until the onions are golden and caramelized. Add the garlic, and thyme, cook another minute. Remove from the heat.

3. In a bowl, combine the remaining 1 tablespoon olive oil, the tomatoes, balsamic vinegar, basil, crushed red pepper, and a pinch each of salt and pepper.

4. Lay the pastry sheet flat on a clean, floured surface. Gently roll the sheets out to stretch slightly. Cut each sheet into 4 squares and place onto the prepared baking sheet. Evenly top each square with onions, leaving a 1/4 inch border. Top with both kinds of cheese and then mound the tomatoes over the cheese, pressing them into the cheese to adhere slightly (see above photo). 

5. Fold the edges of the pastry inward to enclose the tomatoes. Brush the edges of the pastry with beaten egg and sprinkle with everything spice. Transfer to the oven and bake for 20-25 minutes or until the pastry is golden and the tomatoes burst. Top with fresh thyme and chives.
Recipe Notes
Calories based on being served as a main