Bulgogi BBQ Pork Tacos with Charred Tomatillo Sesame Sauce + Spring Onion Slaw.
It's sort of hard to be talking about these tacos. I mean, these bulgogi BBQ pork tacos with charred tomatillo sesame sauce and spring onion slaw are a mouthful, literally!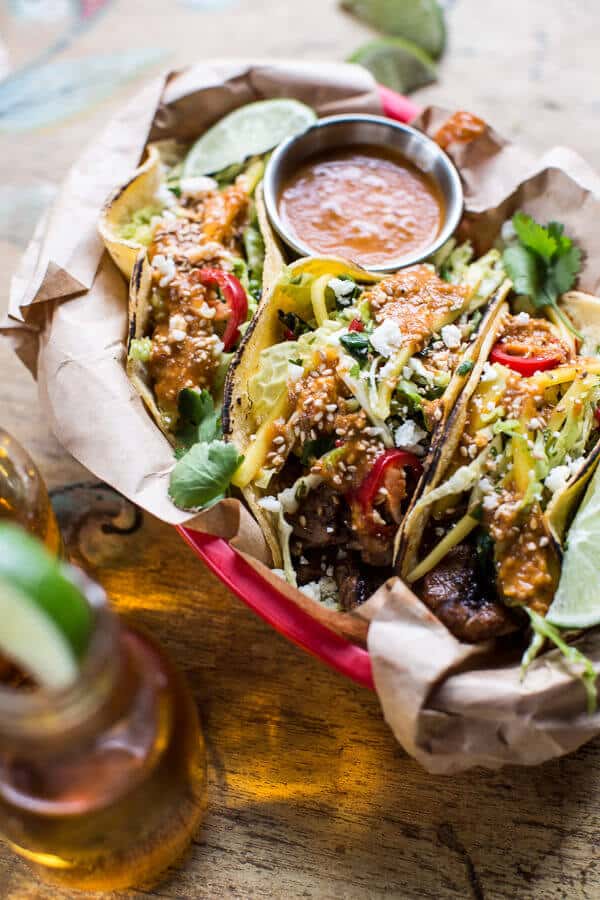 Watch the How-To Video Here:
I made them a week or so ago and umm, talking about them is just making me wish I had one – or two or three, or ok maybe even four! What I made them small! It's also making me wish I was eating them while sitting on the beach looking out over the clear blue water.
Hey, a girl can dream.
And speaking of dreams. You guys, lately I am loving my dreams. Is that weird? I feel like that is really weird, but mine have been extraordinarily good lately. Think palm trees, summer, cute guys, road trips and other random things. Oh, and one kind of creepy dream that I'd really like to forget. I feel like this may be a sign that I'm quite possibly living life through my dreams…which definitely means I need to get out more. UGH. I am such a homebody. I love it and hate it all at the same time. But ahh, I mostly love it.
I am also now realizing just how much I dream. Not only when I sleep, but during the day too. Like when I am wide awake, in the middle of shooting…say chocolate things, yep, even then I sometimes drift off. I definitely begin to daydream when I am doing my computer work. My mind just starts to get bored and then it wanders. Oh well, I guess I have a pretty good imagination, which can actually be pretty fun.
Hey, dream big or go home, right? <–motto to live by.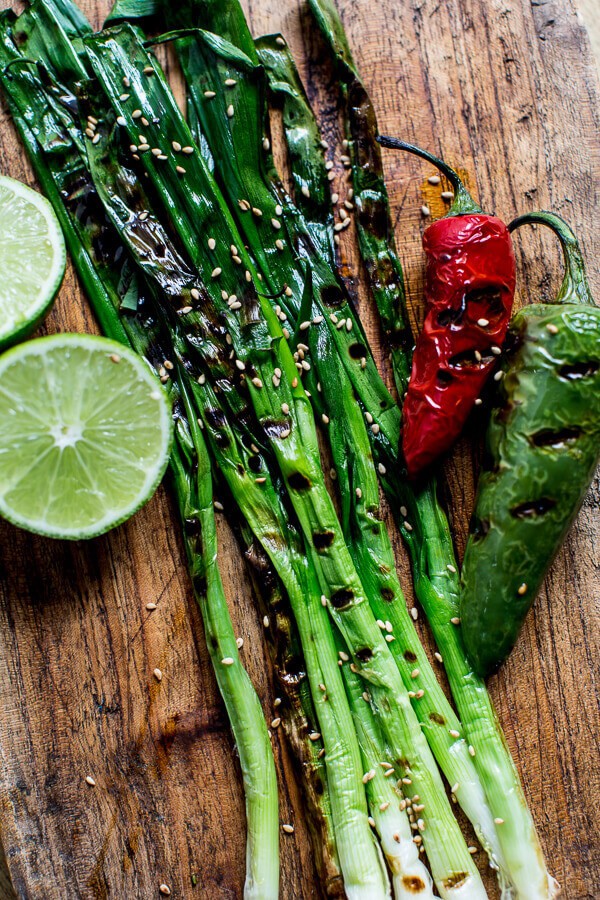 So let's talk tacos, and about my obsession with southern California. Basically, if I didn't have a family that I loved so frickin' much here in Colorado I'd pick up all my stuff and get my butt to CA. I know, everyone wants to live in California, but well, it's so nice there. Sunny and warm, farmers markets all year round, the flea markets (hello food pro HEAVEN!) and well, TACOS! The tacos alone are reason enough. I mean, right??!?
Now, I realize that the grass always seems greener on the other side (but well, it literally is so much greener. I am currently looking out at dirt…lots of brown dirt). Plus, I tried the whole LA thing when I was seventeen and well, to be brutally honest, it pretty much scared the crap (excuse the language) outta me. Granted I am a few years older now and have a whole different mindset than my seventeen year old lost self, but you know, I tend to play it safe.
BUT I can dream. Apparently, I am really good at this dreaming thing.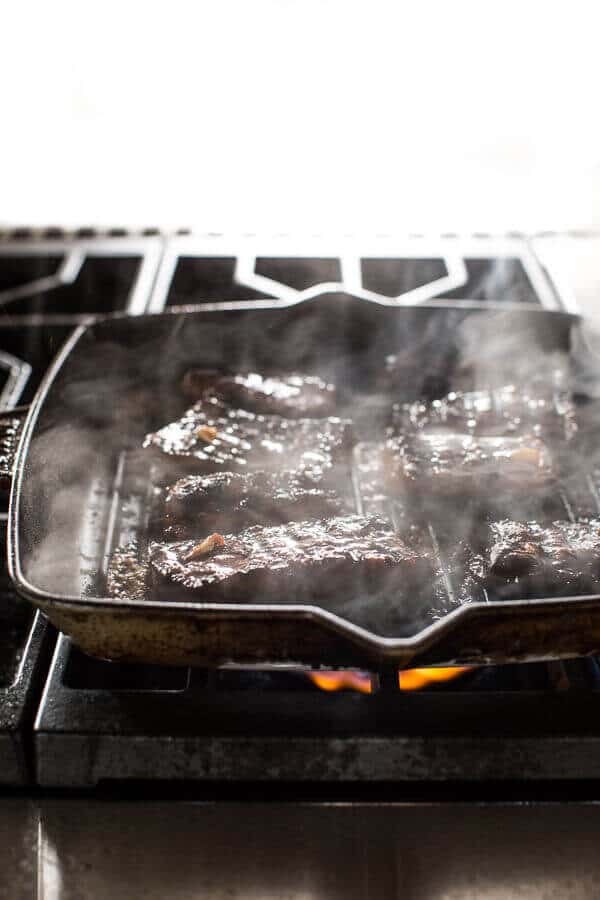 In LA, I lived in the West Hollywood area around the La Brea Tar Pitts. Every day around lunch, all the food trucks would line the street and OH MY GOSH. It smelled insanely good. Most of my time that summer was spent working, but on a day off, I'd go and look through all the menus just for fun, cause you know that's totally normal and all. The good thing was that I never really got a chance to get dependent on the food trucks, but I did get to scour the menus, which was awesome, cause hey, it's LA and anything goes. The other good thing was that those menus inspired so many amazing recipes.
These bulgogi BBQ pork tacos being one of them. Now, they are so not the same as the ones from the Kogi Food Truck because one, I didn't have that recipe and two, I had to make them my own because I don't know how to not do that. Plus, when I start cooking, things just happen, and following recipes pretty much goes out the door. Maybe that's why half the baked goods I make fall flat? Hmmm…..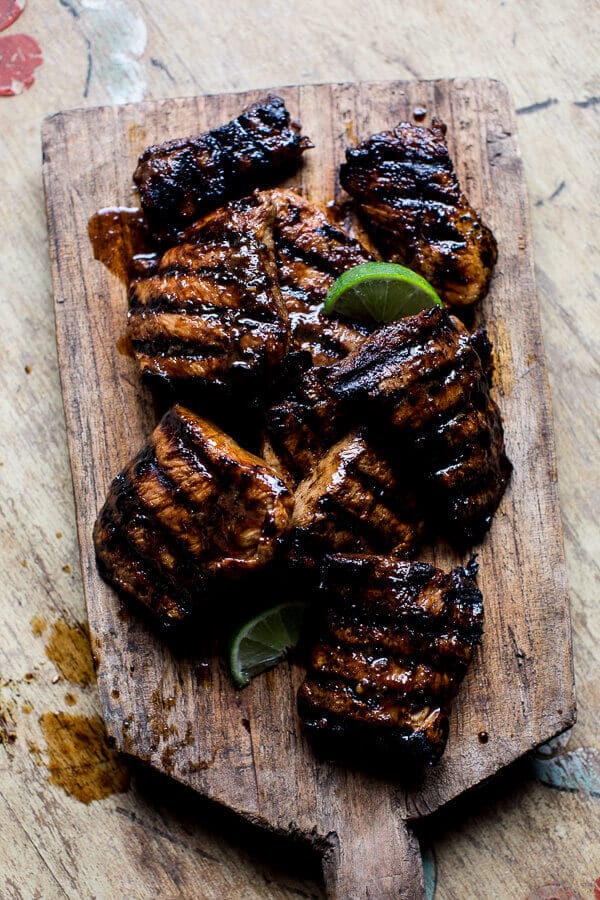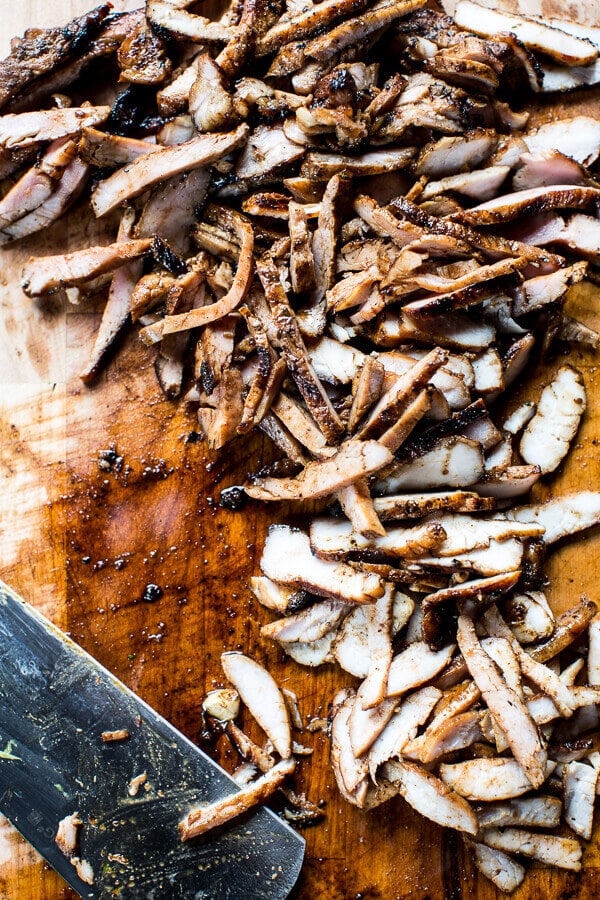 Anyway, these tacos are insane. INSANE.
I made them with Cinco De Mayo in mind. The minute Easter was over all I could think about was the next holiday. CINCO DE MAYO! Probably one of the best food holidays around if you ask me. Mexican food RULES. I know I am a bit early to the Mexican party, but you see, I have so many recipes I want to show you before May 5th that I figured I better just get started. Can you say first world problems??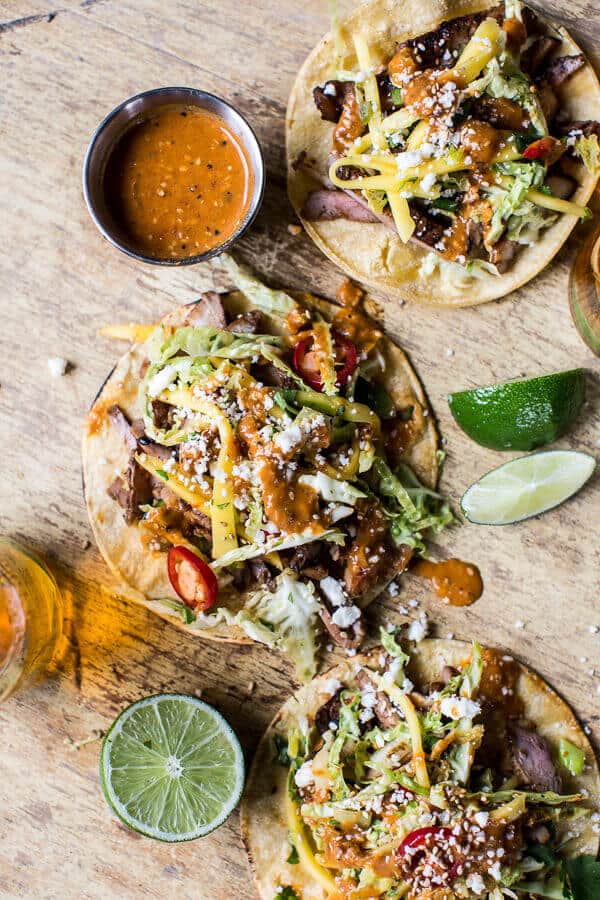 These are Mexican-Korean fusion food at its best. They may even be one of my very favorite tacos. For me, it's all about that tomatillo sauce, so stinking awesome.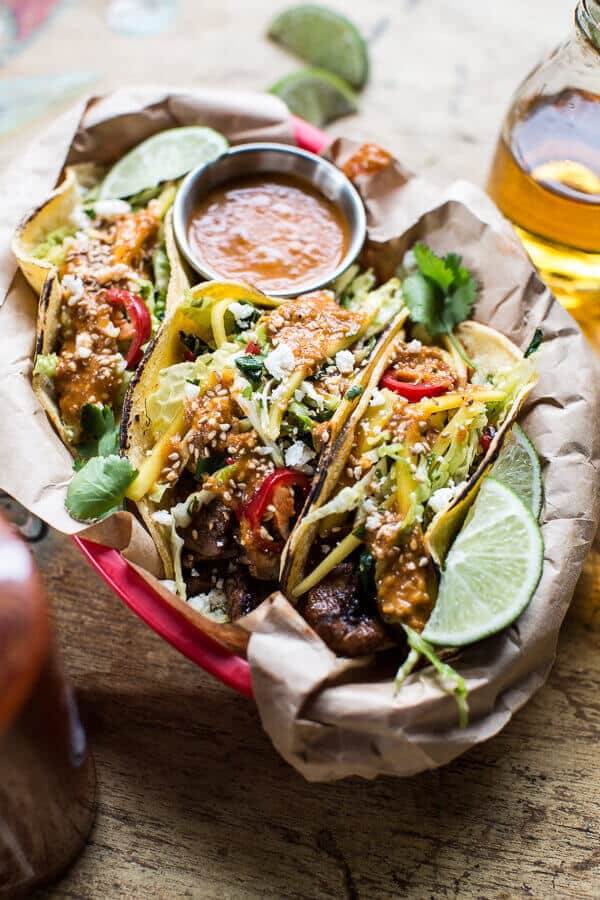 The tacos are pretty simple to make, but they do require a bit of ingredients, and the pork needs some time in the fridge, but please don't let anything stop you from making these. Your mouth needs to experience these flavors. No exaggeration. I don't kid when I am talking tacos.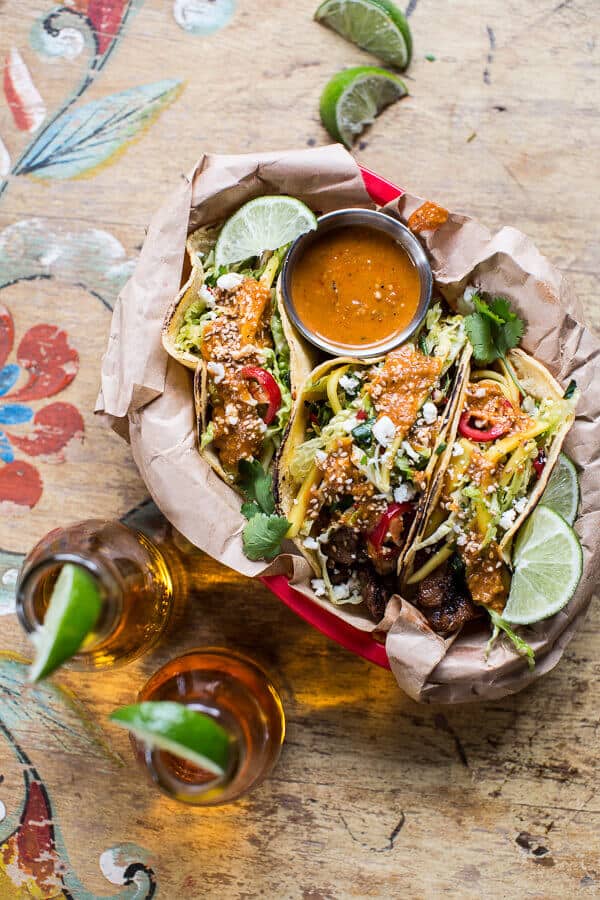 And then, once you make these tacos and realize how much you love them, you can then go on to dream about them, and how many people you can share them with in the coming weeks. YES.
Oh, and bonus point to anyone who tops their tacos with sesame fries and a fried egg. If you do this, please show me photos!!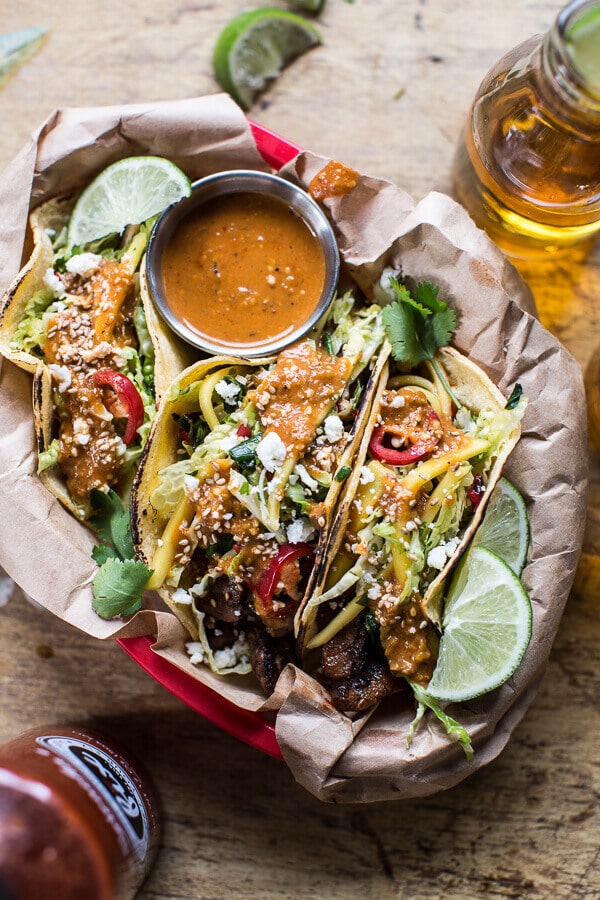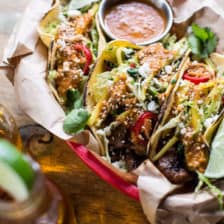 Nutritional information is only an estimate. The accuracy of the nutritional information for any recipe on this site is not guaranteed.
The Recipe
Bulgogi BBQ Pork Tacos with Charred Tomatillo Sesame Sauce + Spring Onion Slaw.
By halfbakedharvest
Course: Main Course
Cuisine: Mexican
Keyword: bbq, bulgogi, pork, sesame, tacos, tomatillo
These are Mexican-Korean fusion food at its best. They may even be one of my very favorite tacos. For me, it's all about that tomatillo sauce, so stinking awesome.

Prep Time 15 minutes
Cook Time 15 minutes
Total Time 1 hour 30 minutes
Servings 6 Servings
Calories 95 kcal
Ingredients
Pork
2 pounds pork loin roast sliced into 1/2 inch thick pieces
1 cup low sodium soy sauce
1/2 cup rice vinegar
1/2 cup brown sugar
1 tablespoon Gochujang (Korean chile paste)
1 tablespoon fresh ginger grated
4 cloves garlic minced or grated
2 tablespoons sesame oil
8-10 corn or flour tortillas warmed
cotija cheese + sesame seeds + limes for serving
Charred Tomatillo Sesame Sauce
Slaw
6 spring onions or green onions
2 cups green cabbage shredded
1 small mango cut into matchsticks
1 jalapeno + 1 red fresno pepper OR 2 jalapeno peppers
1/3 cup fresh cilantro chopped
1 tablespoon low sodium soy sauce
2 teaspoons rice vinegar
2 teaspoons toasted sesame oil
Instructions
In a large bowl, combine the soy sauce, mirin, brown sugar, Gochujang (Korean chile paste), ginger, garlic and sesame oil. Add the pork and toss well to coat. Try and make sure that almost all the pork is submerge in the sauce. Cover and place in the fridge for 1 hour or overnight.

Meanwhile, prepare the tomatillo sauce. Preheat the broiler to high. Line a baking sheet with parchment. Add the peeled tomatillos and place under the broiler for 3-5 minutes, turning once or twice or until the tomatillos are mostly charred all over. Remove from the oven and let cool slightly. Then add the charred tomatillos to a blender or food processor. To the blender, add the Gochujang, sesame oil, rice vinegar, soy sauce and lime juice. Blend until mostly smooth. Pour into a glass jar or serving bowl and then stir in the sesame seeds. Cover and store in the fridge until ready to serve. The sauce cane be store for at least a week in the fridge.

To make the slaw, preheat a grill or grill pan to high heat. Toss the spring onions, jalapenos and fresno chile with a little sesame oil. Grill the veggies until grill marks appear on both sides, about 5 minutes for the pepper and 3 minutes for the onions. Remove the veggies and allow to cool. Add the cabbage and mango to a mixing bowl. Chop the spring onions, de-seed the jalapeno + fresno pepper and then chop. Add the onions, peppers, cilantro, soy sauce, rice vinegar and any remaining sesame oil. Toss well. Store in the fridge until ready to serve.

Preheat the grill or a grill pan to medium high heat. Once hot, remove the pork from the marinade and grill until cooked through, about 4-5 minutes per side (depending on how thick or thin you cut your pork). As the pork is cooking, spoon the marinade of top for extra flavor. Allow the pork to rest at least 10 minutes and then thinly slice into strips. While the pork is resting, you can add the remaining marinade to a small saucepan and bring to a boil, reduce the heat and simmer 5 minutes or until slightly thickened.

To serve, add the sliced pork to a warmed taco shell. Top with slaw and tomatillo sauce. Add some cheese and sesame seeds. Serve with limes. DIG IN.
Recipe Notes
*Gochujang is a Korean chile paste/sauce and can be purchased on Thrive Market or on Amazon. 
 **Recipe inspired by the Kogi BBQ taco truck in LA.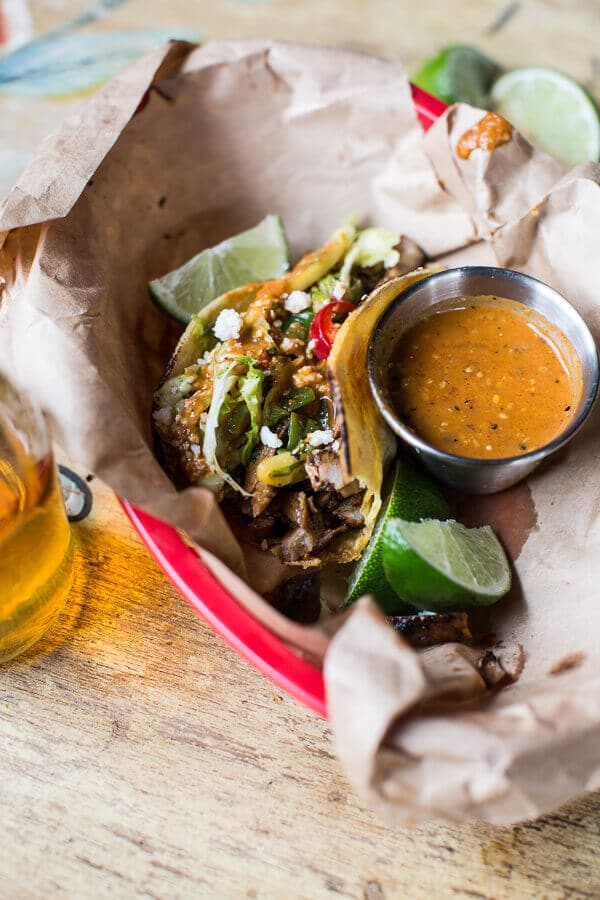 Dreamy tacos.