Creamy Balsamic Mushroom Chicken Marsala.
This Creamy Balsamic Mushroom Chicken Marsala makes for the best any night of the week dinner that feels extra special. Lightly breaded chicken seared until golden with nutty browned butter. The chicken is finished in a simple marsala wine pan sauce with caramelized balsamic mushrooms. It's delicious, especially when served over creamy, herby mashed potatoes or pasta. Every bite is layered with delicious, hearty flavors and caramelized mushrooms. The perfect way to spend a relaxing night in the kitchen with family and friends.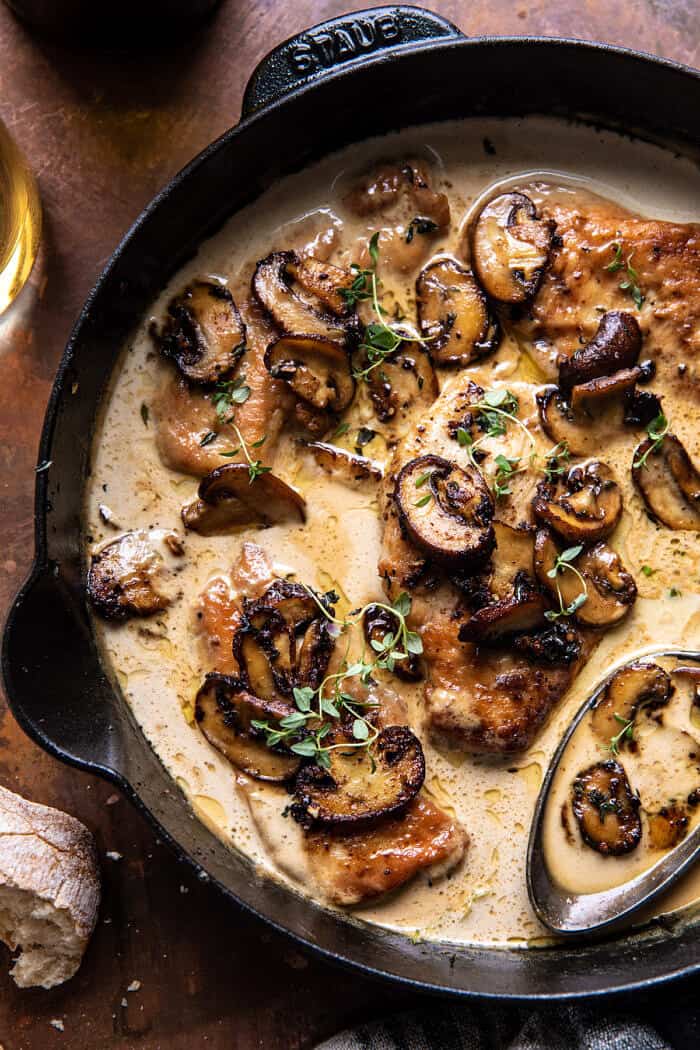 Mondays should be all about thirty-minute skillet dinners like this, especially during these short December days. This is one of those recipes that looks and tastes like it took time to prepare, but really it's the simplest.
This recipe started out completely different, but I'm so happy with where I landed. This is delicious guys.
When I started working on this recipe, there wasn't any kind of marsala sauce involved. I was working on creating a creamy balsamic chicken, and while the idea sounded good, the outcome was a very dark and odd-looking dish with very little visual appeal.
Since I'm all about presentation and food that looks as delicious as it tastes, I decided to forget about the recipe, it didn't feel that special to me. And I, of course, want everything I share with you guys to be overly delicious and pretty.

So I left it alone for a couple of days. But then, someone in my family mentioned chicken marsala. This got me thinking, what if I combined the balsamic chicken and the chicken marsala into one dish.
I could caramelize the mushrooms in balsamic vinegar, then toss the chicken in a creamy marsala wine sauce. It sounded even more delicious than my original idea, so I gave it try, and now here we are.
A balsamic and marsala chicken hybrid! It's crazy what few tweaks in a recipe can really do to make something DELICIOUS.
I am excited about this one. I love when recipes form and develop over time, they always end up being my favorites.

The simple details.
If you love a good chicken marsala, you'll love this slight twist even more. It's all about those caramelized balsamic mushrooms.
Start with the chicken. If you've made chicken parmesan this is very similar. Just dredge the chicken through a mix of flour, then pan-sear it in a hot skillet. This allows the chicken to form a nice golden crust on the outside. Using thin chicken cutlets is key. The thin chicken cooks evenly and browns nicely in a short amount of time.
Tip: if your grocery store does not carry chicken cutlets, as a swap, try asking your butcher to pound out chicken breasts for you. This is super easy to do at home, but truthfully…it's just not that much fun. The butcher can quickly pound out the chicken and save you the trouble…and the mess.
Also, you can easily make this chicken gluten-free by replacing the flour with almond flour. Or use your favorite gluten-free flour blend (I like cup4cup).
Pan-sear the chicken, then add in the butter. The butter browns around the chicken creating an even more delicious flavor.
Now the mushrooms, the best part! You want to thinly slice the shrooms, then let them crisp in a little olive oil. Once they've cooked down, just add a splash of balsamic vinegar and let the sauce caramelize over the mushrooms. It's so simple but so delicious.
Once caramelized toss in a bit of butter, shallots, garlic, and lots of thyme. Again, allow that butter to brown, creating an even more delicious flavor.
At this point, just add in the wine, simmer until reduced, then stir in the cream. Allow everything to simmer and thicken into a delicious creamy sauce.

What to serve this creamy balsamic mushroom chicken marsala with…
Well, you guys know me, I love my carbs. I served this saucy, creamy chicken over my slow cooker mashed potatoes. Twas' delicious.
Other sides that would be great? Definitely any kind of pasta, steamed rice, or if you are looking for something on the lighter side, spaghetti squash is always a delicious, healthy option.
You can't go wrong either way. The sauce makes just about anything you serve alongside it great. One thing that is a must? Crusty bread for moping up the extra sauce. You just have to do it.
My mom taught me well.

Looking for other simple dinners? Here are my favorites: 
One Skillet Creamy Sun-Dried Tomato Chicken and Orzo
Herby Buttered Balsamic Mushroom Ravioli
Lastly, if you make this Creamy Balsamic Mushroom Chicken Marsala, be sure to leave a comment and/or give this recipe a rating! Above all, I love to hear from you guys and always do my best to respond to each and every comment. And of course, if you do make this recipe, don't forget to tag me on Instagram! Looking through the photos of recipes you all have made is my favorite!

Nutritional information is only an estimate. The accuracy of the nutritional information for any recipe on this site is not guaranteed.
The Recipe
Creamy Balsamic Mushroom Chicken Marsala
The 30-minute skillet dinner that feels extra special!
Prep Time 15 minutes
Cook Time 30 minutes
Total Time 45 minutes
Servings 4
Calories 576 kcal
Instructions
1. Season the chicken with salt and pepper. Place the flour and garlic powder in a shallow bowl and dredge the chicken through the flour mix, pressing to adhere.

2. Heat 2 tablespoons olive oil in a large skillet set over medium-high heat. When the oil shimmers, add the chicken and sear on both sides until golden, about 3-5 minutes per side. Add 1 tablespoon butter and allow the butter to brown around the chicken, about 2 minutes. Remove the chicken from the skillet.

3. To the skillet, add 2 tablespoons olive oil and the mushrooms. Cook undisturbed for 5 minutes or until golden. Add 2 tablespoons butter, the shallots, garlic, thyme, and a pinch each of salt, pepper, and red pepper flakes. Cook 4-5 minutes, until fragrant. Add the balsamic vinegar. Cook another 2-3 minutes, until the mushrooms have caramelized. Spoon half the mushrooms out of the skillet and onto the plate with the chicken.

4. Pour in the wine and broth. Cook 10-15 minutes until reduced slightly, then pour in the cream. Add the chicken to the skillet and simmer for 5-10 minutes or until warmed through and thickened slightly. Spoon the reserved mushrooms over the chicken.

5. Serve the chicken and sauce over mashed potatoes, pasta, or steamed rice. Top with fresh thyme or parsley.