Baked Thai Coconut Shrimp with Lemongrass Guacamole.
How about some Tuesday snacks in the form of Thai Coconut Shrimp?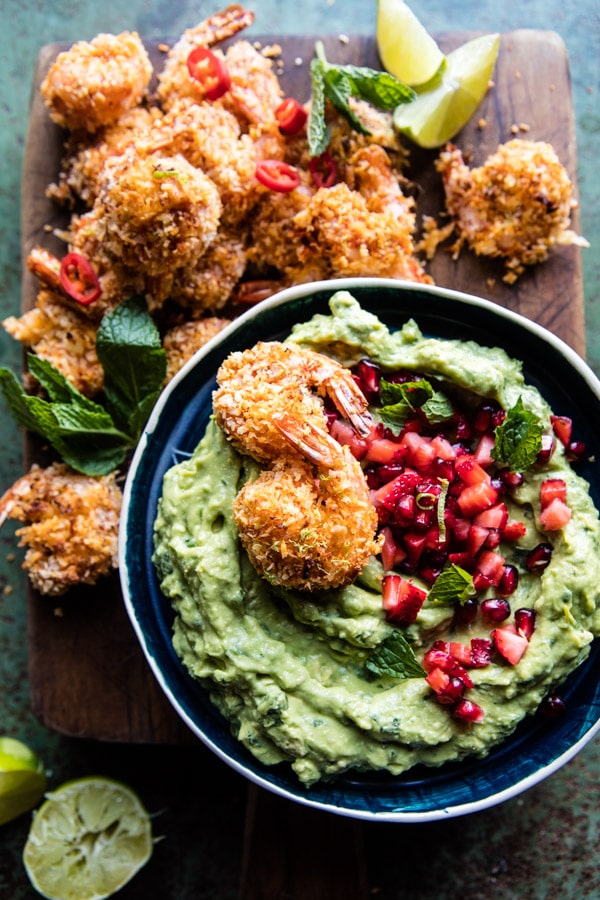 You guys remember how on Sunday I said I really wanted to get some more appetizer recipes up on the site? Well, this is the first of many, and I'm pretty excited about it!
What's not to love about Thai inspired coconut shrimp and guacamole!? It's kind of like Thai/Mexican fusion food and it really could not be more delicious. Think about it, Thai flavored shrimp, coated in sweet coconut, and served with a lemongrass guacamole (which on its own is completely addicting). I'm going to be honest, I was little nervous to post this recipe because I feel like it's kind of different and just a little bit out there. BUT the different recipes are often some of my favorites, so I just had to share!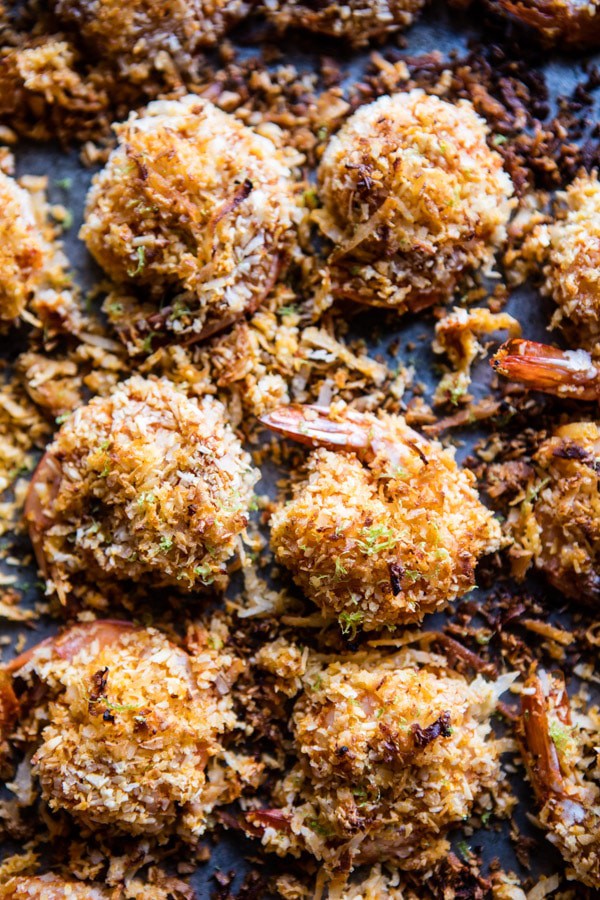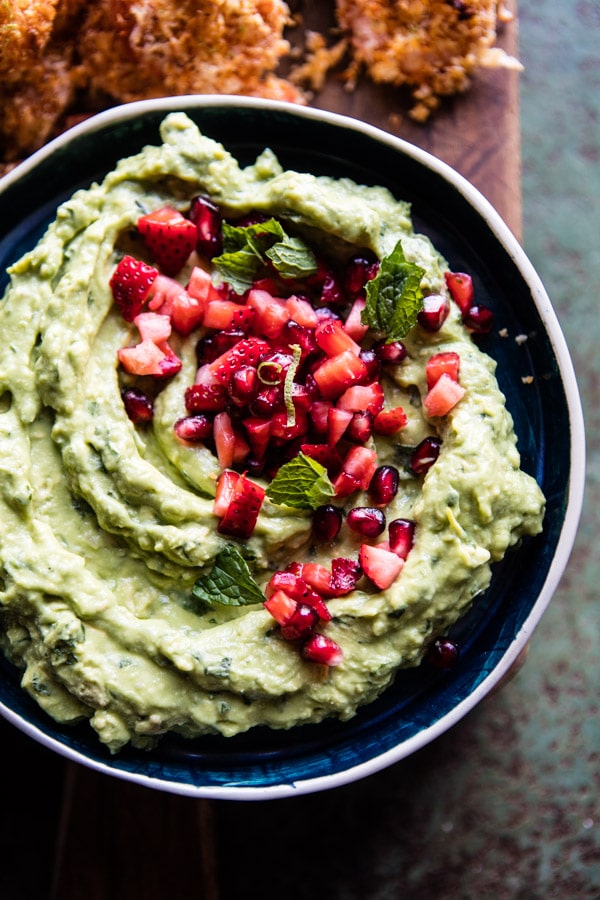 Here's the deal. These cute little coconut shrimp bites are embarrassingly easy. Fried shrimp is great and all, but let's be real, breaking out the oil and dealing with hot oil splashing on my skin is really just not something I want to do on any old day. Not to mention the mess that frying makes…I will do it for doughnuts, but for coconut shrimp, I think baking is truly just as good.
So, I baked my shrimp, but before baking, I made sure to flavor it up. Instead of a just a simple coconut breading, we are first tossing the shrimp in a little Thai Red Curry Paste and then dipping it through that sweet coconut. I LOVE this combo so much. Thai red curry paste + coconut + shrimp = the best.
The fact that it takes maybe ten minutes or so to bread all the shrimp and then another ten to bake them…well that should make your decision on whether to give these a try a no-brainer. Deliciously different AND fast and easy…yes please!
Since you guys know I love a good dipping sauce, I had to come up with something to perfectly compliment the flavors of the shrimp. I went back and forth between a lot of different style dips and sauces, but in the end, the sound of a lemongrass guacamole was just too good to pass up.
It's definitely not your average guacamole, but trust me, it is SO good. I ended up topping the guac with some pomegranate arils and diced strawberries, one because I had them on hand, and two because the sweet flavors really balance out the heat from the Thai chiles. Plus, I'm currently in strawberry obsession mode, I just cannot get enough, so I am adding them to pretty much everything at this point…cough, cough like yesterday's salad.
Oh, and obviously if you want to just take some chips to this guac, I'd completely understand…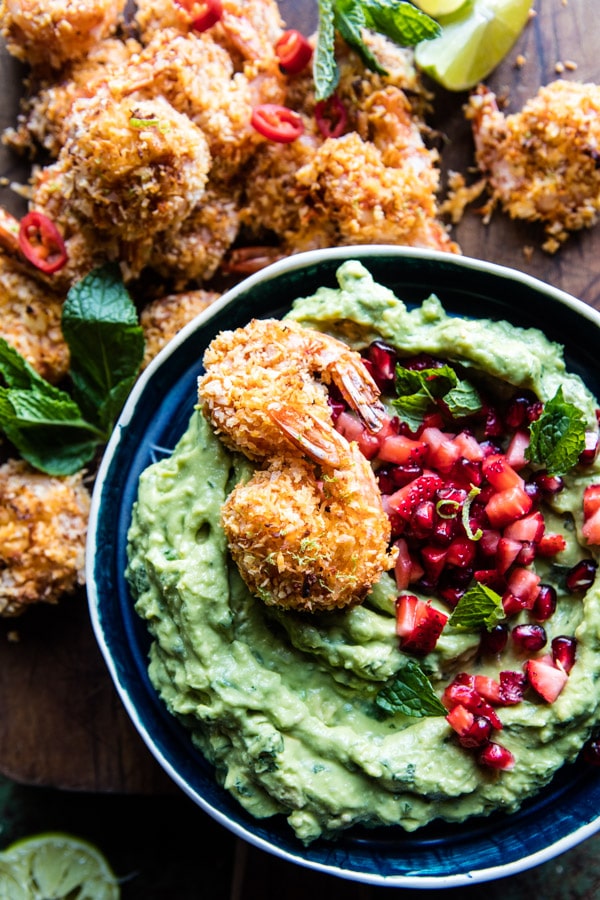 And now that we are well into spring, with summer just around the corner, I feel as though we should turn Tuesday nights into coconut shrimp night? I mean, these shrimp are so easy, super fun and pretty healthy (hello the shrimp is baked, and hello look at that vat of super colorful guacamole…health food right there). Plus they're the perfect excuse to make a tropical strawberry hibiscus rum smash (strawberries again…they're just so good right now). Seems fitting for a Tuesday, right?
Thinking so!
PS. add a side of rice and maybe some veggies and you'll have turned your appetizer into a full meal…cool. cool.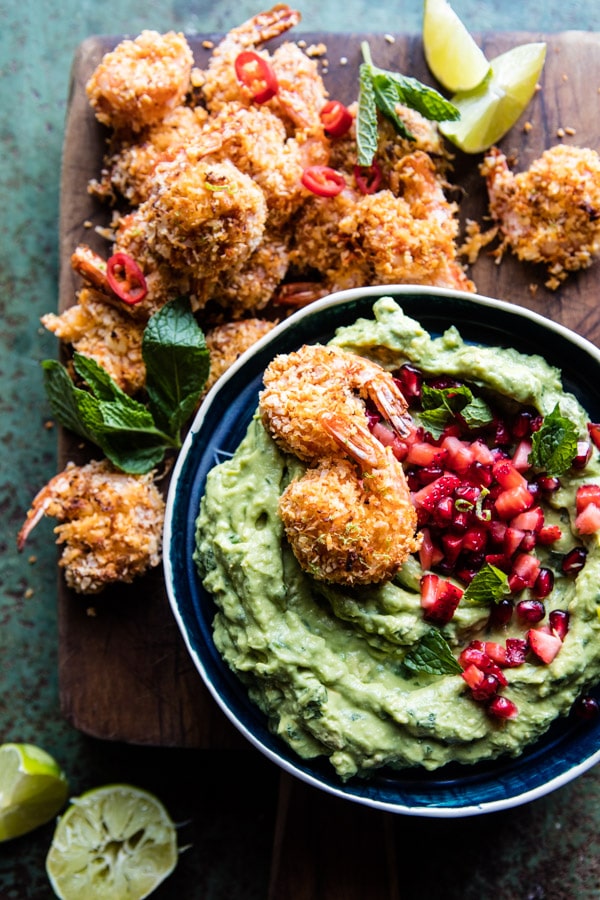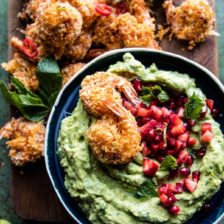 Nutritional information is only an estimate. The accuracy of the nutritional information for any recipe on this site is not guaranteed.
The Recipe
Baked Thai Coconut Shrimp with Lemongrass Guacamole
By halfbakedharvest
Course: Appetizer
Cuisine: thai
Keyword: seafod appetiser, Thai appetizer
This Thai inspired shrimp starter is perfect for any occasion!
Prep Time 15 minutes
Cook Time 10 minutes
Total Time 25 minutes
Servings 4 servings
Calories 527 kcal
Ingredients
Lemongrass Guacamole
2 avocados, halved and pitted
juice of 1 lime
1 tablespoon finely chopped lemongrass or lemongrass paste
1/4 cup fresh basil, chopped
pinch of kosher salt
1 fresno or jalapeño pepper, seeded and chopped
1/2 cup pomegranate arils
1/2 cup chopped strawberries
Instructions
1. Preheat the oven to 425 degrees F. Lightly grease a baking sheet.

2. Combine the Thai curry paste and fish sauce in a medium bowl. Add the shrimp and toss to evenly coat.

3. Add the eggs to another bowl. Add the coconut and panko to a another bowl, mixing them to combine.

4. Working in an assembly line, dip the shrimp through the egg and then dredge it through the coconut crumbs, pressing gently to adhere. Place on the prepared baking sheet and repeat with the remaining shrimp. Season lightly with salt and pepper. Lightly brush the shrimp with olive oil or cooking spray. Transfer to the oven and bake 10-12 minutes or until the shrimp is lightly golden. Serve warm alongside the guacamole (below).
Lemongrass Guacamole
1. Mash the avocados in a medium bowl. Add the lime juice, lemongrass, basil, and a pinch of salt. Spoon into bowl and top with fresno peppers, pomegranates, and strawberries. Eat!


Kicking Tuesday in the butter. All the shrimp and guacamole please.