20 Minute Thai Basil Beef and Lemongrass Rice Bowls + Video
You know, I almost posted salad today. But then I came up with these 20 minute thai basil beef and lemongrass rice bowls and I just couldn't do it!

Watch the How-To Video Here:
20 Minute Thai Basil Beef and Lemongrass Rice Bowls from Half Baked Harvest on Vimeo.
It's not that I think salads are lame, it is just that I do not want to talk about the "stereotypical Monday salad". I am just not feeling it. What I am really feeling is all the cozy foods, but that is only because our weather is acting like it is LATE fall.
Ya, you read that right. Late fall. Ugh.

Oh well, I am secretly loving it.
Except not really because our crazy Colorado weather means that there are darkest clouds one minute, then all of the sudden blue skies, then back to dark clouds again. And that can all happen within minutes! It makes taking photos extra hard. The sun either needs to stay in (which I prefer) or just stay out and shine bright. The whole, I am in, I am out, I am half in, half out, thing is just crazy frustrating.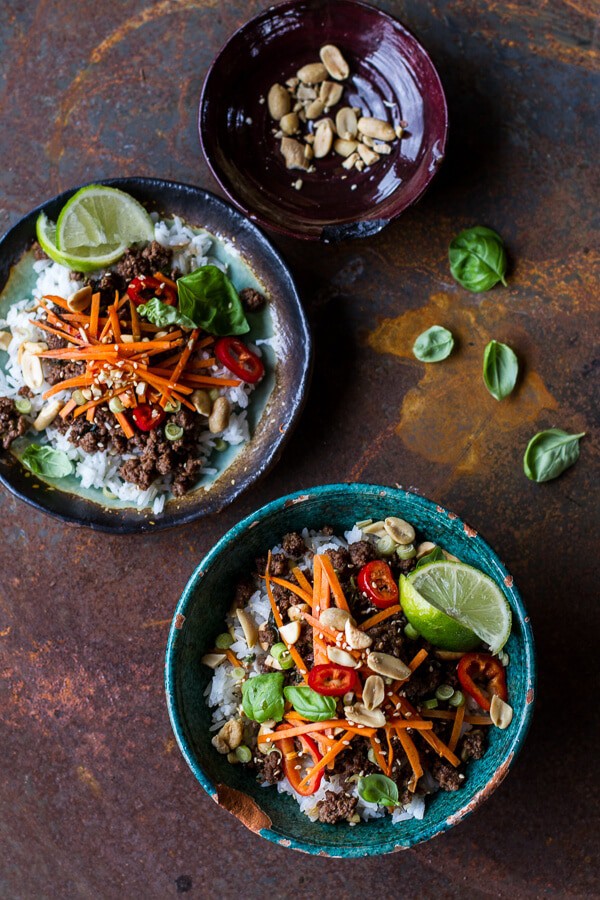 Anyway, this beef. See, I am not normally that into beef. Especially ground beef, but for some reason I wanted to cook with beef a few weeks back. I went a little crazy and made like three beef recipes in one day. One was this Indian Beef Satay, one was totally disgusting, and this one, which you finally get to see today.
I have been holding onto this recipe for too long and I am sorry. The thing is, when I really love something I like to "save" it for the perfect time. I used to do this all the time with new clothes, waiting to wear them till just the right day and now I guess I am doing it with my recipes. It's totally stupid, but for some reason this is something I have always done.
Now you are probably thinking, is there something special about this Monday? Nope, I just felt bad hanging onto this for so long and figured it was about time to share one of my favorite recipes with you.


And it really is one of my favorite recipes.
It's super quick (umm, hello twenty minutes!!), easy and a meal that my entire family will eat… with no complaining at all. Yes!!
Oh, and it goes without saying that it is delicious, but I feel like I say this everyday. Right, I do, but what else is there to say? I mean, I would never tell you guys about a non-delicious recipe. That'd be mean.


Really though, my whole family ate this and loved it. The boys went back for seconds and to be honest, there really wasn't even enough for everyone. Definitely nothing left over for lunch they next day, which they of course complained about – they always have to have something to complain about. Since there are nine people at my dinner table + one or two friends, I doubled the recipe, but I guess I underestimated their beef eating powers. The boys pretty much jump for joy when I make things with asian flavors, but especially beef. Beef is their thing. My eldest brother Creighton tries to live off beef, which totally disgusts me, but he is a true American guy.
His motto is something like, beef all the way – all the time. If you ask me, he needs some vegetables….shh, don't tell him what really goes into that enchilada casserole he loves so much.


Ok, so everything about this 20 minute Thai basil beef is simple. You make some rice and toss in a little lemongrass for some fresh flavor. While the rice cooks, stir fry the beef. The beef honestly will take you ten minutes tops. It is so quick and the reason it is so delicious is due to all the fresh basil. I freaking love basil (excuse my freaks).
It's probably my favorite herb to use. I mean, I love all herbs, but I seem to gravitate towards basil a lot. It's just so good.
Since this takes only twenty minutes, it is the perfect meal for busy nights. With school starting and life getting all serious again I feel like this is going to be your new favorite meal. Or at least I hope so.
I mean, if you like Thai flavors, basil and rice then I think you'll love this. If beef is not your thing try swapping ground chicken or pork. For vegetarian eaters, I'm sure crispy tofu or tempeh would be so good!


Nutritional information is only an estimate. The accuracy of the nutritional information for any recipe on this site is not guaranteed.
The Recipe
20 Minute Thai Basil Beef and Lemongrass Rice Bowls.
By halfbakedharvest
Course: Main Course
Cuisine: Asian
Keyword: curry
It's a super quick Thai dish, easy and a meal that my entire family will eat... with no complaining at all.
Prep Time 5 minutes
Cook Time 15 minutes
Total Time 20 minutes
Servings 6
Calories 436 kcal
Ingredients
Thai Basil Beef
2 large carrots cut into matchsticks
4 baby bells peppers sliced
1 hot red peppers sliced
2 green onions chopped
1 tablespoon fish sauce
1/2 teaspoon honey
2 tablespoons sesame oil
Juice of 1 lime plus lime wedges for serving
4 cloves garlic minced or grated
2 teaspoons fresh ginger grated
1 pound lean ground beef may use ground chicken or pork too
pinch of black pepper
1/3 cup + 2 tablespoons reduced sodium soy sauce divided
1/3 cup sweet thai chili sauce
2 cups fresh basil leaves sliced or chopped, plus extra for serving
Toasted sesame seeds + chopped roasted peanuts for serving
Instructions
To make the rice. Add the coconut milk and water to a medium size pot. Bring to a low boil and then add the rice, sesame oil and lemongrass. Stir to combine, then place the lid on the pot and turn the heat down to the lowest setting possible. Allow the rice to cook ten minutes on low and then turn the heat off completely and let the rice sit on the stove, covered for another 15-20 minutes (don't take any peeks inside!). After 15-20 minutes remove the lid and fluff the rice with a fork and stir in 1-2 tablespoons chopped peanuts if desired. Note that rice can cook differently for everyone, this is just what works for me.

While the rice is cooking, make the beef. Add the carrots, peppers, hot red pepper, green onions fish sauce, honey, lime juice and 2 tablespoons soy sauce to a medium bowl. Toss well and set aside.

Heat a large wok or heavy bottomed skillet over medium heat. Add the oil and once hot add the garlic and ginger. Cook 15-30 seconds then add the beef. Season the beef with black pepper and brown all over, breaking it up as it cooks, about 5 minutes. Once the beef is browned, add 1/3 cup soy sauce, 1/3 cup sweet thai chili sauce and 1 cup of fresh basil. Bring the mixture to a simmer and cook until the sauce coats the beef, about 3-5 minutes. Remove from the heat and stir in the remaining 1 cup fresh basil.

Divide the rice among the bowls, top with equal amounts of beef. Add the carrots + pepper on top of the beef. Garish with chopped peanuts, fresh basil and toasted sesame seeds. EAT!

See, even my picky littlest brother, Red, was all over this one. Now that is rare.