Spinach and Artichoke Stuffed Soft Pretzels.
Spinach and Artichoke Stuffed Soft Pretzels, simply the best. Homemade soft pretzel dough, stuffed with a cheesy spinach and artichoke dip, and shaped into a pretzel. Baked until the pretzel is golden and the dip inside has melted and turned ooey, gooey, and all kinds of perfect. These pretzels are such a hit. Try serving them up as a fun appetizer for your next party.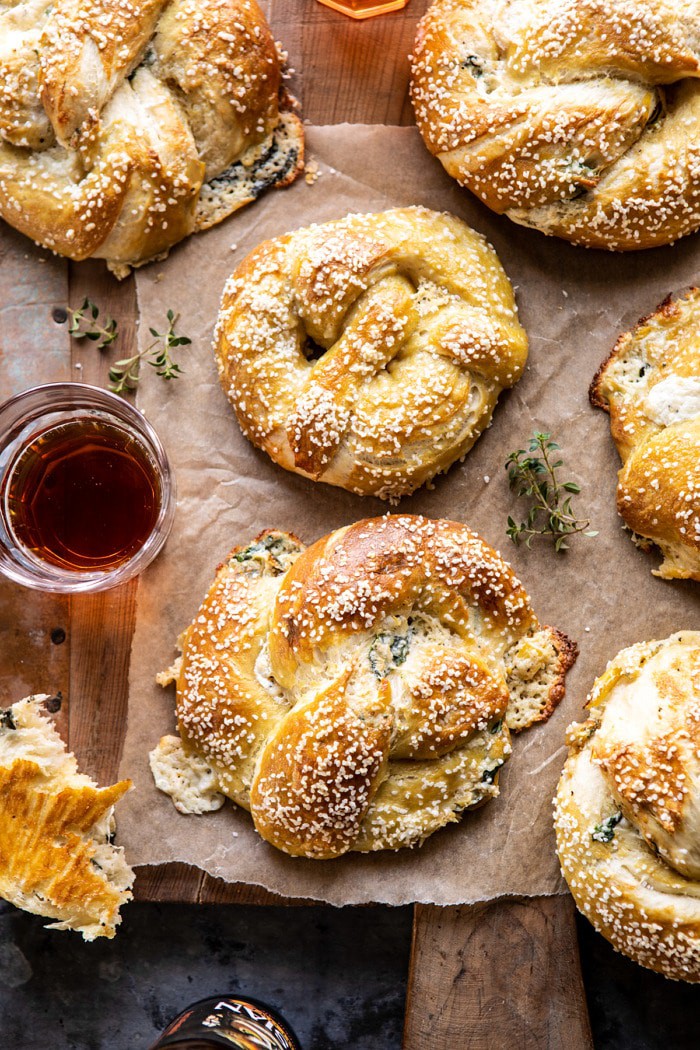 Stopping in today to share a great New Year's Ever appetizer with you guys. This is actually a recipe that I originally shared years and years ago. But it's one I still love to make so I thought I'd bring it back from the archives and show it some love. I've updated it just a bit, to make it easier, and taken a fresh set of photos. I certainly wasn't complaining about making these again. They're truly one of my favorite recipes I've created. These pretzels are beyond good, and they'll make the best New Years Eve appetizer. I certainly wasn't complaining about making these again!
If you can make pizza dough, you can make these. They're easier than you might think. And while they do take a little time to prepare, they're actually pretty fun to make. Trust me, the results are worth all the effort.
The dough is a classic pretzel dough and very quick to make. While the dough rises you can make the spinach and artichoke dip, which is a simple mix of cheese, garlic, herbs, spinach, and marinated artichokes. Totally optional, but I like to add a good pinch of crushed red pepper flakes to give the dip a nice hit of spicy flavor.
When the dough is ready, just divide it into 8 equal balls and roll them out into rectangles. Fill the middle with some of the spinach and artichoke dip and roll them up into a long rope, sealing the dough at the seams.
Don't worry if there are a few holes, or if your pretzels don't look like the perfect pretzels. I promise, no matter what they look like, they're going to taste good. They'll look good in their own way, because they're pretty no matter what.



Once you have the pretzels shaped, it's time to boil and bake. Each pretzel is dropped into a little boiling water. Boiling the pretzels in water before baking gives the pretzels their signature chewy crust and their unique "pretzel" flavor. You'll only be boiling the pretzels for a few seconds, then remove them from the water, brush with an egg wash, and generously sprinkle with sea salt.
Bake and DONE. You'll have a salty soft pretzel that comes out with cheesy spinach and artichoke dip bursting from the seams.
Delicious.

Some notes…
These are going to be giant, so handle them carefully when dropping them into the water and taking them out. You do not want to tear the pretzel before it's baked. But there will most likely be holes and they are going to ooze a little. It's not a bad thing, it's a good thing. Sometimes the imperfections just work, so go with it.
These are best warm right out of the oven when the dip is hot and melty. If you'd like to prepare them ahead of time, just make and assemble the pretzels, fill with dip, shape them, and place them on a baking sheet. At this point, you should keep the un-baked pretzels in the fridge. When ready to serve, just boil and bake as directed.

I'm looking forward to making these as a New Year's Eve appetizer. It's tradition that we do Mexican on New Years, so I'll be serving up some tacos and margaritas as well. Can't wait!
What are your New Year's Plans?

If you make these soft pretzels, be sure to leave a comment and/or give this recipe a rating! Above all, I love to hear from you guys and always do my best to respond to each and every comment. And of course, if you do make this recipe, don't forget to also tag me on Instagram! Looking through the photos of recipes you all have made is my favorite!

Nutritional information is only an estimate. The accuracy of the nutritional information for any recipe on this site is not guaranteed.
The Recipe
Spinach and Artichoke Stuffed Soft Pretzels.
By halfbakedharvest
Course: Bread
Cuisine: American
Keyword: beer pretzels
Homemade soft pretzel dough, stuffed with a cheesy spinach and artichoke dip, and shaped into a pretzel. Then baked until the pretzel is golden and the dip inside has melted and turned ooey, gooey, and all kinds of perfect. Try serving them up as a fun appetizer for your next party.
Prep Time 30 minutes
Cook Time 25 minutes
Total Time 55 minutes
Servings 8 Giant Pretzels
Calories 385 kcal
Ingredients
Spinach and Artichoke Dip Filling
4 ounces cream cheese
1/2 cup shredded mozzarella cheese
1/2 cup grated parmesan cheese
1 clove garlic, minced or grated
1/2 teaspoon crushed red pepper flakes
1/2 cup frozen chopped spinach, thawed and squeezed dry of excess water
1 (6.7 ounce) jar marinated artichokes, chopped
Instructions
1. Combine the water, brown sugar and yeast in the bowl of a stand mixer and mix with the dough hook until combined. Let sit for 5 minutes.

2. Add the beer, melted butter, salt, and flour to the mixture and mix on low-speed until combined. Increase the speed to medium and continue kneading until the dough is smooth and begins to pull away from the sides of the bowl, about 3 to 4 minutes. If the dough appears too wet, add additional flour, 1 tablespoon at a time. Remove the dough from the bowl, place on a flat surface and knead into a ball with your hands. Coat a large bowl with oil, add the dough and turn to coat with the oil. Cover with a clean towel or plastic wrap and place in a warm spot until the dough doubles in size. This will take about 1 hour.

3. Meanwhile, make the dip. In a medium bowl, combine the cream cheese, mozzarella, parmesan, garlic, and a pinch of crushed red pepper and salt. Stir in the spinach and artichokes.

4. Preheat the oven to 425 degrees F. Bring a large pot of water to a boil.

5. Divide the pretzel dough into 8 equal balls and roll each out into a rectangle (about 11x3 inches). Spread about 1 1/2 tablespoons spinach and artichoke dip along the length of each piece. Starting with the opposite side, roll the dough up into a log, enclosing the toppings inside. Pinch the seams together and then very gently roll the dough with your hands to form an even cylinder and fully enclose the filling (see above photos).

6. To shape into pretzels, take the right side and cross over to the left. Cross right to left again and flip up. Slowly add the baking soda to the boiling water. Boil the pretzels in the water, 2 at a time for 30 seconds, splashing the tops with the warmed water using a spoon. Remove with a large flat slotted spatula or a spider. Line two baking sheets with parchment paper placing 4 pretzels on each. Brush the tops with the beaten egg wash and season liberally with sea salt. Bake for 15 to 18 minutes or until pretzels are golden brown.

7. Remove pretzels from oven and let cool 5 minutes. Serve and enjoy! If needed, the pretzels can be reheated in a 350 degrees F. for 15 minutes.