Spicy Maple Grilled Chicken Sandwich with Smoky Bacon Corn.
Meet the ultimate grilled chicken sammie…the spicy maple grilled chicken sandwich.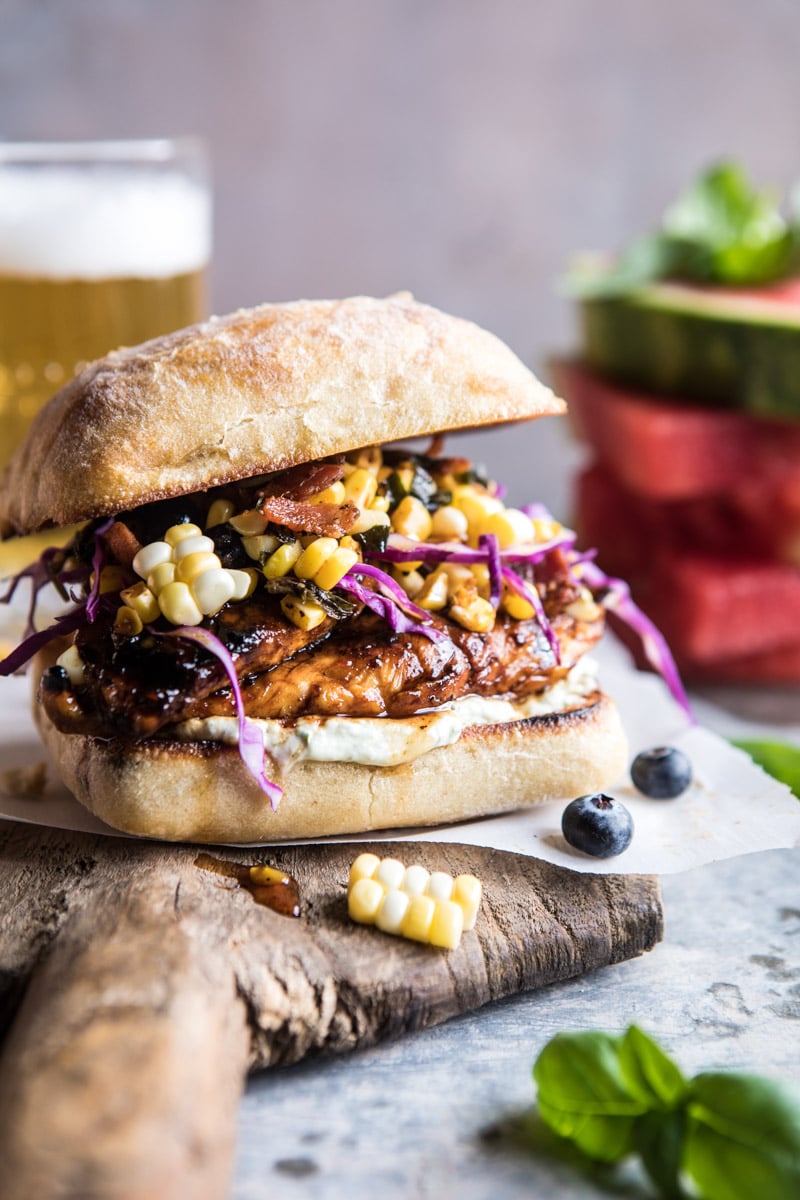 I'm feeling like this will be the summer of sandwiches here on the blog. For the last few years I've avoided making summer sandwiches and burgers because I absolutely hate photographing them. Not quite so much with the sandwiches (I guess I can sometimes handle those), but definitely burgers. For some reason I just have a really hard time with them. I know this is so insane, but I am here today saying that I am changing my ways…this summer there will be an abundance of both burgers and sandwiches on the blog!
I've already photographed three and love them all! I swear, it's positive thinking before going into the shoot that makes all the difference. Plus OK, I made sure each sandwich/burger was piled high with flavor and color. But let's be real, we all know that's what makes the bestest sandwiches anyway. Duh.
And trust me, while these grilled chicken sandwiches have a short cooking time, they are beyond loaded, and kind of the perfect thing to grill up on a Wednesday night.
Just sayin'.


This sandwich has simple ingredients list, are loaded with flavor, and feel very southern to me…but yet are not fried. It's the maple, corn, and bacon thing, and all piled high too. Super southern, right?
The chicken is a simple three ingredient combo. Real maple syrup (meaning no Aunt Jemima), sambal oelek (spicy chili paste), and a little olive oil. Yup, just three simple, pantry staple, ingredients and no marinating time needed either. Heck yeah! The maple glazes the chicken as it grills, and the sambal oelek balances out all the sweetness. It's sounds kind of odd, but guys I promise it's so delicious…especially when topped with that smoky bacon corn.
OH MY GOSH <–talk about summer eats. Smoky. Bacon. Corn.
It's honestly too good.

The corn gets cooked with the bacon and tossed with a little smoked paprika, fresh basil, green onions, and seasoned with salt and pepper. It's truly the best topping to a grilled chicken sandwich. It's smoky, sweet, and just a little salty.
YUM.
I almost added fresh peaches to the corn mix, but my peaches just were not sweet enough. If you happen to have some early season peaches that are delicious, I'd totally toss those in with the corn mix. That would be SO good.
And then to finish things off, spread some pesto yogurt onto toasted ciabatta rolls, add the chicken, corn, and then a little avocado, you know for good measure.
Surprisingly, I did not add any cheese to this sandwich, but if you wanted to make this a cheesy chicken sandwich, I think cheddar would be pretty amazing with everything happening in this sandwich…next time, I'm adding cheddar.
Already excited about it.

And now you see, right?
Wednesday night dinner should probably be this grilled chicken sandwich. Again, it's ready in just about thirty minutes, pretty healthy, uses some pretty simple, everyday ingredients, and is finger lickin' good. <–for real.


Nutritional information is only an estimate. The accuracy of the nutritional information for any recipe on this site is not guaranteed.
The Recipe
Spicy Maple Grilled Chicken Sandwich with Smoky Bacon Corn
By halfbakedharvest
Course: Sandwiches
Cuisine: American
Keyword: chicken sandwich, maple chicken
A beautiful sweet and spicy chicken sandwich
Prep Time 10 minutes
Cook Time 20 minutes
Total Time 30 minutes
Servings 4 sandwiches
Calories 831 kcal
Ingredients
1/2 cup real maple syrup
1 tablespoon sambal oelek (spicy chili sauce)
2 tablespoons extra virgin olive oil
kosher salt and pepper
1 pound boneless skinless chicken tenders
4 slices thick cut bacon, chopped
4 ears corn, kernels removed from the cob (about 4 cups total)
1 teaspoon smoked paprika
1/4 cup fresh basil, chopped
2 green onions, chopped
1/2 cup shredded cabbage
1/2 cup fresh blueberries
4 ciabatta rolls, toasted
1/2 cup plain greek yogurt
1/4 cup basil pesto
1 avocado, sliced
Instructions
1. Stir together the maple syrup, sambal oelek, olive oil, and a pinch of salt in a small bowl. Add the chicken to a large ziplock bag and pour half the maple mixture over the chicken. Let sit for 10 minutes.

2. Meanwhile, heat a large skillet over medium heat and cook the bacon until crisp, about 5-8 minutes. Stir in the corn, paprika, and pinch each of salt and pepper. Cook 5 minutes and then add the basil, and green onions. Remove from the heat and let cool slightly. Stir in the cabbage and blueberries.

3. Preheat an outdoor grill or grill pan to medium heat. Oil the grates.

4. Add the chicken and grill for 5-8 minutes per side, basting the chicken with the reserve maple mixture until the chicken is cooked through. Remove from the grill and drizzle any remaining maple mix over the chicken.

5. Mix the yogurt and pesto together in a small bowl.

6. To assemble, spread the yogurt pesto mix onto the bottom of each bun. Top with chicken, corn, and avocado. EAT!
Recipe Notes
*Chicken inspired/adapted from Rachael Ray Magazine June 2017 Issue. 

Prepare to get messy with this sandwich…it's the only way to go.