Spicy Cider Beer Braised Chicken Enchilada Tacos w/Sweet Chili Apple-Pomegranate Salsa.
You know about Taco Tuesday? Well, today I am all about Taco Monday.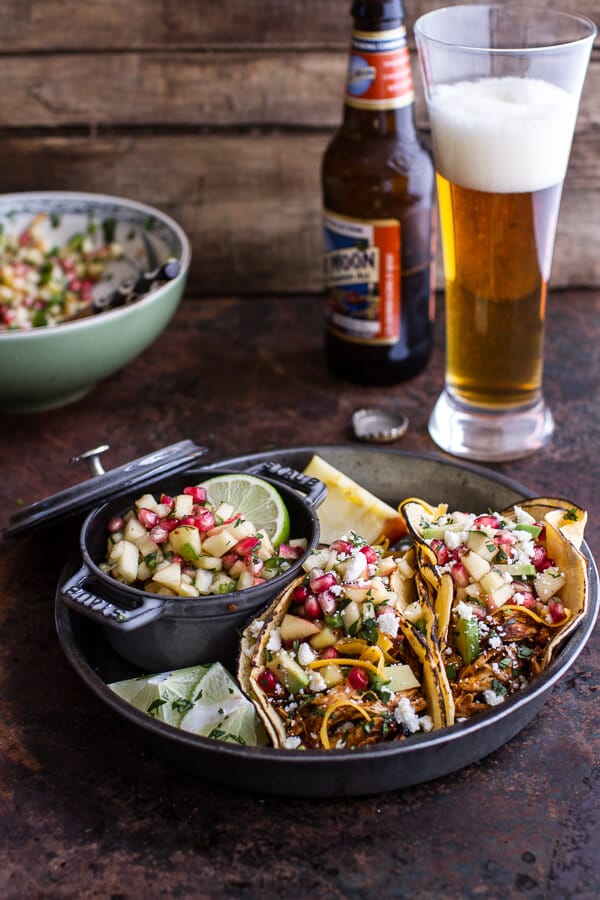 Really I could do tacos everyday, but you know that may eventually get a little old.
It's actually been a really long time since my last taco recipe and when I realized this the other day, I kind of made it my mission to change that. Plus, my family like really loves tacos, so it was a win, win situation, since everyone would actually eat these. Well, at least the chicken part of the tacos, the salsa part? Yeah, not so much, but that just leaves more for me, which is a good thing since the salsa is my favorite.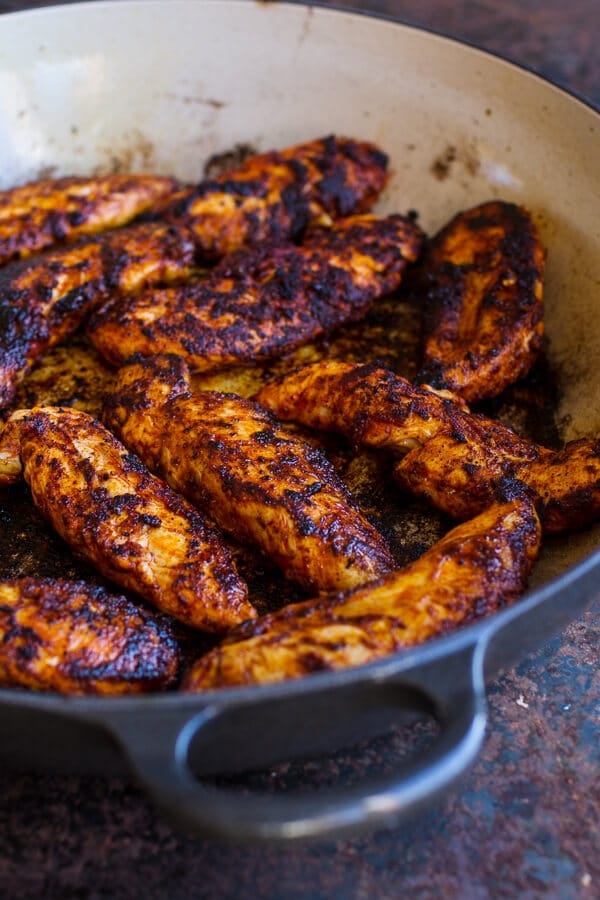 Since I am currently obsessed with all things fall, I just had to make these using fall flavors. Don't worry though, as weird as a fall taco sounds, I promise these are the farthest thing from weird, gross or anything that does not sound good. They are easy, healthy and packed with spicy flavors. If you hadn't noticed, I tend to go for the spicy foods.
Plus, just look at those colors. Umm, I love, love, love them. So fun – and on a Monday too. If you ask me, these are just what Monday calls for, happy, sweet + spicy, colorful tacos!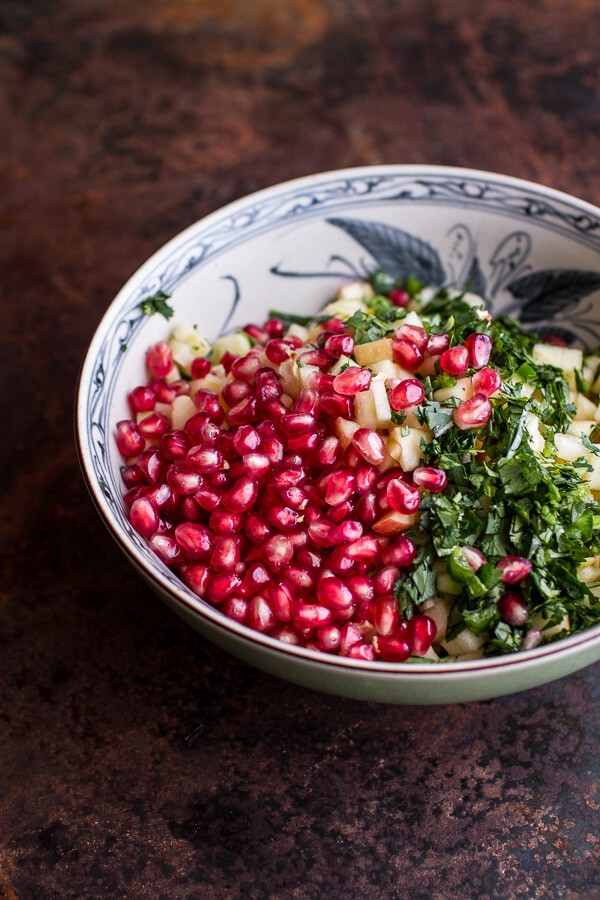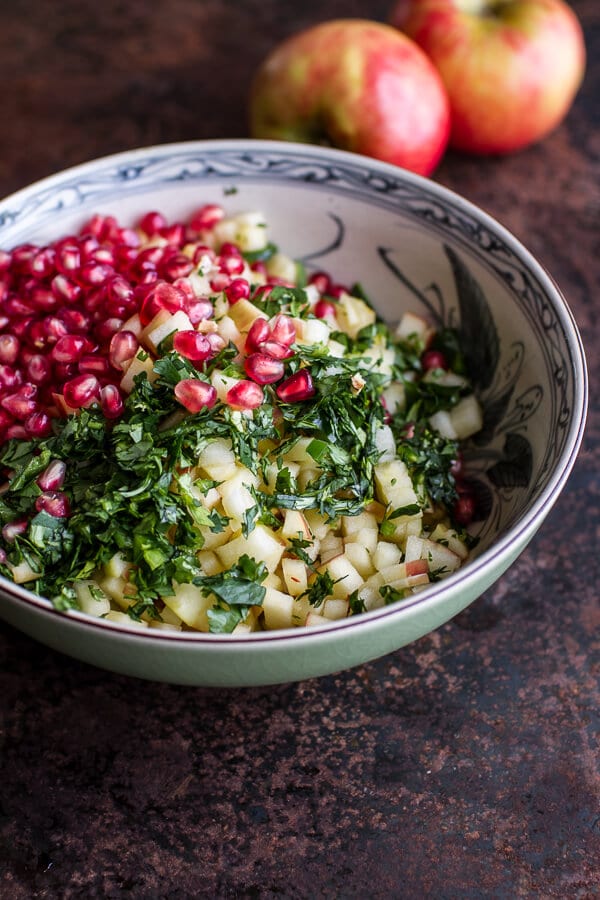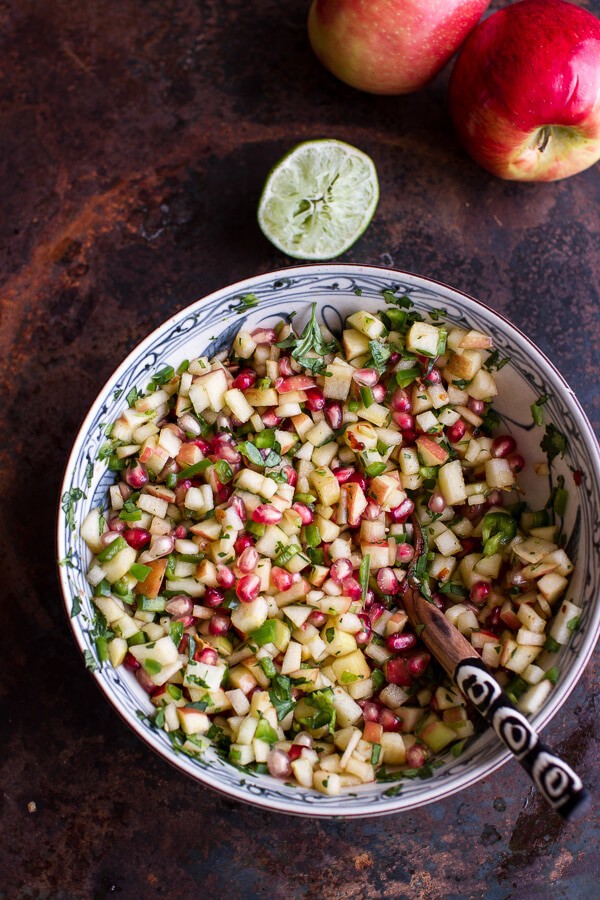 There is just so much to love about these Spicy Cider Beer Braised Chicken Enchilada Tacos. Like the fact that on a Monday you can eat AND drink your beer… all at once. Or the fact these are the easiest thing to make. Or the fact that just about everyone will eat these (if we didn't have any issues, I doubt you will!). Or the fact that these are pretty healthy tacos, without sacrificing flavor (definitely do not slump on the cheese though). Or maybe even the fact that if a crockpot works best for you, you can start the chicken in the morning, then come home to the best tacos at night. Add a cold beer (or whatever you drink) + lots of apple salsa (because it is so good), and no matter what went on during the day, your Monday will end right. See, so much to love.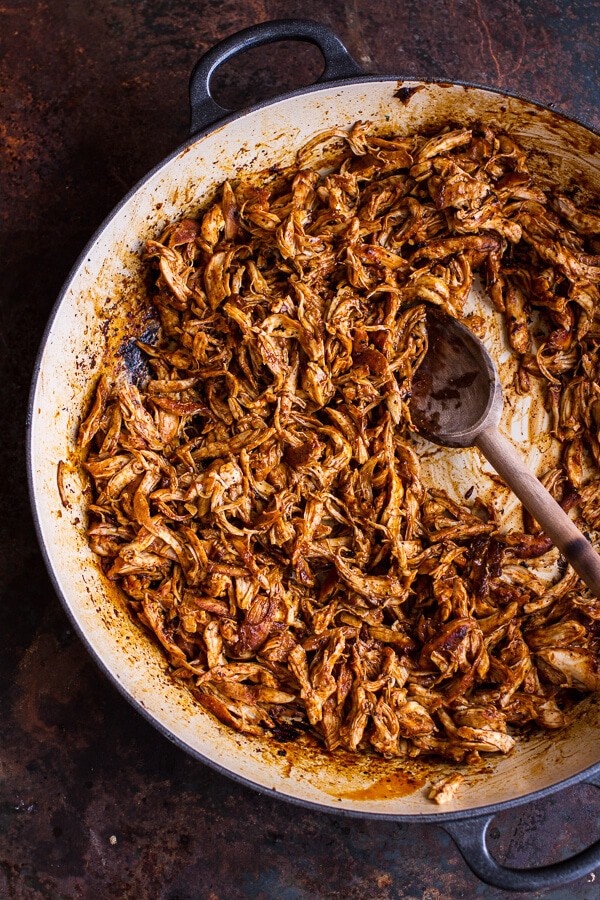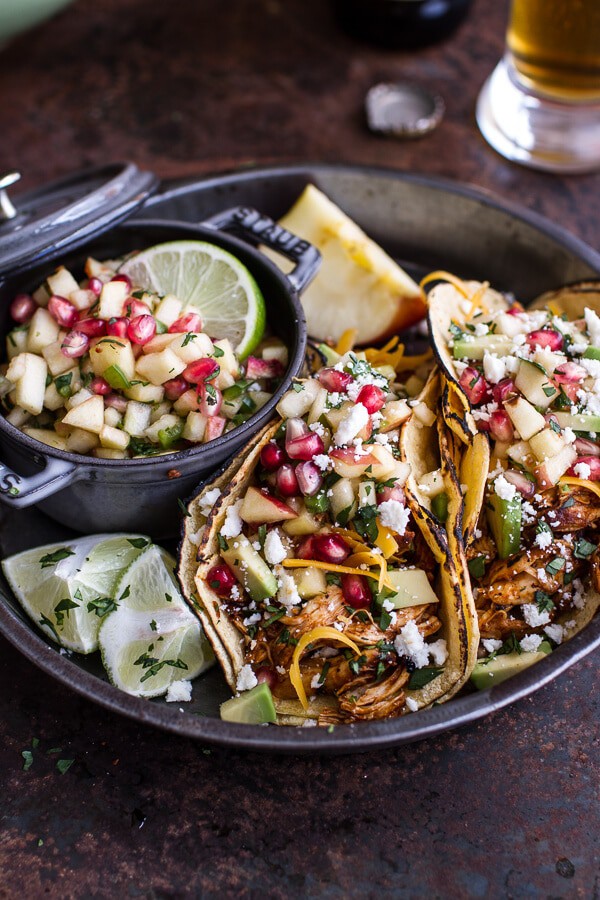 Ok, so the tacos start with the chicken – I used my favorite seasoning combo to spice it up. The seasoning is a mix of chipotle peppers, cumin and a few other spices, but the real secret to this braised chicken is the mix of beer and apple cider. The beer lends itself to the savory part while the cider adds in the sweet. It's the perfect combo and it keeps the chicken moist and flavorful. I used a pumpkin beer, but whatever your favorite beer is will work. Once the chicken is all shredded and tossed with the cider beer sauce, you add the final kick. Just a little enchilada sauce. Yes oh yes. Told you, these are some good tacos.
That's it for the chicken, simple, but so good. You could use the chicken for wraps, enchiladas or even just served over rice. Obviously, putting it in tacos is my favorite.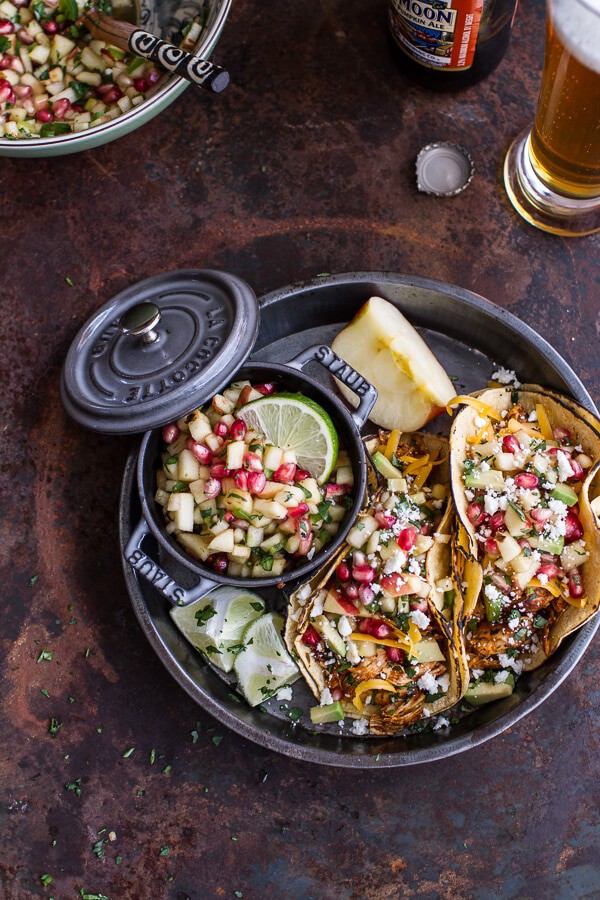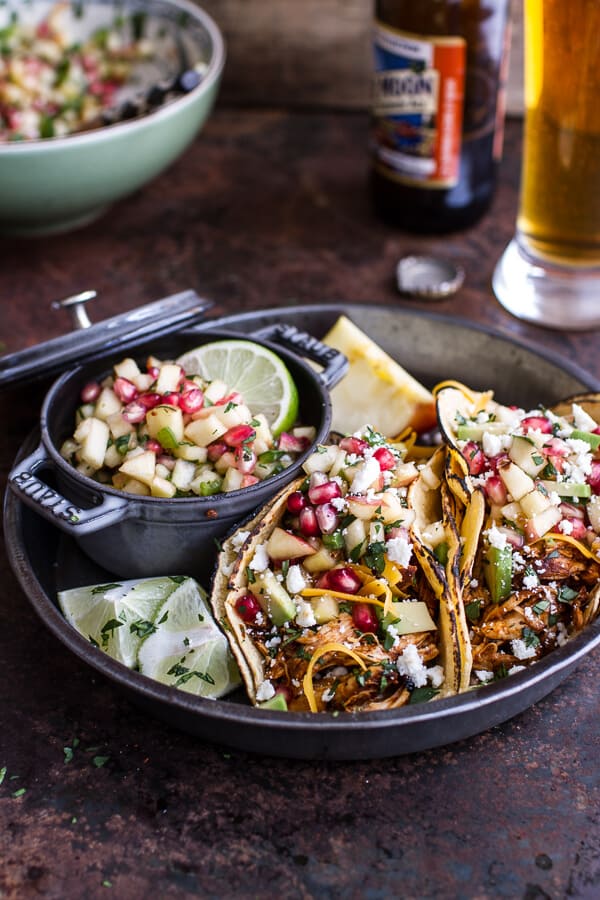 Hmm, so what else. The salsa. I know apple salsa might sound a little strange, but I'm hooked. Like eat by the spoonful hooked. Also, I am giving you fair warning that pomegranates are going to be a weekly thing around here from now until I can't find them anymore. I'm basically adding them to anything I can. One, because they are delicious and two, because they are so pretty. Like tiny pinkish, red jewels.
I also added a little sweet Thai chili sauce to the salsa for added sweetness + spiciness. FYI, sweet Thai chili sauce is like my secret weapon, when in doubt – I add sweet Thai chili sauce. It always livens things up a little, whether it is a Thai dish or not. All is fair game with sweet Thai chili sauce.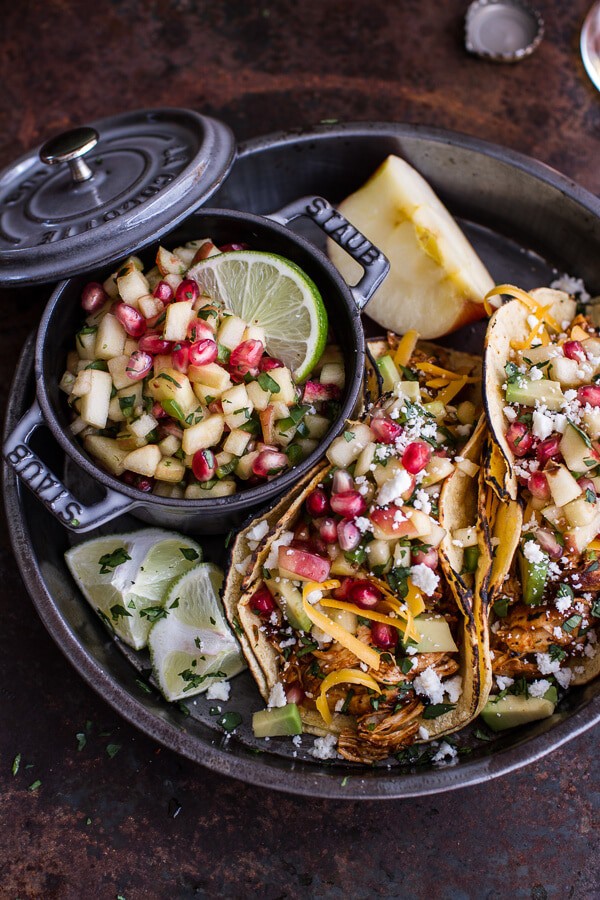 So yeah, the bottom line for today – your Monday needs a taco. This taco to be exact!
And with that I will end my rambling, because wow, I think like every sentence today was a run on.
Ugh, Monday.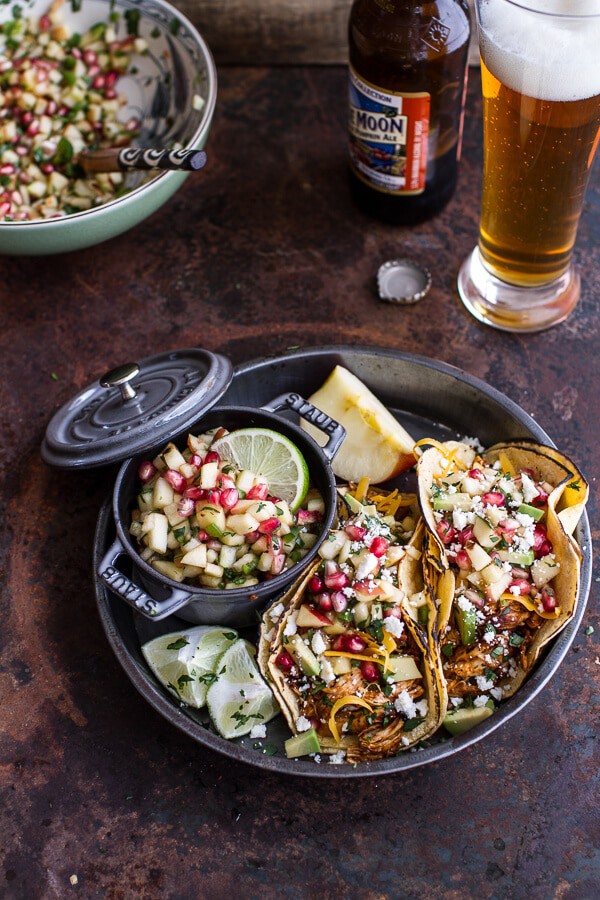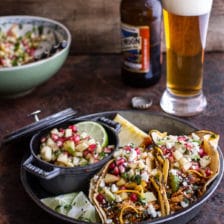 Nutritional information is only an estimate. The accuracy of the nutritional information for any recipe on this site is not guaranteed.
The Recipe
Spicy Cider Beer Braised Chicken Enchilada Tacos w/Sweet Chili Apple-Pomegranate Salsa.
By halfbakedharvest
Course: Main Course
Cuisine: Mexican
Keyword: tacos
If you ask me, these are just what Monday calls for, happy, sweet + spicy, colorful tacos!

Prep Time 10 minutes
Cook Time 30 minutes
Total Time 40 minutes
Servings 8 Servings
Calories 336 kcal
Ingredients
2 pounds boneless skinless chicken breasts
2 tablespoons olive oil
2 cloves garlic minced or grated
2 in chipotle chilies adobo minced
2 teaspoons chili powder
2 teaspoons smoked paprika
1 teaspoon cumin
1 teaspoon brown sugar
1/2 teaspoon cayenne or more or less to taste
salt and peper
1 (8 ounce) beer
1/2 cup apple cider plus more if needed
1/2 -3/4 cup enchilada sauce
8 warmed flour or corn tortillas for serving
sharp cheddar cheese + cotija cheese for serving
Sweet Chili Apple-Pomegranate Salsa.
2 honeycrisp apples finely chopped
arils from one small pomegranate
1 jalapeño seeded (if desired) + chopped
1/4 cup fresh cilantro chopped
juice from 1 lime
2-4 tablespoons sweet thai chili sauce (I used 3 but use as little or much as you would like)
Instructions
Add the chicken to a bowl. Drizzle with olive oil. Add the garlic, minced chipotle chilies in adobo, chili powder, smoked paprika, cumin, brown sugar and a pinch of both salt and pepper. Toss well to combine, making sure all the chicken gets coated in seasonings.

Heat a large brasier or dutch oven over medium high heat. Once hot, add the chicken and sear on both sides, about 2-4 minutes per side. Reduce the heat slightly and pour in the beer + apple cider. Scrape up any browned bits from the bottom of the pan, cover and simmer for 25-30 minutes or until the chicken is tender and cooked through.

Meanwhile, make the salsa. Add the chopped apple, pomegranate arils, jalapeño, cilantro, lime juice and sweet thai chili sauce to a bowl. Toss well to combine, taste and adjust if needed. Cover and store in the fridge until ready to serve.

Once the chicken is done cooking, remove it from the pot and shred with two forks. Meanwhile reduce the sauce that is left in the pot down to about 3/4 of a cup. Add the shredded chicken back to the sauce in the pot and toss. Now add the enchilada sauce and continue to cook about 2 minutes or until warmed through. If the sauce gets too thick, add a splash of apple cider.

To serve, add the shredded chicken to a warmed taco shell. Top with cheddar, avocado and then the apple salsa. Sprinkle with cotija cheese and chopped cilantro. Happy taco eating!
Recipe Notes
*To make these in the crockpot, add all the ingredients for the tacos (minus the cheese + tortillas) to the bowl of your crockpot. Cover and cook on low for 6-8 hours or low 4-6 hours. Shred the chicken and return to the crockpot. If needed cook the chicken oh high for 30 minutes with the lid off to help thin the sauce.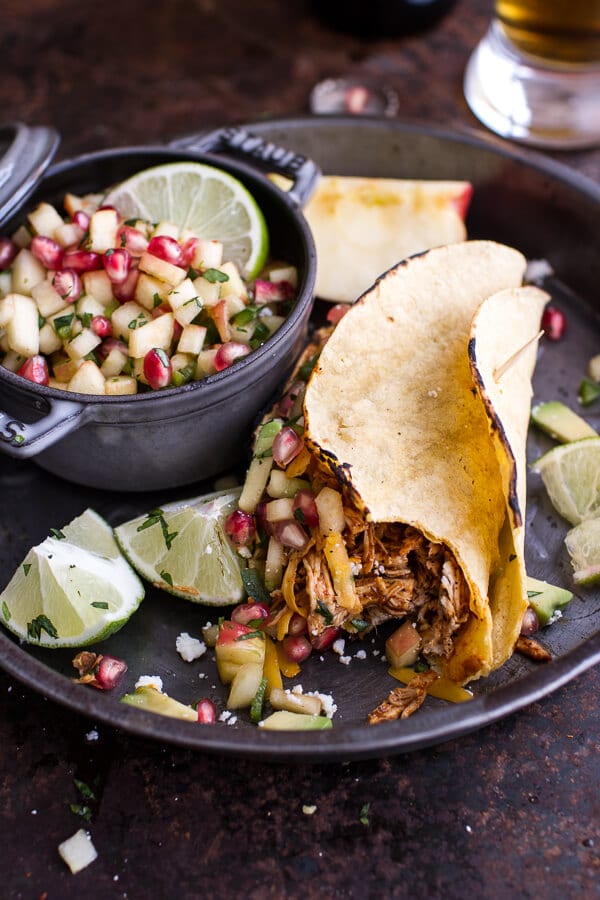 Taco Monday in for the win!