Nine Favorite Things.
Thanks for joining me for another Nine Favorite Things post.

Sometimes I find starting these favorites post to be incredibly challenging. I love writing these posts every week, but I often feel like I have nothing new or exciting to share. It can be tricky when my weeks consist of me keeping my head down working in the kitchen…or on the computer – ugh…as was the case this week.
We are working on some new projects for the year ahead. I've been attempting (attempting being the KEY word, it's been a bit of a struggle) to get ahead with content in preparation for a full month of travel in March (details below!). All good things, but nothing that exciting to report back about…
Except! I am just realizing that I never shared the details on Red's big Dew Tour win last weekend. For those of you who follow along on Instagram, you know my younger brother, Red, competed and won this year's Dew Tour in Snowboard Slopestyle. It was a big win for Red and it was certainly amazing to be able to watch him achieve a goal that he's had for years. Not only that, but his run was incredible. Furthermore, if you have any interest, you can watch his run here. I am so proud of him. He's put in so much work and it's certainly paying off!

And now, for some very random updates… I've found myself really gravitating more and more towards the fashion space. All throughout middle school and high school I always said that I wanted to go into fashion and work as a stylist. But as most of you know, I did a little bit of a 180 spin, and instead of working towards a career in fashion, started HBH. It was the best decision I ever made and I don't regret it even an ounce. But over the years I lost touch with that side of me. Recently, however, I've really been enjoying immersing myself in more fashion-focused content. I've found it to really inspire me creatively. New York Fashion Week was this past week and I loved following along. It's the perfect "distraction" that actually inspires me to create in the kitchen too.
Question: what's inspiring or exciting you guys this week? I would love to hear! Any new podcasts? Did you find the BEST pair of jeans? What was the most delicious recipe you cooked this week?
Coming up this week on HBH…I'll be sharing a new broccoli cheddar dish that's one of my favorites. A warming soup to get us through these bitter cold, end of winter days. A Greek-inspired recipe that's going to be a new go-to. And of course, something sweet to round out the week!
Lastly, if you're catching up on blog posts from the week, be sure to sign up for our daily newsletters. They'll help you to stay up to date with everything that's happening here, as well as fun content you'll only get via email. And of course, if you're meal planning today, don't forget to check out my menu below (it's #9 on the favorite's list).
Hope you enjoy this week's Nine Favorite Things and have a wonderful, relaxed Sunday!
1. Williams-Sonoma spring events.
I am SO excited to finally share we have the spring dates set four the William-Sonoma HBH Super Simple book tour! As I mentioned, this is not a big tour and space is limited, so I am sharing with you first! I am heading to Los Angeles, Dallas, San Fransisco, and ending the month out in Chicago! Four cities, all March long!
As of right now, this is all we have planned. But who knows, if these sell out and there seems to be demand…maybe we can add more cities! I can't wait to meet more of you soon!
All the details are below!!
Costa Mesa, California – Williams Sonoma South Coast Plaza
Wednesday, March 4th at 6:30 pm
Grab your tickets here.
Beverly Hills – California Williams Sonoma Beverly Hills
Thursday, March 5th at 6:30 pm
Grab your tickets here.
Dallas, Texas – Williams Sonoma NorthPark
Saturday, March 7th at 12 pm
Grab your tickets here.
San Francisco, California – Williams Sonoma Union Square
Sunday, March 8th at 12 pm
Grab your tickets here.
Chicago, Illinois – Williams Sonoma Lincoln Park
Thursday, March 26th at 6:30 pm
Grab your tickets here.
2. My Favorite Better Than Takeout Style Recipes.
Question: what "better than takeout" recipes should I make next?

Better Than Takeout Garlic Butter Shrimp Pad Thai

My Better Than Takeout Szechuan Noodles with Sesame Chili Oil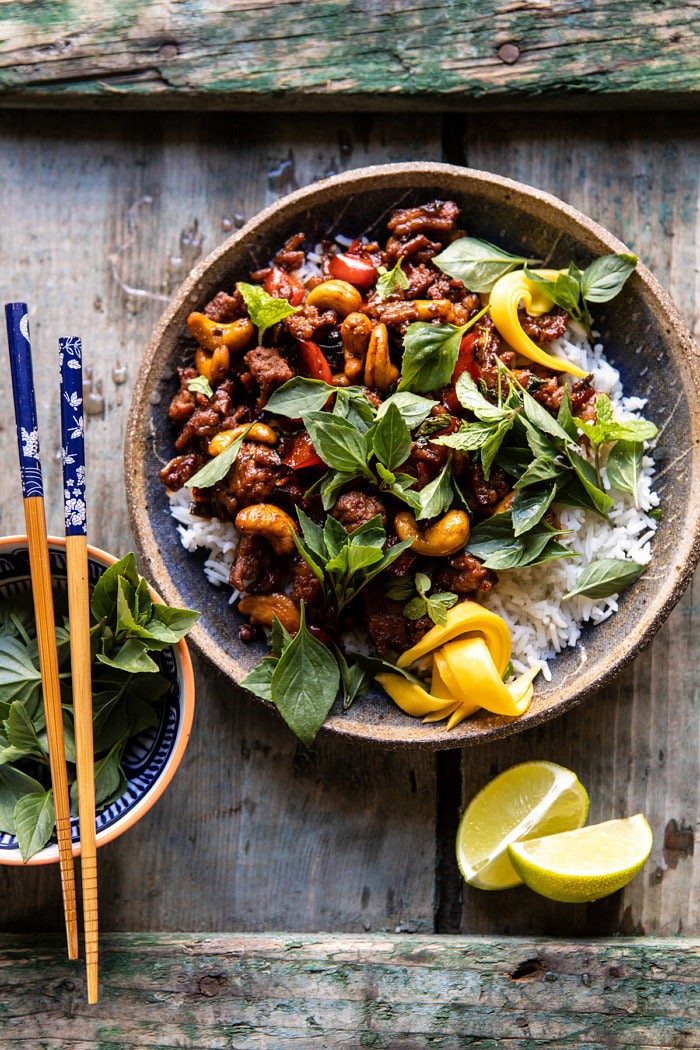 Better Than Takeout Sweet Thai Basil Chicken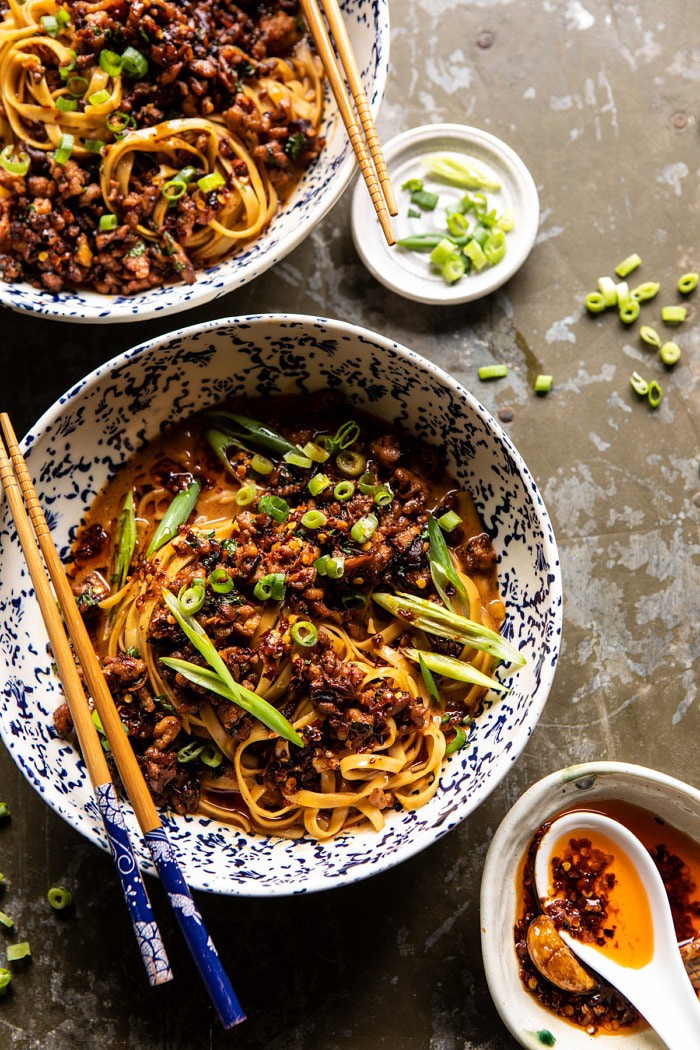 My Better Than Takeout Dan Dan Noodles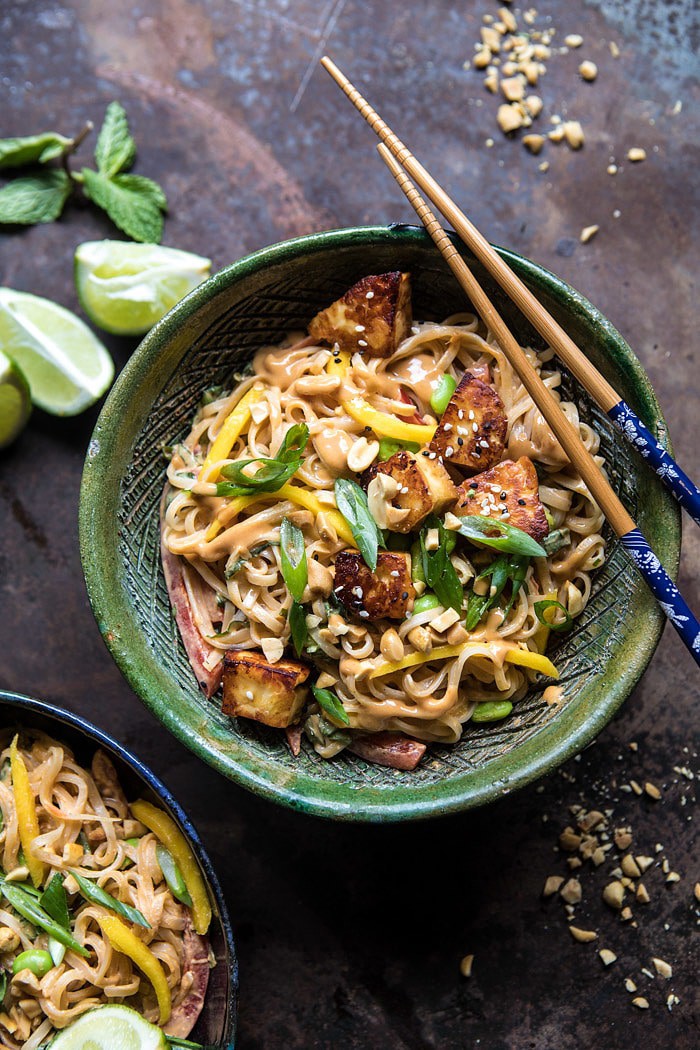 Better Than Takeout 20 Minute Peanut Noodles with Sesame Halloumi

My Better Than Takeout Kung Pao Cauliflower

Better Than Takeout Thai Drunken Noodles

(bonus) Better than the Bakery: Blueberry Swirl Coffee Cake Muffins
3. all the beauty products in my cart…


4. favorite questions of the week.
q: Do you wash dishes as you go, or all at the end?
a: No. I am a cook – then clean, kind of girl. The kitchen looks like a tornado hit it by the end of the day. It's bad!
q: What is your favorite flavor profile? Asian, Italian, Latin, Middle Eastern, Indian, etc.?
a: It changes depending on the season and what's inspiring me at the time. But right now my top two are Asian and Middle Eastern!
q: If you could only watch one for the rest of your life…Gilmore Girls or Harry Potter?
a: This is just mean, come on now. But if I had to choose, I think it would be Harry Potter. And now I kind of want to reread the books too.
q: Do you get mad when things don't go right…cooking, photos, etc., how do you regroup?
a: Not mad, but frustrated. It can be really, really hard. I can have a string of amazing weeks/days. And then a string of not so amazing days, when it seems like nothing is working. I have to look at each day as starting fresh and forget about the previous day. Most of the time fails turn into my best recipes/ideas and the things I'm most excited to share.
5. newest videos.
Sheet Pan Cuban Chicken with Citrus Avocado Salsa…a two-step process, but yet SO GOOD.
Skillet Chicken Tinga Enchiladas….at the top of everyone's favorites list.
Broccoli Fettuccine Alfredo…the healthy…ish version of classic Fettuccine Alfredo.
6. made me laugh, made me smile…
Made me laugh…
I shared a video on Instagram with my hair tucked into my sweater and I was immediately flooded with questions regarding my haircut. Thing is? I didn't cut my hair! Honestly, it was just dirty and I didn't know what to do with it, so I tucked it into my sweater. It caused quite the reaction. See below!

Apparently, everyone thinks I should chop my long hair into a bob. Ahhh…I don't think I could ever go that short…but maybe somewhat shorter.
Question: what do you think? I'm getting my hair cut in a couple weeks, should I chop it shorter?
Made me smile…
The surprise bouquet of flowers my mom sent me for Valentine's Day. It's truly the littlest things that always mean the most.
7. a few links i am loving…
Miranda Kerr told so many life and beauty secrets…here are the top 14.
Sophia Bush Hollywood home renovation…turned out so pretty.
how to incorporate color into your home…fun tips for a pop of color.
this garlicky, spicy chickpea stew…is exactly what you need.
everyday makeup…simple and dewy.
5 celebrity wedding planners offer advice for the big day…if you're in planning mode.
tips from inside stylist Leanne Citrone kitchen…I certainly love a good interview and learning about new to me people.
6 of the world's healthiest "sexiest" foods…if you need a boost.
the 8 relationship mistakes we've all made…and what to do instead.
a winter wedding in Aspen…simple, classy, and beautiful.
Karlie Kloss shares 5 entertaining tips…"never let guests go hungry". agreed.
21 habits that will make everything you cook taste better…of course, if you need a little help in the kitchen.
let's talk chocolate…all the recipes you need.
the dreamiest marble DIY idea at New York fashion week…love this idea.
how to store produce properly…the tips and tricks you need.
12 immune boosting soups…to keep the colds away.
can I sub this for that…an almost comprehensive answer
a rustic chic Idaho getaway…such a pretty and cozy space.
a design lovers guide to Northern Sweden…a true winter wonderland and so pretty.
10 times celebrities sold homes to each other…oddly kind of interesting.
the 25 best places to cry in New York…if you just need a good cry and happen to be in the city.
21 of the most beautiful bathrooms on Instagram…which is your favorite?
8. simple, but chic looks…


9. this week's dinners…

Monday: Creamy Golden Rice with Spiced Chickpeas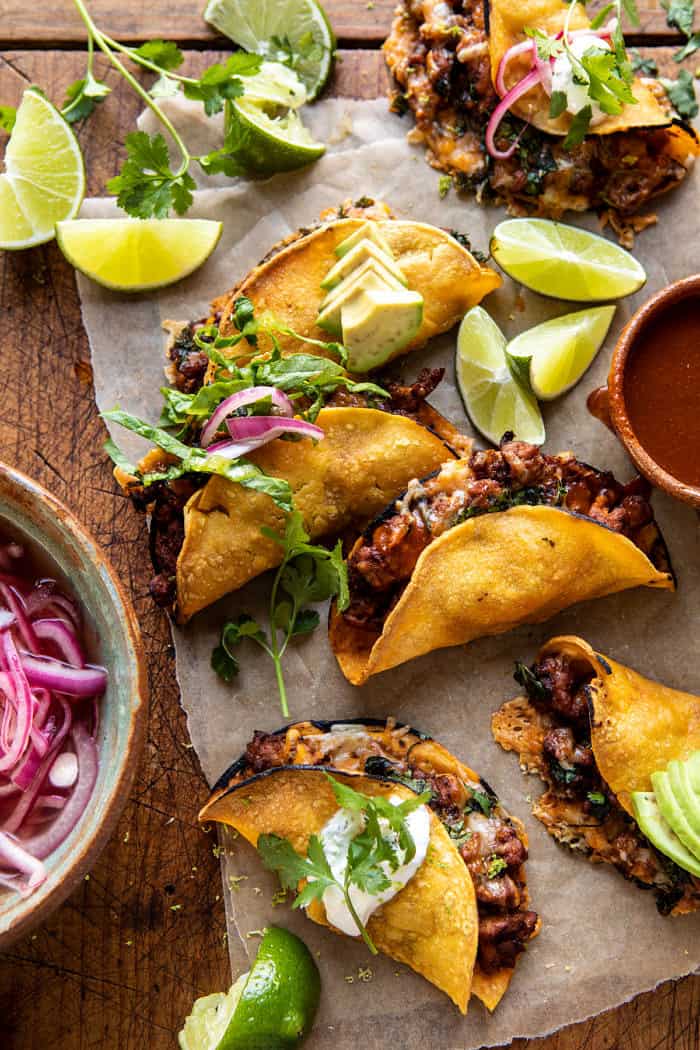 Tuesday: Weeknight Crispy Chipotle Chicken Tacos with Cilantro Lime Ranch

Wednesday: One Pot Spanish Shrimp and Rice Pilaf (HBH Super Simple recipe)

Thursday: Sheet Pan Chicken Shawarma with Sesame Sweet Potatoes and Hummus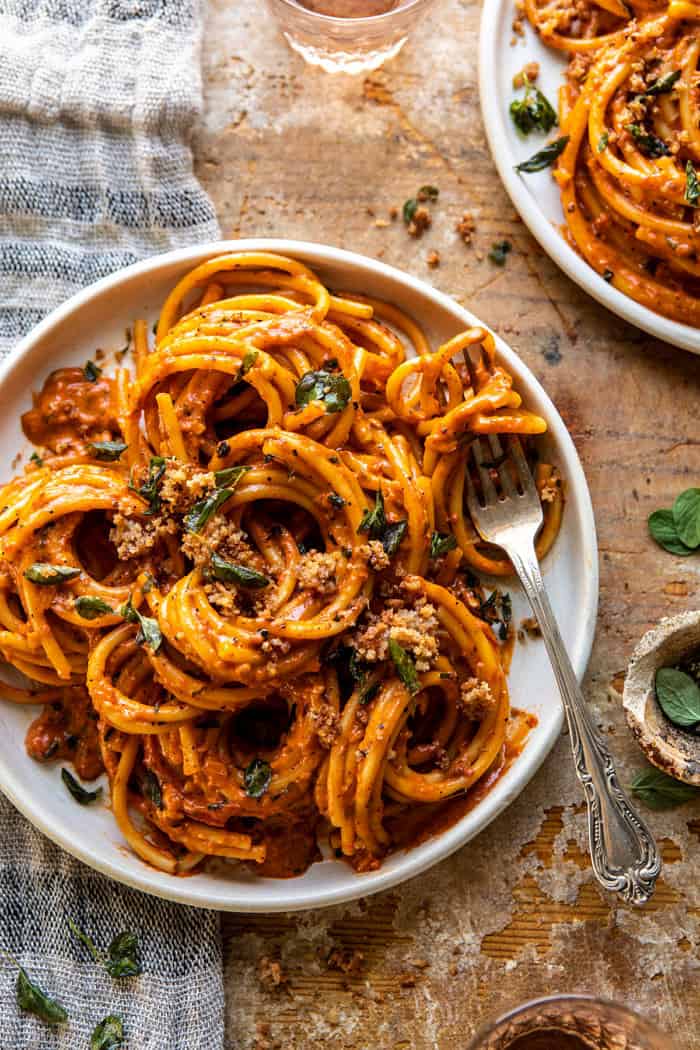 Friday: Roasted Red Pepper Alla Vodka Pasta with Cheesy Oregano Breadcrumbs

Sunday Baking: Flourless Chocolate Espresso Cake
Finally, check out all the past Nine Favorite Things posts here.