Mocha Caramel Crunch Chocolate Chip Cookie Bars.
If there was ever a Friday treat, this is IT.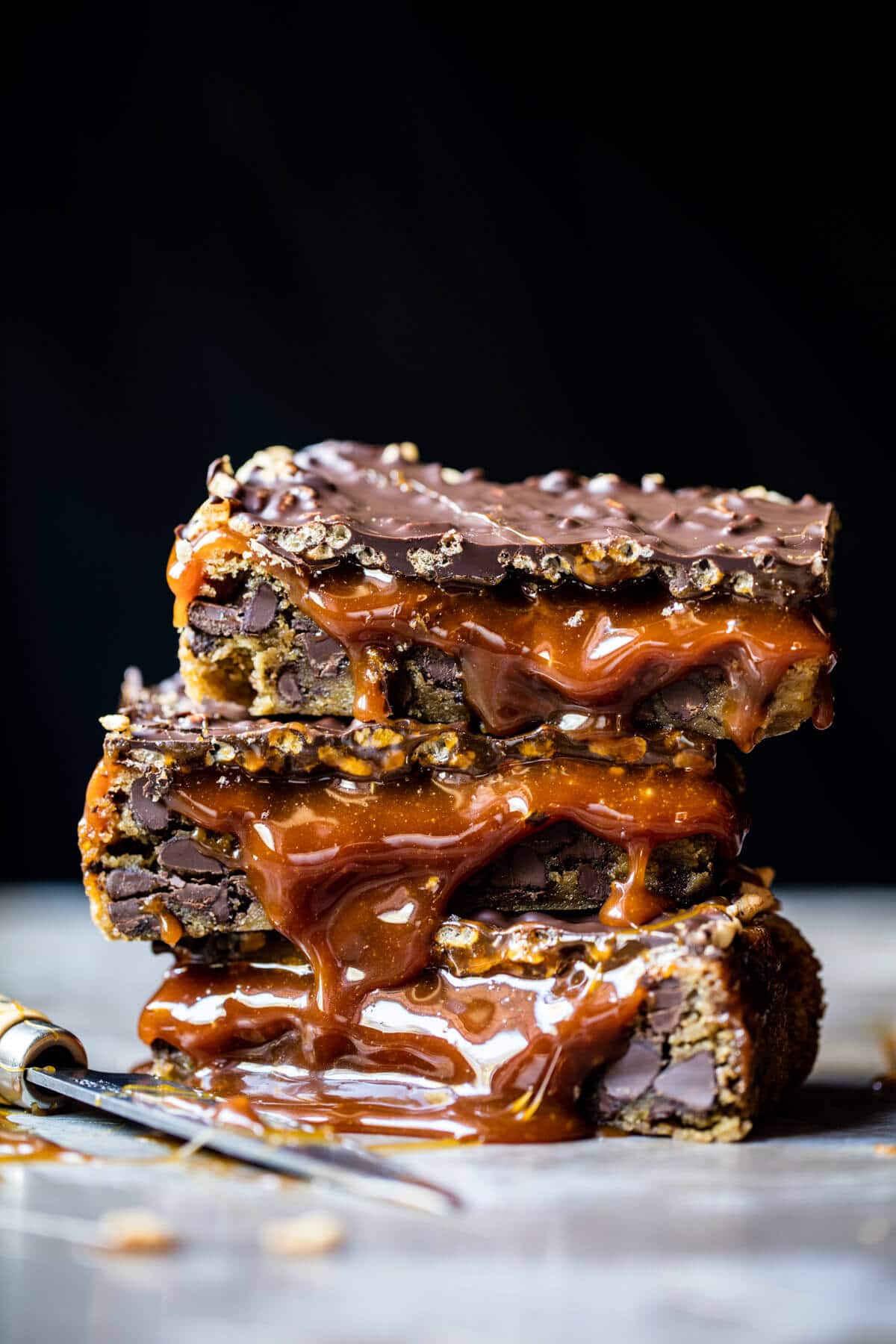 Hello… do you see that caramel dripping out of the center of these cookie bars? I mean, oh my gosh.
Nothing better! And on a Friday too, muahahaha!!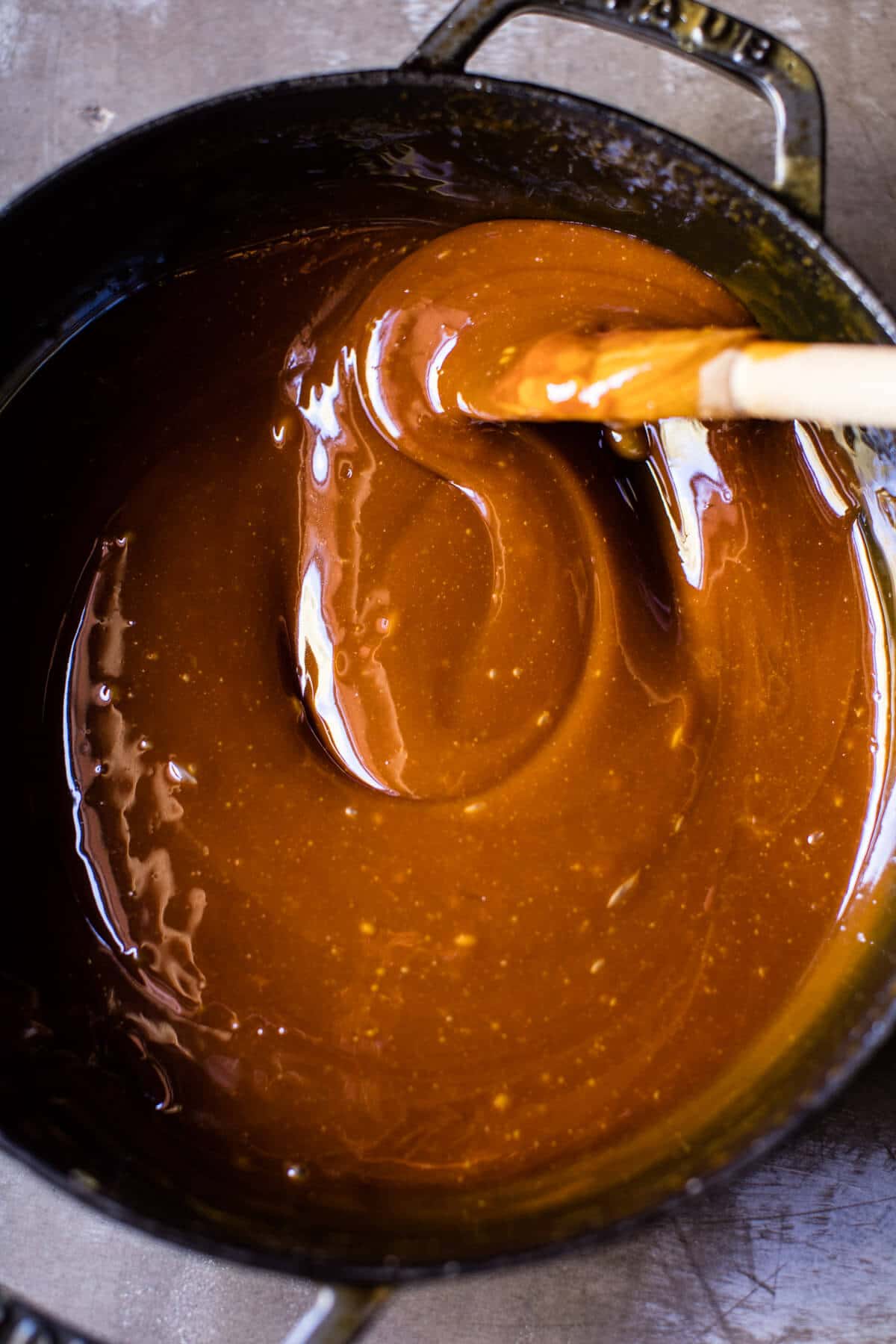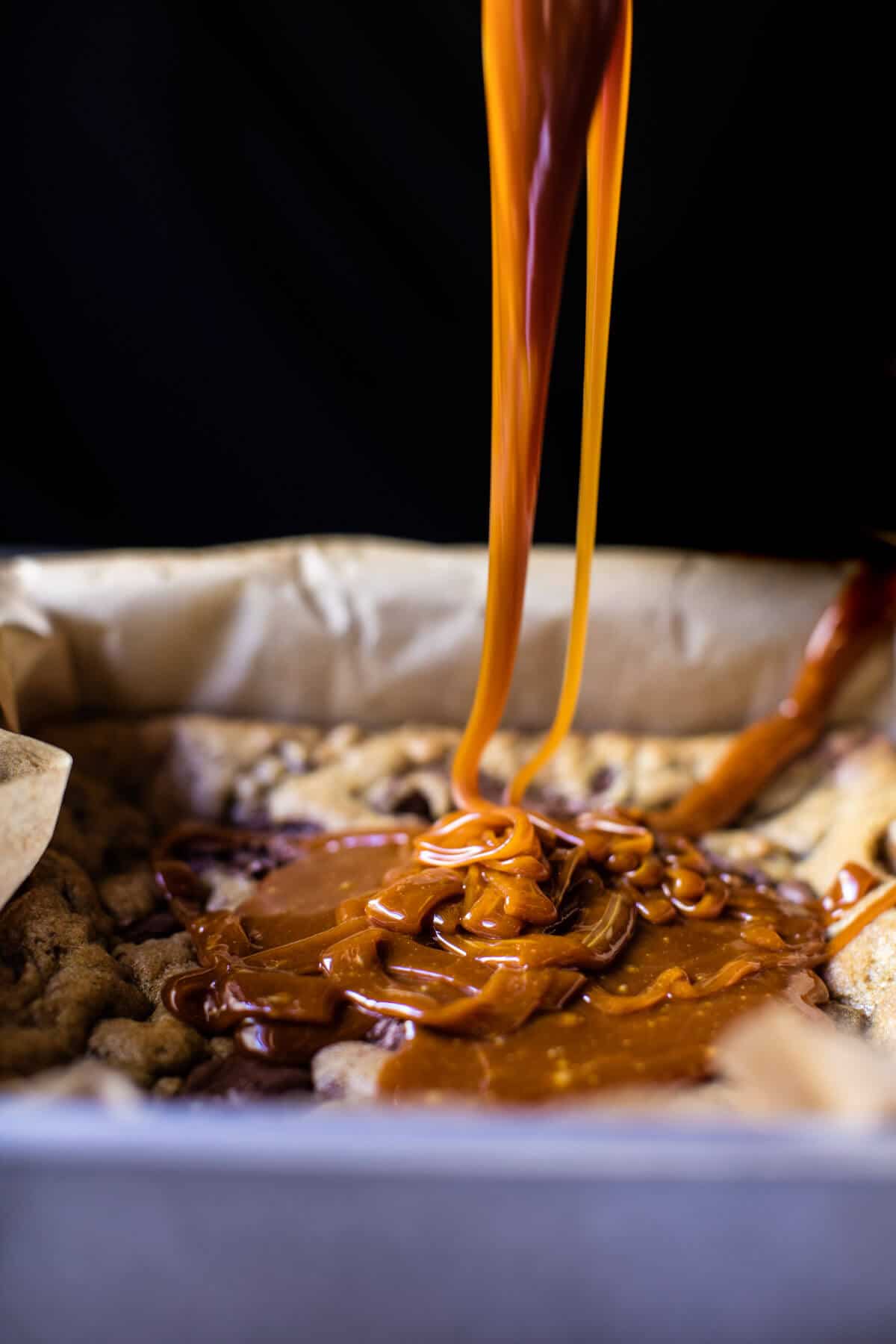 So here's the deal. I am going to attempt to keep today's post to the point because I am hopping on a plane in less than twenty-four hours to head off to The Wizarding World of Harry Potter with Asher… and somehow most of the fam in tow as well. Don't ask me how six out of my nine family members also got included in this "sister's only" trip, but they did! It's cool though, cause I kind of like my family, and I never ever get to hang out with them as much as I'd like, so it's a much-needed trip.
A little bummed about how the weather forecast is looking for Orlando though, like where the heck is the sunshine?!? Someone tell me that scattered thunderstorms are just the norm and that most of the day will be great.
Ugh.
Oh well, I am so excited to finally be taking Asher to Harry Potter World. She's literally been talking about it all summer long, and with October arriving tomorrow, it's the perfect time for some wizarding world fun!
And fellow Disney goers out there? What MUST we do/see/eat while we are there? We aren't planning on hitting any other parks other than Harry Potter, but if there's something we REALLY must see, our passes do take us to Universal as well. So let me know!! I'll be posting all over Instagram and snapchat if you guys want to follow along! 🙂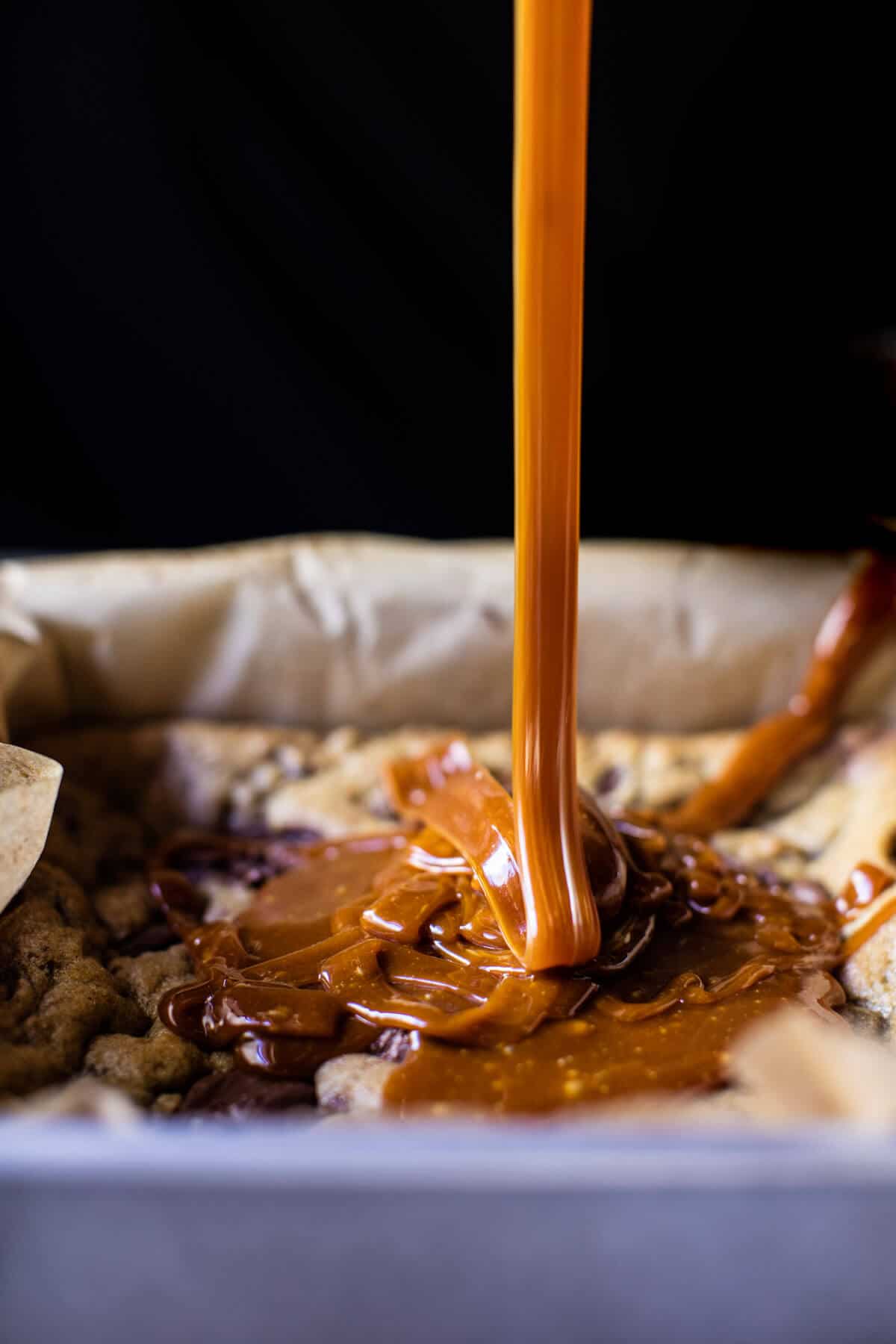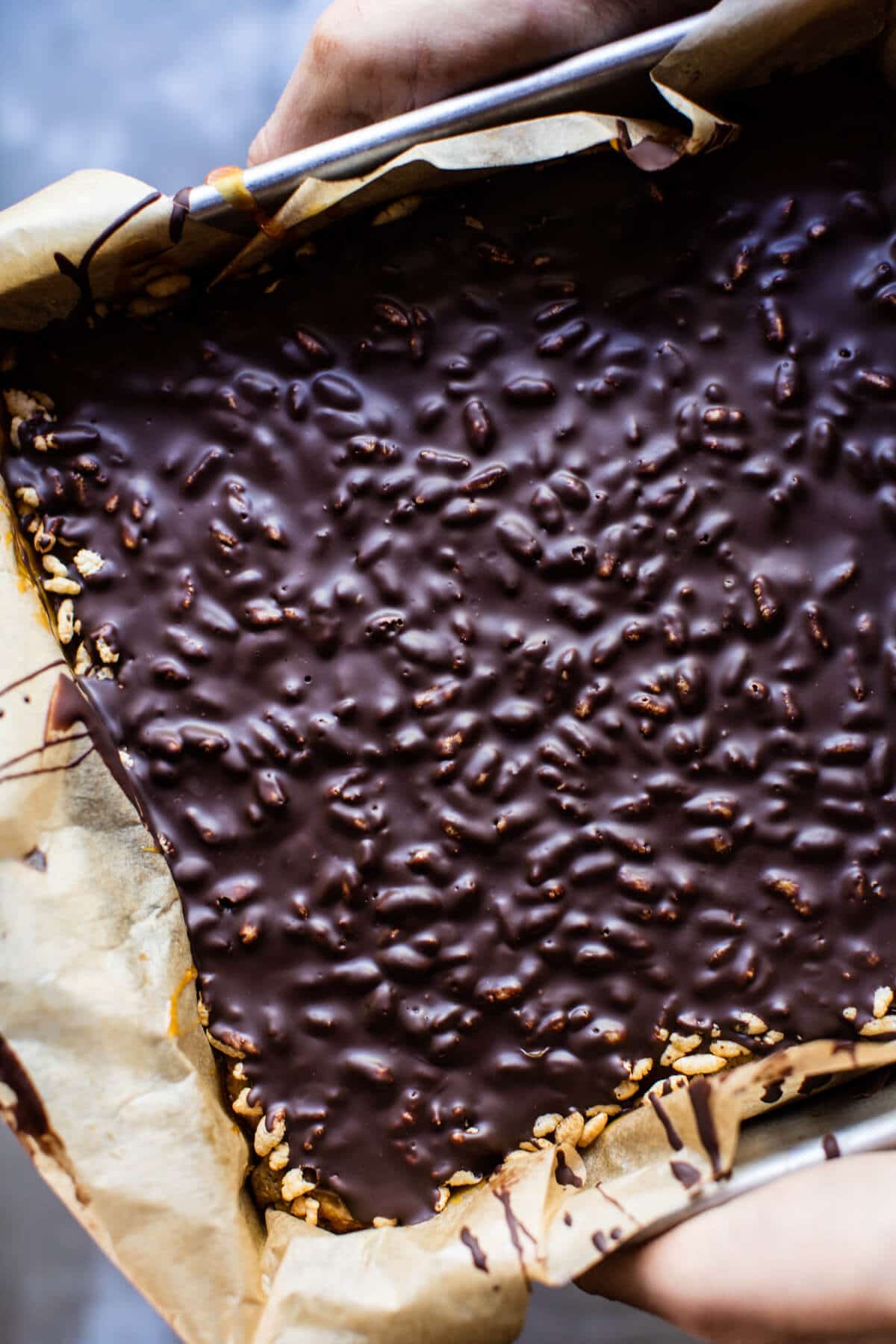 Ok, man, already way off topic there!
Sorry!
Ok, let's talk about these Mocha Caramel Crunch Chocolate Chip Cookie Bars. These incredibly chocolatey, incredibly gooey… and just incredibly over the top bars. Here's how they break down layer by layer…
…start things off with a simple chocolate chip cookie base, BUT spike it with a little instant coffee for the perfect mocha cookie bar. If you didn't already know this, chocolate and coffee are the perfect paring.
…next comes the caramel. I don't really feel like I need to talk about the caramel, it kind of speaks for itself, but um, I'm still going to. It's caramel season, and guys, this might just be the best way out there to make use of it. I mean, cookies + caramel + salt. life changing.
…finally, the CRUNCH, otherwise known as semi-sweet chocolate + Rice Krispies. Yes, more chocolate, and yes, it's everything, literally… it's the glue that holds these bars together.
So you see? Kind of a simple idea, but yet sooo good. Caramel really just doesn't get any better.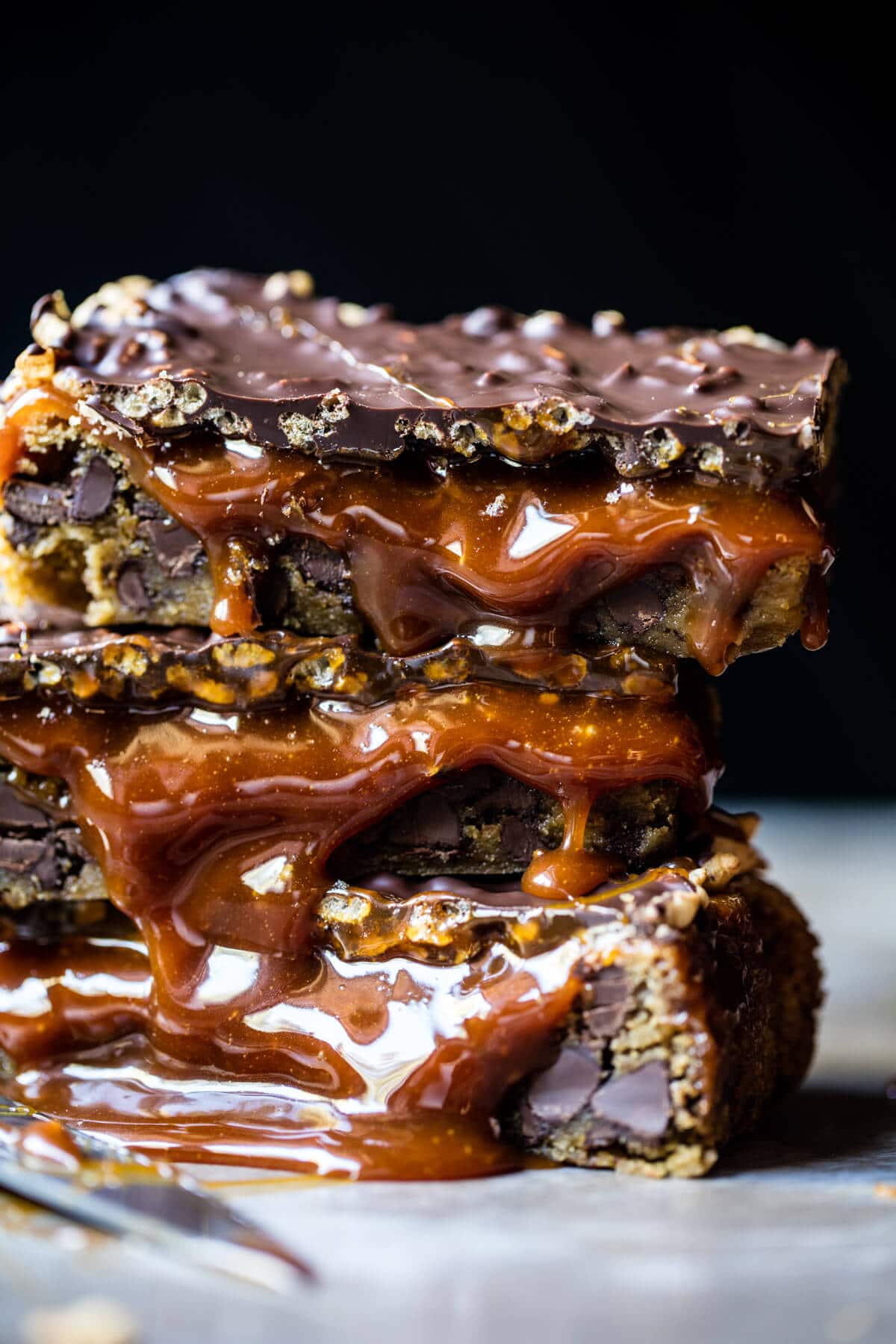 On little note on these bars…they are messy, but in the best way possible. The cookie base is meant to baked so that the center of the bars is slightly underdone. The caramel is meant to be the perfect state of not too runny, but definitely not solid either. These two components create one seriously mess bar, BUT trust me, it's worth every sticky caramel smear.
OH, and how fun would these be for a Halloween party? I don't know why, but they kind of remind me of a homemade candy bar…maybe it's that caramel center and chocolate layer on top?
Kind of like a snickers? But in cookie form?
YES, that's it! And better too because homemade is always best, duh.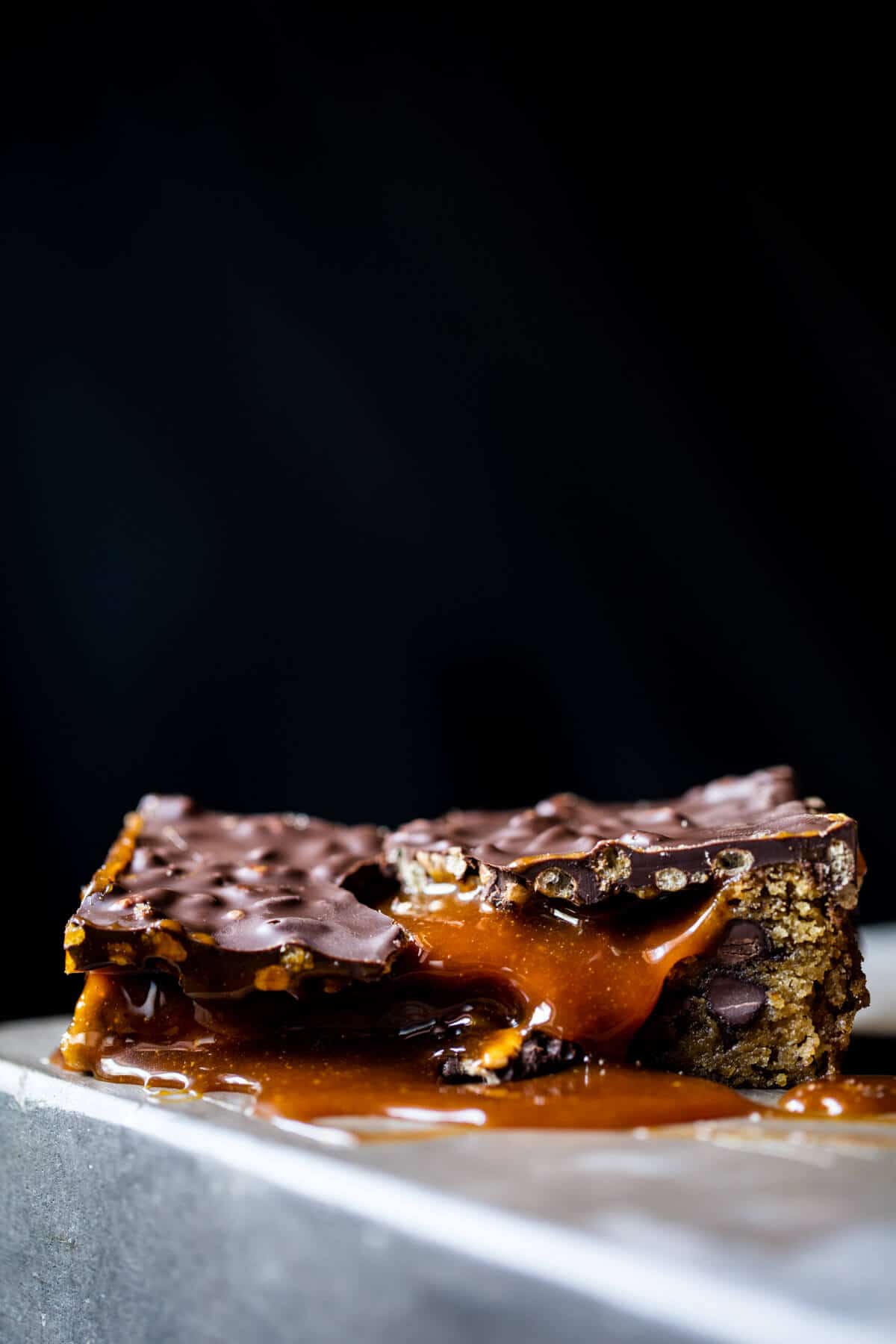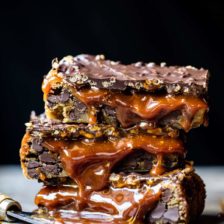 Nutritional information is only an estimate. The accuracy of the nutritional information for any recipe on this site is not guaranteed.
The Recipe
Mocha Caramel Crunch Chocolate Chip Cookie Bars.
By halfbakedharvest
Course: Dessert
Cuisine: American
Keyword: chocolate bar
These incredibly chocolatey, incredibly gooey... and just incredibly over the top bars.
Prep Time 25 minutes
Cook Time 25 minutes
Total Time 50 minutes
Servings 20 Bars
Calories 442 kcal
Ingredients
Salted Caramel (or 1 1/2 cups store-bought salted caramel sauce)
2 cups granulated sugar
1/2 cup heavy cream + more if needed
4 tablespoons unsalted butter, at room temperature, cut into chunks
1 tablespoon Kahlua optional
Instructions
Preheat the oven to 350 degrees F. Grease a 9x13 inch baking dish.

In a large mixing bowl, beat together the butter, brown sugar and sugar until combined. Add the eggs, vanilla and instant coffee, beat until combined and creamy. Add the flour, baking soda, and salt and beat until combined. Stir in 2 cups chocolate chips.

Spread the dough out in the prepared baking pan. Transfer to the oven and bake for 18-20 minutes, just until set in the center. Allow to cool.

To make the caramel, in a large, dry, deep, heavy pot, cook the sugar over moderately high heat, stirring constantly with a heat proof rubber spatula until the sugar is melted and turns a golden caramel, about 8 minutes. Remove the pot from the heat and let cool 5 minutes. Slowly add the chunks of butter in one by one, whisk until combined. The caramel will bubble, this is ok. Now slowly add the cream and then whisk until combined. Return the pot to moderate heat and cook the mixture, stirring until the caramel has thickened, about 5 minutes, or until the caramel reaches 235-240 degrees F. on a sugar thermometer. Remove from the heat, if using, add the Kahlua + a pinch of salt. Let cool 5 minutes and then pour the caramel over the cookie bars. Let the bars set at least 30 minutes.

Melt the remaining 2-3 cups chocolate chips in the microwave or over a double broiler. Sprinkle the Rice Krispies over the caramel layer and then pour the melted chocolate over top. Place the bars in the fridge to set, about 15-20 minutes. Cut the bars into squares. Serve at room temperature. Store in the fridge or in a cool, dark spot in your kitchen.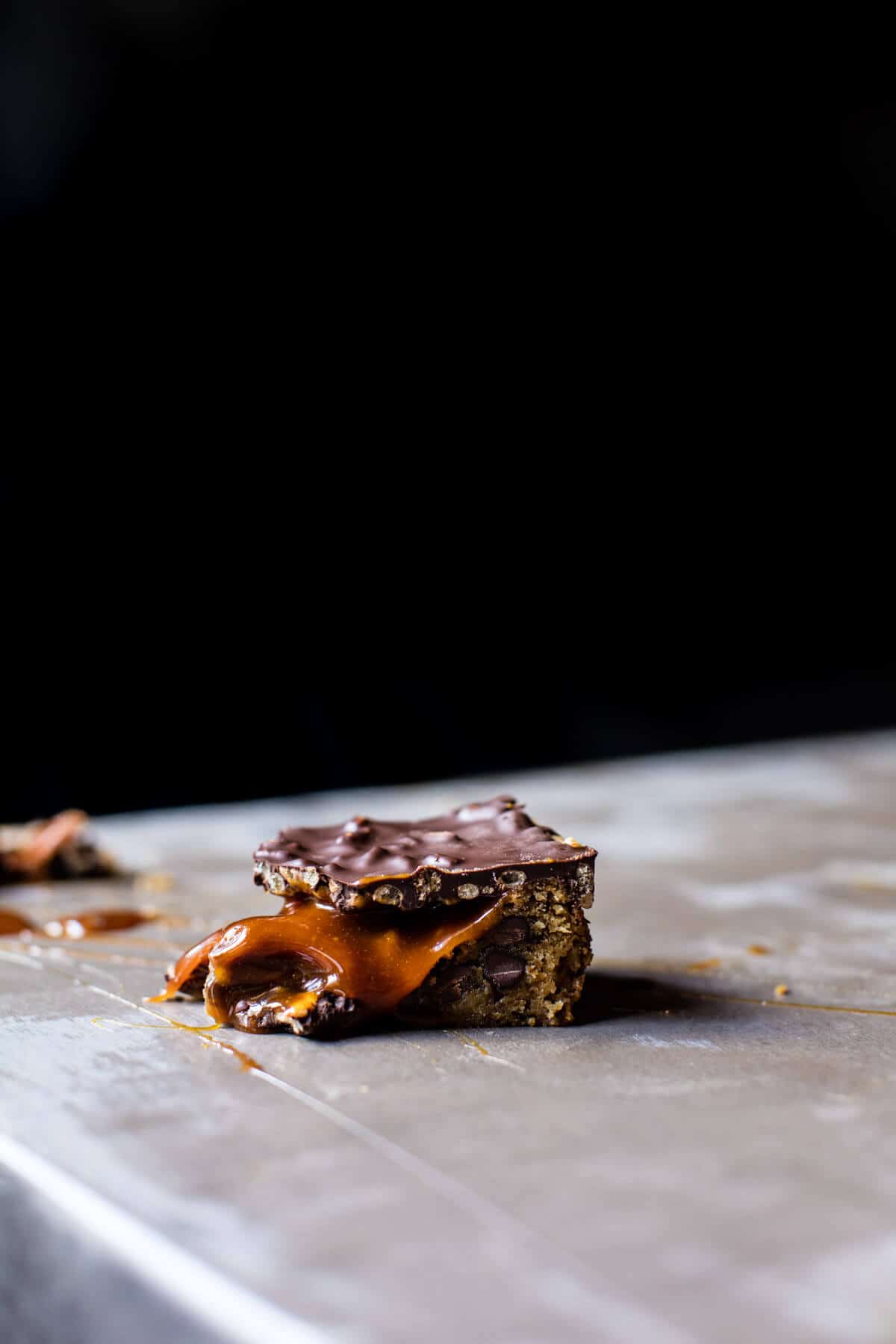 Cheers to Friday, caramel cookie bars… and to the start of OCTOBER! 🙂