Lavender Basil Lemonade.
Oh summmer!! You have finally arrived…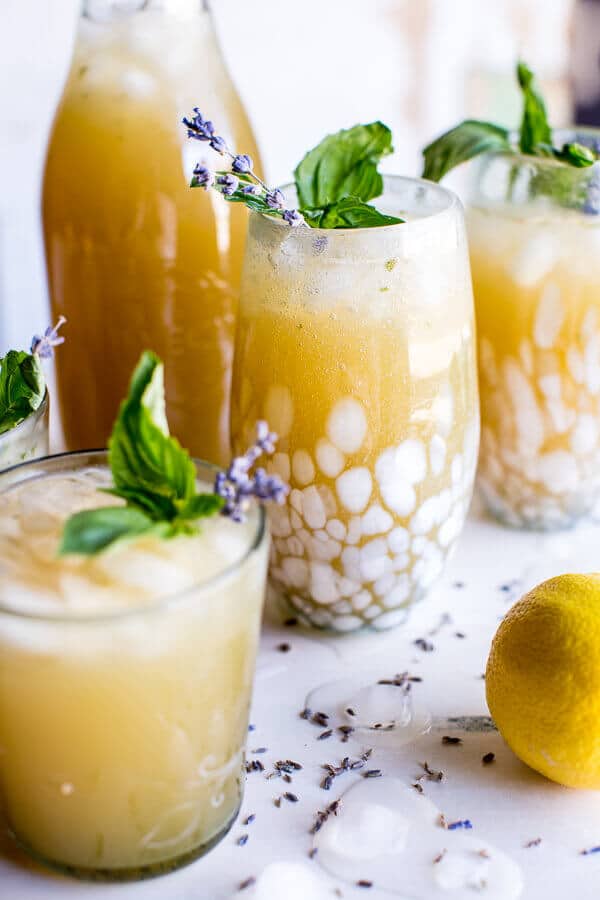 Well for most of you anyway. I know my brothers in Cleveland have been experiencing 80 degree sunny weather. Hopefully you are too. We won't talk about the coldness that I have been experiencing here, it just makes me sad.
So first up, let's just give a big shout out to all the brave men and women out there serving our country!!
Your bravery amazes me. Thank you for helping to keep our families safe.
In return I would like to offer you some of this sweet lavender basil lemonade, I know it may not compare to the things you do everyday, but in my world food is one of the best gifts and probably the best way to tell someone thank you. Unfortunately, I know that you may be lacking these ingredients where you are, so instead, I am asking for readers that are able, to please take the time to donate a simple $2 cup of coffee via the Cup of Joe program. Simply click on this Cup of Joe link. Thank you, and I hope that you receive a much deserved break on this Memorial Day!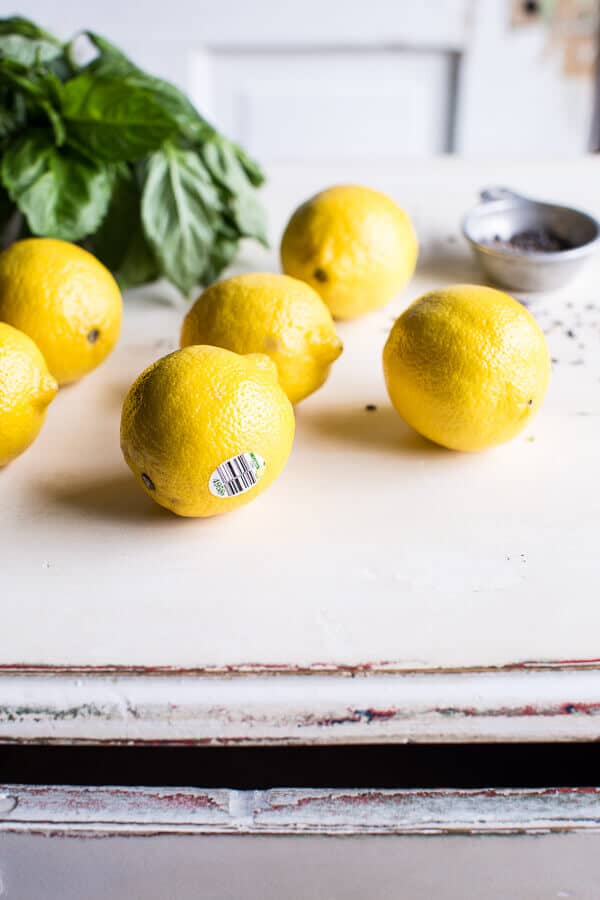 I don't want to go on and on today so I am keeping things pretty simple.
I made us one of the best classic summer drinks and I put my own little spin on it… AND, I made it just a tinsy bit healthier too!! YEAH!!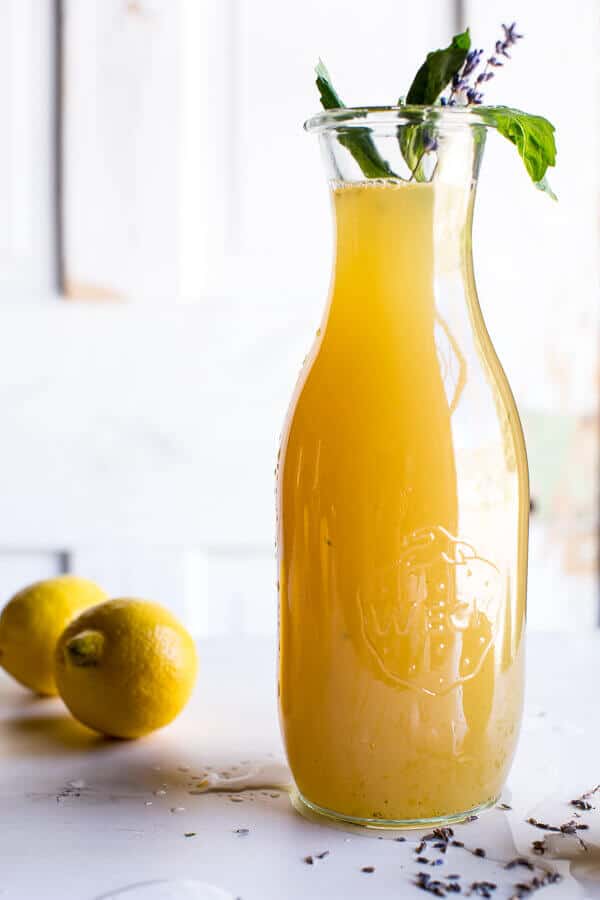 This lemonade is sweet, but not overly so, and it's got just the right amount of lemon kick.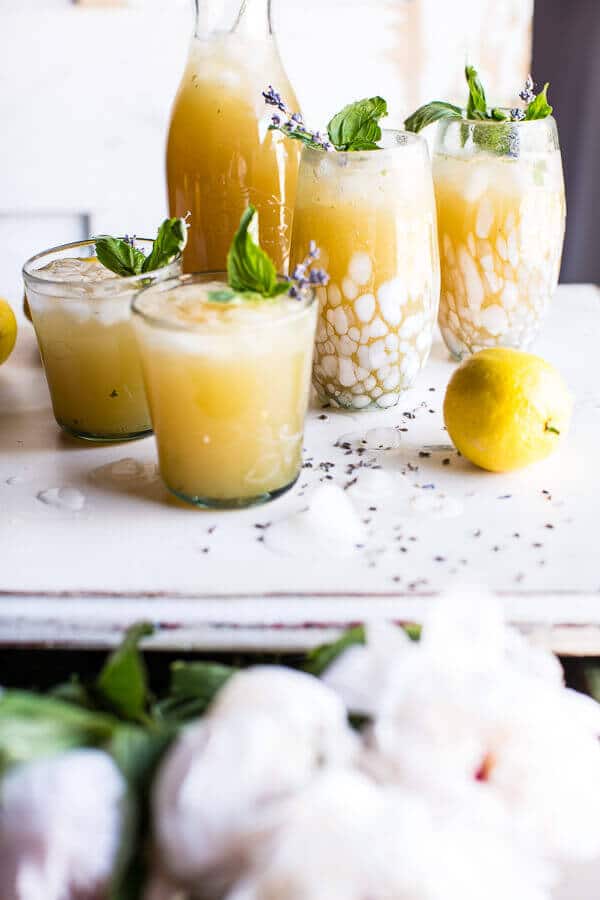 You also get some nice hints of basil and lavender. Don't be scared away by these flavors, I promise you will love them. They're so refreshing and perfect for summer sippin.
Bonus points, the only thing sweetening this lemonade is a little bit of honey. No sugar, just honey…

Which clearly means we can drink this by the gallon and not feel an ounce of guilt.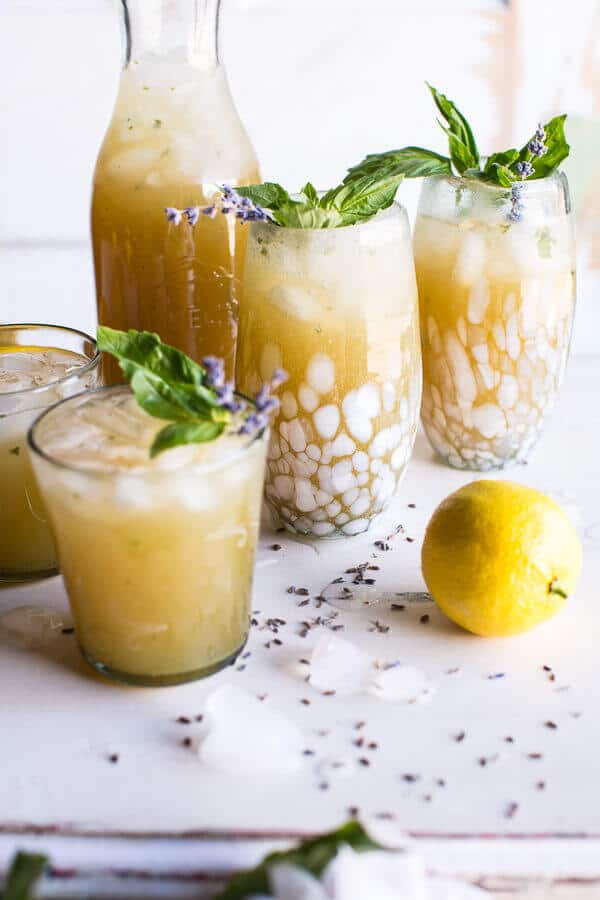 Bring on summertime sippin!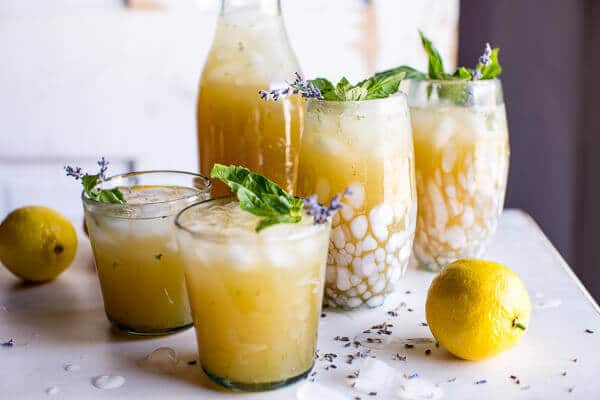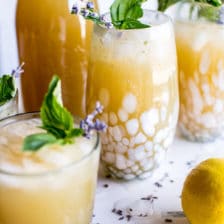 Nutritional information is only an estimate. The accuracy of the nutritional information for any recipe on this site is not guaranteed.
The Recipe
Lavender Basil Lemonade.
By halfbakedharvest
Course: Drinks
Cuisine: American
Keyword: basil, lavender, lemonade
Prep Time 10 minutes
Cook Time 5 minutes
Total Time 15 minutes
Servings 5 Servings
Calories 81 kcal
Ingredients
1 tablespoon dried lavender
3/4 cup fresh basil roughly chopped + more for garnish
1/3-1/2 cup honey OR coconut and or granulated sugar*
5 cups water divided
1 cup freshly squeezed lemon juice
ice for serving
Instructions
In a small sauce pan bring the lavender and 2 cups water to a boil. If you are using coconut or granulated sugar, add the sugar to the water as well. Once the water is boiling remove from the heat and add the basil, cover and steep for 10 minutes.

Meanwhile squeeze the lemon juice into a tall glass pitcher. Stir in the honey (unless you already added sugar earlier). Stir in 3 cups water. Once the basil has steeped, strain the mixture into the pitcher with the lemon juice. Stir well and then taste. If the lemonade tastes sweet, add water, if it tastes too tart, add honey, 1 tablespoon at a time, until the lemonade is just right for you. I found that 1/3 cup honey works great. Place in the fridge until well chilled.

To serve, pour the lemonade over a glass of crushed ice. Garnish with lavender and basil. Drink up!
Recipe Notes
*If you decide to use coconut or granulated sugar, you may need to add closer to 1/2 cup sugar, as honey is a little sweeter than sugar.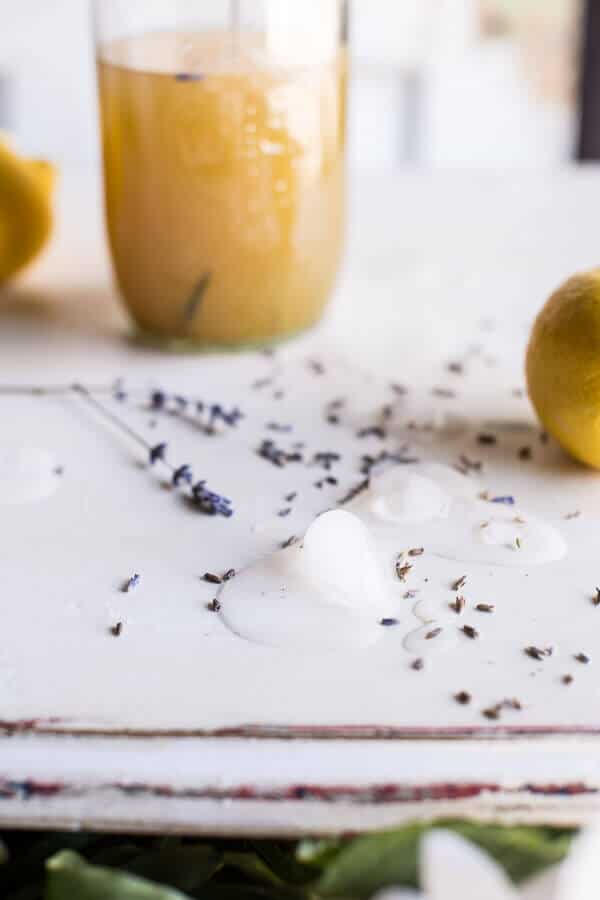 Have a fun and safe Memorial Day everyone!! Hope the sun is shiny and warm wherever you are!