Heirloom Tomato Cheddar Tart with Everything Spice + Video
Honestly though, have you ever seen such pretty tomatoes?!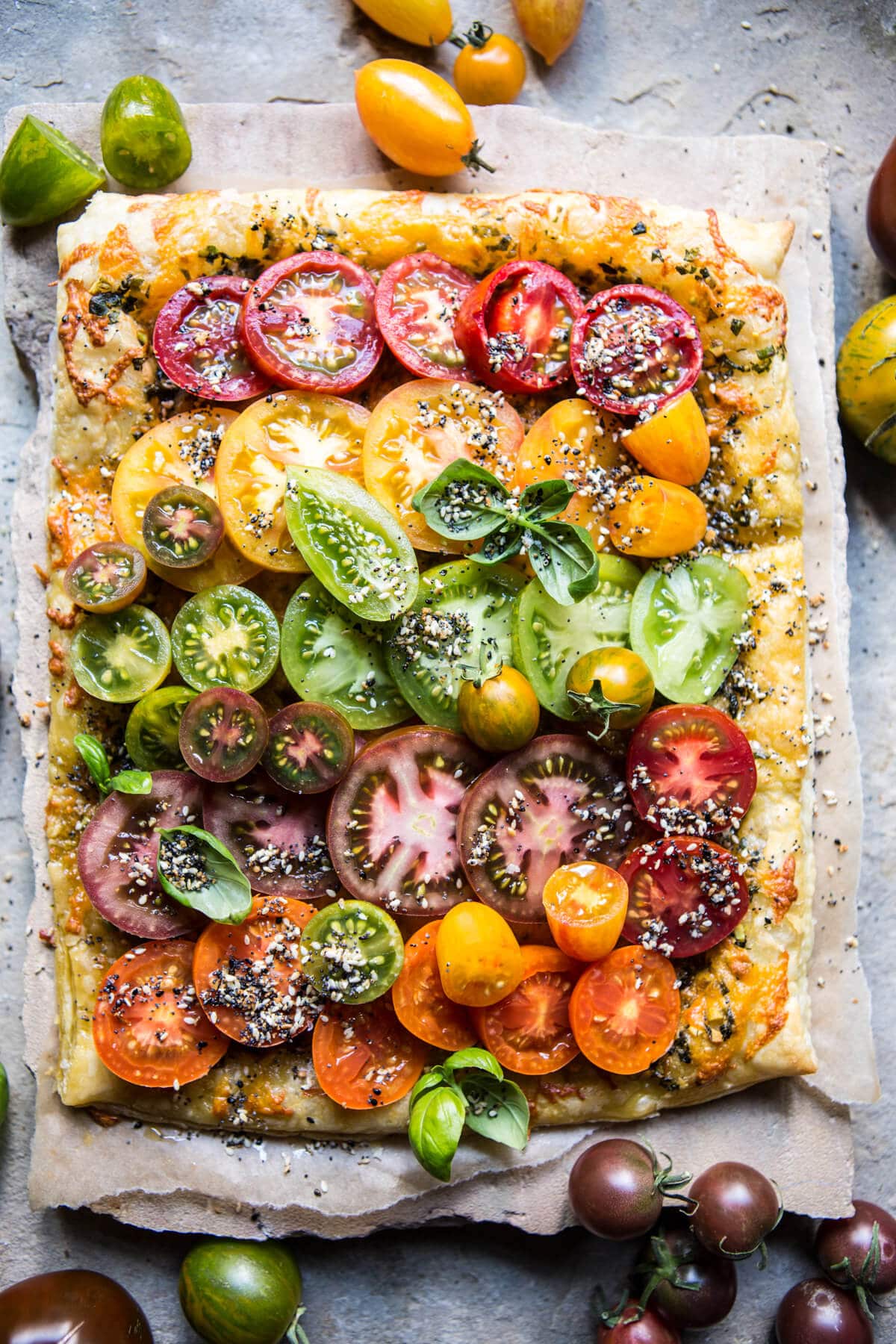 I know I've been talking non-stop about tomatoes for the past two weeks, but oh my gosh, I think this summer's tomatoes have been the best! Of course the discovery of these beautiful little gems at my local farm stand was probably a major factor… I seriously cannot get enough!
WATCH THE HOW-TO VIDEO:
Sooo, you want to know how this pretty little tart was created? Well, it goes a little something like this. I bought way too many tomatoes from that same little farm stand and had not a clue what to do with them. I was hiking the next morning, thinking to myself, there's no way on Earth I am going to let the best tomatoes ever just sit on my pantry counter and go to waste.
No freaking way.
Plus, I just really, really wanted to take more photos of the tomatoes, I am obsessed.


SIDE NOTE: I was filming with my brother all weekend long and we shot a few tomato recipes. One of the recipes called for heirloom tomatoes and I basically made him film a good ten minutes of beauty shots of the tomatoes. Legit, he thought I was INSANE. The conversation went like this…
Malachi: "Tieghan, like what the hell do we need all these tomato shots for? Pretty sure we just wasted ten minutes filming tomatoes sitting on a counter. Like, are you insane?".
Tieghan: "The tomatoes are the star of the show, they're gonna make the video".
Kai still disagrees…whatever.


Anyway, I decided on my hike that I needed to come up with a simple, but creative way to use the tomatoes. A recipe that would really highlight their incredible colors and flavors.
I love the combo of cheddar + tomato, so that was a must. But I needed something a bit more. I decided to add a little basil and um… the everything bagel spice. I have to say, this spice kind of makes the tart. It's so simple, but really packs on the flavor. The sesame seeds pair really nicely with the raw tomatoes and the gooey melted cheddar cheese.
For real, this heirloom tomato cheddar tart with everything spice is perfection… like beyond belief, SO delicious!
And it's SOOO easy.
All you need is puff pastry, basil pesto, cheddar cheese, tomatoes, olive oil and then that magical everything bagel spice (made with sesame seeds, dried onion, dried garlic, poppy seeds, salt and pepper). It really just doesn't get any simpler.


Also, while I left my tomatoes raw and allowed the warm tart to slightly heat them up, you should know that this tart is great with the tomatoes baked on top in the oven as well. I guess I do prefer them raw, since the tomatoes are just so good right now, but if you find yourself with some imperfect tomatoes, just bake them right on top of the tart. It's a little more like pizza then, but I don't think anyone will be complaining.
Serious question though: are you guys totally over the tomato recipes? I'm crossing both fingers that your answer is NO. I am still going full force with these late summer tomatoes and I really hope you guys are with me.
Double also?! Can we please agree that tonight's dinner NEEDS to be this tart? I mean, for one you can have it ready for eating in just about thirty minutes, and two…  it really is the best freaking thing ever!
Puff pasty + basil pesto + cheddar cheese + heirloom tomatoes + everything spice?!
HECK YES ?



Nutritional information is only an estimate. The accuracy of the nutritional information for any recipe on this site is not guaranteed.
The Recipe
Heirloom Tomato Cheddar Tart with Everything Spice.
By halfbakedharvest
Course: Main Course
Cuisine: American
Keyword: tomato tart
This light and crispy tart is pure perfection
Prep Time 10 minutes
Cook Time 25 minutes
Total Time 35 minutes
Servings 6 Servings
Calories 386 kcal
Ingredients
1 sheet frozen puff pasty thawed
1/3 cup basil pesto [homemade | https://dev.halfbakedharvest.com/avocado-caprese-pasta-grilled-broccoli-rabe/] or store-bought
1 1/2 cups shredded sharp cheddar cheese
4-6 heirloom tomatoes
olive oil for drizzling
Everything Bagel Spice
2 tablespoons toasted white sesame seeds
1 tablespoon toasted black sesame seeds or another tablespoon white sesame
2 tablespoons poppy seeds
2 teaspoons dried onion
2 teaspoons dried garlic
2 teaspoons kosher salt
Instructions
Preheat the oven to 425 degrees F. Line a baking sheet with parchment paper.

Lay the thawed puff pastry on the prepared baking sheet and prick the pastry with the tines of a fork. Spread the pesto over the dough, leaving a 1/4-inch boarder and top with cheddar cheese. Bake for 25-30 minutes or until the pastry is golden and the cheese has melted.

Remove from the oven and top the tart with tomatoes. Drizzle the tomatoes lightly with olive oil and sprinkle generously with everything bagel spice. Top with basil. Slice and EAT! 🙂
Everything Bagel Spice
Combine everything in a small bowl or glass jar. Keep stored in a cool, dry place.

HECK YES ?
PS. Don't forget to vote for your favorite bloggers in the Bloglovin 2016 awards…Half Baked Harvest is nominated for best food blog, yeah!!
PSS. I've also been nominated for the SAVEUR Magazine 2016 Blog Awards for Most Inspired Weeknight Dinners! I would be so grateful if you would go and vote for your favorite blogger. You can vote everyday from now until August 31st! ?