Grilled Zucchini Gyros with Sun-Dried Tomato Tzatziki.
When my oldest brother finds out about these gyros, he's going to be so disappointed.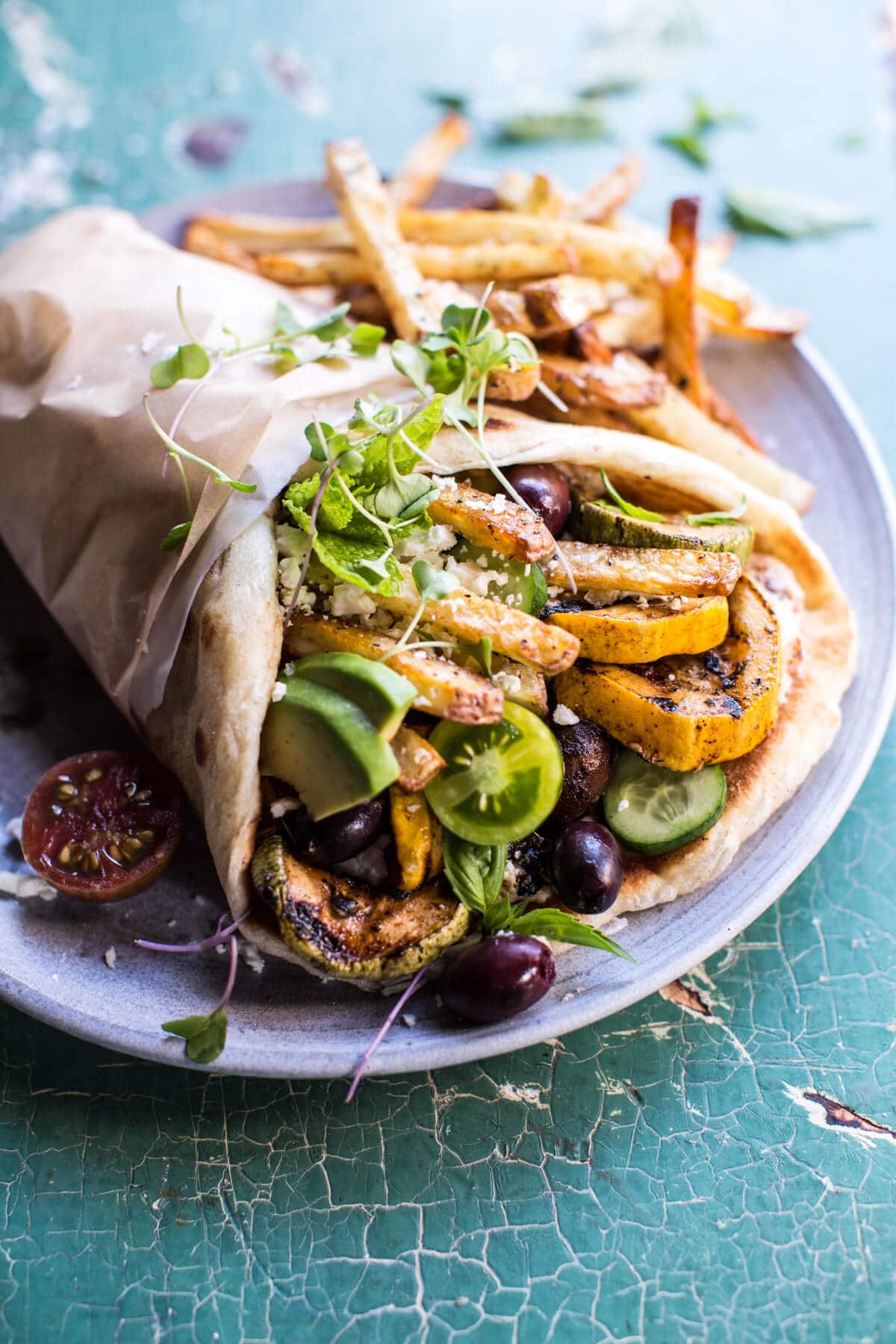 I can already hear him, "a gyro without ANY MEAT???? No, no, NO…that is just so wrong". You see, gyros have to be one of Creighton's favorite foods, but he LOVES them literally jam-packed with thinly sliced lamb and all the toppings imaginable, but mostly a lot of fries. The fry part I completely understand, but I can totally take or leave the meat. So today we are doing the all veggie filled gyro!!
It's kind of epic and beyond perfect for summer, especially since the markets are just bursting with great summer produce.
So Creighton, don't hate me. Promise, when I see you next I will make you a giant gyro filled with all meat and fries. It will even be better than all the ones you're always sending me photos of. 🙂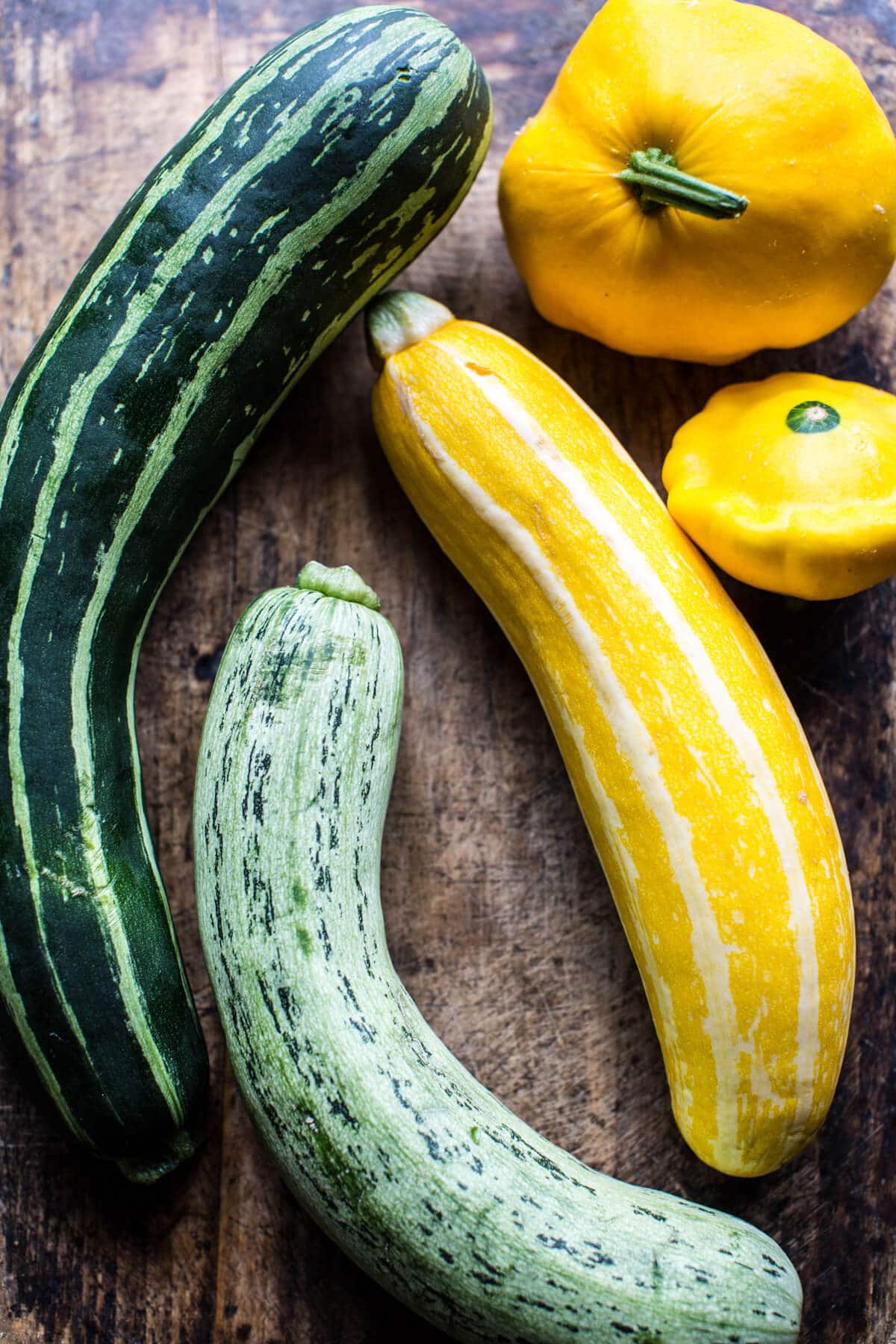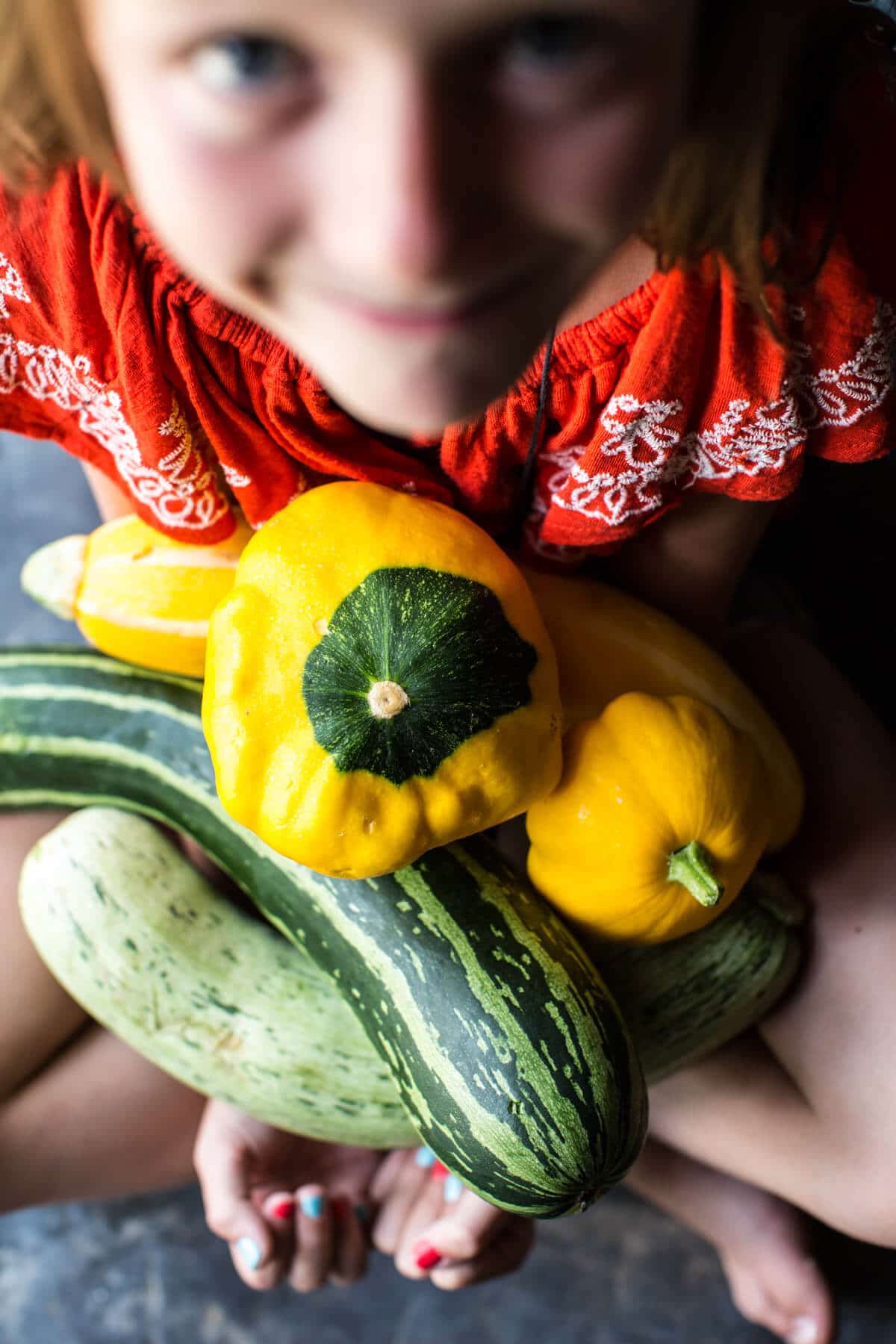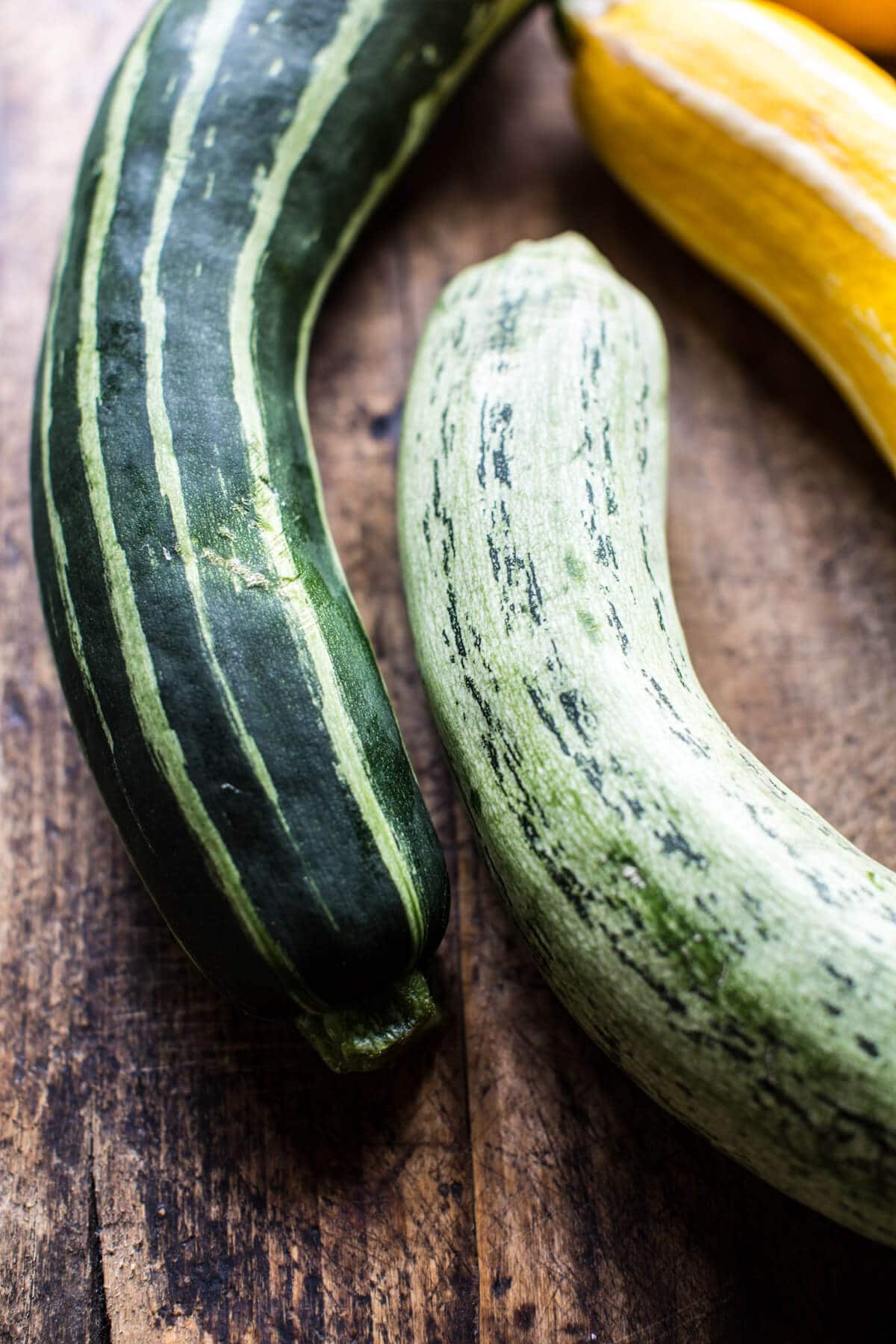 Speaking of sending photos. YOU GUYS, I never told you this, but about a week and half ago I shattered the screen on my phone… to the point where my phone did not work at all. It's kind of a long story, but basically I was not careful at all, and smashed my screen, oops. Please tell me I'm not the only one this has happened to? It was the first time I have ever broken a phone, and dear God, I hope it will be the last.
So my phone was completely broken, but luckily I still had my very old phone on hand. Well, technically, I gave my old phone to Asher as a play phone, and she had it…but I stole it back in about five seconds flat. Thing is when I got my old phone back from Asher, the home button wasn't working… like at all. Anytime I needed to say leave Instagram and go to make a call I would have to completely turn the phone off and start from scratch again, beyond annoying. This is also why I have been semi MIA on snapchat, but I will be back soon with a new recipe story (hopefully Friday or Saturday!!)!
Anyway, I finally got my replacement phone today, and I know this sounds so completely petty, but it's just amazing to have a working phone again. I never realized how much I used my phone on a daily basis until, I was semi without one. I know that's horrible, but in my defense a lot of my job revolves around social media, and a lot of my social media I do on my phone (hello to Snapchat + Instagram). Not to mention constant texting and email checking…
Man, I sound like I am REALLY attached to my phone. Promise it's not quite as horrible as it sounds, but I am really happy to have a working phone again! YES.
Also, I have now learned my lesson, if the urge to throw something strikes, DO NOT reach for my phone just because it is the closest thing. Just DO NOT do it. Gotta find a cabbage or pumpkin or something else, just not the phone.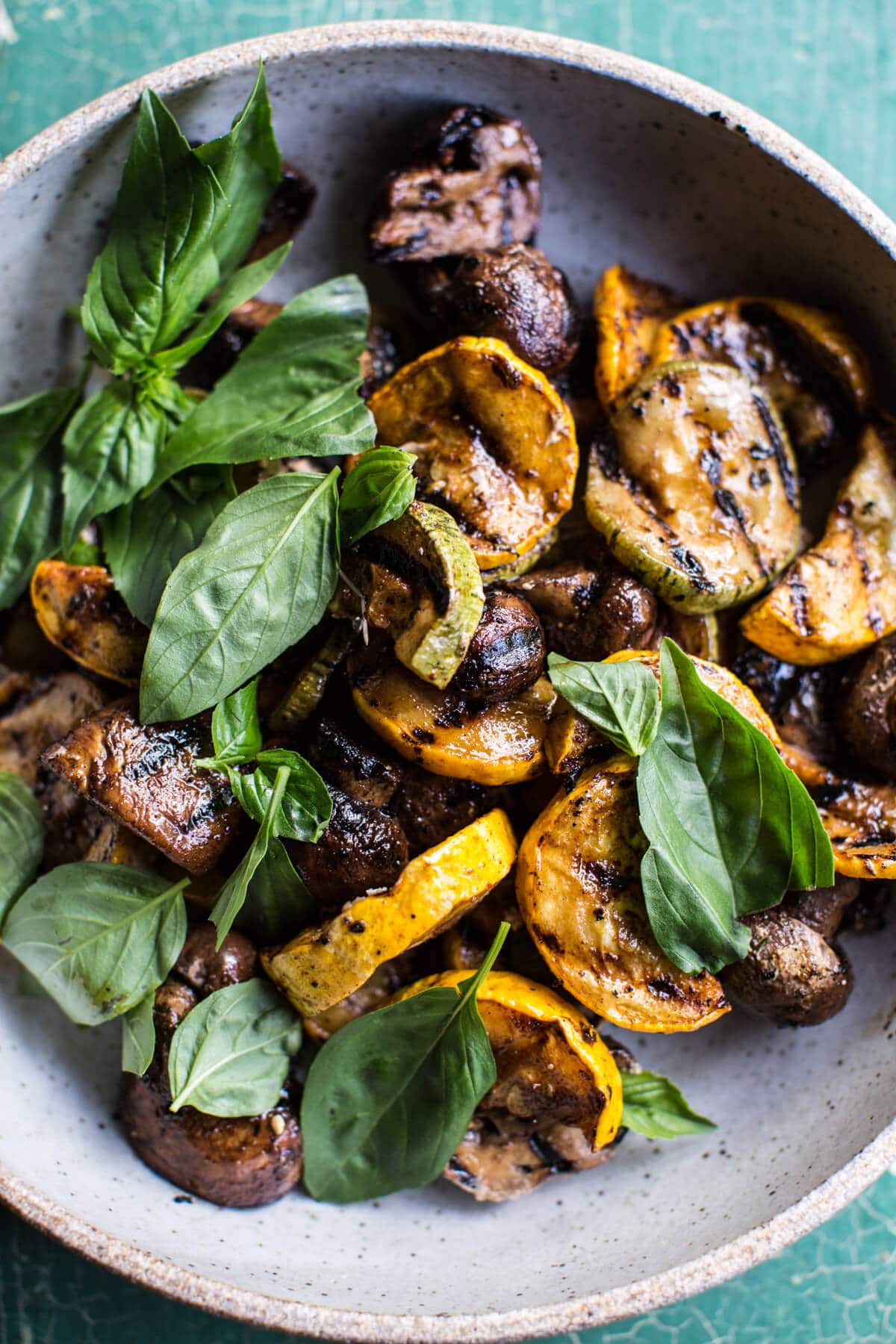 Alright, so back to the these yummy, veggie filled, Grilled Zucchini Gyros.
They are so DELICIOUS! I know how a veggie gyro might sound, kind of well, lame. But promise, promise, promise, these gyros are anything but. The zucchini gets marinated in one of my favorite spice mixes consisting of olive oil, garlic, oregano, smoked paprika, and tons of lemons. Everything then gets grilled and stuffed into a fresh naan or pita bread with homemade oven fries, sun-dried tomato tzatziki, and all the toppings (hello to feta cheese, kalamata olives, sliced avocado, microgreens, basil + cherry tomatoes)… SO good!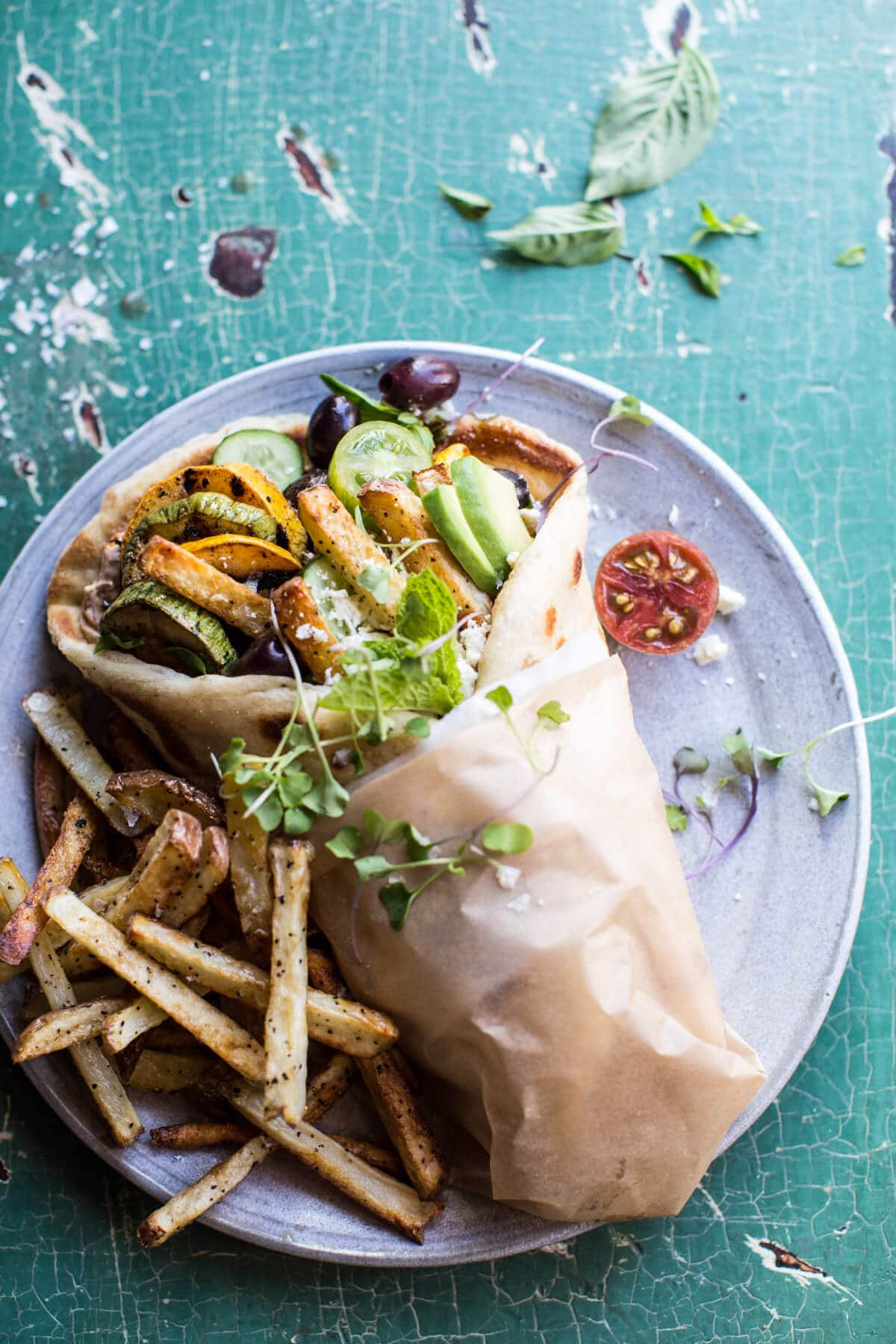 The tzatziki alone has so much flavor. Personally, I find regular old tzatziki to be slightly on the boring side, so when I make it, I love to add a fun pop of flavor. Sun-dried tomatoes never fail me, and since this is such a Greek inspired meal, I went for it. This dip can be used for so many other things besides these gyros. Think easy summer appetizer with pita chips… as a dressing, both on or in the salad… or even served over grilled meats and seafood. Basically, it's just an all around perfect sauce! 🙂
From there you add in your fries… an obvious must! Then move onto to the toppings. My must haves are avocado, kalamata olives, and feta… can't do these Gyros without those!!
Then just wrap it all up and attempt to get your mouth around the whole thing. Not going to lie, it's a bit of a challenge, but you really need to just go all in. Slightly messy, but so worth it! Too difficult or messy… just go the bowl route, it does make for a lot easier eating!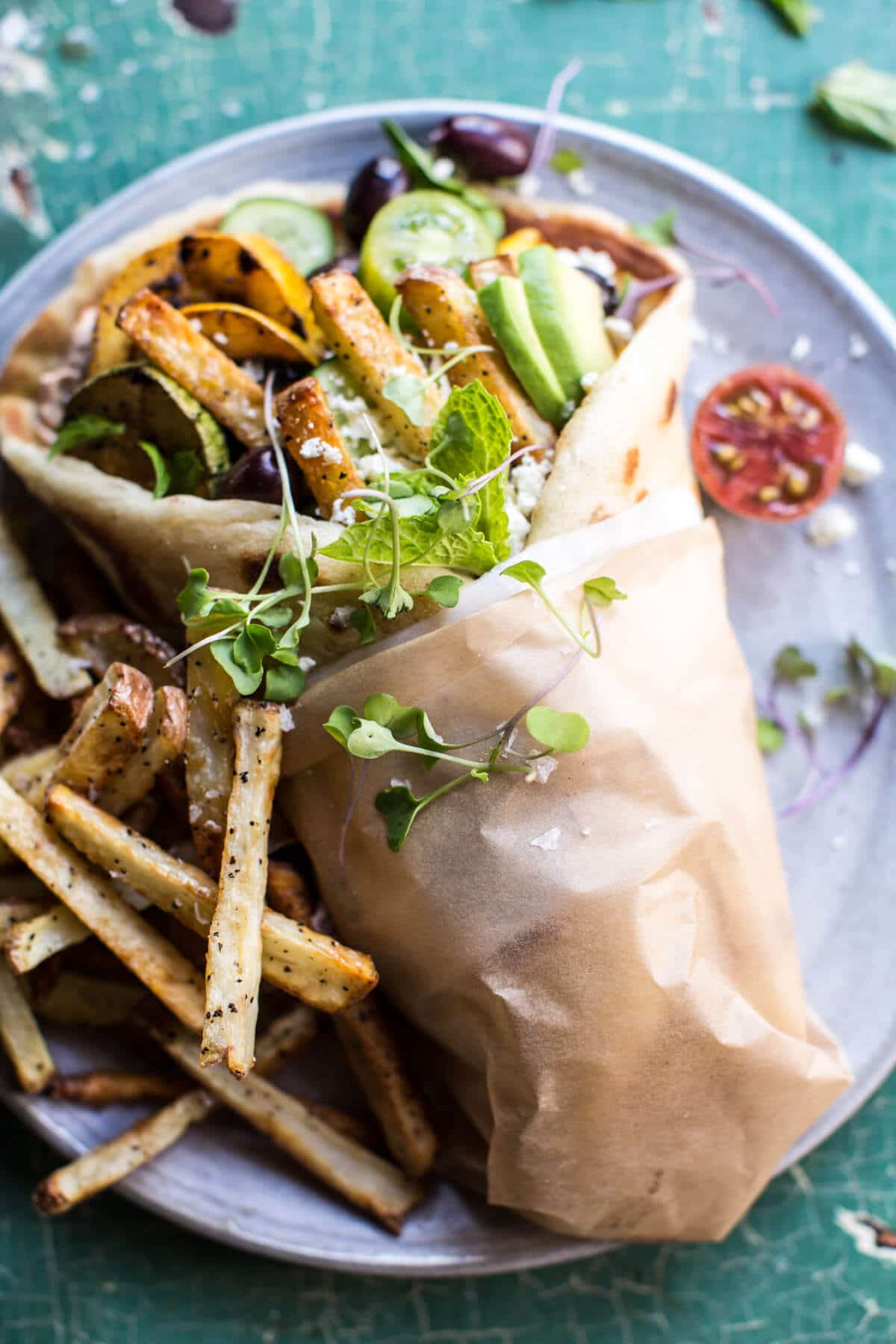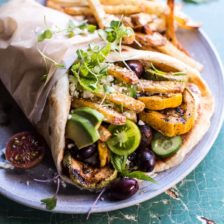 Nutritional information is only an estimate. The accuracy of the nutritional information for any recipe on this site is not guaranteed.
The Recipe
Grilled Zucchini Gyros with Sun-Dried Tomato Tzatziki.
By halfbakedharvest
Course: Main Course
Cuisine: Greek, Mediterranean
Keyword: gyro, sun dried tomato, tzatziki, zucchini
It's kind of epic and beyond perfect for summer, especially since the markets are just bursting with great summer produce.
Prep Time 15 minutes
Cook Time 45 minutes
Total Time 1 hour
Servings 4 Servings
Calories 559 kcal
Ingredients
6 tablespoons lemon juice
3 tablespoon olive oil
2 tablespoons balsamic vinegar
1 tablespoon smoked paprika or regular paprika
1 tablespoon fresh oregano
2-4 cloves garlic minced or grated, depending on your taste
1/2 teaspoon salt + pepper
2 in medium zucchini sliced 1/4 inch rounds
2 cups button mushrooms halved if large
4-6 pieces warm of pita or naan
halved cherry tomatoes sliced cucumber, kalamata olives + crumbled feta, for serving
1 sliced avocado for serving
Fries
1 1/2 pounds russet potatoes sliced into matchstiks
2 tablespoons olive oil
salt + pepper to taste
1/4 cup fresh chopped herbs (oregano basil, dill, parsley, etc.)
Sun-Dried Tomato Tzatziki
1 cup plain full-fat Greek yogurt
1 clove garlic minced or grated
1 tablespoon fresh dill chopped
1 tablespoon olive oil
juice of half a lemon
salt + pepper to taste
1/3 cup drained oil packed sun-dried tomatoes chopped
pinch of crushed red pepper flakes
Instructions
In a medium sized bowl combine the lemon juice, olive oil, balsamic vinegar, smoked paprika, oregano, garlic, salt and pepper. Add the zucchini + mushrooms and toss well, making sure the veggies are completely coated in the seasonings. Let sit for 10-15 minutes.

Meanwhile, preheat the oven to 425 degrees F.

Place the potatoes on a large baking sheet and drizzle with olive oil, salt + pepper. Gently toss with your hands or two spatulas to evenly coat. Bake for 15-20 minutes, then flip and bake for 15-20 minutes more. During the last 5 minutes of cooking, add the herbs and toss well. You want the potatoes to be tender, but crisp on the outside.

Heat your grill, grill pan or skillet to medium high heat.

Transfer the veggies, in batches if needed, to the grill and grill 3-4 minutes per side or until char marks appear. Remove everything from the grill. Alternately you can also roast the veggies at 425 degrees for 25-30 minutes or until soft.

To assemble, divide the grilled veggies among warm naan or pita, top with tomatoes, cucumber, olives and avocado. Add the fries and finish with a good sprinkle of feta cheese. Serve with the tzatziki (below)
Sun-Dried Tomato Tzatziki
Combine all the ingredients in a bowl and mix well. If not serving right away, keep covered in the fridge. The tzatziki will keep 2-3 days in the fridge. My avocado stayed pretty green due to the lemon juice.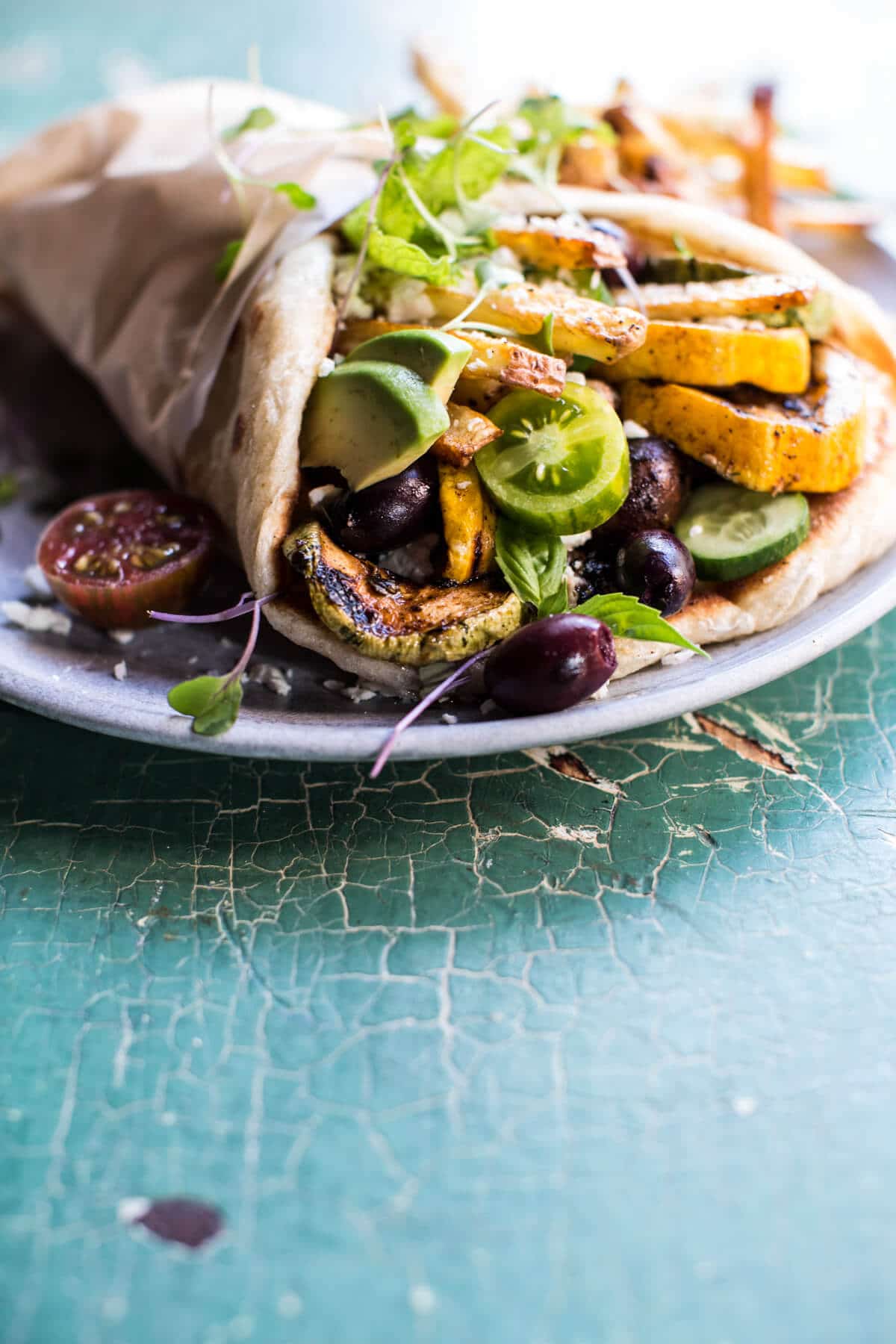 And now we feast… bring it on Zucchini Gyros. ?