Greek Steak and Pesto Salad Gyros
Ok, so there is something you guys should probably know.


On days when I do not make a dinner recipe for the blog, my family is eating one of four things buffalo chicken, beef tacos, burgers or steak.
More times than not it ends up being steak.
Yes, they are meat craving freaks. My dad and I could absolutely do without it. Fish is more our thing, but the rest of them will not go near fish. No, they are all about the red meat. They actually complain because they say they don't get enough, but for the most part I prefer to cook with other meats. This is mostly because I think a really good steak needs nothing more than some salt, pepper and blue cheese butter.
Gotta do the blue cheese butter. It's steak best friend (not A1, which my brothers douse their steak in).

Anyway, the guilt got to me and I gave in.
I made them their steak , but not their New York strips, rib eyes or beef tenderloins.
No. I totally messed with them and got everyone's least favorite cut.
The flank steak.

Basically, I am dealing with a bunch of steak snobs.
And basically it's all my fault.
When we were younger all my dad used to serve us was london broil. We knew nothing else, we thought it was the best stuff around. That was of course until I started cooking and realized what was going on.
Six mouths to feed means you buy the cheap stuff, not the $14.99 per pound stuff.
Let's just say our grocery bill has increased a bit since I started doing the cooking…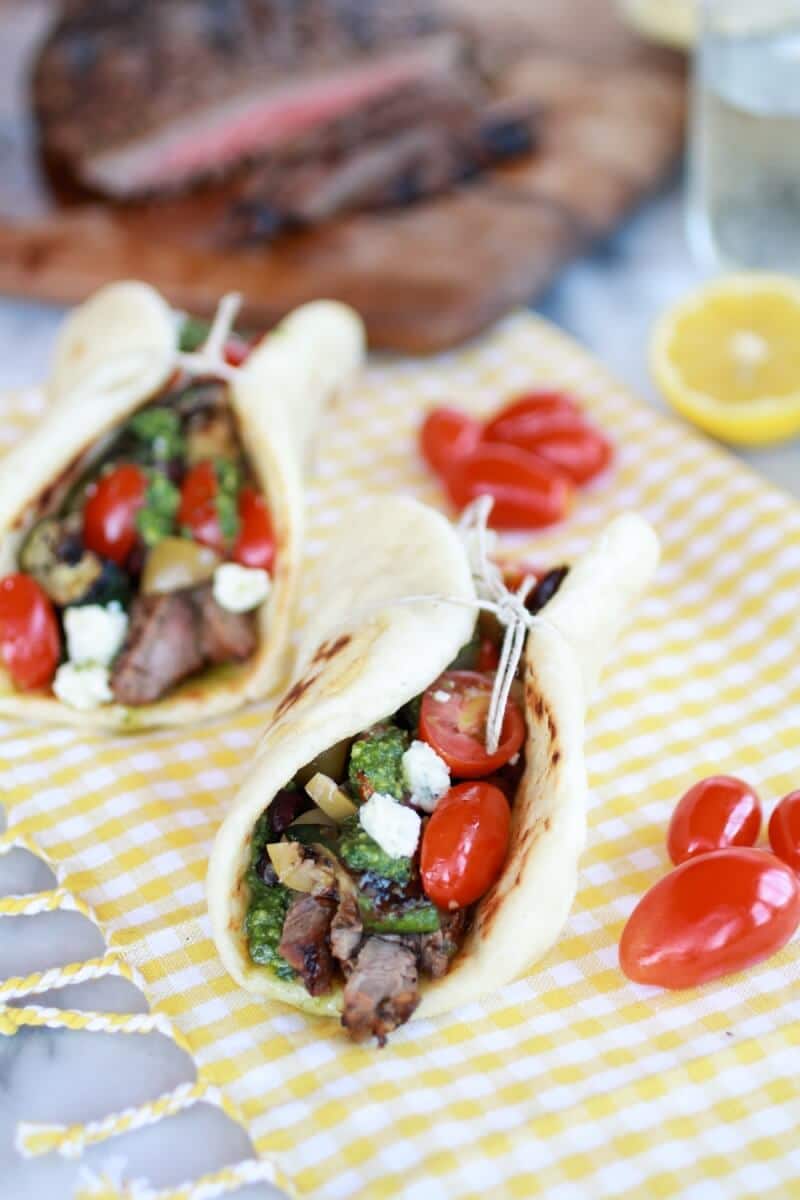 I wanted to do something different. Something I don't normally do.
So I bought a flank steak, marinated the heck out of it, made some of my super easy  homemade greek pitas (make these, seriously they are SO good), a batch of pesto and threw it all together to make a make-shift gyro.
Perfect warm weather meal……..
Oh wait, it's still snowing here.

Other than the two-hour marinating time, these are super quick and so easy. Just throw the steak on the grill (or under the broiler), whip up a quick batch of pesto and put it all together! Easy peasy!
The steak is so good. Even the pickiest brothers never knew what hit them and they were eating it minus all the pesto, tomatoes, olives and feta. Just straight up. I know, they are so boring! I mean why would they not eat the pesto? Fresh basil pesto? Nothing better.
Oh and do the sprinkle of feta. The feta pretty much just rocks. Obviously.


Nutritional information is only an estimate. The accuracy of the nutritional information for any recipe on this site is not guaranteed.
The Recipe
Greek Steak and Pesto Salad Pitas
By halfbakedharvest
Course: Main Course
Cuisine: Mediterranean
Keyword: feta, gyro, steak
The steak is so good. Even the pickiest brothers never knew what hit them and they were eating it minus all the pesto, tomatoes, olives and feta. Just straight up.
Prep Time 2 hours
Cook Time 15 minutes
Total Time 2 hours 15 minutes
Servings 4 Servings
Calories 761 kcal
Ingredients
4 homemade [pitas | https://dev.halfbakedharvest.com/traditional-greek-pita-bread/] or store bought
fresh grape tomatoes halved
feta cheese for sprinkling
Instructions
Whisk olive oil, red wine vinegar, balsamic vinegar, lemon juice, garlic, basil, oregano, salt and pepper in a bowl until combined. Add flank steak to a ziplock bag or baking dish and pour marinade ingredients over top. Marinate in the fridge for 2-24 hours, flipping steak a few times to coat with marinade. When you're ready to make the steak, heat the grill to high heat and grill the steak for about 5 to 6 minutes, flip and grill for 4 to 5 minutes more or until your desired doneness. Let it rest for 10 minutes, then slice thin strips on an angle. You can also cook the steak under the broiler!

While the steak rests make the pesto. Combine the basil, garlic, and pine nuts in a food processor or blender and pulse until coarsely chopped. With the machine running, slowly add the olive oil and process until smooth. Add the cheese and pulse until combined. Season with salt and pepper, to taste and add the crushed red pepper if using.

Warm your pitas over and open flame on the stove for 20 seconds on both sides or in the microwave for 30 seconds. Spread a little of the pesto down the center of the pita and top with sliced steak, sliced grape tomatoes, tapenade and a drizzle more of pesto. Finish with a sprinkle of feta cheese.

Pretty much in awe over these.