Easiest Bourbon Peach Dump with Buttered Popcorn.
Let me just say, this is not what you think it is.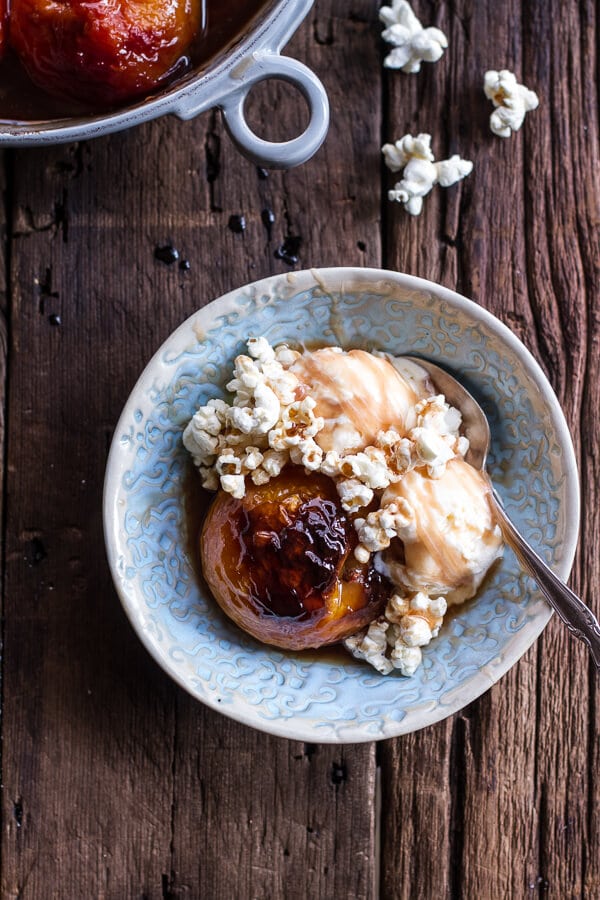 This is not a dump cake. No, it is just a peach dump, and my sweetest grandma (hi Nonnie!) gave me the recipe. Or well, it's so easy that I am not even sure that it should be called a recipe, but I guess it has ingredients and such, so it's a recipe.
I promise though, this is so easy. You can't mess it up. Probably one of the easiest recipes on this site.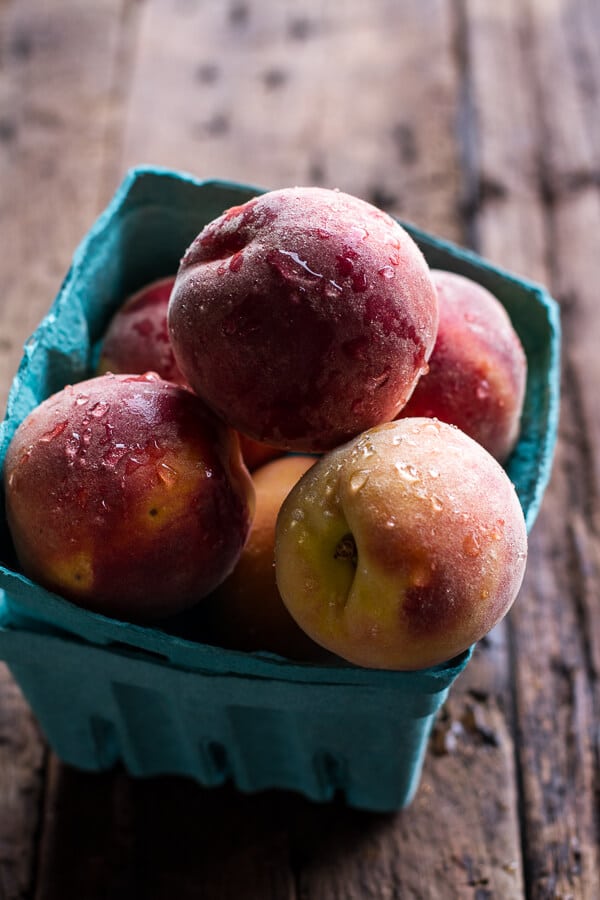 First up though, what do you guys think of my pretty new baking dish? I am kind of excited about it. I found this new (to me) site, VIETRI, a while back after seeing some of their stuff in Martha Stewart Living and went a little crazy ordering pieces. I am concerned this is becoming a habit of mine. See, I want to order new dishes/props all time. Like all time.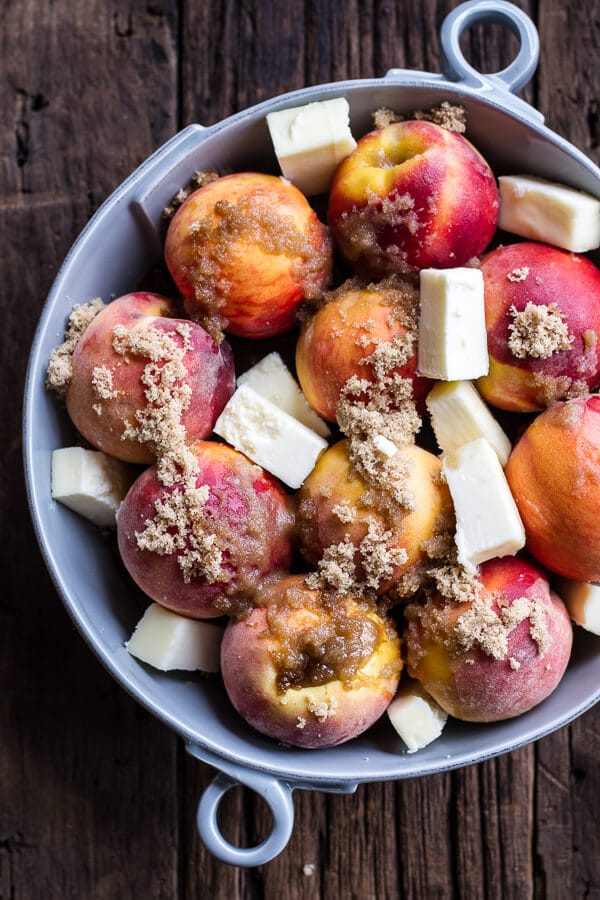 Yes, it's getting to be a problem. Well not like I need to join a support group kind of problem or anything. Most of the time I just put a bunch of stuff in the cart and never end up pulling the trigger because I am too chicken and scared that I'll spend all my money. Sometimes though, if I am really in love with something I just close my eyes and hit the order button. Scariest thing ever. Issues over here. I know.
I have been working with VIETRI a bit though, so I was super excited to have an excuse to order a few things. I fell in love with the Lasta Gray collection. If you are looking for some pretty serving pieces I would definitely check them out. They have everything. And I promise, I am not being paid to write this. I just really like their stuff and get a lot of emails about where I get the dishes and props that I use in my photos so I thought I'd let you in on this one.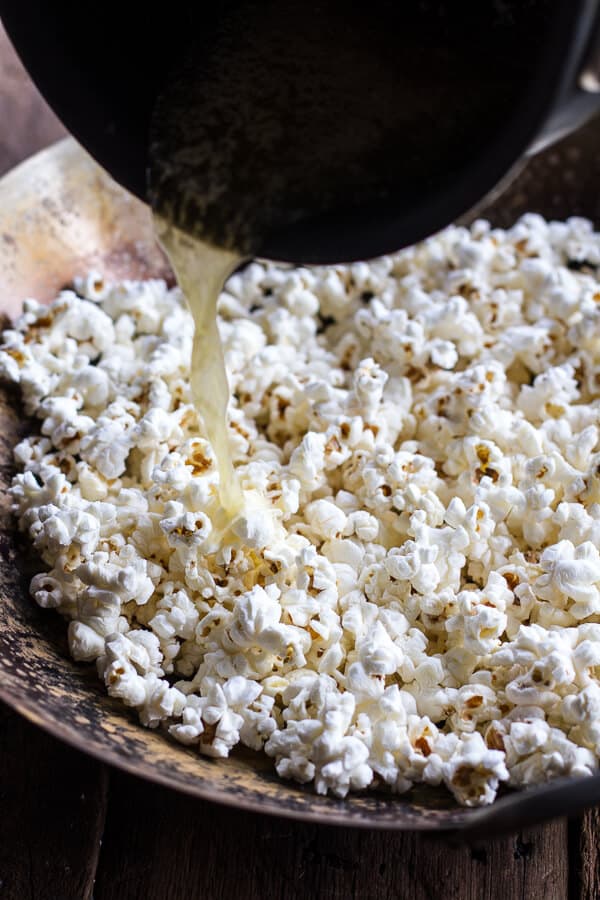 Can we talk about this dump now though? I think we need too.
I feel weird calling it a dump, but that is exactly what it is, a dump. My Nonnie's recipe is actually slightly different than the one I am telling you about. Hers has just three ingredients: peaches, brown sugar and butter. Nothing wrong with that, but I love the idea of bourbon and peaches together so I threw a little (or a lot – Happy Tuesday!) bourbon in. Plus, I think the bourbon really helps to balance out the sweetness.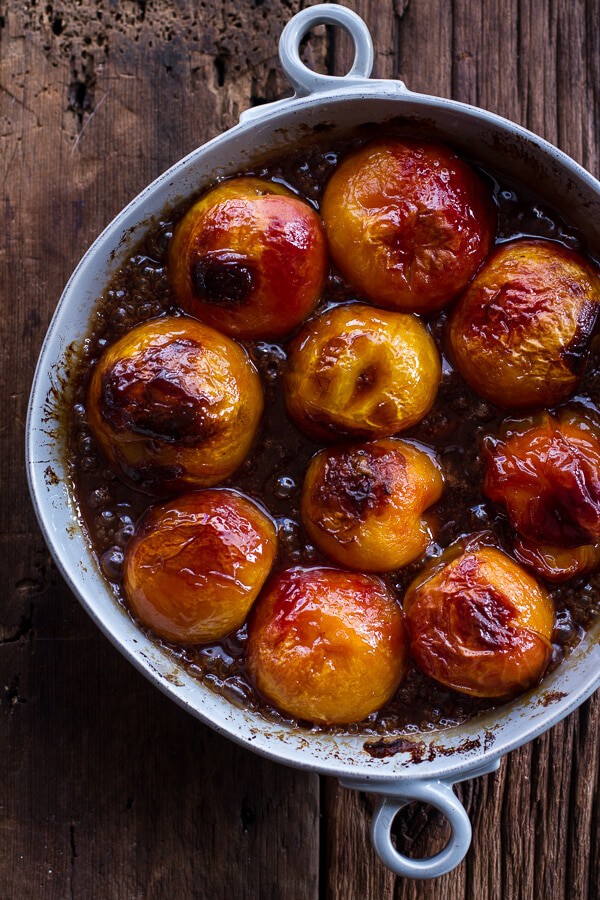 Originally this recipe called for a whole pound of brown sugar, but umm, that just freaked me out. A whole pound is A LOT of sugar and especially paired with something that is already so sweet. I took it down to one cup and thought it was just right.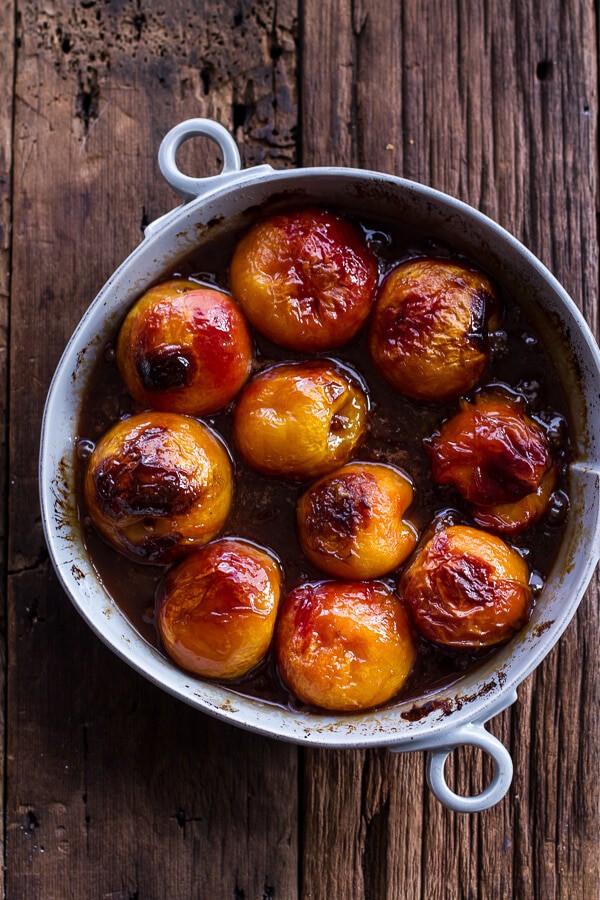 So why are we calling this a dump?
Because all you do is dump everything into a baking dish, put it in the oven and walk away for the next hour and half. Well, maybe come back to spoon the sauce over the peaches once or twice, but that's it. You dirty only one dish, you slice NOTHING and you end up with the sweetest peaches that are soaked in a self forming peach bourbon caramel sauce.
Seriously you guys, I am not even really into fruity desserts, but this, this is so good.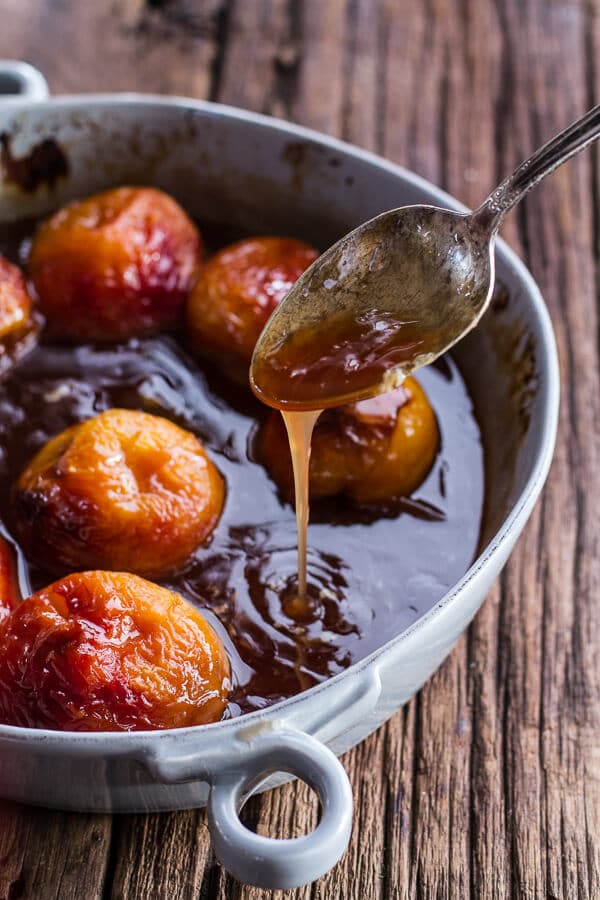 It's all about the peaches and the sweet sauce that forms as the peaches bake. The brown sugar, butter and bourbon create a peach bourbon caramel sauce that is TO DIE FOR. That sauce. Oh my gosh, that sauce. I would bake this just to have the sauce. You can drizzle any leftover sauce over your morning waffles, pancakes or french toast. You could even drizzle it over your ice cream sundae. The options for the leftover sauce are endless.
Just do not toss it out. You have to use up every last bit of  sauce. It's liquid gold.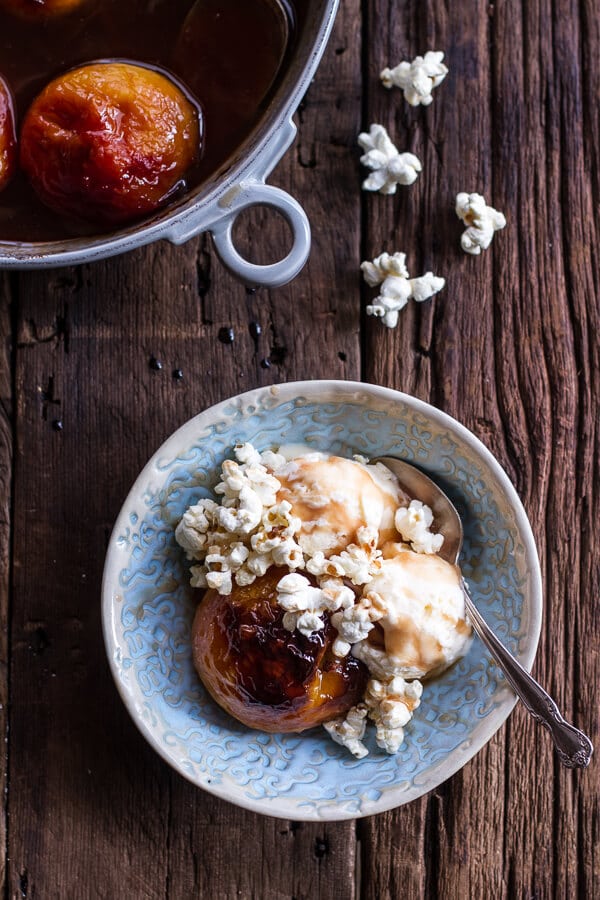 You also have to serve it alongside vanilla bean ice cream. No negations, you have to.
Oh and you also can't skimp on the buttered popcorn. This was my contribution (well and the bourbon) to this recipe and if I do say so myself, it was a dang good one. The popcorn just kind of melts into your mouth when it get mixed with a little sauce, a little peach and a little ice cream. It adds just the right amount of texture without being too crunchy.
And come on, it's popcorn, you can never go wrong with butter and popcorn, especially together. You just can't.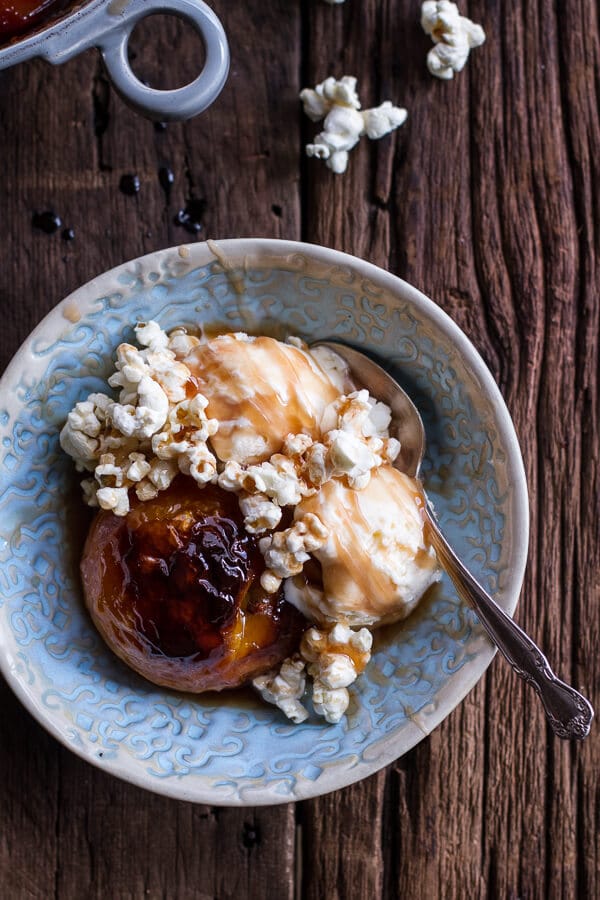 You can also never go wrong with an easy, show stopping dessert like this. Come fall switch the peaches for those pink lady apple. Apples and bourbon? Mmm, Maybe even better than peaches and bourbon.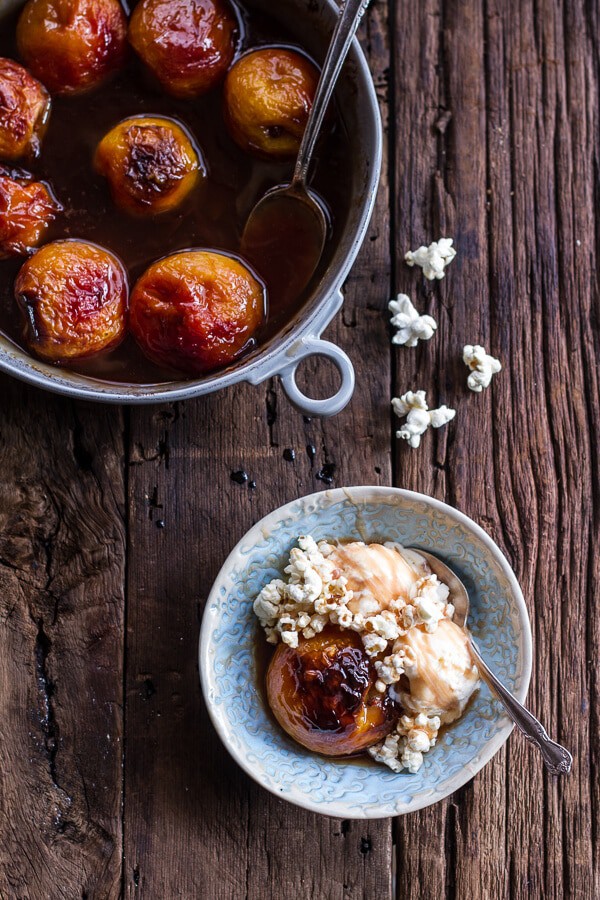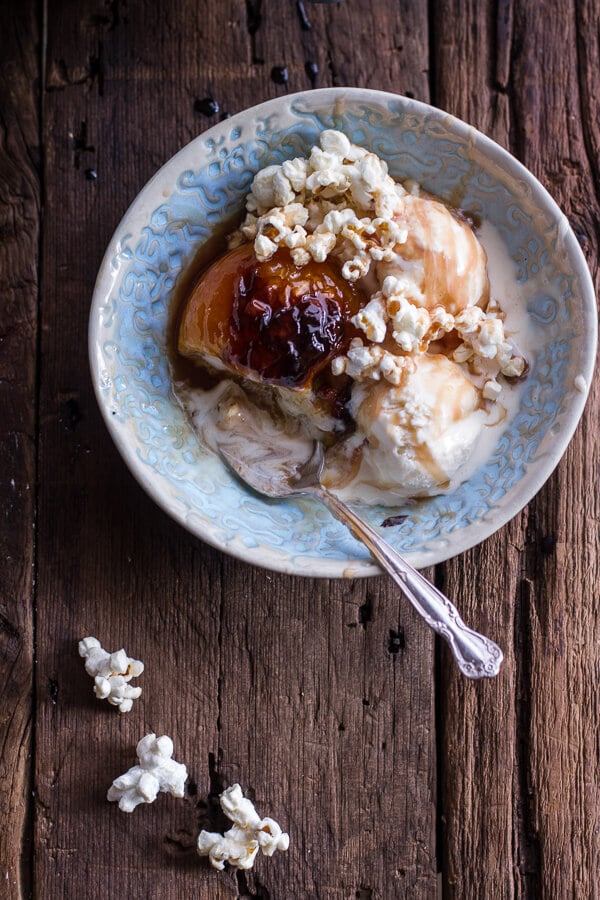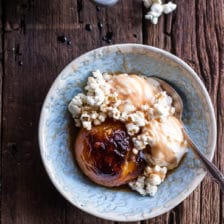 Nutritional information is only an estimate. The accuracy of the nutritional information for any recipe on this site is not guaranteed.
The Recipe
Easiest Bourbon Peach Dump with Buttered Popcorn.
By halfbakedharvest
Course: Dessert
Cuisine: American
Keyword: bourbon, cake, popcorn
I promise though, this is so easy. You can't mess it up. Probably one of the easiest recipes on this site.
Prep Time 5 minutes
Cook Time 1 hour 30 minutes
Total Time 1 hour 35 minutes
Servings 6 Servings
Calories 549 kcal
Ingredients
8-10 peaches depending on their size
12 tablespoons salted butter 1 1/2 sticks, use vegan butter sticks if needed
1 cup brown sugar
1/4 cup bourbon you may leave this out if you like
1 teaspoon vanilla extract
vanilla bean ice cream DONT SKIMP, coconut milk ice cream is AWESOME!
Buttered Popcorn
4 cups air popped popcorn
4 tablespoons unsalted butter melted (use vegan butter sticks if needed)
2 teaspoons sea salt or to taste
Instructions
Preheat the oven to 350 degrees F.

Place the peaches in a 9x13 inch baking dish or one slightly smaller. Sprinkle the brown sugar over top. Add the butter (you do not even have to cut it up). Pour in the bourbon and vanilla. Bake between an hour and an hour and 30 minutes or until the peaches have softened and butter + brown sugar have created a DELICIOUS peach caramel sauce. I let mine bake the full 1 hour and 30 minutes.

Just before removing the peach dump from the oven, toss the warm popcorn with the melted butter and salt.

Remove the peach dump from the oven and divide the peaches among dessert bowls. Add a generous amount of the bubbling caramel sauce over the peaches. Place a scoop of ice cream in each bowl. Add a handful of popcorn and drizzle with more sauce from the dump. Eat while hot. Just make sure to remove the pit from the peach once it pops out.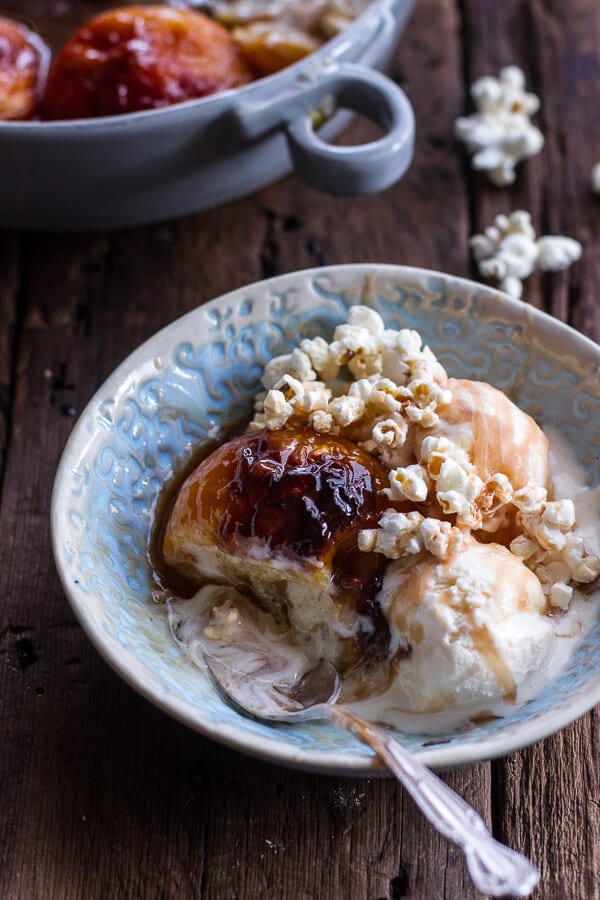 Just melts in your mouth. So good.