Easier Extra Flaky Homemade Crescent Rolls.
You know what I really need to learn?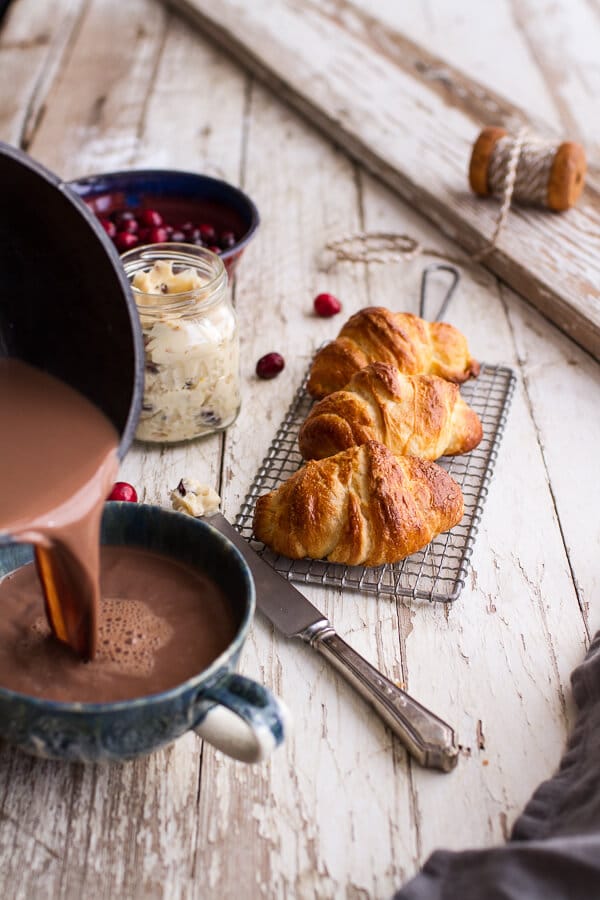 **Heads up, there are a ton of step-by-step shots in the post, if you just want the recipe scroll down through them .
I really need to learn to write thoughts down the second they come into my head, because no matter how much I think I can remember something, I can't. This is the case today. See, earlier I had this great idea about what to tell you guys all about in today's post, but at this very moment I have not a clue what it was thinking. I know that seems totally crazy, but I just can't remember. This happens to me all the time. I try to write everything down, but there are times when I don't have paper + pencil, or my phone, or my computer and then I just think, oh, I can remember it. UGH.
Also, because I try to write all my thoughts down, I have random sticky notes all over my office with random ideas (CRAZY PERSON). I think my brain thinks too much, sometimes I wish it had a shut off switch.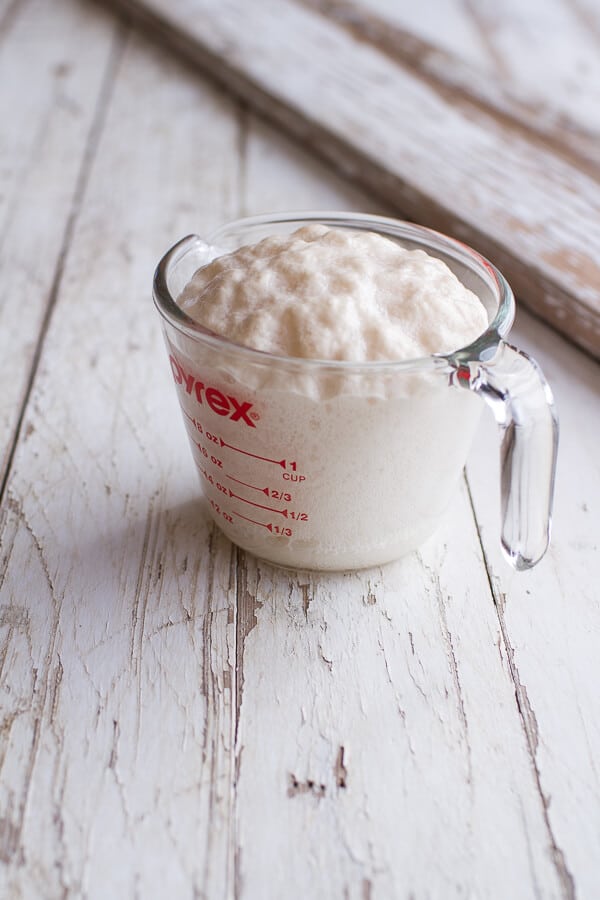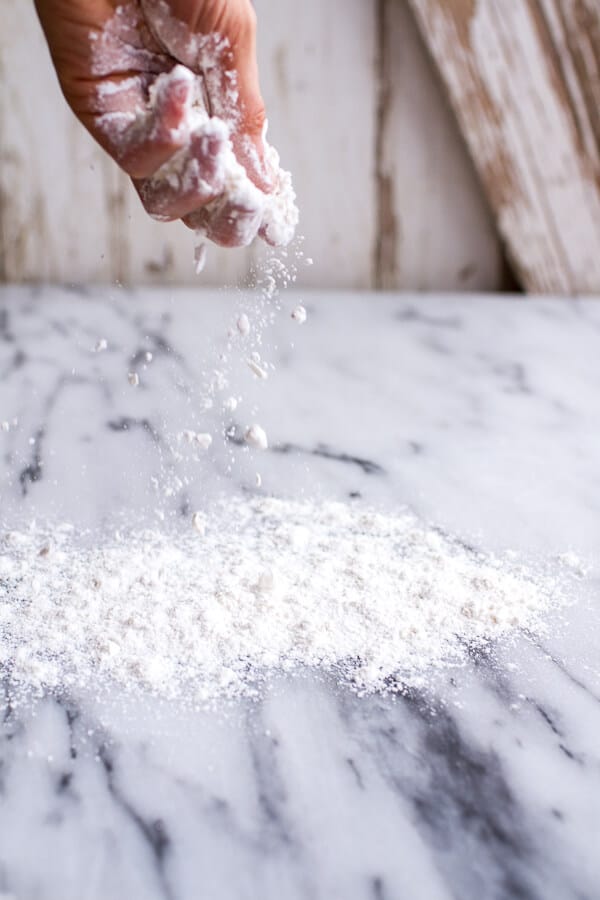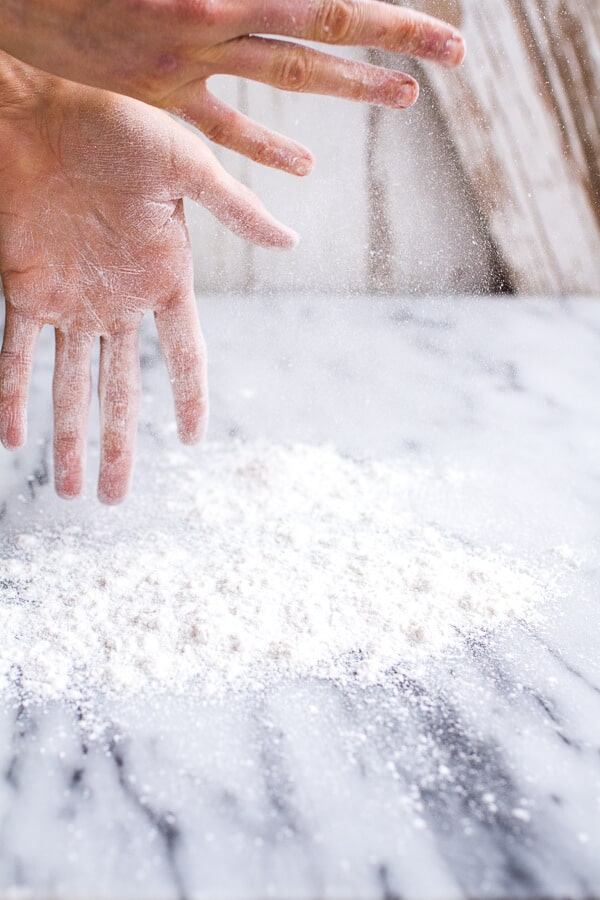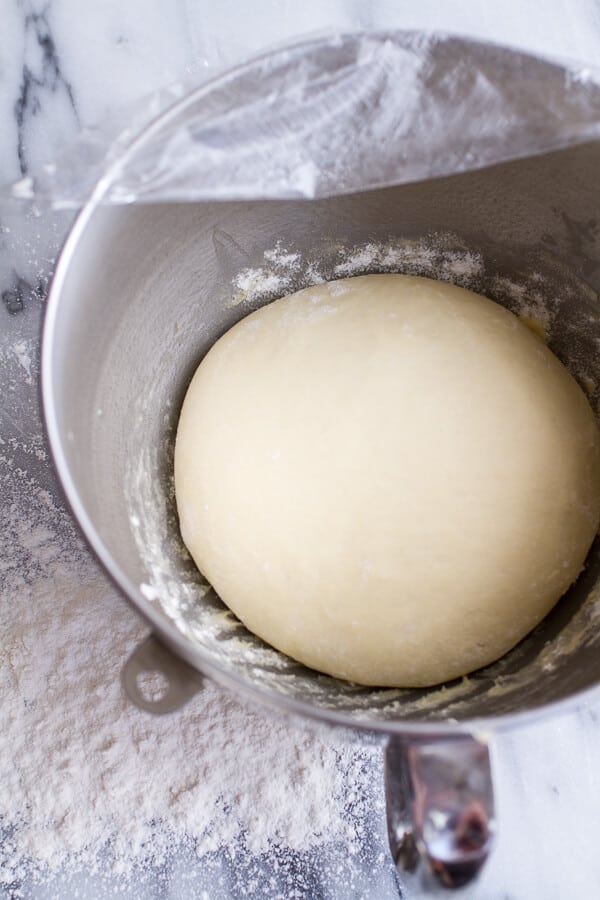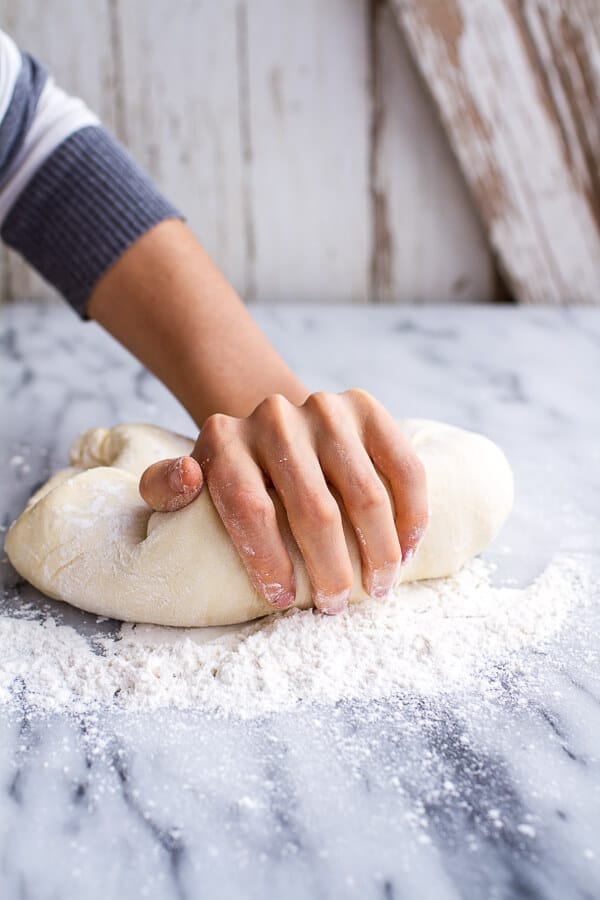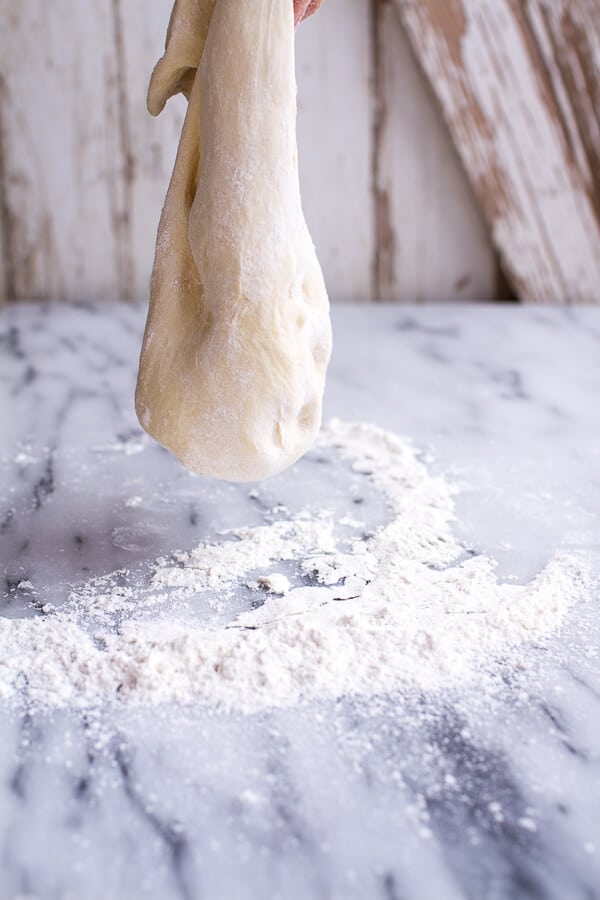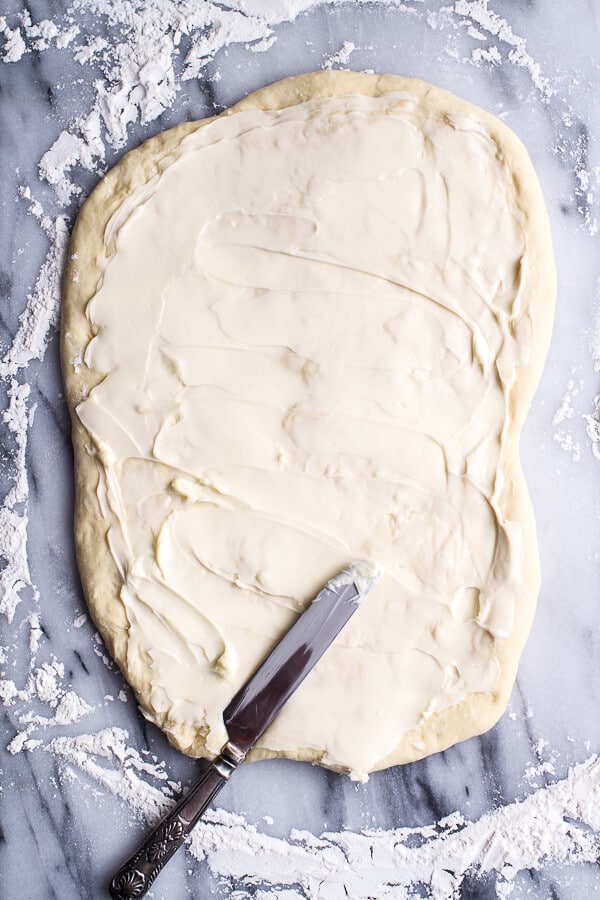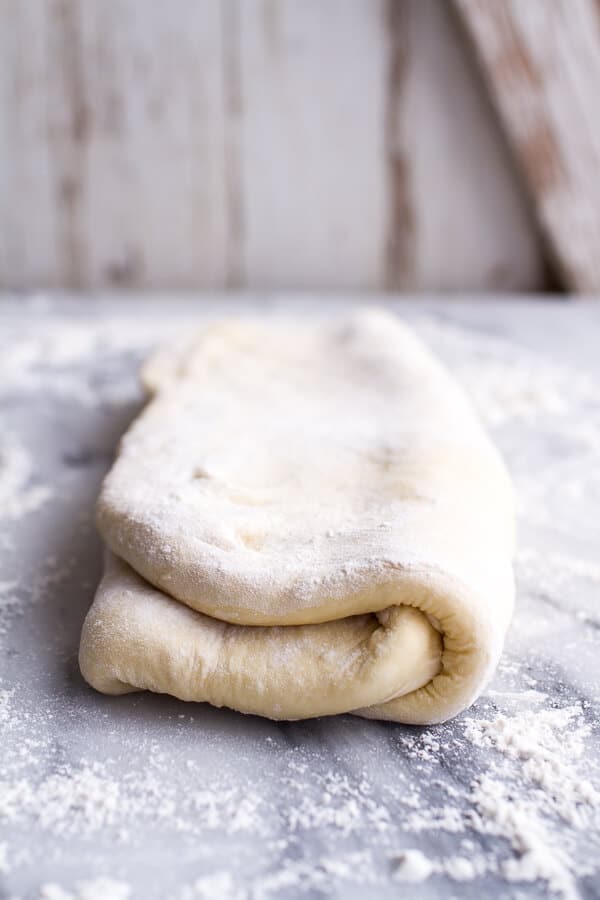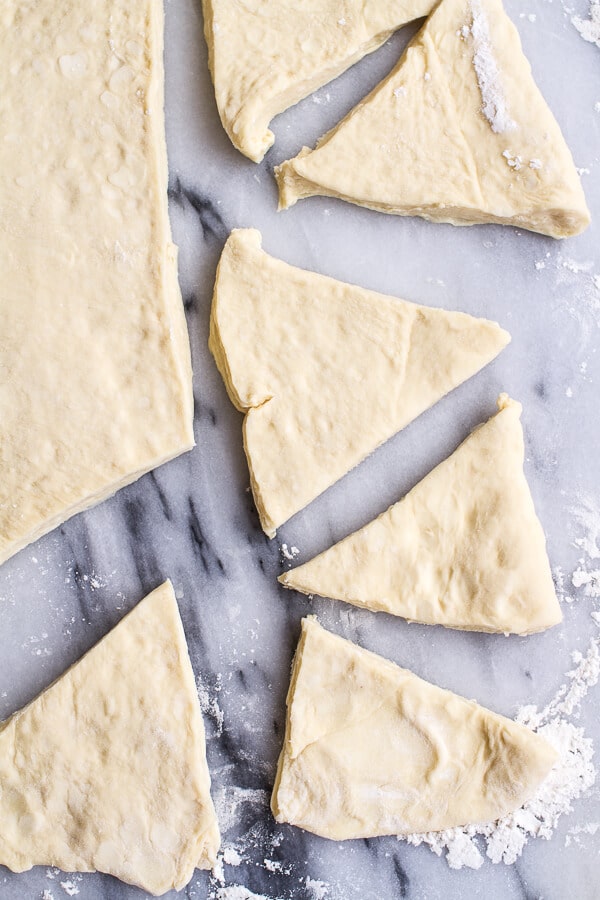 Sooo, it's time we talk about these easy extra flaky homemade crescent rolls.
Cause you know, extra flaky is the best.
When they're extra flaky, that means extra buttery, a combo that can never be beat.
In my family? Well, we all love our rolls. In my opinion, you can't do Thanksgiving (or Christmas) without really, really good rolls. Obsessed much? Definitely.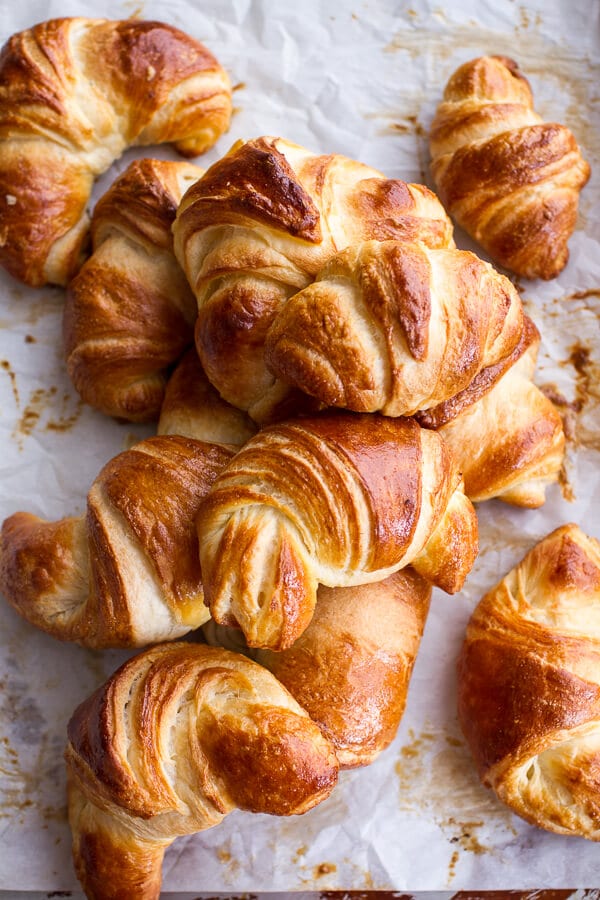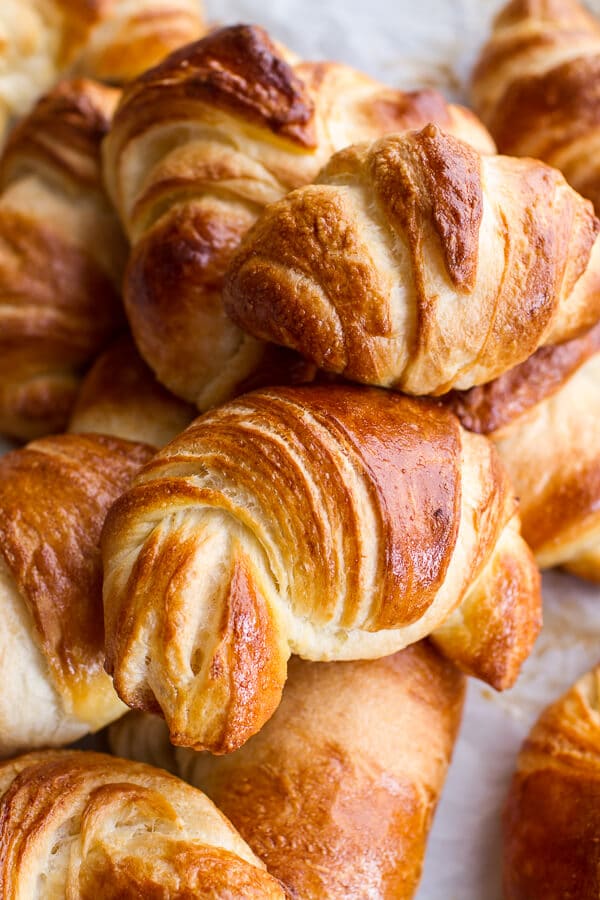 There are a lot of foods that I have always wanted make. I have this list running in my head (that I should really write down because my head is too full of lists as it is) of classic foods that I want to cook/bake. It may seem odd that I have a list of classic foods, since all I tend to do around here is twist the classics into something totally new. But to be totally honest, I think the classics will always be the best. They're timeless you know? Plus, typically they are simple, full of flavor, and pretty straight forward. And ok, they are mostly all comfort, cozy foods… which you all know I adore.
Last year, I decided to be all crazy and make Croissants. Not sure what the heck I was thinking at the time because wow, those things are a labor of love, BUT it was still worth the effort. AND believe it or not I actually make them regularly now. After the first couple of times, you get the hang of things and now it's a simple recipe for me to do. We LOVE um. Like I make them for every special occasion and yeah, that does include out twenty + Christmas clan too. You can all call me insane now, I totally am.
But really though, if you have a little time you should try making these Croissants for one of your holiday gatherings. The best.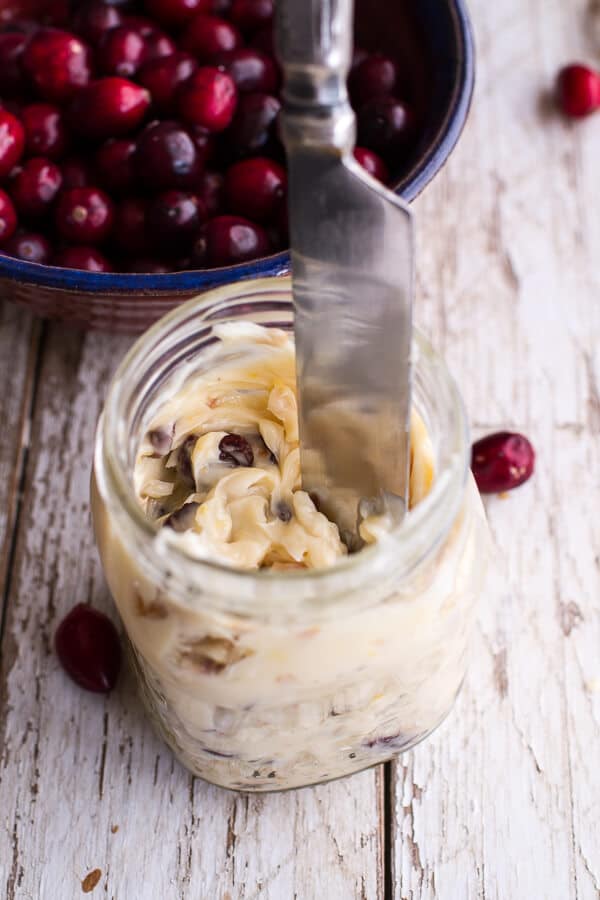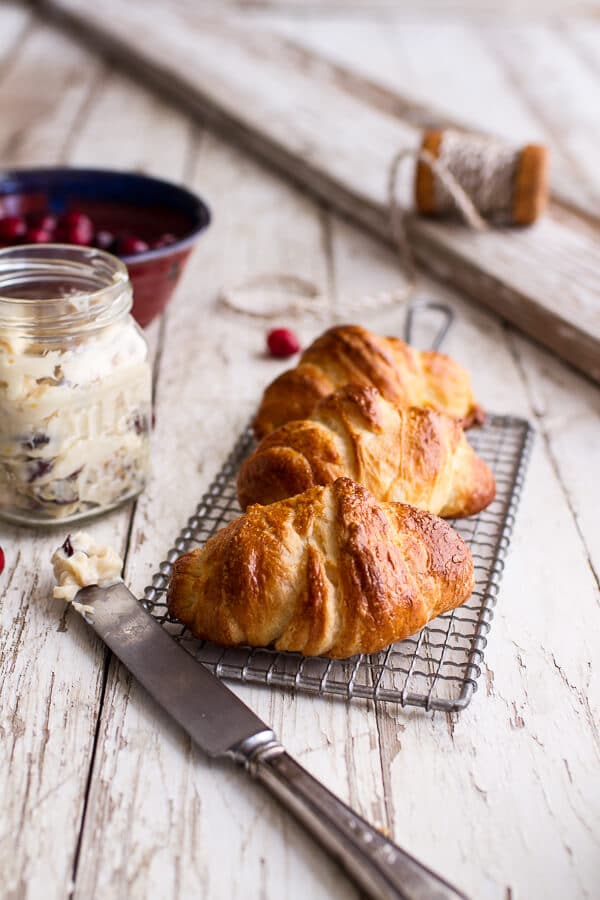 For this Thanksgiving though, I really wanted to try Crescent Rolls. Way back when I was still in middle school and my family was still living in Ohio, my mom would occasionally buy Pillsbury Crescent rolls for Sunday dinner or her Thanksgiving gathering. They where always the best. I mean, they came from everyone's favorite dough boy so what do you expect? Always good.
My goal for these rolls was to create a "copy cat" of the Pillsbury Crescent Rolls, but to also keep the recipe easy so that everyone can actually make them, and make them with success. I mean, no one wants any failures on Thanksgiving.
That is the worst.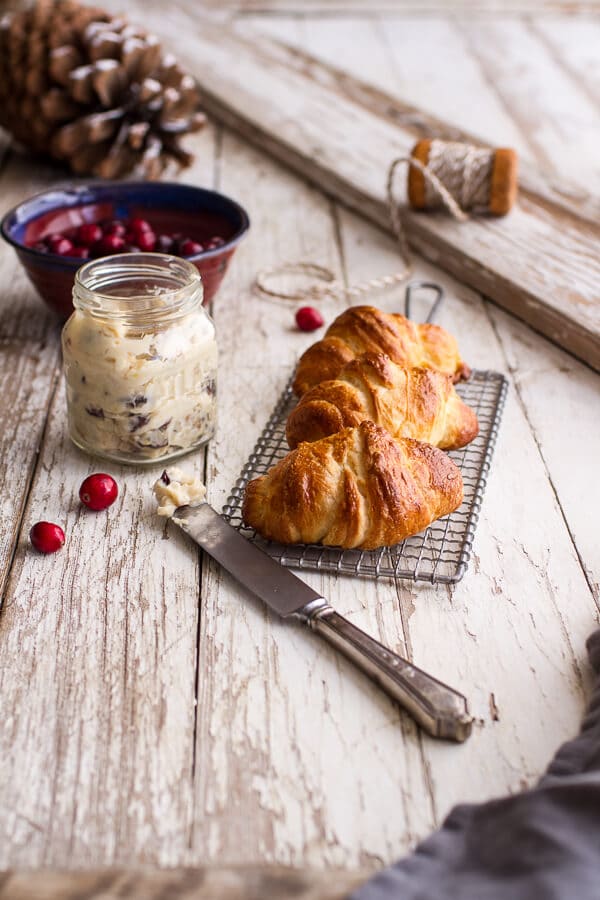 I was actually really surprised at how easy it was to "easify" these crescents rolls. The process of making them is actually very similar to making croissants, but easier and much quicker, using only a few simple steps.
You are still going to have to roll the dough out five different times… which yes, I know, sounds horrible. Sorry, but you need to do this to create those classic flaky layers. I promise, it's not that hard. You can make these in just a couple of hours AND this dough is super easy to work with. Meaning it is one of those doughs that isn't hard to roll out. Yes!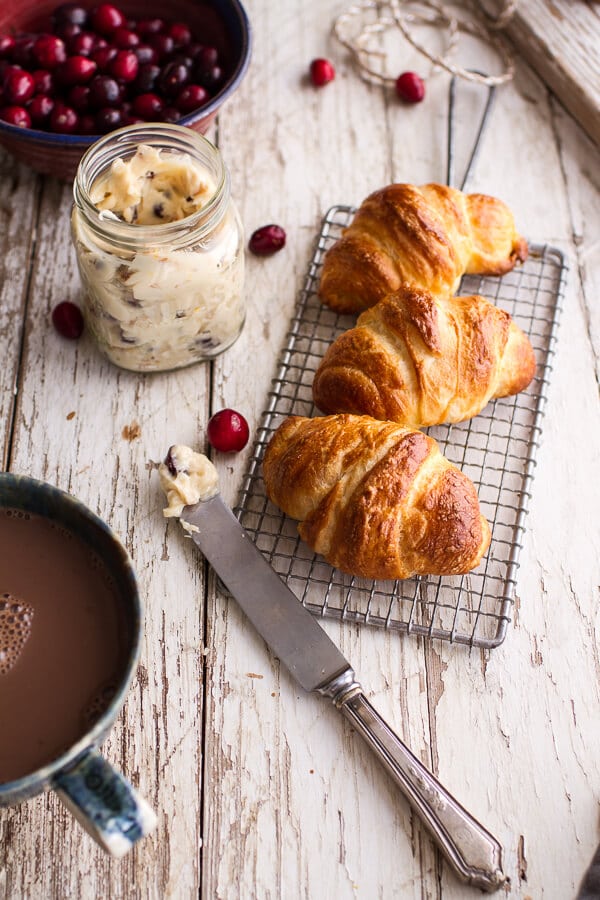 Oh, and then, I made some butter.
Well, I didn't make butter. Like churn it and all that, but I made cranberry toasted coconut butter (winning combo, guys!) to slather all over these rolls.
Obviously.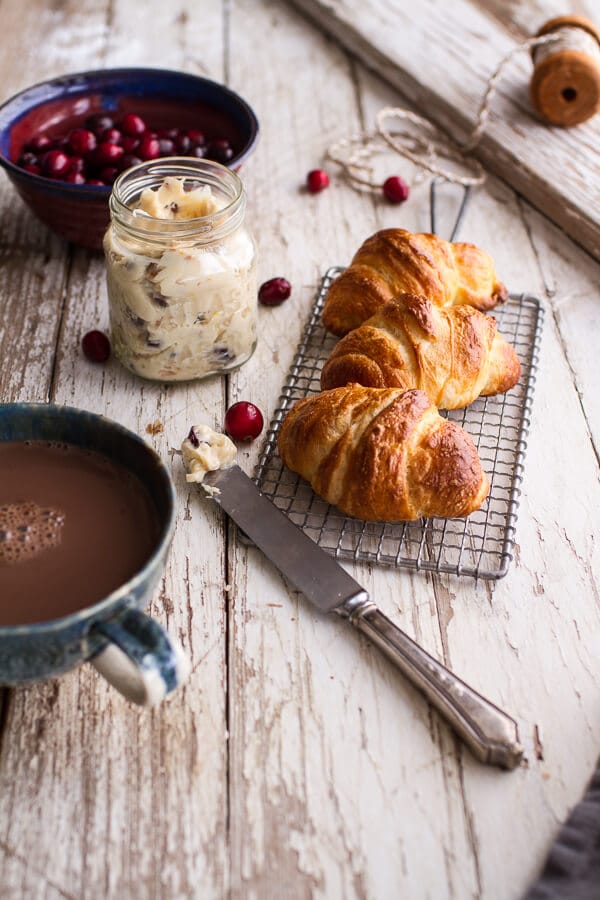 Really though, can't you see just how good these are? All warm and buttery and perfect.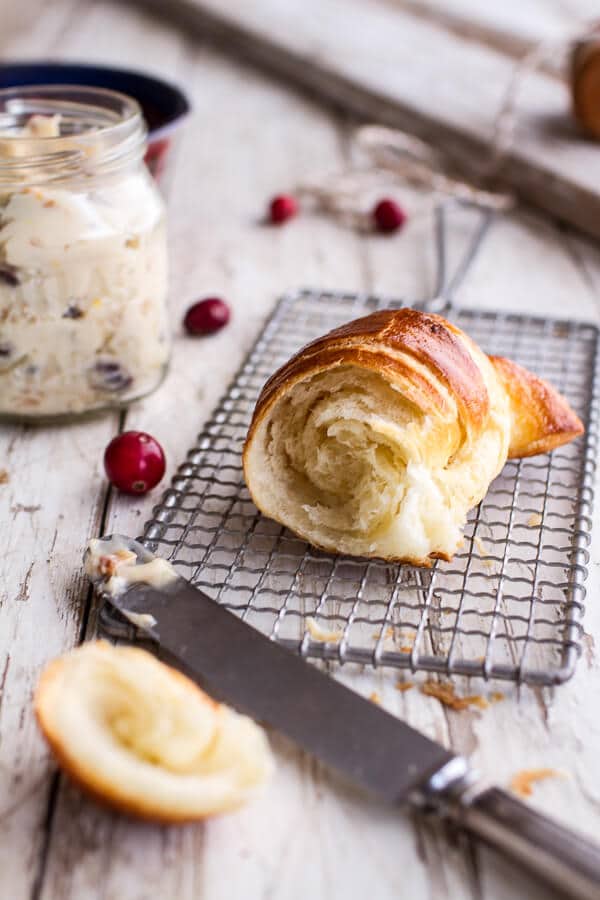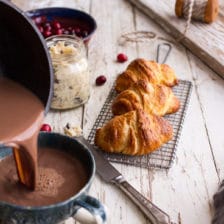 Nutritional information is only an estimate. The accuracy of the nutritional information for any recipe on this site is not guaranteed.
The Recipe
Easy Extra Flaky Homemade Crescent Rolls.
By halfbakedharvest
Course: Breakfast
Cuisine: American
Keyword: crescent rolls
These scrumptious crescent rolls are extra flaky and extra buttery
Prep Time 30 minutes
Cook Time 12 minutes
Total Time 1 hour 40 minutes
Servings 20 Crescent rolls
Calories 235 kcal
Ingredients
Crescent Rolls
1/4 cup very warm water but not boiling water
2 1/4 teaspoons active dry yeast one packet
2 teaspoons granulated sugar
3/4 cup warm milk not boiling
1 egg
1 tablespoon unsalted butter melted or softened
1 teaspoon salt
3 cups all-purpose flour plus more for rolling
8 tablespoons salted butter softened
1 egg beaten and or melted butter, for brushing
Cranberry Toasted Coconut Butter (OPTIONAL)
Instructions
In the bowl of a stand mixer or large glass bowl, combine the warm water, yeast and sugar. Mix until combined. Let the mixture sit for about five minutes until it smells like bread and is foamy.

Once the yeast has proofed and is foamy, add the warm milk, egg, butter, salt and flour. Using a dough hook, knead the dough on medium-high speed for about five minutes until dough is smooth and elastic. It will seem sticky at first, but keep mixing (or kneading by hand*) and it will become smooth.

Remove the dough from the bowl and place on a floured work surface. Knead the dough into a smooth ball. Grease the bowl that you mixed the dough in and set the dough back in the bowl. Cover the bowl with plastic wrap and place in the fridge for 30 minutes.

After 30 minutes, remove dough from fridge and roll out on a lightly floured surface to a large rectangle that's about 1/4th inch thick. Spread the softened butter all over dough, leaving an inch around the sides of the rectangle, being careful not to break through dough with butter.

Fold one half of the rectangle towards the center and fold the other half over as well on top of the first layer so you have three dough layers, cover with plastic wrap and place in freezer for 10 minutes.

Roll out dough again to a long rectangle (being careful of the butter—roll gently) and fold dough again into thirds like a book. Place back in freezer for 10 more minutes. Repeat this process two more times for a total of three folds (and 30 minutes in the freezer)

After the three folds, you can either proceed with the directions or you can wrap your dough tightly with plastic wrap and place in the fridge overnight or up to three days.

To proceed, using a lightly floured work surface, roll the dough out into a rectangle about 1/4 inch thick. Using a pizza cutter or sharp knife cut the dough in half lengthwise, and then cut the dough into triangles. Using both hands, roll the crescent up. Place on a baking sheet about 2-3 inches apart, cover with a towel and set in a warm place to rise for 30 minutes to 1 hour.

Meanwhile, position a rack in the middle of the oven and preheat to 400 degrees F. Before baking, brush each crescent with the beaten egg wash. Bake rolls for 10-12 minutes or until lightly golden brown. If desired brush with melted butter. Serve warm along side the cranberry toasted coconut butter (recipe is below) if desired.
Cranberry Toasted Coconut Butter
Heat oven to 325 degrees F. Spread coconut in thin layer on an un-greased cookie sheet. Bake 5 to 10 minutes until toasted. Cool 5 minutes. In large bowl, beat butter, maple, and orange peel with electric mixer on medium speed until honey is whipped into butter. Using rubber spatula, fold in cooled toasted coconut and dried cranberries. Transfer to serving bowl and serve immediately, or cover and refrigerate, and use within 1 week.

Sorry Pillsbury dough boy, but you ain't got nothin' on that. Nothin'.