Crockpot Cider Braised Short Ribs with Sage Butter Mashed Potatoes.
Can we make crockpot Wednesday a thing?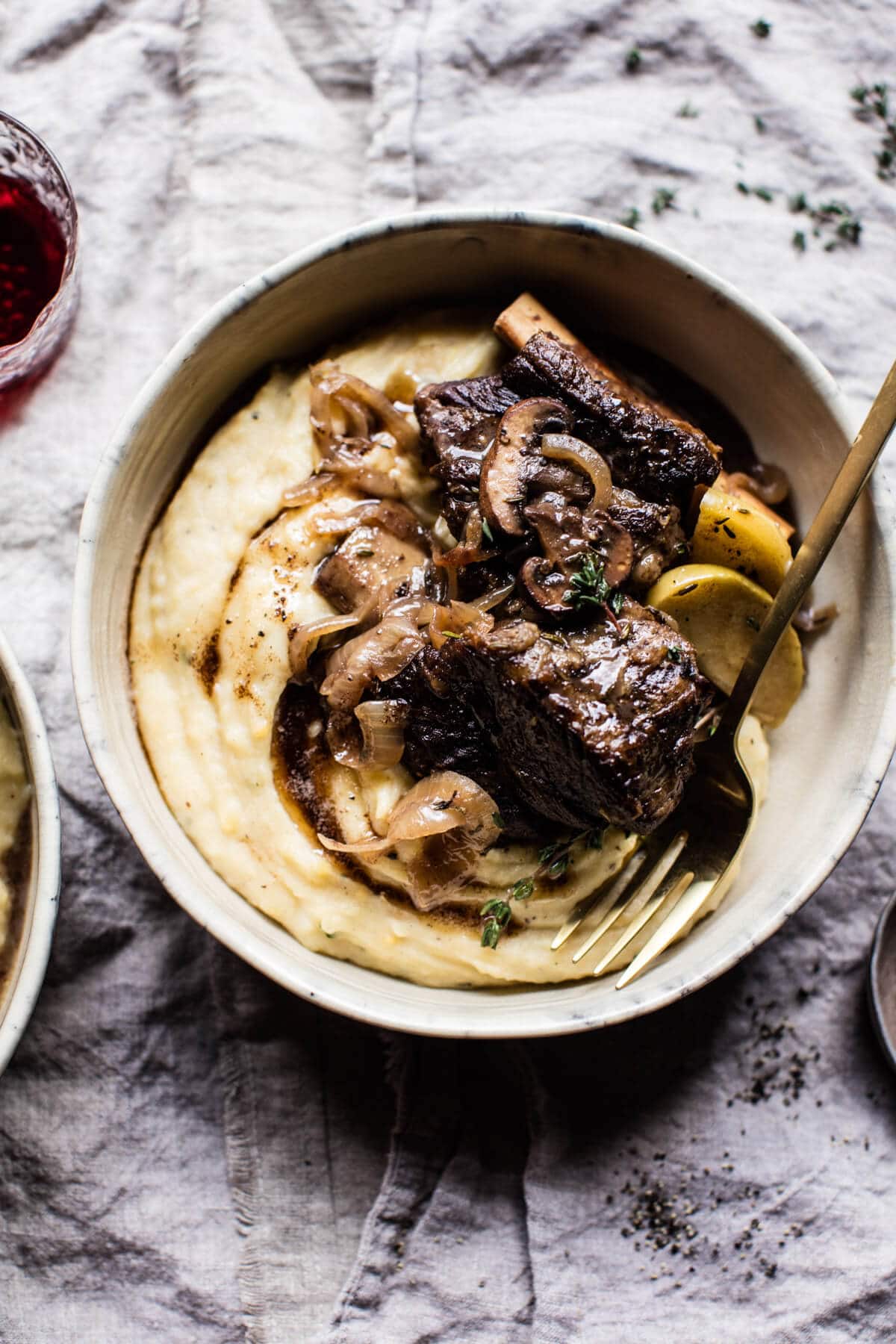 Not going to lie, it seems all I have time for lately is to throw dinner into the crockpot, forget about it all day while I work, and then realize it's nine o'clock, and um, dinner time!
I feel like a lot of us are in the same boat (while maybe not the nine o' clock dinner part), so more crockpot recipes, right??!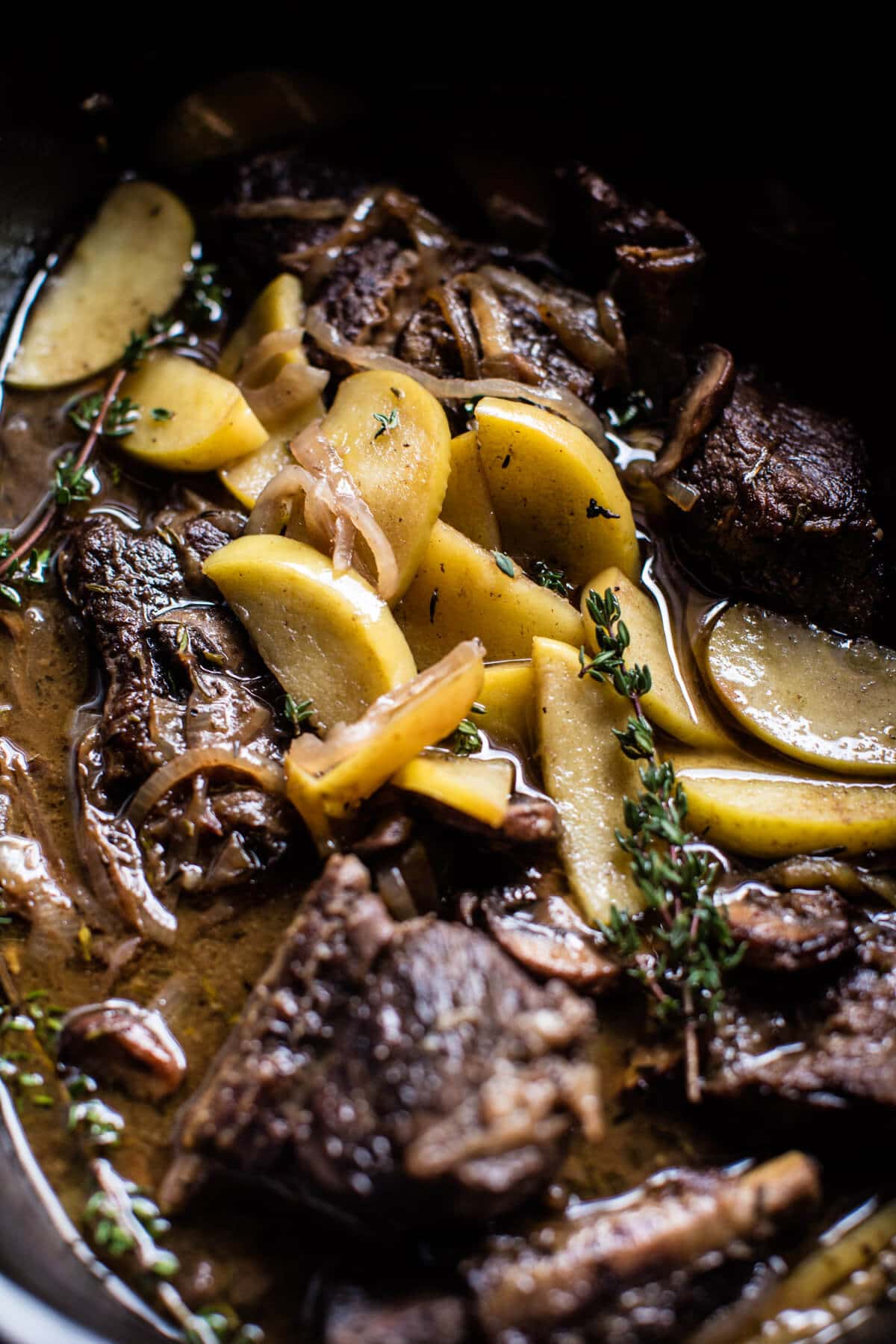 Speaking of being busy, have any of you noticed that we are less than two weeks from Halloween??
I do not even know how that happened, just insane. AND you guys, I haven't given you a baby goat update since mid September! Ahh, I think now is the time!
The baby goats are really not tiny babies at all anymore, they're kind of like teenagers, and growing at rapid speeds. I swear they grow a half an inch per day! I wish they'd just stop getting so big already. New moms, you probably know the feeling…
We've talked about selling the boy goats, but trust me, that is NOT happening. Every time I watch all five of the babies playing together, it reminds me that there is no way we can separate them. I mean, I know it's kind of how life works in the animal world, but not over here. They are just too cute.
In other news, we are currently weaning them off their mom's milk, since most of them are already eating grass, but it's kind of a tricky process, and they whine and cry all-day long. Not only is it semi-annoying, but it's pretty hard to hear, I feel so bad! But in the end they'll be better off, and ok, I kind of want all the goat milk to myself…muahahaha 🙂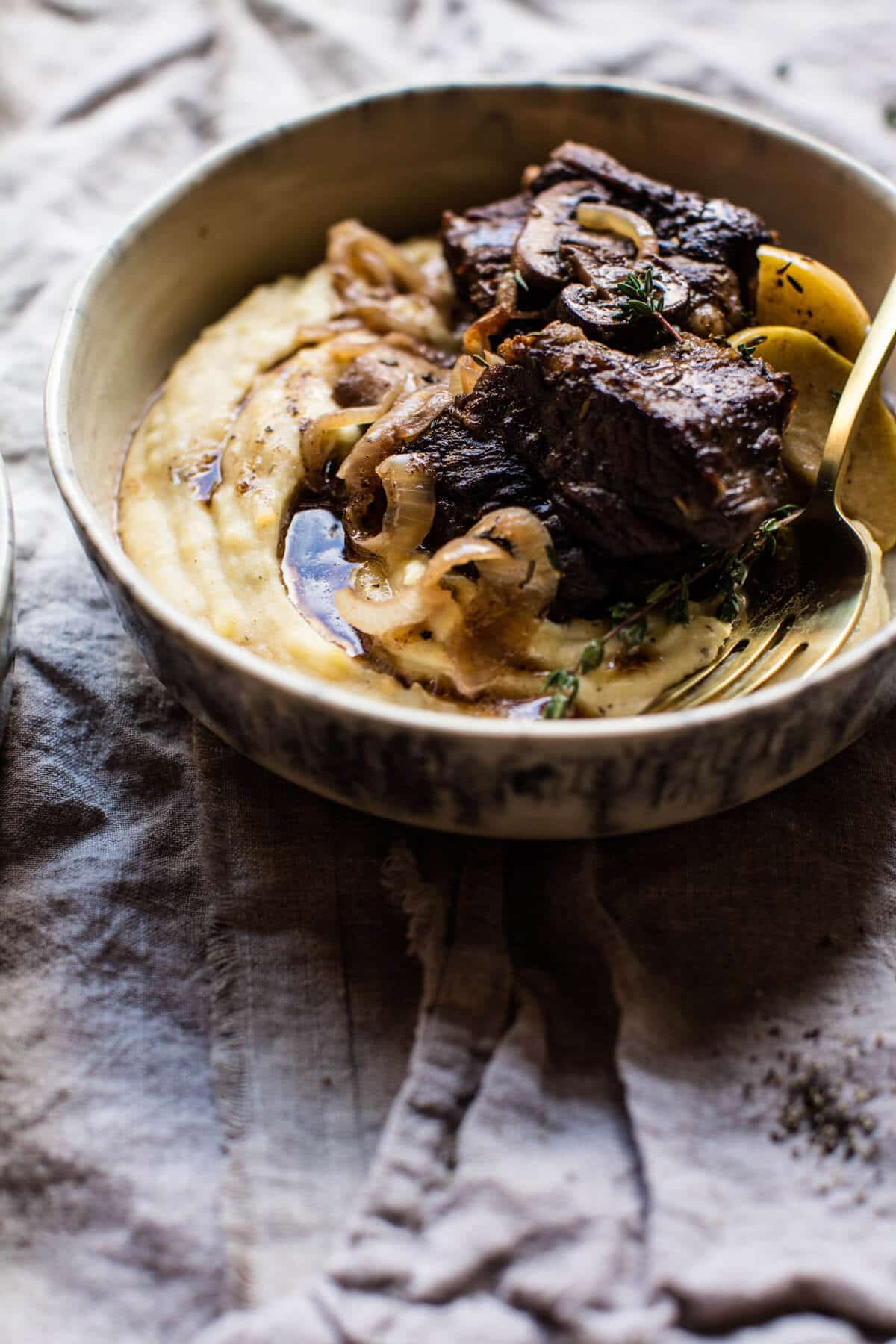 Ok, leaving the farm now, back to recipes, and crockpot cooking, and THESE Crockpot Cider Braised Short Ribs!
For real though, this is such an awesome fall recipe, and for a few reasons…
…one: nothing beets short ribs that have been cooked low and slow for eight hours. They fall off the bones and are just so darn good!
…two: apples… in a savory way! I was just writing a story for my cookbook manuscript and I mentioned that I loved using apples, not only for baking, but for cooking as well! In fact, I might just like using apples in savory recipes even more. Or well, it's at least a tie!
…three: browned sage butter mashed potatoes…enough said. 🙂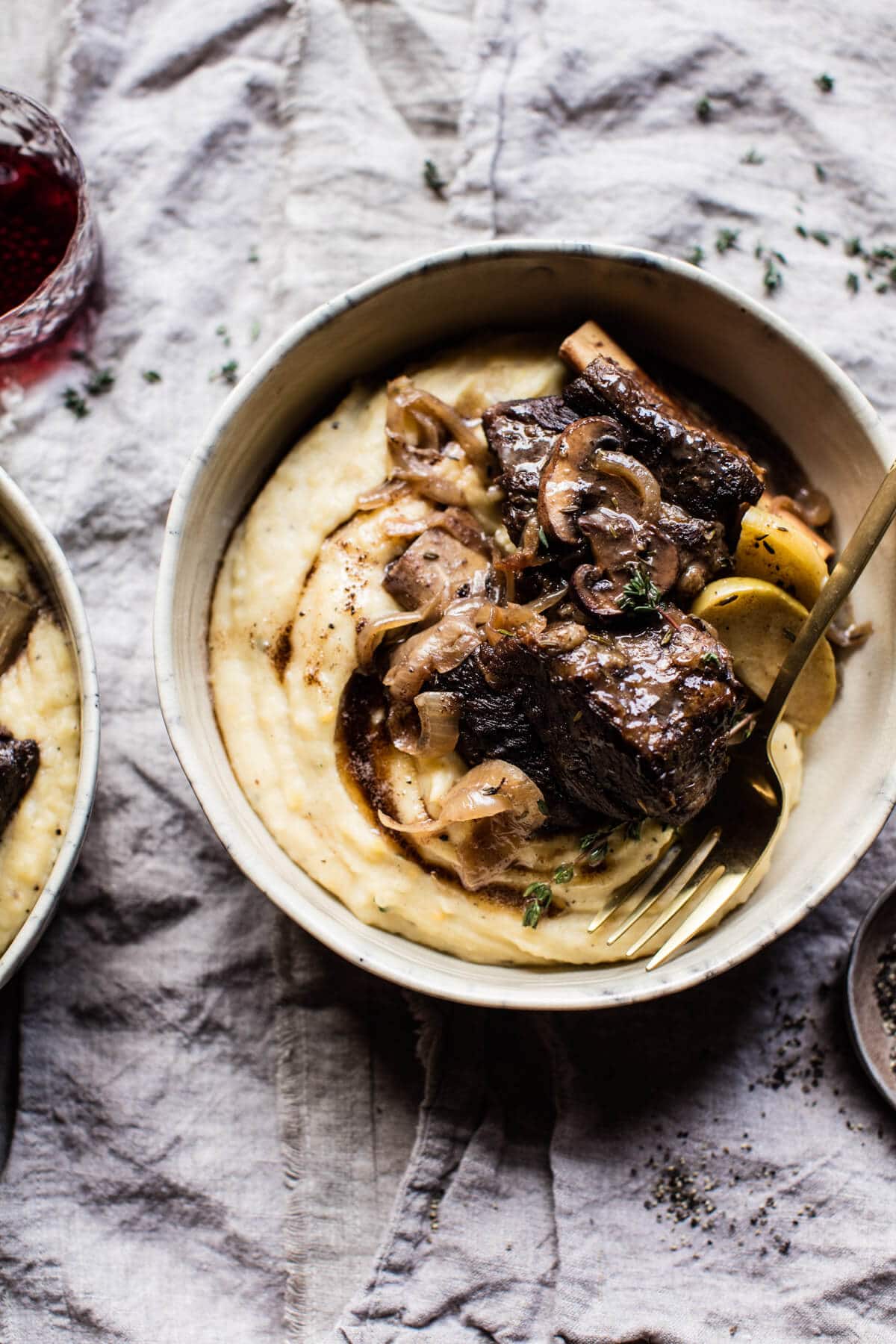 Obviously, the fact that this recipe is super easy, makes it just that much better!
I do like to sear my short ribs on the stove before adding them to the crockpot, I know it's kind of a pain, but the added flavor is so worth it! The cider adds a nice sweetness and pairs well with the meaty short ribs. Not to mention, it creates the most perfect sauce to spoon over those mashed potatoes, which yes, have me way too excited for the Thanksgiving feast that is coming up!
Also, I know it's only Wednesday, but how perfect is this for a Sunday night dinner? I dunno why, but I truly LOVE Sunday night dinners. There's something so cozy and wonderful about them. This meal feels like the perfect fit!
Whatever day you decide to make this, just know you're going to love it! OH, and maybe serve it up with a side of bread…or ok maybe salad…ahh no, lets be real, we all want the bread! 🙂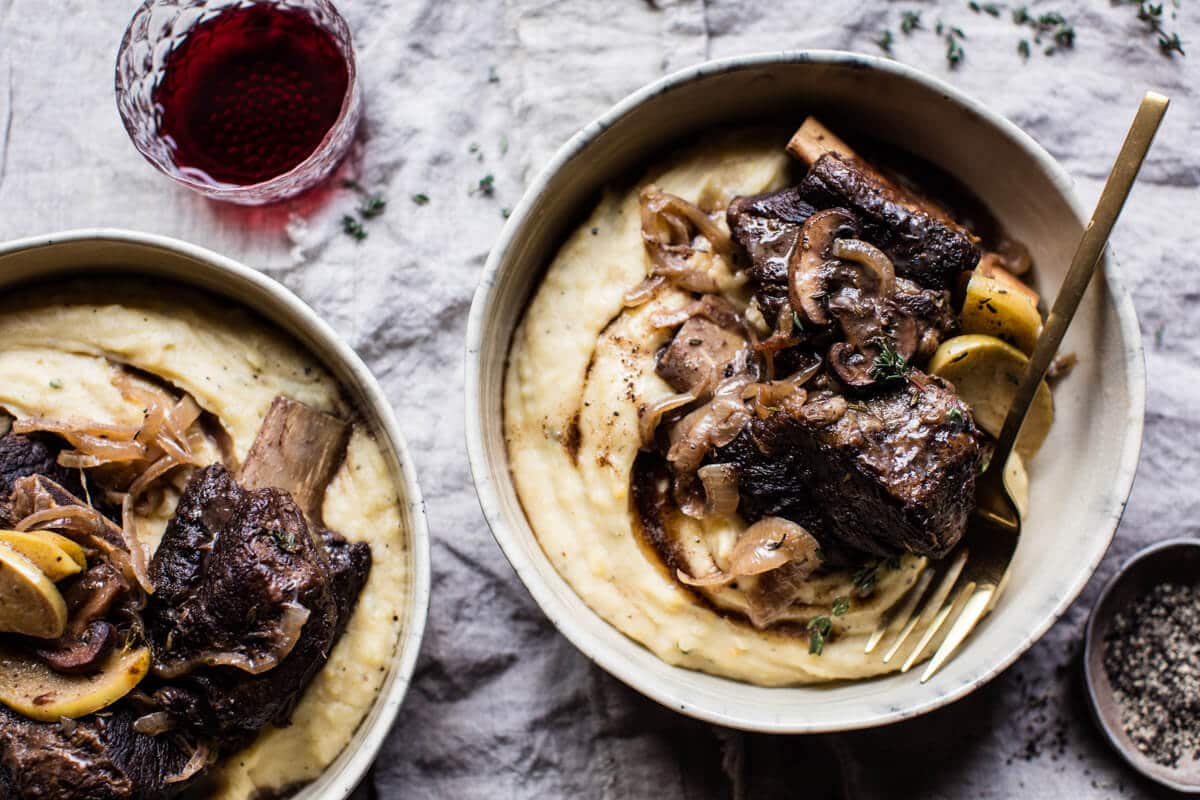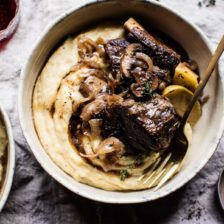 Nutritional information is only an estimate. The accuracy of the nutritional information for any recipe on this site is not guaranteed.
The Recipe
Crockpot Cider Braised Short Ribs with Browned Sage Butter Mashed Potatoes.
By halfbakedharvest
Course: Main Course
Cuisine: American
Keyword: short ribs
Nothing beats short ribs that have been cooked low and slow for eight hours, delicious heart goodness
Prep Time 30 minutes
Cook Time 6 hours
Total Time 6 hours 30 minutes
Servings 6 Servings
Calories 710 kcal
Ingredients
2 tablespoons olive oil
5 pounds beef short ribs
kosher salt + pepper
1 sweet onion thinly sliced
1 tablespoon brown sugar
4 cloves garlic minced or grated
8 ounces cremini mushrooms halved
2 cups apple cider
1 tablespoon fresh chopped thyme
2 Honeycrisp apples chopped
Brown Butter Mashed Potatoes
4 large Idaho potatoes peeled and quartered (I used Idaho, but you may sub Russet)
2-4 cloves garlic peeled (I used 4)
3/4 cup heavy cream
1 cup shredded sharp cheddar cheese
8 tablespoons butter browned, 1 stick
6 leaves sage chopped
Instructions
Heat a large heavy bottom skillet over medium high-heat. Add the ribs to the skillet and sprinkle with salt + pepper. Sear the ribs on all sides for about 1 minute per side. Remove the ribs from the skillet.

Arrange the onions on the bottom of your crockpot and sprinkle the brown sugar over them. Add the seared short ribs, garlic, mushrooms, apple cider and thyme.

Cover the crockpot and cook on low for 7-8 hours or on high for 5-6 hours. During the last 1-2 hours of cooking, add the apple slices, tossing to combine.

Once the short ribs are done cooking and easily fall apart, skim off any fat from the top of the crockpot. Lightly shred the ribs and remove and discard the bones. Keep the rib meat in the sauce, covered on low heat until ready to eat.

About 40 minutes before you're ready to eat, make the potatoes. In a large pot of cold water, bring the potatoes and garlic to a boil. Salt the water and cook until the potatoes are tender, about 20 to 30 minutes.

Drain the potatoes, return the potatoes to the pot and mash over low heat, or mash in the bowl of stand mixer fitted with the paddle attachment, adding the cream, cheddar cheese, and 2 teaspoons salt.

In a skillet or small sauce pot, melt the butter over medium heat until just browned. The butter will melt, foam and froth, then begin to brown along the bottom. Whisk browned bits off of the bottom of the pan. Stir in the sage and let cook 30 seconds. Pour the browned butter into the warm mashed potatoes. Taste and season with salt and pepper if desired.

Divide the mashed potatoes between plates and top with the rib meat. Enjoy!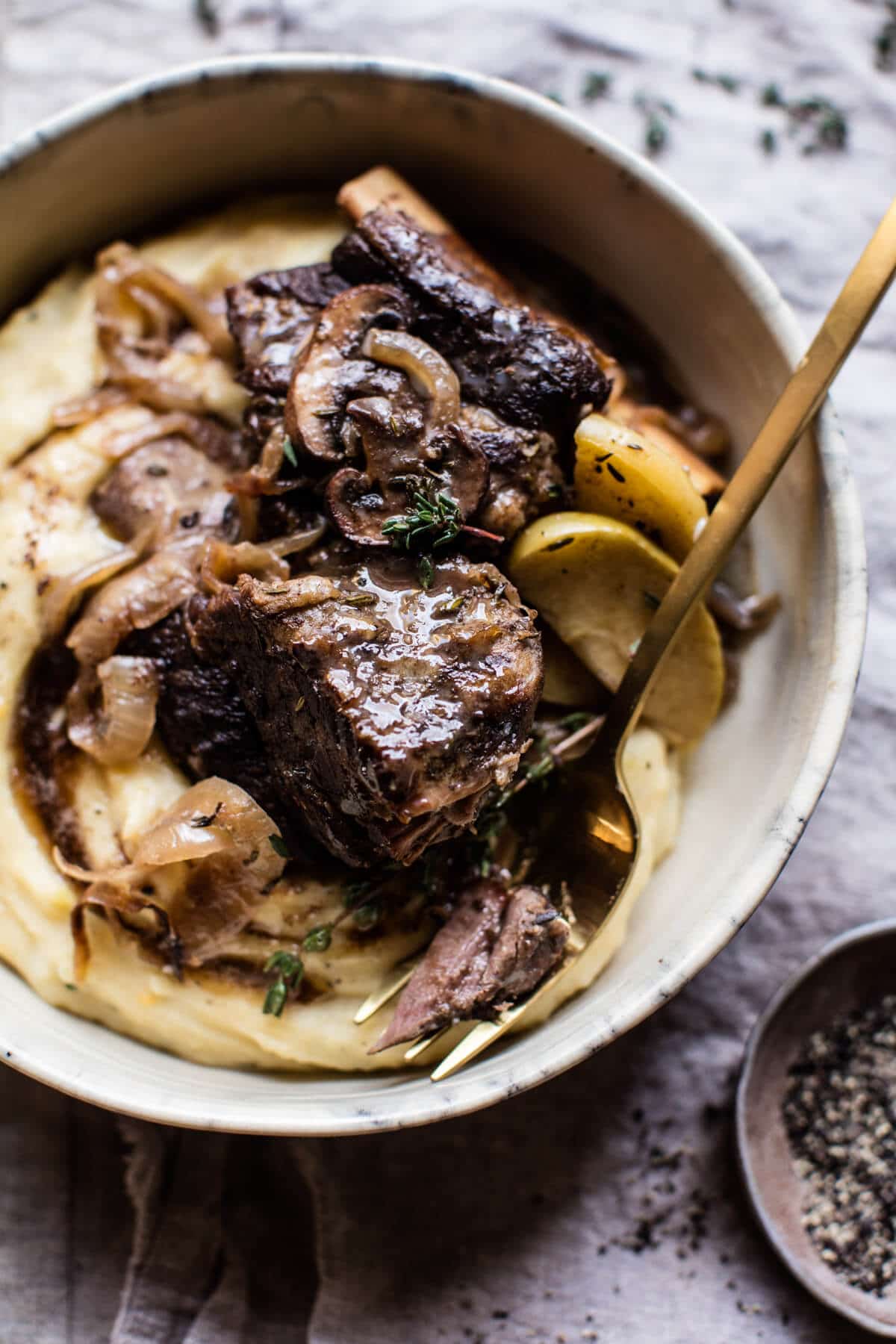 PS. there's cheddar in those mashers. Yup!