Cranberry Roasted Butternut Persimmon Salad.
Because in between all that Thanksgiving food…we need a little GREEN.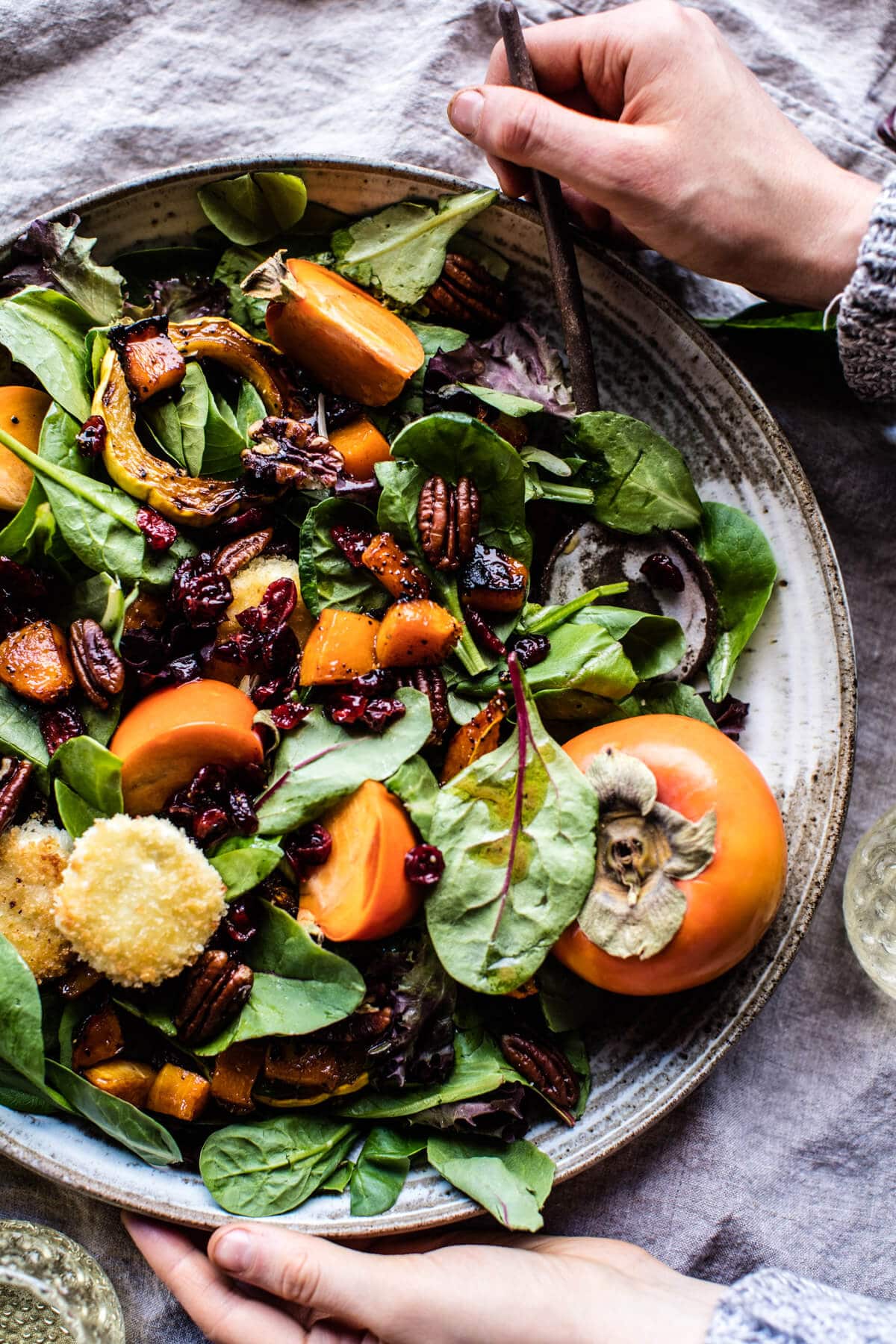 Or do we… of course we do, especially if it's this cranberry roasted butternut persimmon salad. It's so delicious you almost forget you're eating salad, there's just so much more going on in this bowl than just greens!
Plus, I mean, there's fried goat cheese here too. Yes, FRIED goat cheese! I think it's safe to say that as far as holiday salads go, this is the one! It will even have you going back for seconds! <–obviously.
I know when it comes to Thanksgiving, that most of us really just want all the turkey, gravy, mashed potatoes, sweet potatoes, stuffing, and rolls. But I dunno, personally, I love some greens on my plate too. For one, I just like food with color in general, but I find a good salad really balances out the other foods piled on my plate. Anyone with me here or what? I know my brothers would totally disagree (except for you Brendan). They're all about piling your plate high with beige, and want absolutely nothing to do with any color. Meaning no sweet potatoes either. They are freaks though, so I don't normally take their advice when it comes to the Thanksgiving menu.
Can you guys believe that Thanksgiving is just ONE week away? Oh my gosh! Even though I've posted mashed potatoes, sweet potatoes, mac and cheese, cookies, and even pie, I have yet to even start thinking about my T-day menu. I mean, yes those items that I've posted are surely being made, but it is Thanksgiving, and you guys know my motto – go big or go home!
Do you guys have your menus set? I'm hoping you have some wiggle room left. I have a few more recipes that you really need to consider before next Thursday arrives…stay tuned!
Are any of you hosting Thanksgiving, or maybe going to a friend or family member's house? How about a Friendsgiving? My whole family will be here next week, minus my brother Brendan and his girlfriend Lyndsie, who will be at Lyndsie's family's house (you will be missed!) but they'll be here for half of December and through Christmas. While we are losing two, we are gaining my cousin Maggie and her boyfriend Tom, along with possibly an old friend of my family's. When it comes to the holidays at the Gerard house you truly just never know who's going to show up…normally, there's more people than you originally expect.
Let the holiday craziness begin, right?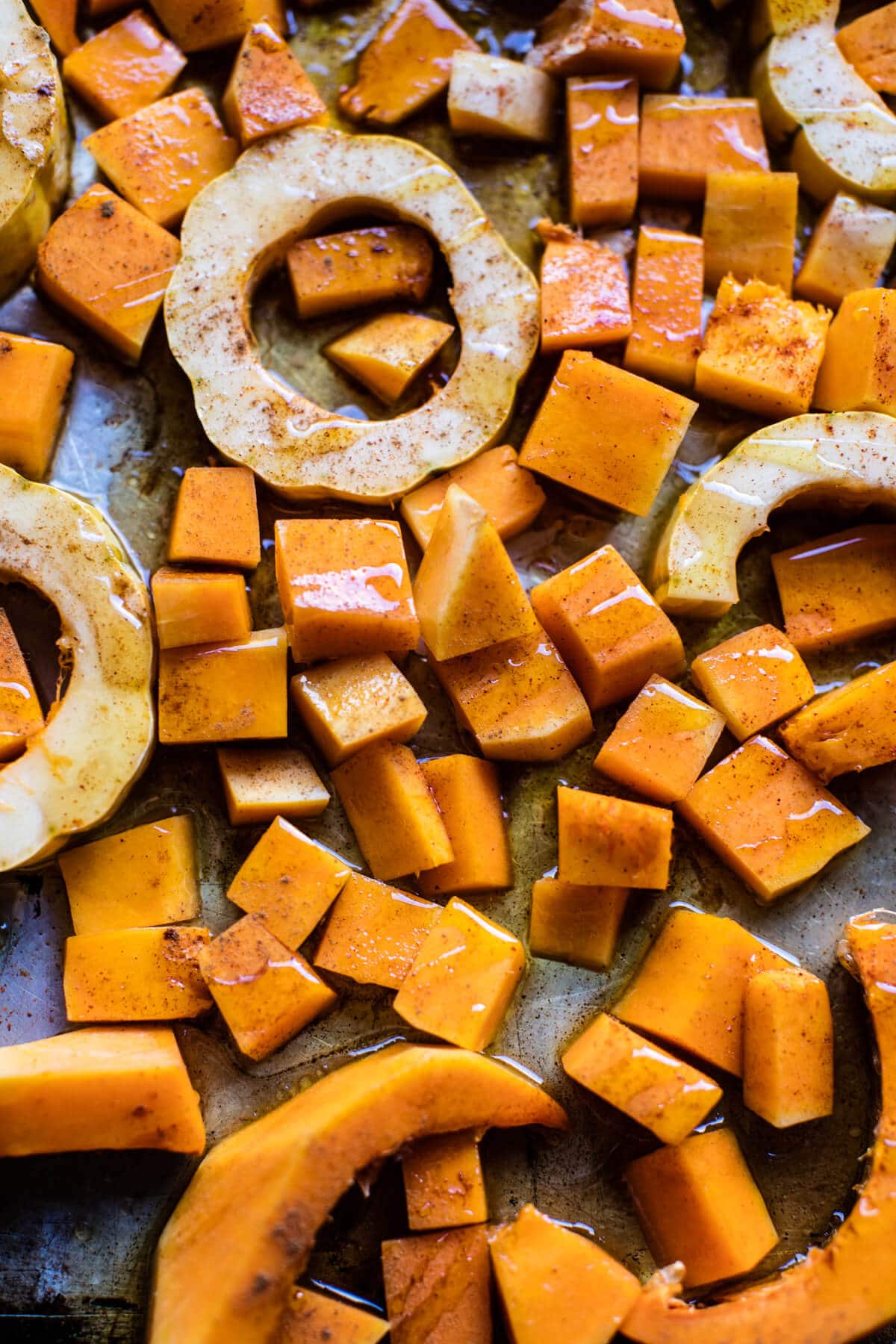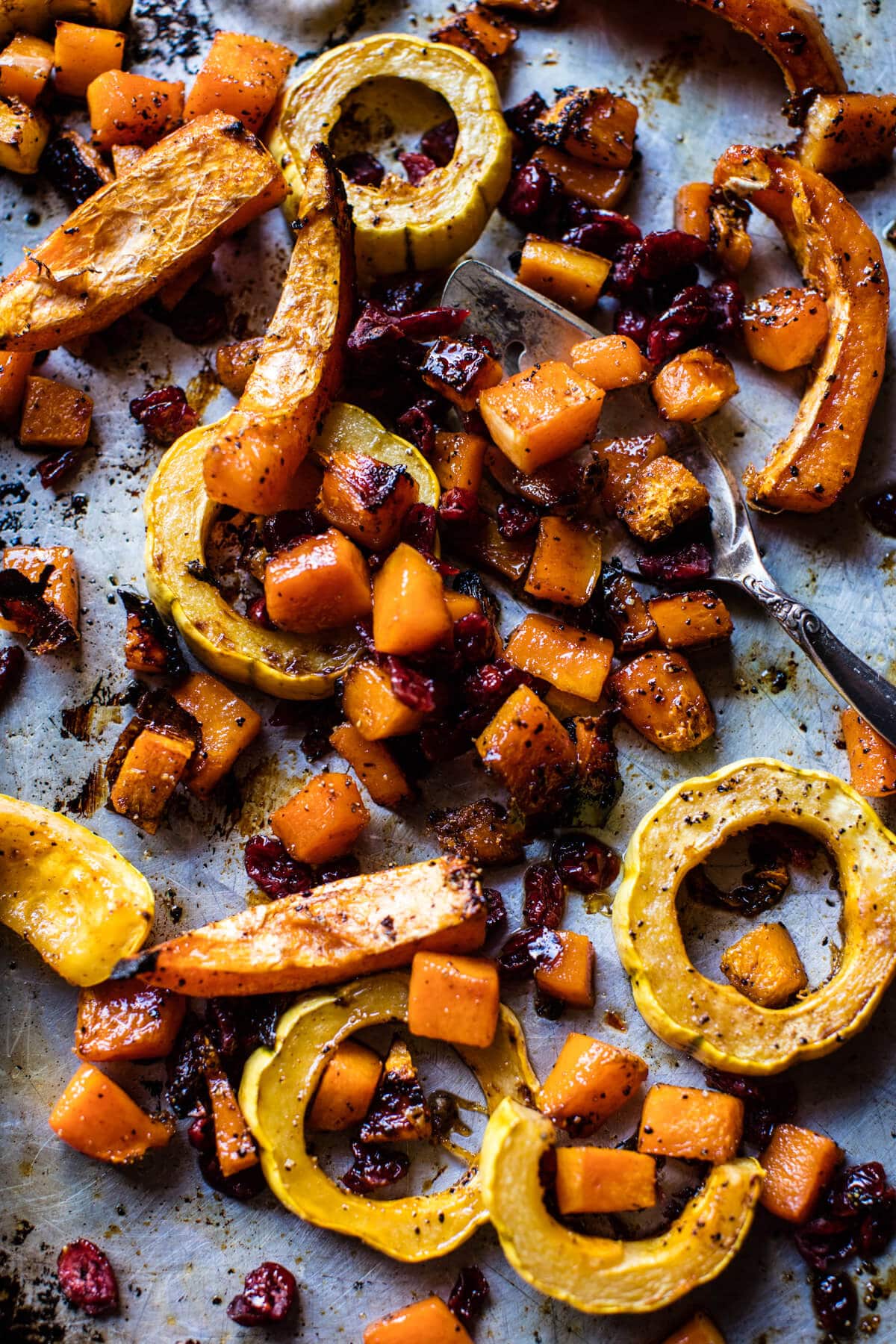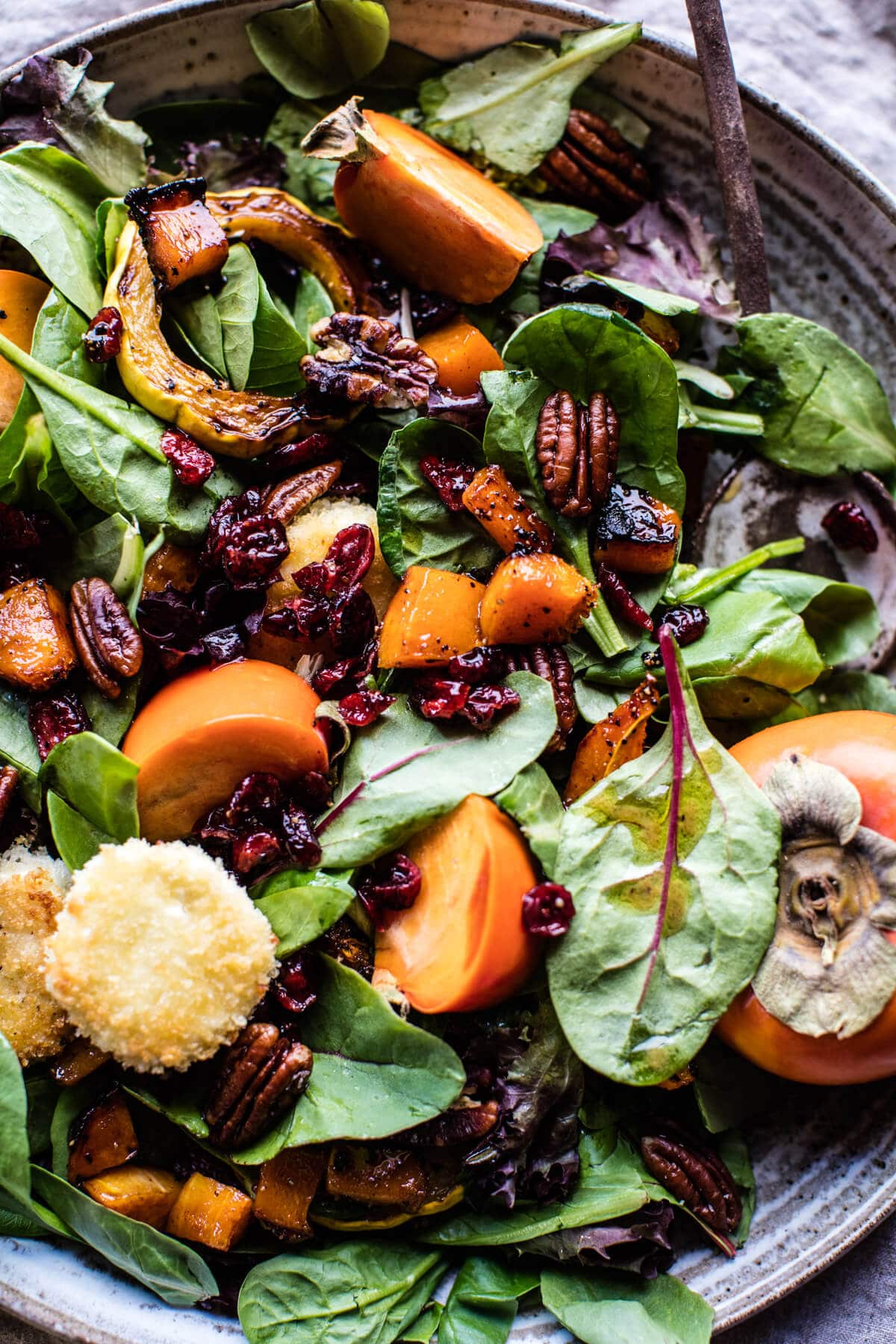 Sooo anyway, I think I was trying to get to the point across, that I love a good salad on my plate, and this year, this is my salad of choice!! It is SOO good. I served leftovers to my dad, who's not typically the biggest fan of winter squash, but even he loved this salad. He said it was the combo of warm squash to cold greens, mixed with the tangy dressing and topped with fried cheese. Just delightful – his words, not mine.
And while I'm calling the cheese fried, what I really mean is pan-fried. Sorry, I didn't go as far as deep-frying the goat cheese because that just sounded like too much work for a Thanksgiving salad. Pan fried is just as good anyway. To save time, simply fry the cheese in advance, then warm in the oven the next day along with the roasted butternut squash (I threw in some delicata squash rounds too!). Works awesome!
The dressing is pretty simple, apple cider, vinegar, mustard, olive oil, salt and pepper…simple, but perfection…at least in my eyes!
You can serve this salad cold or at room temperature, but my personal favorite it to keep the greens and persimmons cold and have everything else warm. It's oddly the perfect balance.
Question: since we're having salad with dinner, this means our plates will be be totally well-rounded, right? Meaning that a second…ok maybe even a third piece of pie is totally acceptable, right?
Um, yes!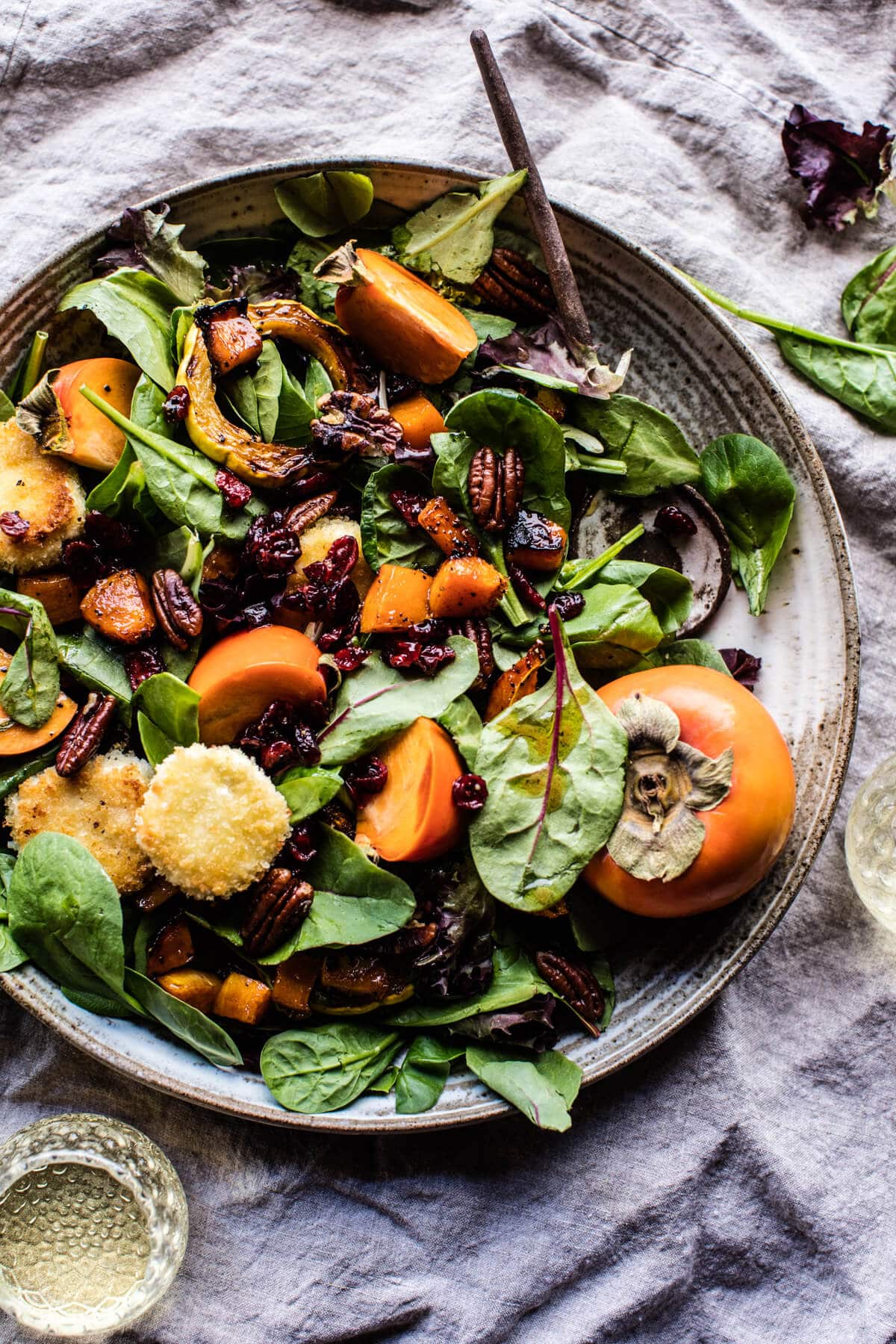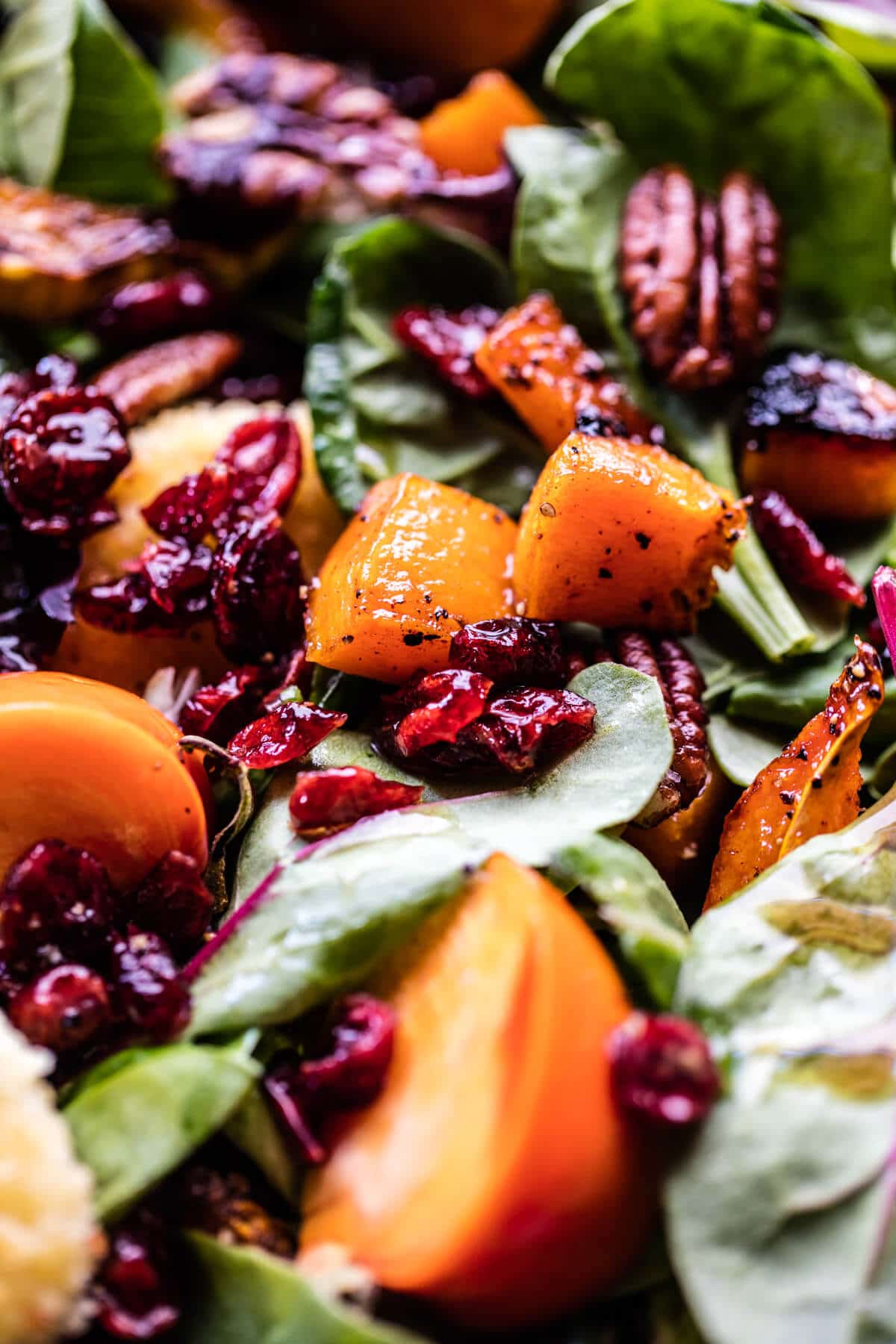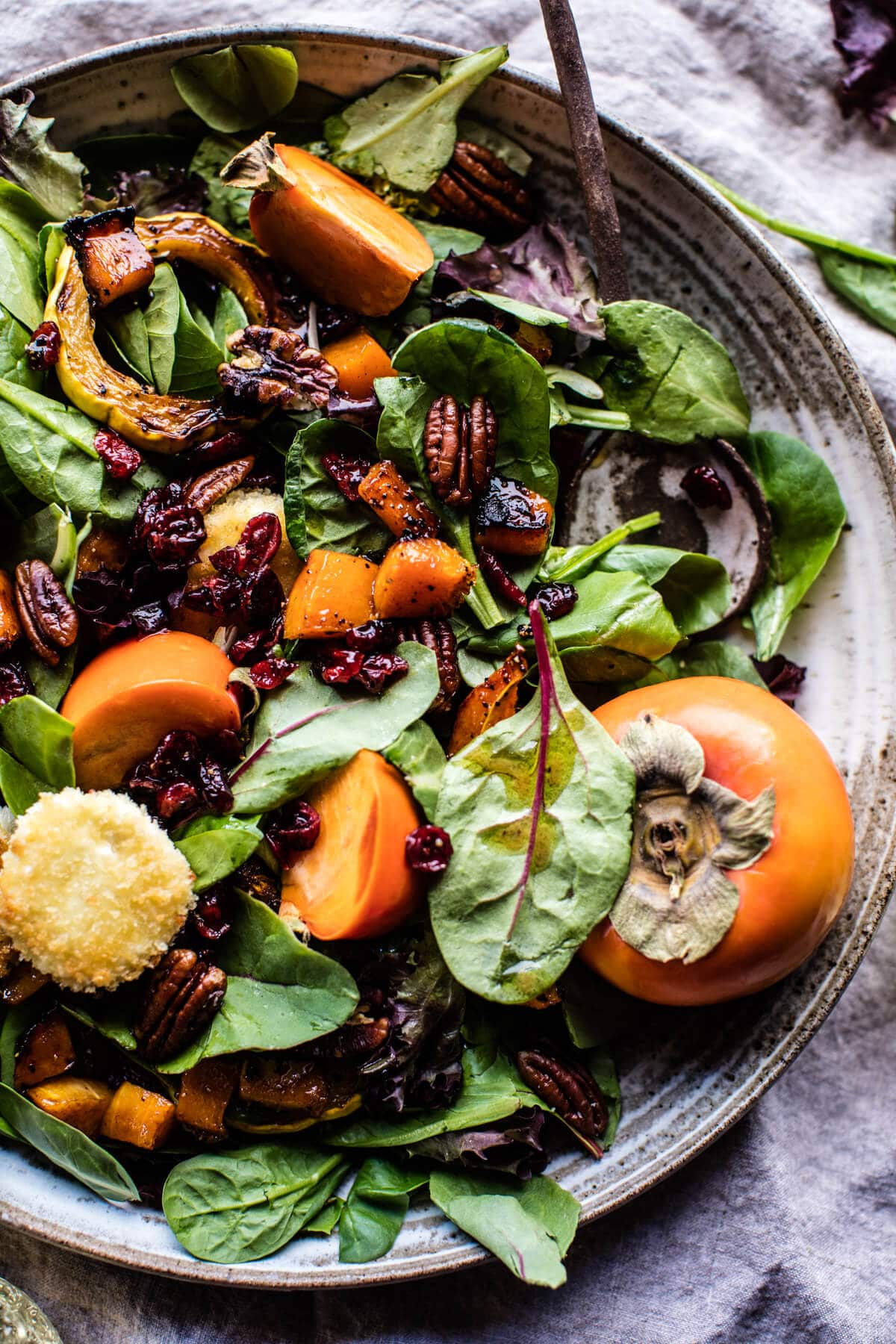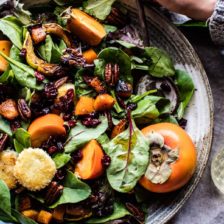 Nutritional information is only an estimate. The accuracy of the nutritional information for any recipe on this site is not guaranteed.
The Recipe
Cranberry Roasted Butternut Persimmon Salad with Fried Goat Cheese.
By halfbakedharvest
Course: Salad
Cuisine: American
Keyword: Goats cheese salad
You can serve this salad cold or at room temperature, but my personal favorite it to keep the greens and persimmons cold and have everything else warm. It's oddly the perfect balance.

Prep Time 15 minutes
Cook Time 30 minutes
Total Time 45 minutes
Servings 6 Servings
Calories 371 kcal
Ingredients
4 cups cubed butternut squash or a mix of butternut and delicata
1/2 cup plus 2 tablespoons olive oil
2 tablespoons maple syrup
1/2 teaspoon cinnamon
1/4 teaspoon ginger
1/4 teaspoon cayenne
kosher salt and pepper
1/2 cup dried cranberries
3/4 cup apple cider
2 tablespoons apple cider vinegar
2 teaspoons dijon mustard
1 ounce log cut cheese sliced into 1/4 inch rounds, 10
1/3 cup buttermilk or 1 egg beaten
1/3 cup panka bread crumbs
6 cups mixed greens
3 persimmons quartered
1/2 cup toasted pecans
Instructions
Preheat the oven to 425 degrees F.

Spread the butternut squash out in a single layer on a baking sheet. Drizzle 2 tablespoons olive oil, maple syrup, cinnamon, ginger, cayenne, salt and pepper, toss well to coat. Roast in the oven until the butternut squash is tender, 20 to 25 minutes, stirring halfway through cooking. Remove from oven and stir in cranberries.

Meanwhile, heat the apple cider and the cider vinegar in a small saucepan over high heat and boil until it has reduced to 1/4 cup, about 6-8 minutes. Remove from the heat and whisk in the remaining 1/2 cup olive oil and the mustard. Season with salt and pepper.

To make the Fried Goat Cheese. Heat 2 tablespoons olive oil in a skillet over medium heat.

Add the panko to one small bowl, then add the buttermilk to another small bowl. Carefully dip the rounds of goat cheese, first through the buttermilk, and then dredge through the panko. Carefully add to the hot skillet and cook for 2-3 minutes per side or until golden. To make these in advance, fry as directed and then warm in a 300 degree oven for 5 minutes.

In a large salad bowl, toss together the lettuce, roasted squash, persimmons, and pecans. Add the dressing and toss once more. Top with the fried goat cheese. Enjoy warm or at room temperature.
Recipe Notes
If you are short on time, skip frying the cheese and just crumble the goat cheese over the salad.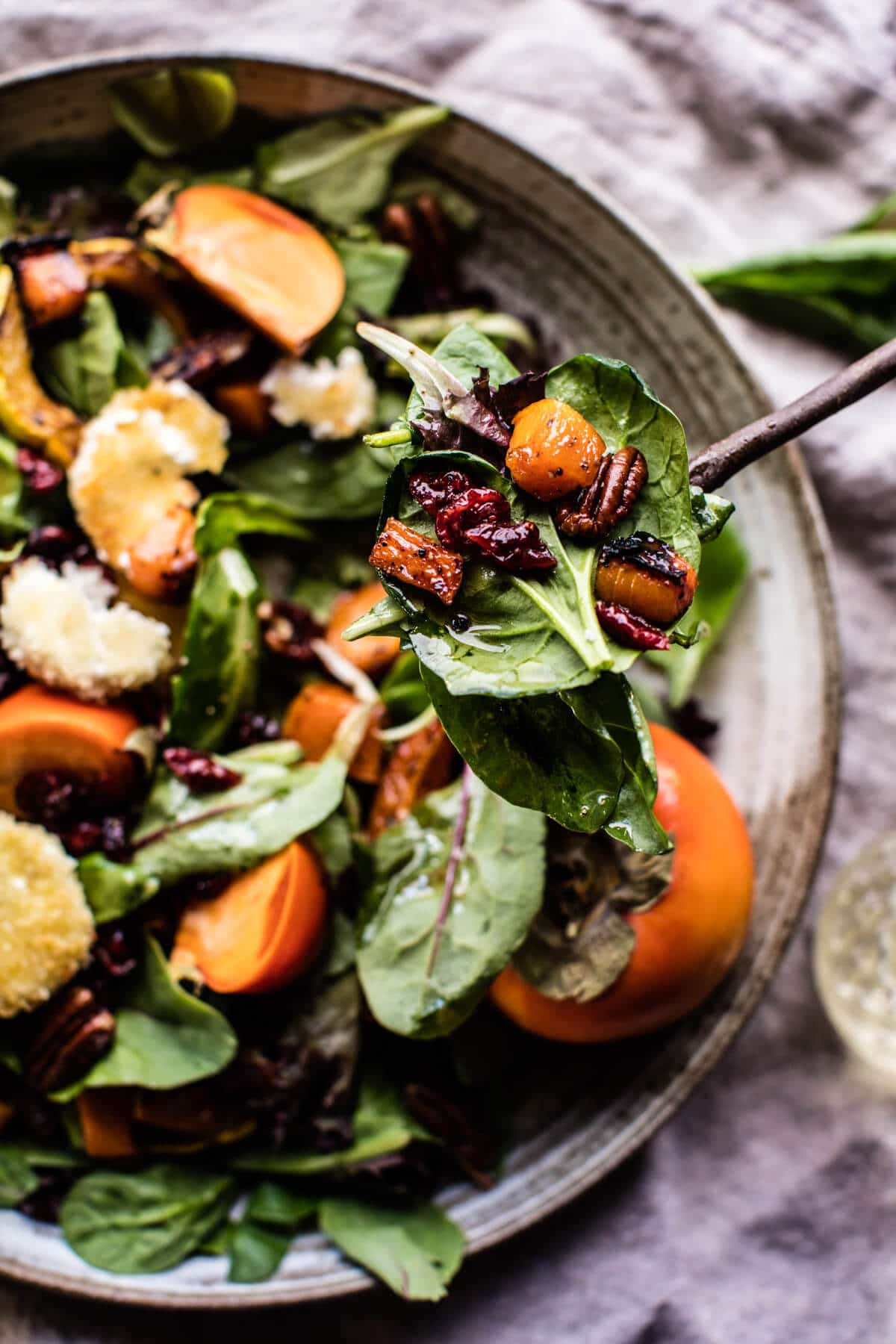 Gosh, I just love Thanksgiving…and the way my brain can rationalize things.